FOENN21 begins tomorrow (Wednesday) and please do register. Remember, one registration per school or organization is all that's needed If your organization is already registered, you should have received the Attendee Portal access information containing the Zoom link access for each day's sessions. Please pass the unique login information on to your school community. If you are registered but did not receive the portal link, let us know right away (mark@aaie.org or gerri-ann@aaie.org)
Membership and Quick Links for Busy People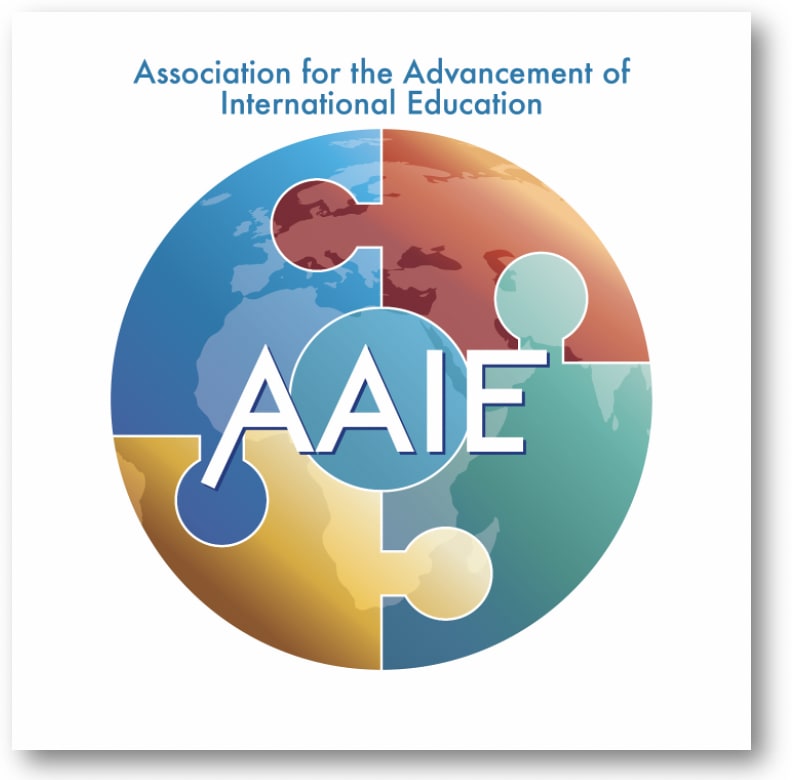 –TUESDAY–
AAIE's COVID-19 BRIEFING #249
Data and Ideas to Support Your Crisis Leadership
September 21, 2021
–Our regular Thursday CONVERSATIONS will return next week–
229,353,671 Worldwide Cases (Johns Hopkins)
4,704,928 Worldwide Deaths (Johns Hopkins)
A wider pandemic is also a weirder pandemic

Six pandemic rules for the days ahead

What will winter bring?

Covid + Flu, what then?

"The Great Resignation" of teachers

Is your immunity waning? Does it matter?

Pfizer dosage for children five-years and up
Six Rules That Will Define
Our Second Pandemic Winter
The pandemic keeps changing, but these principles can guide your thinking through the seasons to come.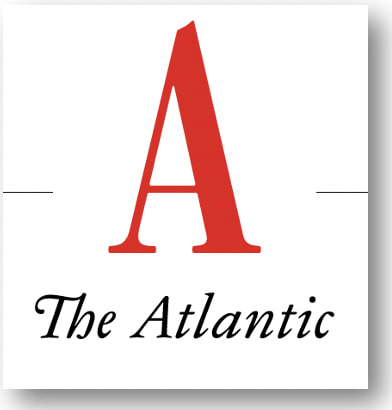 For nearly two years now, (we) have lived with SARS-CoV-2. We know it better than we once did. We know that it can set off both acute and chronic illness, that it spreads best indoors, that masks help block it, that our vaccines are powerful against it. We know that we can live with it—that we're going to have to live with it—but that it can and will exact a heavy toll.
Still, this virus has the capacity to surprise us, especially if we're not paying attention. It is changing all the time, a tweak to the genetic code here and there; sometimes, those tweaks add up to new danger. In a matter of weeks, the Delta variant upended the relative peace of America's early summer and ushered in a new set of calculations about risk, masking, and testing. The pandemic's endgame shifted.
Do vaccines work as well as they need to? Who is now most vulnerable? What new variants might emerge? Our lost summer has layered on new anxieties to pandemic life. But these questions do have some clear answers, which have come up time and again in our reporting and will continue to guide us through the coming months. Even after this latest surge crests and subsides, the new pandemic reality will linger, through fall and winter and into the spring, as vaccination rates rise and the virus continues to change. Here are six principles that are helping us make sense of the pandemic now: (a summary follows)
The role of vaccines has changed (again)
From the very beginning, vaccine experts warned that respiratory diseases are especially tricky to immunize against. The coronavirus first takes hold in the nose, and injections in the arm are just not very good at stimulating immunity in the nose. (They are still good, however, at raising immunity deep in the lungs to protect against severe disease.) Flu shots, for example, tend to be only 10 to 60 percent effective at keeping people out of the doctor's office. If COVID-19 vaccines end up somewhere similar, they would prevent hospitalizations and death, but the coronavirus would still circulate. Given Delta's ability to slightly evade vaccines, combined with its extreme transmissibility, this is again looking like the most likely scenario. So we need to adjust our expectations, again.
The proportion of vaccinated people matters, but who they are and how they cluster also matters
A New York Times analysis found very few areas in the U.K. where more than 2 percent of residents are 65 and not fully vaccinated. In contrast, that number is above 10 percent in many counties in the American South and Mountain West. Even small differences in these rates can determine the level of crisis: A community where 10 percent of residents are unvaccinated seniors has essentially five times as many people who might need an ICU bed than a community where that number is only 2 percent.
The people at greatest risk from the virus will keep changing
Since the pandemic's early days, vaccines have shifted the risk the virus poses to us, at a community level. Younger members of the community (must) contend with a slower schedule, and vaccine makers are still figuring out the correct dosages for the youngest among us. That's all shifted the virus's burden down to un-inoculated children. At the same time, the virus has been evolving into speedier and speedier forms; by the time Delta slammed the world this spring, many of its most viable hosts were at risk not because of their age or circumstances, but in spite of it.
Kids still seem relatively resilient against SARS-CoV-2 compared with adults, as they always have been. But compared with the variants that came before it, Delta is a faster spreader, and therefore a larger threat to everyone who is unvaccinated—which means children are now at greater risk than they were before.
As vaccination increases, a higher proportion of cases will appear in vaccinated people—and that's what should happen
Even though vaccinated people have much lower odds of getting sick than unvaccinated people, they'll make up a sizable fraction of infections, hospitalizations, and deaths if there are more of them around.
Assume, first, that vaccines are 60 percent effective at preventing symptomatic infections. (There's a lot of conflicting information about this, but the exact number doesn't affect this exercise much.) Vaccinated people are still less likely to get infected, but as their proportion of the community rises, so does the percentage of infections occurring among them. If 20 percent of people are fully vaccinated, they'll account for 9 percent of infections; meanwhile, the 80 percent of the population that's unvaccinated will account for 91 percent. Now flip that. If only 20 percent of people are unvaccinated, there will be fewer infections overall. But vaccinated people, who are now in the majority, will account for most of those infections—62 percent.
Rare events are common at scale
Throughout the past year and a half, commentators have downplayed a variety of pandemic-related risks because they were "rare"—deaths, long COVID (which isn't actually rare), infections and multisystem inflammatory syndrome in children, and more. But infectious diseases spread, and if they do so widely enough, events that are relatively rare can rack up large numbers: A one-in-a-thousand event will still occur 40,000 times when 40 million people are infected. Such events can't be written off, especially when they involve decades of lost health or life.
As outbreaks spread, more types of rare events become noticeable as well. A wider pandemic is also a weirder pandemic. As this current post-vaccine surge continues, breakthrough infections will feel more common, newspapers will have more stories to run about them, and more people will know someone who had one.
As There is no single "worst" version of the coronavirus
As in every game, who the most formidable opponent is depends on who else is playing, and the nature of the field. Right now Delta, a super-transmissible variant that hops into human airways, copies itself, and blazes back out, is especially well poised to rip through the world's mostly unvaccinated, mostly immune-naive population—which is exactly what it's doing. Laxness around masking, distancing, and other infection-prevention measures, in the United States especially, has given Delta plenty of opportunities to hop from human to human, further fueling its rise. The variant, for now, has about as good a home-field advantage as it can get.
But the ideal strategy, from the perspective of the virus, might look drastically different for a population with a lot more immunity. Strong, speedy immune responses will keep the virus from getting by on swiftness alone. In these environments, a stealthy version of the virus that can slip by antibodies unnoticed might be the one that wins out.
As the world gradually acquires immunity, variants like Delta might eventually be succeeded by these wilier morphs.
All variants, though, will have some common weakness: They can be stopped through the combined measures of vaccines, masks, distancing, and other measures that cut the conduits they need to travel. When viruses spread faster, they can be tougher to control. But they can't persist without us, and our behavior matters too.
Winter is Coming, Again: What to Expect from Covid-19 as the Season Looms

A winter of Covid + Flu and Isolation?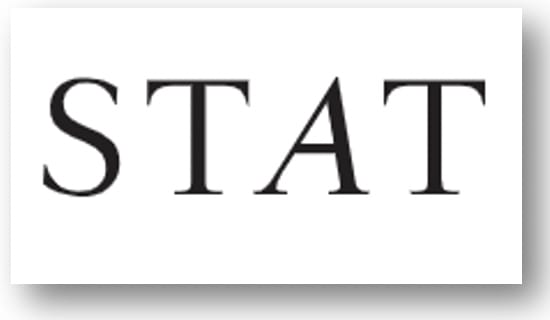 Daily case counts are rising well into the six figures. The highly transmissible Delta variant is driving spread, even among fully vaccinated people. Children are back in classrooms that can function as germ incubators. As you walk around in public you see noses poking out of masks, masks under chins, faces that are mask free.
So what should we expect as we head into our second Covid autumn and winter?
While the crystal ball may be cloudy, who can resist taking a peek? Let's talk about some things we might face in the months ahead.
A lower level
Cécile Viboud, an infectious diseases epidemiologist at the National Institutes of Health's Fogarty International Center, said nine modeling efforts her group is monitoring suggest that by the end of November, the Delta wave will have waned and new cases will be down "at quite a low level."
That heartening prediction comes with a big but. "That assumes that no new variant comes in. Because if you get a new variant that either has a higher transmissibility or immune escape potential, then we will see a resurgence."
Deaths should subside. Some.
As people's immune systems have acquired experience grappling with SARS-2 — again, via vaccine or infection — deaths as a percentage of overall cases have declined. That trend will hopefully continue.
It's not clear how long immunity lasts following infection. It can be pretty transient with human coronaviruses, but so far there haven't been huge numbers of people reporting their second or third case of Covid. We're going to learn how long infection-induced protection lasts as time goes on — as well as how long protection lasts after vaccination.
Alpha, Beta, Gamma, Delta — what's next?
Early in the pandemic, coronavirus experts confidently opined that this family of viruses mutates far more slowly than, say, influenza, and major changes weren't likely to undermine efforts to control SARS-2. But no one alive had watched a new coronavirus cycle its way through hundreds of millions of people before. (The global estimate has now passed a quarter of a billion cases.)
Baseline assumptions didn't figure on Delta.
Whatever comes next will almost certainly be some new twist of this now-dominant variant. That's because Delta has so effectively swept the globe it has crowded out almost all the other lineages of viruses; about 88% of recent viruses that have been sequenced belong to the Delta family. Basically everything that is circulating is Delta, so then the only avenue for evolution becomes mutations on top of Delta.
There are other complications ahead
With kids back in school, mask-wearing more sporadic, and people abandoning Covid controls because they're frankly just sick of them, these bugs are coming back. They may hit us especially hard when they do, because our immune systems are out of shape from the 20-month hiatus.
Before Covid, people rarely got tested if they came down with a respiratory infection, unless they got really sick. But now, much more is at stake. Is this a cold or the early stages of Covid? There are ramifications, depending on the answer to that question.
A Covid season + a flu season = a whole lot of bad news
Influenza activity hasn't yet rebounded globally from the coma induced by Covid control measures. But flu will be back. Whether that happens this season isn't in the realm of knowable things.
Nicole Lurie fears that what we're about to learn is that flu plus Covid is going to make winters miserable and deadly.
Lurie, who was the assistant secretary for preparedness and response in the Department of Health and Human Services during the Obama administration, notes that in pre-Covid times, between 20,000 and 60,000 Americans died each winter from influenza. Covid's toll could be higher than that still, because people have largely given up on changing their lifestyles to avoid becoming infected, and a substantial portion of people remain unvaccinated. "I feel like we have to be giving this some thought and preparing the public for some kind of a steady state that minimizes morbidity and mortality and has a set of actions that you can take to mitigate the bad consequences," said Lurie, who is now the U.S. director for the Coalition for Epidemic Preparedness Innovations.
COVID Vaccine Immunity is Waning —
how much does that matter?

As debates about booster shots heat up, what's known about the duration of vaccine-based immunity is still evolving.
Six months ago, Miles Davenport and his colleagues made a bold prediction. On the basis of published results from vaccine trials and other data sources, they estimated that people immunized against COVID-19 would lose approximately half of their defensive antibodies every 108 days or so. As a result, vaccines that initially offered, say, 90% protection against mild cases of disease might only be 70% effective after 6 or 7 months.
"It felt a little bit out on a limb at the time," says Davenport, a computational immunologist at the University of New South Wales in Sydney, Australia. But on the whole, his group's predictions have come true.
Immunological studies have documented a steady decline of antibody levels among vaccinated individuals. Long-term follow-up of vaccine trial participants has revealed a growing risk of breakthrough infection. And health-care records from countries such as Israel, the United Kingdom and elsewhere all show that COVID-19 vaccines are losing their strength, at least when it comes to keeping a lid on transmissible disease.
That's without accounting for the Delta threat either — and it's clear that vaccine–induced antibodies do a worse job at recognizing SARS-CoV-2 variants compared with the ancestral strain of the virus.
–WORLD NEWS of COVID-19–
229,353,671 Cases Worldwide (Johns Hopkins CSSE)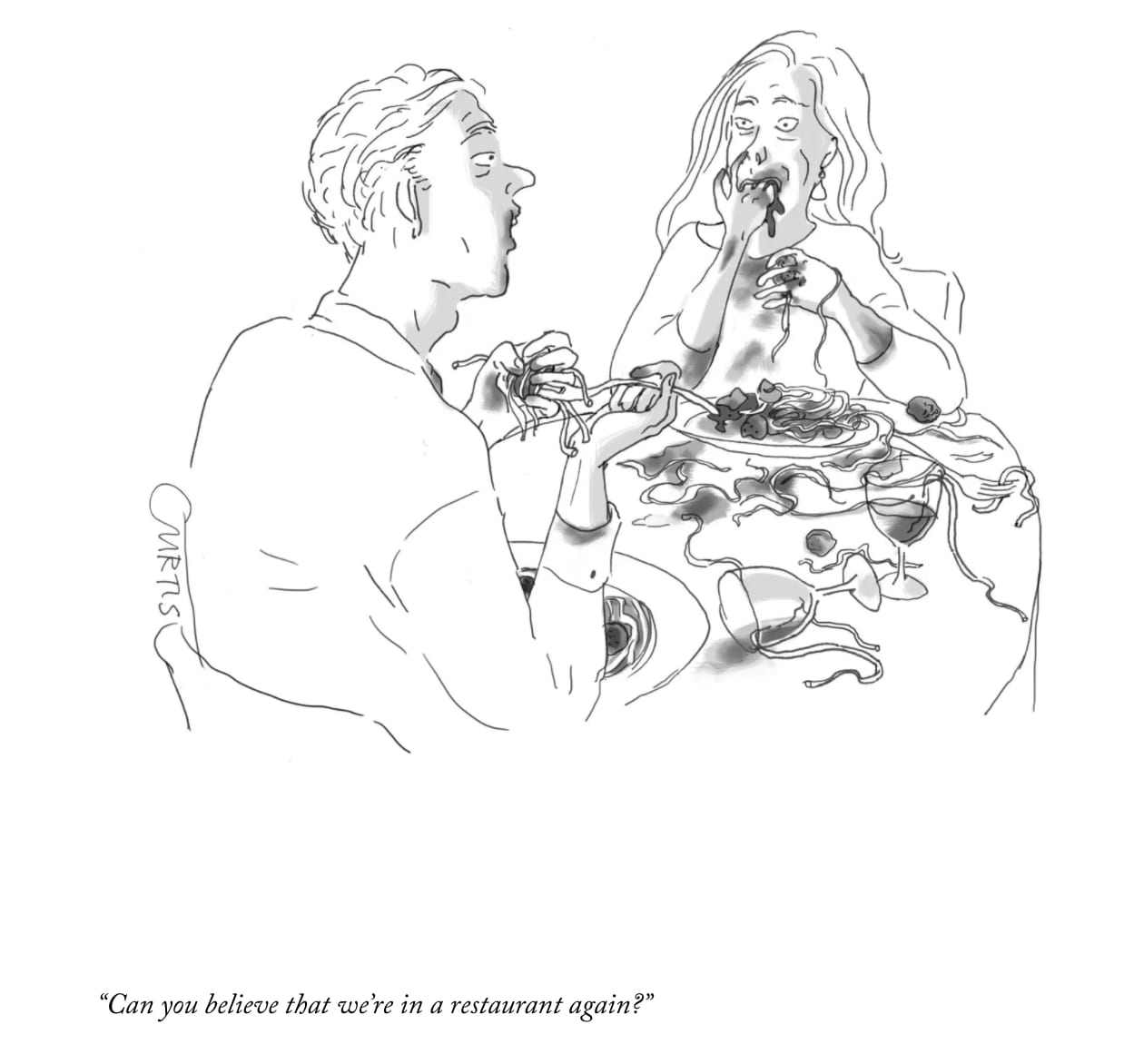 Covid Vaccine Prompts Strong Immune Response in Younger Children, Pfizer Says
The Pfizer-BioNTech coronavirus vaccine has been shown to be safe and highly effective in young children aged 5 to 11 years, the companies announced early Monday morning. The news sets the stage for authorization of the vaccine for younger children, possibly before the end of October.
The need is urgent: Children now account for more than one in five new cases, and the highly contagious Delta variant has sent more children into hospitals and intensive care units in the past few weeks than at any other time in the pandemic.
Pfizer and BioNTech plan to apply to the Food and Drug Administration by the end of September for authorization to use the vaccine in these children. If the regulatory review goes as smoothly as it did for older children and adults — it took roughly a month — millions of elementary school students could begin to receive shots around Halloween.
Trial results for children younger than 5 are not expected till the fourth quarter of this year at the earliest, according to Dr. Bill Gruber, a senior vice president at Pfizer and a pediatrician. Results from Moderna's vaccine trials in children under 12 are also expected around that time, said Dr. Paul Burton, the company's chief medical officer. (New York Times)
Unvaccinated and Defiant, Bolsonaro
Pushes Back Against Criticism in His U.N. Speech
President Jair Bolsonaro of Brazil kicked off the United Nations General Assembly on Tuesday by defending the use of ineffective drugs to treat the coronavirus and by pushing back on criticism of his government's environmental record. Brazil's far-right president said doctors should have had more leeway in administering untested medications for Covid-19, adding that he had been among those who recovered after "off label" treatment with an anti-malaria pill that studies have found ineffective to treat the disease. "History and science will hold everyone accountable," said Mr. Bolsonaro, whose handling of the pandemic in South America's largest country has been widely criticized. (New York Times)
Schools are Losing Teachers at an Unprecedented Rate
The Covid-19 pandemic reduced teachers' commitment to remain in the classroom, based on new survey data from the nationally representative Rand American Teacher Panel. In March 2021, over 1,000 teachers answered questions about their jobs, job preferences, teaching mode (in-person, online, hybrid), how often they switched teaching modes, their colleagues, and Covid-19 risks during the 2020-21 school year.
During the pandemic, teachers became less certain that they would work in the classroom until retirement. In March 2020, 74% of teachers said they expected to work as a teacher until retirement, but the figure fell to 69% in March 2021. The proportion of teachers answering "I don't know" to this question increased by a similar amount, rising from 16% to 22%.
In addition, teachers reported that their chances of leaving their current state of residence or the profession within the next five years rose from 24% to 30%, on average. (Quartz)
Moderna More Effective Than Any Other Vaccine
A new report released yesterday by the Centers for Disease Control and Prevention suggests that Moderna's vaccine does a better job of preventing COVID-19 hospitalizations than other vaccines authorized in the US. Both Moderna and Pfizer's vaccines, as well as one from Johnson & Johnson, offer substantially better protection than remaining unvaccinated, the report shows. Moderna's two-dose shot lowered the risk of hospitalization by 93% from March to August, the report found.
Meanwhile, Pfizer's two-dose vaccine lowered the hospitalization risk by 88% over the same time period. The difference in vaccine effectiveness appears to be driven by the fact that Pfizer's protection declined over time, whereas Moderna's did not, the CDC authors wrote. Pfizer's shot lowered the risk of hospitalization by 91% in the first four months after it was administered. Protection went down to 77% after four months. Both Moderna and Pfizer's vaccines offer better protection than J&J's single-dose shot, though. That vaccine lowered the risk of hospitalization by 71% over the time period of March to August, the report found. All three vaccines still offer strong protection against severe disease and death. ( cdc.gov, news.yahoo.com)
Scientists Push For Answers via LANCET
A group of scientists have urged more research on the controversial theory that the coronavirus leaked from a laboratory, issuing the call in a letter in the medical journal The Lancet on Friday. The letter was signed by 16 virologists, biologists and biosecurity specialists. "Research-related hypotheses are not misinformation or conjecture," they said. "Scientific journals should open their columns to in-depth analyses of all hypotheses." The lab leak theory suggests that Sars-CoV-2, the virus that causes Covid-19, could have escaped from a facility researching bat coronaviruses in the central Chinese city of Wuhan, where the first cases were identified. ( scmp.com, lancet.com)
Obesity as a Consequence
A new study ties the COVID-19 pandemic to an "alarming" increase in obesity in U.S. children and teenagers. Childhood obesity has been increasing for decades, but the new work suggests an acceleration last year — especially in those who already were obese when the pandemic started. The results signal a "profound increase in weight gain for kids" and are "substantial and alarming," said one of the study's authors, Dr. Alyson Goodman of the Centers for Disease Control and Prevention. It's also a sign of a vicious cycle. The pandemic appears to be worsening the nation's longstanding obesity epidemic, and obesity can put people at risk for more severe illness after coronavirus infection. (news.yahoo.com)
Xiamen as China's Hotspot
A city in southeast China hit by COVID-19 told residents on Saturday to stay home and closed various venues, as infections spread in the country's latest hotspot during a key holiday travel season. The government of Xiamen, in a series of notices, told residents not to leave home unnecessarily, closed parks, scenic spots and sports venues, and halted mass activities including tours, fairs and performances. The measures - short of a full lockdown - came on the first of the four-day Mid-Autumn Festival holidays, a peak travel season across China. Xiamen, a scenic city of 5 million, is one of four cities in the Fujian province - China's latest coronavirus hotspot - that have reported cases in recent days. (reuters.com)
Worldwide Vaccinations By Continent
September 21, 2021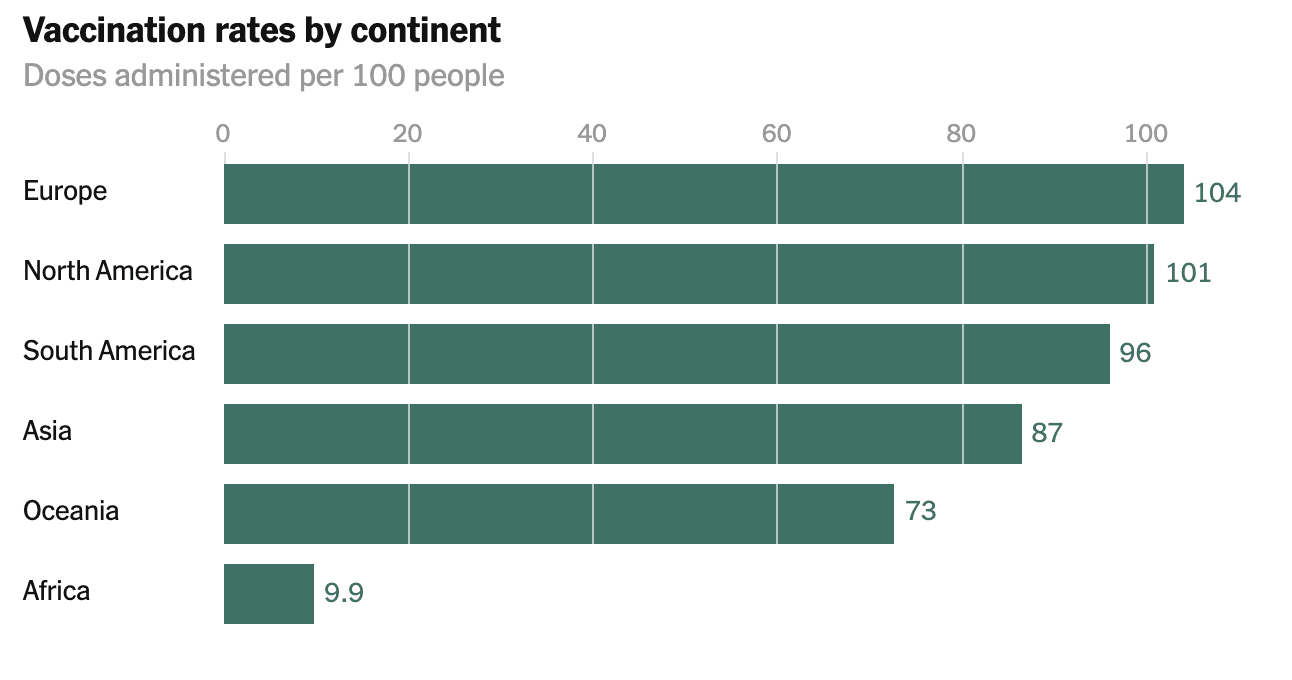 WORLDWIDE COVID-19: BY THE NUMBERS
–FROM JOHNS HOPKINS CSSE–
From Johns Hopkins

CSSE,

the

Infection Rate World Graphic
A Final Note: The AAIE COVID-19 Briefing is provided to support your leadership for the school community you serve. We encourage you to use these resources in any way, shape or form that helps you, your communications and toward furthering close relationships across your community. – The AAIE Board