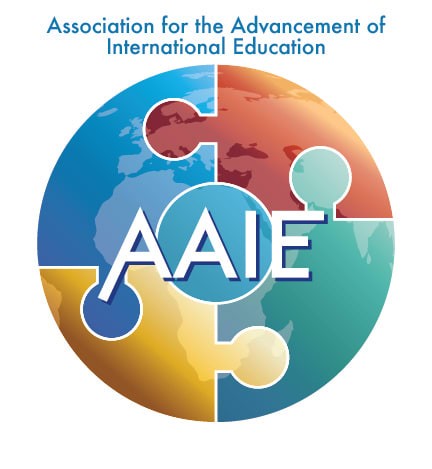 –WEDNESDAY–
AAIE's COVID-19 BRIEFING
#136
Data and Ideas to Support Your Crisis Leadership
November 11, 2020
Quick Links for Busy People
–TODAY's BRIEFING HIGHLIGHTS–
51,857,776 Cases World-wide

(Johns Hopkins)

The rest of this week's

CONVERSATIONS

Vaccine News: curbing our enthusiasm

Comorbidities and the odds of mortality

Can politics and COVID-19 science mix?

Your phone as a metaphor for missing what is important- thank you David Willows

OECD's four scenarios for the future of school

WHO looks for the source

A POEM TO CONSIDER
'Obstacles do not block the path.
They are the path.'
— Zen Proverb
–THE REST OF THIS WEEK's CONVERSATIONS–
with International School Leaders from Around the World
THURSDAY
November 12
8:00AM EST
OUR WEEKLY CONVERSATION
SCHOOL HEADS AND SENIOR LEADERS AROUND THE WORLD #37
– hosted by Will Richardson
All international school senior leaders are welcome. A Weekly CONVERSATION between School Heads and Senior Leaders. Our discussions continue to be contemporary, important and a time we teach each other. Thanks to Will Richardson who has facilitated each Thursday since the very beginning.
THURSDAY
November 12
10:00AM EST
THE WEEKLY LATIN AMERICA CONVERSATION GOES GLOBAL #27
– hosted by Sonia Keller, (Tri-Association) and Dereck Rhoads (AASSA)
A focus on the dilemmas and innovative practices within the Latin America region. Yet everyone in the world is welcome to join the CONVERSATION.
FRIDAY
November 13
8:00AM EST
THE AAIE NEW SCHOOL PROJECT: Phase II
From Principles to Practice
– an unprecedented collaboration between international schools around the world.
Discussions Facilitated by
Will Richardson, Homa Tavangar and Kevin Bartlett
THIS COMING FRIDAY
We continue with Principle Five, and will kick off with comments and resources from this Principle's curation team (THANKS to Kili Lay and Ted Mockrish), before groups explore strategies for living the principle - the "how" of developing, centering and building wellness.
If you haven't already joined one of these sessions, please know the door is always open for the AAIE community to participate, and we encourage you to try to make a Friday 8 am EST meeting.
Many thanks to all who are contributing their time and talents each week!

NOTE: You can catch up, comment, and browse the curation Padlet, slide deck and more here: bit.ly/aaienshome (this is the AAIE New School Home Base - aaienshome).
Curbing Our Enthusiasm
The Science of Vaccine Development and Optimism

We Hoped a Covid Vaccine Would Be Effective. But 90% Efficacy
Is a True Game-Changer
– by Robert Wachter, MD,
University of San Francisco
90% efficacy is far better than even the most optimistic projections.

The 90% refers to preventing symptomatic disease (that is, fever, cough). But we don't know yet how well this vaccine prevents severe symptoms that lead to hospitalizations, ICU admissions, and death. Knowing that will be key. It seems likely it will hold up well, but that still needs to be demonstrated.
Now that the efficacy data are out, the next big question is safety. The need to wait two months to observe at least half the volunteers is the reason the vaccine won't be ready to be considered by the FDA for an Emergency Use Authorization (EUA) until later this month. But there are some early signs regarding safety that are promising.
Namely, three other vaccine trials (conducted by Johnson & Johnson, Eli Lilly, and AstraZeneca) were suspended at various times to analyze safety concerns. The Pfizer study was never suspended, making it unlikely that we'll see a high enough number of severe side effects to derail the vaccine's eventual approval.
Even if there's a rare side effect (which remains a possibility), 90% efficacy is so strong that the overarching risk-benefit equation will still be positive for use among at-risk populations. But for people at relatively low risk (of catching Covid and, if they do, of a bad outcome), we need to be sure it's super safe.
While we're most worried about severe side effects, it's also good to know that the experience with the Pfizer vaccine to date is that the local reactions immediately after vaccination are relatively benign — perhaps a little worse than from the flu vaccine. While a more significant local reaction (that is, flu-like symptoms or pain at the injection site) might not prevent the vaccine from being approved by the FDA, it could discourage people from taking the vaccine, which would be problematic.
Pfizer has said that it can make 50 million doses available by year's end, and 1.3 billion doses by the end of 2021. It's a two-dose vaccine, so this means enough vaccine for 25 million people (who won't all be in the U.S.) available by January.
The math is clear: That's a tiny fraction of the eligible population, meaning that we'll need some kind of allocation scheme.
But before that, we've got to get the vaccine from the manufacturing plant out to doctors' offices, pharmacies, and public health departments. Getting these doses packaged, frozen (at an ultra-low temperature, well below that of your kitchen freezer), shipped, and tracked is not a trivial undertaking.
Assuming that the vaccine crosses the FDA's finish line (which I suspect it will in late November or early December), who will get it first? I expect the allocation will follow the outline published by the National Academy of Medicine, which prioritizes the vaccine by both exposure and risk. Phase 1 — the group likely to be first in line — will include frontline responders, people over 65 in congregate settings (such as nursing homes), or those with two or more chronic conditions. This group accounts for 15% of the population or 50 million people in the U.S.
Remember that there will only be enough vaccine to cover 25 million people by the end of 2020, and that much of the initial supply will go outside the United States.
Here's a sobering thought: Given that it's likely to be summer 2021 before most people are vaccinated, the time between now and then is about the same as the time between now and the start of the pandemic. In other words, we still have an awful lot of Covid, and deaths, ahead of us. Be safe!
Social Myopia as a Threat to the Future of Education
–by Dr. David Willows

Social myopia is not new, but I do believe that it is a threat to the future of our schools.
And whilst this has nothing to do with simply spending too much time on our phones, most of us could agree, I think, that the daily distraction of the global pandemic has indeed drawn our eyes downwards. Our focus has shifted, slowly but inevitably, toward an endless stream of notifications, day-to-day crisis response, and a plethora of immediate needs and wants.
At the beginning of this extraordinary chapter in our lives, the voices of those who called for us to seize this moment and become vanguards of educational change were loud and strong. They filled us with hope, almost to the point of believing that this truly was the long-awaited "tipping point" into a new educational age. The voices that are loudest today, by contrast, are the ones that complain of tired eyes.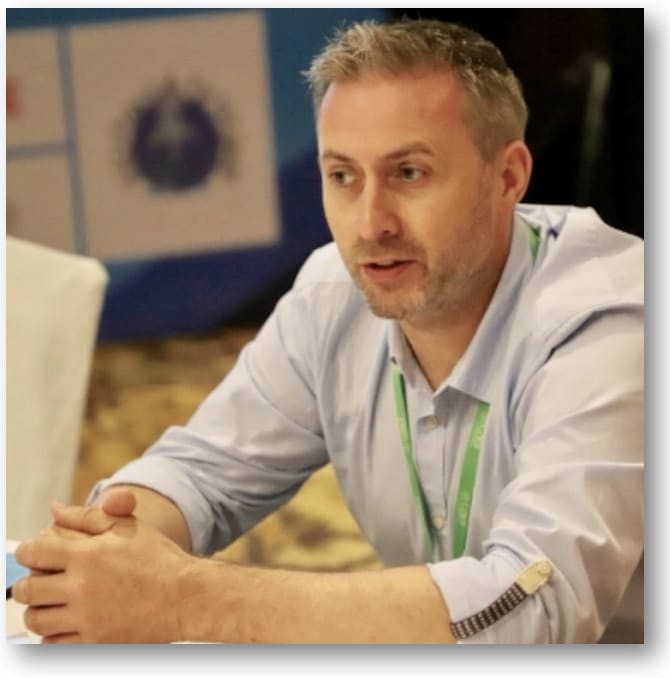 Dr. David Willows, International School of Brussels
Yes, we've all been on Zoom too much. We've mastered the wizardry of breakout groups and we are long over Sunday afternoon quizzes with long lost family and friends. But this is a tiredness that runs much deeper.
We are disconnected, disorientated and, despite our best efforts, it is getting harder and harder to look beyond the next governmental announcement or period of confinement. In short, we've spent so much time looking down, focusing on the here and now, that it's become increasingly difficult to look up and re-focus on the big issues appearing on the distant educational horizon. In fact, far from having (ironically) 2020 vision, it's all become a bit of a blur.
So perhaps it's time to look at the future with a new lens?
Inspired by a ground-breaking piece of scenario planning work in 2001, Back to the future of education: Four OECD Scenarios for Schooling (September 2020), invites us to look up and look forward and gives us the tools to do it. It projects the different ways in which schools may evolve in society between now and 2040, noting that the year 2020 is itself testimony to just how difficult a task this is.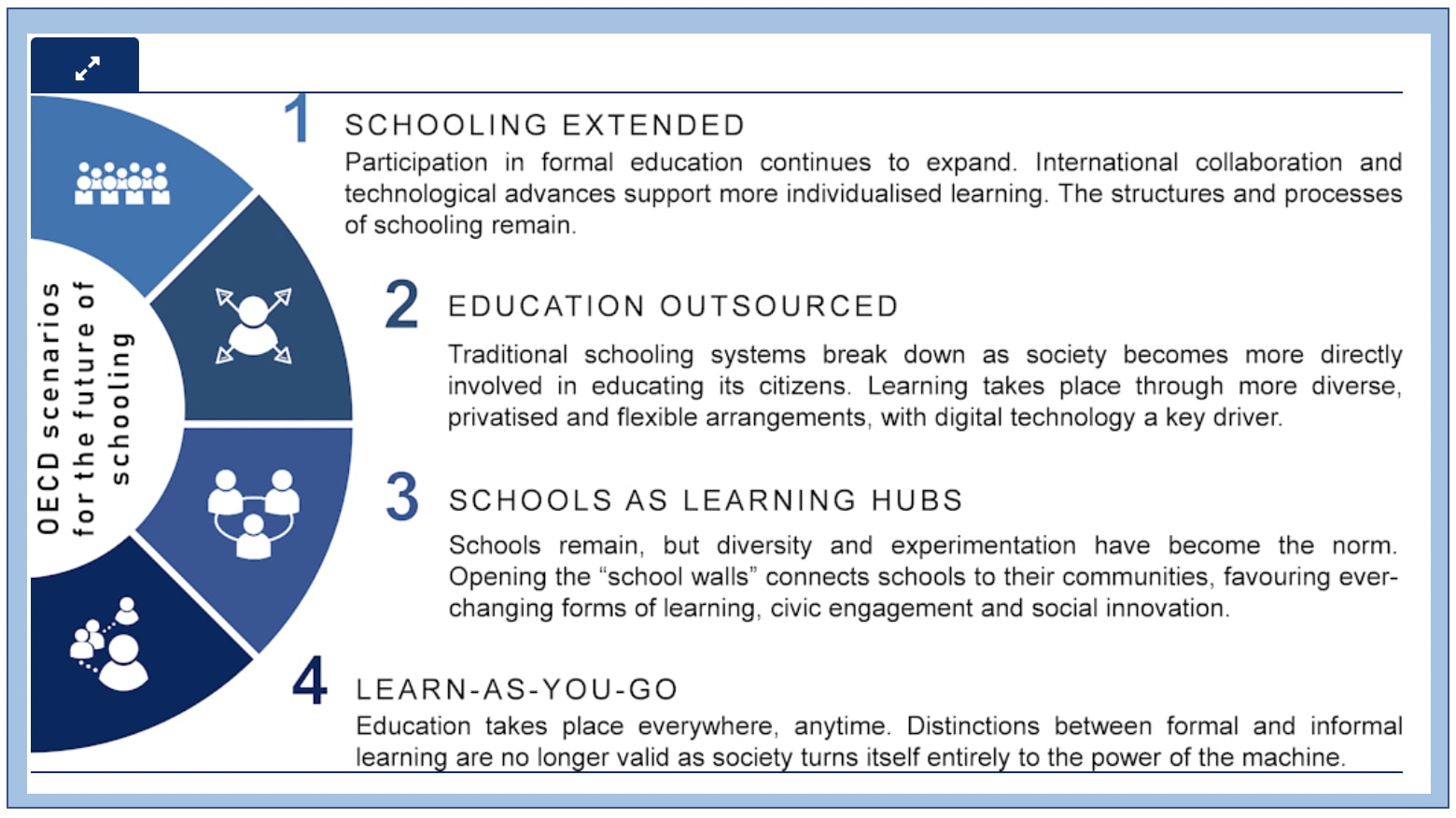 Much of our thinking of the future is linear, and based on extending currently existing trends. But trends slow, accelerate, bend and break. Unforeseen events can disrupt even long-standing trends. Opinions differ on historical developments and, even when there is agreement, the future is rarely just a smooth continuation of past patterns. Moreover, we do not know in advance which trends will continue and which will change course, or in what context. Sometimes, we can just be plain wrong.

The Report deserves to be read in full and discussed in teams and their Boards alike. It isn't always comfortable reading, but it does force us to look up for a moment at some of the issues that may be out there on the horizon.
It questions whether school modernization is falsely masquerading as the disruption that will be required; it questions whether schools of the future will be capable of disrupting the inequalities that they create in the first place; it questions whether education systems are too often stuck in a paradigm of risk mitigation, which restricts lasting innovation and change.
More than anything else, however, I believe that it calls into question - without ever actually stating it - whether any of us can afford to keep on looking down.
–TODAY's POEM TO CONSIDER–
A poem, just for you as a source of peace and reflection...
(thank you WCU)
THE GUARDIAN ANGEL
Afloat between lives and stale truths,
he realizes
he's never truly protected one soul,
they all die anyway, and what good
is solace,
solace is cheap, The signs are clear:
the drooping wings, the shameless thinking
about utility
and self. It's time to stop.
The guardian angel lives for a month
with other angels,
sings the angelic songs, is reminded
that he doesn't have a human choice
The angel of love
lies down with him, and loving
restores to him his pure heart.
Yet how hard it is
to descend into sadness once more.
When the poor are evicted, he stands
between them
and the bank, but the bank sees nothing
in its way. When the meek are overpowered
he's there, the thin air
through which they fall. Without effect
he keeps getting in the way of insults.
He keeps wrapping
his wings around those in the cold.
Even his lamentations are unheard,
though now,
in for the long haul, trying to live
beyond despair, he believes, he needs
to believe everything he does takes root, hums
beneath the surfaces of the world.
–By Stephen Dunn
REMINDER!
Deeper than Diversity and
Navigating a Mess of Unending Challenges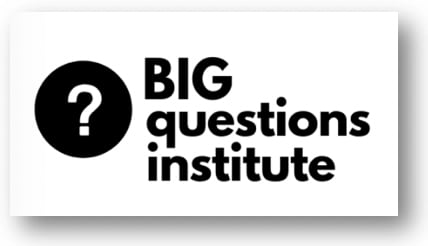 STAY TUNED INTO THE COVID-19 SCIENCE
Editor's Note: News about the science of COVID-19 is hitting the airwaves fast and furious, with knowledge of the virus and ways of fighting it maturing since we were first introduced to the pandemic in February 2020. Expect us to feature more references to articles that can provide you needed background information to inform your international school safety plans and your community. (send us any valuable articles you find too!)
FROM NATURE

WHO Takes on Fraught Search for Source
The World Health Organization (WHO) has released its plan to investigate the origins of the COVID pandemic. The search will start in Wuhan — the Chinese city where the new coronavirus SARS-CoV-2 was first identified — and expand across China and beyond. Tracing the virus's path is important for preventing future viral spillovers, but scientists say the WHO team faces a daunting task.
FROM THE WASHINGTON POST

These venues are high-risk areas for spreading the coronavirus, model suggests
Restaurants, gyms and coffee shops rank high among locations where the coronavirus is most likely to spread outside the home. That's according to a newly published report based on data from millions of Americans, tracked by their phones as they went about daily life during the pandemic's first wave.
FROM STATnews

The story of mRNA: How a once-dismissed idea became a leading technology
in the Covid vaccine race
We are now banking on a genetic technology that has long held huge promise but has so far run into biological roadblocks. It is called synthetic messenger RNA, an ingenious variation on the natural substance that directs protein production in cells throughout the body. Its prospects have swung billions of dollars on the stock market, made and imperiled scientific careers, and fueled hopes that it could be a breakthrough that allows society to return to normalcy after months living in fear.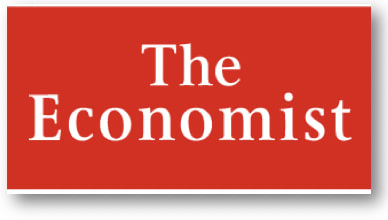 Can Politics and Science Dance Together in the Time of COVID-19?
A survey by Frontiers, a Swiss publisher of scientific journals, asked some 25,000 researchers whether lawmakers in their country had used scientific advice to inform their Covid-19 strategy.
Researchers in New Zealand are most satisfied with policymakers. More than three-quarters of respondents agreed that Jacinda Ardern's government, which closed the country's borders and imposed a strict lockdown in early March, has taken expert scientific advice into account. Little wonder, as New Zealand has eliminated the virus twice.
The countries hit hardest by the pandemic have been those where policymakers have strayed furthest from scientific recommendations. Marshaling the forces of science seems to work.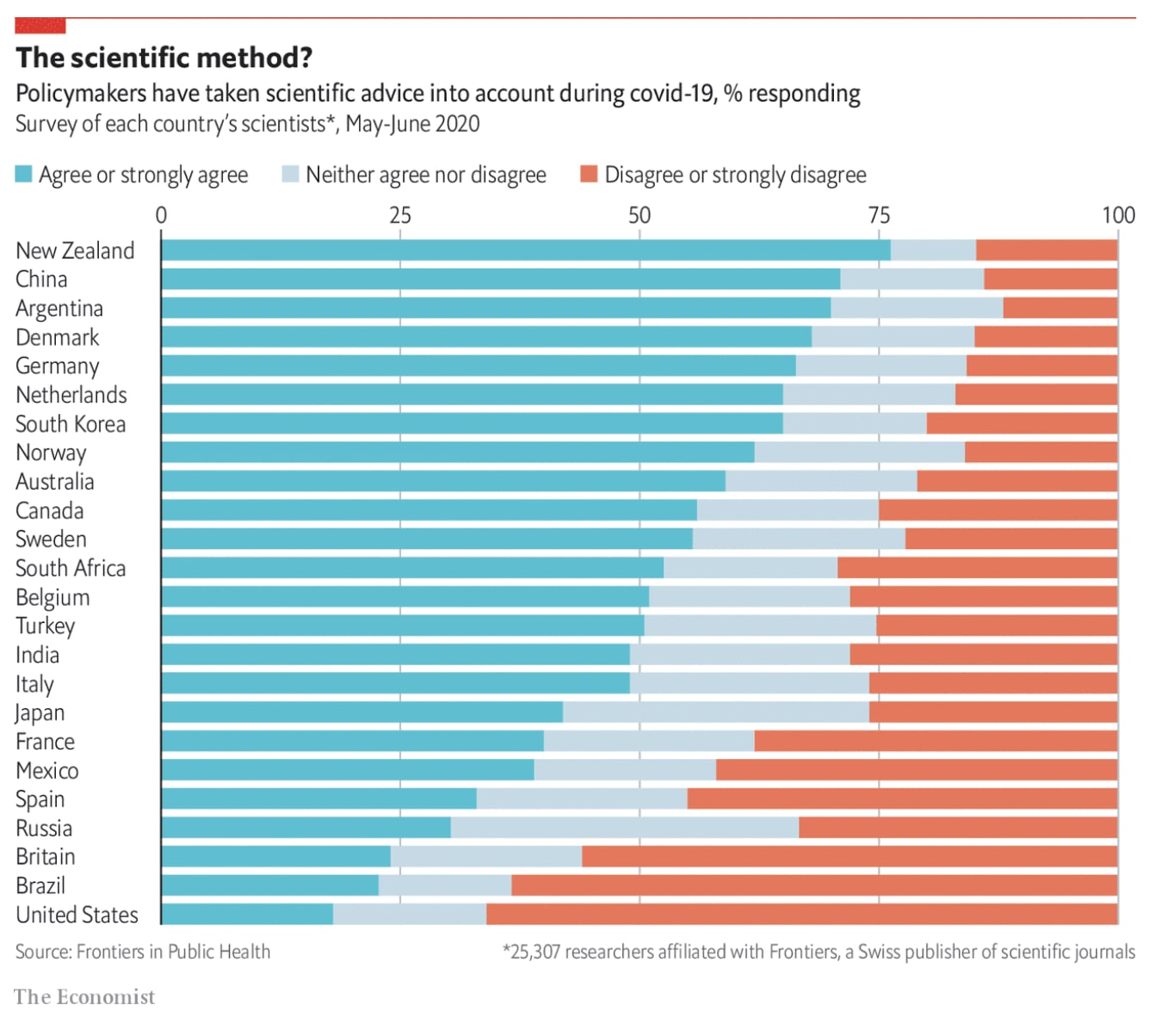 –THE NEWS of COVID-19–
51,857,776
(over 1,000,000 new cases since Monday)
Cases Worldwide (Johns Hopkins CSSE)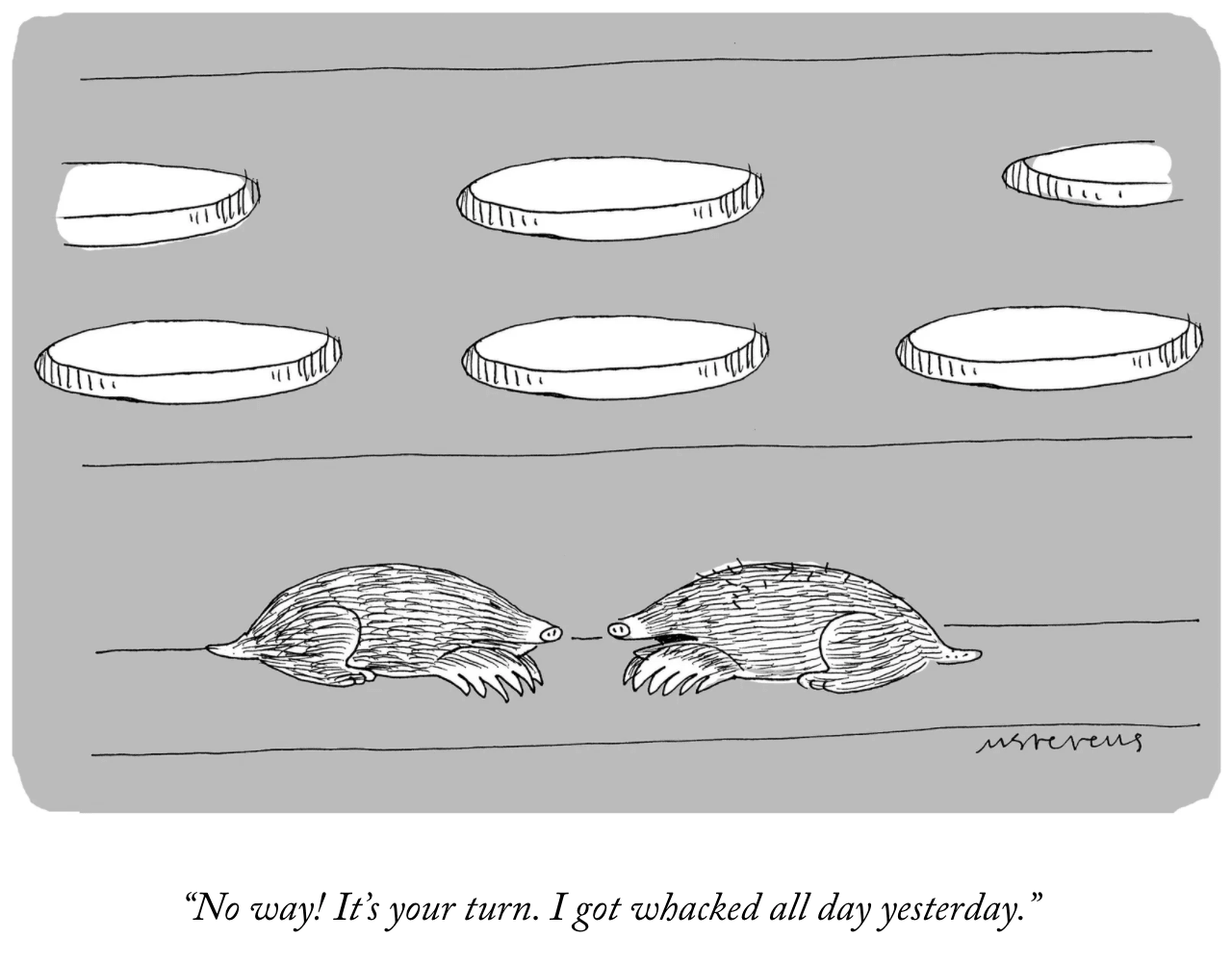 From Pfizer's CEO
Pfizer CEO Albert Bourla: "It is a great day for humanity. When you realize that your vaccine has a 90% effectiveness. That's overwhelming. You understand that the hopes of billions of people and millions of businesses and hundreds of governments that were felt on our shoulders. Now, we can credibly tell them. I think we can see the light at the end of the tunnel." (pfizer.com, cnbc.com)
Ending the Pandemic with RNA
Walter Isaacson, who participated in the Pfizer trials: "Vaccines work by stimulating a person's immune system. One traditional approach is to inject a weakened version of the dangerous virus. That's the way we now fend off measles, mumps, rubella and chickenpox. Another method is to use a version of the virus or a part of the virus that has been totally killed. The success of the Pfizer vaccine means that the plague year of 2020 will be remembered as the time when traditional vaccines began to be supplanted by genetic vaccines. Instead of delivering tiny and safe doses of the virus itself, these new vaccines deliver a piece of genetic coding that will instruct human cells to produce, on their own, components of a targeted virus. These safe components can then stimulate the patient's immune system….It's been a miserable pandemic amid an annus horribilus. It's nice that both appear to be ending with RNA — the fundamental molecule that probably spawned the existence of life on our planet a few billion years ago — giving birth to a new era of biotechnology." (The Wall Street Journal, The Washington Post)
Green Light for an Antibody Treatment
The US Food and Drug Administration has given Eli Lilly the first emergency use authorization for a Covid-19 antibody treatment, which the drugmaker hopes will help vulnerable people avoid hospitalization. Eli Lilly's bamlanivimab therapy has been authorized for mild-to-moderate patients who are at risk for developing a more serious condition, such as the elderly or those with chronic illnesses. The treatment, designed to boost patients' immune systems with artificially engineered antibodies, is the first drug developed for use this early in the disease. (Financial Times)
Melatonin and Covid-19?
Results from a new Cleveland Clinic-led study suggest that melatonin, a hormone that regulates the sleep-wake cycle and is commonly used as an over-the-counter sleep aid, may be a viable treatment option for Covid-19. As Covid-19 continues to spread throughout the world, particularly with cases rising during what some have termed the "fall surge," repurposing drugs already approved by the U.S. Food and Drug Administration for new therapeutic purposes continues to be the most efficient and cost-effective approach to treat or prevent the disease. According to the findings published today in PLOS Biology, a novel artificial intelligence platform developed by Lerner Research Institute researchers to identify possible drugs for Covid-19 repurposing has revealed melatonin as a promising candidate. (Cleveland Clinic, Science Daily)
Winter is Coming to Europe
As winter approaches, Europe is struggling with a brutal resurgence of the virus, one that, along with the U.S. surge, has helped push the global case count over 50 million, according to a New York Times database. France and Italy have reported record daily case totals in recent days as both countries have moved to lock down some regions. In Italy, where the devastation of the first wave in the spring looms large, 39,809 new coronavirus cases were reported on Saturday, a new daily record. Its daily average has increased by 119 percent over the past two weeks. Deaths in Italy have increased by a staggering 232 percent over the past two weeks, with 425 deaths reported on Saturday. (The New York Times)
Unprecedented Hospitalizations
The United States is experiencing an unprecedented surge of hospitalizations across the country. Today, states reported that 61,964 people were hospitalized with COVID-19, more than at any other time in the pandemic. For context, there are now 40 percent more people hospitalized with COVID-19 than there were two weeks ago. Seventeen states are at their current peaks for hospitalizations today. According to local news reports, hospitals are already on the brink of being overwhelmed in Iowa, Kansas, Minnesota, Missouri, Montana, North Dakota, Texas, Utah, and Wisconsin, and officials in many other states warn that their health-care systems will be dangerously stressed if cases continue to rise. (The Atlantic)
Japan Warns of Third Wave Amid Rising Covid Infections
Officials in Japan have warned of an impending third wave of coronavirus infections amid a rise in cases blamed on colder weather and a government campaign to encourage domestic tourism.
As the prime minister, Yoshihide Suga, vowed to secure enough vaccines to cover Japan's entire population, the number of daily cases continued to rise after several weeks of staying relatively stable.
Japan reported 1,284 new Covid-19 infections on Tuesday, bringing its total to 111,222 according to a Kyodo news agency tally based on official data. The death toll stood at 1,864. While Japan has avoided the large number of cases and deaths seen in the UK, US and other countries – with widespread mask wearing often cited as a factor – the decision to press ahead with a heavily subsidized tourism campaign in July appears to have contributed to a new wave of infections.
Cases are not only rising in Tokyo – the epicenter of Japan's outbreak with more than 33,000 cases – but also in prefectures with large urban populations such as Osaka, Kanagawa and Aichi, whose governor, Hideaki Omura, said last week: "Effectively the third wave has arrived." (The Guardian)
A Look at COVID-19 Risk of Mortality from Statnews
The comorbidities are ranked by odds ratio, a measure of the association between the comorbidity and mortality. (An odds ratio of 2 means double the risk compared with someone without the comorbidity.) The comorbidity with the highest odds ratio, 3.06, was developmental disorders, such as delays in development and disorders of speech and language, scholastic skills, and central auditory processing. All 15 odds ratios were statistically significant except for endometrial cancer. (STATnews)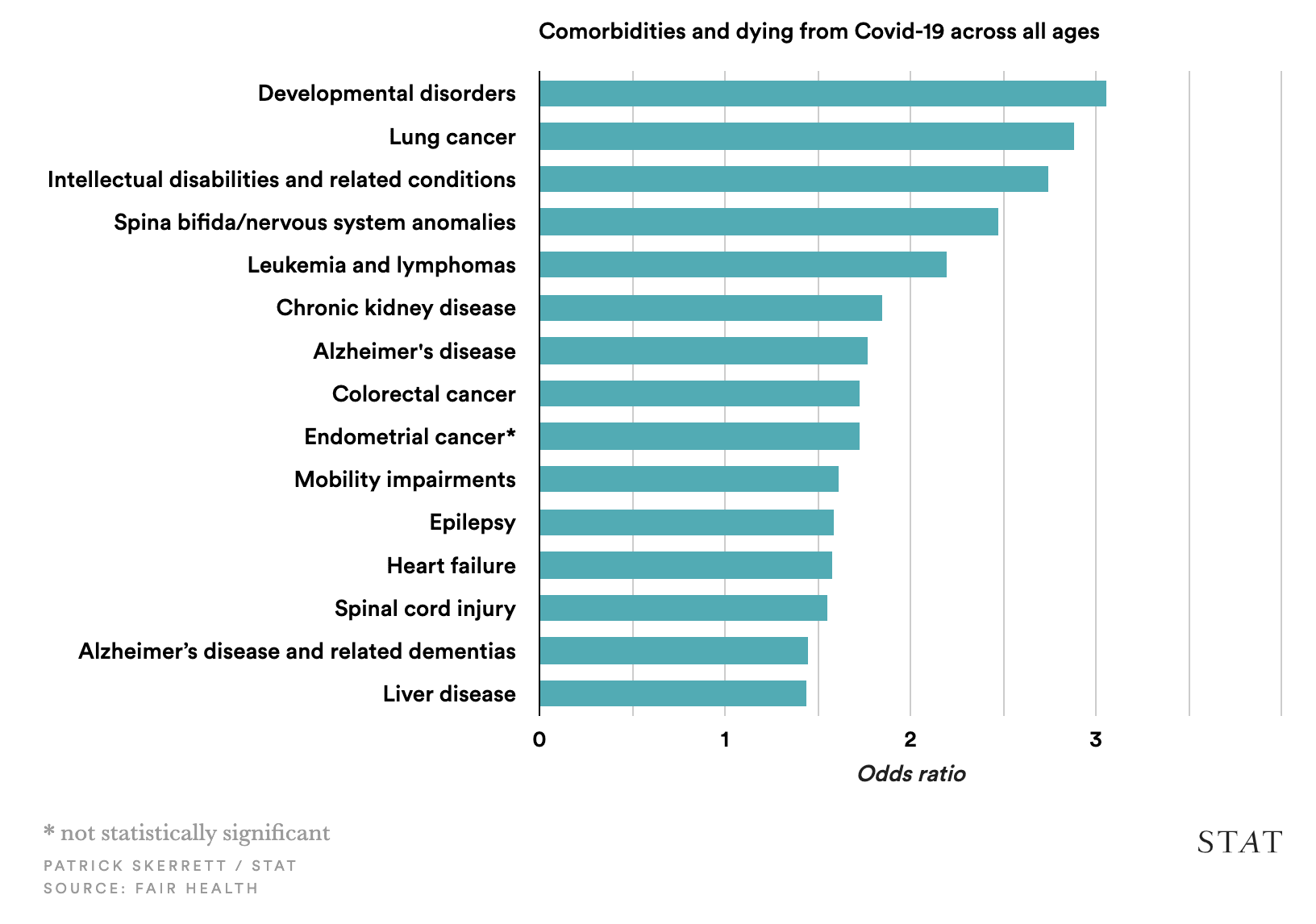 –The STATS–
TODAY's TOTAL
GLOBAL CASES:
Johns Hopkins– 51,857,776
WHO–51,251,715
GLOBAL DEATHS (WHO):
Today–1,270,930
Two Days Ago–1,254,567
EVOLUTION OF-GLOBAL CASES (WHO):
Today–51,251,715
Two Days Ago–
50,266,033
NEW CASES (WHO):
490,478
–Tracking the Virus Around the World–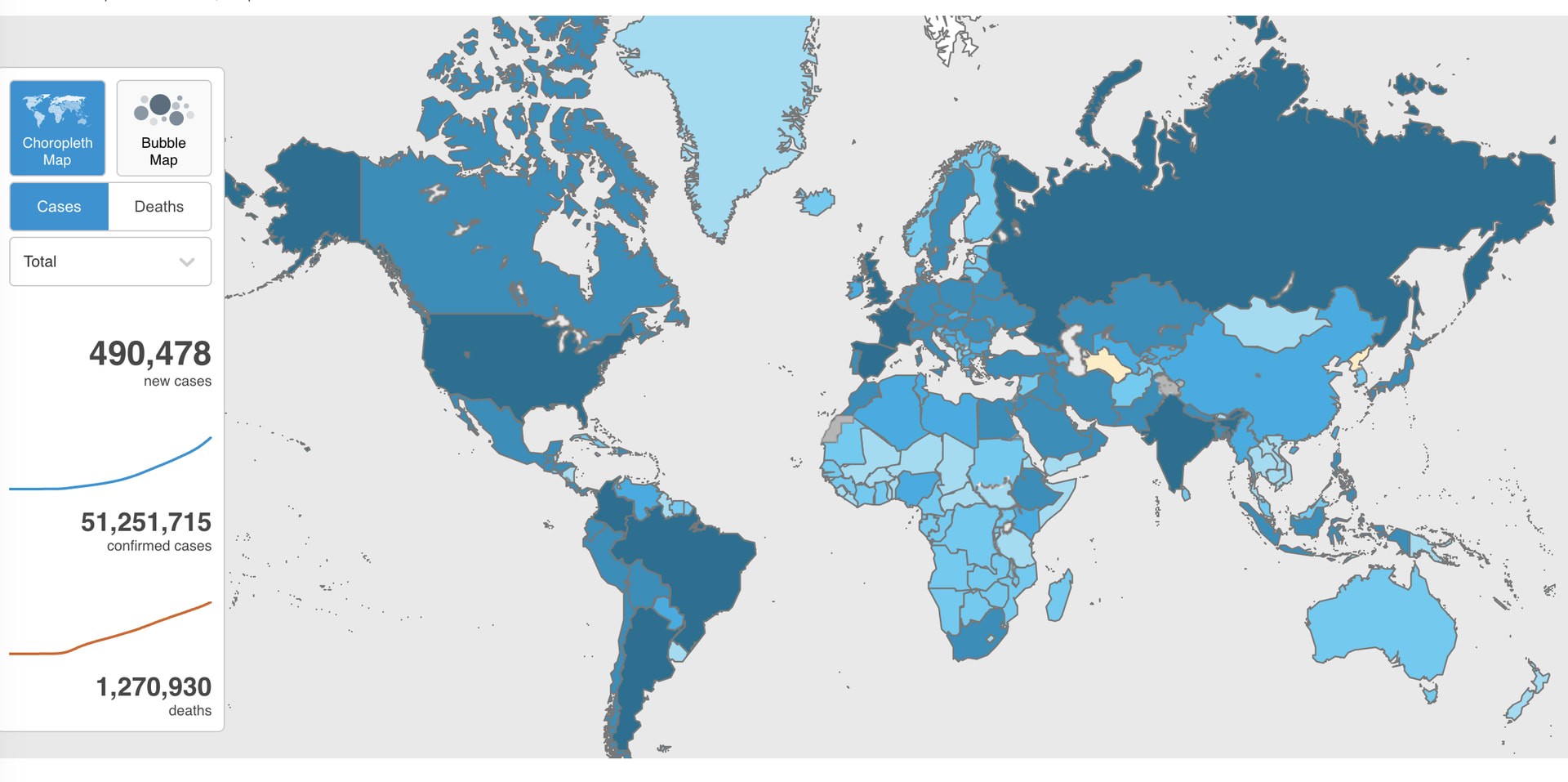 –FROM JOHNS HOPKINS CSSE–
The Cultures of Dignity Resources for Supporting
Social-Emotional Wellness
From Cultures of Dignity

,

For the Social-Emotional Tiny Guides from Rosalind Wiseman and Charlie Kuhn– a gift to our AAIE community– resources with no fee but plenty of insight.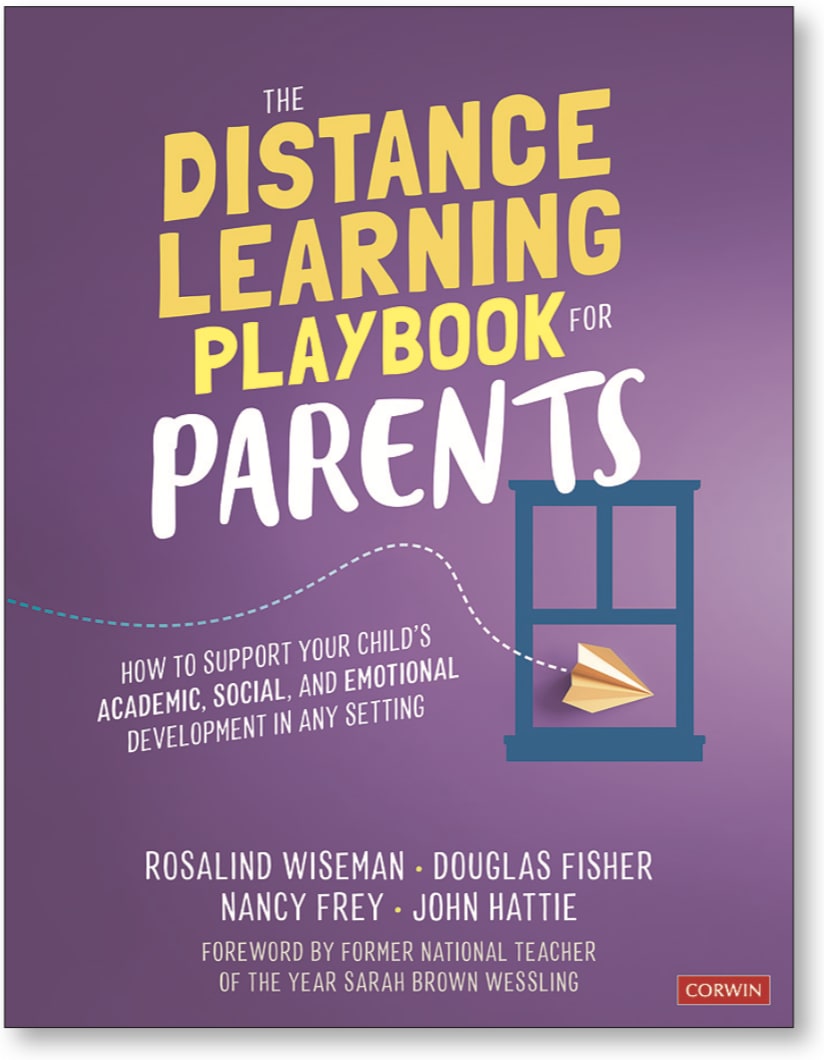 Rosalind Wiseman's newest book:

"Distance Learning Playbook for Parents–How to Support Your Child′s Academic, Social, and Emotional Development in Any Setting
A Final Note: The AAIE COVID-19 Briefing is provided to support your leadership for the school community you serve. We encourage you to use these resources in any way, shape or form that helps you, your communications and toward furthering close relationships across your community. – The AAIE Board