Feedback is Our Friend- we need yours!
The Virtual Leadership CONVERSATION
Quick SURVEY
"The Humans of AAIE" Global Leadership CONVERSATION
A Five Question Survey– Please Tell Us How We Can Improve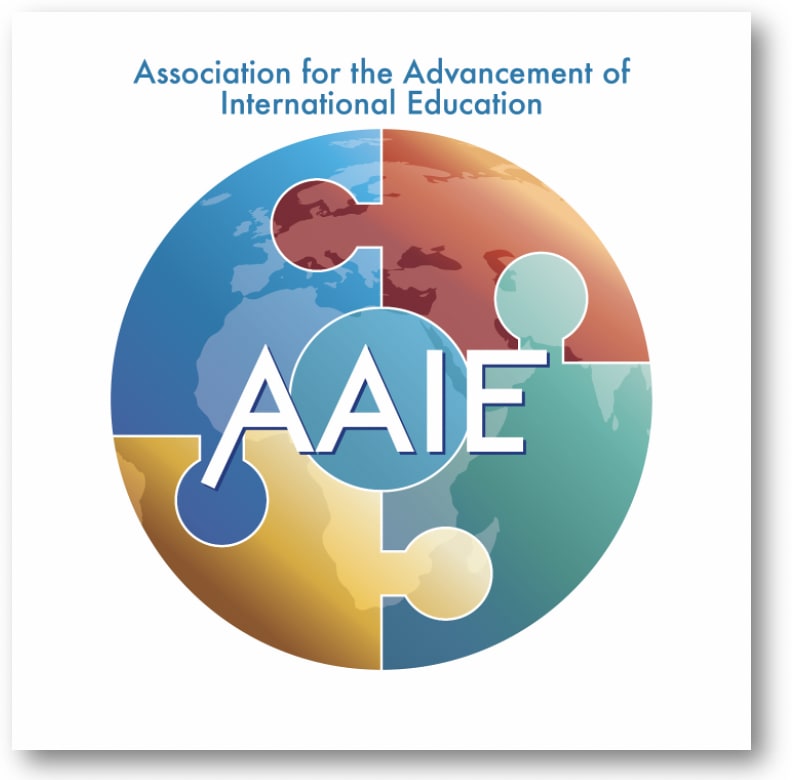 –FRIDAY–
AAIE's COVID-19 BRIEFING #200
Data and Ideas to Support Your Crisis Leadership
April 23, 2021
144,878,978 COVID-19 Cases Worldwide
Next week's

CONVERSATIONS

India: "Complete collapse of the goddamn system"

Covid-19 becoming a young person's disease?

Remote and hybrid learning here to stay

Tokyo moves into "State of Emergency"

Worldwide record of NEW cases
inspiration from Bob Hetzel
Three Wet Report Cards on Camden Street
— Naomi Shihab Nye
Sorry, all that homework
and now even your name
has washed away
Report cards from the late 1970s
dumped in a clump
smudgy grades
Teacher Comment areas bare
Was someone moving and
they fell out of a box?
I'm tempted to leave them
lying by the curb behind
the Catholic school
Feeling great sadness
for the hard work of teachers
filling in so many little boxes
dreary evaluating and judging
when what teachers love best
is that spark of discovery
that great question
the shy person
finally speaking from the stage
NEXT WEEK'S CONVERSATIONS
with International School Leaders from Around the World
WEDNESDAY
28 April 2021
8:00AM EDT
INNOVATION AND THE FUTURE OF EDUCATION NOW:
A DISCUSSION
SERIES #6
Western Academy of Beijing (WAB) and AAIE continue to partner for Round 6 of our panel discussion series that focuses on schools that continue to innovate and find new pathways for continually improving teaching, learning and ownership of students in the Journey.
On April 28 International School of Kuala Lumpur (ISKL) will share how they are Human-Centered, Future-Ready Now and How, guided by their mission and vision, they continued to innovate for impact with a focus on:
Developing responsive, agile, and human—centered ways of providing learning and operations.

Implementing learner-driven programs which nurture agency, inclusion, empathy, equity, authenticity, and international mindedness.

Catering for our community's wellbeing during the pandemic and beyond.
For ISKL
Rami Madani, Head of School
Praxia Apostle, Director of Learning
Charlotte Diller, Director of Technology
During the Wednesday conversation we would also like to invite all participants to actively join and share their schools' reflective conversations around any of the following topics:
breakthroughs in leading DEI discussions in our communities

innovative strategic planning processes

future accreditation paths you are thinking of pursuing

post-covid perspectives on "techwell" (i.e. technology and wellbeing done well
THURSDAY
29 April 2021
8:00AM EDT
OUR WEEKLY GLOBAL
LEADERSHIP CONVERSATION #57
Our weekly global leadership CONVERSATION continues. where we place key leadership issues out front for all to see. Then we tackle the problem-solving as a community.
THURSDAY
29 April 2021
10:00AM EDT
THE LATIN AMERICA CONVERSATION #44
This week we renew our CONVERSATION, working together as we grapple with the unique leadership issues and context of Latin America.
THE VOICES OF INTERNATIONAL SCHOOL HEADS
With thanks to,
Robert van der Eyken.
Director at Academia Cotopaxi
What to Do If a Staff Member Refuses the Vaccine?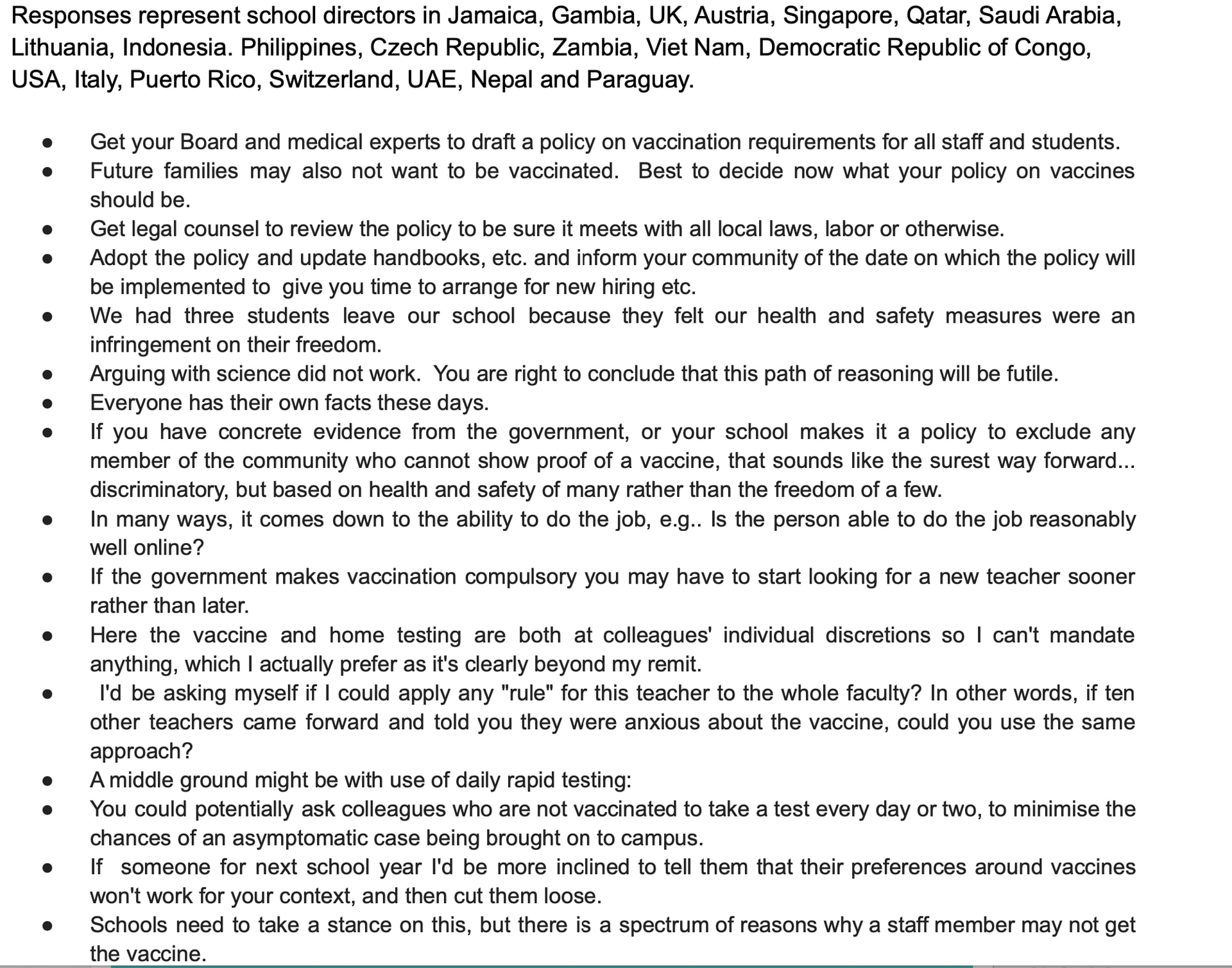 We Are Turning COVID-19 Into a
Young Person's Disease
Vaccines are working, but it also means many Americans are flipping how they think about COVID-19 risk. Adults who spent the past year worrying about their elderly parents are now worrying about their kids instead. The risks are not equivalent, of course: Kids are 8,700 times less likely to die of COVID-19 compared with those older than 85. But "even if the risk is not particularly high, you're still going to be extra protective of your kids," says Sandra Albrecht, an epidemiologist at Columbia. "It's just human nature.

In coming months, parents may find themselves going back to normal while their kids still have to wear masks indoors. "It's a very strange relationship to feel protected when your kids are still not," Jennifer Nuzzo, an epidemiologist at Johns Hopkins, told me. But some 30 million households have children still too young to be vaccinated; in these families, parents and caretakers, especially of the youngest children, will have to keep navigating this incongruous world.
The biggest risk factor to consider for unvaccinated kids, experts told me, is simply how much COVID-19 is spreading in the community. The U.S. is currently vaccinating at a good clip, and even partial herd immunity will slow transmission of the coronavirus. Seasonal effects may drive case numbers even lower in the summer. "If there's very little virus circulating, that's a pretty low-risk situation," says Sean O'Leary, a pediatrician at Children's Hospital Colorado.
Experts have pegged the threshold where general restrictions can relax at 5,000 to 10,000 cases per day—the point at which risk of COVID-19 is roughly comparable to risk of the flu. (For context, the seven-day average of daily COVID-19 cases in the U.S. reached a low point of 20,000 last summer and peaked at 250,000 during the winter surge; that number has since plateaued at 70,000.) Not everyone will feel comfortable with the same level of risk though. Even before the pandemic, O'Leary points out, parents with children who have high-risk medical conditions were very careful about, say, traveling during flu season. COVID-19 might be another reason for these families to be vigilant.
But already, momentum in the country is shifting toward reopening. States are ending their mask mandates and COVID-19 restrictions. How low cases go in the U.S. later this year will depend on the speed at which we inoculate harder-to-reach populations, as well as continued vigilance among the still-unvaccinated. Letting up after a year of social distancing is tempting, but as my colleague Katherine Wu writes, our vaccine cheat days add up.
Variants may also influence case levels, but it's not entirely clear how much. Early on, scientists in the U.K. thought the B.1.1.7 strain might be disproportionately more contagious among children than among adults, but the pattern has not held up. That may be because the variant was first detected after schools in the U.K. opened in the fall, explains Oliver Ratmann, a statistician at Imperial College London who has modeled the implications of the variant for kids. Then schools closed and mobility patterns changed over the holidays, which complicated the preliminary trends. The earlier pattern of B.1.1.7 in kids might just have reflected who had a chance to spread the virus at the time, especially because U.K. schools took fewer precautions, such as mask wearing, compared with many in the U.S. The evidence on whether this variant causes more severe illness is also mixed.
What is clear, though, is that B.1.1.7 is more transmissible than the original virus among all age groups. In some places, that could tip the balance toward rising cases, but other factors are clearly at play too. For example, Michigan has a lot of B.1.1.7 cases and is experiencing a terrible COVID-19 surge, but Florida, which also has high numbers of B.1.1.7, is not. "The variants don't help, but they're not fully to blame," Nuzzo said. The same precautions that worked before—including good ventilation, masking, and social distancing—still work against B.1.1.7.
All of these concerns could come to a head in schools, which are one of the main places where unvaccinated people—e.g., kids—will congregate. As the U.S. is already seeing, school outbreaks do happen, but they can be contained with precautions in place. This means younger kids, who likely won't get vaccinated before the fall, may have to continue to wear masks indoors. But the benefits of in-person schooling are significant enough, experts told me, that schools should open even if kids can't get shots yet.
The trickier question is what kids can do outside of school when it comes to playdates, sports, and extracurricular activities. In Michigan, officials have suggested that high-school athletics and the socializing around sports—rather than classes themselves—are driving the uptick in cases among teens. Parents and kids will have to decide together which risks are worth taking. Newland told me his 15-year-old daughter sees her core group of friends and plays sports. But she's decided to keep taking virtual classes, even though her risk of contracting COVID-19 at school is low, because exposure to any cases at school could trigger a quarantine that keeps her from playing sports, which is important to her. That's the tradeoff they've decided to make, but they'd of course prefer not having to make it. As Newland said, "I feel much better about my other daughter, who got vaccinated at 17."
At least 15-year-olds have an end in sight; they are likely to be eligible for Pfizer's vaccine soon. Parents of younger kids may have to keep making these split decisions a lot longer. In their strange world, a dinner party with their adult friends is fine, but a birthday party for their 5-year-old could still spread the virus. When I asked several experts about a hypothetical party for unvaccinated preschoolers in the fall, they told me they would continue to think about ways to reduce risk, such as keeping the gathering small and outdoors. These assessments are hard to make in advance: We don't know exactly what the situation will look like and how much the virus will still be circulating. Perhaps COVID-19 will have faded enough that people won't be spending every waking minute thinking about the virus anymore. Perhaps not.
To make these decisions more difficult, the situation probably won't be the same everywhere in America. Already, rural residents report less interest in getting the shots than people living in cities and suburbs. Whether because of vaccine hesitancy or unequal access, "I think there's going to be a huge amount of variation geographically," says Whitney Robinson, an epidemiologist at UNC Gillings School of Global Public Health. The virus may continue to circulate in pockets of the country where not enough eligible adults are vaccinated. These adults plus still-ineligible kids could add up to a pretty large pool of susceptible people.
Ultimately, the risk to unvaccinated kids later this year depends on the actions we take now. The faster we vaccinate and the better we suppress cases through other measures, the safer the situation will be for anyone who remains uninoculated in the fall. Then, finally, parents can stop telling kids to do things that they themselves are not doing—which, as former kids I think can agree, is literally the worst.
Remote and Hybrid Learning are Here to Stay.
Let's make them better.

Article by Carol DeFuria,
VHS Learning
To keep everyone safe from the threat of COVID-19, educators have spent countless hours creating remote and hybrid learning environments for their students. In the process, they have forever reinvented what K-12 instruction looks like.
Many experts believe the new learning environments that schools have established during the pandemic will continue in some form or another well after the current crisis is over. If this is true, then it becomes even more critical that we get this method of instruction right. As one superintendent told Education Week, "There's no going back now." Being able to learn remotely makes education more convenient for some students, such as those who have health problems or those who feel threatened while at school.
In a survey by the RAND Corporation last fall, 10% of K-12 leaders said they were thinking of continuing to offer a blended or hybrid learning model even after the pandemic is over, and 20% said they would consider offering a fully remote option for students.
At the very least, schools -- and teachers -- are now equipped to shift between remote and in-person instruction seamlessly, possibly making snow days and other learning interruptions a thing of the past. The question now is, how can educators improve on these models for teaching some or all students remotely moving forward?
VHS Learning has been teaching online courses for more than 25 years. We define online learning as learning that is designed from the start to take place at a distance, using the full capabilities of technology and learning infrastructure to create a robust online classroom experience. True online learning should not be confused with remote learning, which is what we've been seeing during the pandemic. Remote learning often uses a "lecture model" that attempts to replicate a teacher's face-to-face instructional style. Here are three strategies that we have used to make these experiences successful for students.
Look for opportunities to foster community
One of the challenges involved in learning remotely is the sense of isolation that students might feel when they're not sitting in the classroom with their peers. Creating a strong sense of community can help reduce this isolation, so that students feel more connected with each other and their teacher. If students don't feel connected, they aren't likely to engage in lessons remotely.
One way to build community is to use "icebreaker" activities to help students become part of the conversation. Also, be certain that students can see and hear each other well. If you're teaching in a hybrid environment, position cameras and microphones so that remote students are fully engaged. Check in with your remote students regularly to make sure their technology is working, and they can see and hear everything that's going on.
In addition, teachers should have students interact frequently as part of assignments. For instance, use discussion boards, breakout rooms, and other online forums to facilitate class discussions. Have students use Google Apps, blogs, or video to share their work with the class, and ask them to comment on each others' work. Have them use digital collaboration tools to work together on projects.
Be very intentional in how you use face time
To leverage the strengths of both synchronous and asynchronous learning, teachers should match the learning activities to the most appropriate learning mode. For instance, students might use asynchronous learning for absorbing content, such as by reading about a topic or watching a video, and then use synchronous class time for office hours or interactive lessons that lead to deeper learning and understanding. These activities might include class discussions, debates, labs, or hands-on projects.
Give students frequent feedback and support
Students need to feel supported throughout their educational journey, and that's especially true when they're learning remotely.
An effective remote learning experience should include some kind of orientation for students at the outset, so they know what it takes to succeed in the course and how they can ask for help. Teachers should communicate both with the entire class and also one on one with students as questions arise. Throughout the course, teachers should provide substantive feedback on assignments to keep students engaged, on track, and fully aware of their progress. Frequent communication is an important way to ensure that students, especially those who might be struggling, get the support they need to succeed.
Giving clear, explicit directions is always important. But it's even more important when students are learning remotely, when they might have more infrequent access to their teacher -- or when a teacher can't see confusion on a student's face. Be sure you post detailed instructions for what you expect students to do. Begin each class or instructional module with an overview of the lesson, taking care to ensure that both remote and in-person learners can see this information and ask questions.
Having the flexibility to learn from home or at school can serve students' needs more effectively, even when the pandemic is over. For remote and hybrid learning to become the "new normal," however, schools must be very deliberate in how they deliver instruction.
By building on the hard work educators have done so far and learning from providers who develop and deliver high-quality online instructional programs designed from the start to use best practices, we can continue to make these environments even better and set up students for success -- regardless of where they learn.
A few takeaways:
People who were reinfected during a second outbreak at a Kentucky nursing home had mild or asymptomatic infections the first time around.

Data also suggests that people who have milder infections the first time might be more vulnerable to severe infections from different strains.

Protection from reinfection seems to wane with increased age and may be only about 47% for people 65+.
The chances of becoming infected by Covid fell sharply after a first dose of either the AstraZeneca or Pfizer vaccines, a UK study has found.
The vaccines worked just as well in the over-75s and those with underlying health conditions, as other people.
The Office for National Statistics (ONS) and University of Oxford research also found a strong antibody response in all age groups from either jab. Everyone showed some response to both vaccines, they said.
The research, contained in two studies which have not yet been peer-reviewed or published, is based on virus tests from 370,000 people in the general UK population - one of the largest to date.
It provides further real-world evidence that the vaccines being used in the UK to protect against Covid-19 are effective at protecting people against coronavirus infections.
In the first study, people who had been vaccinated with a single dose of either the Oxford-AstraZeneca or Pfizer-BioNTech vaccines were 65% less likely to get a new Covid infection.
Three weeks after their jab, given between December 2020 and early April 2021, infections with symptoms fell by 74%, while infections with no reported symptoms fell by 57%.
Those who had received a second vaccine dose of Pfizer were 90% less likely to be infected. The same calculation could not be made for AZ, because too few people in the study had received a second dose as its rollout started later.
The study showed both vaccines were effective against the Kent variant (B117) which was circulating at the time.
Dr. Koen Pouwels, senior researcher in University of Oxford's Nuffield Department of Population Health, said the data backed up the decision to extend the gap between doses. "The protection from new infections gained from a single dose supports the decision to extend the time between first and second doses to 12 weeks to maximise initial vaccination coverage, and reduce hospitalisations and deaths," he said.
–THE NEWS of COVID-19–
144,878,978 Cases Worldwide (Johns Hopkins CSSE)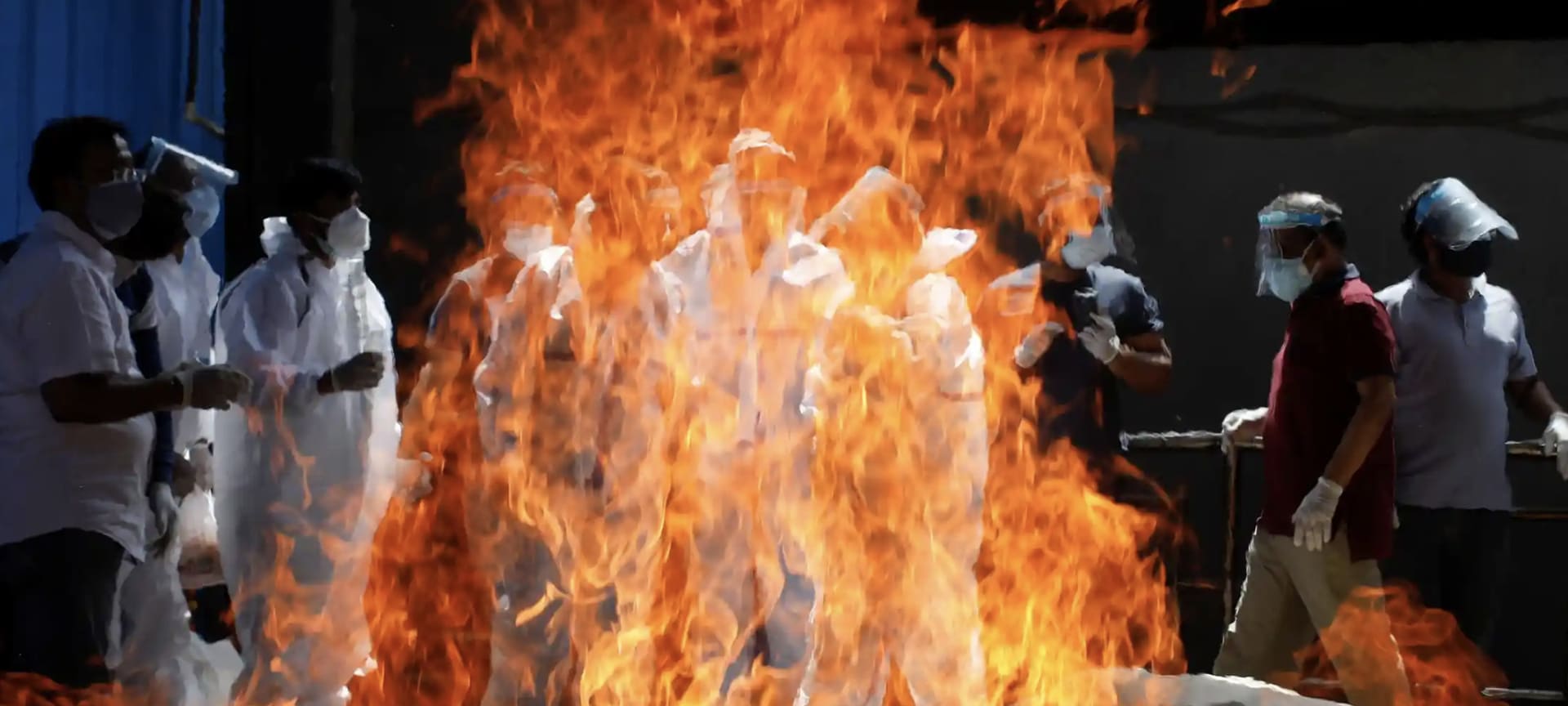 India's Descent into Hell
Looking out over a sea of jostling, maskless faces gathered at a political rally in West Bengal on Saturday, the Indian prime minister, Narendra Modi, proudly proclaimed that he had "never ever seen such huge crowds". A mask was also noticeably absent from Modi's face. That same day, India registered a record-breaking 234,000 new coronavirus cases and 1,341 deaths – and the numbers have kept rising since.
The country has descended into a tragedy of unprecedented proportions. Almost 1.6 million cases have been registered in a week, bringing total cases to more than 15 million. In the space of just 12 days, the Covid positivity rate doubled to 17%, while in Delhi it hit 30%. Hospitals across the country have filled to capacity but this time it is predominately the young taking up the beds; in Delhi, 65% of cases are under 40 years old.
While the unprecedented spread of the virus has been partly blamed on a more contagious variant that has emerged in India, Modi's government has also been accused of failures of political leadership from the top, with lax attitudes emulated by state and local leaders from all parties and even health officials across the country, which led many to falsely believe in recent months that India had defeated Covid.
"Leadership across the country did not adequately convey that this was an epidemic which had not gone away," said K Srinath Reddy, president of the Public Health Foundation of India.
"Victory was declared prematurely and that ebullient mood was communicated across the country, especially by politicians who wanted to get the economy going and wanted to get back to campaigning. And that gave the virus the chance to rise again." (The Guardian)
Bodies Piling Up and an Overwhelmed Medical System
Bodies piling up at crematoriums and burial grounds across India are sparking concerns that the death toll from a ferocious new Covid-19 wave may be much higher than official records, underplaying the scale of a resurgence that is overwhelming the country's medical system. Several cities across the South Asian nation have reported shocking details of bodies, wrapped in protective gear and identified by hospitals as virus-related deaths, lined up outside crematoriums for hours. Accounts collated by Bloomberg from relatives of the dead and workers and eyewitnesses at crematoriums in at least five cities indicate that the real number of Covid fatalities could be significantly higher than the deaths being reported by local government health departments. (Bloomberg News)
India Covid Crisis: Hospitals Buckle Under Record Surge
"Complete Collapse of the Goddamn System"
Families are left pleading for their relatives who are desperately ill, with some patients left untreated for hours. Crematoriums are organizing mass funeral pyres.
On Friday India reported 332,730 new cases of coronavirus, setting a world record for a second day running. Deaths were numbered at 2,263 in 24 hours.
Dr. Atul Gogia, a consultant at the Sir Ganga Ram hospital in Delhi, told the BBC there had been a "huge surge" in patients, leaving no space in the emergency room. "We do not have that many oxygen points. Whatever oxygen points are there, they're full. Patients are coming in with their own oxygen cylinders or without oxygen. We want to help them but there are not enough beds and not enough oxygen points even to supply them oxygen if it is there," he said.
"All our telephone lines are jammed. People are continuously calling the helpline. There is a big rush outside the hospital: there are ambulances parked, patients wanting to get deboarded, but the problem is, there is no space. "We try to mobilize, we try to discharge patients who become stable as early as possible so that we can increase the turnaround, but things are difficult right now."
Every morning, for the past few days, I have been waking up to my phone buzzing with desperate messages for help. People are seeking hospital beds, life-saving drugs, oxygen and plasma for their infected and sick friends and relatives. Often, after a period of silence, the same people announce the deaths of their "patients". My Twitter timeline is India's Covid-19 war-room, as the state appears to have largely withered away.
Every essential to save a life is in short supply or available on the black market. Then there's the fear of the virus literally "at your door". Over the past week, three buildings in the gated complex where I live have become "containment zones", with entire skyscrapers sealed because of too many infections. The days and nights are filled with helplessness, anxiety and fear. The bad news is unrelenting.
The Supreme Court of India has called this a "national emergency". This is beyond an emergency. It is a "complete collapse of the goddamn system", as one of India's leading virologists says. In hotspots like Delhi and Mumbai, life, itself, is now a privilege.
Worldwide NEW Cases Hit a Record
It is easy to feel as if the coronavirus pandemic is getting out of control again. The rate of new cases hit a record last week, with 5.2m people around the world getting infected, according to data from Johns Hopkins University.
But the flurry of depressing headlines from countries around the world cannot disguise one thing: it is now clear that the vaccines are working. In countries where cases have been falling in recent months, the vaccines have saved lives. And in countries that are still struggling to suppress a third or fourth wave, the vaccines have also saved lives. An FT analysis of data from five countries — each facing very different scenarios — finds that rates of infections, hospitalization and death have traced a lower path among the older, most vaccinated age groups than among younger cohorts, who are least likely to have received the jab. This is regardless of the viral caseload — whether infections are rising or falling, or if a country is grappling with one of the new variants. (Financial Times)
More on India
Marking a grave new milestone in the coronavirus pandemic, India recorded 312,731 new infections in a 24-hour period, the Indian health ministry said on Thursday. It is the highest daily case count in a single country since the virus surfaced in China more than a year ago. India's total eclipsed the previous single-day high of 300,669 cases, set in the United States on Jan. 8, according to a New York Times database. Over the past two months, the outbreak in India has exploded, with reports of super-spreader gatherings, oxygen shortages and ambulances lined up outside hospitals because there are no ventilators for new patients. As cases worldwide reach new weekly records, 40 percent of the infections are coming from India, a sobering reminder that the pandemic is far from over, even as infections decline and vaccinations speed ahead in the United States and other wealthy parts of the world. India has surpassed 15.6 million total infections, second most after the United States. The death toll has also begun to climb precipitously. (The New York Times)
State of Emergency in Tokyo, Yet Again
Prime Minister Yoshihide Suga wants to make a decision as soon as this week on whether to declare a state of emergency in Tokyo, Osaka and other areas, and ramp up restrictions to contain a surge in coronavirus cases just three months before the start of the delayed Olympics. The Tokyo metropolitan government and the Kyoto and Hyogo prefectural governments separately asked the national government on Wednesday for the application of a state of emergency. Osaka Prefecture did this on Tuesday. The decision will be made on Friday, government sources said. If adopted in all four regions from Tokyo to Kyoto, the emergency measures would cover close to a quarter of Japan's population of 126 million. But it was the moves by the leaders of Japan's two-biggest and economically important urban areas that have put pressure on Suga to move quickly. (via Japan Times)
More Vaccines than Demand in the USA
Daily coronavirus vaccinations (in the United States) have slowed significantly for the first time since February, a sign that demand is slipping even though every American adult is now eligible for the shots. About 3 million Americans are getting vaccinated daily, an 11 percent decrease in the seven-day average of daily shots administered over the past week. The unprecedented drop is rivaled only by a brief falloff that occurred in February, when winter storms forced the closure of vaccination sites and delayed shipments nationwide. (The Washington Post)
Vaccines Are Effective Against the New York Variant and Others
Both the Pfizer-BioNTech and Moderna vaccines will effectively prevent serious illness and death from the variant, two independent studies suggest.
Antibodies stimulated by those vaccines are only slightly less potent at controlling the variant than the original form of the virus, both studies found.
"We're not seeing big differences," said Michel Nussenzweig, an immunologist at Rockefeller University in New York and a member of the team that published one of the studies on Thursday.
The bottom line? "Get vaccinated," he said. The results are based on laboratory experiments with blood samples from small numbers of vaccinated people and have not yet been peer-reviewed. Still, they are consistent with what is known about similar variants, several experts said, and they add to a growing body of research that suggests that the two main vaccines in the United States are protective against all of the variants identified so far.
"The take-home message is that the vaccines are going to work against the New York variant and the South African variant and the U.K. variant," said Nathan Landau, a virologist at N.Y.U.'s Grossman School of Medicine who led the study. (New York Times)
Worldwide Vaccinations per 100 People: As of April 23, 2021
(report looks at prior day data)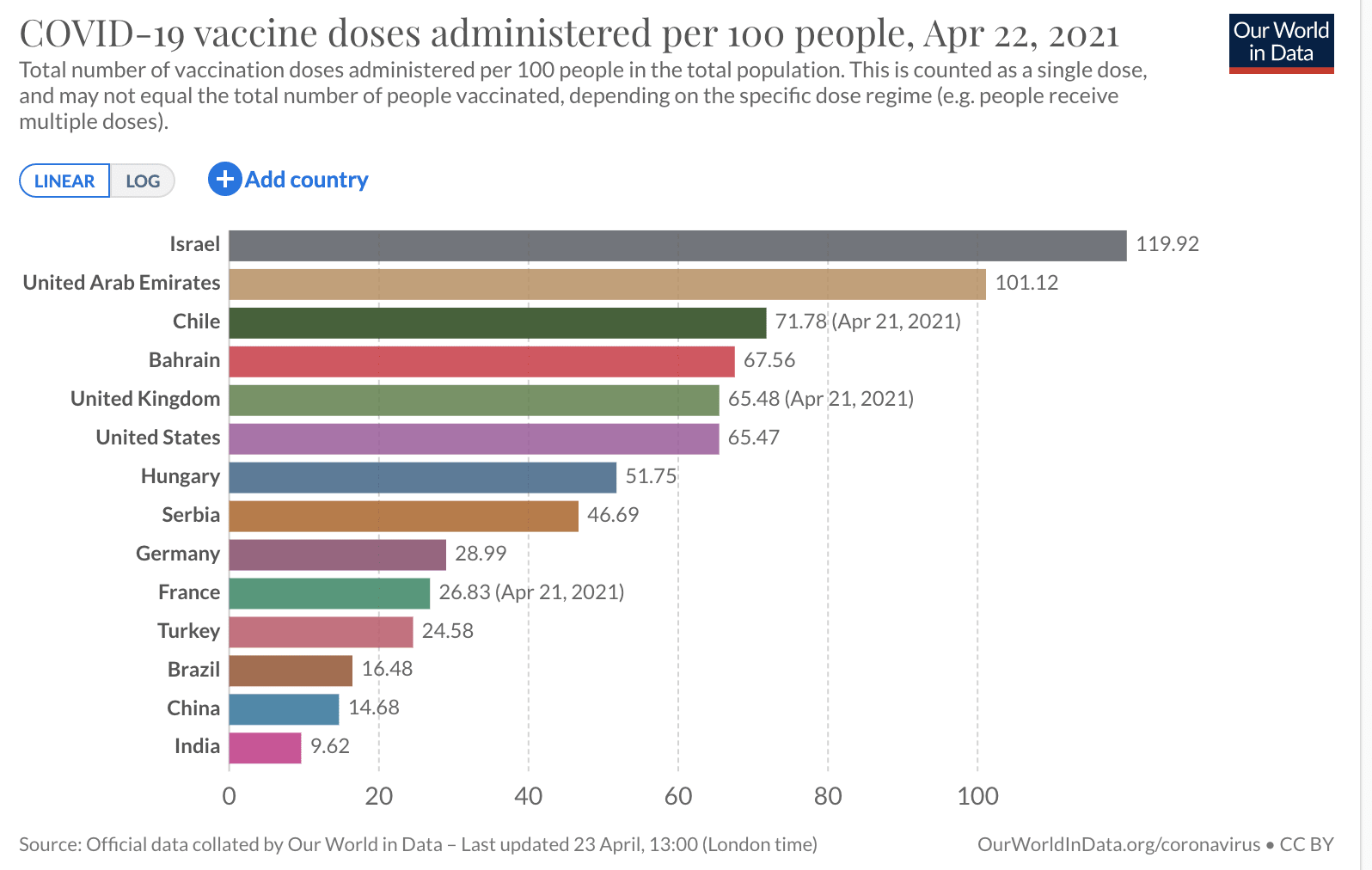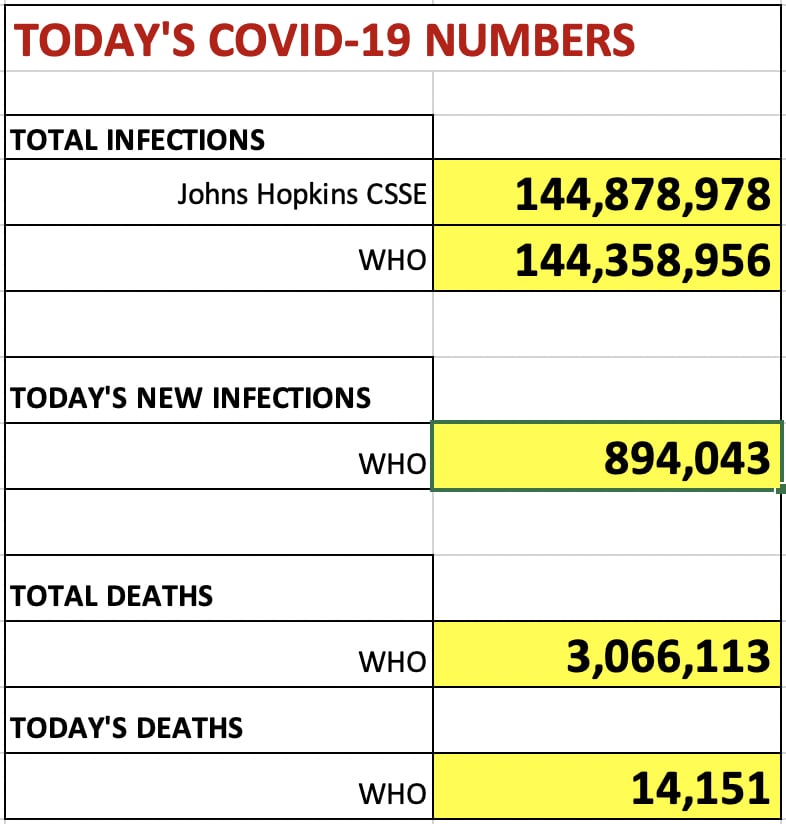 –FROM JOHNS HOPKINS CSSE–
From Johns Hopkins

CSSE,

the

Infection Rate World Graphic
The Cultures of Dignity Resources for Supporting
Social-Emotional Wellness
From Cultures of Dignity

,

For the Social-Emotional Tiny Guides from Rosalind Wiseman and Charlie Kuhn– a gift to our AAIE community– resources with no fee but plenty of insight.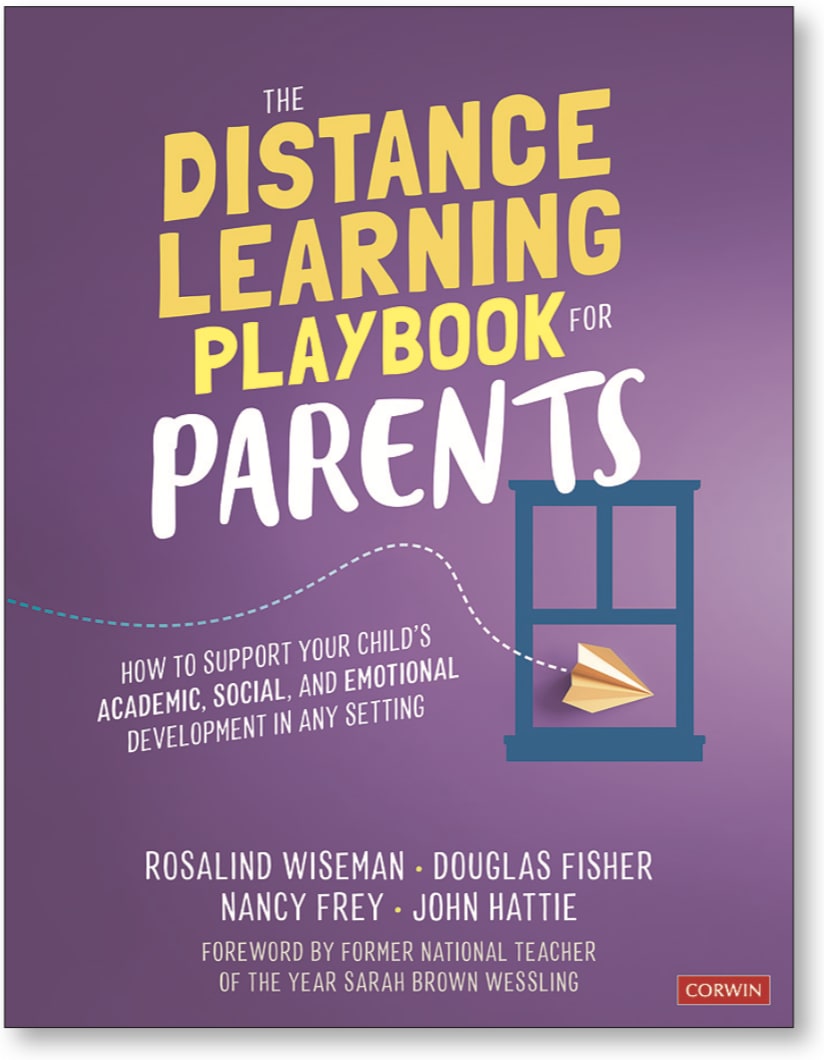 Rosalind Wiseman's newest book:

"Distance Learning Playbook for Parents–How to Support Your Child′s Academic, Social, and Emotional Development in Any Setting
A Final Note: The AAIE COVID-19 Briefing is provided to support your leadership for the school community you serve. We encourage you to use these resources in any way, shape or form that helps you, your communications and toward furthering close relationships across your community. – The AAIE Board