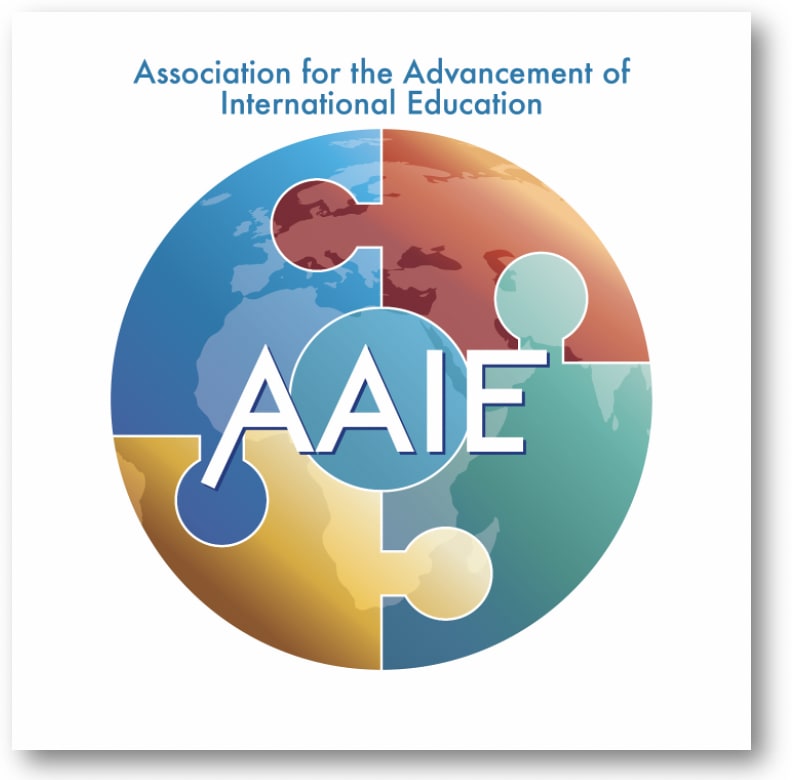 –FRIDAY–
AAIE's COVID-19 BRIEFING #187
Data and Ideas to Support Your Crisis Leadership
March 19, 2021
The AAIE Global Leadership CONVERSATION:
April 11-16, 2021
Each School, One Ticket, Everyone Joins In
"Humans of AAIE"
"The Things We Will Leave Behind": Stories of fear and everyday uncertainty
"The Things We Will Not Let Go": Stories of learning, hope, and community
"The Things We Will Carry Into Tomorrow": Stories of reflection and reinvention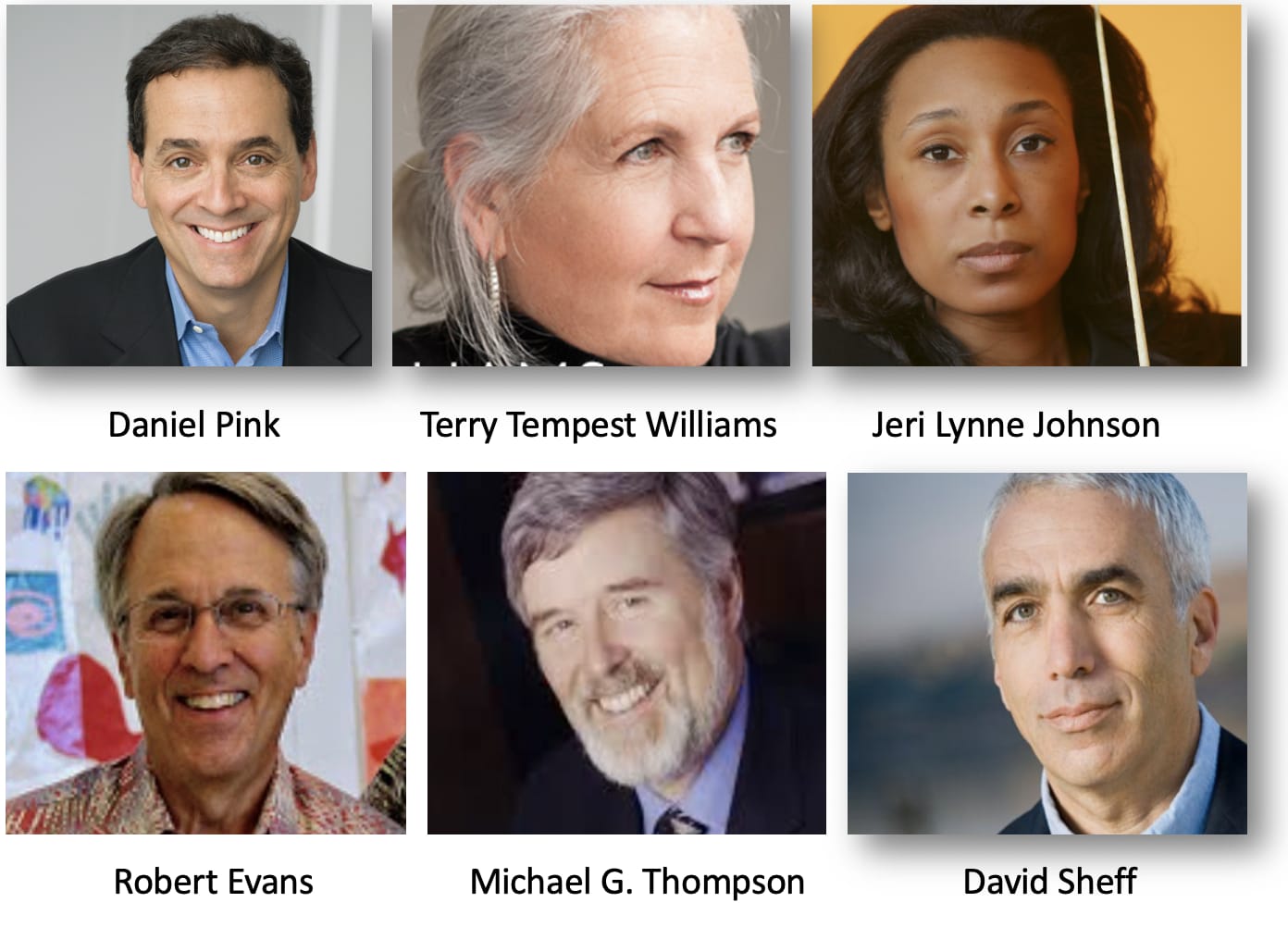 * by registering you are supporting the work of AAIE as well
QUICK LINKS for Busy People
121,002,099 Worldwide Cases

NEXT WEEK'S

CONVERSATIONS

Innovative Schools: ASF-Monterrey and WAB featured next Wednesday

The New School Project (short) film festival- an invitation to students

New CDC guidelines for social distancing in schools

The pandemic and the changing shape of global happiness

Germany, France and Italy on lockdown

India with greatest infection increase in past three months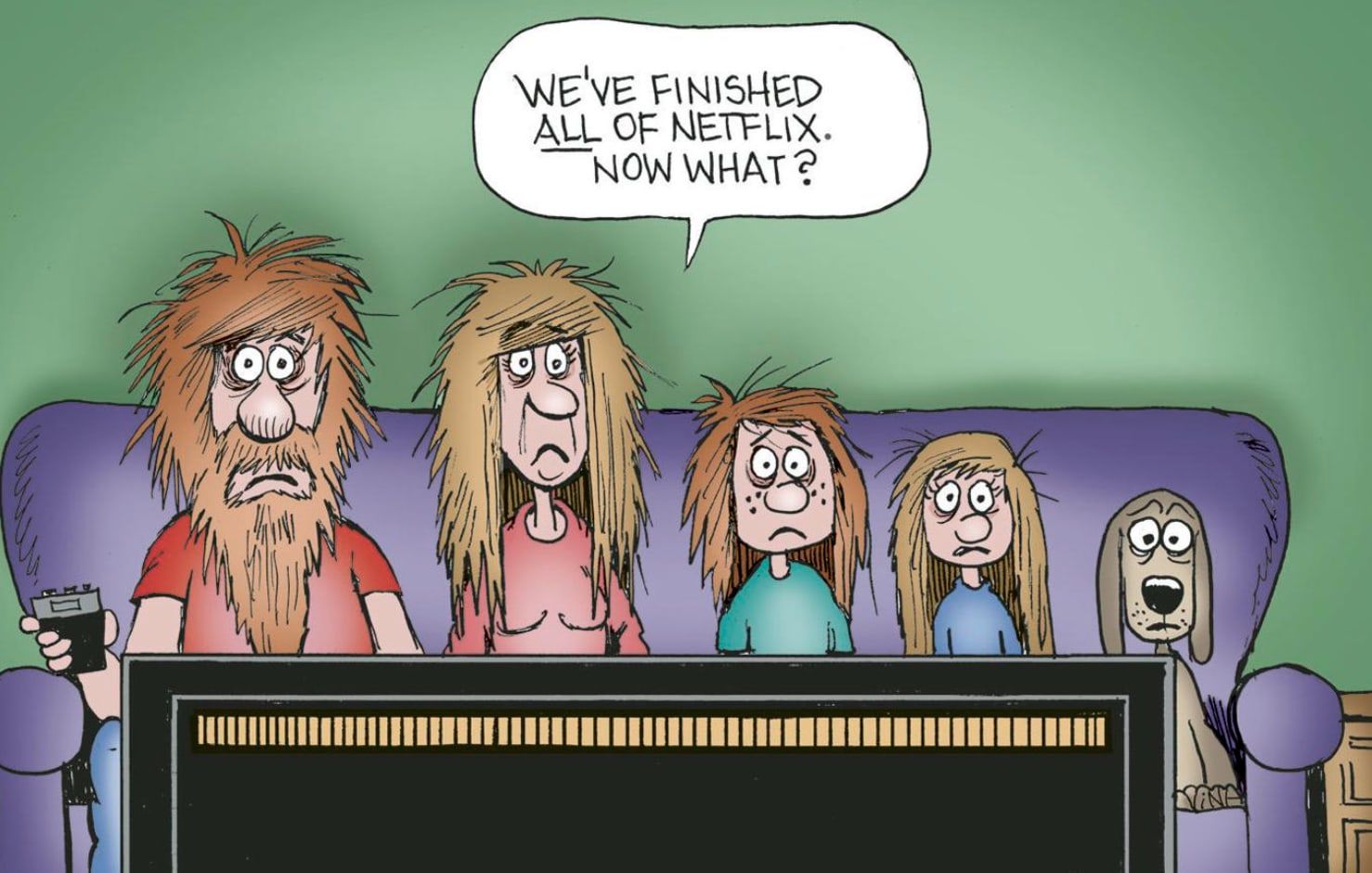 inspiration from Bob Hetzel
Weniger, aber besser (Less, but better)
It's fun to blame ourselves for things.
It's a relief.
The puff of big dreams
shrivels back to normal size.
You think, Probably not.
Probably I won't get that done
and it won't matter.
I'm not up for that today.
It's great to wrap our arms around No
and stay put. I'm fine with failure.
Only you
know what
you didn't do.
—Naomi Shihab Nye
–NEXT WEEK'S CONVERSATIONS–
with International School Leaders from Around the World
WEDNESDAY'S INNOVATION AND THE FUTURE OF EDUCATION NOW DISCUSSION SERIES #3
WEDNESDAY
24 March 2021
8:00AM EDT
Western Academy of Beijing (WAB) and AAIE continue to partner for Round 3 of our panel discussion series that focuses on schools that continue to innovate and find new pathways for continually improving teaching, learning and ownership of students in the Journey.
On March 24 American School Foundation of Monterrey (ASFM) and Western Academy of Beijing (WAB) will share and ponder over their challenges and successes during their online learning journey.
For ASF-Monterrey
Dr. Sascha Heckmann, Asst. Superintendent for Innovation and Learning
Mr. Sheldon Guenther, MSHS Head of Campus
Ms. Melanie Henning, MSHS Instructional Coach
Ms. Julie Ward, HS English Teacher
Ms. Nola Heckmann, MS Science Teacher
and Students
Distance Learning Lessons - Moving from Schooling to Learning with Loops
As with all schools, ASFM was rushed into a distance learning program in March 2020. We thought we were ready after 3 years of a blended learning program and a thoughtfully designed transition plan. The authentic immersion into distance learning blew a hole in our thinking. Some students who were very successful at school, did not do so well with distance learning, while others who may have struggled in physical school, took off with distance learning. Our realization was that we had done a good job of schooling our students, but we had failed to help them with learning. This realization led to a re-think of our instructional approach in Middle and High School and resulted in the advent of learning loops, a student centered, personalized instructional approach that aims to replicate the lifelong learning process. We will share our journey, our tools, the early wins, and some failures, as well as student reflections about how learning has changed.
For Western Academy of Beijing
Angela Steinmann, ES Principal
Catherine Pierre-Louis, ES Vice Principal
Jonathan Mueller, PYP coordinator and curriculum coach
Dr. Karen Lindner, Early Years coordinator and curriculum coach
Kevin Crouch, Head of Educational Technology and IT
Remote learning lessons and WAB elementary school remote iteration no. 4
Guided by our belief in developing self directed learners within compassionate learning communities, we have been striving to create an agile online learning programme. Our Elementary School team will share what factors have shaped our latest iteration of online learning, from our strategic goals to technology choices and community feedback. We learned that focusing on less is more, but we also introduced complexity by simultaneously trialing several tech platforms in order to find out which one could enhance the learning most. We will share how it all worked, how we know and what comes next.
WAB and AAIE are inviting schools from around the world to keep the spirit of FOEN 2019 alive and share the learnings and innovations that have helped them grow and thrive during the pandemic.
Interested in joining a panel and share your story?
OUR WEEKLY GLOBAL
LEADERSHIP CONVERSATION #53
Our international school leadership CONVERSATIONS continue– the place where we take on the dilemmas of leading our school community through a global pandemic. ALL SENIOR LEADERS ARE INVITED– We need all voices and more perspectives as we take on the too many dilemmas together.
THURSDAY
25 March 2021
8:00AM EDT
THE LATIN AMERICA CONVERSATION #41
Hosted by Sonia Keller and Dereck Rhoads, the unique leadership context of Latin America provides the backdrop for crisis leadership and discussions on school sustainability.
THURSDAY
25 March 2021
10:00AM EDT
THE AAIE NEW SCHOOL PROJECT: PHASE THREE
Our deliberations continue on the SEVEN PRINCIPLES that can guide NEW SCHOOL thinking for the future of international education.
FRIDAY
26 March 2021
8:00AM EDT
NEXT WEEK FOR THE NEW SCHOOL PROJECT:
Working groups continue, focusing on research and best practices to define pathways and implementation of strategies for each of the seven NEW SCHOOL PRINCIPLES. Please join in with your ideas to bring value and to support how we are approaching implementation ideas for the Seven Principles. Adding your voice is the means to support international school leaders (leaders of learning) around the world.
CLICK HERE to sign-up for a work group, and we again meet this coming Friday, using our weekly time to bring practical implementation strategies to each principle.
Students Need to Give Us the Facts...
ANNOUNCING the AAIE New School Project
(Short) Film Festival for Students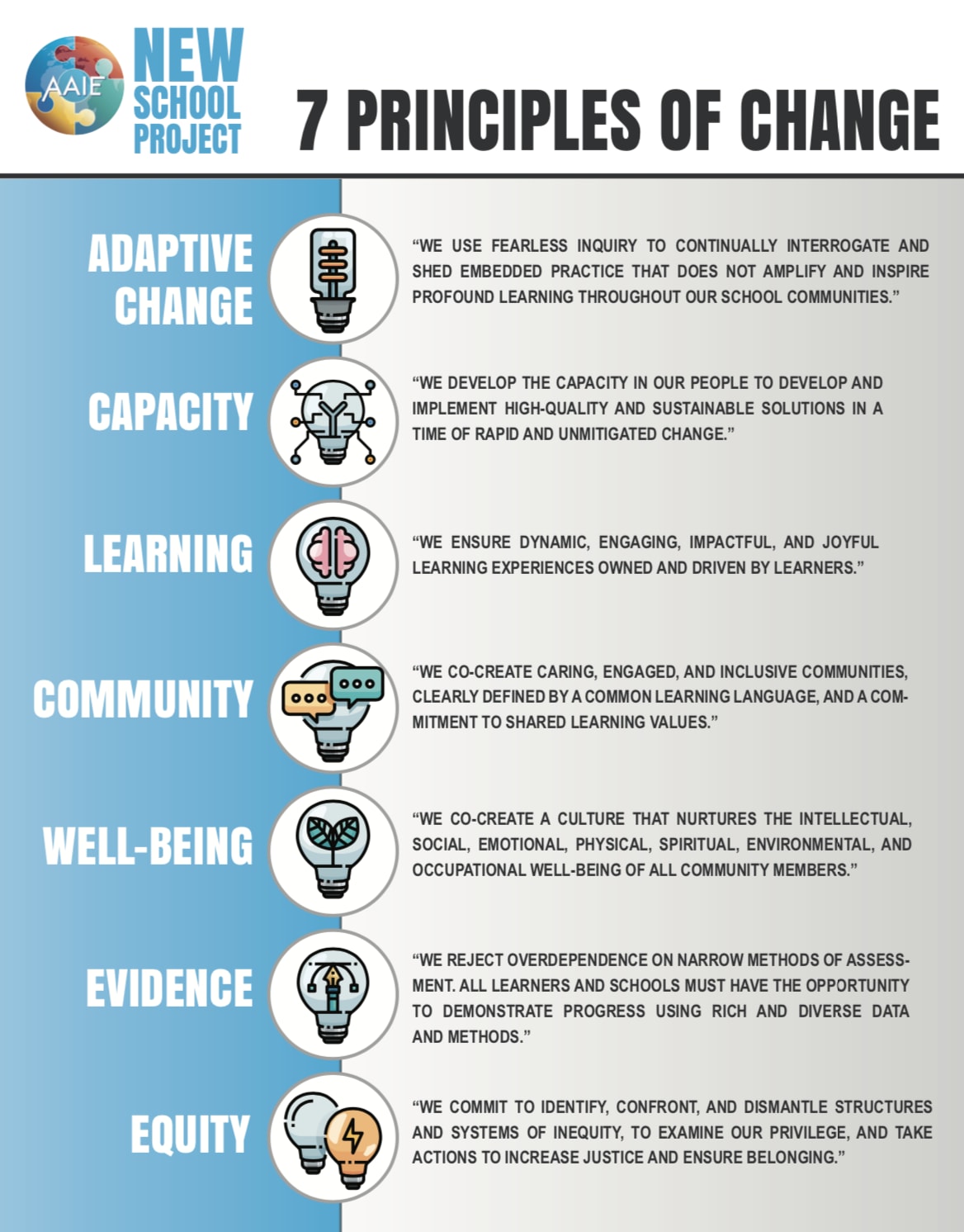 Please share with students at your school!
This contest invites students to make creative videos to tell adults what they want them to know about learning and schooling.
Contest Prompt: What do you want your adults to learn about _________________?
Fill in the blank with one or more of the Seven New School Principles.
Your videos might help answer a question like:
How will we learn joyfully in a changing world?
If equity is prioritized at school, how does this increase well-being? What might community look like in the school of the future?
OR:
Ask your own question based on the Seven Principles: Adaptive Change, Capacity, Learning, Community, Well-Being, Evidence, Equity
Students: We want you to have an immediate impact on the place that impacts you the most: SCHOOL. What do you want to teach us about these principles that will guide future schools?What do you wish we (teachers, principals, administrators, parents, and other adults) knew?
We are looking for short films. Participation is open to all students from anywhere in the world. Shoot videos on your smartphone! Maximum video length: 3 minutes.
The top SEVEN videos will win a $100 cash prize and be featured at the APRIL AAIE Conference.
A panel of young international filmmakers, artists, and educators will serve as judges.
Deadline for submission: April 5, 2021 at 12 pm US ET.
Fine Print:
Give your video a creative title, including the New School Principles you are featuring.
Individual or group submissions are welcome. Films should be no longer than 3 minutes maximum.
Please send submissions to the following email address: studentfilm@aaie.org
CDC Says Three Feet Between Students is Usually Enough,
a Change that Paves the Way for More In-Person Instruction

The Centers for Disease Control and Prevention revised its guidelines for schools Friday, saying three feet of distance between students is sufficient for all elementary and many middle and high schools, a change that lays the groundwork for districts to reopen full-time for in-person classes.
The announcement came as the CDC published new research that found limited coronavirus transmission in schools that require masks but not always six feet of distance, which had been the standard. That was true even in areas with high community spread of the virus.
Last month, the CDC recommended that schools maintain six feet of distance between people when it issued much-awaited guidelines for schools. To achieve that, the agency said schools in most of the country should limit the number of students in the building at any given time and hold off on fully reopening.
Will schools fully reopen? It may depend on whether students have to sit six feet apart.
CDC Director Rochelle Walensky said earlier this week that her agency was reconsidering its stance as more data became available.
"CDC is committed to leading with science and updating our guidance as new evidence emerges," she said in a statement Friday. "These updated recommendations provide the evidence-based roadmap to help schools reopen safely, and remain open, for in-person instruction."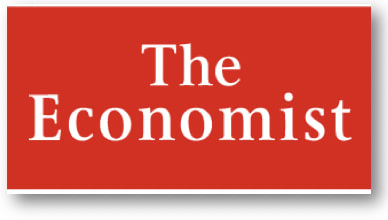 The Pandemic Has Changed the Shape of Global Happiness
When You're Happy and You Know It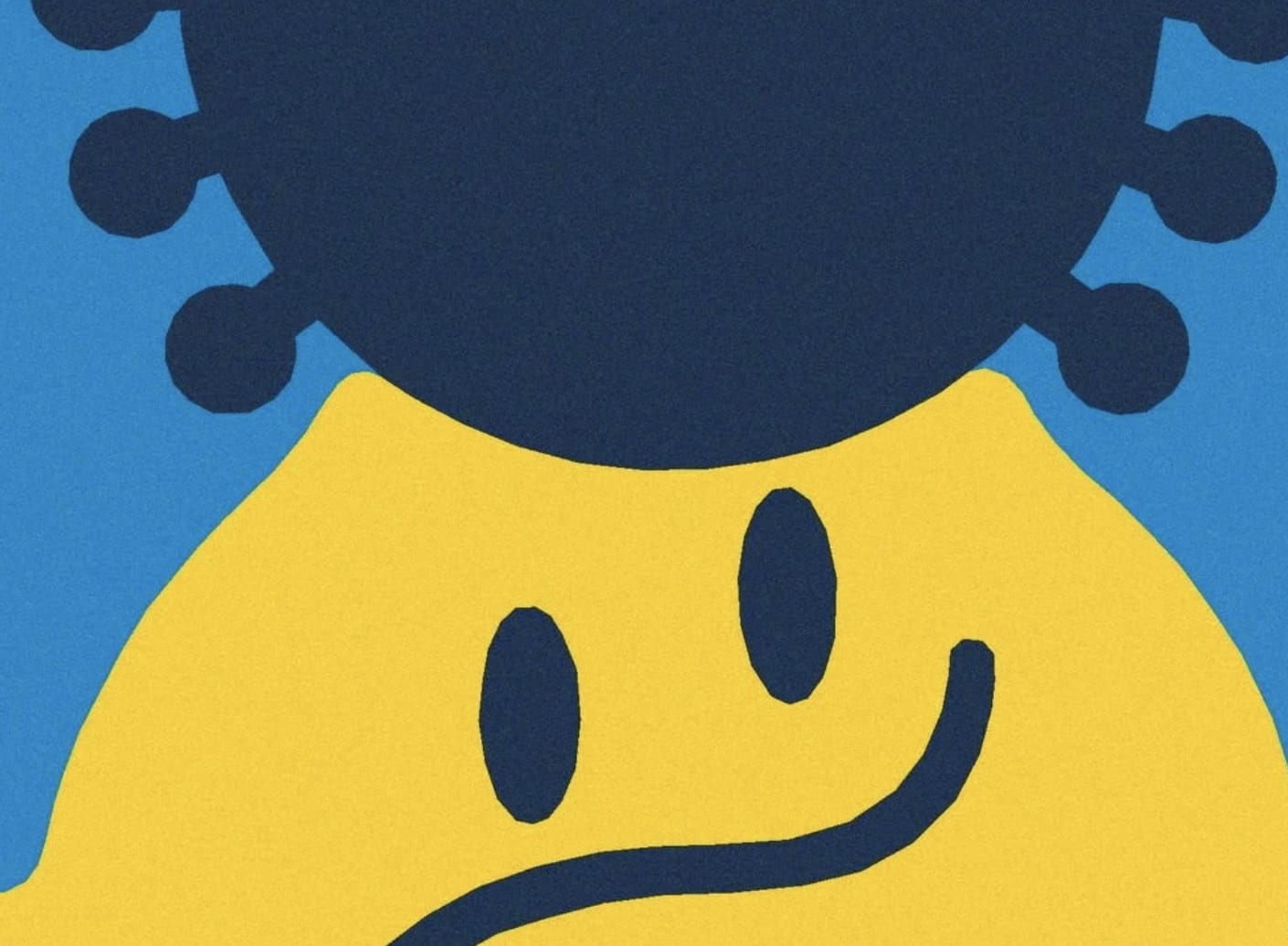 Meanwhile the young have had a rough year. Many lost their jobs—in America the unemployment rate for people aged 20 to 24 shot up from 6.3% in February 2020 to 25.6% two months later (it fell back to 9.6% last month). In some rich countries young women have had a particularly hard time. They often work in sectors, such as hospitality, which have been shut down. When schools close, many are lumbered with more than their fair share of child care.
FROM SOUTH KOREAN TO SAO PAULO
The covid-19 pandemic has done nothing good for the mood of Park Ha-young, an undergraduate at Seoul National University. She spent much of last year worrying about the disease, and her chances of spreading it: "I was terrified of becoming the person to cause a huge outbreak." Her freedom has been drastically curtailed. The government determines whether she can see friends or attend classes, leaving her frustrated and unable to make plans. She is beginning to worry about finding a job after she graduates.
Politicians and officials frequently talk about how covid-19 affects public health and the economy. But for most people those are abstract considerations. What they experience each day are moods—the sense of being anxious and sad, or, if they are lucky, cheerful and optimistic. To mark World Happiness Day on March 20th, researchers linked to the UN Sustainable Development Solutions Network have tried to pin down these moods and examine how the pandemic has changed them.
Gallup, a pollster, asks the same questions in scores of countries. The most revealing one tells people to imagine a ladder, with steps numbered nought to ten. The top rung represents the best life you could have, the bottom rung represents the worst. What rung are you on now?
People's responses to that question, known as a Cantril ladder, suggest (rather surprisingly) that the world was about as happy in the teeth of an awful pandemic as it was before the coronavirus struck. The average score across 95 countries, not population-weighted, crept up insignificantly from 5.81 in 2017-19 to 5.85 in 2020. But the pattern of life satisfaction has changed. Covid-19 has made old people more cheerful. A few countries have had some of the happiness squeezed out of them; others have amassed more of it.
Covid-19 threatens the old far more than the young, with the risk of death after contracting the disease doubling for every eight years of life. Yet the old have cheered up. Globally, between 2017-19 and 2020 happiness was boosted by 0.22 points on the Cantril ladder among people over the age of 60. Celina Beatriz Gazeti dos Santos, a 64-year-old psychologist in São Paulo, ticks off a list of things that might dampen her mood—the pandemic, widespread corruption, a dislikeable government, others' misery. Yet she proclaims herself increasingly happy and optimistic all the same.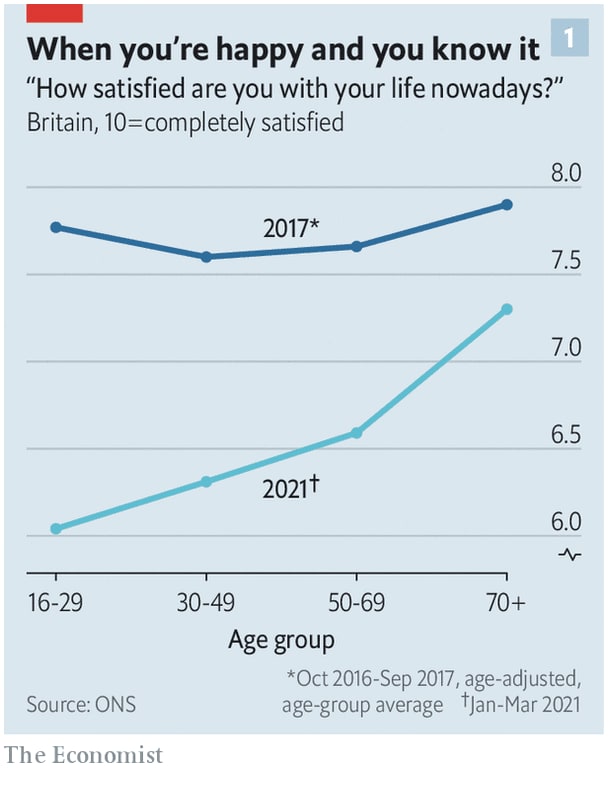 In Britain, a country with excellent happiness data, everyone has slipped, but some more than others (see chart 1). There, and in other rich countries, the age profile of happiness before the pandemic struck was roughly U-shaped when plotted on a graph. People began their adult lives in a cheerful state. They became glummer in middle age. Then, after about the age of 50, they started to became happier again. If they made it to a very advanced age, however, they fell back into the doldrums.
Today the pattern is an upward slope. The young are less satisfied than the middle-aged, who are less satisfied than the old. That might be put down to Britain's vaccination programme, which has targeted the old first. But the pattern has barely changed over the past year. Months before Britons became familiar with what some call "the Pfizer" and "the AstraZeneca", something had shifted.
Video-conferencing software has enabled many old people to stay in touch with their families—sometimes better than before the pandemic. In countries that locked down, they have the pleasure of knowing that society made sacrifices to protect them. And as John Helliwell, an economist at the University of British Columbia who wrote part of the World Happiness Report points out, the old feel healthier. Globally, 36% of men over the age of 60 said they had a health problem last year, down from an average of 46% in the three years before. Among women, the share with health problems fell from 51% to 42%. Old people probably are not actually healthier. Rather, covid-19 has changed the yardstick. They feel healthier because they have dodged a disease that could kill them.
Meanwhile the young have had a rough year. Many lost their jobs—in America the unemployment rate for people aged 20 to 24 shot up from 6.3% in February 2020 to 25.6% two months later (it fell back to 9.6% last month). In some rich countries young women have had a particularly hard time. They often work in sectors, such as hospitality, which have been shut down. When schools close, many are lumbered with more than their fair share of child care.
The most intriguing suggestion in the World Happiness Report is that some links between covid-19 and happiness operate in both directions. The authors do not suggest that happiness helps countries resist covid-19. Rather, they argue that one of the things that sustains national happiness also makes places better at dealing with pandemics.
They also have busy social lives. Having lots of friends seems, counter-intuitively, to have made the pandemic harder. One study of Britain by Ben Etheridge and Lisa Spantig, both at the University of Essex, found that women with at least four close friends slumped more than anyone during the spring 2020 lockdown. "People who are used to seeing lots of friends really suffered—and women and younger people have more friends," says Xiaowei Xu of the Institute for Fiscal Studies.
Some countries have fared better than others (see chart 2). Whereas Britons' happiness slumped in 2020, Germany rose from being the 15th happiest country in the world to the seventh happiest. Britain has endured long lockdowns and an excess-death rate of 190 per 100,000 people since the start of the pandemic. Germany's excess-death rate is just 77 per 100,000. For most of last year Germany fought covid-19 much better than most of Europe, although it has gone on to fluff the vaccination endgame—leading Bild, a tabloid newspaper, to declare in February: "Liebe Briten, we beneiden you" (dear Britain, we envy you).

Strikingly, the countries that were at the top of the happiness chart before the pandemic remain there. The three highest-ranking countries in 2020—Finland, Iceland and Denmark—were among the top four in 2017-19. All three have dealt well with covid-19, and have excess-death rates below 21 per 100,000. Iceland has a negative rate. It helps to be a remote island.
The most intriguing suggestion in the World Happiness Report is that some links between covid-19 and happiness operate in both directions. The authors do not suggest that happiness helps countries resist covid-19. Rather, they argue that one of the things that sustains national happiness also makes places better at dealing with pandemics. That thing is trust. Polls by Gallup show that many of the places that have coped best with covid-19, such as the Nordic countries and New Zealand, have widespread faith in institutions and strangers. Large majorities of their inhabitants believe that a neighbor would return a wallet if they found it.
Countries have failed to see off covid-19 for many obvious reasons. Some are poor; others are poorly led. They lack recent experience with diseases such as sars. They cannot police their borders. But Jeffrey Sachs, an economist at Columbia University, suggests another reason: politicians and officials in many rich European and American countries decided they could not ask too much of the public. A combination of individualism and less-than-solid institutional trust meant they felt unable to insist on quarantines or mask-wearing until the situation grew desperate. (READ MORE HERE)
Staying Up-to-Date on the Global Pandemic Science
Five Reasons Why COVID Herd Immunity is Probably Impossible
Even with vaccination efforts in full force, the theoretical threshold for vanquishing COVID-19 looks to be out of reach.
As COVID-19 vaccination rates pick up around the world, people have reasonably begun to ask: how much longer will this pandemic last? It's an issue surrounded with uncertainties. But the once-popular idea that enough people will eventually gain immunity to SARS-CoV-2 to block most transmission — a 'herd-immunity threshold' — is starting to look unlikely.
That threshold is generally achievable only with high vaccination rates, and many scientists had thought that once people started being immunized en masse, herd immunity would permit society to return to normal. Most estimates had placed the threshold at 60–70% of the population gaining immunity, either through vaccinations or past exposure to the virus. But as the pandemic enters its second year, the thinking has begun to shift.
In February, independent data scientist Youyang Gu changed the name of his popular COVID-19 forecasting model from 'Path to Herd Immunity' to 'Path to Normality'. He said that reaching a herd-immunity threshold was looking unlikely because of factors such as vaccine hesitancy, the emergence of new variants and the delayed arrival of vaccinations for children.
What Is Mental Exhaustion?
It's kind of like physical tiredness, except it's your mind instead of your muscles. It tends to show up when you focus on a mentally tough task for a while. You might also feel this kind of brain drain if you're always on alert or stressed out. Your job, caring for children or aging parents, and other things can lead to mental exhaustion.
You're Angry or Impatient

You Can't Get Work Done

You Zone Out

You Don't Sleep Well

You Do Unhealthy Things

You're Depressed

You Worry a Lot

Exercise Feels Harder

Your Eating Habits Change

You Make More Mistakes

You Feel More Pain
Read the article to learn about and then try the Pomodoro Technique. It works! The article will take you to another link that offers 15 ways to decompress.
Second bouts of COVID-19 are rare, though people 65 years and older may be at higher risk of reinfection than younger ones, a study from Denmark suggests.
The first documented coronavirus reinfection was reported in August 2020, immediately sparking questions over how common such cases might be (SN: 8/24/20). Studies in health care workers, a group at high risk of exposure to the coronavirus, suggest that previously infected people are protected for at least five months after their first round of COVID-19. But reinfection rates in broader communities have been less clear.
Of 11,068 people who tested positive for the coronavirus during Denmark's first COVID-19 surge from March to May 2020, only 72, or 0.65 percent, tested positive a few months later during another wave of infections that began in September, researchers report March 17 in the Lancet. But of more than 514,000 people who tested negative in the spring, 16,819, or 3.27 percent, were infected during the fall surge.
Based on those rates, a previous infection offers around 80 percent protection from a second infection for people under age 65. What's more, there was no sign that the immunity waned over more than six months. But that level of immunity drops to 47 percent for individuals 65 years and older, the team found.
The study was done before more contagious coronavirus variants swept through Denmark. It's still unclear how protective immune responses from prior infections might be against those variants. Some variants may evade the immune responses sparked by previous infections or vaccines, lowering the threshold for reinfection for those viruses.
The findings and uncertainties over variants mean that even people who have already recovered from COVID-19, and particularly those who are older, should get vaccinated to boost existing immunity, the researchers write.
–THE NEWS of COVID-19–
121,002,099 Cases Worldwide (Johns Hopkins CSSE)
Italy and the Lombardy Region– All Over Again
Twelve months after the coronavirus made its first major landfall outside China and engulfed Lombardy in northern Italy, it feels as though nothing has changed as the region bears the brunt of Italy's latest wave of infection and illness. The world watched in horror in March last year as convoys of army trucks removed coffins from the Lombardy town of Bergamo before Italians set an inspiring example of fortitude by singing from their balconies and toughing it out through a grueling 10-week lockdown, which halted the contagion. Things have not gone according to plan since then, with a second wave of COVID-19 cases in November and now a third as the British variant of the coronavirus takes root and Italy's vaccine rollout sputters. The country's death toll from the disease stands at 103,000, the highest in Europe after Britain's. (The Los Angeles Times)
Cases and Contagion Rate and the Need for a Germany
Lockdown Strategy
Germany's coronavirus cases rose by the most in two months and the contagion rate inched closer to a critical threshold, days before Chancellor Angela Merkel hosts talks to decide on the government's lockdown strategy. The number of new cases jumped by 28,489 in the 24 hours through Friday morning, the most since Jan. 21, according to data from Johns Hopkins University. The country's seven-day incidence rate per 100,000 people climbed to 95.6, the highest in more than a month and close to the threshold at which Merkel and regional officials agreed to reimpose restrictions. (Bloomberg News)
Lockdown in Paris Imposed
The French government has imposed a month-long lockdown on Paris and parts of northern France after a faltering vaccine rollout and spread of highly contagious coronavirus variants forced the president, Emmanuel Macron, to shift course. Since late January, when he defied the calls of scientists and some in his government to lock down the country, Macron has said he would do whatever was needed to keep the euro zone's second-largest economy as open as possible. However, this week he ran out of options just as France and other European countries briefly suspended use of the Oxford/AstraZenca vaccine. (The Guardian)
India Reports Big Jump in Infections- Third Highest in the World
India reported a big jump in new coronavirus infections yesterday, driven by a resurgence in cases in some of its richest states. The South Asian country recorded 35,871 new cases in the past 24 hours, taking its tally to 11.47 million infections, the third highest in the world after the United States and Brazil. Deaths rose by 172 to 159,216, according to Health Ministry data. India recorded a peak of just under 100,000 new daily infections in September, before a gradual decline. Infections fell to below 9,000 new cases in early February, but have steadily increased since then. "We have to stop the emerging second peak of the pandemic through quick and decisive steps," Prime Minister Narendra Modi told regional leaders on Wednesday during a virtual meeting to discuss the surge. (via dw.com)
Variant B117 Washing Over Germany
German virology expert Christian Drosten says the B117 coronavirus variant is becoming increasingly prevalent in Germany, driving the country's worsening Covid-19 figures. Mr. Drosten — whose advice has influenced government decisions in the past — said that, by early April, Germany could see caseloads rise back to levels last seen in December. He said the variant, first recorded in the UK, was making infections "drastically more difficult" to contain. "We will have a situation shortly after Easter like around Christmas," he said. (dw.com)
Aspirin Use May Decrease Ventilation, ICU Admission and
Death in COVID-19 Patients
George Washington University researchers found low dose aspirin may reduce the need for mechanical ventilation, ICU admission and in-hospital mortality in hospitalized COVID-19 patients. Final results indicating the lung protective effects of aspirin were published today in Anesthesia & Analgesia.
"As we learned about the connection between blood clots and COVID-19, we knew that aspirin - used to prevent stroke and heart attack - could be important for COVID-19 patients," Jonathan Chow, MD, assistant professor of anesthesiology and critical care medicine and director of the Critical Care Anesthesiology Fellowship at the GW School of Medicine and Health Sciences, said. "Our research found an association between low dose aspirin and decreased severity of COVID-19 and death."
Over 400 patients admitted from March to July 2020 to hospitals around the United States, including those at GW Hospital, the University of Maryland Medical Center, Wake Forest Baptist Medical Center and Northeast Georgia Health System, were included in the study. After adjusting for demographics and comorbidities, aspirin use was associated with a decreased risk of mechanical ventilation (44% reduction), ICU admission (43% reduction), and in-hospital mortality (47% reduction). There were no differences in major bleeding or overt thrombosis between aspirin users and non-aspirin users.
Preliminary findings were first published as a preprint in fall 2020. Since then, other studies have confirmed the impact aspirin can have on both preventing infection and reducing risk for severe COVID-19 and death. Chow hopes that this study leads to more research on whether a causal relationship exists between aspirin use and reduced lung injury in COVID-19 patients.
"Aspirin is low cost, easily accessible and millions are already using it to treat their health conditions," said Chow. "Finding this association is a huge win for those looking to reduce risk from some of the most devastating effects of COVID-19." (Science)
The WHO's Hunt for Covid's Origins Stumbled in China
A team of scientists hoped a mission to Wuhan would provide some clarity about the coronavirus's origins. New details about the team's constraints reveal how little power it had to conduct a thorough probe.
More than a dozen foreign scientists led by the World Health Organization gathered with Chinese counterparts last month to vote on the question: How did the Covid-19 pandemic start?
The show of hands came after a four-week joint study in the city where the first cases were identified, a mission many hoped would provide some clarity to a world craving answers.
For a while, it appeared to. The vote's results captured headlines: The virus probably jumped to humans from an animal; further research was needed on whether it spread on frozen food; a lab leak was "extremely unlikely."
A month on, however, as the WHO-led team finalizes its full report on the Wuhan mission, a Wall Street Journal investigation has uncovered fresh details about the team's formation and constraints that reveal how little power it had to conduct a thorough, impartial examination—and call into question the clarity its findings appeared to provide. (Wall Street Journal)
Worldwide Vaccinations per 100 People: As of MARCH 19, 2021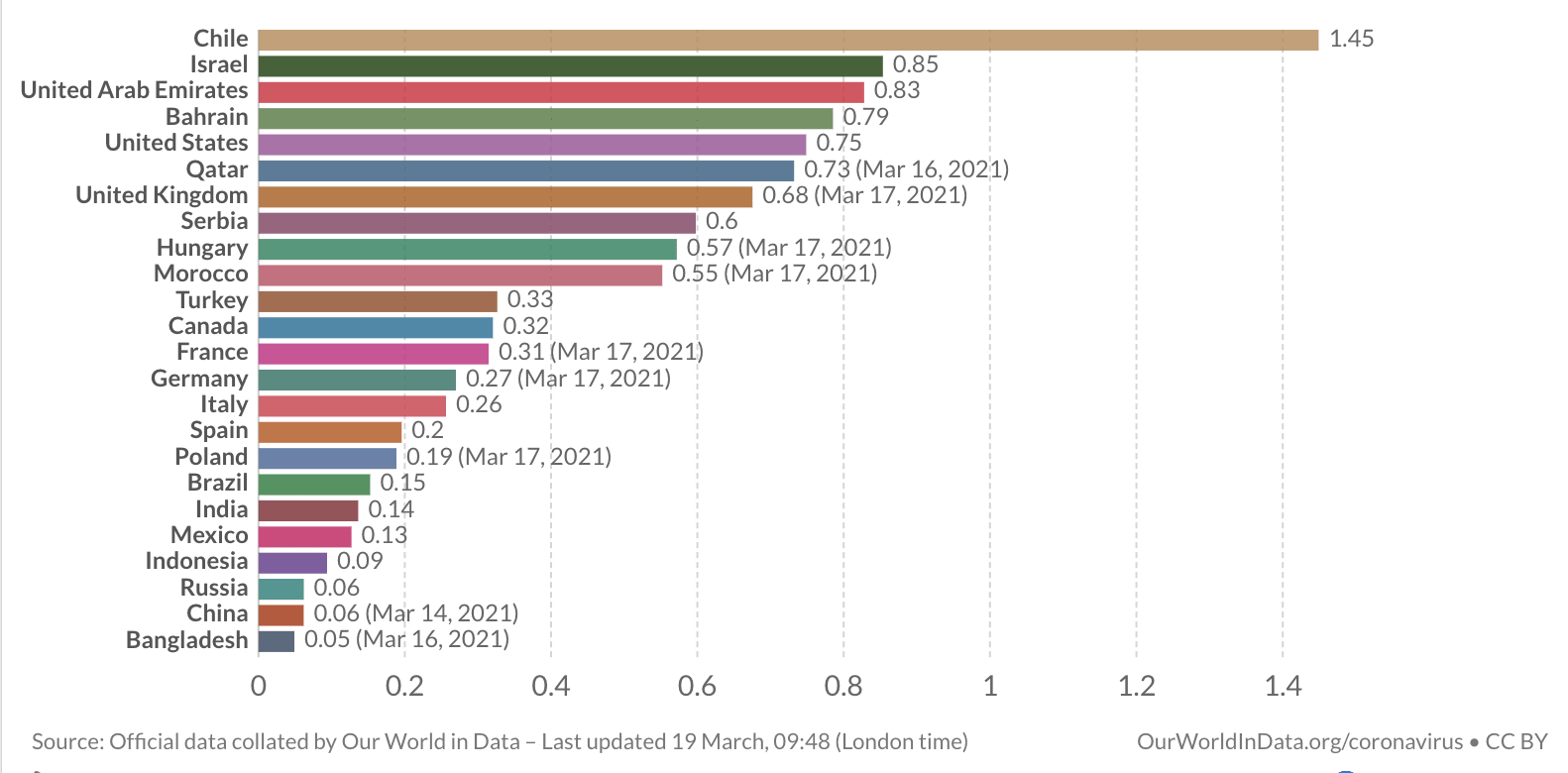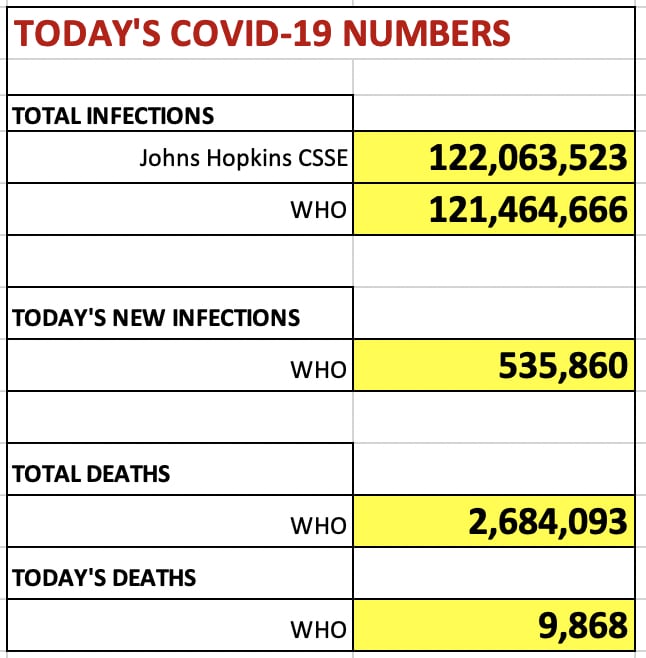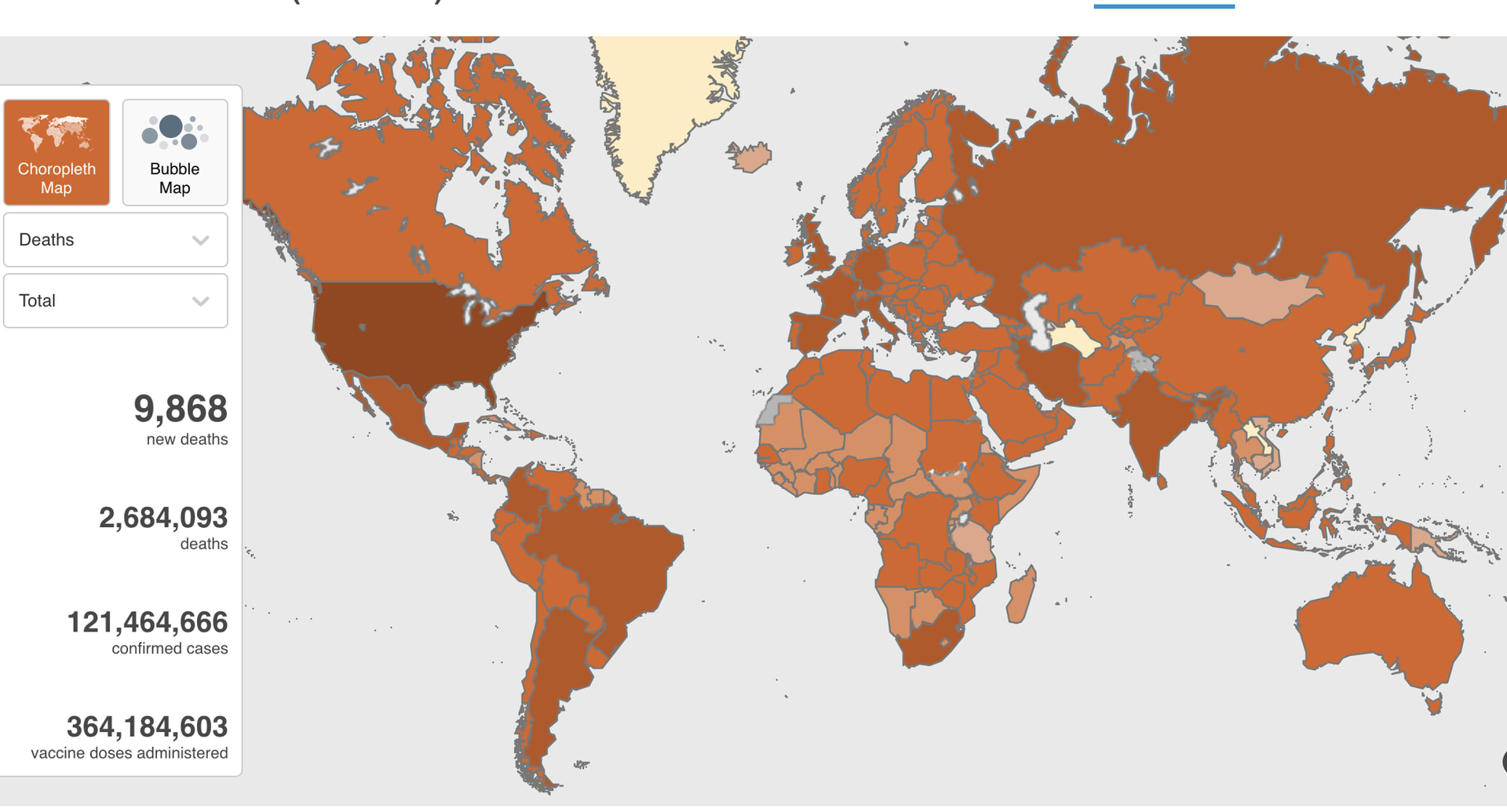 –FROM JOHNS HOPKINS CSSE–
From Johns Hopkins

CSSE,

the

Infection Rate World Graphic
The Cultures of Dignity Resources for Supporting
Social-Emotional Wellness
From Cultures of Dignity

,

For the Social-Emotional Tiny Guides from Rosalind Wiseman and Charlie Kuhn– a gift to our AAIE community– resources with no fee but plenty of insight.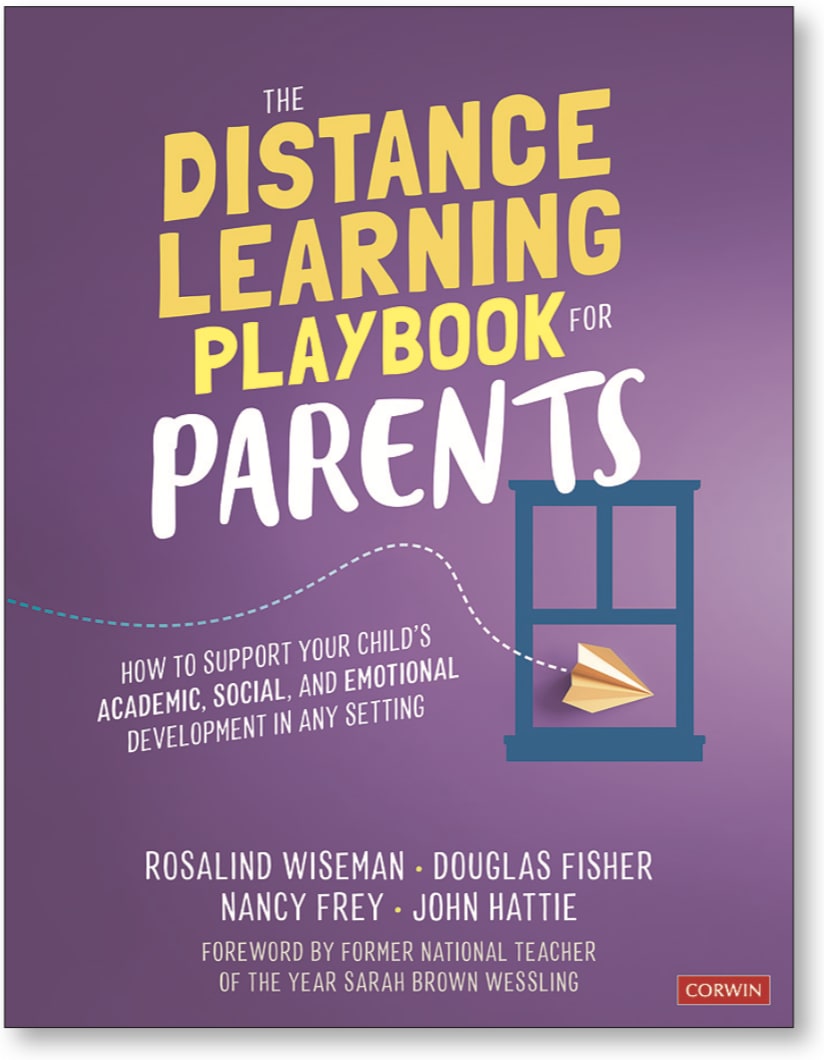 Rosalind Wiseman's newest book:

"Distance Learning Playbook for Parents–How to Support Your Child′s Academic, Social, and Emotional Development in Any Setting
A Final Note: The AAIE COVID-19 Briefing is provided to support your leadership for the school community you serve. We encourage you to use these resources in any way, shape or form that helps you, your communications and toward furthering close relationships across your community. – The AAIE Board