ASSOCIATION for the ADVANCEMENT of INTERNATIONAL EDUCATION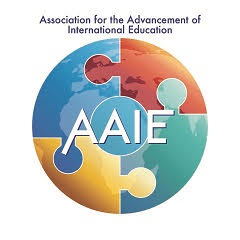 OUR MISSION
A global community that connects diverse people, ideas and resources, AAIE helps international educators lead with vision, wisdom, courage and integrity.
F3
Friday's Five Ideas for the Future
Leading in Uncertain Times
February 5, 2021
Welcome to this week's Friday Five (F3). This week, we focus on key AAIE website design features that may help lead us all into our preferred future. Right now, we are all suffering from information overload. With so many stories, statistics and information coming our way 24 hours a day it is hard to sift through what is urgent and important. With this in mind, we redesigned the AAIE website to be more responsive to your needs by making it easier for leaders and educators to find the information that they seek. We welcome your feedback, and more importantly your suggestions, so we can continue to improve the site and make it a valuable resource for you and your school. Below are FIVE main changes you may discover and explore on the new site.
We will continue to send the weekly F3 Newsletter and will also extend the conversation in LinkedIn. Please join us and share articles and ideas with us as we learn from each other globally.
Your Board of Trustees and Mark
WORTH A THOUGHT
Everything should be made as simple as possible, but not simpler. - Albert Einstein
Now on to Friday's (website) Five...
With FIVE Important Changes Within Your AAIE Website
Welcome to AAIE's Market Street
For the past year, it has been extremely difficult for schools around the globe and for our partners who support them to connect. While our ability to travel and meet in person continues to be thwarted, the very real need to be able to come together to support each other is much greater now than ever before. With creativity and the enduring support of our Partners, AAIE has launched Market Street ... a virtual, marketing space available when you are ... 24/7. Congratulations and many thanks to our inaugural partners. Please take a moment see how our Partners have pivoted to meet the changing needs of schools.
AAIE Leadership Learning
Never miss an event again with easy access to our Worldwide Conversations, AAIE Programs and the Global Events Calendar all in one place on our home page. See upcoming leadership conversations and use the archive to catch up on anything you might have missed.
AAIE News, Ideas and Events
Just below 'the fold' you'll find AAIE News, Ideas and Events. Discover new programs and important information from AAIE and our Partners that is both current and relevant to what you need to know at a glance.
AAIE Briefings
Easy access to the latest COVID-19 Briefing and F3 Newsletters as well as the robust archive. Get up-to-date with past briefings and if you don't already receive these communications, there's a sign up to do so directly.
AAIE's Renewed Commitment to Governance
While this area of the new website is still under construction, it is certainly worth mentioning that the Office of Overseas Schools in collaboration with AAIE has renewed its commitment to Governance by bringing new key development resources available to help you build Governance capacity through partnership. More to come soon.
Just as we are sensitive to the challenges of the coronavirus concerns - F3 will only focus on leadership learning and we'll ensure you receive our every-other-day coronavirus update as a separate publication.
To sign up for this newsletter
Please opt-in so that we remain in touch with the future and each other.
Contact Us
Mailing Address: AAIE PO Box 3496 Princeton, NJ 08543-3496
Physical Address: AAIE 15 Roszel Road Princeton NJ 08540

Phone: +1 609-716-7441
or +1 609-452-0990
Cell: +1 970-488-9416
www.aaie.org
© 2020 AAIE
If you received this email in error, you may unsubscribe from this list.