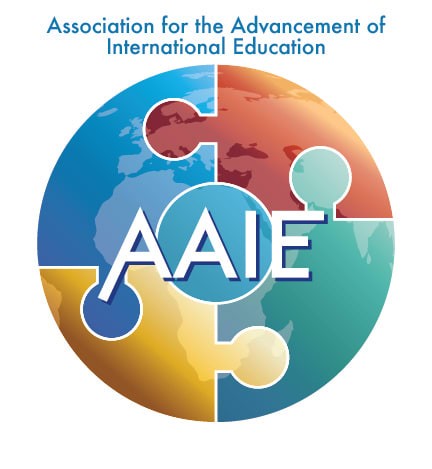 –Wednesday–
AAIE's COVID-19
BRIEFING #82
Editor's Note: During summer holiday, the BRIEFING will be published on Monday, Wednesday and Friday of each week.
July 8, 2020
Highlights
11,900,855 Cases World-wide–

(Johns Hopkins CSSE)

Driving under the influence is the same as not wearing a mask– setting the expectation

Rebuilding Your Community- Post-Pandemic

AN ESSAY, by David B. Perry: The International School of Nido de Aguilas Campus Plan–Mistakes and Realizations
TOMORROW: School heads and senior leaders gather together- 8:00AM EDT

Airborne transmission of the virus

No herd immunity in Spain

USA walks away from the WHO (Read Here)

No gain in Sweden
Nido de Aguilas Campus Plan Added
Stay Tuned... New School Principles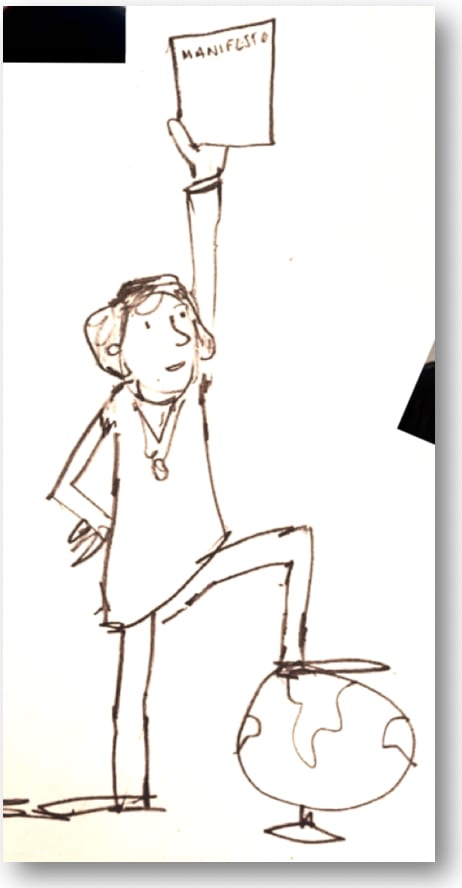 A manifesto of sorts, upon which to base new thinking for our international schools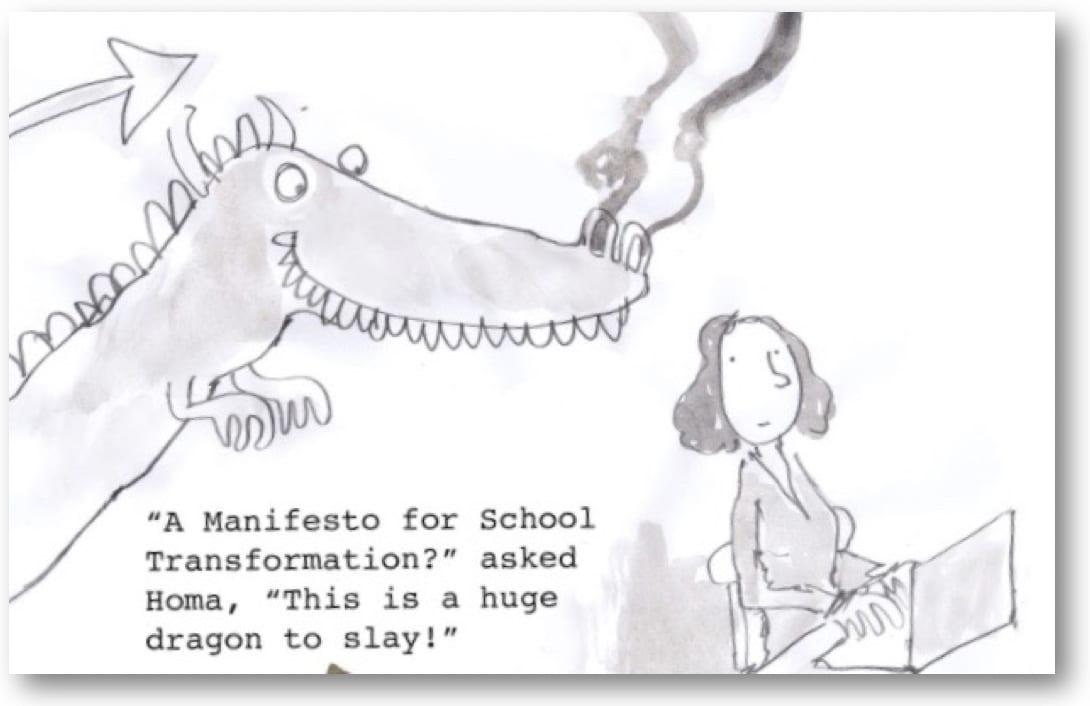 The AAIE leadership community has worked together over the past fourteen weeks to DRAFT a set of PRINCIPLES that offer remarkable promise to guide the future of international education.
As challenging as COVID-19 has been across continents–with the realization that we may only be at the beginning– the AAIE community has been searching for the silver lining.
Imagine now– 140+ school heads and senior leaders of good will, from around the world, working virtually and finding a common set of ideas upon which to build new ways of thinking and doing in our international schools, using all we've learned since news of the coronavirus.
Stay-tuned as in the coming days we will be sharing these ideas.
Just as we thank all of you who met each Friday to discuss our preferred future, we need to also recognize the sprint writing team that worked from meeting-to-meeting, capturing the ideas of large group and breakout sessions.
Three cheers for Dana Watts. Rachel MacKinnon and Melissa Schaub who kept us pointed in the right direction, and our other writers: Ted Mockrish, Jessica Gilway, Debbie Downes, Tim Carr, Ron Vair, Camille Duamie, Madeleine Heide, Kevin Bartlett, Will Richardson, Greg Hedger, Gina Larach, Jim Laney, George Stewart, Sarah Putnam, Kili Lay, Kristin Moreland, Ann Wagner, Shelly Paul, Joshua Garrett, Laura Benson, Gwyn Underwood, and Stacy Rosie.
Stay-tuned..!
–Wearing a Mask as a Fashion Statement–
"Just treat it as another item of clothing that is
part of the new normal."
Wearing a face covering when you can't socially distance should be as normal as wearing a seatbelt, says Nobel laureate Venki Ramakrishnan, the president of the Royal Society in London.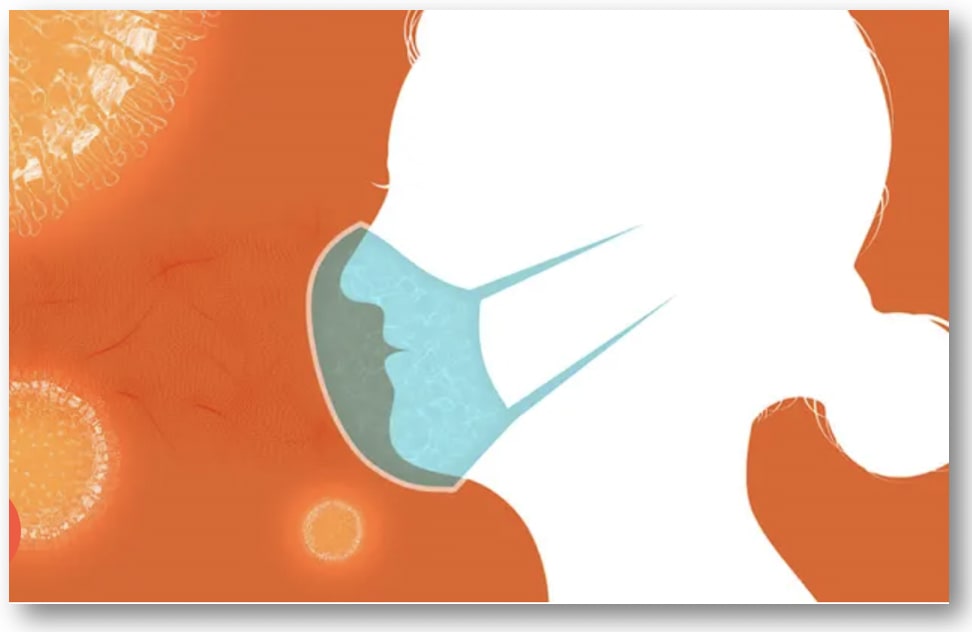 –From the Nature Journal
Refusing to wear a mask in public during the Covid-19 epidemic should become as socially unacceptable as drunk-driving or not wearing a seatbelt, the president of the Royal Society has said. He spoke as new research emerges suggesting the UK's uptake of the practice is way behind that of other countries and that face coverings can protect the wearer as well as people around them. Venki Ramakrishnan called for everyone to be required to wear a mask in all indoor public settings, rather than only on public transport, and criticized confused messaging from the government.

Research suggests that, in late April, uptake of mask-wearing in the UK was around 25%, compared to 83.4% in Italy, 65.8% in the United States and 63.8% in Spain, according to the Royal Society. Ramakrishnan said: "Wearing a mask did not bother our Italian, French or Spanish neighbours; none of whom were used to wearing one before the pandemic, yet now do so routinely.
"So just treat it as another item of clothing that is part of the new normal and wear it whenever you cannot socially distance safely. It is the right thing to do, and a small price to pay, to help keep infections down and the economy open in the pandemic."
–TOMORROW's CONVERSATION– (summer schedule)
Our Global Leadership Community- Together
A Weekly CONVERSATION between School Heads and Senior Leaders #19
Maybe the most important CONVERSATION of all– talking together on the most pressing issues and dilemmas, openly and honestly.
NOTE: Our Thursday leadership community gatherings will continue throughout the summer months.

The International School of Nido de Aguilas
Campus Plan for August 2020
–An Essay By David B. Perry–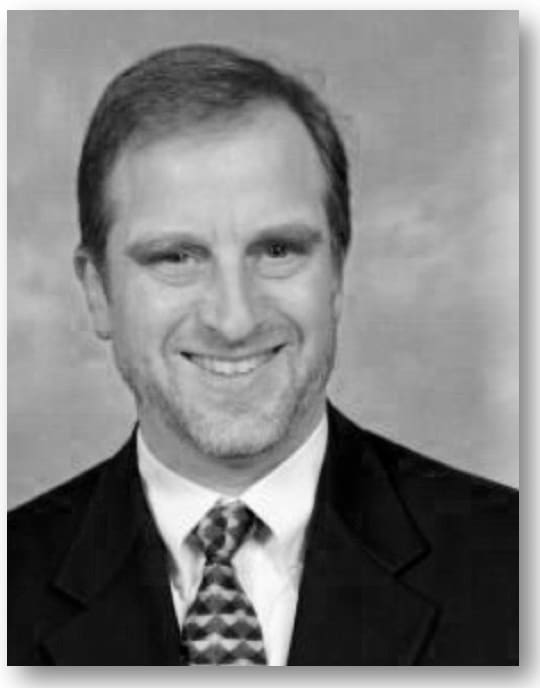 David B. Perry,
Head of School,
THE INTERNATIONAL SCHOOL NIDO DE AGUILAS
Editor's Note: A highly readable, remarkably honest campus plan from David Perry and his team. What sets this plan apart is how it tracks the evolution of the school community's thinking. Here, David is writing for the AAIE community. The plan is driven by agreed upon principles. Take special note of how the school acts on the principle: "Learning is inherently social, whether on campus or online." There is also a lovely call for empathy as everyone learns together from the pandemic experience. And finally, David's writing seems to take us right into this team's planning sessions.
Like educational leadership teams around the world, throughout the last third of the 2020 school year, our team at Nido de Aguilas spent many hours online trying to determine how to safely open and deliver our 2020-2021 program. While there were some schedule and calendar factors unique to Chile, I think some of our decisions may have general value, and so I write to share them here. I'd like to note that the team that crafted our eventual model included not just the academic leadership team but also the nurse, the business manager, the buildings and grounds manager, and the communications office. Our decisions were greatly improved by the contributions of these diverse perspectives.
I'll start with a mistake: we jumped too quickly into a problem-solving mode that was characteristically more reactive than proactive. We wasted most of our initial time together trying to figure out how to "do school" safely and on our campus, in a delivery system that was as close to pre-COVID as possible. And with a team of shrewd, forward-thinking, analytical planners, each solution proffered by someone on the team was met with a list of reasons it would not work by other members of the team. Eventually, we realized that in order to be more productive and decisive, we would benefit from a protocol and some principles. Protocols, drawn from Adaptive Schools, allowed us to generate ideas and saved us from continuing to chase our tails, and the following principles guided our thinking:
The physical and emotional safety and health of Nido community members are our top priorities.

Learning is our core purpose and should drive decision making.

Learning is inherently social, whether on campus or online.

Communication must be clear and timely to ensure all members of the community understand the vision and expectations.

Flexibility and empathy will be essential for all community members as we learn and grow from this experience.
CLICK HEREto read David's full essay about the Nido de Aguilas campus plan, where each principle is unpacked for meaning and action. SCHEDULING for each school division is also outlined.
AN EXAMPLE: The Elementary Division's ROOM AND ZOOM Learning Plan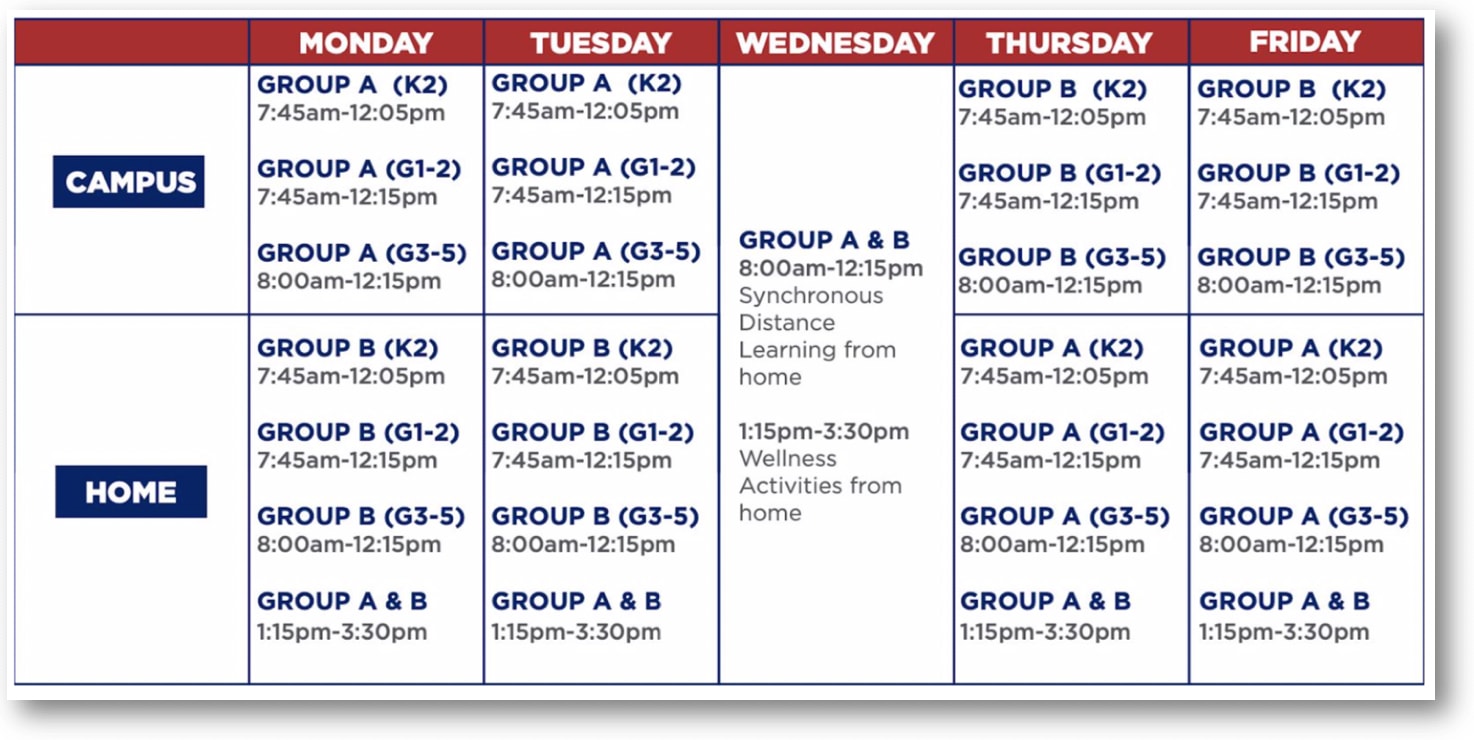 The Elementary School hybrid model will employ what is called a "Room and Zoom" learning plan. One group of students will be on campus in a de-densified classroom from 7:45 am - 12:15 pm (times vary according to grade level). The students will be receiving instruction in subjects like mathematics and literacy among others. There will be a one hour and fifteen-minute break for students to return home for lunch and recess. From 1:15-3:30 pm, all students will be engaged in Distance Learning. There will be synchronous classes in Spanish, EAL, and Learning Support. We are also looking to integrate After School Activities during this period as well. On Wednesdays, all students will be engaged in Distance Learning. From 8:00 am-12:15 pm, Elementary students will have Physical Education, Art, and Music. After lunch, we will begin Wellness and After School Activities.
–THE NEWS of COVID-19–
11,900,855 Cases Worldwide (Johns Hopkins CSSE)
Can 239 Experts Be Wrong?
After hundreds of experts urged the World Health Organization to review mounting scientific research, the agency acknowledged on Tuesday that airborne transmission of the coronavirus may be a threat in indoor spaces.W.H.O. expert committees are going over evidence on transmission of the virus and plan to release updated recommendations in a few days, agency scientists said in a news briefing. The possibility of airborne transmission, especially in "crowded, closed, poorly ventilated settings, cannot be ruled out," said Dr. Benedetta Allegranzi, who leads the W.H.O.'s committee on infection prevention and control. (The New York Times)
The Swedish Experiment–
No Apparent Upside
Ever since the coronavirus emerged in Europe, Sweden has captured international attention by conducting an unorthodox, open-air experiment. It has allowed the world to examine what happens in a pandemic when a government allows life to carry on largely unhindered. This is what has happened: Not only have thousands more people died than in neighboring countries that imposed lockdowns, but Sweden's economy has fared little better. "They literally gained nothing," said Jacob F. Kirkegaard, a senior fellow at the Peterson Institute for International Economics in Washington. "It's a self-inflicted wound, and they have no economic gains." (The New York Times)
America vs. The World…and the World Health Organization Amid Unprecedented Infections
Amid a resurgent pandemic and rising hospitalizations, President Trump pitted America against the world on Tuesday, moving to pull the United States out of the World Health Organization while his FBI director accused China of hacking U.S. health-care companies that are researching the novel coronavirus...his remarks came as cases and hospitalizations in the United States continued to mount. More than 50 hospitals in Florida said their ICUs are full, according to data from Florida's Agency for Health Care Administration. In another hot spot, Arizona reported 117 deaths on Tuesday, a daily record for the state, as more than 3,000 people were being treated in hospitals and ICU beds neared capacity. Texas canceled its annual state fair, the longest-running fair in the country, as more than 8,000 Texans were hospitalized on Monday, a third higher than last week. Ohio Gov. Mike DeWine (R) issued an order Tuesday requiring residents to wear masks in public in seven counties, including those that are home to Cincinnati and Cleveland. Trump administration health officials announced Tuesday that they are moving medical support into three areas of "recent and intense" outbreaks in Texas, Louisiana and Florida. (via The Washington Post, The Wall Street Journal)
–The STATS–
TOTAL GLOBAL CASES:
Johns Hopkins
11,900,855
WHO– 11,669,259
GLOBAL DEATHS (WHO):
Today–539,906
Two Days Ago–532,340
One Month Ago–
400,857
EVOLUTION OF-GLOBAL CASES (WHO):
Today–
11,669,259
Two Days Ago–11,327,790
One Week Ago–
10 533 779
One Month Ago–
6,931,000
NEW CASES (WHO):
Today–168,957
Two Days Ago–202,545
One Week Ago–
176,102
One Month Ago–
131,296
Florida With Mixed Messages Between Leaders and
Frontline Hospital Personnel
Florida has tallied a record number of cases over the past week, averaging 8,766 a day, according to Washington Post data. In a sign of intensifying trouble, 52 intensive care units across more than a third of the state's counties had reached capacity by Tuesday, according to data released by the state's Agency for Health Care Administration. Another 17 hospitals had also run out of regular beds. The state has "abundant capacity," [Governor Ron] DeSantis said at a news conference Tuesday. Some nurses at Good Samaritan Medical Center in West Palm Beach have been working 18 hours instead of the usual 12 because of overnight staffing shortages, according to a nurse who spoke on the condition of anonymity for fear of jeopardizing her job. Patients are being treated in an open area cordoned off by curtains that is typically used for quick medical consultations, she said. "We're overfilled and understaffed," she said. "It's really bad." (The Washington Post)

Cold Hearted: US International Students Face Deportation
Some international students in the United States whose classes are going virtual are facing deportation. US Immigration and Customs Enforcement (ICE) announced yesterday that it was withdrawing an exemption, prompted by COVID-19, that allowed students on some visas to take all their classes online. The change means that they "must depart the country or take other measures", such as transferring to an institution that offers in-person classes despite the risks of infection. Those who are outside the country will not be allowed to enter the United States. Universities have just one week to certify whether they will be offering any classes in person.
The move raises difficult questions for graduate students whose work might be on hold owing to the pandemic. "If their labs close and they're not able to work full time on dissertation research … do they have to leave the country?" asks Lizbet Boroughs, associate vice president of federal affairs at the Association of American Universities. (Washington Post)
No Herd Immunity in Hard-hit Spain
Only 5% of Spain's population has had COVID-19, despite it being one of the European countries most affected by the pandemic. A serological survey
tested more than 61,000 people from randomly selected households for antibodies against the coronavirus. The highest rate of infection was around 10%, in Madrid. That is well below the required level — something more like 60% (maybe) — to achieve herd immunity, which might slow the outbreak. Scientists don't know for sure whether a past infection will give a person immunity, or to what extent. The study comes on the heels of similar results from France and elsewhere. "In light of these findings, any proposed approach to achieve herd immunity through natural infection is not only highly unethical, but also unachievable," write virologists Isabella Eckerle and Benjamin Meyer in a commentary accompanying the research.
(The Lancet paper)
More on the Evolution of COVID-19, From Seven Years Ago
Virus samples sent to the Wuhan Institute of Virology seven years ago closely resemble Covid-19, according to a report in the Sunday Times of London that highlights unanswered questions about the origins of the global pandemic. Scientists in 2013 sent frozen samples to the Wuhan lab from a bat-infested former copper mine in southwest China after six men who had been clearing out bat feces there contracted a severe pneumonia, the newspaper said. Three of them died and the most likely cause was a coronavirus transmitted from a bat, the Sunday Times reported, citing a medic whose supervisor worked in the emergency department that treated the men. The same mine in Yunnan province was subsequently studied by Shi Zhengli, an expert in SARS-like coronaviruses of bat origins at the Wuhan Institute of Virology. Shi, nicknamed "bat woman" for her expeditions in bat caves, described Covid-19 in a February 2020 paper, saying it was 96.2% similar to a coronavirus sample named RaTG13 obtained in Yunnan in 2013. The Sunday Times said RaTG13 is "almost certainly" the virus that was found in the abandoned mine. (Sunday Times of London, Bloomberg News)
China Conspiracy Theories Continue
A former British spy chief says he wants a more open debate on the origin of the coronavirus pandemic and warns against dismissing as conspiracy the idea that it might have come from a laboratory. Sir Richard Dearlove doubled down on his belief the virus that causes COVID-19 was engineered and escaped by accident from a lab in the Chinese city of Wuhan, where the first victims were identified. His opinion contrasts with a prevailing view among scientific experts as well as the US and British intelligence communities that the SARS-CoV-2 coronavirus was not man-made. The intervention comes as a team of scientists from the World Health Organization (WHO) prepares to fly to China this week to investigate the origin of a disease that has killed more than half a million people globally. "I subscribe to the theory… that it's an engineered escapee from the Wuhan Institute (of Virology)," said Sir Richard, who served as head of the Secret Intelligence Service, MI6, between 1999 and 2004.
(Sky News)
The USA Pandemic Map Burns Bright
The pandemic map of the United States burned bright red yesterday, with the number of new coronavirus infections during the first six days of July nearing 300,000 as more states and cities moved to reimpose shutdown orders. After an Independence Day weekend that attracted large crowds to fireworks displays and produced scenes of Americans drinking and partying without masks, health officials warned of hospitals running out of space and infection spreading rampantly. The United States is "still knee deep in the first wave" of the pandemic, Dr. Anthony S. Fauci, the director of the National Institute of Allergy and Infectious Diseases, said yesterday. Fauci noted that while Europe managed to drive infections down — and now is dealing with little blips as it reopens — U.S. communities "never came down to baseline and now are surging back up." (The Washington Post)
Vaccine and Only Finite Protection
Any vaccine developed to ward off the novel coronavirus would likely be limited in how long it would shield against infection, top U.S. infectious disease expert Dr. Anthony Fauci said Monday. "You can assume that we'll get protection at least to take us through this cycle," Fauci, director of the National Institute of Allergy and Infectious Diseases, said in an appearance on a live-streamed video conference hosted by the National Institutes of Health. "We're still knee-deep in the first wave" of the pandemic, Fauci said. Health officials are assuming a shot would offer a degree of protection, though it's likely "going to be finite." (Bloomberg News)
Spotlight Shifts to India– Death Toll at 20,000
India passed a grim milestone earlier today, as its death toll surpassed the 20,000 mark while new coronavirus infections surged. The country of 1.37 billion people recently overtook Russia to have the world's third-largest coronavirus caseload, behind only the United States and Brazil. There are over 719,000 confirmed cases in India, with more cities experiencing a surge of infections. The tech hub of Bangalore has recorded more than 10,000 cases alone. The spread of infection has hit India's economy with business activity remaining 30 percentage points below pre-pandemic levels. (Financial Times)
–From the WHO Director General–
"It took 12 weeks for the world to reach 400 thousand cases of COVID-19. Over the weekend alone, there were more than 400 thousand cases across the globe.

There have now been 11.4 million cases of COVID-19 and more than 535,000 lives have been lost.

The outbreak is accelerating and we have clearly not reached the peak of the pandemic.

While the number of deaths appears to have leveled off globally, in reality some countries have made significant progress in reducing the number of deaths, while in other countries deaths are still on the rise."
–Dr Tedros Adhanom Ghebreyesus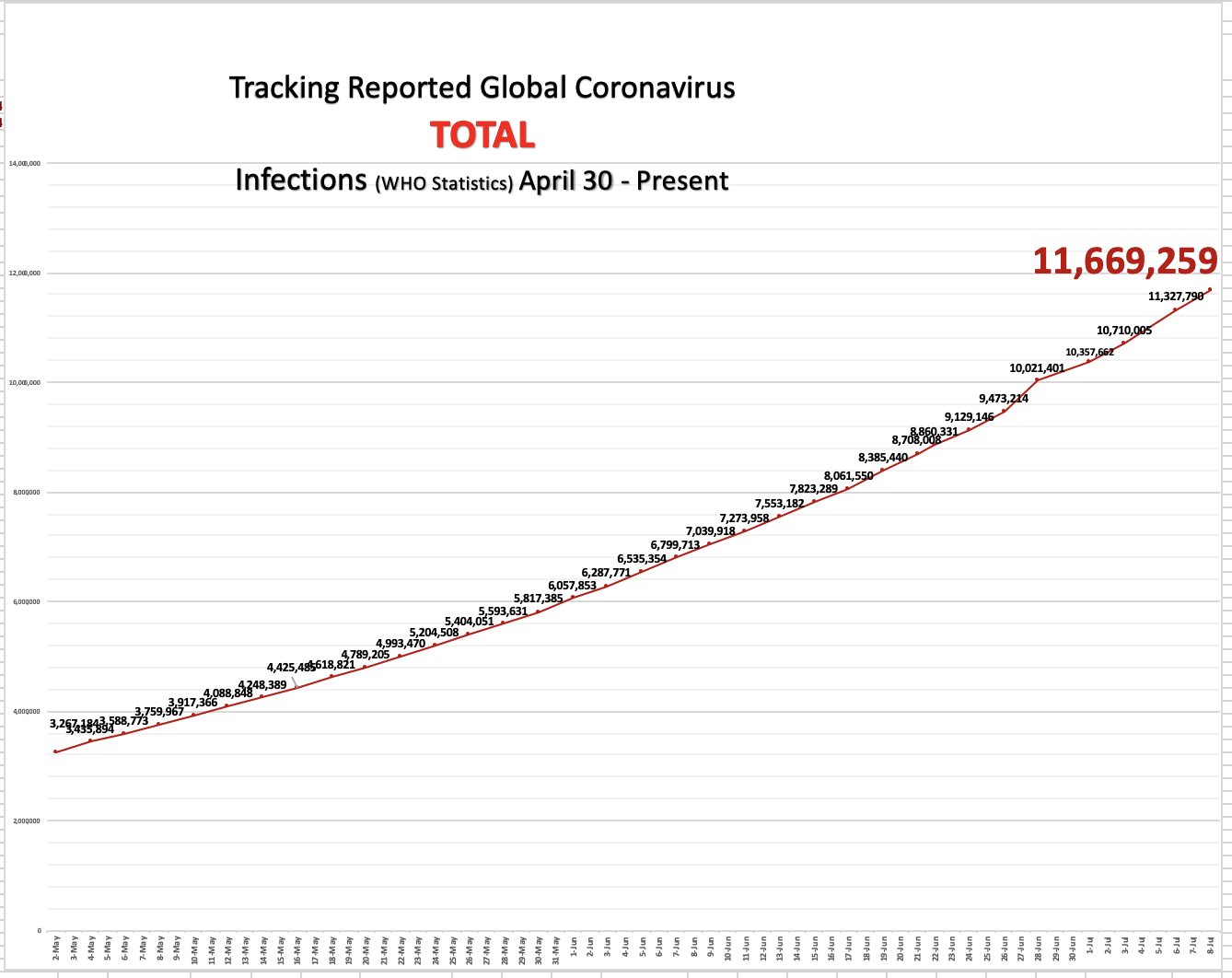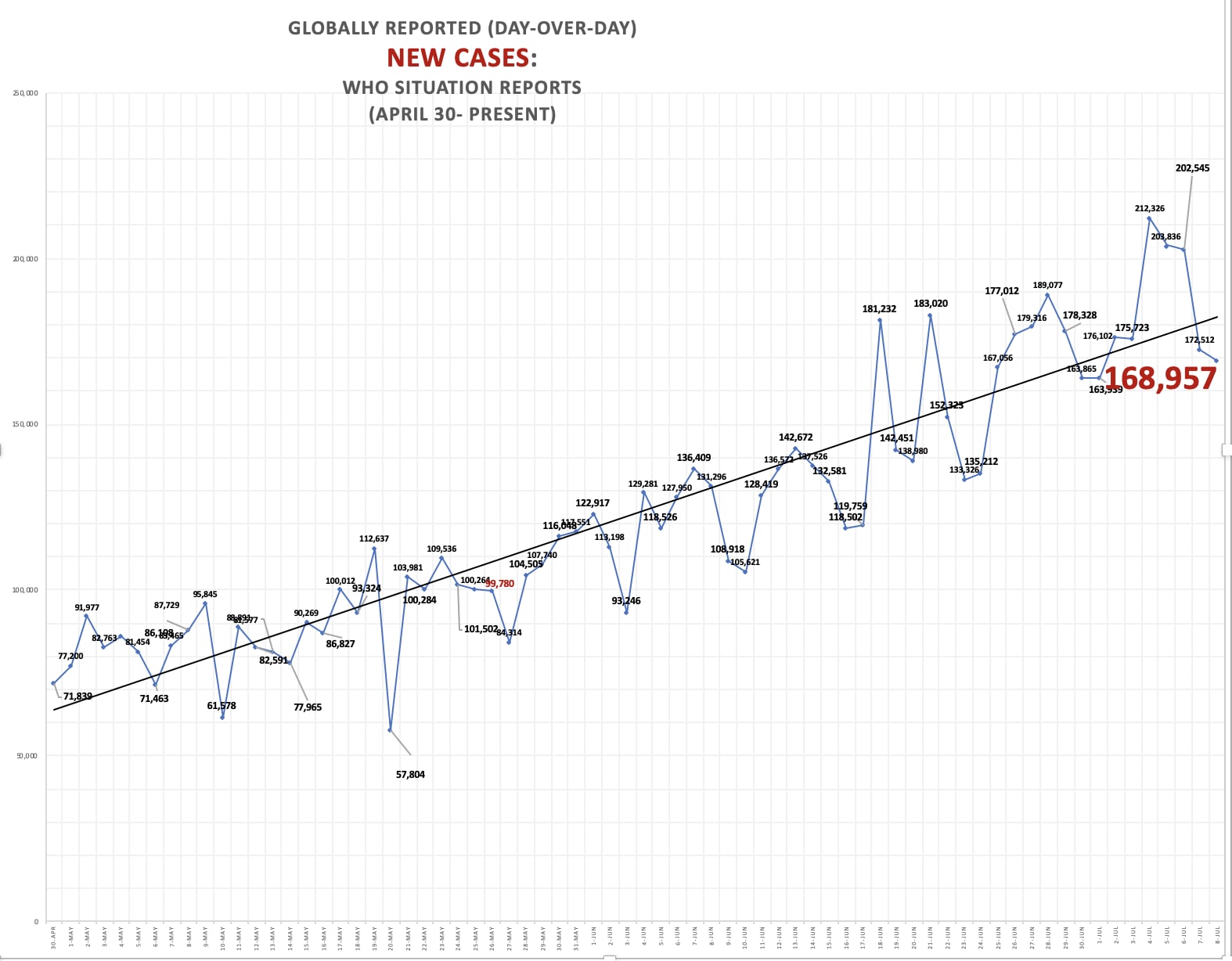 –Quotable–
"They literally gained nothing… it's a self-inflicted wound, and they have no economic gains."
–Economic researcher, Jacob Kirkegaard,
responds to numbers showing that Sweden's light-touch lockdown approach to the pandemic has cost many lives without protecting its economy.
(NYT)
CLICK HERE for full article

"Someone you know is likely to die from this. Going forward, how do we stop more of that happening? Easy. Stop transmission. Stop blowing on the embers. It's epidemiology, not rocket science."
-William Hanage, associate professor of epidemiology,
Harvard T.H. Chan School of Public Health.
–REBUILDING COMMUNITY–
BELONGING AND CONNECTION
with Dr. Fran Prolman
A Partnership Between the Learning Collaborative and AAIE, Focusing on a key Leadership Dilemma

In four, 2-hour sessions, you'll understand the reality of the pandemic effects on yourself, your students, the school community, and get concrete strategies for re-engaging your community in the future of your school, both now and into the fall.
With a focus on highlighting the necessary skill sets for addressing pandemic‐induced trauma and anxiety,

How to rebuild classroom community, strengthen the infrastructure of belonging, connection and community, while embracing psychological safety and anti-racist education.

Within the course, Dr. Prolman will provide practical, focused, intentional structures and strategies to uplift, heal, and reconnect your school, classroom and one another.
This course will amplify your power to address trauma and anxiety, build a strong community of learners, create a sense of belonging for every student, and strengthen a web of interdependent connection between and among every student and colleague for the school year to come.
INCLUDED: Custom-Designed Workbook: Rebuilding Community; Belonging and Connection workbook, with 200+ pages of activities, templates, protocols, articles, research, and links to be on top of your pandemic knowledge for the new school year.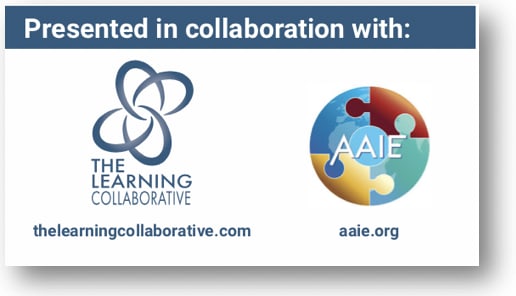 –FROM THE WHO and JOHNS HOPKINS CSSE–
From the WHO

, the Situation Report for July 8

,

2020
From the WHO

, The European Region Dashboard
From Cultures of Dignity

,

For the Social-Emotional Tiny Guides from Rosalind Wiseman and Charlie Kuhn– a gift to our AAIE community– resources with no fee but plenty of insight.



A Final Note: The AAIE COVID-19 Briefing is provided to support your leadership for the school community you serve. We encourage you to use these resources in any way, shape or form that helps you, your communications and toward furthering close relationships across your community. – The AAIE Board