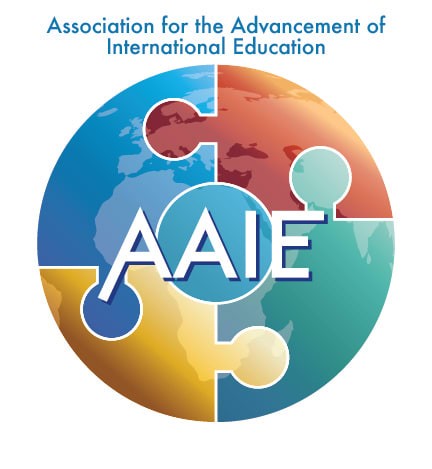 –MONDAY–
AAIE's COVID-19 BRIEFING
#129
Data and Ideas to Support Your Crisis Leadership
October 26, 2020
–Today's Briefing Highlights–
43,374,127 Cases World-wide

(Johns Hopkins)

THIS WEEK'S

CONVERSATIONS

A lovely reflection on remote learning– a little girl and her teacher, making their way in the mess that is the world.
Tuesday–Kristin Daniel and Ellen Mahoney on leadership resilience and "burnout"
Wednesday–Doug Fisher on learning loss and recognizing a narrative of success

Leading with empathy and perspective

And last but not least–

finding two-minutes' peac

e

:

A

POEM TO CONSIDER
–QUICK LINKS FOR BUSY PEOPLE–
AAIE's ONLINE CONVERSATIONS ARCHIVE
AAIE's SIX-QUESTION SURVEY RESULTS ON SCHOOL REOPENING
AAIE MEMBERSHIP FOR 2020-21
THE WORLD HEALTH ORGANIZATION DASHBOARD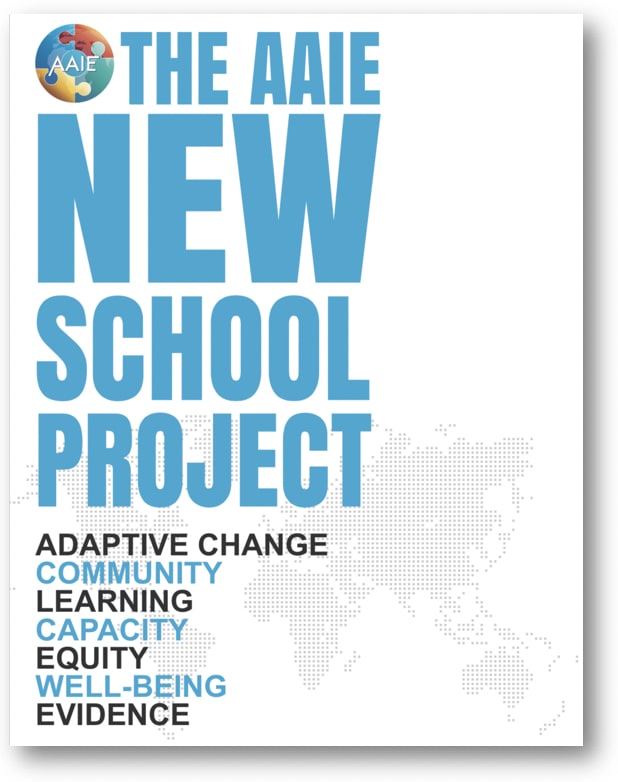 THE SEVEN PRINCIPLES FOR THE
NEW SCHOOL PROJECT
Our Phase II discussions will move from principles to practice. Please join the CONVERSATION– moving from the driving ideas into action.
Today's Quotes to Consider:
"This is what it means to be close to a coronavirus "tsunami" — a word used in northern Italy in the spring and deployed this past week by Belgian Health Minister Frank Vandenbroucke, who said that the virus could soon escape authorities' control."
THIS WEEK'S
LEADERSHIP CONVERSATIONS
with International School Leaders Around the World
TUESDAY
October 27
08:00AM EDT
PART II: LEADERSHIP RESILIENCE–
"A Focus on Burnout"
–presented by, Kristin Daniel and Ellen Mahoney, The Circulus Institute
Part Two: Discovering and dealing with the signs of "burnout"
Identify the causes and signs of burnout and discover tools to prevent burnout for you and your staff

We will discuss the definition of burnout, what the research tells us are the symptoms, what happens cognitively during intense stress and emotion, and ways to prevent burnout from happening,
WEDNESDAY
October 28
08:00AM EDT
LEARNING LOSS DURING THE PANDEMIC-
confirming that effective teaching and learning continues
– Presented by Doug Fisher
Doug Fisher, author of The Distance Learning Playbook and also The Distance Learning Playbook for Parents (with Rosalind Wiseman et. al.) will focus attention on the much lamented issue of learning loss and will bring practical leadership ideas to cut through all the chatter and bring facts to your school community about effective learning taking place. Doug will discuss how to pick up the pieces via ACCELERATION and how to ensure community loyalty to the school.
Consider that Doug wants to work with school leaders to find the silver lining and the new opportunities for school change and improvement.
THURSDAY
October 29
08:00AM EDT
SCHOOL HEADS AND SENIOR LEADERS AROUND THE WORLD #35
Our Weekly Conversation
– hosted by Will Richardson
Weekly Learning as a Community– All international school senior leaders are welcome. A Weekly CONVERSATION between School Heads and Senior Leaders. Our discussions continue to be contemporary, important and a time we teach each other.
Thanks to Will Richardson who has facilitated our Thursday CONVERSATIONS, since the very beginning.
THURSDAY
October 29
10:00AM EDT
LATIN AMERICAN SCHOOL LEADERS #25
– hosted by Sonia Keller
(Tri-Association) and Dereck Rhoads (AASSA)
The weekly Thursday CONVERSATIONS between Latin America school heads and senior leaders in collaboration with Tri-Association and AASSA. All are welcome to join the discussion. Our sessions are hosted by Sonia Keller and Dereck Rhoads.
FRIDAY
October 30
8:00AM EDT
THE AAIE NEW SCHOOL PROJECT: Phase II
From Principles to Practice
– an unprecedented collaboration between international schools around the world.
Discussions Facilitated by
Will Richardson, Homa Tavangar and Kevin Bartlett
NEXT WEEK: We take on Principle #2- PART II:
CAPACITY: WE DEVELOP THE CAPACITY IN OUR PEOPLE TO IMPLEMENT HIGH QUALITY AND SUSTAINABLE SOLUTIONS IN A TIME OF RAPID AND UNMITIGATED CHANGE.
A SUMMARY OF FRIDAY'S
NEW SCHOOL PROJECT SESSION:
This past Friday was Week 1 (out of 2) of Principle Two, CAPACITY. The PRINCIPLE has been articulated by AAIE participants as:
CAPACITY: "We develop the capacity in our people to develop and implement high-quality, sustainable solutions in a time of rapid and unmitigated change."
You can find the quotes shared and some of various approaches to CAPACITY that teed-up the context of the principle, with some key research to help inform the discussion, on slides #51-57 in the Presentation Slide Deck.
Learning from past weeks' experience, the 'sherpas' adjusted the format to create space for longer breakout groups, which strove to make personal and shared meaning around these starting point questions:
· Who are our people?
· What capacities do they have or need?
· What constitutes high-quality?
· What does it mean to "sustain" change?
Many salient points emerged. From these, a few key questions you might wish to consider: How is 'capacity' non-linear, elastic, and actively built? How do we make time and space for building it? How might parents be partners in capacity building, and what is their role/responsibility in building their own capacity? Where does trust, and moving from 'ego' to 'eco-systems' come in to the capacity-building process?
This week, we continue with Principle Two, and will kick off with comments and resources from this Principle's curation team (THANKS to Rachel MacKinnon, Dana Watts, Shelley Paul), before groups explore strategies for living the principle - the "how" of developing capacity.
If you haven't already, we hope you will join this exciting, thoughtful and energizing process for visioning and 'living' the New School Principles.
Big thanks to all who are contributing their time and talents each week!
NOTE: You can catch up, comment, and browse the curation Padlet, slide deck and more here: bit.ly/aaienshome (this is the AAIE New School Home Base - aaienshome).
It's Not About Being in Charge...
It's About Taking Care of People in Our Charge
Editor's Note: Simon Sinek at his best, offering a timely message about the leadership imperatives of empathy and perspective. Likely the two most needed qualities by members of our community across all cultures and ages. So worth your time to listen in on Sinek's own take on leadership– where the job is to be responsible for the people who are responsible to do the job. Where in the midst of crisis, people know they are trusted, can be themselves, that they are valued.
My Daughter's Remote Kindergarten Teacher
Taught Me to be a Better Mom
Editor's Note: A lovely piece of writing all about the unexpected yet positive outcomes of remote learning. Not at all unexpected– it's about the teacher who is both dedicated and infected with a perfect amount of whimsy!

I can tell in her body language, the way she sits up straight, the way her small frame settles into her desk, that she feels completely engaged and seen. I watch her little fingers holding a pencil and trying to write a perfect E. She seems so little, so innocent in the mess of what's going on in the world today, and it shifts my heart in a different way.

–By Emily James
"Can you guess how I'm feeling?" my daughter's kindergarten teacher says to the 25 little faces during her morning calendar talks in Google Meet.
Allie sits with perfect posture, shoots her hand up to the sky. "Happy," she says when Ms. G calls on her to unmute her microphone.

"I am happy!" the teacher replies. Her tone reveals none of the anxiety and stress I know she must be feeling.
New York City schools have been open for hybrid learning since September, and teachers are facing lack of staffing, rising Covid-19 numbers, unhappy parents and bursting class sizes. There has never been a more stressful time to be in this profession — and as a former teacher of almost 15 years, I can attest that even pre-Covid-19, teaching in New York City was beyond challenging. But every morning, my daughter's kindergarten teacher's sweet voice rings through our computer speakers: "Good morning, friends!"
All summer I agonized over the idea of my 5-year-old daughter missing out on a true, in-person kindergarten experience. When deciding whether to send her to school or keep her home, the choice was clear but not easy. My husband has health complications, so we need to limit our exposure, and I knew that because he works nights, he could be with her during the day. It felt like the safer and more stable choice. But the sadness of what is happening to students and teachers and parents around the world is heavy. Childhood is such a short time, and it feels like our kids are being robbed of the normalcy we always took for granted. I knew Allie wouldn't get to tell secrets to friends, to line up by height, to have that space she deserves to develop into herself without her mom and dad close by.
Even more surprising than how well Ms. G manages remote kindergarten: Allie isn't the only one learning lessons here. Spending these past few weeks listening to the way my daughter's kindergarten teacher talks and interacts with her during their live sessions has affected me in a different way than I imagined.

It's made me into a better mom.

So each morning, after feeding and dressing and cleaning and getting her ready (she makes me do her hair in a perfect, slicked-back ponytail and takes her time picking out a "fancy" outfit), I sit on the couch nearby with a cup of coffee as class begins. As Allie practices her letters, I practice watching the way that Ms. G speaks to her and the rest of her classmates, with her silly tone of voice, her stuffed owls "Echo" and "Baby Echo." I am reminded of how a 5-year-old deserves and loves to be treated.

After spending every waking minute with my children during the pandemic, one day bleeding into the next, we became partners in survival. I didn't realize that I had only been seeing Allie as my daughter, someone whose needs I was responsible for, and not seeing her clearly as her own person, a 5-year-old kid among a couple dozen other 5-year-old kids. How could I? The stress of this pandemic has been immense. But it's been eye-opening watching how Allie reacts to someone taking such careful time with her. Talking to her patiently, using silence as opportunity for encouragement. "Keep trying, friend!" Ms. G will say if Allie gets stuck. Cheering her on, even if she makes a mistake, using a much more theatrical voice than my own. Being silly in ways I wouldn't: "Kiss your hand and put it on your head to give your brain some love!" Ms. G will say, and Allie follows.

These small moments of enthusiasm and positivity give my daughter something that I've been holding back, something that she deserves.

I can tell in her body language, the way she sits up straight, the way her small frame settles into her desk, that she feels completely engaged and seen. I watch her little fingers holding a pencil and trying to write a perfect E. She seems so little, so innocent in the mess of what's going on in the world today, and it shifts my heart in a different way.

And even though Ms. G tells the kids how "happy" she is each day, I'm not naive enough to think she isn't struggling. Yes, I have experience in being a stressed-out teacher, teaching public high school for almost 15 years. But this is nothing compared with what teachers right now are feeling. Kindergarten is hard enough to manage in person, let alone virtually. I know Ms. G has to deal with ballooning class sizes and disappointed parents, with long hours tied to technology, nights prerecording her lessons so that the students she isn't seeing live can watch them on their own. And then the actual teaching through a screen — in small and large groups — all day long. To do all that seems unbelievably hard, and to do it well? It seems impossible. Yet here we are.

That in itself has been another lesson to me. No matter what Ms. G is going through, she maintains that space for Allie and her classmates. That space where she can be silly and laugh and give a 5-year-old the environment he or she deserves.

My hope for this year was that Allie would enjoy school, that she'd be able to learn. But there are lessons for all of us if we pay attention to what teachers are doing. In my case, I've found myself able to zoom out and see my child in a new way, treat her with more care and tenderness, less as just my daughter and more as who she is at heart. I'm still far from perfect, quite a mess actually, and by each night, I'm almost back to my old ways. I see a child who needs to be fed, needs to be bathed, needs to be loved. Sometimes, her needs put me into full-on parenting mode and distract me from seeing her for who she is.

But then each morning, we wake up, we do our hair, we brush our teeth. Ms. G shows up, not just for Allie, but for both of us. "Good morning, friends!" her silly singsong voice rings out, and brings each of us somewhere else — or really, back to where we need to be.
–TODAY's POEM TO CONSIDER–
A poem, just for you as a source of peace and reflection...
VALENTINE FOR ERNEST MANN
You can't order a poem
like you order a taco
Walk up to the counter, say, "I'll take two," and expect it to
be handed back to you on a
shiny plate.
Still I like your spirit.
Anyone who says, "here's my
address, write me a poem",
deserves something in reply.
So I'll tell you a secret instead:
Poems hide. In the bottom
of our shoes, drifting
across our ceilings the moment
before we wake up.
What we have to do is live in a way
that lets us find them.
…Maybe if we re-invent whatever our lives give
us we find poems.
Check your garage,
the odd sock in your drawer,
the person you almost like,
but not quite.
And let me know.
–Naomi Shihab Nye
–THE NEWS of COVID-19–
43,374,127
Cases Worldwide (Johns Hopkins CSSE)
Asia With 14% of Death Toll
Asia surpassed 10 million infections of the new coronavirus today, the second-heaviest regional toll in the world, according to a Reuters tally, as cases continue to mount in India despite a slowdown and sharp declines elsewhere. Behind only Latin America, Asia accounts for about one-fourth of the global caseload of 42.1 million of the virus. With over 163,000 deaths, the region accounts for some 14% of the global COVID-19 toll. The Reuters tally is based on official reporting by countries. The true numbers of cases and deaths are likely much higher, experts say, given deficiencies in testing and potential underreporting in many countries. (Reuters)
Europe's Infections Double in Ten Days
Europe's reported coronavirus cases more than doubled in 10 days, crossing 200,000 daily infections for the first time on Thursday, according to a Reuters tally, with many Southern European countries reporting their highest single-day cases this week. Europe reported 100,000 daily cases for the first time on Oct. 12. Europe has so far reported about 7.8 million total coronavirus cases and about 247,000 deaths, according to a Reuters tally. European countries like Italy, Austria, Croatia, Slovenia and Bosnia reported their highest single-day coronavirus cases on Thursday. (Reuters)
Some Good News on a Vaccine From Oxford University
A vaccine considered a frontrunner in the race to protect the global population from Covid-19 has produced a robust immune response in elderly people, the group at highest risk from the disease, according to two people familiar with the finding. The discovery that the vaccine being developed by the University of Oxford, in collaboration with AstraZeneca, triggers protective antibodies and T-cells in older age groups has encouraged researchers as they seek evidence that it will spare those in later life from serious illness or death from the virus. Age has emerged as the principal risk factor for a severe bout of Covid-19. However, the immune system weakens with age, raising concerns that the very group that most needs the protection of a vaccine may generate the least effective response to one.
(Financial Times)
WHO Declared a Dangerous Moment
The World Health Organization's director general said some countries in the northern hemisphere are facing a "dangerous moment" as U.S. coronavirus infections hit a record for the second day and France's cases rose by more than 50,000. Global infections topped 43 million. (via Bloomberg News)
Largest Increase in Thirty Years of People Thrown into Poverty
as the Second Wave Spreads
As the second wave spreads, the world is coming to the realization that the pandemic will not be over any time soon. One of its most significant impacts will be to exacerbate income inequality. The World Bank previously reported that the pandemic had thrown between 88 million and 114 million people into extreme poverty, by far the largest increase since it first started tracking this metric 30 years ago. Between 703 and 729 million people are now living on less than $1.90 a day, up from 615 million in 2019, with numbers expected to rise further in 2021. Interestingly, the report found that new demographics are being pulled into extreme poverty.
Prior to the pandemic, extreme poverty was concentrated in communities of young, rural, and uneducated workers. Now it's spreading to congested urban areas, educated populations, and those working in informal services, construction, and manufacturing. We see the same trends unfolding in Europe. On the same day the World Bank released this assessment, Swiss bank UBS published its own report which found that that world's billionaires did extremely well during the first wave by betting on the recovery of global stock markets. Their fortunes rose by 28% between April and July 2020, while the total number of billionaires also increased. France's Gilets jaunes protests show why the social risks of such a rapid increase in inequality should not be ignored. (Eurointelligence.com (2nd item), World Bank)
Europe's Second Wave Accelerates
Europe's second wave of the coronavirus pandemic is accelerating, forcing countries to impose ever-more social-distancing rules in a bid to avoid a return to full-blown lockdowns. France announced a daily record for coronavirus infections, with confirmed infections reaching over 52,000 on Sunday, compared with nearly 84,000 confirmed cases in the U.S. on Saturday, whose population is around five times bigger. Italy, struggling with an explosive rise in infections, imposed the toughest restrictions on its population since ending its lockdown, including the closure of all bars and restaurants at 6 p.m. In Spain, the government announced a state of emergency, as it did in March, giving national authorities greater powers to impose social-distancing and emergency health-care policies. Daily confirmed infections in
Europe, which overtook the U.S.'s daily detected infections during October, are threatening to overwhelm European countries' capacity to test, trace and isolate virus carriers, leading authorities and health experts to warn that the pandemic could intensify. (The Wall Street Journal, The Washington Post)
Infection Rates Intensify Across the USA
The U.S. added nearly 84,000 coronavirus cases for the second-straight day, with new infections coming in barely below the daily record set the previous day. Saturday's total of 83,718 new cases marks the second-highest single-day count after the record 83,757 infections logged Friday, according to data compiled by Johns Hopkins University. The U.S. has reported nearly 8.58 million infections in total, with the death toll nearing 225,000. Epidemiologists anticipated an increase of cases in the fall as cooler weather brings Americans indoors, where there is a higher risk of transmission. But this surge is coming earlier than many expected. (The Wall Street Journal)
The Fear of Overwhelmed Hospital Care
With the coronavirus spreading out of control in many parts of the United States, health experts have warned that it is only a matter of time before the pressure on hospitals mounts to the breaking point. In some places it's already happening, with more than 41,000 Covid-19 patients hospitalized in the United States, a 40 percent rise in the past month. Epidemiologists anticipated an increase of cases in the fall as cooler weather brings Americans indoors, where there is a higher risk of transmission. But this surge is coming earlier than many expected. (The New York Times)
Asymptomatic Cases Discovered in China
More than 100 asymptomatic coronavirus cases have been discovered in Xinjiang, one of China's most heavily monitored and policed regions. It is the biggest cluster detected in the country since July. On Saturday, a 17-year-old girl tested positive for Covid-19 in Kashgar, sparking a citywide testing drive and strict restrictions on movement. A further 137 infections were discovered on Sunday, each linked to a factory in Shufu county where the teenager's parents work, according to local health officials. (via Financial Times)
Covid-19 Surge in Belgium Leads to Shortage of Doctors,
Teachers and Police
Well into Europe's second wave of the coronavirus, so many Belgians are sick or quarantining that there aren't enough police on the streets, teachers in classrooms or medical staff in hospitals.
In some hospitals, doctors and nurses who have tested positive but don't have symptoms are being asked to keep working, because so many others are out sick with covid-19, the disease caused by the novel coronavirus. School principals are marshaling secretaries and parent volunteers to replace falling ranks of teachers.
"We have runaway numbers in terms of contamination and a major issue is the risk of the collapse of the hospital system of our country," the minister-president of Brussels, Rudi Vervoort, said Saturday as he announced a host of new restrictions.
Unlike in the spring, there are enough masks and gowns to go around. But months of preparation haven't been able to avert a shortage of people. And a decision by the national government to remove a mask mandate and loosen restrictions on social contacts this month contributed to an acceleration of the virus before being largely reversed in hard-hit areas since Friday.
Belgium's infection rate is second only to the Czech Republic in the European Union and five times higher than in the United States.
The country's testing infrastructure is overloaded. As of this past week, Belgium is no longer testing people without symptoms, even if they may have been exposed. "The situation is more serious" than in April, Christie Morreale, health minister of the French-speaking region of Belgium, told the RTL broadcaster on Friday. "If you are a nurse and you have a few hours to dedicate in a nursing home or a hospital, if you're a nursing student, a medical student, an educator, they have need of support."
This is what it means to be close to a coronavirus "tsunami" — a word used in northern Italy in the spring and deployed this past week by Belgian Health Minister Frank Vandenbroucke, who said that the virus could soon escape authorities' control.
–The STATS–
TOTAL GLOBAL CASES:
Johns Hopkins– 43,374,127
WHO–42,966,344
GLOBAL DEATHS (WHO):
Today–1,152,604
Three Days Ago–1,134,940
EVOLUTION OF-GLOBAL CASES (WHO):
Today–42,966,344
Three Days Ago–
41,570,883
NEW CASES (WHO):
Today–435,528
–Tracking the Virus Around the World–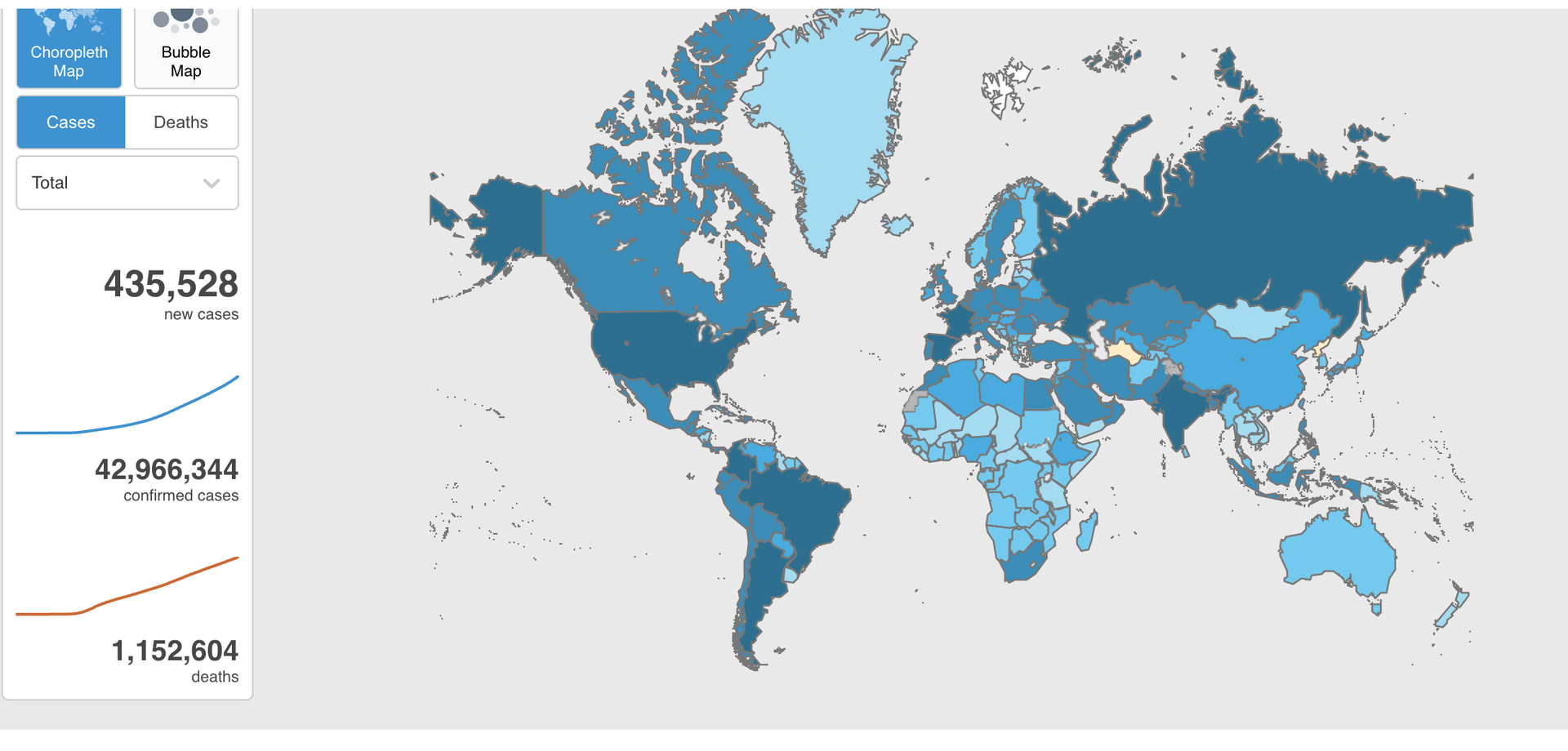 –FROM JOHNS HOPKINS CSSE–
The Cultures of Dignity Resources for Supporting
Social-Emotional Wellness
From Cultures of Dignity

,

For the Social-Emotional Tiny Guides from Rosalind Wiseman and Charlie Kuhn– a gift to our AAIE community– resources with no fee but plenty of insight.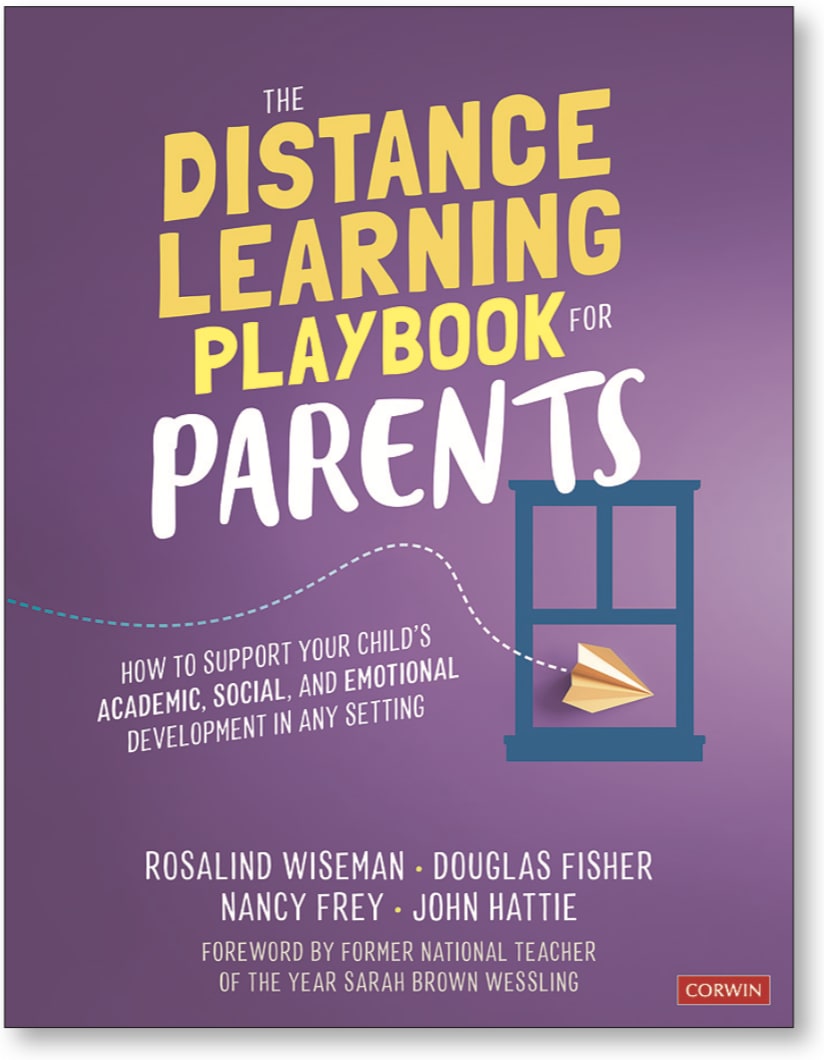 Rosalind Wiseman's newest book:

"Distance Learning Playbook for Parents–How to Support Your Child′s Academic, Social, and Emotional Development in Any Setting
A Final Note: The AAIE COVID-19 Briefing is provided to support your leadership for the school community you serve. We encourage you to use these resources in any way, shape or form that helps you, your communications and toward furthering close relationships across your community. – The AAIE Board