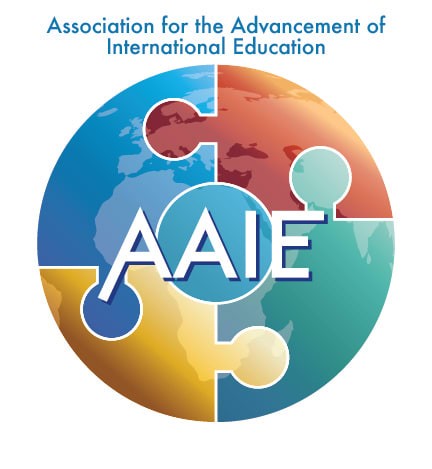 –FRIDAY–
AAIE's COVID-19 BRIEFING
#119
October 2, 2020
RESENDING BECAUSE OF A FAULTY LINK–
Please Excuse
–Highlights–
Today's BRIEFING is a wake-up call about the research on the "K" factor and "super-spreaders", significant to school safety.
34,450,697Cases World-wide

(Johns Hopkins)–

(placing all politics aside, best wishes to the USA President for a complete recovery)
NEXT WEEK'S

CONVERSATIONS

Today's orientation to PHASE II of the New School Project and next steps we'll take together

What is the super-spreader "K" factor and why it's so important?

Essential reading on youth infections and COVID-19 super-spreaders (10% infecting 80%)

Super-spreaders in India

Lockdown in Spain
–QUICK LINKS FOR BUSY PEOPLE–
AAIE's ONLINE CONVERSATIONS ARCHIVE
AAIE's SIX-QUESTION SURVEY RESULTS ON SCHOOL REOPENING
AAIE MEMBERSHIP FOR 2020-21
SIGN-UP FOR THIS YEAR'S COHORT OF LEADERS SUPPORTING LEADERS
THE WORLD HEALTH ORGANIZATION DASHBOARD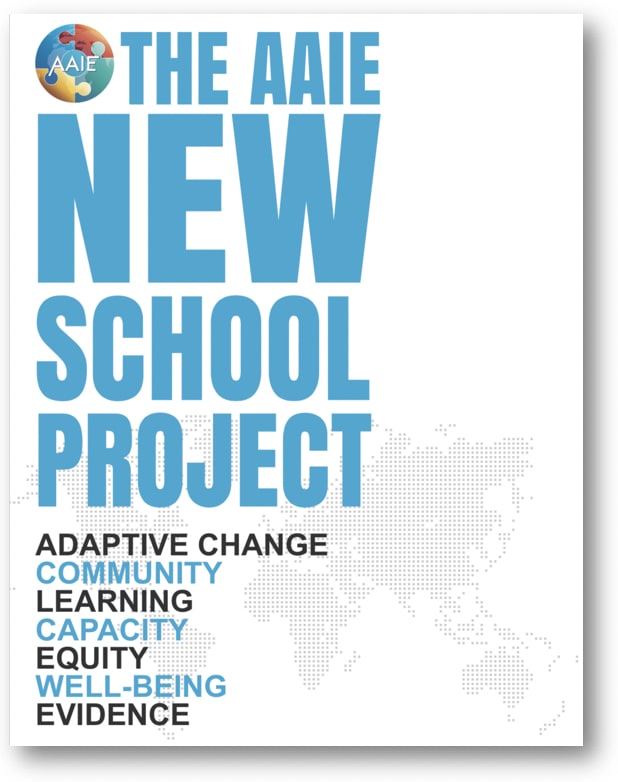 THE SEVEN PRINCIPLES FOR THE
NEW SCHOOL PROJECT
Our Phase II discussions to move from principles to practice have begun. Please join the CONVERSATION– moving from the driving ideas into action.
Today's Quote to Consider
"By now many people have heard about R0—the basic reproductive number of a pathogen, a measure of its contagiousness on average. But unless you've been reading scientific journals, you're less likely to have encountered "K", the measure of its dispersion. The definition of k is a mouthful, but it's simply a way of asking whether a virus spreads in a steady manner or in big bursts, whereby one person infects many, all at once. After nine months of collecting epidemiological data, we know that this is an over-dispersed pathogen, meaning that it tends to spread in clusters, but this knowledge has not yet fully entered our way of thinking about the pandemic—or our preventive practices."
–Dr. ZEYNEP TUFEKCI ,
contributing writer at The Atlantic and associate professor
at the University of North Carolina.
NEXT WEEK'S
LEADERSHIP CONVERSATIONS
with International School Leaders Around the World
WEDNESDAY
October 7
08:00AM EDT
KEEPING THE DOORS OPEN FOR TEACHING AND LEARNING IN A GLOBAL PANDEMIC
– presented by Jon Zurfluh, Director, American School of Warsaw,
Dr. Jarek Oleszczuk
The American School of Warsaw reopened on 18 August 2020, ready to welcome students and prepared with a three-layer plan, STOP-PROTECT-REACT. We started the year by testing all students and staff. We were pleased to see no positive cases in that initial round of testing, and we started the year without delay. At the time of opening, 93% of parents chose to send their children back to in-person school and only 7% stayed in the offered hybrid mode. Over the first four weeks of school, this increased to 97% with roughly 3% in hybrid mode.
Our doors remain open because we have connected medical research to an aggressive COVID-19 testing program. We want to share what we've learned and why we think our reopening plan, in collaboration with our committee of experts, is working so well.
THURSDAY
October 8
08:00AM EDT
SCHOOL HEADS AND SENIOR LEADERS AROUND THE WORLD #32
Our Weekly Conversation
– hosted by Will Richardson
Weekly Learning as a Community– All international school senior leaders are welcome. A Weekly CONVERSATION between School Heads and Senior Leaders– #32. Our discussions continue to be contemporary, important and a time we teach each other. With thanks to Will Richardson who has facilitated our Thursday CONVERSATIONS, since the very beginning.
THURSDAY
October 8
10:00AM EDT
LATIN AMERICAN SCHOOL LEADERS– Our Weekly Conversation #22
– hosted by Sonia Keller
(Tri-Association) and Dereck Rhoads (AASSA)
The weekly Thursday CONVERSATIONS between Latin America school heads and senior leaders resumes in collaboration with Tri-Association and AASSA. All are welcome to join the discussion. Our sessions are hosted by Sonia Keller and Dereck Rhoads.
FRIDAY
October 9
8:00AM EDT
THE AAIE NEW SCHOOL PROJECT: Phase II
From Principles to Practice
– an unprecedented collaboration between international schools around the world.
Discussions Facilitated by Will Richardson, Homa Tavangar and Kevin Bartlett
During today's orientation to Phase II of the New School Project, we eased our way back into this transformative work by reflecting on how we got here and mapping out a modus operandi for turning our Seven Principles into lived practice. This next week we tackle the work for real.
Our focus for October 9 will be:
Principle One: ADAPTIVE CHANGE - "WE USE FEARLESS INQUIRY TO CONTINUALLY INTERROGATE AND SHED EMBEDDED PRACTICE THAT DOES NOT AMPLIFY AND INSPIRE PROFOUND LEARNING THROUGHOUT OUR SCHOOL COMMUNITIES."
Together we will:
Make personal meaning of the key concepts in this principle through small group generative conversations

Share our most inspiring 'aha moments'

Begin to write a History of the Future as we imagine what a New School will look like when implementing Adaptive Change

Take a first shot at the Practices we'll see when this Principle is lived by different stakeholders in the school
We hope this teaser will tempt you to join us for another AAIE collaborative conversation as we re-imagine schooling. If it's your first time, remember there's always a Welcome Mat...log in 15 minutes early and we'll bring you up to speed before the session starts!

"THERE IS SOMETHING STRANGE ABOUT THIS CORONAVIRUS PANDEMIC"
Get to Know the "K" Factor
...it's more important than "R-naught"

EDITOR'S NOTE: Adding to our knowledge about the infectious behavior of COVID-19, the author introduces what may now be the key factor that predicts community spread. A classic case of knowing more today than we did yesterday.
Our focus may indeed need to be on that observable fact that multiple studies, from the beginning, have suggested that as few as 10 to 20 percent of infected people may be responsible for as much as 80 to 90 percent of transmission
This is an important read for all of us leading our school communities and also taking on the role of mayor.
– by DR. ZEYNEP TUFEKCI,
contributing writer at The Atlantic
and associate professor at the University of North Carolina.

There's something strange about this coronavirus pandemic. Even after months of extensive research by the global scientific community, many questions remain open.

Why, for instance, was there such an enormous death toll in northern Italy, but not the rest of the country? Just three contiguous regions in northern Italy have 25,000 of the country's nearly 36,000 total deaths; just one region, Lombardy, has about 17,000 deaths. Almost all of these were concentrated in the first few months of the outbreak. What happened in Guayaquil, Ecuador, in April, when so many died so quickly that bodies were abandoned in the sidewalks and streets?* Why, in the spring of 2020, did so few cities account for a substantial portion of global deaths, while many others with similar density, weather, age distribution, and travel patterns were spared? What can we really learn from Sweden, hailed as a great success by some because of its low case counts and deaths as the rest of Europe experiences a second wave, and as a big failure by others because it did not lock down and suffered excessive death rates earlier in the pandemic? Why did widespread predictions of catastrophe in Japan not bear out? The baffling examples go on.
I've heard many explanations for these widely differing trajectories over the past nine months—weather, elderly populations, vitamin D, prior immunity, herd immunity—but none of them explains the timing or the scale of these drastic variations. But there is a potential, overlooked way of understanding this pandemic that would help answer these questions, reshuffle many of the current heated arguments, and, crucially, help us get the spread of COVID-19 under control.
By now many people have heard about R0—the basic reproductive number of a pathogen, a measure of its contagiousness on average. But unless you've been reading scientific journals, you're less likely to have encountered k, the measure of its dispersion.
The definition of k is a mouthful, but it's simply a way of asking whether a virus spreads in a steady manner or in big bursts, whereby one person infects many, all at once. After nine months of collecting epidemiological data, we know that this is an overdispersed pathogen, meaning that it tends to spread in clusters, but this knowledge has not yet fully entered our way of thinking about the pandemic—or our preventive practices.
The now-famed R0 (pronounced as "r-naught") is an average measure of a pathogen's contagiousness, or the mean number of susceptible people expected to become infected after being exposed to a person with the disease. If one ill person infects three others on average, the R0 is three. This parameter has been widely touted as a key factor in understanding how the pandemic operates. News media have produced multiple explainers and visualizations for it. Movies praised for their scientific accuracy on pandemics are lauded for having characters explain the "all-important" R0. Dashboards track its real-time evolution, often referred to as R or Rt, in response to our interventions. (If people are masking and isolating or immunity is rising, a disease can't spread the same way anymore, hence the difference between R0 and R.)
"The Japanese strategy, nail(ed) almost every important feature of the pandemic early on, with the Western response, trying to eliminate the disease "one by one" when that's not necessarily the main way it spreads. Indeed, Japan got its cases down, but kept up its vigilance: When the government started noticing an uptick in community cases, it initiated a state of emergency in April and tried hard to incentivize the kinds of businesses that could lead to super-spreading events, such as theaters, music venues, and sports stadiums, to close down temporarily. Now schools are back in session in person, and even stadiums are open—but without chanting."
Unfortunately, averages aren't always useful for understanding the distribution of a phenomenon, especially if it has widely varying behavior. If Amazon's CEO, Jeff Bezos, walks into a bar with 100 regular people in it, the average wealth in that bar suddenly exceeds $1 billion. If I also walk into that bar, not much will change. Clearly, the average is not that useful a number to understand the distribution of wealth in that bar, or how to change it. Sometimes, the mean is not the message. Meanwhile, if the bar has a person infected with COVID-19, and if it is also poorly ventilated and loud, causing people to speak loudly at close range, almost everyone in the room could potentially be infected—a pattern that's been observed many times since the pandemic begin, and that is similarly not captured by R. That's where the dispersion comes in.

There are COVID-19 incidents in which a single person likely infected 80 percent or more of the people in the room in just a few hours. But, at other times, COVID-19 can be surprisingly much less contagious. Over-dispersion and super-spreading of this virus are found in research across the globe. A growing number of studies estimate that a majority of infected people may not infect a single other person. A recent paper found that in Hong Kong, which had extensive testing and contact tracing, about 19 percent of cases were responsible for 80 percent of transmission, while 69 percent of cases did not infect another person. This finding is not rare: Multiple studies from the beginning have suggested that as few as 10 to 20 percent of infected people may be responsible for as much as 80 to 90 percent of transmission, and that many people barely transmit it.
IN CONCLUSION:
This article asks, "Are we targeting the right dangers?"
Could we get back to a much more normal life by focusing on limiting the conditions for super-spreading events, aggressively engaging in cluster-busting, and deploying cheap, rapid mass tests—that is, once we get our case numbers down to low enough numbers to carry out such a strategy? (Many places with low community transmission could start immediately.) Once we look for and see the forest, it becomes easier to find our way out.
THE AAIE NEW SCHOOL PROJECT–
A Progress Report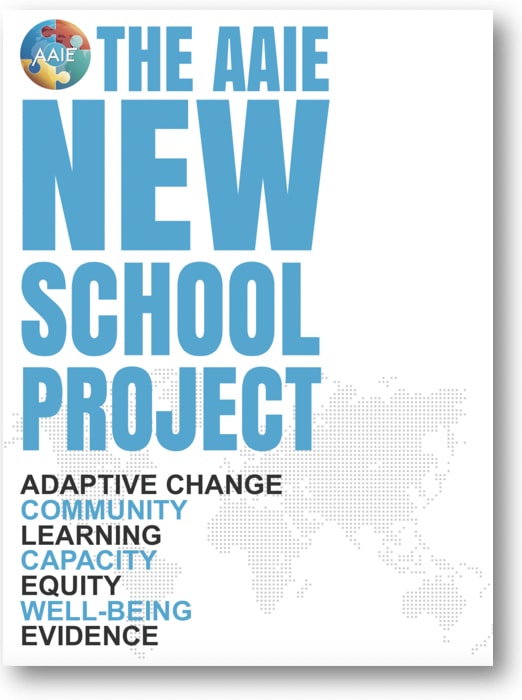 "The biggest hope would be that the end result on balance would be that the learners in our care are better served and we keep improving the learning experiences."
An Orientation to Phase II of the Deliberations Ahead
During today's orientation to Phase II of the New School Project, we eased our way back into this transformative work by reflecting on how we got here and mapping out a modus operandi for turning our Seven Principles into lived practice. This next week we tackle the work for real.
SEE NEXT WEEK's SESSION NARRATIVE ABOVE
A Timeline of Actions from Last Spring's Discussions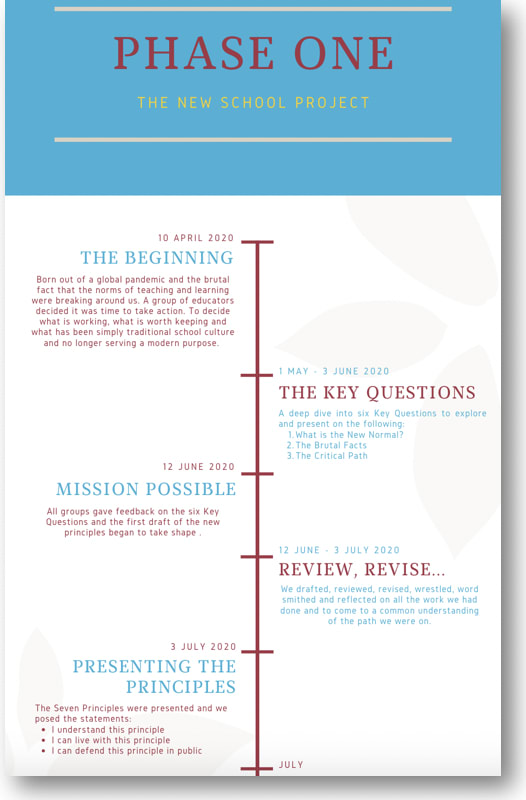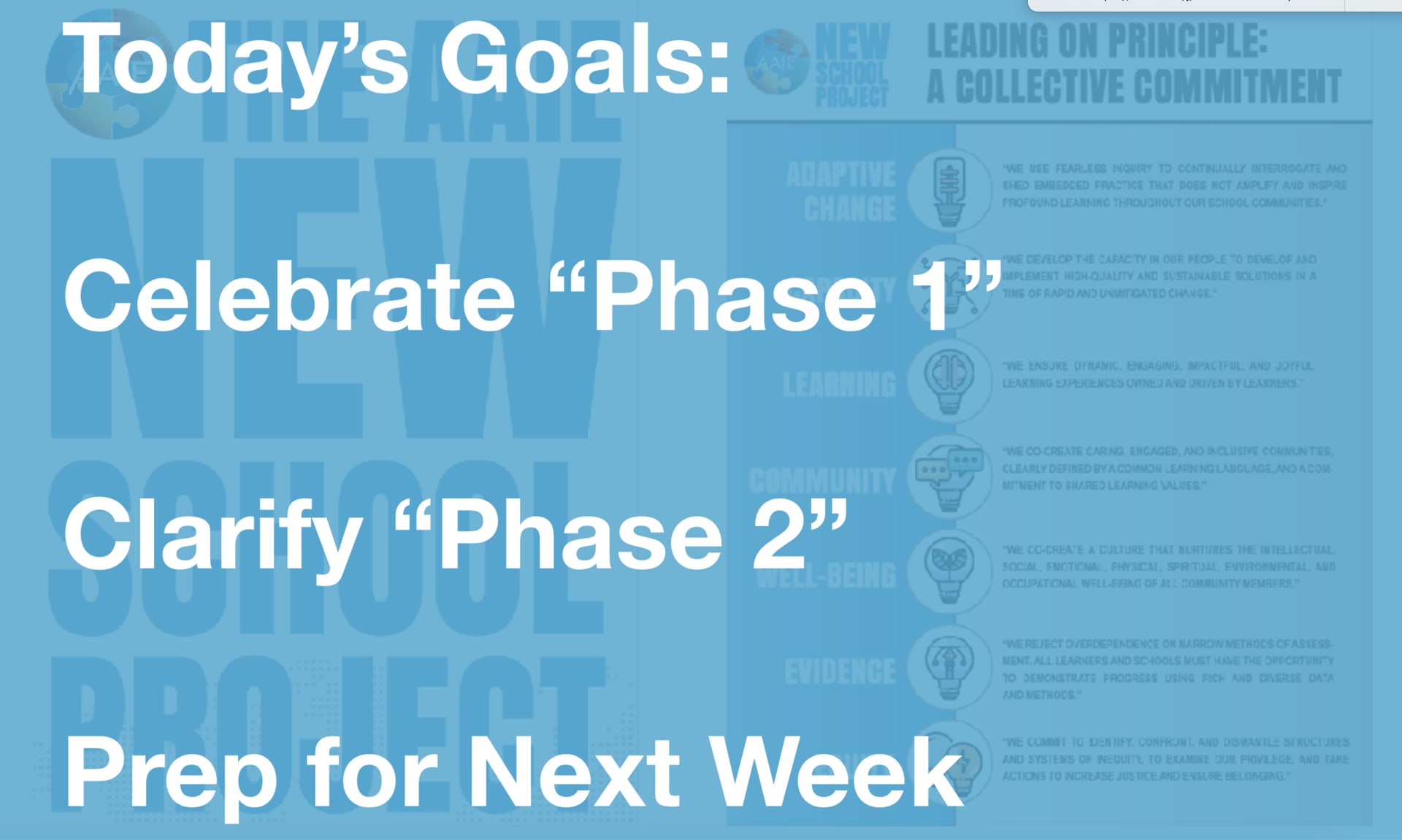 Today's Orientation Session

Outcome #1: Develop Shared Language
Outcome #2: Put Principles into Practice
Outcome #3: Starting Points for Implementation
...And What Are School Leaders Saying About Their Hopes
for the New School Project?
That each of us will understand that it may take years for us and our communities to start truly living some of the principles. I hope that the time dimension will not discourage us. Every conversation, every moment of reflection, every step in implementation, regardless of how small, will matter.

I hope we can start the process of raising awareness of the need for change NOW, even amongst the fear/tiredness etc. of the crisis. It is now the need is most obvious - once things get back to a "new normal", the urgency for change will diminish for many. Careful change management strategies are needed - of course you don't just jump into it all at once, rather introduce the principles, explain and build support, understanding and then consensus… not everyone will buy in, work on those who do and build a majority!

The biggest hope would be that the end result or balance would be that the learners in our care are better served and we keep improving the learning experiences.

This creates the change in international schools that we aspire it to be.

That this will become such a wave of change that the reach will go beyond the international school world and truly impact educational systems throughout the host country's systems. Baby steps first, but big dreams for the future.

I hope to see these principles become a part of our strategic thinking in my school in the near and medium term.

I hope to determine ways to build a process within my community to move the principles forward to develop a new plan for the future.

I hope the enactment of these principles will result in systemic change

I hope to embrace the Principles at my school this year

That the principles will guide action and will spread to others and that we act with urgency.

I hope to continue collaborating and learning from one another as we move forward (always celebrating our diversity).

That we develop something that we can all use as a guide to laser our focus on student learning and improving the learning environment.

That the principles will act as lighthouses/guideposts for conversations in our schools to have important conversations. With the practical examples we want to build into the model, it should provide the necessary inspiration to everyone in the profession.

I really hope that these principles can take space in our schools, gain traction and be raised to the level of vision to guide our work over the next few years. These create meaning right now during Covid change as well as beyond the pandemic. They are proactive, stable, and interconnected which allows them to be a foundation of our strategic and operational work. I hope any school I am in will learn about them and use them as a compass of our work…. understanding. and accepting how each of them represents what we are doing, what we can do and what we need to be doing.

My hope is that we continue to bring more voices into this conversation to provide transparency to the needed urgency for change.

I hope to come away with some practical tools, strategies and ways to embed these principles of change in my school.
Tell Five Other School Leaders to Bring Their Expertise and Experience to Next Week's NEW SCHOOL CONVERSATION- Thank you!
–THE NEWS of COVID-19–
34,450,697
Cases Worldwide (Johns Hopkins CSSE)
34,000,000 Globally and Germany with Increasing Cases
Global coronavirus cases approached 34 million, with Germany reporting the highest number of infections since April. Israel saw a record 8,919 new cases after a dip over the holiday weekend. Spain ordered additional restrictions on movement and gatherings in Madrid. European regulators are set to start an accelerated review of AstraZeneca's Covid-19 vaccine, even as the U.S. Food and Drug Administration is reported to have widened its investigation into a trial participant who fell ill. (Bloomberg News)
Madrid Back Into Lockdown
Madrid will become the first European capital to go back into lockdown in coming days after the region's leader reluctantly agreed on Thursday to obey a central government order to ban non-essential travel to and from the Spanish capital. In order to fight a steep surge in COVID-19 cases, Madrid and nine nearby municipalities will see borders closed to outsiders for non-essential visits, with only travel for work, school, doctors' visits or shopping allowed. However, regional chief Isabel Diaz Aysuo said she will appeal against the lockdown in the courts, meaning the uncertainty and fierce political squabbling that has exasperated the residents of Madrid is far from over. (Reuters)
Taking Care of Our Staff: Why people with diabetes are being hit so hard by Covid-19
There are no easy answers to the coronavirus pandemic, but for people with diabetes, it's dismayingly difficult to untangle the thicket of biological and socioeconomic factors that make them more likely to suffer severe illness and die should they catch the virus that causes Covid-19. That leaves prevention — controlling blood sugar through diet, exercise, monitoring, and medication — as the leading tactic to protect people, until a successful vaccine proven to work in people with diabetes, too, reaches a population bearing multiple burdens of chronic illness.
The numbers are alarming. A Lancet Diabetes & Endocrinology study mining 61 million medical records in the U.K. says 30% of Covid-19 deaths occurred in people with diabetes. After accounting for potentially relevant risk factors such as social deprivation, ethnicity, and other chronic medical conditions, the risk of dying from Covid-19 was still almost three times higher for people with type 1 diabetes and almost twice as high for type 2, versus those without diabetes.
Data from the U.S. Centers for Disease Control and Prevention show more than three-quarters of people who died from Covid-19 had at least one preexisting condition. Overall, diabetes was noted as an underlying condition for approximately 4 in 10 patients. Among people younger than 65 who died from the infection, about half had diabetes.
Over a lifetime, problems with too much or too little glucose inflict widespread damage in the kidney, heart, and liver, as well as around nerves. Stroke, heart attack, kidney failure, eye disease, and limb amputations can be the legacy of poor glucose control. The linings of blood vessels throughout the body become so fragile they can't ferry needed nutrients as well as they should. Inflammation rises and the immune system does not perform well. Obesity, which is more common in type 2 diabetes but can also occur in type 1, makes all these conditions worse.
"Once someone with diabetes or obesity became infected with Covid-19, then their outcomes were generally not as good," said Daniel Drucker, of the Lunenfeld-Tanenbaum Research Institute at Mt. Sinai Hospital in Toronto. "They were more likely to be hospitalized, more likely to be intubated, more likely to have higher rates of death."
People with obesity as a rule have lower cardiorespiratory fitness, meaning they can't move as well due to poorer lung function, possibly severe sleep apnea, and blood vessel disease.
"All of these things are important for when you become ill. You need to be able to breathe. You need to have optimal circulatory function," Drucker said. "When we develop obesity, we have excess energy storage and the presence of that fat is inflammatory. And so once we get coronavirus infection, we are less able to mount an appropriate immune response because our immune system is already being set off in an inappropriate manner by the presence of obesity." (STATnews)
Super-spreaders in India
Coronavirus super-spreaders were behind the explosion of Covid-19 in India, the country with the most cases after the U.S., researchers said. A group of patients that included about 8% of India's confirmed cases later led to almost two-thirds of its total infections, scientists said Wednesday in a study published in the journal Science. The research, based on tracing more than 3 million contacts in the southern states of Andhra Pradesh and Tamil Nadu through Aug. 1, is the first major study of transmission in a developing country. (Bloomberg)
Next Lockdown in Israel
Israel's second national lockdown is likely to last at least a month and perhaps much longer, Prime Minister Benjamin Netanyahu said on Tuesday, as the country's soaring infection rate of around 8,000 confirmed new cases a day remained among the highest in the world. The lockdown came into effect this month, on the eve of the Jewish New Year holiday, and was tightened on Friday after Mr. Netanyahu warned that without immediate measures, Israel would "reach the edge of the abyss." Israelis must remain within 1,000 meters of their homes unless they are going to authorized places of work or seeking essential supplies or services, and outdoor gatherings are limited to 20 people. (The New York Times)
Out of Control in the UK
Boris Johnson warned more restrictions could be imposed soon as his chief scientific adviser admitted coronavirus was not "under control" in the UK. Speaking at a press conference in Downing Street, the prime minister said he would defy those who to "give up and let the virus take its course" with a huge loss of life. "Things are definitely going in the wrong direction," added Patrick Vallance, chief scientific adviser, speaking alongside the prime minister. (Financial Times)
'Provocative Results' Boost Hopes of
Antibody Treatment for COVID-19
A second company has now produced strong hints that monoclonal antibodies, synthetically produced versions of proteins made by the immune system, can work as treatments in people who are infected with the pandemic coronavirus but are not yet seriously ill.
The biotech Regeneron Pharmaceuticals has developed a cocktail of two monoclonal antibodies that attach to the surface protein of that coronavirus, SARS-CoV-2, and attempt to block it from infecting cells. Yesterday at an investor and media webcast, the firm revealed early results.
The company showed slides with detailed data from 275 infected people in a placebo-controlled trial that ultimately plans to enroll 2100 individuals who are asymptomatic or, at worst, moderately ill. The analysis divides patients into two groups: those who had detectable antibodies against SARS-CoV-2 at the trial's start and those who did not, a so-called seronegative group. The monoclonal cocktail showed little effect on people who already had antibodies against the virus. But it appeared to help the seronegative patients, powerfully reducing the amount of virus found in nasopharyngeal swabs and alleviating symptoms more quickly. "These are provocative results," says Myron Cohen of the University of North Carolina, Chapel Hill, who was not involved with the study but is helping Regeneron test its monoclonal cocktail as a preventive.
Cohen notes that Regeneron's data look similar to those in a press release from Eli Lilly 2 weeks ago about early results from a trial of its single monoclonal antibody against SARS-CoV-2. "Both of these reports go in the same direction," Cohen says. But he cautions that neither has been published, both trials are ongoing, and more data are needed to understand how—or whether—these experimental medicines can best help patients. Lilly, oddly, did not see an impact at the highest dose of antibody tested, and Regeneron saw no difference between its low- and high-dose preparations used in the study. (Science)
More on Children as Super Spreaders: Epidemiology and transmission dynamics of COVID-19 in Two Indian States
Our analysis suggests substantial variation in individuals' likelihood of transmitting: no secondary infections were linked to 71% of cases whose contacts were traced and tested. While the role of children in transmission has been debated (36, 37), we identify high prevalence of infection among children who were contacts of cases around their own age; this finding of enhanced infection risk among individuals exposed to similar-age cases was also apparent among adults. School closures and other non-pharmaceutical interventions during the study period may have contributed to reductions in contact among children. Nonetheless, our analyses suggest social interactions among children may be conducive to transmission in this setting.
(Science)
–The STATS–
TOTAL GLOBAL CASES:
Johns Hopkins– 34,450,697
WHO–34,161,721
GLOBAL DEATHS (WHO):
Today–1.016,986
Two Days Ago–1,004,421
EVOLUTION OF-GLOBAL CASES (WHO):
Today–34,161,721
Two Days Ago–
33,502,430
NEW CASES (WHO):
Today–315,628
–Tracking the Virus Around the World–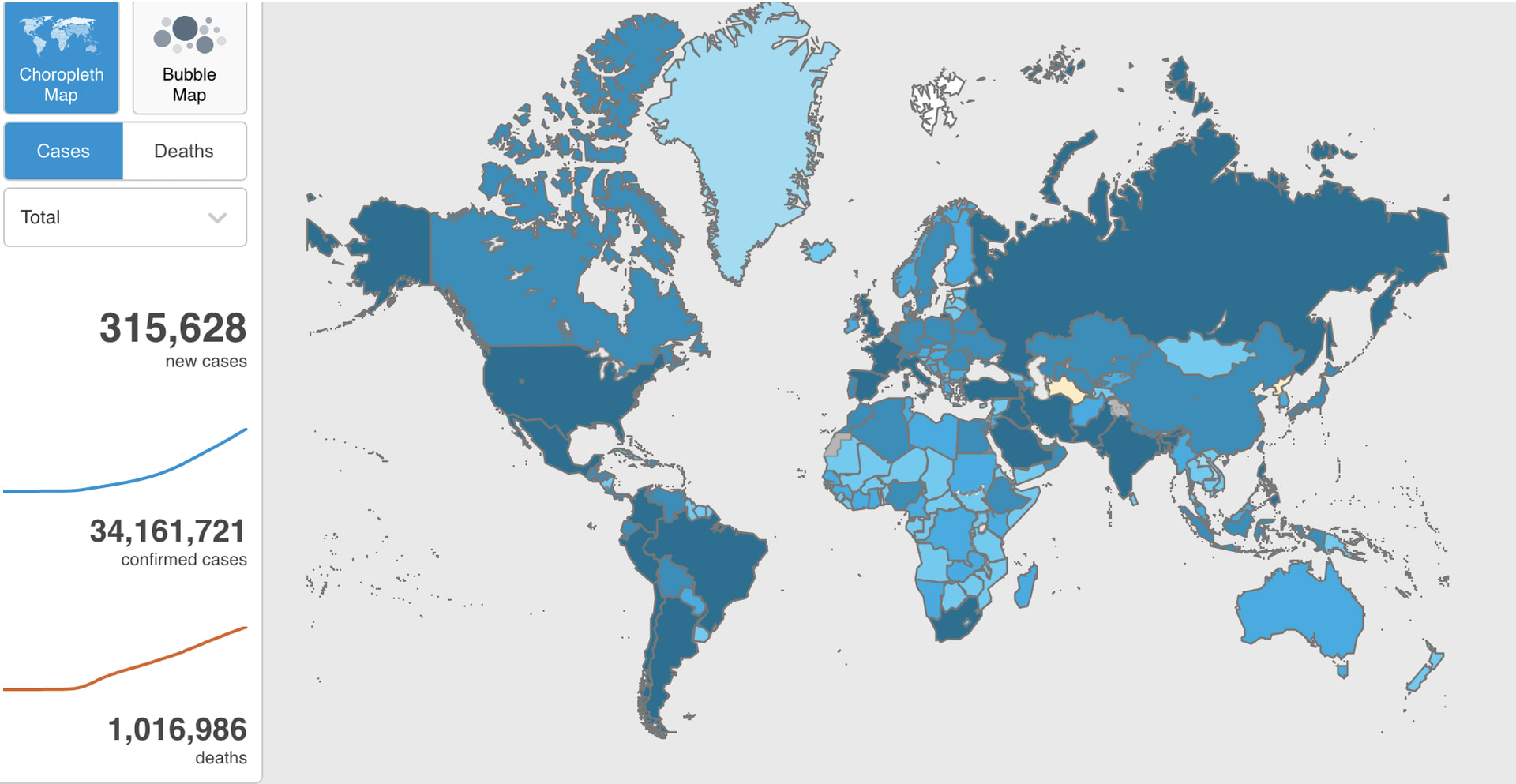 –FROM JOHNS HOPKINS CSSE–
The Cultures of Dignity Resources for Supporting
Social-Emotional Wellness
From Cultures of Dignity

,

For the Social-Emotional Tiny Guides from Rosalind Wiseman and Charlie Kuhn– a gift to our AAIE community– resources with no fee but plenty of insight.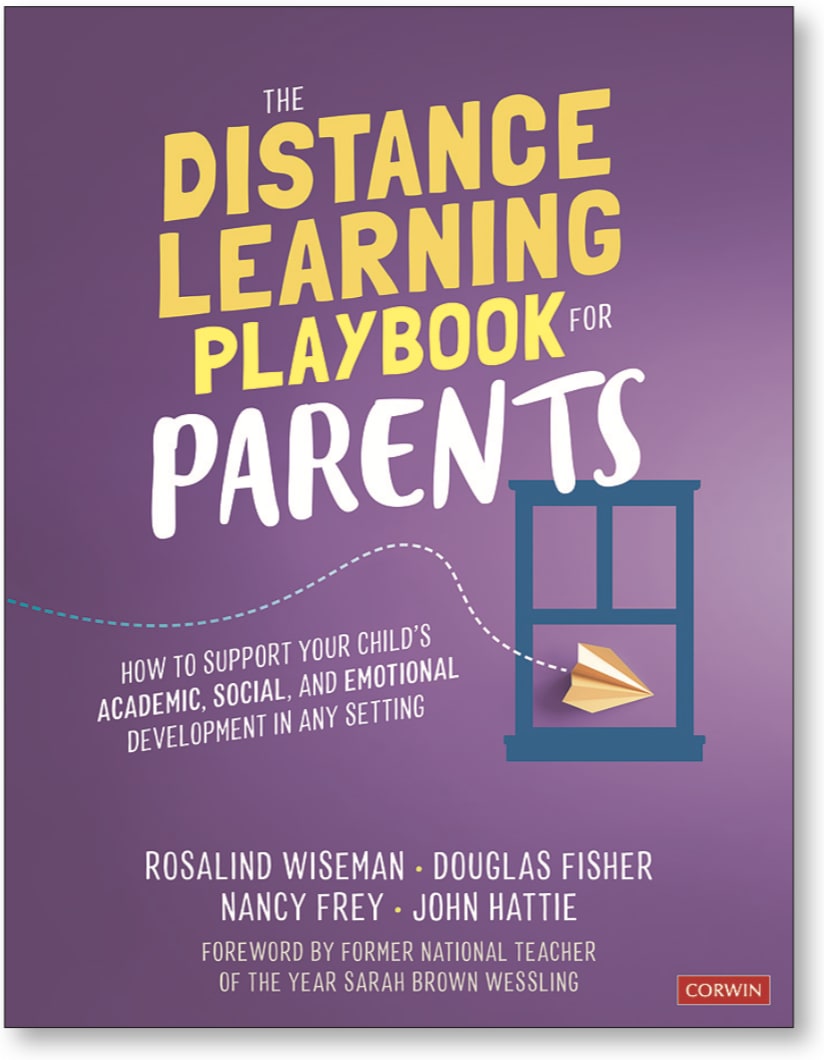 Rosalind Wiseman's newest book:

"Distance Learning Playbook for Parents–How to Support Your Child′s Academic, Social, and Emotional Development in Any Setting
A Final Note: The AAIE COVID-19 Briefing is provided to support your leadership for the school community you serve. We encourage you to use these resources in any way, shape or form that helps you, your communications and toward furthering close relationships across your community. – The AAIE Board