QUICK LINKS for Busy People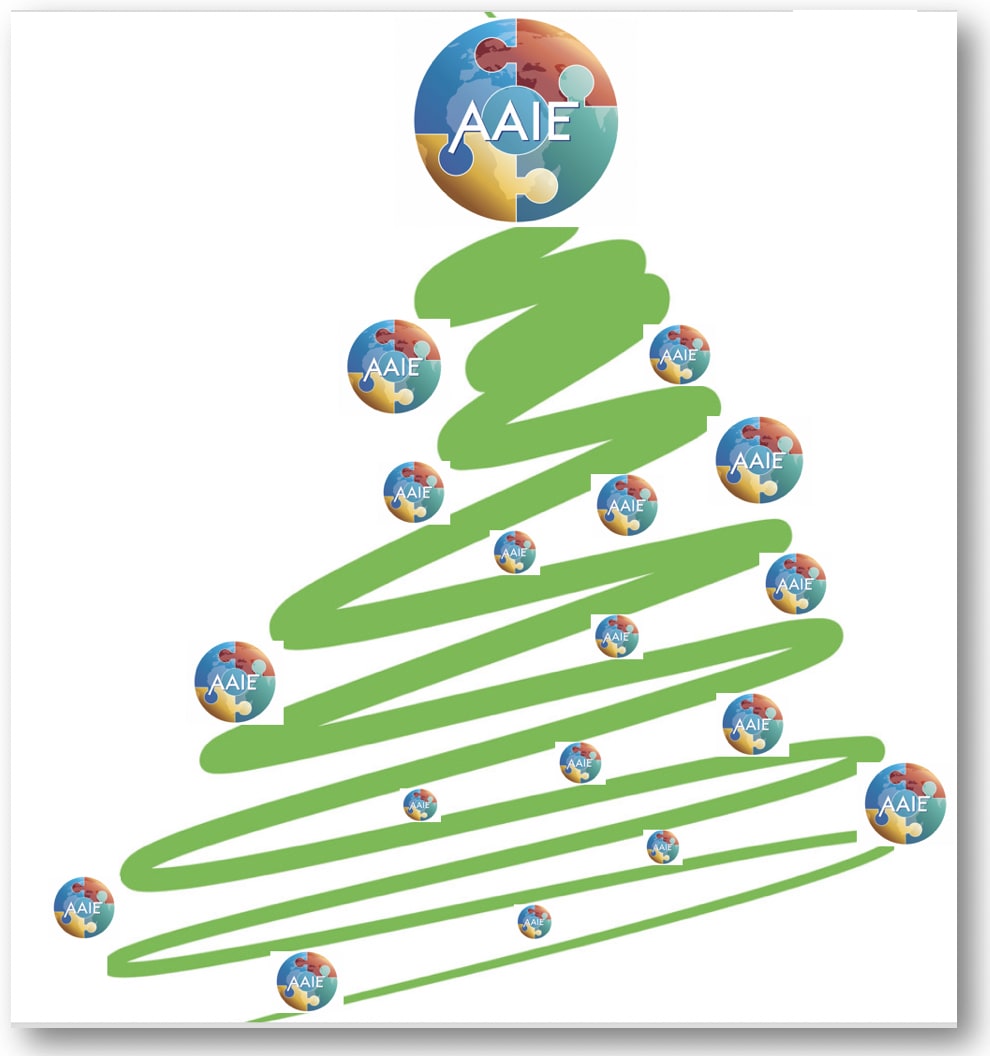 –MONDAY–
AAIE's COVID-19 BRIEFING
#148
Data and Ideas to Support Your Crisis Leadership
December 9, 2020
–TODAY'S BRIEFING HIGHLIGHTS–
68,674,375 identified cases (Johns Hopkins)
Six things great middle leaders do– follow-up from today's

CONVERSATION

12 Lessons in Leadership in a Year to Forget

The 2020 COVID-19 Musical!

A fresh take on school quarantine and isolation- a protocol

Vaccines, from China to Germany to UK to the USA

Infection numbers continue to gallop

–TOMORROW'S CONVERSATION–
with International School Leaders from Around the World
THURSDAY
December 10
8:00AM EST
OUR WEEKLY CONVERSATION
SCHOOL HEADS AND SENIOR LEADERS AROUND THE WORLD #41
– hosted by Will Richardson
Join our weekly CONVERSATION between School Heads and Senior Leaders. Our discussions continue to be contemporary, important and a time we teach each other. Thanks to Will Richardson who has facilitated each Thursday since the very beginning.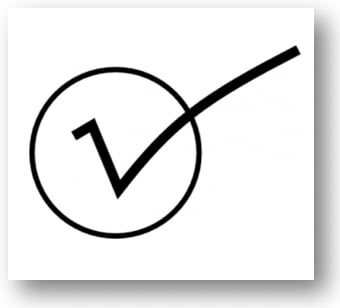 The LATIN AMERICA conversation with Sonia Keller and Dereck Rhoads hosting, resumes on Thursday, January 7, 2021 at 10:00AM EST.
The NEW SCHOOL PROJECT conversation with Homa Tavangar, Kevin Bartlett and Will Richardson as our "sherpas" resumes on Friday, January 8, 2021 at 8:00AM EST.
Follow-up From Today's CONVERSATION
–SUPPORTING EACH MEMBER OF OUR LEADERSHIP TEAM AND THEIR LEARNING–
Leading from the Middle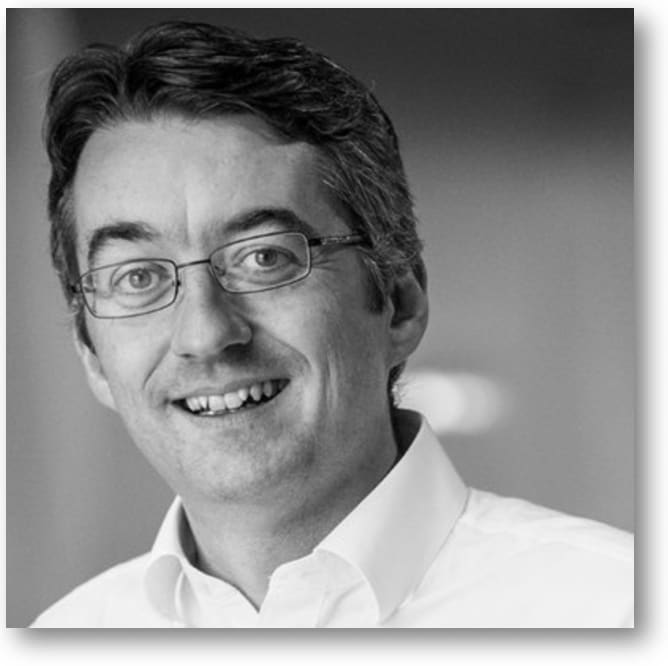 Editor's Note: Today, Ewan McIntosh highlighted the rationale for the NOTOSH and AAIE partnership for bringing middle leaders into a leadership curriculum to support their work. With important insight, we focused on six key skill sets the middle leaders must develop to fully support the school they help lead. And to do so without being buried by the bureaucracy of management. If you missed today, allow me to commend you to review the VIDEO and the SLIDE DECK. And the SLIDE DECK offers a guided tour! We will provide a sign-up for your leadership team to join in on the Leading from the Middle leadership curriculum, beginning in January 2021.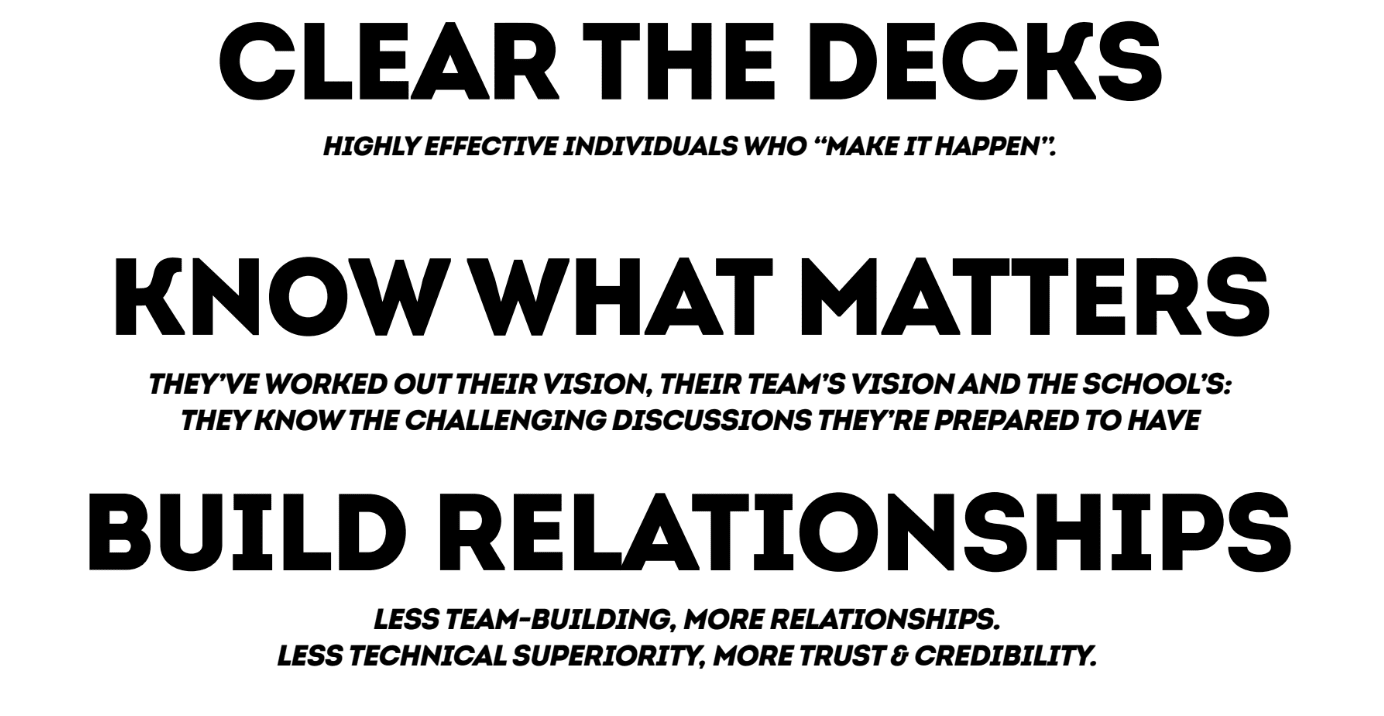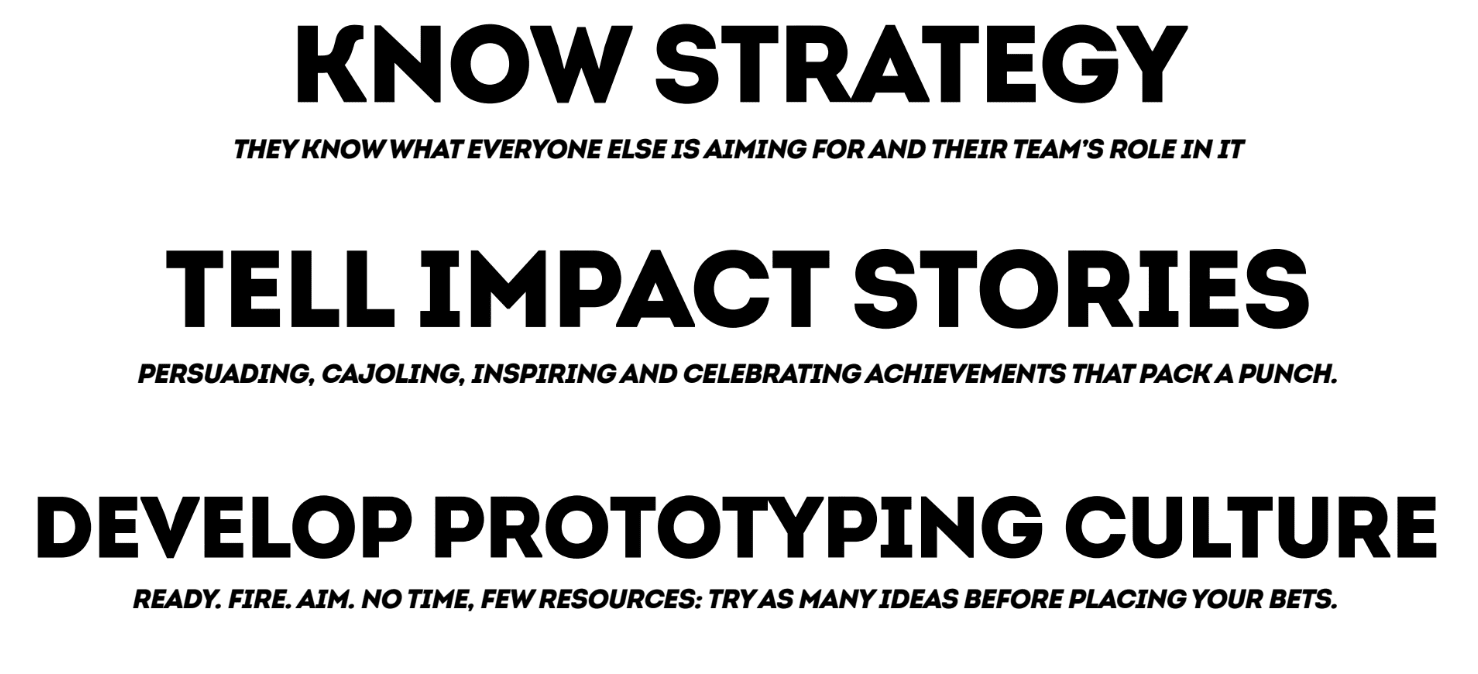 12 Lessons in Leadership in a Year to Forget
–by Dr. David Willows, International School of Brussels
I'll be honest, when I asked the grade 4 students in my class back in 2001, to imagine the experience of school in 2020, none of them were even close.
There is no doubt that, for many of us, we will remember this year as one to forget. But before we file it away under Life's Least Wanted, I'm going to have one last attempt at extracting some of the lessons in school leadership that I've learned along the way.
It's not an exhaustive list. It's not even an entirely serious list. But one or two of these lessons may just cause you to nod in agreement or give rise to a wry smile.
So, here goes.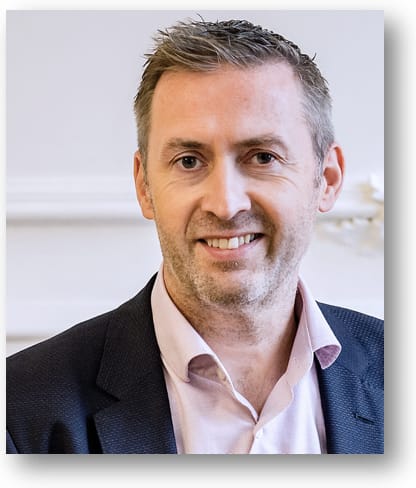 January
Our metaphors of the future are better than the reality.
2020 Vision promised for years to be the next big thing. But like its predecessor, 21st century learning, it was a metaphor that flattered to deceive. The long-awaited year had finally arrived, but as we all returned to school in January after the holidays, there can be no doubt that most of our ambitious, futuristic projections were nowhere to be seen.
February
We don't believe in tsunamis.
With February came stories of people getting sick in far-away places. We watched in silent horror as cities started to enter lockdown. And yet, somehow, we still managed to convince ourselves that we were (literally) immune. The tide had gone out and the signs were everywhere, but we still managed to convince ourselves that we would not be hit. And then we were.
March
We say it's a marathon and not a sprint, but we sprint anyway.
As schools closed everywhere, our instinctive reaction was to encourage those around us to pace themselves for the long road ahead. The problem, though, is that the majority of us have never run a marathon. We've never trained for a marathon and we have no idea how hard it actually is. So, despite our words, March was probably more like a series of quick jogs, pulled muscles and triage at the side of the road.
April
Community spirit kicks in during a crisis, but there isn't an endless supply.
The adrenaline has an immediate impact during a crisis. We all had so many ideas, initiatives, and genuine expressions of standing together. The problem with adrenaline, however, is that the "rush" is short-lived and is often followed by feelings of anxiety and a general sense of lethargy. By April, the signs were everywhere as the long term impact of what we were experiencing began to emerge.
May
We are hardwired to forget the mute button.
Students transitioned to distance learning better than most of us expected. Some even thrived in this new environment, another reminder that our programmes and pedagogies continue to exclude some kinds of learners. We ourselves learned that some meetings were far more productive over Zoom than in person. We made a note somewhere never to return to Death by Meeting. We also noted that some of us simply cannot get our heads around that mute button.
June
We sometimes think it is the end, when it is only the end of the beginning.
The end of the school year brought a flurry of virtual graduations, virtual goodbyes, and virtually no respite. We'd spent months thinking that this would be the end, only to discover that there were far more challenging times ahead. We knew that things were complicated, but we still had no idea how much more complicated they were going to become and how many different scenarios we may still have to face.
July
Words Matter.
Looking back on the first half of 2020, I would guess that many of us wrote more words in 6 months than in the entire previous year. If not, I am certain that most of us spent far more time choosing the words that were going to use to help people around us make sense of the world in which we now lived. All of us will agree, now more than ever, that words matter. They have the power to frame, inspire, understand, connect and much more besides. Words don't just describe our history, they make it.
August
Pandemics don't read reopening plans.
By August, there was a new kid on the block of school publications: the Reopening Plan. Like a veritable book of spells discovered in the library of Hogwarts, we looked in awe at each colourful matrix, the cascading scenario plans, the principles and commitments. We begged, borrowed and stole ideas until ours was complete and proudly published it on our school websites. We were ready for a new school year to begin. And then, two weeks in, we realised that Covid-19 hadn't got the memo.
September
Wellbeing is not a project.
The human impact of the pandemic was by now plain to see in the stresses and strains that none of us could deny. A marathon, even for the best of athletes, always has casualties. So we started to projectize wellbeing. We turned it into something that people did and we did to people. We turned it into an activity with goals, budgets, and resources. In our efforts to care for the people around us, we forgot about the people.
October
Exhaustion is not tiredness but the lack of hope.
There was a day, I don't know exactly when, that we all just stopped playing the online games that had kept us going in the first wave. We were simply too exhausted. We began to read about how our surge capacity was now depleted. Back then, I guess, we gained strength at least from the promise of family gatherings and celebrations to round off an otherwise awful year. But now it was abundantly clear that the holidays were not going to be as any of us had hoped.
November
Everyone has lost something.
Every student, parent, teacher, leader lost something this year. There were big losses and small. There were silent losses that accumulated over time and huge losses that happened suddenly. People lost time, opportunities, memories, celebrations, their health, friends and loved ones. Every loss matters.
December
We will return to better.
We will. Of that I have no doubt. 2021 is the new 2020.
–TODAY's POEM TO CONSIDER–
A poem, just for you ... (thank you Bob Hetzel)
Instructions for the Journey
The self you leave behind
is only a skin you have outgrown.
Don't grieve for it.
Look to the wet, raw, unfinished
self, the one you are becoming.
The world, too, sheds its skin:
politicians, cataclysms, ordinary days.
It's easy to lose this tenderly
unfolding moment. Look for it
as if it were the first green blade
after a long winter. Listen for it
as if it were the first clear tone
in a place where dawn is heralded by bells.
And if all that fails,
wash your own dishes.
Rinse them.
Stand in your kitchen at your sink.
Let cold water run between your fingers.
Feel it.
— Pat Schneider
Sharing A Feel Good Video
...because we can and because we should!
STAY FOCUSED ON COVID-19 SCIENCE
FROM STATnews
To defeat Covid-19, we must acknowledge the fear it engenders
Fear — gut-wrenching, all-consuming fear, like the fear of dying from a horrific respiratory virus — can be much more powerful than science.
Research advances knowledge and public health and medical guidance change to follow. But that simply doesn't play well when you are being closely analyzed by a frightened and distrustful public.
A fascinating article on the role fear plays in increasing the impact of a global pandemic, especially if you are on the frontline. (a personal account and a classic case of what is perceived...is)
FROM Nature
Oxford COVID-vaccine paper highlights lingering unknowns about results
The first formally published results from a large clinical trial of a COVID-19 vaccine — which scientists hope could be among the cheapest and easiest to distribute around the world — suggest that the vaccine is safe and effective. But the data also highlight a number of lingering unknowns, including questions about the most effective dosing regimen and how well it works in older adults.
The news is good, but we're not out of the woods yet
A Fresh Take on School Quarantine and Isolation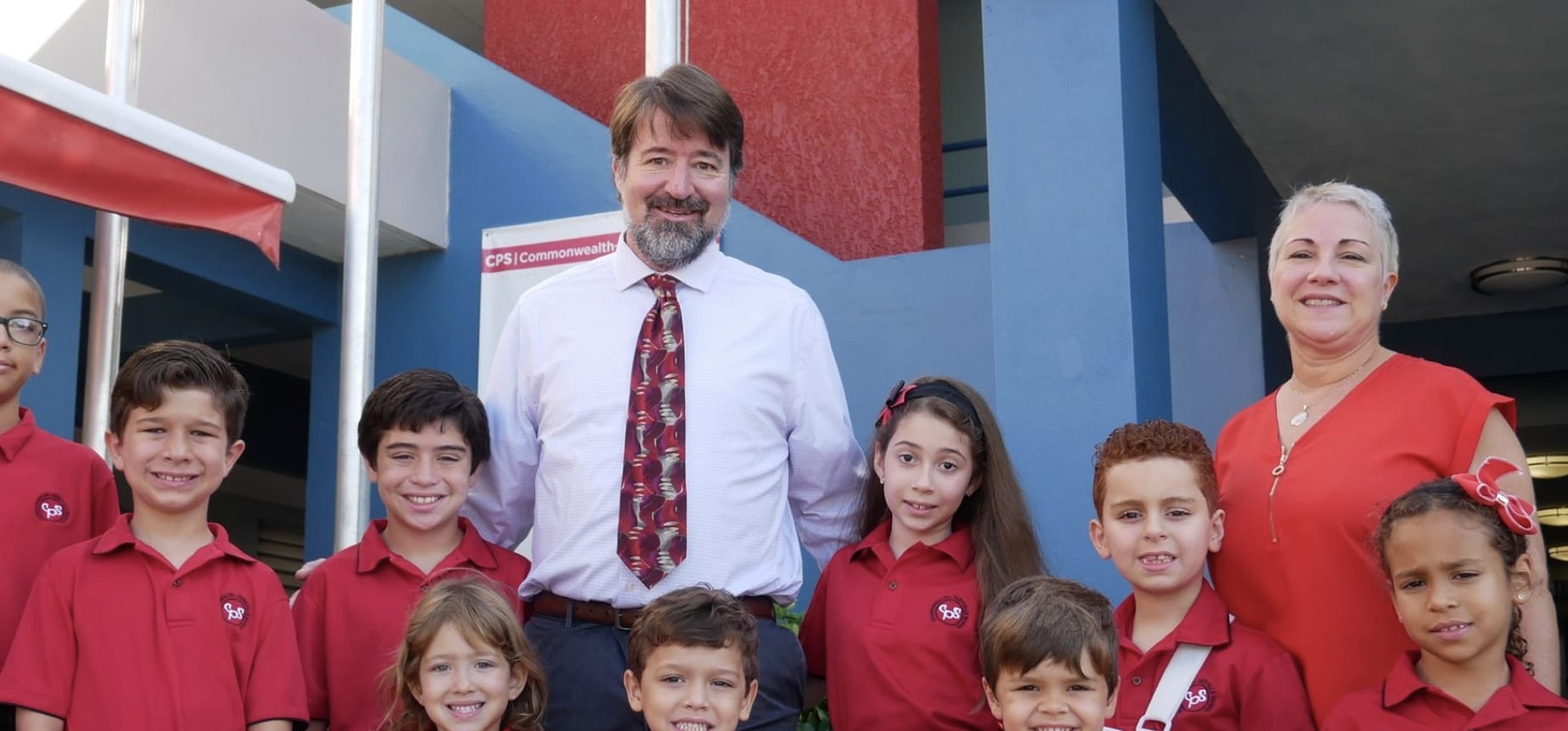 –by Rick Weinland
Head of School
Commonwealth-Parkville School
San Juan, Puerto Rico
Like so many schools around the world, we have been delivering our academic program via distance learning since mid-March. Although we had expected and hoped to start our new school year in a hybrid fashion in August, the government here has not yet allowed schools to open. We have, however, been fortunate this semester to have access to our two campuses, enabling our faculty to take advantage of high speed internet, availability of classroom resources, and opportunities for collaboration. We redesigned our program over the summer, and our entire faculty and staff, together with our 700 students and their families, have stepped up to the challenge of distance learning, not knowing when -- or even if -- we will return to the classroom this year.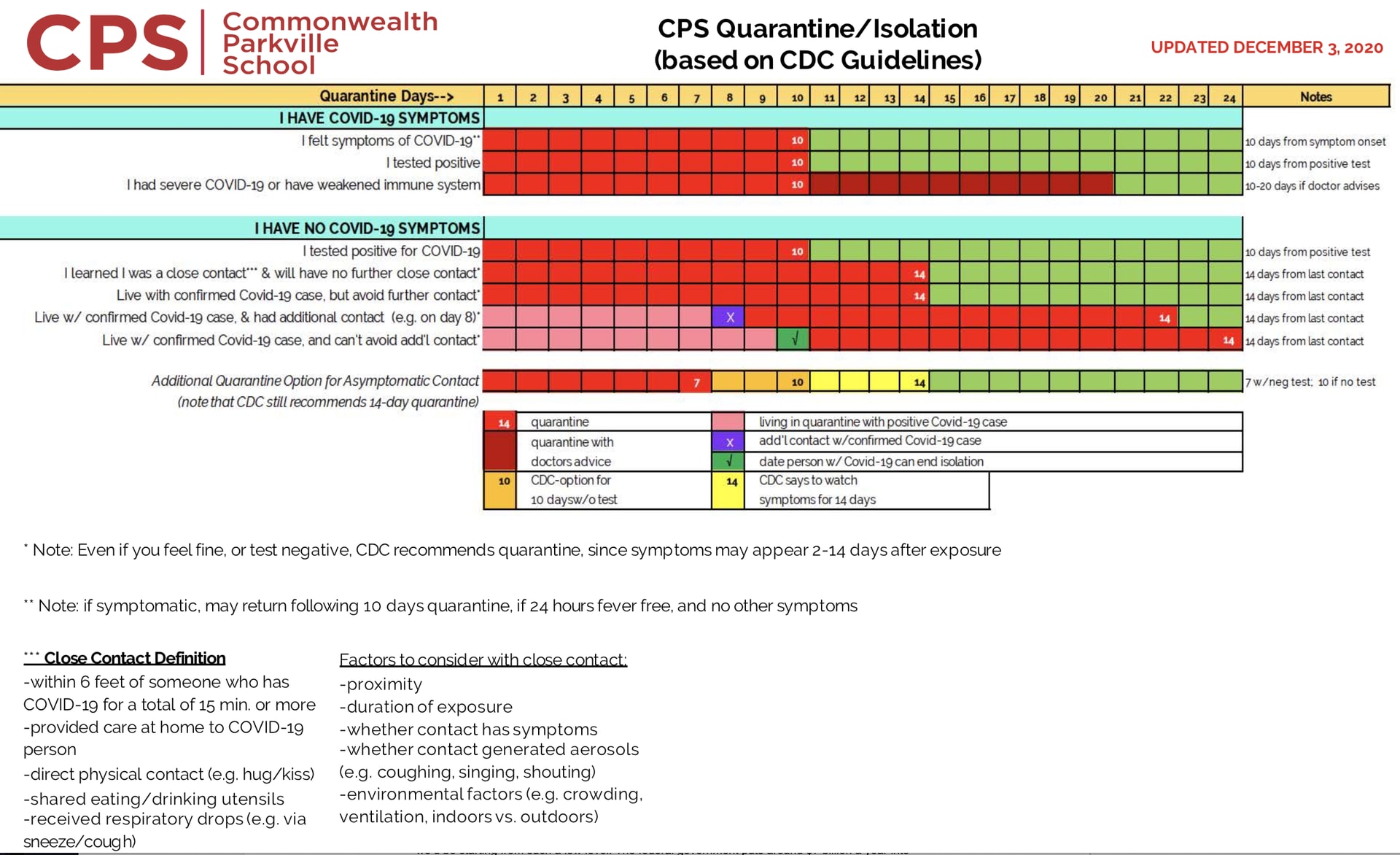 We are grateful for the wisdom shared by international school leaders around the world who have been the early adopters in the cycle of lockdown, hybrid reopening, and full face-to-face learning (in some cases for a second time!). We now look ahead with both excitement and uncertainty towards the vaccination process, which will surely present a whole new set of challenges.
As the virus continues to spread, and our faculty and staff (or their family) either travel or host visitors, or have close contact (or live) with a Covid case, we typically have a few of our people in various stages of quarantine. The CDC has been diligent in updating their Covid-19 protocols, but determining exactly which scenario is appropriate takes some navigation through various CDC pages. In search of a quick guide we created a one-page reference sheet, which we use with our nurses and faculty/staff. This is only used as a guide - in all cases the advice of local health experts and individual doctors comes first, and we know these protocols are a moving target. Indeed, we added the recent 7/10 day quarantine option announced by the CDC last week, and will surely be adjusting it again in the weeks and months ahead. I share it in case it might be of use to others.
–THE NEWS of COVID-19–
68,674,375
Cases Worldwide (Johns Hopkins CSSE)
First the UK, then Canada, Soon the USA
The coronavirus vaccine developed by Pfizer and its partner BioNTech has moved one step closer to approval for emergency use in the US. The US Food and Drug Administration (FDA) released documents today, which said figures on the vaccine's safety and efficacy meet its expectations for emergency use authorization. The documents said the two-dose vaccine is highly effective at preventing confirmed cases of Covid-19 at least seven days after the first dose. They also said there wasn't enough data to conclude whether the vaccine is safe in people under 16, people who are pregnant and those whose immune systems are compromised. The agency is expected to make a decision on whether to authorize the vaccine within days or weeks. (New Scientist)
70% Effectiveness
Oxford University and AstraZeneca on Tuesday became the first Covid-19 vaccine makers to publish final-stage clinical trial data in a scientific journal, clearing a key hurdle in the global race to produce safe and effective drugs for the coronavirus. The study, published in the respected Lancet medical journal, confirmed that the vaccine works in an average of 70 percent of cases. (Science Alert, The Lancet)
Covid-19 Live Updates: Chinese Vaccine Is Called 86 Percent Effective, Nearly Matching Western Rivals
The United Arab Emirates approved a Chinese coronavirus vaccine on Wednesday, citing preliminary data showing that it was 86 percent effective. The move, the first full approval of a Chinese vaccine by any nation including China, could bring the vaccine a step closer to widespread use around the world.
The announcement by the Emirates' Ministry of Health and Prevention was the first official indicator of a Chinese vaccine's potential to help stop the pandemic. If trials elsewhere produce similar findings, the Chinese vaccines could offer a lifeline to developing countries that cannot afford vaccines developed in Western nations that are likely to be more expensive and more difficult to store and distribute.
Chinese government officials and Sinopharm, the state-owned maker of the vaccine, were silent on Wednesday about the Emirati announcement. Scientists noted that the announcement was lacking in data and other critical details.
Sinopharm would not confirm or comment on the news, even hours after it was reported. A spokeswoman for the company hung up the phone when reached and did not respond to messages and calls afterward.
The news release from the Emirati government did not give important specifics, like the number of Covid-19 cases that were analyzed or the ages of volunteers, leaving it unclear to scientists how Sinopharm came to its conclusions about the vaccine's effectiveness. (New York Times)
The Worries of Germany's Angela Merkel
Chancellor Angela Merkel pleaded with Germans to meet fewer people and stay at home over the holidays in an impassioned speech to lawmakers on Wednesday, as her country saw a record number of deaths from the coronavirus.
"I'm sorry, from the bottom of my heart, I am really sorry," the visibly emotional chancellor said during a budget debate in Parliament. "But if the price we pay is 590 deaths a day then I have to say this is not acceptable."
Ms. Merkel, a physicist who won praise in the spring for her detailed explanations of the science behind why Germans needed to stay at home, was frustrated five weeks ago when the governors of the country's 16 states agreed only to partial restrictions that left most stores and schools open.
The result has been stubbornly high numbers of new infections and record numbers of people dying from the virus — as many in the first seven days of December as died in traffic accidents across the country in all of 2019, according to a report by Germany's National Academy of Sciences that urged a strict lockdown over Christmas and New Year's Eve
Through early testing, contact tracing and a coordinated effort from all levels of government, Germany emerged from the first wave of the virus with relatively few fatalities and enough intensive care beds to take on patients from neighboring countries.
But even as other European countries, including Belgium, France and Ireland, returned to severe restrictions on movement in October, Germany's governors continued to squabble over how best to handle the virus, citing the different experiences in their regions. (New York Times)
A Paper-based COVID Testing
As the COVID-19 pandemic continues to spread across the world, testing remains a key strategy for tracking and containing the virus. Bioengineering graduate student, Maha Alafeef, has co-developed a rapid, ultra-sensitive test using a paper-based electrochemical sensor that can detect the presence of the virus in less than five minutes. The team led by professor Dipanjan Pan reported their findings in ACS Nano. (vScience Daily, ACS Nano)
The USA Tragedy Continues
The number of people hospitalized in the U.S. hit another all-time high as the nation reported more than 192,000 new coronavirus cases. More than 102,000 people were hospitalized due to Covid-19 around the country on Monday, according to the Covid Tracking Project. The number of people in intensive care units declined slightly from the record hit the previous day to 20,098. In California, the number of newly reported coronavirus cases declined from the record reached on Sunday, but remained elevated at more than 24,000 in a single day, according to data compiled by Johns Hopkins University. (via The Wall Street Journal)
A Universal Flu Vaccine
A "universal" flu vaccine has gone through the first stage of human trials, in a crucial step towards pandemic-proofing the planet. The vaccine, designed to work against influenza even if the virus mutates, has passed phase one trials, showing it is safe and results in antibodies. In the 65 recipients, who were followed over 18 months, it created a "broad, strong, durable and functional immune response", the scientists found. If it can be proven to work at a larger scale then it could replace the annual flu jab, and protect against dangerous strains that have yet to appear. (via Times of London)
The Equity of Access Debate Begins
South Africa and India have called for the World Trade Organization (WTO) to suspend intellectual property (IP) rights related to COVID-19 to ensure that not only the wealthiest countries will be able to access and afford the vaccines, medicines, and other new technologies needed to control the pandemic. The pharmaceutical industry and many high-income countries (HICs) staunchly oppose the move, which they say will stifle innovation when it is needed most. (The Lancet)
One Year Since 'First' COVID-19 Symptoms in China
It has been a year since the first person confirmed to be infected with the coronavirus in Wuhan, China, is believed to have begun exhibiting symptoms.
Chinese authorities have said the person developed pneumonia on December 8, 2019. One year later, it is still unclear where the virus came from and how it was transmitted to humans.
In February, Chinese government experts said the virus is likely to have originated in bats and jumped to humans via pangolins. But they later suggested the virus was detected in food imports, so they couldn't rule out the possibility that it was brought in from abroad.
In July, the World Health Organization sent an investigative team to Beijing as part of efforts to identify the origin of the virus. But they have yet to conduct a detailed survey in Wuhan. There has been concern from the international community about what seems to be China's uncooperative stance on exploring the cause of the virus. (NHK-World, Japan)
–The STATS–
TODAY's TOTAL
GLOBAL CASES:
Johns Hopkins– 68,674,375
WHO–67,780,361
TOTAL GLOBAL DEATHS (WHO):
Today–1,551,214
Two Days Ago–1,500,614
EVOLUTION OF-GLOBAL CASES (WHO):
Today–67,780,361
Two Days Ago–
64,603,428
NEW CASES (WHO):
546,703
–Tracking the Virus Around the World–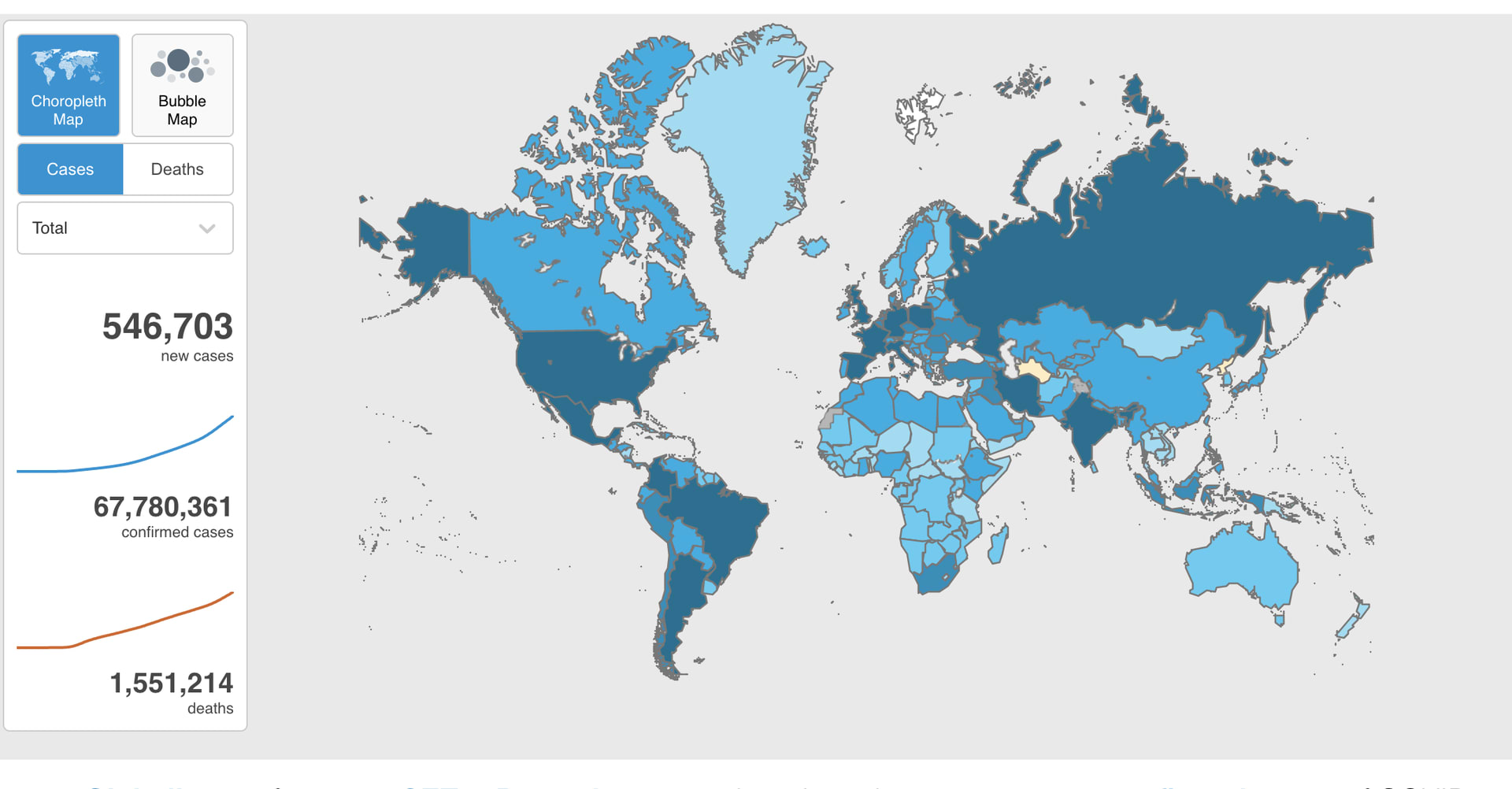 –FROM JOHNS HOPKINS CSSE–
The Cultures of Dignity Resources for Supporting
Social-Emotional Wellness
From Cultures of Dignity

,

For the Social-Emotional Tiny Guides from Rosalind Wiseman and Charlie Kuhn– a gift to our AAIE community– resources with no fee but plenty of insight.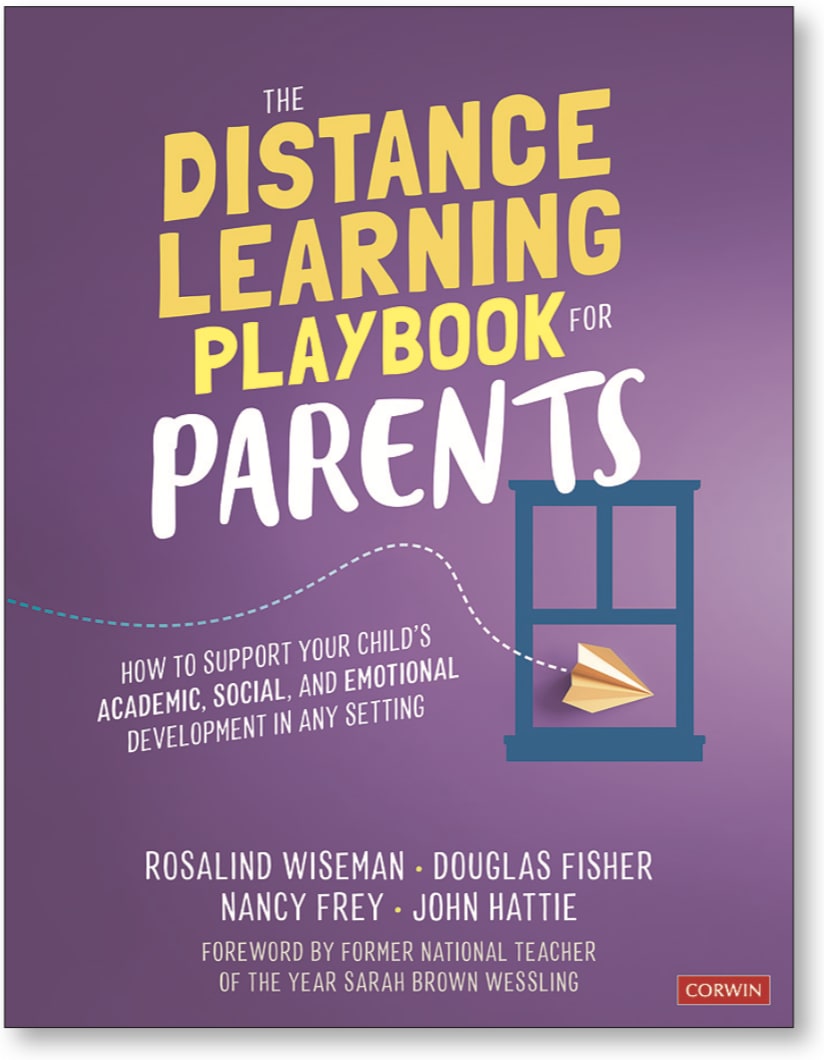 Rosalind Wiseman's newest book:

"Distance Learning Playbook for Parents–How to Support Your Child′s Academic, Social, and Emotional Development in Any Setting
A Final Note: The AAIE COVID-19 Briefing is provided to support your leadership for the school community you serve. We encourage you to use these resources in any way, shape or form that helps you, your communications and toward furthering close relationships across your community. – The AAIE Board