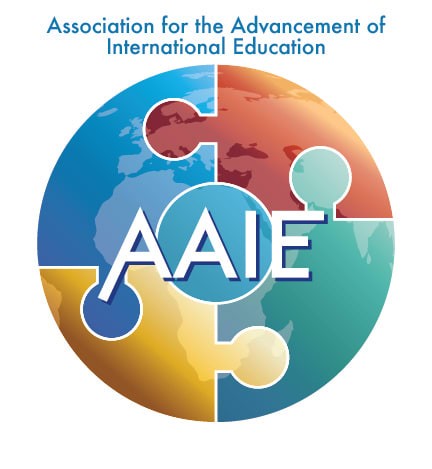 –FRIDAY–
AAIE's COVID-19 BRIEFING
#110
September 11, 2020
(19 years ago, the 9/11 attacks in New York, Washington D.C.
and a heroic forced crash in a farm field in Pennsylvania)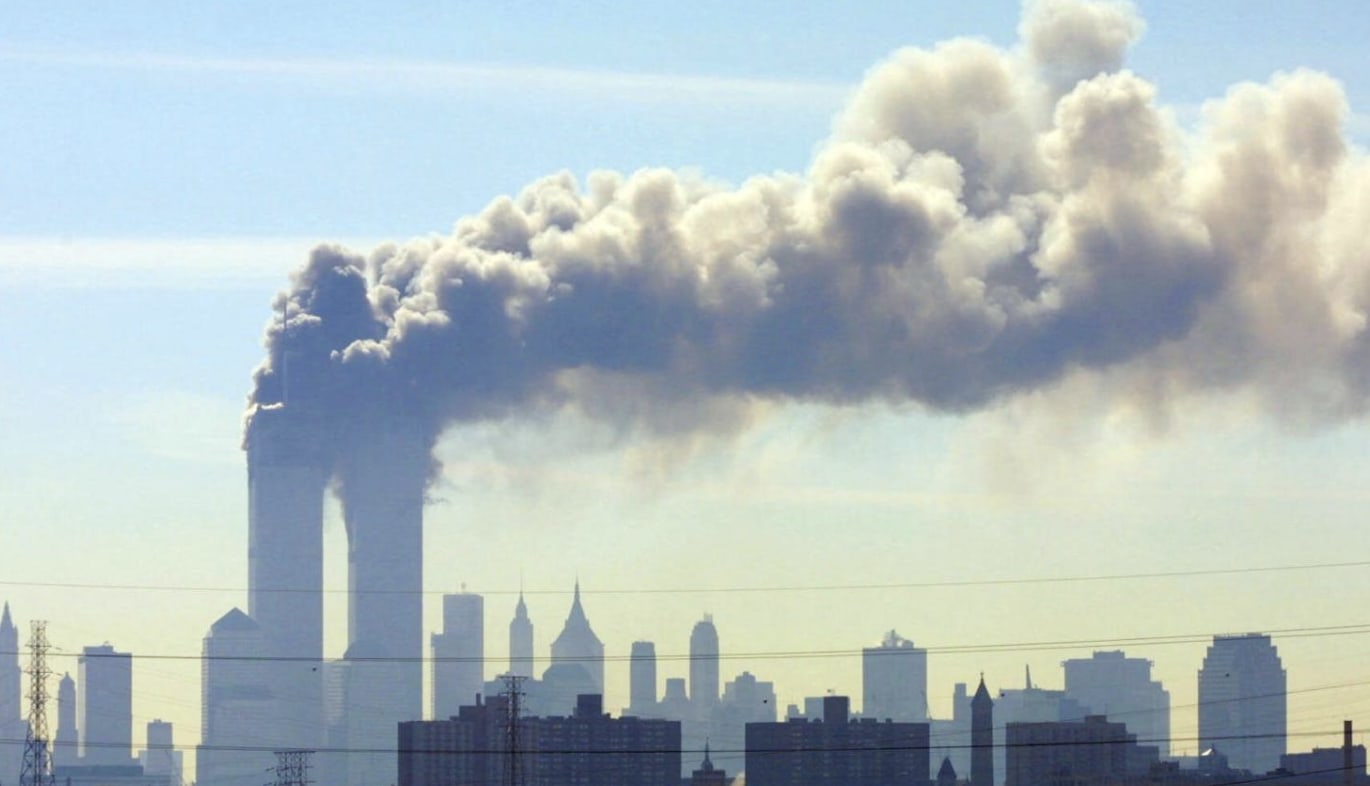 What a Single Day Can Mean
"This is what a day means. Like the day an archduke was shot in Sarajevo, when no one knew in the morning what the afternoon would have proved. Like the day of the first blitzkrieg into Poland, when denial in the dawn ceded to dread at dusk. Like the day in November 1963 when the same sense of numbness and grief swept through Americans in an instant. Like the beautiful September day, when a man heard a sound and looked up into the sky in curiosity and calm and saw the end of something we never truly appreciated until in one short day, it had already disappeared."
-- Andrew Sullivan (9/23/2001)
–Highlights–
28,297,462 Cases World-wide

(Johns Hopkins)

NEXT WEEK's

CONVERSATIONS

The AAIE New School Project– Seven Principles of School Change to guide ongoing CONVERSATIONS

Enabling our school communities- leadership tools for ensuring active involvement

Following up on "Nourish to Flourish", from the International School of Dakar

More on antibodies and viable vaccines

In the midst of it all– a chance to laugh at ourselves

Fresh evidence on impact of social-distancing
–QUICK LINKS FOR BUSY PEOPLE–
AAIE's ONLINE CONVERSATIONS ARCHIVE
AAIE's SIX-QUESTION SURVEY RESULTS ON SCHOOL REOPENING
AAIE MEMBERSHIP FOR 2020-21
SIGN-UP FOR THIS YEAR'S COHORT OF LEADERS SUPPORTING LEADERS
THE WORLD HEALTH ORGANIZATION DASHBOARD
NEXT WEEK'S LEADERSHIP CONVERSATIONS
with International School Leaders Around the World
WEDNESDAY
September 16
08:00AM EDT
HOW WE MIGHT ENABLE…. Facilitating the Needed CONVERSATIONS in our Schools Because Normal is Not Coming
Today or Tomorrow
– presented by David Furlow
As the pandemic lengthens, deepens, and broadens, it is clear that normal will not be arriving today or tomorrow. Even the limited return that many of us have so far experienced, highlights a gap in learning that cannot wait for "the end of the pandemic". How can we balance the desire to return to a normal where we can control the future, with the imagination required to invent and adapt to an unknown future? How can we imagine what the pandemic may enable, rather than using energy to overcome varying degrees of the limitations imposed by Covid. Liberating Structures are simple and easy-to-learn microstructures that help to build shared understanding, awareness, and agility: key assets for uncertain times.
"Liberating Structures introduce tiny shifts in the way we meet, plan, decide and relate to one another. They put the innovative power once reserved for experts only in the hands of everyone."
Ten principles help to focus on where we want to go, and how we can collaborate to get there:.
Include and Unleash Everyone

Practice Deep Respect for People and Local Solutions

Build Trust As You Go

Learn by Failing Forward

Practice Self-Discovery Within a Group

Amplify Freedom AND Responsibility

Emphasize Possibilities: Believe Before You See

Invite Creative Destruction To Enable Innovation

Engage In Seriously-Playful Curiosity

Never Start Without a Clear Purpose(s)
David will provide an overview of a key form of structured engagement, and facilitate some practice with a couple of liberating structures to continue our CONVERSATION. Adding a new tool to your leadership toolbox.
THURSDAY
September 17
08:00AM EDT
SCHOOL HEADS AND SENIOR LEADERS AROUND THE WORLD #29
Our Weekly Conversation
– hosted by Will Richardson
All international school senior leaders are welcome. A Weekly CONVERSATION between School Heads and Senior Leaders– #28. Our discussions continue to be contemporary, important and a time we teach each other. The dilemmas and conundrums are changing the longer we live with a global pandemic. Stay current and stay thoughtful in the company of colleagues. With thanks to Will Richardson who has facilitated our Thursday CONVERSATIONS since the very beginning.
THURSDAY
September 17
10:00AM EDT
LATIN AMERICAN SCHOOL LEADERS– Our Weekly Conversation #19
– hosted by Sonia Keller
(Tri-Association) and Dereck Rhoads (AASSA)
The weekly Thursday CONVERSATIONS between Latin America school heads and senior leaders resumes in collaboration with Tri-Association and AASSA. All are welcome to join the discussion. Our sessions are hosted by Sonia Keller and Dereck Rhoads.
IN CASE YOU MISSED THURSDAY'S GLOBAL CONVERSATION
SCHOOL HEADS AND SENIOR LEADERS AROUND THE WORLD #28
Our Weekly Conversation
– hosted by Will Richardson
–THE AAIE NEW SCHOOL PROJECT–
The Conversation Continues
Introducing the Seven Principles of Change–
The Remarkable Collaboration Between 100+ International School Leaders
(From the Preamble)
In 2020, school leaders worldwide faced the unprecedented challenge of a global pandemic, COVID 19. In response, AAIE initiated and facilitated weekly conversations driven by the urgency and importance of supporting each other as we led and managed our way through the crisis.
As the conversation progressed, we realized that, while still needing to support each other with urgent, high-stakes decision-making, we might also begin to explore the opportunity embedded in the crisis. We began to turn our attention to the question, 'What have we learned that may change our schools for good...in all senses of the word?'.
A collaborative, sustained inquiry into that compelling question led us to co-create the statement that follows, 'Leading on Principle'. As our title implies, we believe that great schools are framed by a few shared principles, not constrained by multiple rules and regulations, and that principles only translate into practice if we make a common commitment to action.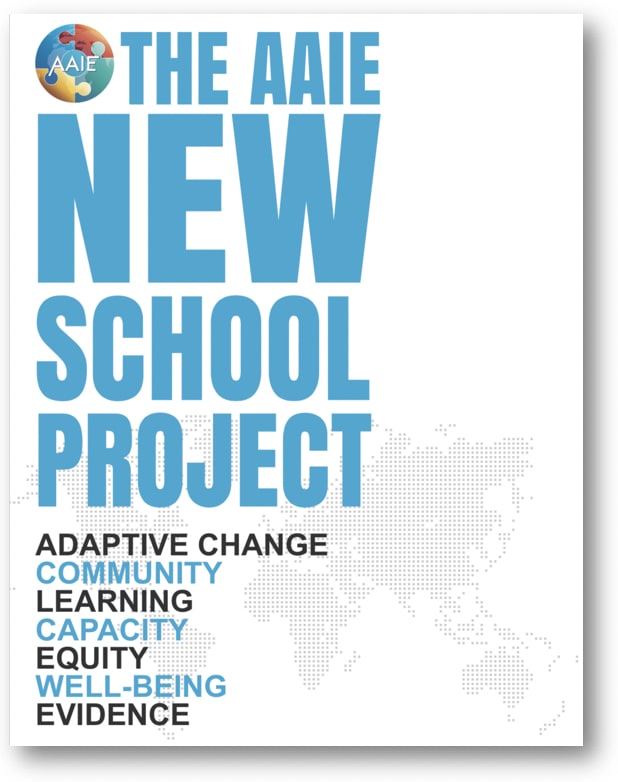 We realized that, while still needing to support each other with urgent, high-stakes decision-making with the onset of a global pandemic, we might also begin to explore the opportunity embedded in the crisis.
In the coming weeks we will be announcing the dates and times for regathering as an international community toward unpacking the principles, defining implementation pathways and specific actions that can make these principles a reality in our schools.
The coronavirus pandemic has caused hardship and sorrow around the world, but it has also forced innovations that might stick around after the pandemic is under control. Our AAIE community has been living this idea since early in the pandemic– we saw opportunity born out of challenge. In no uncertain terms we see, in working closely together, that the changes the Seven Principles predict will improve people's lives if they become real and permanent.
We have work to do as a community of international school leaders. Next week we will be introducing more information about process, meeting times and how ensure you all are engaged in this vital CONVERSATION.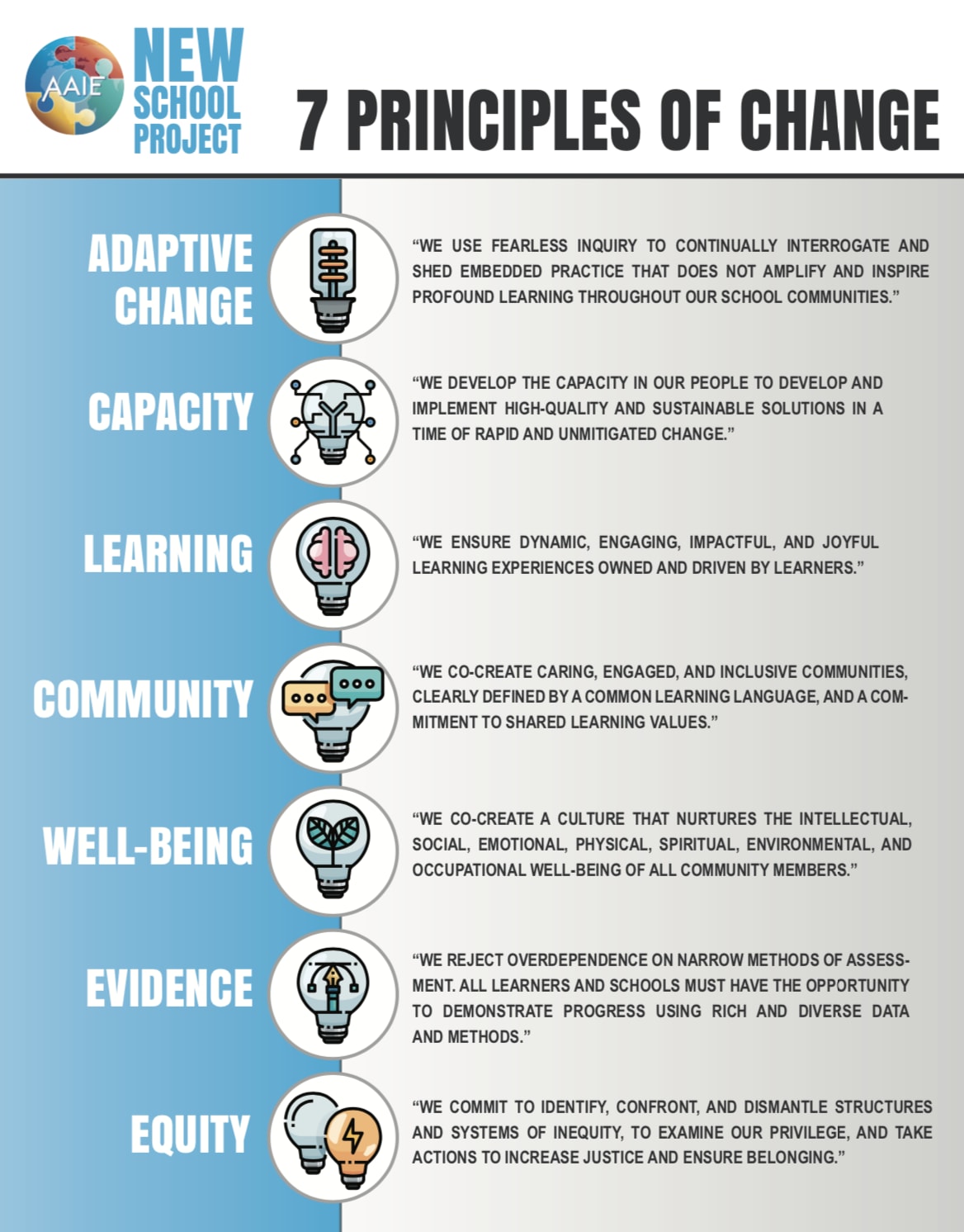 AND NOW...
A Chance to Laugh at Ourselves
Dena Blizzard, the comedian behind the popular "One Funny Mother" Facebook page, told "Good Morning America" she was inspired to produce the video when someone in her town posted to social media looking for clarification on the school schedule. "They only made it worse," Blizzard said. "I figured parents everywhere were just as confused so I thought, 'why not make a video that makes this crystal clear, but from an administrator's perspective and in the most ridiculous way possible?'"
"I've always stood by our teachers and I think they are just as confused as parents and students," Blizzard said. "At the end of the day we all need to just accept we are all doing our best and find the funny in it."
(From GMA) (Thanks to Shabbi Luthra for sharing)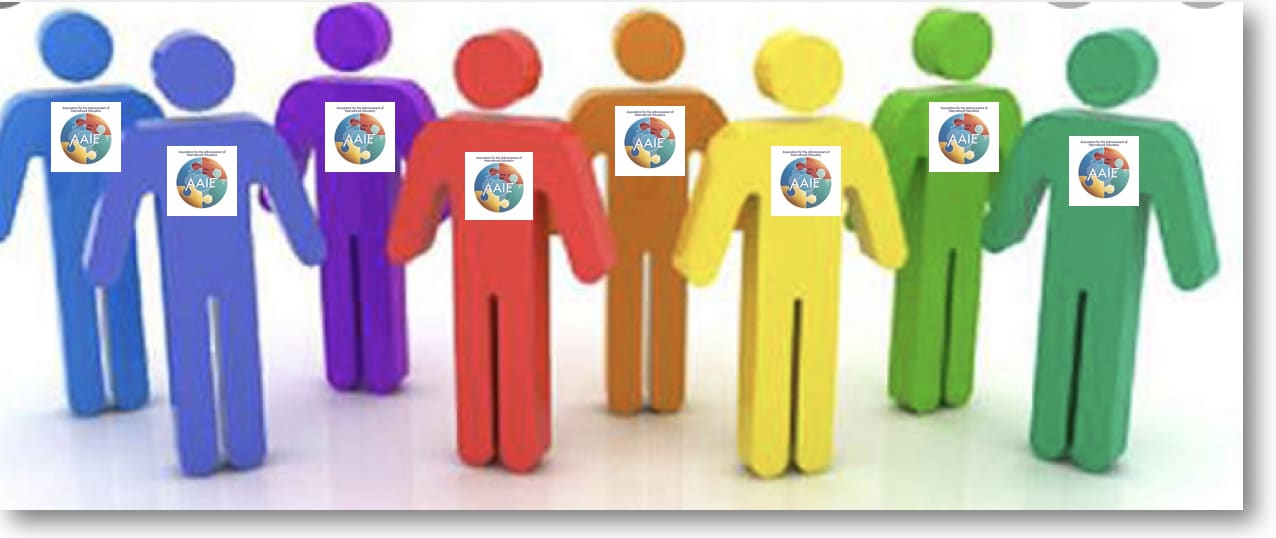 –A REMINDER–
YEAR TWO
OF AAIE'S
LEADERSHIP MASTERMINDS
"Leadership Can Be Lonely; Let's Change That"
Having Critical Leadership Friends May Be More Important Than Ever
This year's cohort begins on October 15, 2020
–The International School of Dakar's Response
to Taking Care of It's Community
in the Time of Covid-19–

Editor's Note: On Wednesday of this week, the counseling team and school director Alan Knobloch presented the school's answer to taking the "Wellness" concept and truly putting it into action. The counselors are giving voice to the science and pragmatics, and Alan is modeling putting it all into play.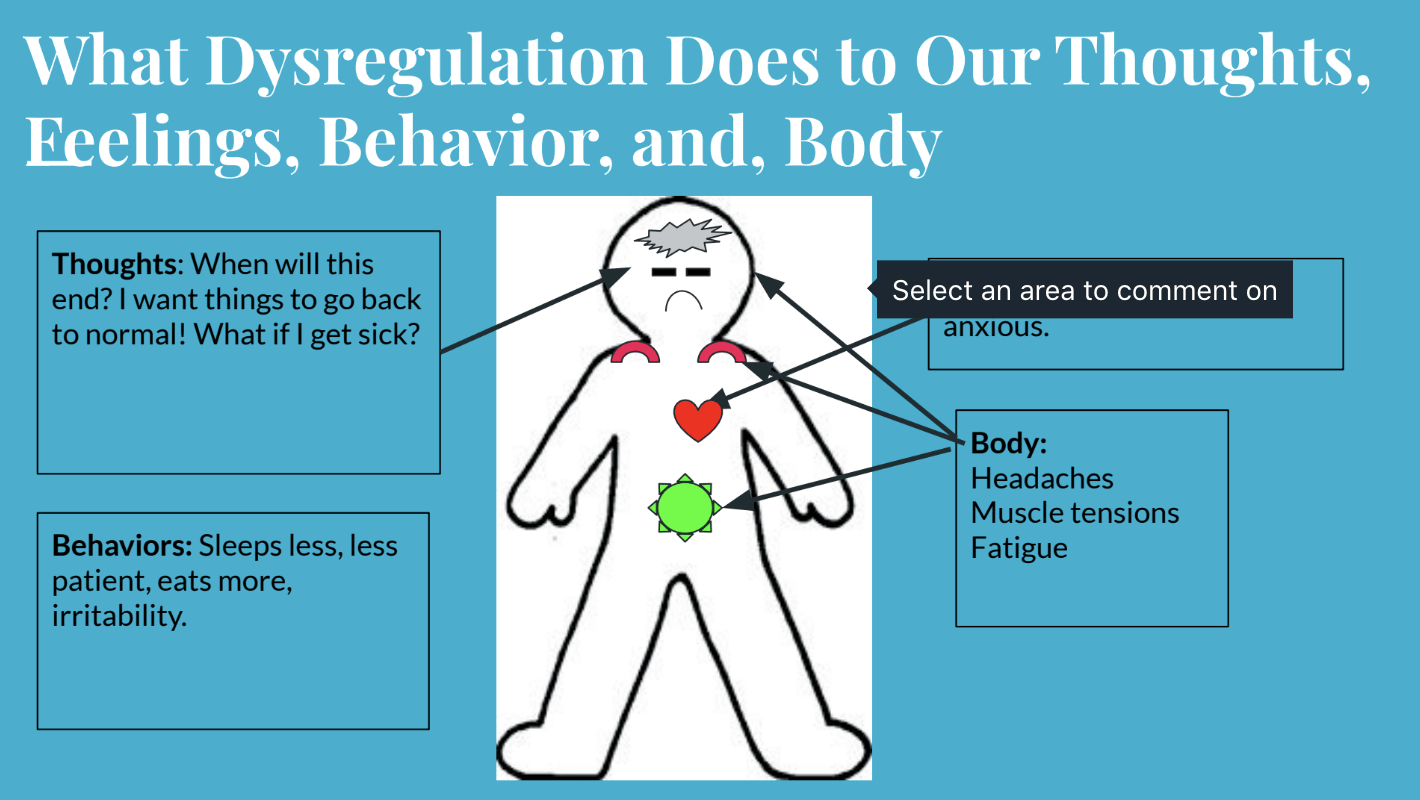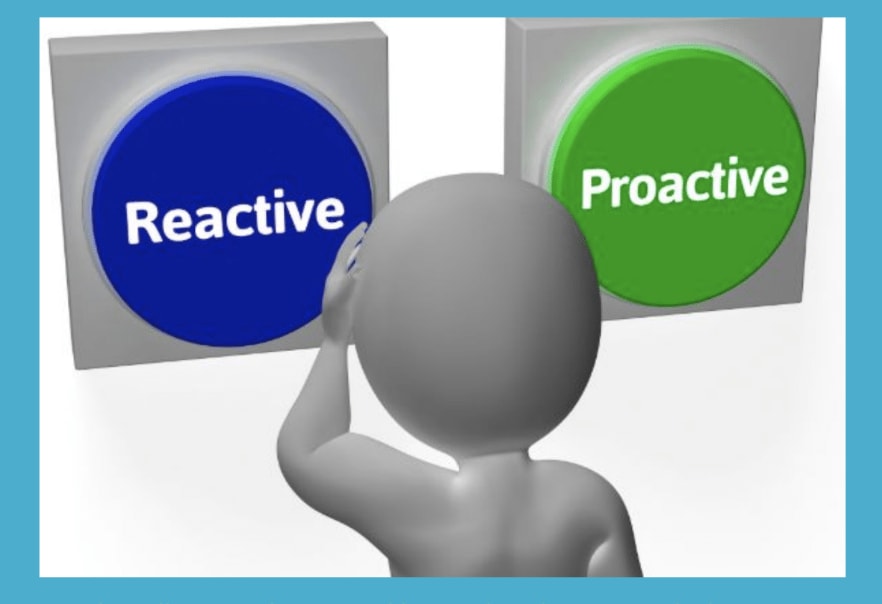 –by the International School of Dakar Counseling Team:
Ann Neill - ES Counselor
Eileen Knobloch - MS Counselor
Katelyn Kearny - HS Counselor
Jeff Neill - HS Counselor
Mary Guiliani - Mental Health Counselor
Paula Traore - Counselor Intern
The past six months our school communities have faced an overwhelming amount of stress as we try to adapt to the new normal that the global pandemic has brought. Schools around the world have shouldered a great deal of burden as we strive to tend to the academic, social, emotional and physical well-being of our students.
Administrators, teachers, and school staff have had to innovate and adapt like never before. We have gone through, and continue to encounter, waves of anxiety, trauma and grief. With these stressors comes exhaustion and dysregulation of the physiological system, a sense of fear, loss of safety, sadness, confusion, anger and disconnection. This has affected us on both individual and communal levels.
Through creating self-care plans we can intentionally map out how we will "unplug", as well as proactively and reactively manage stressors to nourish the physical, emotional and spiritual aspects of ourselves.
A self-care plan could include a mindfulness practice, which research has shown to effectively help regulate our bodies. Other forms of proactive self-care might include physical exercise, written or artistic expression, music and dance, connecting socially with friends and loved ones and spending time in nature. Forms of reactive self-care might include drinking a cup of tea, taking 10 soothing breaths, stepping outside to get some fresh air or going for a walk.
When we are able to find a sense of calm, peace, grounding and security we set a positive and emotionally safe learning environment for our students and we are better able to be positive colleagues and community members.
Our sense of connection and community during this time is of equal importance. The community self-care plan that we have created at ISD includes offering school-funded mindfulness courses through Mindful Schools and providing both virtual and in-person faculty wellness activities that range from Wolof classes (the local Senegalese language), to sewing classes, to book club, to meditation sessions, to a running/walking club. By providing opportunities for physically distanced small group, or virtual activities focused on wellness we are helping manage our communal stress as well as creating pockets of meaningful and positive connection.
My Self-Care Plan
–by Alan Knobloch, Director,
International School of Dakar
I was a skeptic of mindfulness, meditation, and the idea of self-care. In the past, I dismissed it without even trying. However, the past six months have been very challenging, taking a significant toll on my mental and physical health. I was not sleeping well, staying awake thinking about work, and felt unmotivated to exercise because I could not do the group sports I love. After participating in our counselors' session on self-care, I figured I had nothing to lose, so I created a self-care plan.
My self-care plan includes starting exercising regularly again including taking walks with my wife. I committed to learning how to meditate and do it each night, starting with just five minutes. I also decided to give yoga a try to combine the positive elements. Two weeks into my self-care plan, I am sleeping better. The meditation is helping me get to sleep and I am learning to keep the negative thoughts away. I am regularly exercising and it is giving me more energy during the workday. I have not started yoga yet, but I will get there.
A commitment we made to each other at ISD, was to share our self-care plans and be open to people asking us how we are doing with our self-care plans. It gives me some more motivation to know people are watching to see if I am exercising.
We know we have to take care of ourselves in order to have the energy to help others. In addition, as a leader, we serve by example. If you have not done so, I encourage you to watch the recording of the "Nourish to Flourish" session, create a self-care plan, and invite others to ask you about it.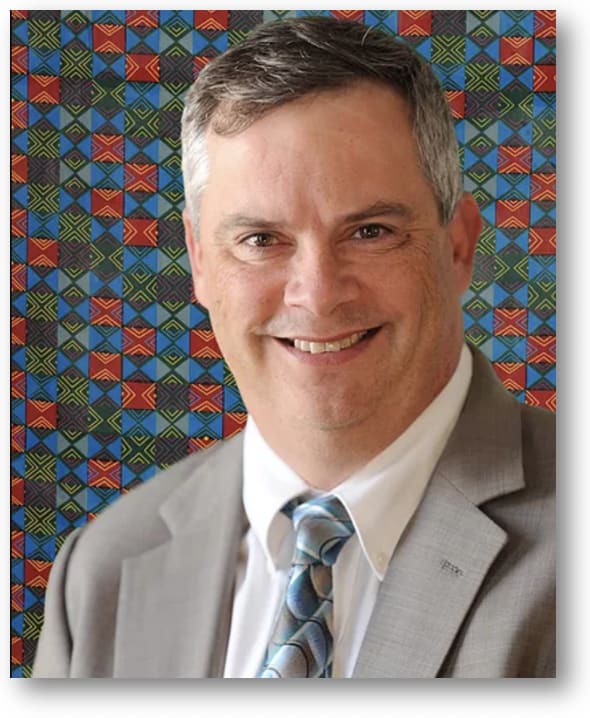 Alan Knobloch, ASD Director
We know we have to take care of ourselves in order to have the energy to help others. In addition, as a leader, we serve by example.
–THE NEWS of COVID-19–
28,297,462
Cases Worldwide (Johns Hopkins CSSE)
COVID-19: Fresh Evidence That Social Distancing Works

A new study from Bloomberg School researchers—based on a June survey of 1,030 Maryland residents—underscores the effectiveness of social distancing, such as avoiding crowds and mass transit, in reducing the risk of COVID-19 transmission.

Here's what they found:
Individuals who reported frequent public transport use were more than four times as likely to report a history of testing positive for SARS-CoV-2.

People who reported practicing strict outdoor social distancing were a tenth as likely to report ever testing positive for SARS-CoV-2.

An infection history was 16 times more common among those who reported having visited a place of worship three or more times in the prior two weeks, compared to those who didn't.
"Studies like this are also relatively easy to do, so we think they have the potential to be useful tools for identification of places or population subgroups with higher vulnerability," says senior author Sunil Solomon, associate professor in Epidemiology and an associate professor of medicine at Johns Hopkins School Medicine. (Johns Hopkins)
A Spray Vaccine
The newest Covid-19 vaccine candidate to start human testing is the first where volunteers won't get a painful injection. Instead, they'll receive a spray through the nose. China on Wednesday approved phase I human testing for the nasal spray vaccine, which is co-developed by researchers at Xiamen University and Hong Kong University, as well as by vaccine maker Beijing Wantai Biological Pharmacy Enterprise Co. (Bloomberg News)
More on Antibody Decline
Coronavirus antibodies fade after only a month, a new study has revealed, in what could signal a blow to worldwide hopes of finding a vaccine. Understanding antibody responses against Covid-19 is fundamental for the development of effective treatments and a preventive vaccine, experts say. And if antibodies decline overtime it could suggest immunity from a potential vaccine would also fade, rendering it less effective or require boosters. (The Daily Telegraph)
Scientists React to Halt of Leading Coronavirus Vaccine Trial
Enrollment in global trials of a leading coronavirus-vaccine candidate are on hold after a 'suspected adverse event' in a person who received the vaccine in the United Kingdom. Scientists say that it's too soon to say what impact this might have on the global push to develop a vaccine, but that the news highlights the importance of waiting for the results of large, properly designed trials to assess safety before approving a vaccine for widespread use.
Researchers at the University of Oxford, UK, in collaboration with the pharmaceutical company AstraZeneca, are developing the vaccine, which is one of nine coronavirus vaccines in the final, 'phase III' stage of being tested.
Details of the adverse event, including how serious it is and when it happened, have not been reported by Oxford or AstraZeneca. But the trial's pause comes amid concerns that US drug agencies might face political pressure to approve a vaccine before trials are completed, ahead of the US presidential election in November.
"I do hope that the adverse event is unrelated to the vaccine, since Oxford's candidate seems quite promising so far," says Florian Krammer, a virologist at the Icahn School of Medicine at Mount Sinai in New York City. The decision to halt the trial shows that the process to evaluate vaccines works, and ensures that only safe and effective therapies make it to the market, he says. (Scientific American)
The Coronavirus Is Mutating, and That's Fine (So Far)
In late August came news alerts about the world's first "documented" or "confirmed" case of reinfection with SARS-CoV-2: a man from Hong Kong, diagnosed in March, had contracted "a new virus" circulating in Western Europe this summer. The very next day, news broke that two people in Europe also appeared to have been reinfected. After that, it was stories about the first American case of the kind — involving a patient in Nevada said to have suffered worse symptoms the second time around. The preprint study (not peer-reviewed) on which those reports were based seems to no longer be available.
All this talk about new, perhaps more virulent, forms of SARS-CoV-2 is unnecessarily sparking fear and sowing confusion. For one thing, isolated cases of reinfection also happen with other viruses. That fact is not necessarily alarming. Reinfection usually tells us something only about how the human immune system works. It is not, on the face of it, evidence that a virus has mutated in ways that make it more dangerous.
For another thing, viruses routinely mutate — and most of these changes are bad for the virus or even fatal, according to some studies. (A minority of mutations are neutral, and only a tiny minority beneficial.) The word "mutation" may sound ominous, but it is a humdrum fact of viral life and its implications most often aren't nefarious for humans.
And yes, SARS-CoV-2 is mutating, too.
So what? The real question is this: Has it become more virulent or more infectious than it was when it was first detected in Wuhan, central China, in December? The evidence suggests that it has not. Like the viruses that give us influenza or measles, SARS-CoV-2 has a genetic code made up of RNA, or ribonucleic acid. But RNA is highly mutable, and since SARS-CoV-2 infects us by using our body's cells to replicate itself again and again, every time its genome is copied, an error might creep in.
Most mutations are quickly lost, either by chance or because they damage some part of the virus's main functions. Only a small proportion end up spreading widely or lasting. Mutation may be the fuel of evolution but, especially for an RNA virus, it also is just business as usual. For example, a recent preprint paper (not yet peer-reviewed) by Erik Volz, of the faculty of medicine at Imperial College in London, and numerous colleagues at other institutions — including members of the Covid-19 Genomics UK Consortium — which analyzed 25,000 whole genome SARS-CoV-2 sequences collected in the United Kingdom, found that one particular mutation in the virus, known as D614G, had not increased mortality in patients.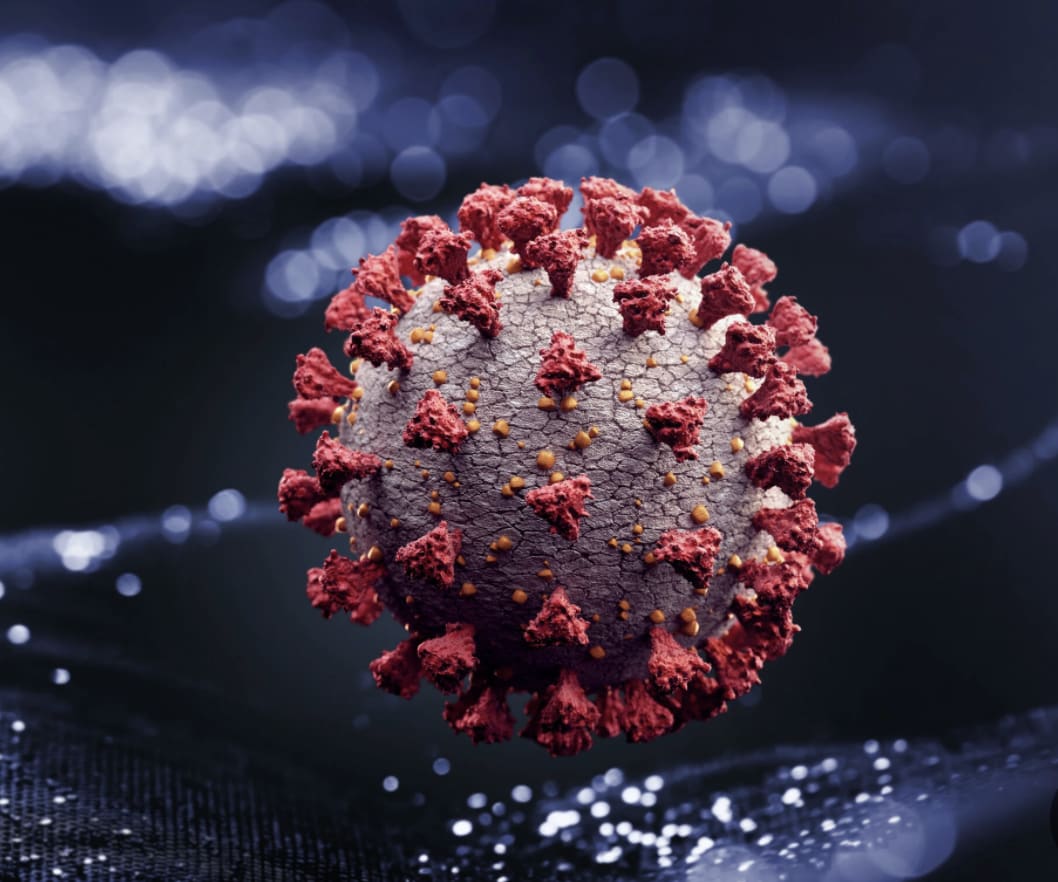 What about infectivity?
There has been much discussion over whether the D614G mutation — which affects the so-called spike protein of the virus — has made SARS-CoV-2 more infectious.
The D614G mutation, which probably initially arose in China, first appeared to become more and more frequent in the outbreak in northern Italy in February. The G614 form of the virus has since spread all over the world and has become the dominant variant.
The D614G mutation does seem to have increased the infectivity of the coronavirus — at least in cells grown in laboratories, according to a recent paper by the computational biologist Bette Korber and others published in the journal Cell. Apparently based partly on this and other studies, health authorities in various countries have claimed that the G614 form of the coronavirus may be 10 times more infectious than the version first detected in Wuhan.
But as some epidemiologists have warned, it is difficult, not to mention unwise, to extrapolate from lab results to explain how the virus actually spreads in a real population. The coronavirus remains good at propagating itself because most of us still are susceptible to it; we are not immune, and it can still find new hosts to infect relatively easily. (New York Times)
–The STATS–
TOTAL GLOBAL CASES:
Johns Hopkins–28,297,462
WHO–28,040,853
GLOBAL DEATHS (WHO):
Today–894,983
Two Days Ago–894,983
One Month Ago–732,499
EVOLUTION OF-GLOBAL CASES (WHO):
Today– 28,040,853
Two Days Ago–
27,486,960
One Month Ago–
19,936,210
NEW CASES (WHO):
Today–288,787
–Tracking the Virus Around the World–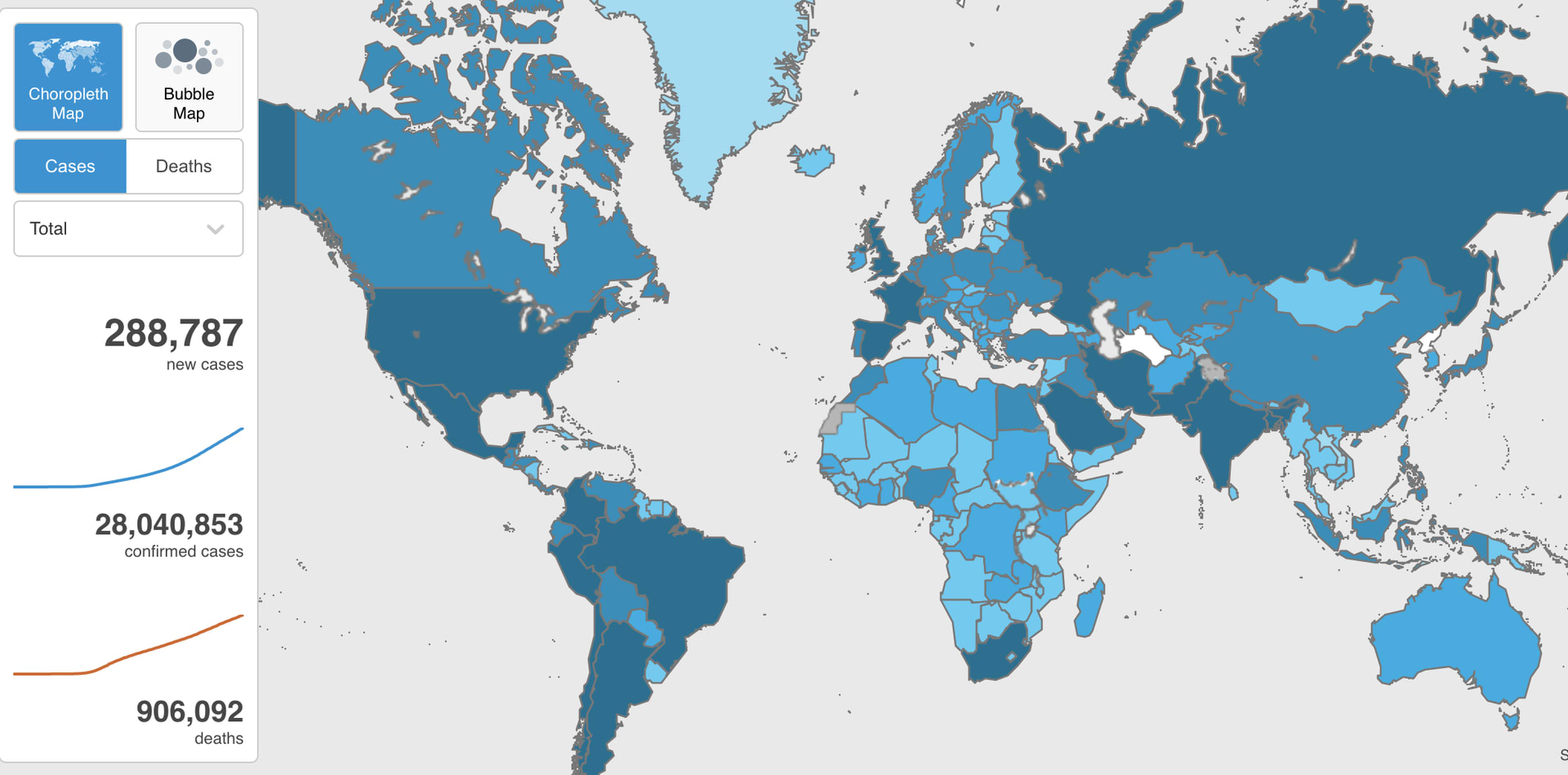 –FROM JOHNS HOPKINS CSSE–
The Cultures of Dignity Resources for Supporting
Social-Emotional Wellness
From Cultures of Dignity

,

For the Social-Emotional Tiny Guides from Rosalind Wiseman and Charlie Kuhn– a gift to our AAIE community– resources with no fee but plenty of insight.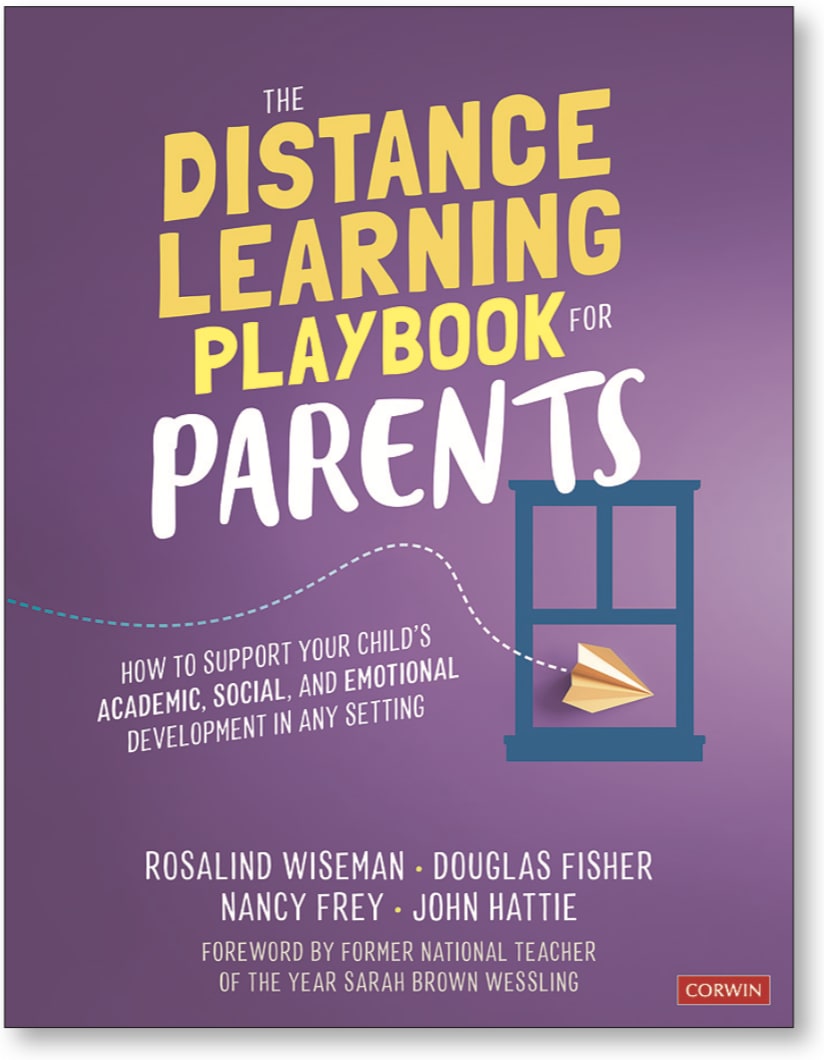 Rosalind Wiseman's newest book:

"Distance Learning Playbook for Parents–How to Support Your Child′s Academic, Social, and Emotional Development in Any Setting
A Final Note: The AAIE COVID-19 Briefing is provided to support your leadership for the school community you serve. We encourage you to use these resources in any way, shape or form that helps you, your communications and toward furthering close relationships across your community. – The AAIE Board