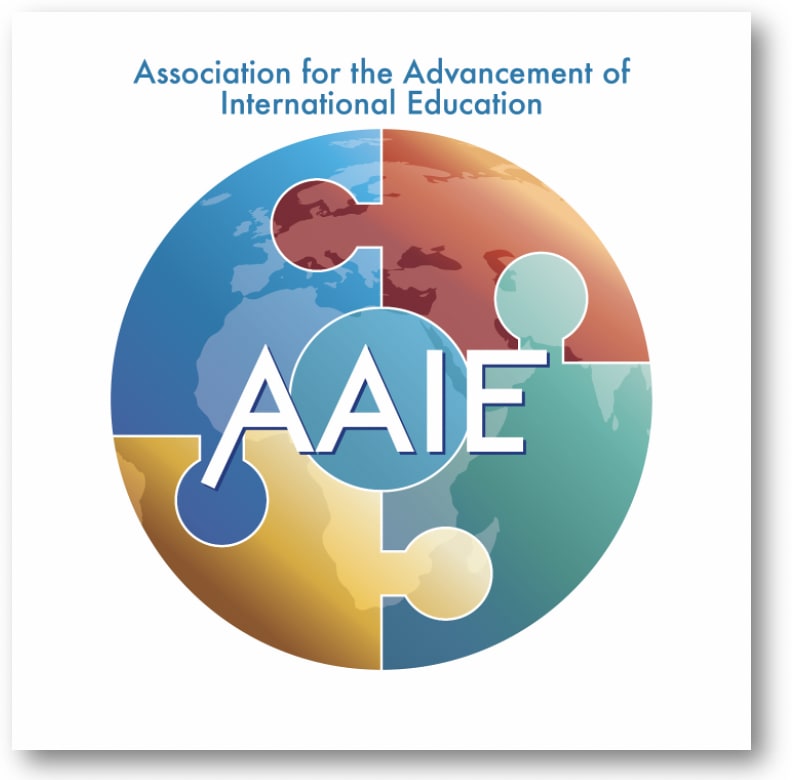 –WEDNESDAY–
AAIE's COVID-19 BRIEFING #202
Data and Ideas to Support Your Crisis Leadership
April 28, 2021
148,963,836

COVID-19 Cases Worldwide

The rest of this week's

CONVERSATIONS

India accounting for 50% of new global infections

A vivid narrative from AES New Delhi's Andrew Torris

COVID-19– The loss of Dr. Anthony DeNapoli
Editor's Note: Upfront we are featuring two articles, one written by Jeffrey Gettleman, the New York Times India Bureau Chief and the other by Dr. Andrew Torris, Director of the American Embassy School of New Delhi. Jeffrey's wife is the board chair of AES where his children attend school. Andrew, in his first year as AES director, is recovering from COVID-19, quarantined with the family cat, away from his family, yet still leading AES and what now appears to be an embassy authorized departure declaration.
Their narratives are at once horrifying in scope, a tribute to unflinching perseverance and also requiring our concern and outreach. Vivid writing from Jeffrey of the New York Times and from Andrew, where his writing speaks of crisis leadership on the line.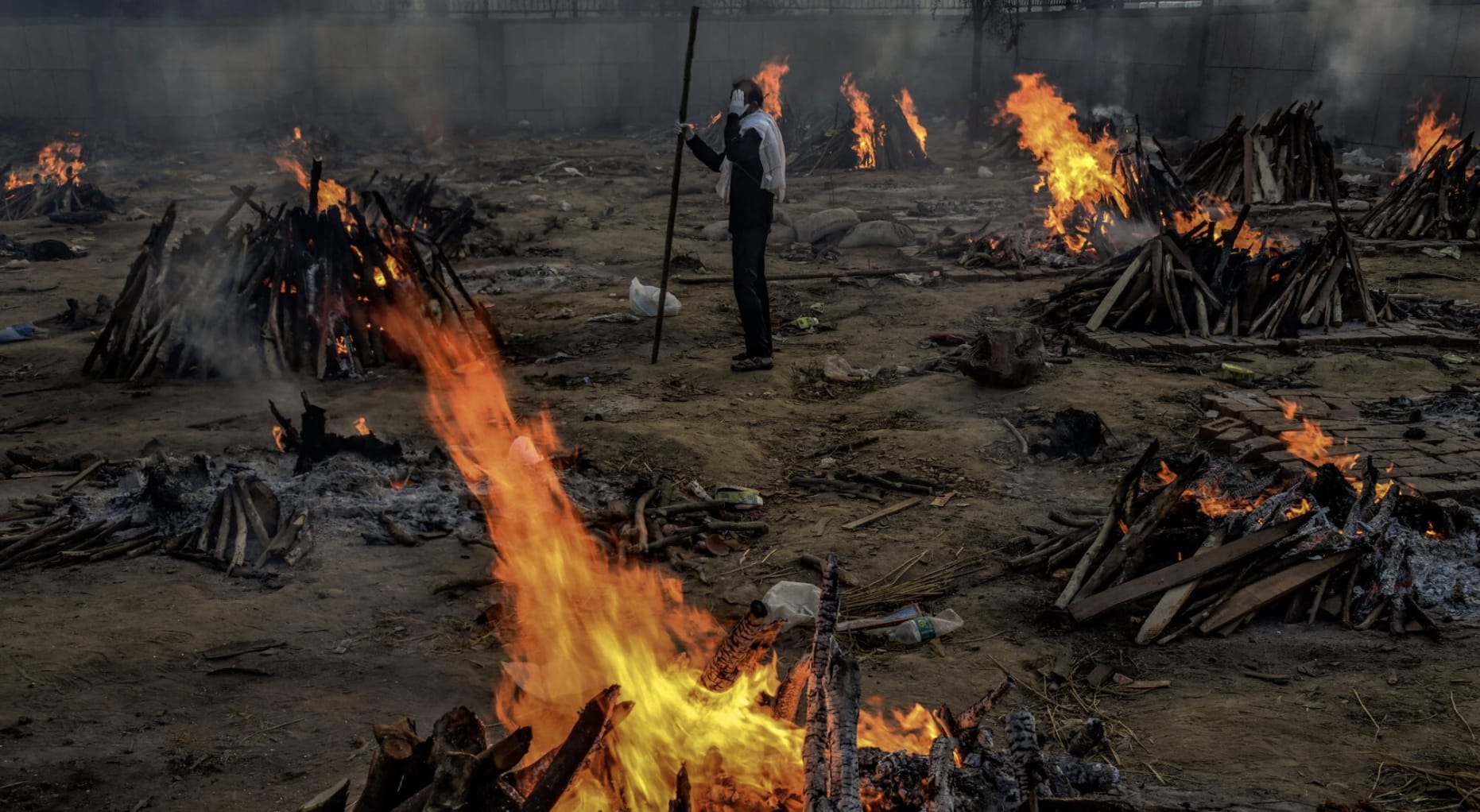 INDIA DISPATCH:
'This Is a Catastrophe.' In India,
Illness Is Everywhere.
by Jeffrey Gettleman
Crematories are so full of bodies, it's as if a war just happened. Fires burn around the clock. Many places are holding mass cremations, dozens at a time, and at night, in certain areas of New Delhi, the sky glows.
Sickness and death are everywhere.
Dozens of houses in my neighborhood have sick people.
One of my colleagues is sick.
One of my son's teachers is sick.
The neighbor two doors down, to the right of us: sick.
Two doors to the left: sick.
"I have no idea how I got it," said a good friend who is now in the hospital. "You catch just a whiff of this….." and then his voice trailed off, too sick to finish.
He barely got a bed. And the medicine his doctors say he needs is nowhere to be found in India.
I'm sitting in my apartment waiting to catch the disease. That's what it feels like right now in New Delhi with the world's worst coronavirus crisis advancing around us. It is out there, I am in here, and I feel like it's only a matter of time before I, too, get sick.
India is now recording more infections per day — as many as 350,000 — than any other country has since the pandemic began, and that's just the official number, which most experts think is a vast underestimation.
New Delhi, India's sprawling capital of 20 million, is suffering a calamitous surge. A few days ago, the positivity rate hit a staggering 36 percent — meaning more than one out of three people tested were infected. A month ago, it was less than 3 percent.
The infections have spread so fast that hospitals have been completely swamped. People are turned away by the thousands. Medicine is running out. So is lifesaving oxygen. The sick have been left stranded in interminable lines at hospital gates or at home, literally gasping for air.
Although New Delhi is locked down, the disease is still rampaging. Doctors across this city and some of Delhi's top politicians are issuing desperate SOS calls to India's prime minister, Narendra Modi, on social media and on TV, begging for oxygen, medicine, help.
Experts had always warned that Covid-19 could wreak real havoc in India. This country is enormous — 1.4 billion people. And densely populated. And in many places, very poor.
What we're witnessing is so different from last year, during India's first wave. Then, it was the fear of the unknown. Now we know. We know the totality of the disease, the scale, the speed. We know the terrifying force of this second wave, hitting everyone at the same time.
What we had been fearing during last year's first wave, and which never really materialized, is now happening in front of our eyes: a breakdown, a collapse, a realization that so many people will die.
As a foreign correspondent for nearly 20 years, I've covered combat zones, been kidnapped in Iraq and been thrown in jail in more than a few places.
This is unsettling in a different way. There's no way of knowing if my two kids, wife or I will be among those who get a mild case and then bounce back to good health, or if we will get really sick. And if we do get really sick, where will we go? ICUs are full. Gates to many hospitals have been closed.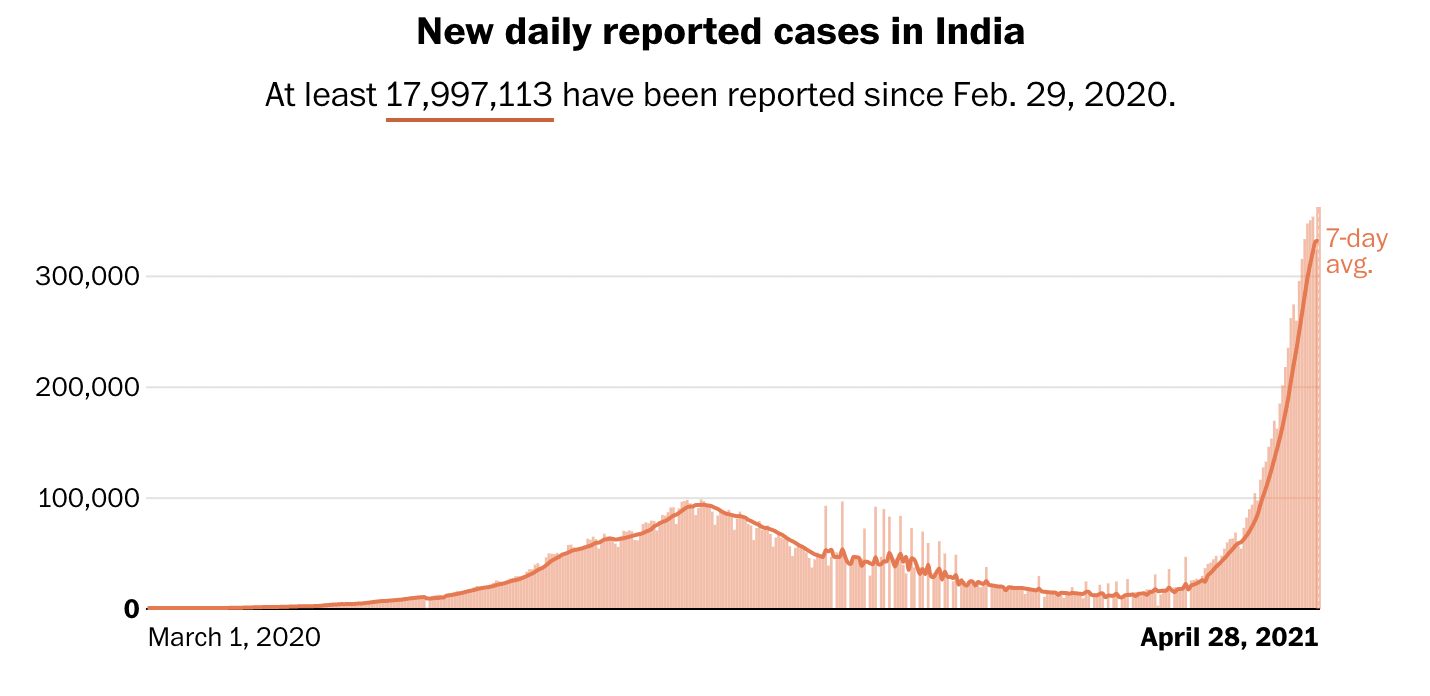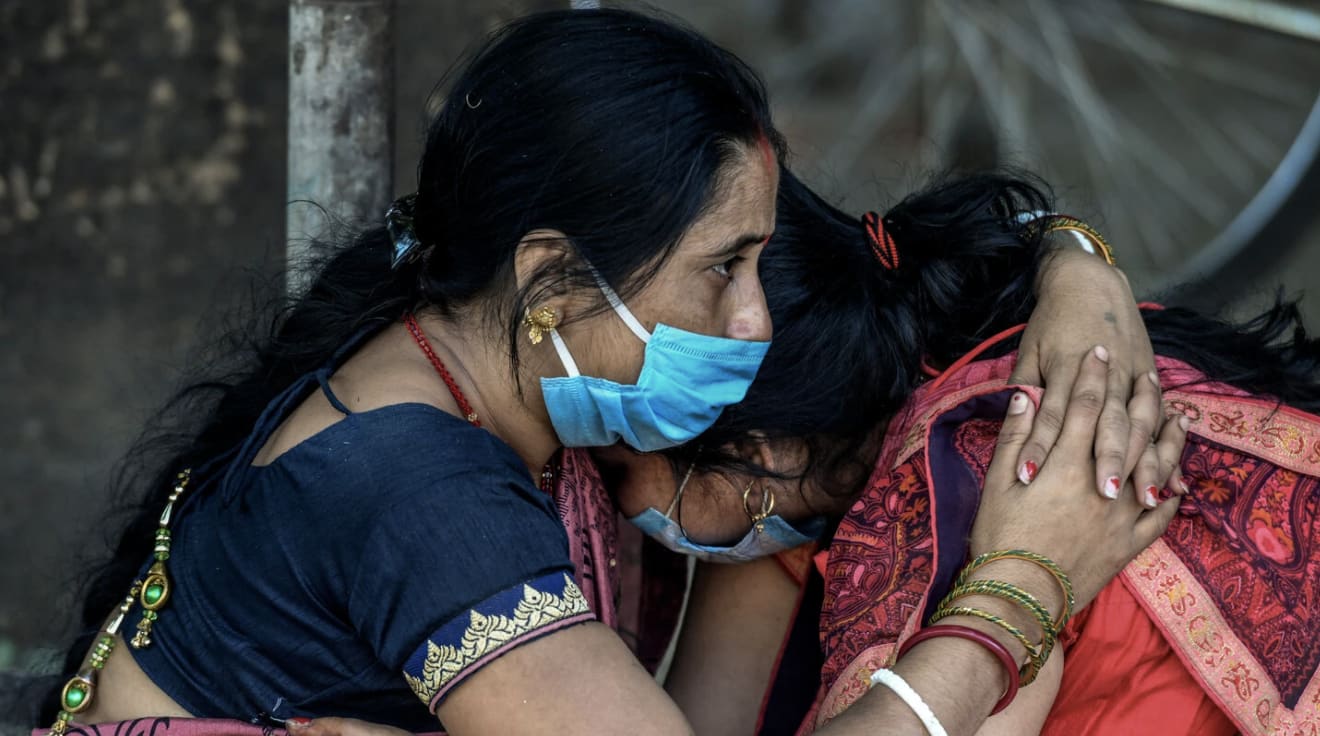 The Terrible
Sweet Smell of Jasmine
The last few days here in the morning the air is heavy with smog. That is not an unusual thing here in Delhi, but not this time of year I'm told. With the lockdown currently in effect, one would expect less pollution and not more. The other odd thing about the smog was the sweet smell of jasmine wafting through the air. I could not put my finger on the reason why. Is it the time of year? Are the flowers blooming? Then I was reminded that cremations are being conducted all over the city and jasmine oil is often used to cover the bodies during the funeral rites. I'll never smell Jasmine in the same way again.
Yes. Things are challenging AND... I have tested positive! Not to worry though, I am one shot in on a two-shot regime and the protection seems to be working. My symptoms have been very mild-- just a "summer cold" feel to it all and that really didn't last long. I am now cooped up in a room by myself again, at least my cat gets to keep me company now. But... this is now 6-plus weeks of isolation for me through this pandemic. Two weeks in HK, two weeks of arrival into India, AND 17 days now for a COVID positive infection! Argh!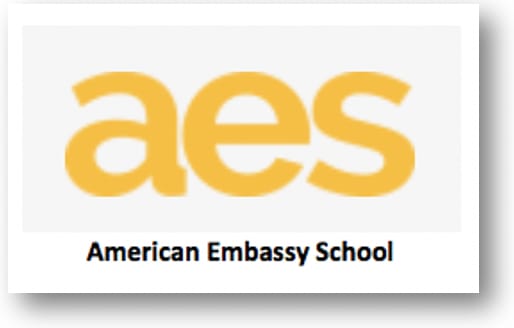 by Dr. Andrew Torris,
Director, American Embassy School, New Delhi
Right after our spring vacation, all hell broke out here at AES. I stayed in town and just rested and took care of myself and my family during the week-long break, but many faculty, staff, and AES families traveled to beaches and various island destinations in India.
The virus that had been wreaking havoc in Maharastra finally reached Delhi-- all at the same time. We immediately went fully online the following Monday for "two weeks". Within the first week, we were seeing cases in our school community appear, and with hopes of resuming on-campus programs, I scheduled a mass screening test of our teachers and staff. We screened 250 people and found 24 folks who were positive (me included) and our total cases went from zero faculty and staff before spring break to 68 cases.
We lost a long-time facilities maintenance colleague, a parent of a student, and several of our support staff have lost parents too. We have staff members who have needed hospital beds and ICU beds and were turned away. We have sent our school's oxygen supply bottles to those colleagues. We now have no supply at all at school in the case we need it.
Our health office has been on-call and working 24/7. Our HR office has been on 24/7. My principals and I are living on zoom calls. Crisis management in the era of zoom and the internet is very different than when we just made phone calls. Everyone expects a meeting! A written memo or email just does not cut it anymore! I have held two faculty town hall meetings in the last four days, and now people know the fate of the rest of the school year and are in closure mode. We are holding a parent/community town hall today at 3:00PM.
Word on the street is that the Embassy is going to give an authorized departure today. I suspect the decision is in large part due to the deaths among their staff. I was told last week that they were not going to do a departure order, but things have changed too quickly!
We told our overseas hire teachers they could "teach from anywhere" on Sunday evening after the board agreed that online learning was, without a doubt, the only manner in which we could deliver instruction for the remainder of the school year. Teachers have started to depart already, with most choosing to leave around the middle of May (a few weeks early). I reminded my school colleagues that we need to be careful about how we "celebrate" our landing on relatively safer ground. The majority of our team here are Indians who have no place to run and this is their reality. I can only imagine their fear, concern, and likely terror as they watch their home being torn apart by an invisible and devastating virus. And the rest of us also experiencing the terrible sweet smell of Jasmine.
–THE WORLD NEWS of COVID-19–
148,963,836 Cases Worldwide (Johns Hopkins CSSE)
"People are just dying, dying and dying"
Crematoriums in Delhi are being inundated with so many bodies that they have been forced to build makeshift funeral pyres on spare patches of land as the Covid crisis sweeping India led to an explosion of new cases. Crematoriums across the capital are struggling to cope, with grieving relatives forced to wait up to 20 hours for a funeral pyre for their loved ones. In Delhi, photographs taken on Tuesday showed smoke billowing from dozens of pyres lit in a car park that had been turned into a makeshift crematorium. Elsewhere, workers built makeshift pyres on land outside crematoriums. "People are just dying, dying and dying," said Jitender Singh Shanty, who is coordinating more than 100 cremations per day at the site in the east of the city. "If we get more bodies then we will cremate on the road. There is no more space here," he said, adding: "We had never thought that we would see such horrible scenes." (The Guardian)
"If There is an Apocalypse, This Has to be the One"
Vikas Dandekar: "Television stations routinely dish out painful stories of families who lost loved ones. "I have money, I have everything but I could not save my sister," says a young person who cried inconsolably in a TV news report. Hospitals don't have enough beds for those seeking help, and even if they do, the shortage of oxygen is an agonizing death sentence for patients who can't get access to it. Video clips are making the rounds showing people dying even as they are hurriedly wheeled on stretchers into hospitals. Ambulances are being crammed with the dead — as many as 20 bodies at a time — on their way to crematoria and burial grounds. Funeral pyres glowing 24/7 are a constant reminder of the staggering death toll. If there is an apocalypse, this has to be one." (STAT News)
The Worry of an Indian Variant Called B.1.617
A variant of the coronavirus first spotted in India has been detected in the U.S. and 18 other countries and territories, adding to a growing roster of evolutionary spinoffs of the virus that scientists and health authorities are keeping under close observation.
The variant, known as B.1.617, isn't as well studied as other worrisome variants—some of which are also circulating in India—and its role in driving India's current wave of infectionisn't entirely clear. The surge in cases followed a loosening of restrictions and a large number of religious and political gatherings. Scientists are working to understand how its precise set of mutations affects its ability to spread from person to person and if those mutations give it an edge over our immune defenses, vaccines included. (The Wall Street Journal)
The Indian Strain Detected in Japan
The Japanese government on Monday said it has so far detected more than 20 cases of the Indian variant of Covid-19 in Japan — a rise in the number of cases of the potentially worrisome new strain that some fear could prove more resistant to existing vaccines. "According to the National Institute of Infectious Diseases, a total of 21 cases were confirmed in the country, of which 20 were found in airport quarantine and one was confirmed among domestic cases,"
Chief Cabinet Secretary Katsunobu Kato, the government's top spokesman, told a news conference Monday. The government acknowledged for the first time last week that it had detected five cases of the "double mutant" variant, which has the features of two different viral mutations. India has also detected a "triple mutant" variant, and Kato said that the health ministry was looking into the situation. (Japan Times)
Global Infection Records Being Set
Oxygen and other vital medical supplies have started arriving in India as it battles one of the most acute covid-19 crises any country has experienced yet. The country set a global record for new cases for the fifth day in a row yesterday, reporting 352,991 and 2,812 deaths. The true figure is almost certainly far higher. Modeling by researchers from the University of Washington's Institute for Health Metrics and Evaluation suggests the true figure for new daily cases in India is likely to now number in the millions. (MIT Technology Review, ourworldindata.org)
In Kolkata (Calcutta) and Infection Rate of 50%
One of two persons undergoing RT-PCR tests in Kolkata (formerly Calcutta) and its suburbs is turning out to be Covid-positive. In the rest of the state, one of four RT-PCR report is Covid positive. That is a five-fold jump from the beginning of the month, when only one of 20 tests was positive.
"Laboratories in Kolkata and surrounding areas are reporting a positivity rate of 45%-55% while in other parts of the state the positivity rate is around 24%, up from 5% at the beginning of this month," said a doctor attached to one of the largest laboratories conducting RT-PCR tests in the state. The population of the city of Kolkata is estimated to be 14.97 million. (Times of India, macrotrends.net)
The Indian health ministry earlier today reported more than 320,000 new Covid-19 cases and 2,771 Covid-related deaths. Both figures represented slight declines from the previous day's record highs, but experts said this was not a sign that the outbreak was easing. With enormous funeral pyres spilling into parking lots and city parks, there are signs that India's reported overall toll of nearly 198,000 deaths could be a vast undercount. (The New York Times)
The Global Alarms are Sounding
The bewildering speed with which coronavirus has overwhelmed India's health systems has sparked global alarm over the viral variant that emerged in the subcontinent. The B.1.617 variant has been blamed by some for the surge in infections in India, which reported more than 350,000 confirmed cases on Monday alone, a world record for one country in a single day. Health experts believed the true figure was likely to be much higher. But scientists have urged against leaping to conclusions about the extent to which the variant alone is responsible for the dizzying rise in cases in the past few weeks, which caused 2,800 confirmed deaths in India on Monday alone. They said there was little hard evidence about the virulence and transmissibility of the variant and point to other possible factors. (Financial Times)
THIS REST OF THIS WEEK'S CONVERSATIONS
with International School Leaders from Around the World
THURSDAY
29 April 2021
8:00AM EDT
OUR WEEKLY GLOBAL
LEADERSHIP CONVERSATION #57
Our weekly global leadership CONVERSATION continues. where we place key leadership issues out front for all to see. Then we tackle the problem-solving as a community.
THURSDAY
29 April 2021
10:00AM EDT
THE LATIN AMERICA CONVERSATION #44
This week we renew our CONVERSATION, working together as we grapple with the unique leadership issues and context of Latin America.
The record-breaking COVID-19 numbers in India — the government reports more than 300,000 daily infections — do not reflect the true extent of the country's terrible second wave, reports The New York Times. With hospitals overwhelmed in some places, the daily death toll appears to be much higher than the 2,000 reported in official figures. "It's a complete massacre of data," says epidemiologist Bhramar Mukherjee. "From all the modeling we've done, we believe the true number of deaths is two to five times what is being reported."
Loss of an AAIE Friend and Colleague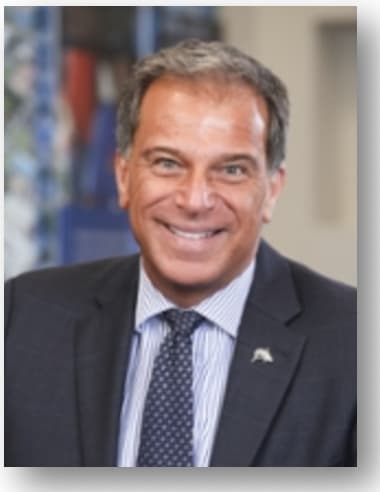 IN MEMORY OF
Dr. Anthony DeNapoli, NOVA Southeastern University
Dr. "Tony" DeNapoli and Nova Southeastern University hosted the AAIE offices for many years. A strong advocate for AAIE and international education, Tony was himself involved for many years as a Dean of International Affairs. Tony worked closely with our board of trustees and created a home where the AAIE mission could be advanced around the world. Tony passed away, victim to Covid-19.
FROM NSU's Student Newspaper, THE CURRENT:
Anthony J. DeNapoli was a beloved member of the NSU community for 25 years. DeNapoli served as the dean of undergraduate admissions, and before he took on that role, he was the associate dean of international affairs. DeNapoli spread kindness to each of the students, faculty and staff members he interacted with and helped during his time at the university.
To honor his legacy of working towards a community that worked hand in hand, no matter where you came from, NSU recently hosted an international flag display as a tribute. The event was hosted over Zoom, and over three hundred people attended the event — many of whom submitted videos that shared fond memories and lessons learned from their time spent with DeNapoli. DeNapoli and his legacy will not only live on at NSU, but it will live on in those whose lives he has touched, the hearts of those he helped and the minds of those who knew him.
Worldwide Vaccinations per 100 People:
As of April 28, 2021
(report looks at prior day data)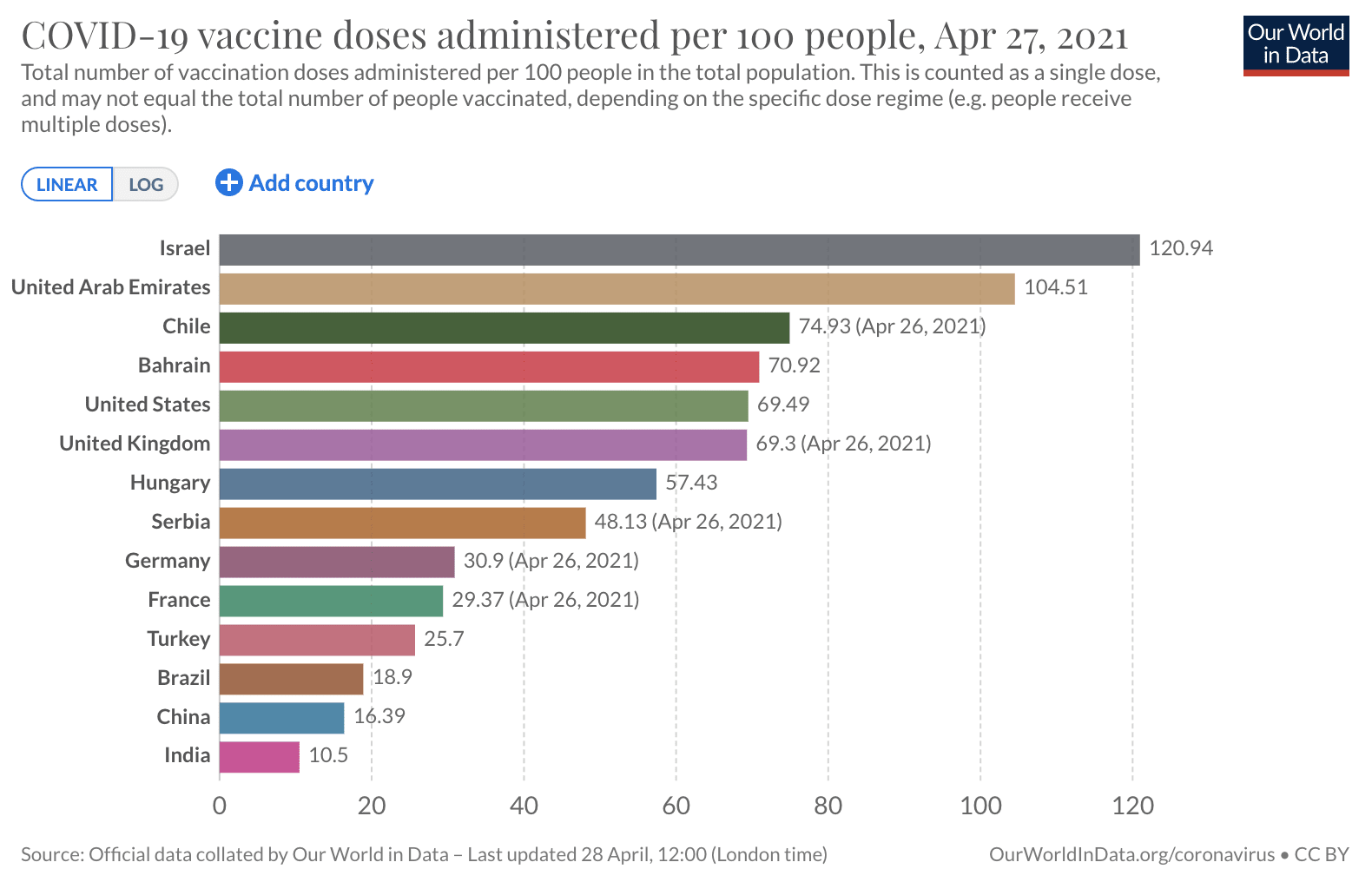 WORLDWIDE COVID-19: BY THE NUMBERS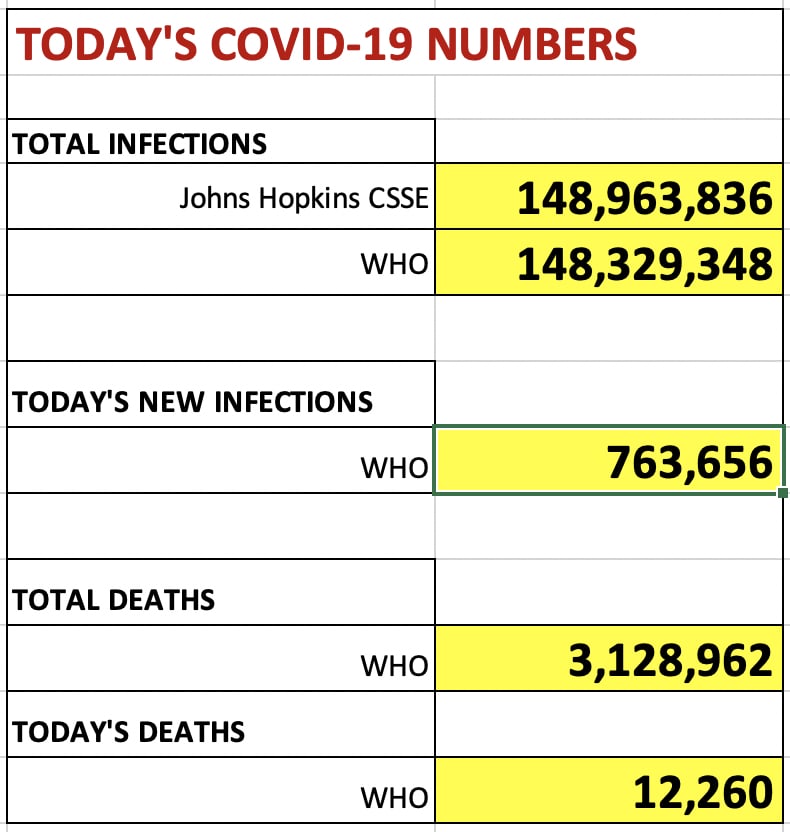 –FROM JOHNS HOPKINS CSSE–
From Johns Hopkins

CSSE,

the

Infection Rate World Graphic
A Final Note: The AAIE COVID-19 Briefing is provided to support your leadership for the school community you serve. We encourage you to use these resources in any way, shape or form that helps you, your communications and toward furthering close relationships across your community. – The AAIE Board