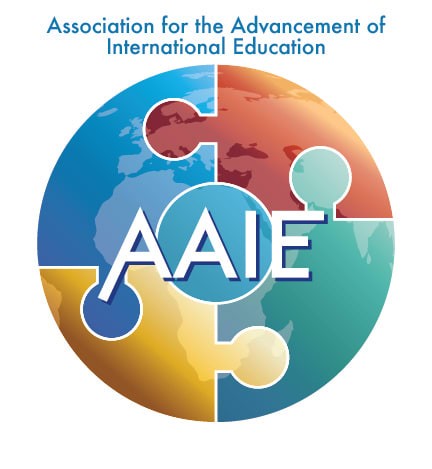 –Friday–
AAIE's COVID-19
BRIEFING #86
Editor's Note: During summer holiday, the BRIEFING will be published on Monday, Wednesday and Friday of each week.
July 17, 2020
Highlights
13,888,874 Cases World-wide

–

(Johns Hopkins CSSE)

Next Week's Thursday

CONVERSATION

: A "Q and A" with Tom Shearer, Director, Office of Overseas Schools, Department of State
ASFM Monterrey has just published their updated reopening

ROADMAP 2.0

A view of reopening plans across states and national organizations from Johns Hopkins

The last 24-hours in India

Covid-19 impact on South Africa's 30%, and growing, unemployment

Thailand as a success story and why?

The undercounted deaths due to Covid-19
See the ASFM Plan, UPDATED in the toolbox
The AFS Monterrey Reopening and Roadmap 2.0
Editor's NOTE: The ASFM plan announces upfront changes that have been made since their first published initial thinking. Unambiguous is the call for everyone's compliance with the science of the virus– meaning, use of face masks (older students) and social distancing. ASFM begins the new school year on August 10 and will do so with enhanced distance learning and a stated timeline for reopening. Take note of the fully fleshed out approach to the HYBRID program. The introductory video is also an excellent resource and example.
Dear AAIE Community,
Here we go again!
After almost 6 months of distance learning, unprecedented decision making processes, countless hours in Zoom meetings, webinar after webinar, and the trial and errors of our first Learning Roadmap, the ASFM leadership team united with our school board and our communications department to research, develop, polish, and then socialize our ASFM Learning Roadmap 2.0. We don't pretend to have all of the answers by any means, but we do feel that we have put together a 3 phase plan that places health and safety as our key driver during these crazy times and as we get ready to once again continue with learning on August 10th in a distance learning mode.
In 30+ years in education, this will be the first time I have had to work straight through the summer with basically no break, but my hope is that this time and effort will pay off for our students and staff starting in August. As the Roadmap 2.0 says, our first goal is to be back in school with face to face learning on a daily basis as soon as possible because we prefer that type of learning to distant or hybrid learning. For now, however, we must continue to protect the health and lives of our community and as such we will launch the 20-21 school year once again from behind our MacBooks and Chromebooks!

I would like to thank all my fellow heads of school from around the world for all your support, ideas, motivation, cheerleading, examples, and wisdom. I wish I could honestly say that we are almost clear of this horrible storm, but unfortunately I think we have to be prepared for a semester and possibly year of uncertainty and toggling back and forth from remote to hybrid learning!
Luckily we are in this together!! Take care, stay safe, and always do what is best for your students, your staff and yourself!
In learning,
Michael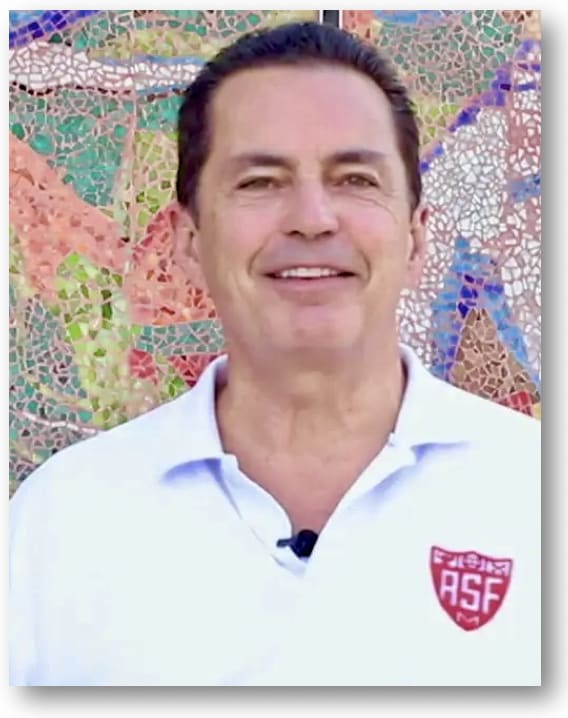 Dr. Michael W. Adams
Superintendent
American School Foundation of Monterrey (ASFM)
"We must continue to protect the health and lives of our community and as such we will launch the 20-21 school year once again from behind our MacBooks and Chromebooks!"
The ASFM Introductory Video of their 2.0 Plan
Guided By A Revised Set of Principles, such as...
We will do our best to work with all parents, students, and staff who have specific needs and/or situations that might prevent them from starting the school year in a Hybrid model and/or who experience future problems with possible shifts from one scenario to another.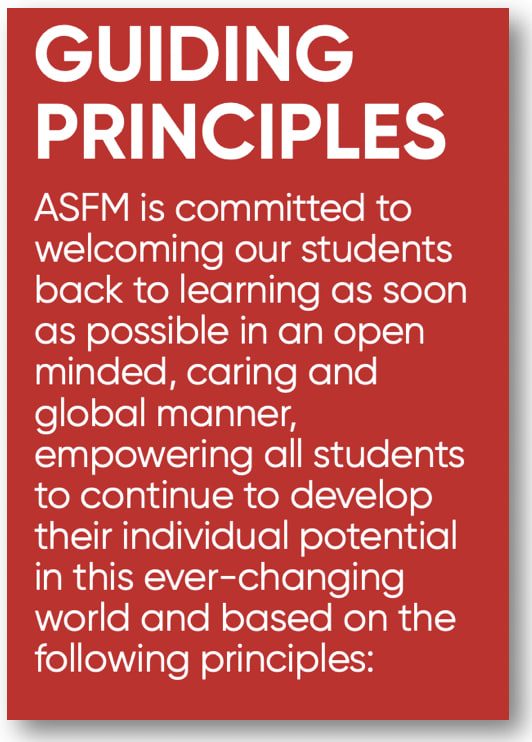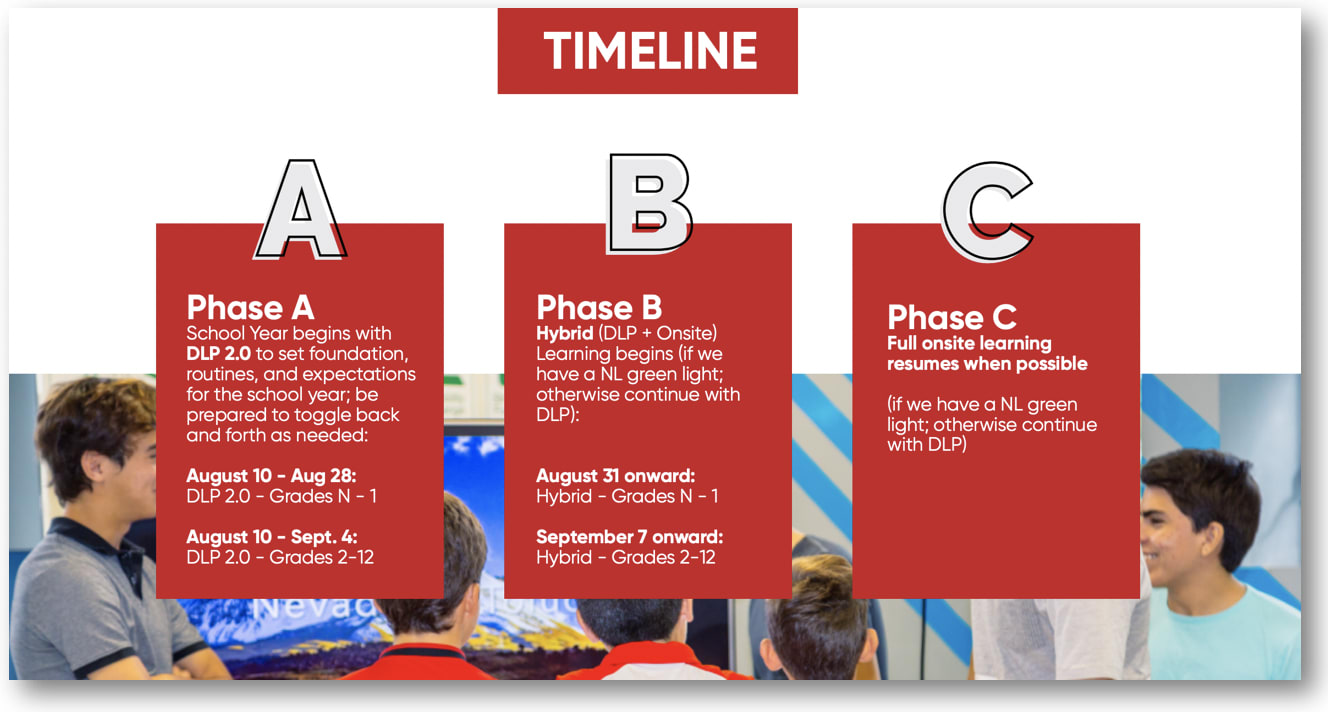 WIth the caveat that circumstances can change, ASFM announces a timeline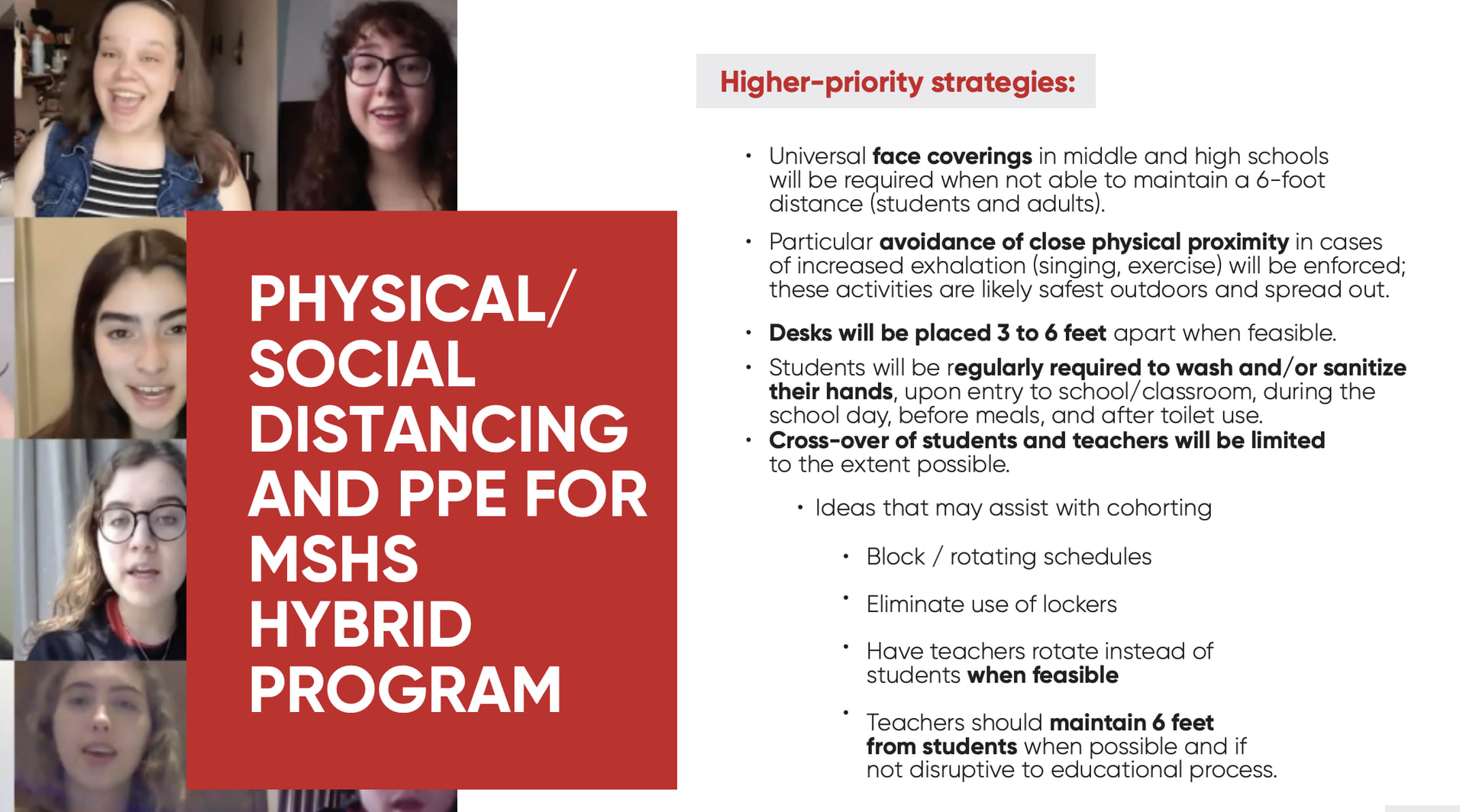 –NEXT WEEK's CONVERSATION– (summer schedule)
Be with us on July 23–8:00AM EDT
Our Global Leadership Community- Together
Twenty-one Weeks Running
A Weekly CONVERSATION between School Heads and Senior Leaders #21
Taking a Global View
"Q and A" session with Tom Shearer, Director of the
Office of Overseas Schools
With thanks to Will Richardson who has facilitated our Thursday CONVERSATIONS since the very beginning.
NOTE: Our Thursday leadership community gatherings will continue throughout the summer months.
A Treasure Trove of Reopening and Roadmap Ideas– From USA Schools and Research Agencies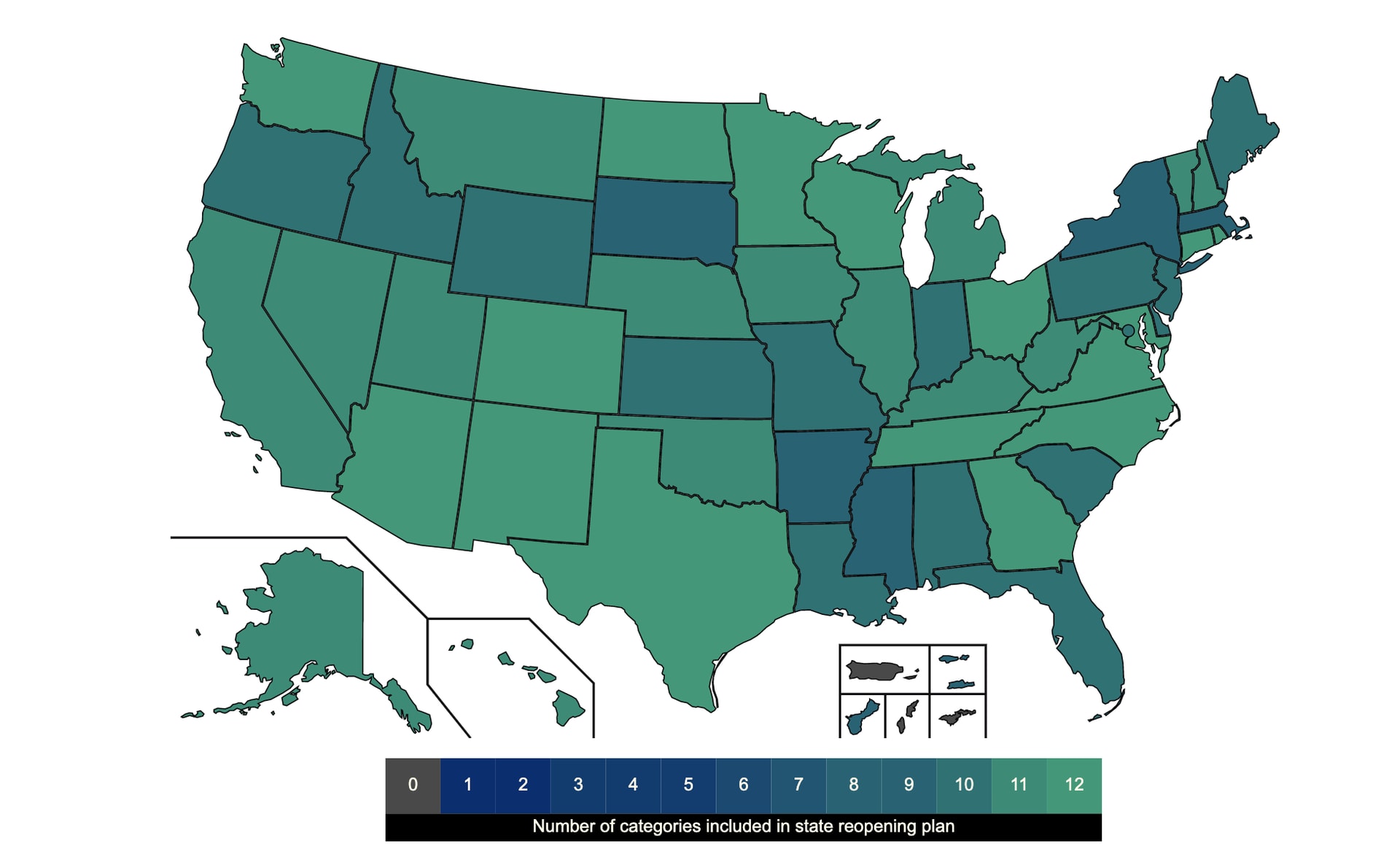 Editor's Note: Johns Hopkins provides a visual database of school reopening plans across the United States, providing many science-based ideas for effective school safety and teaching and learning protocols. Very USA-centric to be sure, but full of ideas that can be adapted to the overseas context.
Analysis of School Reopening Plans
Not only will schools need to reopen in a way that makes every effort to protect the safety and health of students, teachers, and staff, but schools will need to find new ways to help students make up for the losses in learning, health, and support systems that occurred as a result of the closure. This analysis explores education recovery plans put forth by states, territories, and national organizations to examine the ways these plans are designed to support students and teachers. Importantly, this ongoing analysis offers a view of state recovery plans at a snapshot in time; there may have been changes or updates to these plans since this analysis was conducted.
"Much remains unknown about the interaction between children, schools and the virus. Schools have only reopened in countries where the virus is under better control than in many parts of the United States. And parents and teachers, especially in Europe, have been vocal about their concerns. It is premature to say that "In Germany, Denmark, Norway, Sweden and many other countries, SCHOOLS ARE OPEN WITH NO PROBLEMS." An excellent overview on worldwide school reopening dilemmas.
From Johns Hopkins Bloomberg School of Public Health
EXPERTS SHARE STRATEGIES FOR SAFELY REOPENING SCHOOLS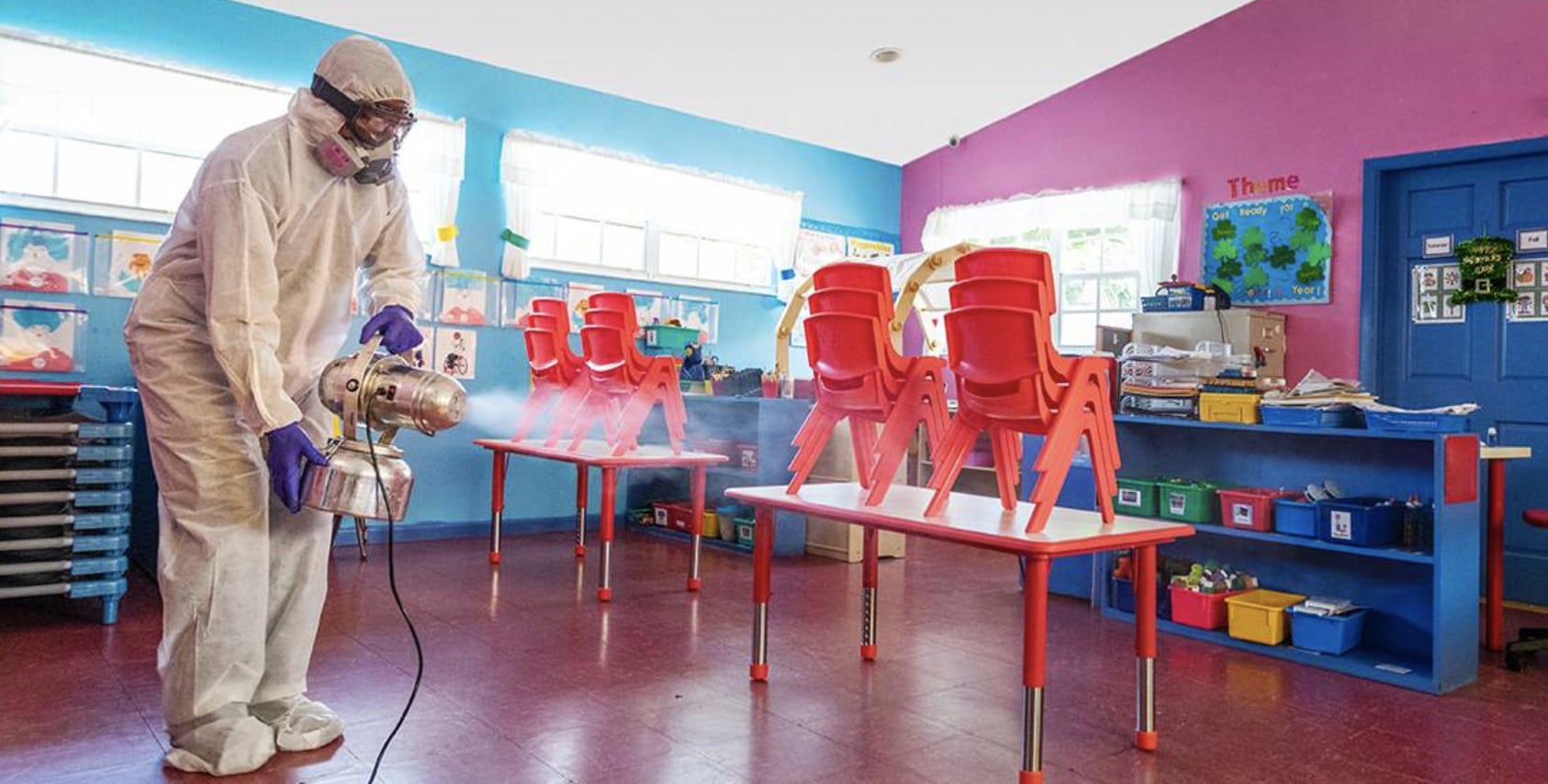 Chief among the recommendations are practicing physical distancing in schools, and ensuring community transmission of coronavirus is under control in surrounding areas
"THIS SHOULD BE A PRIORITY, AND IT'S MUCH MORE IMPORTANT—IMMEASURABLY MORE IMPORTANT—THAN OPENING BARS OR RESTAURANTS."
According to epidemiologist Jennifer Nuzzo, schools must prioritize student needs, follow guidance from the Centers for Disease Control and Prevention (or WHO), maintain physical distance within classroom settings (including by wearing masks), promote hygiene, and limit the number of students and staff present.

Perhaps most important, she said, is that community transmission of the virus in the surrounding school district must be under control. To get there, policymakers should urge the public to continue practicing physical distancing, shore up hospital and health care resources and capacity to care for sick patients, and employ contact tracers to track transmission routes and help people who have been exposed to infection quarantine appropriately. And despite those efforts, schools should also plan for potential outbreaks to occur and prepare contingency plans built around virtual learning and supporting special needs students.
In Support of Our Friends at International Schools Services
A Two-Part Virtual WORKSHOP
The Architecture for Safely Reopening Our Schools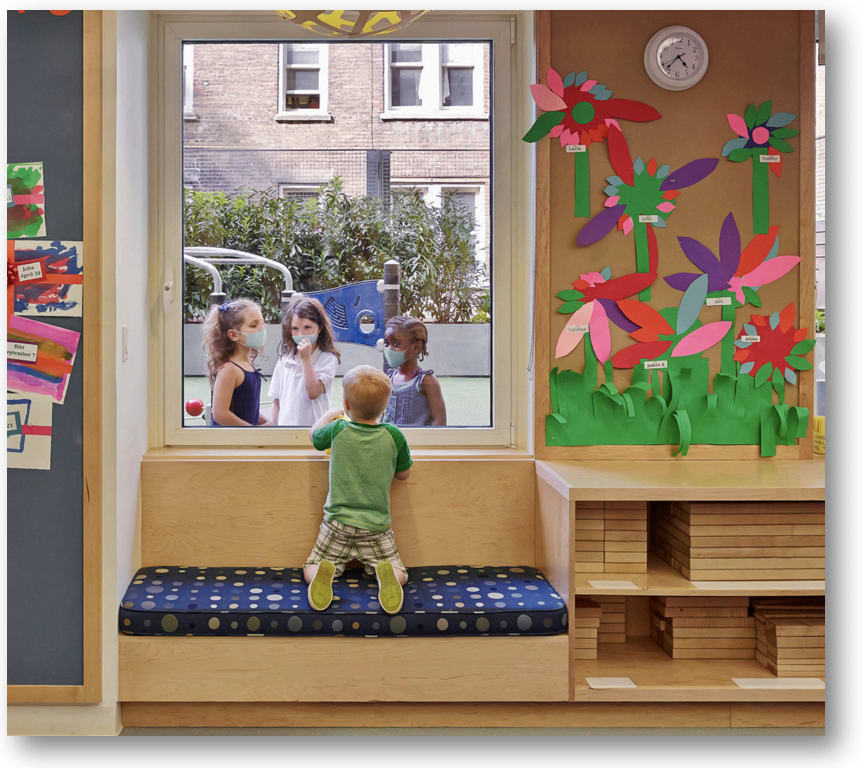 We invite you to join ISS and MBB Architects on July 27th and July 28th to a two-part School Reopening Workshop for Heads of Schools, business managers, and other support staff considering how to safely manage a campus reopening.
MBB Architects will lead the workshop with an in-depth case study based on a school in NYC. This analysis prioritized a plan to return to school at full capacity and a regular schedule in 2020. MBB worked in close coordination with the head of school, a mechanical engineer, an epidemiologist from Mount Sinai Hospital, and extensive additional resources. Participants will receive the full 36-page report as a takeaway. Download a sample of the report here.
The School Reopening Workshop will be paneled by MBB architects Jeffrey Murphy, Taylor Aikin, and Jean Li, epidemiologist Dr. Krystina Woods, and ISS Director of School Services/Senior Leadership Executive, Managed Schools, Keith Cincotta.
Part 1: Monday, July 27 at 8 am EST (90 minutes session)
Detailed walk-through of MBB reopening plan case study

Strategies for arrival, navigation, classroom layout, and building systems

Challenges, guiding conclusions, and considerations for reopening

Breakout room discussions

Q&A with panel experts

Delivery of full MBB case study to participants for school team strategy development
Part 2: Tuesday, July 28 at 8 am EST (90 minutes session)
Further exploration of reopening strategies

Strategies for special conditions (lunch, fire drills, specialty instruction)

Teacher and staff considerations

Q&A with panel experts

Breakout room discussions

–THE NEWS of COVID-19–
13,888,874 Cases Worldwide (Johns Hopkins CSSE)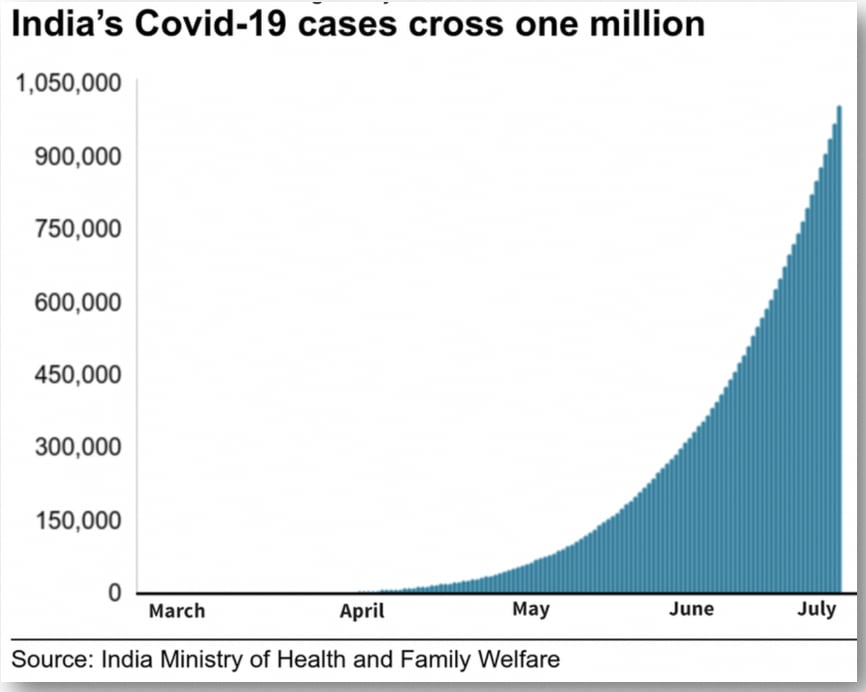 From slow to surge in India
India Sets a New Record
India added a record number of Covid-19 cases - nearly 35,000 - in the last 24 hours, breaching the one million mark.
It has the world's third-largest case load, after the US and Brazil - the only three countries so far to record more than a million coronavirus cases. India's active cases account for about a third of its total tally as it has been reporting a high recovery rate and a low death rate from the virus. But deaths have been rising. At 25,602, they are eighth-highest in the world.
India's number of cases has been on the rise - with nearly record daily surges - in recent weeks. It overtook Russia earlier this month to occupy the third spot for the highest number of coronavirus cases globally. Although India confirmed its first case at the end of January, the pandemic took hold slowly. Experts believe it was staved off to some extent because of an early decision by the government - in March - to stop all international flights and enter a strict lockdown that lasted nearly two months. But the restrictions came at a devastating economic and human cost, and after India reopened at the end of June and testing increased, case numbers soared.
Experts say the capital, Delhi, and some other states squandered the opportunity given by the lockdown to test, trace and isolate effectively. They have responded with local lockdowns - the southern city of Chennai (Madras) has emerged from a recent lockdown and Bangalore, also in the south, is currently under a week-long lockdown.
Although India has fully reopened, intermittent local lockdowns are likely to be the new normal as the country wrestles with the pandemic. (BBC)
How Does Thailand Do It?
No one knows exactly why Thailand has been spared. Is it the social distancing embedded in Thai culture — the habit of greeting others with a wai, a prayer-like motion, rather than a full embrace — that has prevented the runaway transmission of the coronavirus here? Did Thailand's early adoption of face masks, combined with a robust health care system, blunt the virus's impact? Was it the outdoor lifestyle of many Thais, or their relatively low rates of pre-existing conditions? Is there a genetic component in which the immune systems of Thais and others in the Mekong River region are more resistant to the coronavirus? Or is it some alchemy of all these factors that has insulated this country of 70 million people? One thing is certain. Despite an influx of foreign visitors early in the year from countries badly hit by the coronavirus, Thailand has recorded fewer than 3,240 cases and 58 deaths. As of Thursday, there had been no cases of local transmission for about seven weeks.
Thailand's low rate of infection appears to be shared by other countries in the Mekong River basin. Vietnam has not recorded a single death and has logged about three months without a case of community transmission. Myanmar has confirmed 336 cases of the virus, Cambodia 166 and Laos just 19. (New York Times)
The U.S. Shatters its Daily Case Record for the 11th Time in a Month.
As clashes over face-covering mandates and school reopening plans intensified throughout the United States, the country shattered its single-day record for new cases on Thursday — more than 75,600, according to a New York Times database.
This was the 11th time in the past month that the record had been broken. The previous single-day record, 68,241 cases, was announced last Friday. The number of daily cases has more than doubled since June 24, when the country registered 37,014 cases after a lull in the outbreak had kept the previous record, 36,738, standing for two months. (New York Times)
UK Reopen In Time for Christmas?
Prime Minister Boris Johnson of Britain outlined a road map on Friday to ease lockdown restrictions and to contain the spread of the coronavirus in the coming months, as he warned that there won't be any "significant return to normality" until November at the earliest, and "possibly in time for Christmas."
All schools will reopen in September, Mr. Johnson said at a news conference from Downing Street, and concert halls and theaters might welcome visitors again in the fall, as well as stadiums. Indoor gyms and pools will also be allowed to reopen by the end of July.
Nightclubs and indoor playgrounds will remain closed, and wedding receptions will remain limited to 30 people,
–The STATS–
TOTAL GLOBAL CASES:
Johns Hopkins
13,888,874
WHO– 13,616,593
GLOBAL DEATHS (WHO):
Today–585,727
Two Days Ago–574,464
One Month Ago–
440,290
EVOLUTION OF-GLOBAL CASES (WHO):
Today–
13,616,593
Two Days Ago
13,150,645
One Week Ago–
12,102,328
One Month Ago–
8,061,550
NEW CASES (WHO):
Today–237.743
Two Days Ago–185,836
One Week Ago–
228,102
One Month Ago–
119,759
Mr. Johnson said, as the authorities toe the line between what may be possible, and what won't be. Local authorities will also be granted extended powers to enforce local lockdowns when areas face an uptick in virus cases. Leicester, in central England, has seen one in recent weeks. "I know some will say this plan is too optimistic, that the risks are too great and that we won't overcome the virus in time," said Mr. Johnson, who warned that all measures were optional and could be pulled back at any time. With at least 45,000 deaths, Britain has been one of the worst-hit countries in the world, and the authorities have announced that masks will be required in shops and supermarkets starting next week. (BBC)
New Restrictions in Israel
The Israeli government announced new coronavirus restrictions on Friday as the number of cases in the country continued to swell and the government faced further criticism for its handling of the pandemic. Prime Minister Benjamin Netanyahu's office and the Health Ministry said in a statement that gyms would be closed and almost all restaurants would be limited to takeout and delivery services, starting at 5 p.m. on Friday. Beaches, they said, would be inaccessible during most of the weekends, starting July 24. The new restrictions come after Israel reimposed other measures to stem the spread of the virus last week. Since late June, infections in Israel have soared. The nation is averaging more than 1,500 cases a day, up from 664 two weeks ago, and unemployment stands at more than 20 percent. (Washington Post)
Outbreak in Barcelona
The residents of Barcelona, Spain, were told on Friday to stay indoors in order to help contain a new coronavirus outbreak in the Catalonia region in the northeastern part of the country. The authorities also announced a ban on outdoor gatherings of 10 people or more in Barcelona, the capital of Catalonia. (New York Times)
Philippines Reopens for Long-Term Visas
The authorities in the Philippines said that foreigners with long-term visas could begin entering the country in August, for the first time since March. They will be quarantined, monitored and tested.
Extreme Economic Impact in South Africa
Before covid-19 South Africa was in its second recession in two years. That dire situation has turned into a disaster. A sense of the scale is given by groundbreaking research from an academic consortium, which used data from a mobile-phone survey to produce one of the first detailed analyses of the economic effects of covid-19 in a developing country. The reports, published on July 15th, show how the pandemic has impoverished South Africa—and made one of the world's most unequal countries even more so. According to the research, one in three people who earned an income in February did not do so in April. About half of the erstwhile earners were permanently laid off, rather than furloughed, suggesting that the effects of the pandemic will be long-lasting. South Africa's eye-watering high unemployment rate—30% as of the first quarter of 2020—is set to rise further. (New York Times)
Mothers, Fathers, Sisters and Brothers–The Grim Reality:
Tracking Covid-19 Excess Deaths
Across Countries.
In many parts of the world, official death tolls undercount the total number of fatalities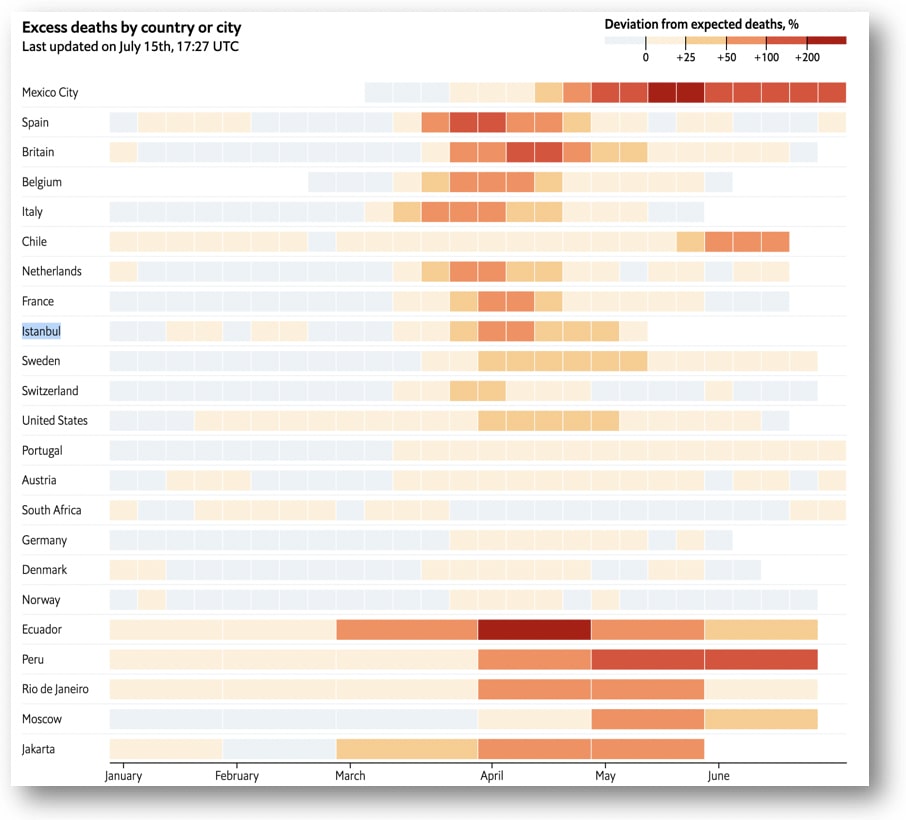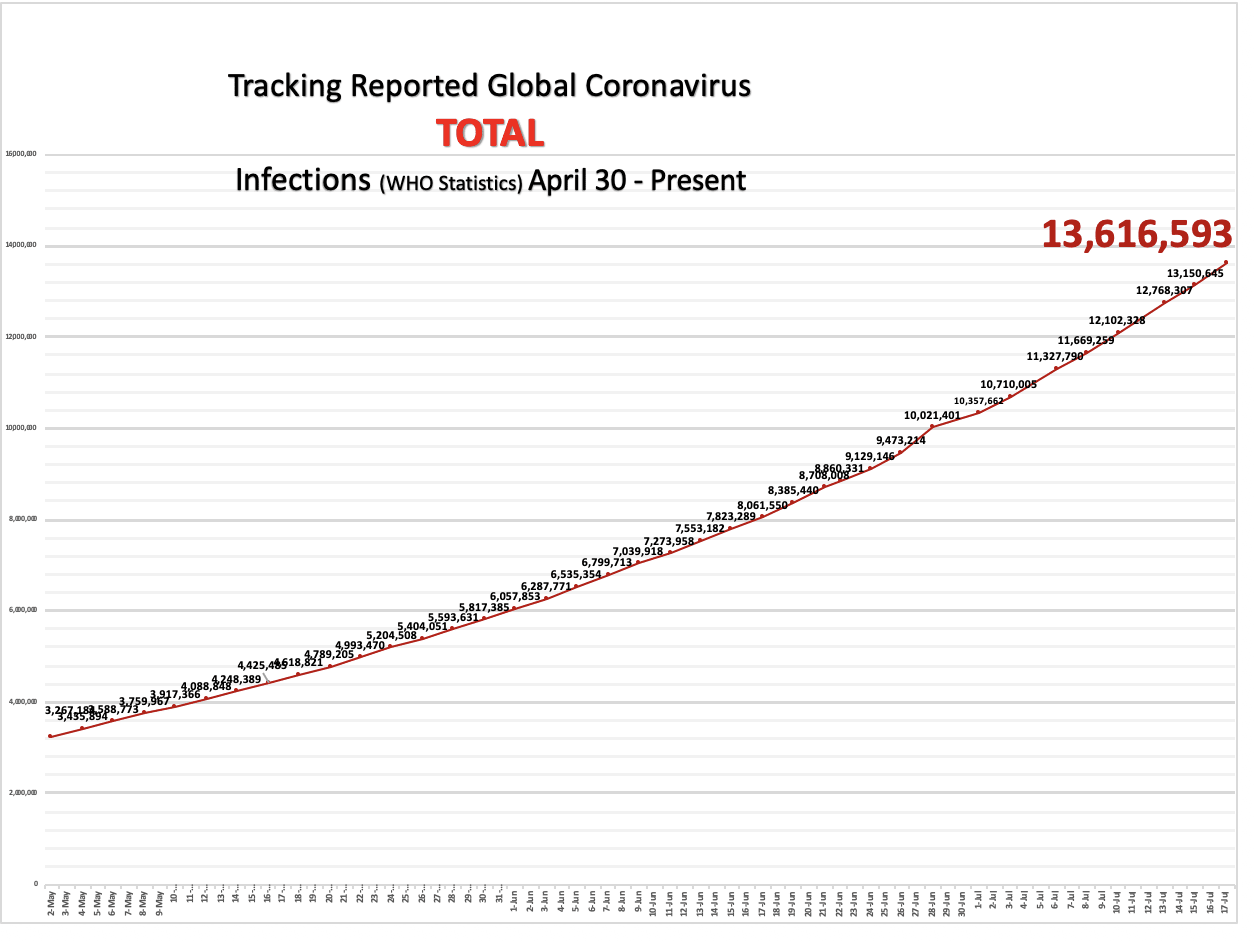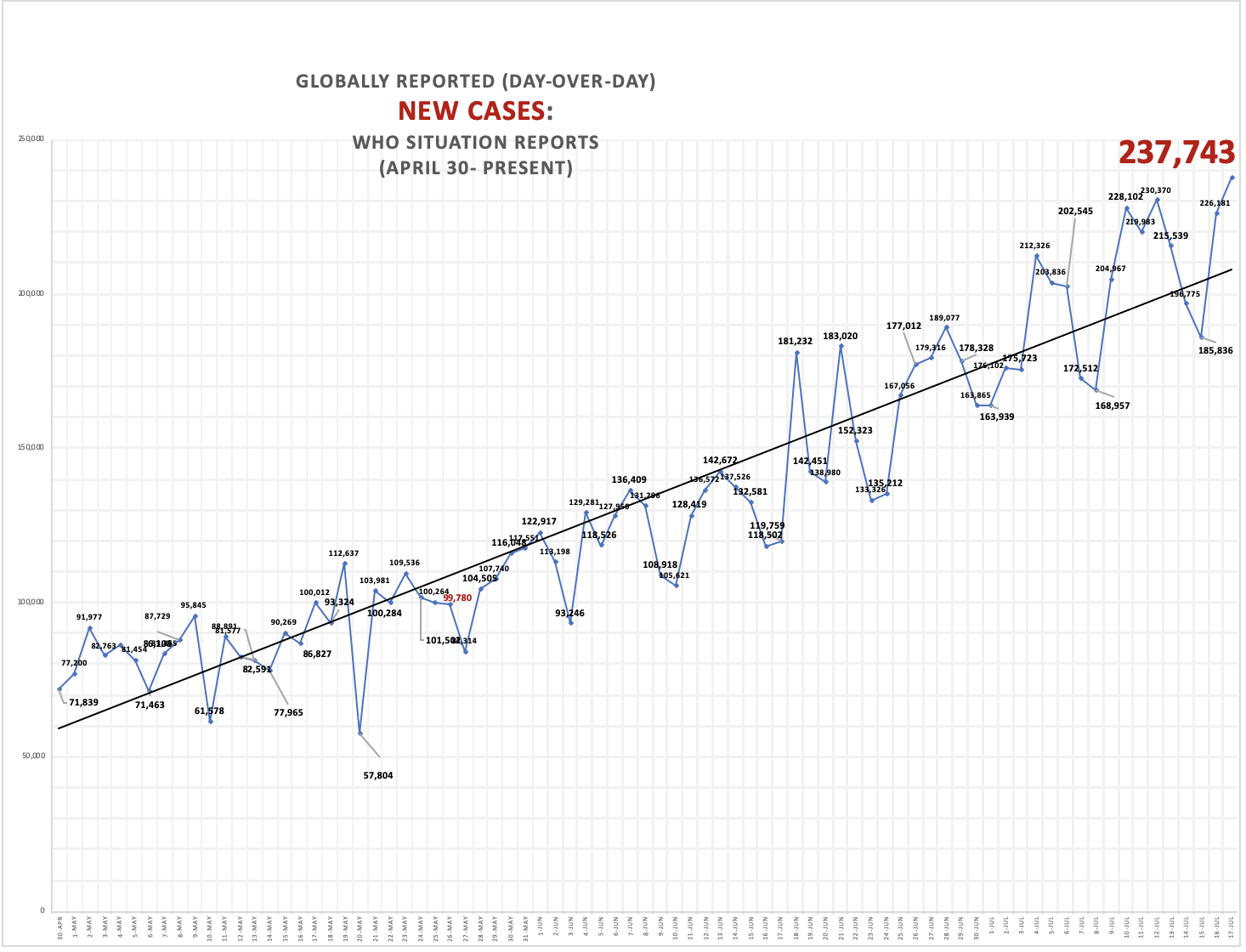 –FROM THE WHO and JOHNS HOPKINS CSSE–
From the WHO

, the Situation Report for July 17

,

2020
From the WHO

, The European Region Dashboard
From Cultures of Dignity

,

For the Social-Emotional Tiny Guides from Rosalind Wiseman and Charlie Kuhn– a gift to our AAIE community– resources with no fee but plenty of insight.



A Final Note: The AAIE COVID-19 Briefing is provided to support your leadership for the school community you serve. We encourage you to use these resources in any way, shape or form that helps you, your communications and toward furthering close relationships across your community. – The AAIE Board