QUICK LINKS for Busy People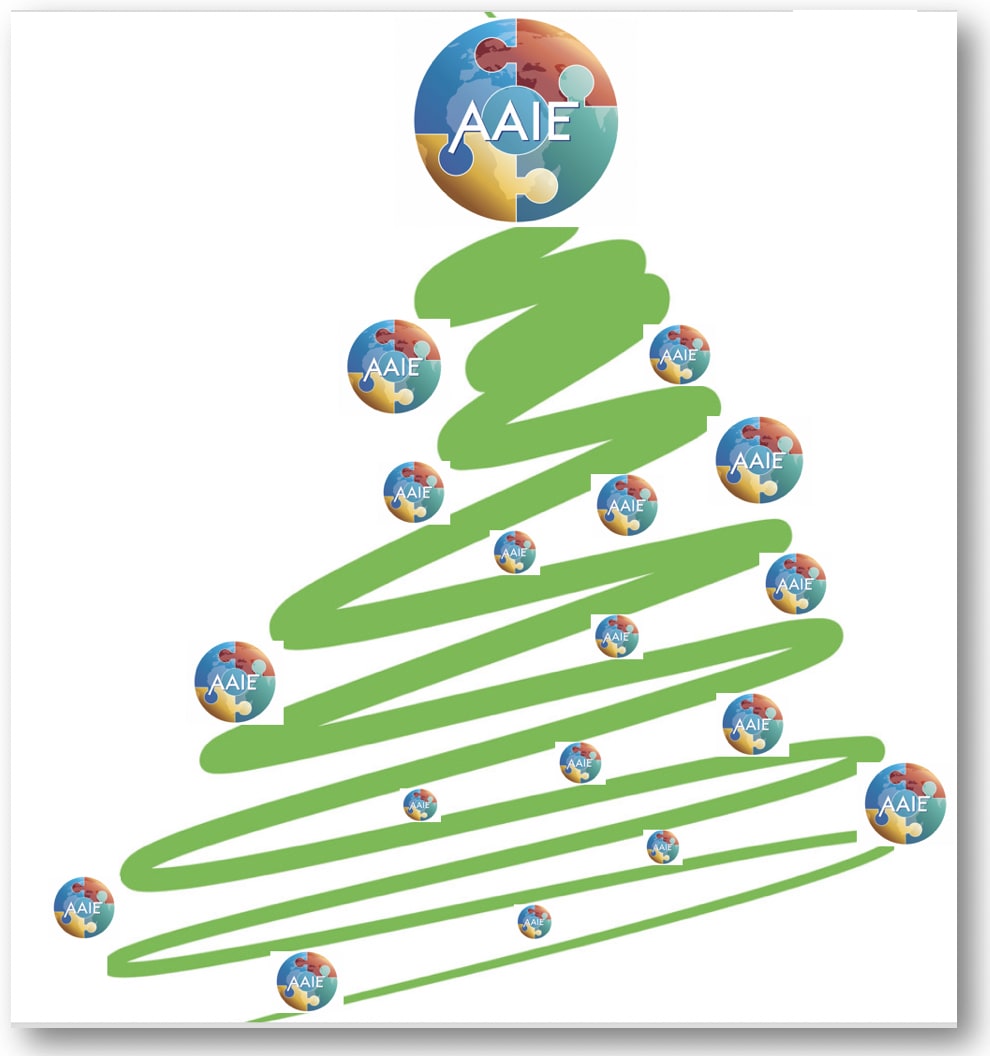 –MONDAY–
AAIE's COVID-19 BRIEFING
#150!
Data and Ideas to Support Your Crisis Leadership
December 14, 2020
–TODAY'S BRIEFING HIGHLIGHTS–
72,626,153 identified cases (Johns Hopkins)
Briefing #150: An editorial from Mark with an essential question

Forty years of research, splicing of RNA, and then mRNA vaccines within ten months

Dr. Phillip Sharp, 1993 Nobel Prize in Physiology of Medicine– an interview on research leading to mRNA vaccines

A documentary trailer: 76 Days in Wuhan

A Special Report: One-year into it– a review of all we know (from STATnews– an exceptional read)

Germany on lockdown
"I liken RNA splicing to discovering the Rosetta Stone. We understood how the same letters of the alphabet could be written and rewritten to form new words, new meaning, and new languages. The new "language" of mRNA vaccines can be developed in a laboratory using a DNA template and readily available materials. Knowing the genetic code of the SARS-CoV-2 is the first step in generating the mRNA vaccine. The effective delivery of vaccines into the body based on our fundamental understanding of mRNA took decades more work and ingenuity to figure out how to evade other cellular mechanisms perfected over hundreds of millions of years of evolution to destroy foreign genetic material."
― Dr. Phillip Sharp, MIT, Department of Biology
–MORE THAN FORTY WEEKS
AND A KEY QUESTION–
(150 Briefings later)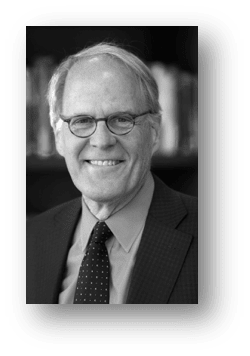 –from Mark E. Ulfers (Adapted from the original InterEd Epilogue)
Many of us haven't missed a week, gathering for a virtual CONVERSATION. We've done so for more than 40 weeks, equivalent to the span of a school year, meeting at least every Thursday since February.
As a listener to your leadership conversations over these many weeks– from reopening plans to establishing new norms for shared purpose to ensuring everyone in your community keeps each other safe– I am deeply affected by your steadfast commitment to take on all the dilemmas you face.
Really now, it must happen too often that it seems you are solving the same problem over and over again. How about the sheer number of rewrites on safety protocols, or your country's central government closing schools to onsite learning, only to reverse the decision 24-hours later. In one school's case, also declaring that no academic learning is to take place for equity reasons. Then the same school pivoted to hybrid learning in less than a week. It's all unrelenting– yet you seem to pop-up out of bed each morning, with less than needed sleep, ready to take on the unexpected and to bring light and possibility to the darkness in your world.
I suppose with all the dilemmas and the too numerous circling urgencies, and also knowing that you must envision the future for your school's sustainability, that it all adds up to the stuff of burn-out or at least the sentiment, "This is not what I signed-up for." How disorienting it has been to stare down the coronavirus as leaders who are even-keeled, rarely stressed-out, unflappable, and capable of putting on that blue suit, red cape and skimpy blue tights.
In our weekly CONVERSATIONS there is strong evidence that you, as an intrepid international leader, have suffered; from loss, anxiety as the chief community safety officer, to feeling that it's almost impossible to please, satisfy or address the myriad community needs and opinions in the time of COVID-19. There is the sense of overdoing things, loss of your typical centeredness, and not listening to yourself or your body. And it is all a heavy load where you listen, cry with colleagues and must go into the depth of another's fear and pain.
Here is my question meant to uncover a mystery, "What keeps you going?" And I ask this knowing we have heard stories in our weekly CONVERSATIONS of colleagues who have crashed and burned (yet burned brightly)– and admitted it, revealing the healing nature of being part of a community sharing the experience of finding our way through the thicket of a global pandemic. Yet, I think building and being surrounded by a strong and supportive community–which you have done–is only part of a possible answer. Maybe it is more nuanced and personal.
We have all stopped to consider how we respond biologically, physically, emotionally and spiritually to life's challenges and experiences. We know our thoughts become our biology. As a listener to so many online CONVERSATIONS over many weeks, my answer to the question of what keeps you going is that you believe, you know, that every leadership skill and disposition you have adopted over the years prepared you for right now. You are living your true calling. And that calling that keeps you going for more than 40 weeks? To help others.
The first gift of the Winter Holiday...

–OUR WEEKLY CONVERSATIONS ARE ON HOLIDAY–
with International School Leaders from Around the World
Everyone's taking a break (we hope!). Step away from the dilemmas and worry of keeping your community safe (stay alert on this one) and the weight of decision-making. Instead of joining in on the CONVERSATION in the coming several weeks, celebrate the ones you love and do things that take care of you. Please look for the registration links in the first briefing of 2021, on Monday, January 4th.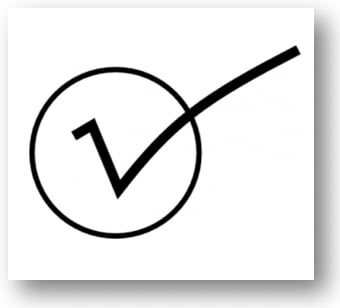 Our GLOBAL LEADERSHIP CONVERSATION resumes on Thursday, January 7, 2020– 8:00-AM EST
The LATIN AMERICA conversation with Sonia Keller and Dereck Rhoads hosting, resumes on Thursday, January 7, 2021 at 10:00AM EST.
The NEW SCHOOL PROJECT conversation with Homa Tavangar, Kevin Bartlett and Will Richardson as our "sherpas" resumes on Friday, January 8, 2021 at 8:00AM EST.
MIT's Dr. Phillip Sharp on the Discoveries that Enabled mRNA Vaccines for Covid-19
INTRODUCTION: Some of the most promising vaccines developed to combat Covid-19 rely on messenger RNA (mRNA) — a template cells use to carry genetic instructions for producing proteins. The mRNA vaccines take advantage of this cellular process to make proteins that then trigger an immune response that targets SARS-CoV-2, the virus that causes Covid-19. Here is a view of how the science had its beginning forty years ago.
The fact that these vaccines could be rapidly developed within these last 10 months rests on more than four decades of study of mRNA. This success story begins with Institute Professor Phillip A. Sharp's discovery of split genes and spliced RNA that took place at MIT in the 1970s — a discovery that would earn him the 1993 Nobel Prize in Physiology or Medicine.
(MIT News)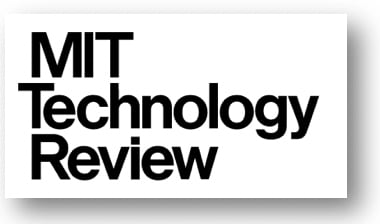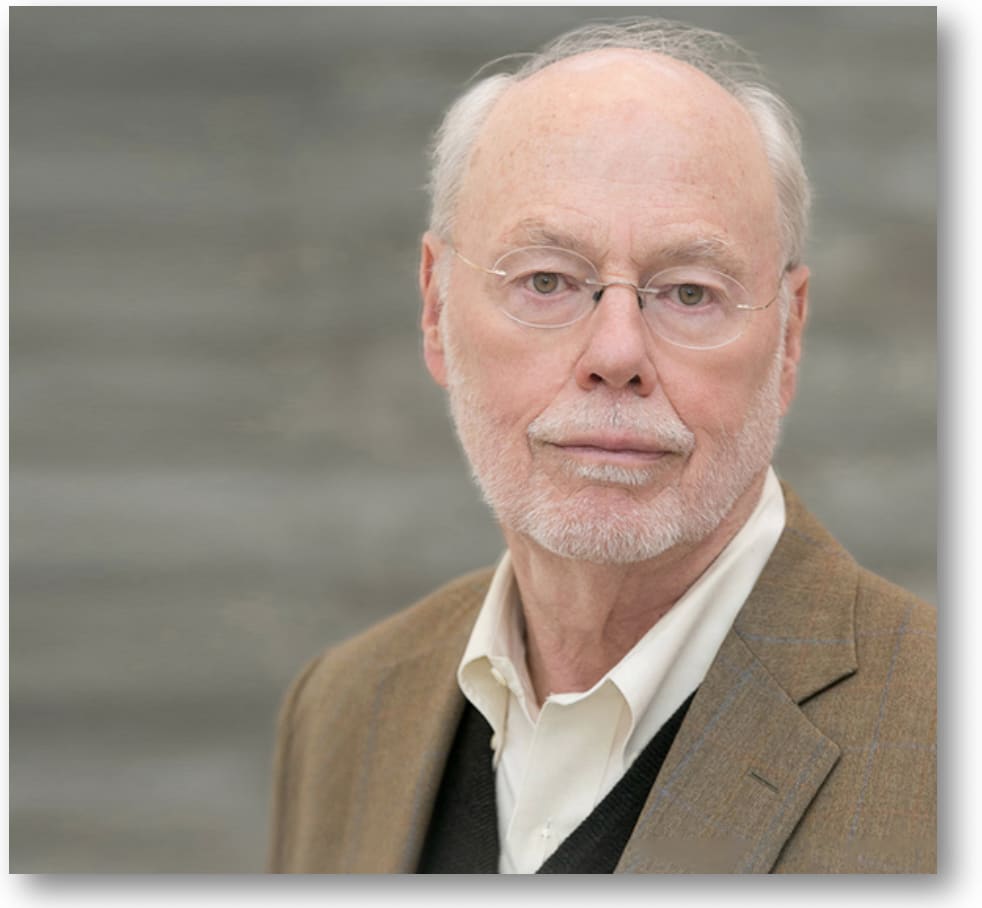 Nobel Prize Winner, Dr. Phillip Sharp
THREE QUESTIONS FOR DR. SHARP
Q: Professor Sharp, take us back to the fifth floor of the MIT Center for Cancer Research in the 1970s. Were you and your colleagues thinking about vaccines when you studied viruses that caused cancer?
A: Not RNA vaccines! There was a hope in the '70s that viruses were the cause of many cancers and could possibly be treated by conventional vaccination with inactivated virus. This is not the case, except for a few cancers such as HPV causing cervical cancer.
Also, not all groups at the MIT Center for Cancer Research (CCR) focused directly on cancer. We knew so little about the causes of cancer that Professor Salvador Luria, director of the CCR, recruited faculty to study cells and cancer at the most fundamental level. The center's three focuses were virus and genetics, cell biology, and immunology. These were great choices.
Our research was initially funded by the American Cancer Society, and we later received federal funding from the National Cancer Institute, part of the National Institutes of Health and the National Science Foundation — as well as support from MIT through the CCR, of course.
At Cold Spring Harbor Laboratory in collaboration with colleagues, we had mapped the parts of the adenovirus genome responsible for tumor development. While doing so, I became intrigued by the report that adenovirus RNA in the nucleus was longer than the RNA found outside the nucleus in the cytoplasm where the messenger RNA was being translated into proteins. Other scientists had also described longer-than-expected nuclear RNA from cellular genes, and this seemed to be a fundamental puzzle to solve.
Susan Berget, a postdoc in my lab, and Claire Moore, a technician who ran MIT's electron microscopy facility for the cancer center and would later be a postdoc in my lab, were instrumental in designing the experiments that would lead to the iconic electron micrograph that was the key to unlocking the mystery of this "heterogeneous" nuclear RNA. Since those days, Sue and Claire have had successful careers as professors at Baylor College of Medicine and Tufts Medical School, respectively.
The micrograph showed loops that would later be called "introns" — unnecessary extra material in between the relevant segments of mRNA, or "exons." These exons would be joined together, or spliced, to create the final, shorter message for the translation to proteins in the cytoplasm of the cell.
This data was first presented at the Cancer Center fifth floor group meeting that included Bob Weinberg, David Baltimore, David Housman, and Nancy Hopkins. Their comments, particularly those of David Baltimore, were catalysts in our discovery. Our curiosity to understand this basic cellular mechanism drove us to learn more, to design the experiments that could elucidate the RNA splicing process. The collaborative environment of the MIT Cancer Center allowed us to share ideas and push each other to see problems in a new way.
Q: Your discovery of RNA splicing was a turning point, opening up new avenues that led to new applications. What did this foundation allow you to do that you couldn't do before?
A: Our discovery in 1977 occurred just as biotechnology appeared with the objective of introducing complex human proteins as therapeutic agents, for example interferons and antibodies. Engineering genes to express these proteins in industrial tanks was dependent on this discovery of gene structure. The same is true of the RNA vaccines for Covid-19: By harnessing new technology for synthesis of RNA, researchers have developed vaccines whose chemical structure mimics that of cytoplasmic mRNA.
In the early 1980s, following isolation of many human mutant disease genes, we recognized that about one-fifth of these were defective for accurate RNA splicing. Further, we also found that different isoforms of mRNAs encoding different proteins can be generated from a single gene. This is "alternative RNA splicing" and may explain the puzzle that humans have fewer genes — 21,000 to 23,000 — than many less complex organisms, but these genes are expressed in more complex protein isoforms. This is just speculation, but there are so many things about biology yet to be discovered.
I liken RNA splicing to discovering the Rosetta Stone. We understood how the same letters of the alphabet could be written and rewritten to form new words, new meaning, and new languages. The new "language" of mRNA vaccines can be developed in a laboratory using a DNA template and readily available materials. Knowing the genetic code of the SARS-CoV-2 is the first step in generating the mRNA vaccine. The effective delivery of vaccines into the body based on our fundamental understanding of mRNA took decades more work and ingenuity to figure out how to evade other cellular mechanisms perfected over hundreds of millions of years of evolution to destroy foreign genetic material.
Q: Looking ahead 40 more years, where do you think mRNA technology might be?
A: In the future, mRNA vaccine technology may allow for one vaccine to target multiple diseases. We could also create personalized vaccines based on individuals' genomes.
Messenger RNA vaccines have several benefits compared to other types of vaccines, including the use of noninfectious elements and shorter manufacturing times. The process can be scaled up, making vaccine development faster than traditional methods. RNA vaccines can also be moved rapidly into clinical trials, which is critical for the next pandemic.
It is impossible to predict the future of RNA therapies, such as the new vaccines, but there are some signs that new advancements could happen very quickly. A few years ago, the first RNA-based therapy was approved for treatment of lethal genetic disease. This treatment was designed through the discovery of RNA interference. Messenger RNA-based therapies will also likely be used to treat genetic diseases, vaccinate against cancer, and generate transplantable organs. It is another tool at the forefront of modern medical care.
But keep in mind that all mRNAs in human cells are encoded by only 2 percent of the total genome sequence. Most of the other 98 percent is transcribed into cellular RNAs whose activities remain to be discovered. There could be many future RNA-based therapies.
"76 Days"
A Most Compelling Documentary Out of Wuhan
You hear variations on the phrase "Stay strong!" throughout "76 Days," a humane chronicle of four hospitals in Wuhan, China early in the coronavirus pandemic. That's because the medical staff, patients, and concerned relatives all grasp the vital importance of keeping up one's spirits during the fight. When fear and uncertainty compounded the menace of the coronavirus, a few encouraging words or a (gloved) hand squeeze could mean a lot.
The filmmakers — Hao Wu, Weixi Chen, and a journalist credited as "Anonymous" — don't simply replay horrors that were on endless loop in the spring. "76 Days," which gets its title from the Wuhan lockdown imposed from January 23 to April 8, is defined more by the human capacity for resilience and compassion than by a relentless sense of doom (or by a focus on China's policy decisions). Though the movie reckons with suffering, it's also a workplace documentary about doctors and nurses doing their utmost to help, clad in full-body suits playfully decorated with doodles and writing. (NYT Review) (see the trailer below)
–TODAY's POEM TO CONSIDER–
A poem, just for you ... (thank you Bob Hetzel)
GOING HOME THE LONGEST WAY AROUND
we tell stories, build
from fragments of our lives
maps to guide us to each other.
We make collages of the way
it might have been
had it been as we remembered,
as we think perhaps it was,
tallying in our middle age
diminishing returns.
Last night the lake was still;
all along the shoreline
bright pencil marks of light, and
children in the dark canoe pleading
"Tell us scary stories."
Fingers trailing in the water,
I said someone I loved who died
told me in a dream
to not be lonely, told me
not to ever be afraid.
And they were silent, the children,
listening to the water
lick the sides of the canoe.
It's what we love the most
can make us most afraid, can make us
for the first time understand
how we are rocking in a dark boat on the water,
taking the long way home.
— Pat Schneider
STAY FOCUSED ON COVID-19 SCIENCE
FROM The Guardian
A PODCAST
'Autoantibodies' May Be Driving
Severe Covid Cases
Dramatic levels of "friendly fire" from the immune system may drive severe Covid-19 disease and leave patients with "long Covid" – when medical problems persist for a significant time after the virus has been beaten – scientists have said.
Researchers at Yale University found that Covid-19 patients had large numbers of misguided antibodies in their blood that targeted the organs, tissues and the immune system itself, rather than fighting off the invading virus.
The scientists compared immune responses in patients and uninfected people and discovered scores of aberrant antibodies in the former.These blocked antiviral defenses, wiped out helpful immune cells, and attacked the body on multiple fronts, from the brain, blood vessels and liver to connective tissue and the gastrointestinal tract.
Further tests revealed that the more "autoantibodies" patients had in their blood, the worse their disease. The Covid-19 patients had more antibodies that had turned on them than people with lupus, an autoimmune disease caused by similar wayward antibodies.
"Covid-19 patients make autoantibodies that actually interfere with immune responses against the virus," said Aaron Ring, an immunobiologist at Yale and senior author on the study. Numerous other autoantibodies attacked parts of the body that are known to become damaged in those with the disease.
FROM STATnews
The Coronavirus at 1: A year into the Pandemic, What Scientists Know about How It Spreads, Infects, and Sickens
It's dangerous enough that it dispatches patients to hospitals in droves and has killed more than 1.6 million people, but mild enough that most people shrug it off. It blocks one arm of the immune system from responding as it takes hold, but lures other parts into dangerous hyperdrive. It homes in on cells high up in the airway — think the nose and throat — but also burrows deeper into the lungs, maximizing infectiousness without ceding how sick it can make people.
"It's sort of right in that sweet spot," said Kristian Andersen, an infectious disease expert at Scripps Research Institute.
A year into the pandemic, STAT is outlining a portrait of SARS-CoV-2 based on what scientists learned as the virus raced around the world, crippling some economies, societies, and health systems in its wake.
How the virus cracks open cells and wards off the body's first-line attack. How it can spread before people start feeling sick. How it's changed since the dawn of the pandemic, and what, if anything, that means. How the omnivorousness of the disease it causes, called Covid-19, reaches not just the lungs but into the heart, brain, gut, and beyond.
–THE NEWS of COVID-19–
72,626,153
Cases Worldwide (Johns Hopkins CSSE)
–Thanks to the New Yorker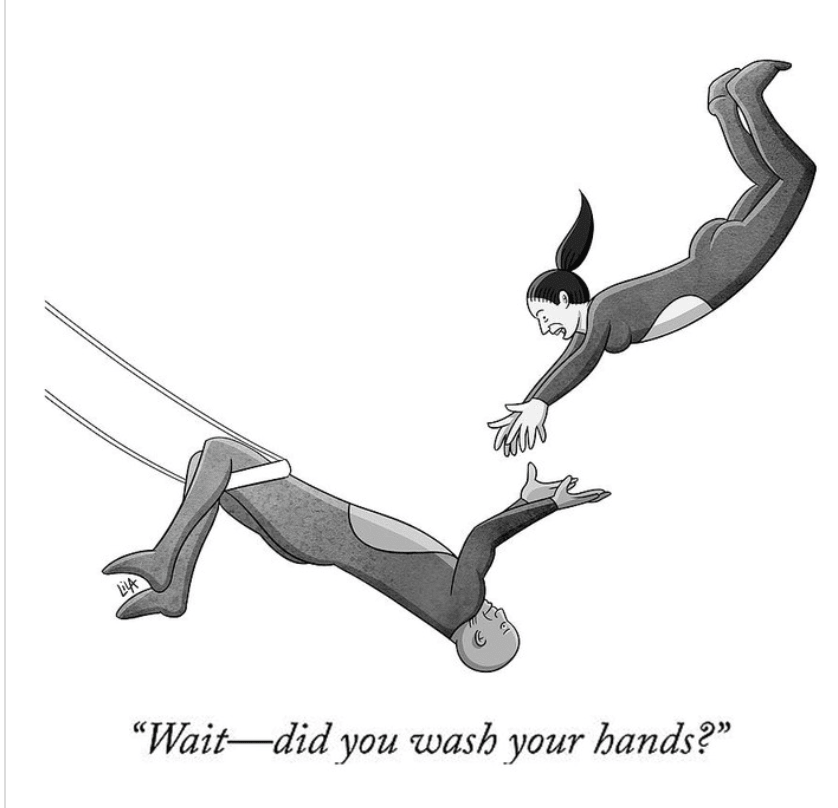 Four Decades of Study on mRNA– Then a Vaccine Within Ten Months
Compared to other types of vaccines, recently developed technologies allow mRNA vaccines to be rapidly created and deployed on a large-scale — crucial aspects in the fight against Covid-19. Within the year since the identification and sequencing of the SARS-CoV-2 virus, companies such as Pfizer and Moderna have developed mRNA vaccines and run large-scale trials in the race to have a vaccine approved by the U.S. Food and Drug Administration — a feat unheard of with traditional vaccines using live attenuated or inactive viruses. These vaccines appear to have a greater than 90 percent efficacy in protecting against infection. The fact that these vaccines could be rapidly developed within these last 10 months rests on more than four decades of study of mRNA. (MIT.edu)
Trucks are Rolling
Trucks filled with Covid-19 vaccine vials pulled out of Pfizer Inc.'s Kalamazoo, Mich., production plant on Sunday morning, part of one of the largest mass mobilizations since the country's factories were repurposed to help fight World War II. The effort to vaccinate the nation relies on chemists, factory workers, truck drivers, pilots, data scientists, bureaucrats, pharmacists and health-care workers. It requires ultra-cold freezers, dry ice, needles, masks and swabs converging simultaneously at thousands of locations across the country. To work, every one of the many and complicated links of the chain has to hold. (The Wall Street Journal)
The Numbers Are Dire
Record numbers of patients with COVID-19 were hospitalized this weekend in Los Angeles and Orange counties, and San Francisco hit a high for new coronavirus cases, as space in intensive care units across the state shrunk to dangerous lows. The figures paint a dire picture just two weeks before Christmas, when holiday travel could ramp up despite warnings from public health officials. (Los Angeles Times)
Hard Lockdown in Germany
Germany will go into a hard lockdown from Wednesday, with all schools and shops closed, as it battles to control a big surge in coronavirus infections. "Corona has got out of control — we are at five minutes to midnight," Markus Söder, prime minister of Bavaria, told journalists on Sunday after a meeting between chancellor Angela Merkel and the leaders of Germany's 16 states. The decision came as Germany reported a record of nearly 30,000 new infections and 598 deaths from Covid-19 on Friday. Ms. Merkel acknowledged that the restrictions would affect Christmas celebrations, but said the authorities were "forced to act". "There is an urgent need for action," she said. "We have seen rising infections and exponential growth in recent days." (Financial Times, dw.com)
Italy With Highest Number of COVID Deaths
Italy overtook the U.K. as the European country with the highest number of Covid-19 deaths, adding to pressure on Prime Minister Giuseppe Conte's government as it seeks to prevent a flare-up of the contagion during the holiday season. The country reported 484 virus-linked deaths on Sunday, raising the number of fatalities since the outbreak to 64,520. The U.K. registered 144 daily deaths, boosting the total to 64,170. Only the U.S., Brazil, India and Mexico have recorded more Covid deaths than Italy. Italy has seen a slight decline in new cases, though the number of daily fatalities remains high. (Bloomberg News)
99% ICU Capacity in Stockholm
Sweden faces a shortage of health-care workers as the number of resignations ticks up after a relentless year of caring for Covid patients. Sineva Ribeiro, the chairwoman of the Swedish Association of Health Professionals, says the situation is "terrible." Even before the first wave of the pandemic back in March, there was "a shortage of specialist nurses, including at ICUs," she said in a phone interview. The development shows that even countries with universal health-care systems are struggling to keep up with the Covid crisis. This week, Stockholm's intensive care capacity hit 99%, sending the city into a panic and prompting calls for outside help. ( Bloomberg Quint)
Indian-made COVID Vaccines Will Save the World
With vaccines from America's Pfizer and China's state-owned pharma group Sinopharm receiving their first overseas authorizations, the frantic race to produce and distribute the most-sought-after medicine in recent memory is on.
According to the mainstream narrative, vaccines produced by private-sector giants in the West are seen as competing against state-promoted vaccines from China and Russia to flood the world market. The contest looks like a pharmaceutical version of good versus evil that is being waged in the so-called new Cold War. But coming through the middle of this Manichaean pack is the runner that everyone has overlooked -- India.
It has the largest vaccine manufacturing capacity in the world, accounting for 60% of global production, and boasts of cities like Hyderabad which has the medical infrastructure to meet one-third of global vaccine demand, earning it the title of "vaccine capital of the world." The Serum Institute of India, or SII, located in another Indian city, Pune, already churns out more than 1.5 billion doses per annum.
Apart from the lower cost advantage that accrues from economies of scale, Indian vaccine makers have established reputations when it comes to safety and efficacy. The World Health Organization has approved only five Chinese vaccines for export compared to 47 vaccines from India, testifying to the latter's rigorous quality controls. India's track record of successful mass immunization programs for hundreds of millions of people at home against other diseases is also reassuring.
Confident of its reliable inventory and positive image, India's Prime Minister Narendra Modi has vowed "to help all humanity" in fighting the coronavirus pandemic. New Delhi has preordered 1.6 billion doses of vaccines from Britain's AstraZeneca, U.S.-based Novavax and the Gamaleya Research Institute in Moscow, all to be manufactured in India, and is also betting on locally researched vaccines from Indian companies like Bharat Biotech and Biological E. (Nikkei ASIA)
Fall-out From Covid-19 Will Swell the Ranks of the Global Poor
An extra 130 million people do not have enough to eat. In 2021 POVERTY will rise to levels unseen in a decade and governments will struggle to respond. The World Bank predicts that the pandemic will increase the ranks of the extremely poor, on less than $1.90 a day, by up to 150m. From 1990 until 2019 their numbers fell from 36% of the world's population to 8%. Now they are increasing for the first time since 1998. The UN says 240m-490m people in 70 countries will be pushed into "multidimensional poverty", a measure that includes lacking basic shelter or having children go hungry.
Most of the newly destitute will be in South Asia and sub-Saharan Africa. City-dwellers will fare worse than the rural poor, because they cannot grow their own food and tend to work in informal sectors that have been slow to recover (for example, as maids or street vendors). Many saw their safeguards disappear in 2020. Remittances from family members abroad stopped. Many sold assets such as jewelry. Millions will return to their villages. Many children will leave school to go to work.
The UN World Food Program predicts that acute hunger will double by the end of 2020: an additional 130m people will not have enough to eat. The long-term effects will be dire, especially for young children whose physical growth and mental development will be stunted. The pandemic's disruption of health care means more mothers will die in childbirth, and more people will die from chronic illnesses such as diabetes, and preventable diseases such as malaria, in 2021. (The Economist)
F.D.A. Clears Pfizer Vaccine, and Millions of Doses
Will Be Shipped Right Away
The Food and Drug Administration authorized Pfizer's Covid-19 vaccine for emergency use on Friday, clearing the way for millions of highly vulnerable people to begin receiving the vaccine within days.
The authorization is a historic turning point in a pandemic that has taken more than 290,000 lives in the United States. With the decision, the United States becomes the sixth country — in addition to Britain, Bahrain, Canada, Saudi Arabia and Mexico — to clear the vaccine. Other authorizations, including by the European Union, are expected within weeks. (New York Times)
–The STATS–
TODAY's TOTAL
GLOBAL CASES:
Johns Hopkins– 72,626,153
WHO–71,051,805
TOTAL GLOBAL DEATHS (WHO):
Today–1,608,648
Three Days Ago–1,576,516
EVOLUTION OF-GLOBAL CASES (WHO):
Today–71,051,805
Three Days Ago–
69,143,017
NEW CASES (WHO):
574,969
–Tracking the Virus Around the World–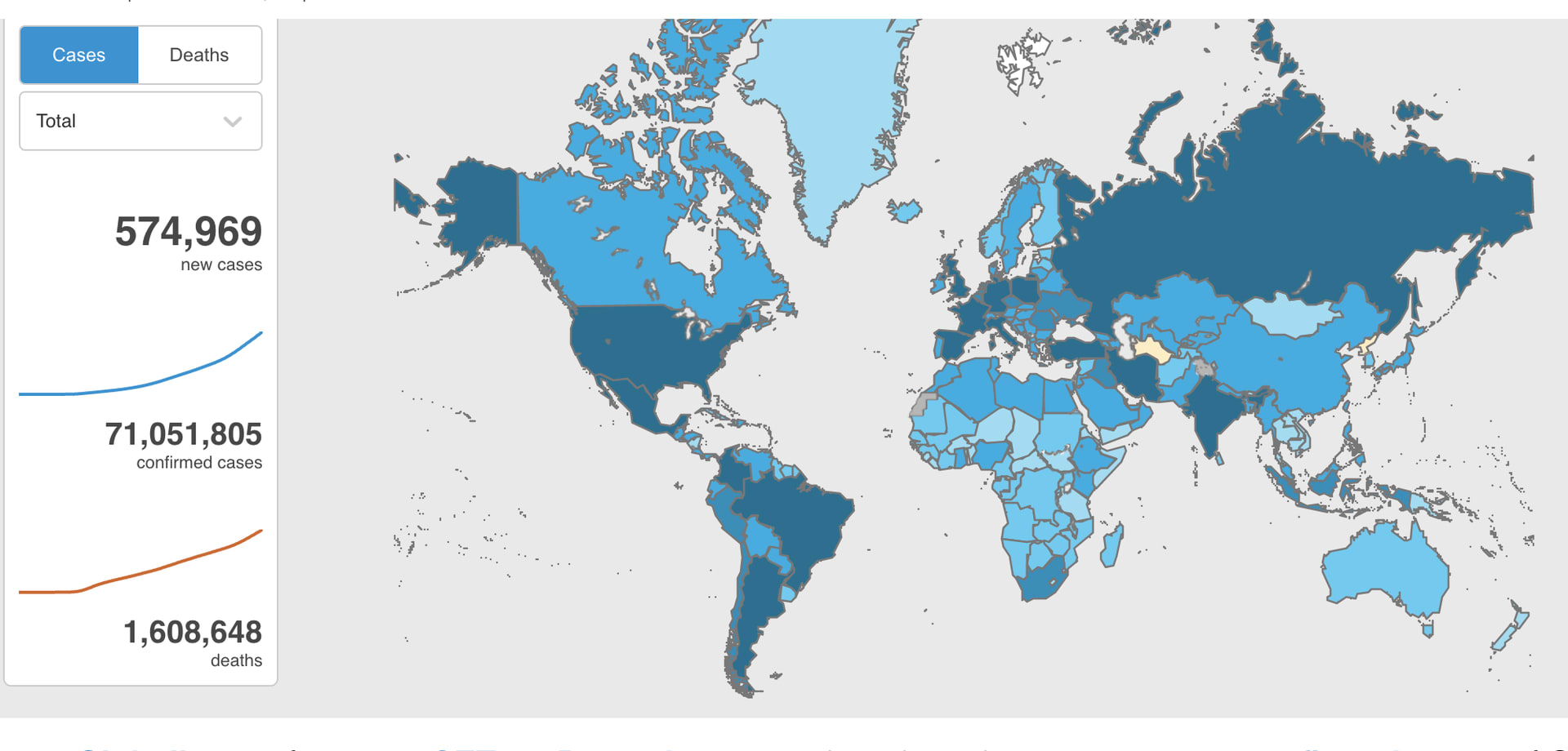 –FROM JOHNS HOPKINS CSSE–
The Cultures of Dignity Resources for Supporting
Social-Emotional Wellness
From Cultures of Dignity

,

For the Social-Emotional Tiny Guides from Rosalind Wiseman and Charlie Kuhn– a gift to our AAIE community– resources with no fee but plenty of insight.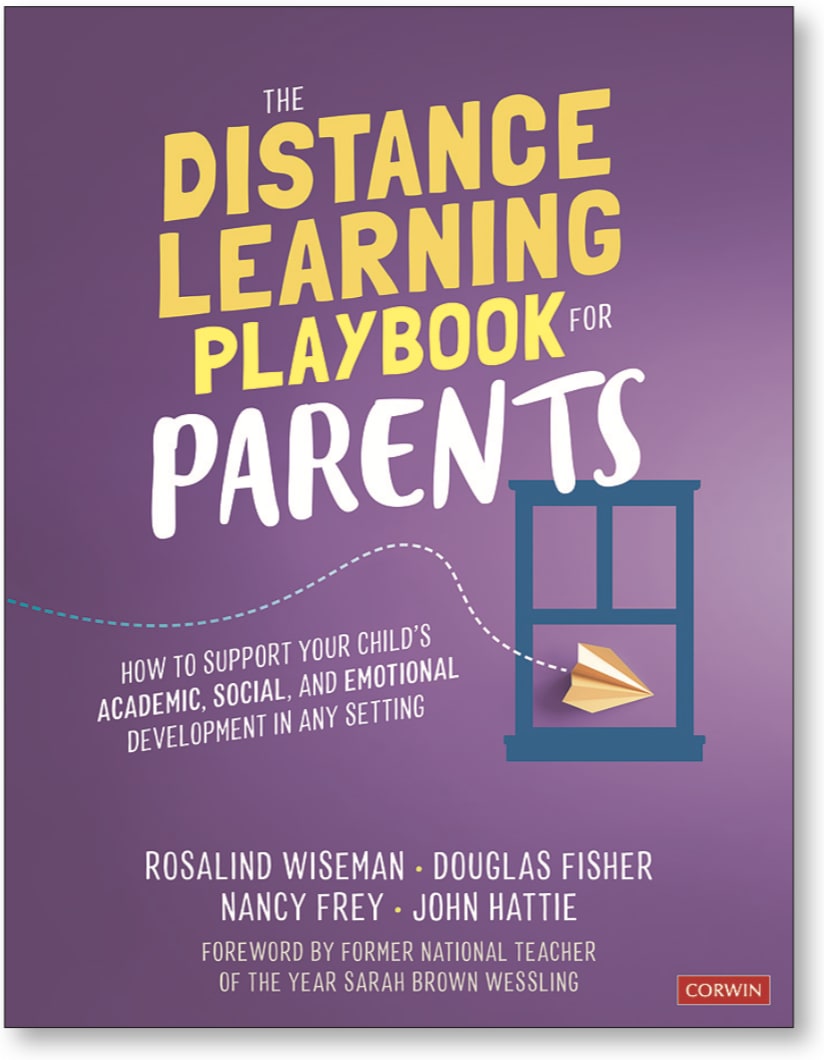 Rosalind Wiseman's newest book:

"Distance Learning Playbook for Parents–How to Support Your Child′s Academic, Social, and Emotional Development in Any Setting
A Final Note: The AAIE COVID-19 Briefing is provided to support your leadership for the school community you serve. We encourage you to use these resources in any way, shape or form that helps you, your communications and toward furthering close relationships across your community. – The AAIE Board