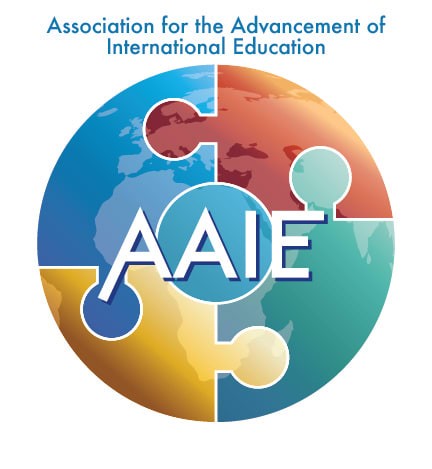 –FRIDAY–
AAIE's COVID-19
BRIEFING #80
Editor's Note: During summer holiday, the BRIEFING will be published on Monday, Wednesday and Friday of each week.
July 3, 2020
Highlights
10,965,759 Cases World-wide–

(Johns Hopkins CSSE)

Update on scenario planning between Graded and Stanford's d.school– an open letter

The intersection of future-thinking and design

Three schools and back to school plans: practical ideas for all

Update from the American Academy of Pediatrics on keeping children safe

Will and Homa's Board Retreat for trustees and school heads who must take on an uncertain future

Catching trout along an Italian stream

And...well, wine in moderation is good for the brain
SCENARIO PLANNING: An Update from d.school
and The Graded School–American School of Sao Paulo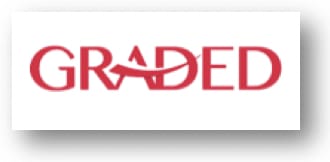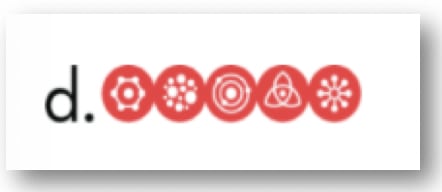 "Over the long term, the future is decided by optimists. To be an optimist you don't have to ignore all the many problems we create; you just have to imagine improving our capacity to solve problems."
–Kevin Kelly
Editor's Note: Letter One —This is the first letter in a series between two educators, Ariel Raz a designer at the Stanford d.school, and Richard Boerner, Superintendent of Graded – The American School of São Paulo.
Dear Rich,
Welcome back to the United States!! I suspect that after being in Brazil for the last school year, it must feel like you hopped into a flying metal tube from some science fiction saga and been transported into another reality.
While I've had the great fortune of being healthy, safe and grounded over the last five months, the pandemic has been incredibly disruptive to how our group at the d.school has worked with K12 schools. Of course with that disruption comes opportunity. But despite my natural optimism, when I think about what each school must do to prepare for the next academic year, it still feels daunting.
I suspect that the feeling stems from the difficulty of navigating uncertainty while preparing plans that remain solid, specific and communicable to the wider school community. It's been helpful to reference the work my colleague Lisa Kay Solomon has done on the intersection between futures thinking and design. Amid the cloud of uncertainty brought to schools by the spread of COVID-19, racial inequities and and an economic downturn, the ability to look further out, practice flexibility, rehearse critical decisions, and build capacity within school leadership is critical.
A unique moment requires a distinct approach, one that blends a design approach with an active posture towards the future. We hope more schools take on this approach and incorporate it into their own plans for fall.
How do we use design and futures to plan and prepare for this incredibly unique moment?
"Our hunch is that when futures thinking and design is incorporated into K12 planning these two methodologies enable schools to be more agile, imaginative and
ready for disruption."
Futures thinking helps you investigate and explore possible futures and their effect on your organization. It helps you develop a long-term vision, based on macro, societal conditions.

Design is about discovering and understanding what people might need in that future and co-constructing experiences, that will build their skills, mindset and abilities to thrive in that future.

Both methodologies hold a method of parallel prototyping, or creating multiple versions at once. In futures thinking we work within multiple possible futures to better understand what's possible. In design we plan for multiple prototypes and iterate on them based on feedback.

Our hunch is that when futures thinking and design is incorporated into K12 planning these two methodologies enable schools to be more agile, imaginative and ready for disruption. It builds our muscle for change, by mitigating 'change fatigue' and helps us be 'change fit'

When you structure such work through a collaborative process, it spreads adaptive knowledge across your organization so that many members can rise to challenges as they arise.
I wonder about how these methodologies play out in your school. How have you worked with your community over the last few months, and how has design and futures thinking impacted how you've prepared for fall?
Your friend in California,
Ariel
PS: Look for Rich Boerner's response in the coming days.
Three UPDATED International School Reopening Plans and
Their Approach to Scenarios, Decisions and Communication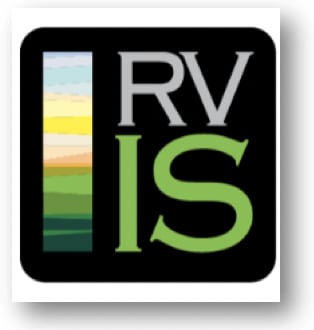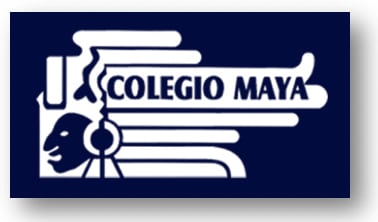 Editor's Note: An example of how scenario building and use of the Future Search Model have brought key stakeholders together to fashion three interchangeable approaches to teaching and learning. Take special note of how Tara and her colleagues are seeking to develop a common community language on teaching and learning approaches, including clear understanding about the learning platforms in use.
The RVIS
Community Playbook
–by Tara Waudby, Head of School
and Team
In February when we shifted to Virtual School, we were responding to a global crisis. As we plan for the future, we are no longer in crisis mode. Over these past months, we have consulted with experts, fellow international schools, and our community. We have gathered a great deal of data and we have reflected on our learning and experiences.
We are pleased to present our Community Playbook, which is informed by our community needs. A team of teachers from across disciplines and divisions met together in June to develop our reopening scenarios so that we may move forward in service of our goals and the needs of the future. We present three scenarios for reopening. We will continue to adhere to guidelines presented by the Bahrain COVID-19 Task Force, the Ministry of Education and the Ministry of Health.
As we plan for the future, it will be important that we maintain our agility mindset as we may be required to shift between scenarios as the future unfolds. Regardless of scenario, we will ensure we remain true to our mission to Ignite Passions, Personalize the Journey, and Impact Through Action.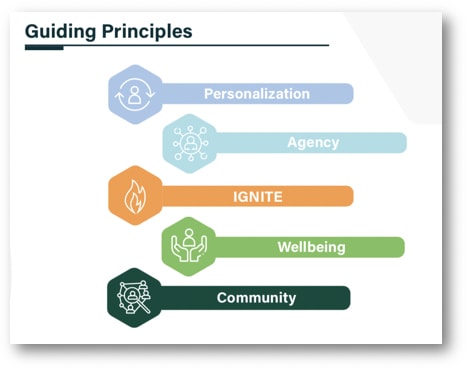 Crystal clear guiding principles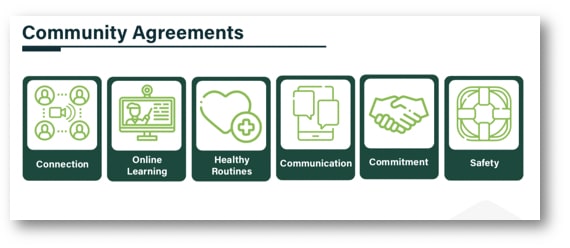 Accountability to community agreements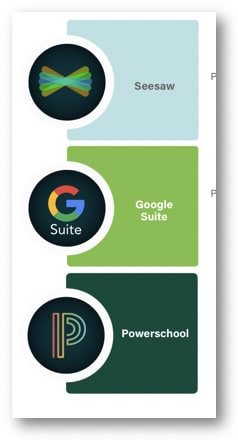 Common understanding
about learning platforms
"As we plan for the future, it will be important that we maintain our agility mindset as we may be required to shift between scenarios as the future unfolds."
Editor's Note: A remarkably open brand of communication to the school community– with special note of the enriching humanity in how Sherry asks everyone in the community to join arm-in-arm in taking on the challenges. Dr. Miller and her task force teams have published, "Catch the Spirit of Distance Learning and Beyond"– an entirely "can-do" document.
Colegio Maya's
Evolution of a Plan
–by Dr. Sherry Miller, Director
and Team

Caught off-guard like the rest of the world, we moved off campus almost over-night on March 16th. I even left my singing bowl on my roundtable in my office, not realizing how much I was going to miss it over the next three months, though turns out, not nearly as much as missing the kids, the hugs, the meetings with some passionate middle-schoolers sure we were killing some of the bees trying to build their hive on a post near the theater, somehow by using cleaning supplies that weren't green enough! All screens open and minds on deck, emails flying, platforms and new Whatsapp groups created--who's in charge here? What are we doing? Why wasn't my internet bill paid? We were home alone, period, and so was everybody else. So we sucked it up and managed and somehow kept kids engaged, parents assuaged, seniors graduated and end of year reports filed and good-byes said, all completely virtually. We concentrated on a kind of presence survival, just too crazy and too tired to make a plan for next year. Real, surreal, new real, unreal.

But now is almost next year and we have a plan, A plan created by four volunteer "Feeder Task Forces" with faculty, staff, students, a few parents and "outside" experts involved. Through them, we looked at all the survey info, we asked ourselves what each of us thought was vital for moving forward and went to work on Learning Models, Student Life, Technology and Health, Safety and Operations. We have experienced shared group think, new "leaders" emerging, students sharing their voice in such purposeful and creative ways and tho it's been messy and almost too quick, we are committed to claiming what we know and that list is grander than what we don't. That is going to source us on a continued purposeful journey. It's a journey of daring, caring and sharing and we will continue to "school" virtual through October for sure and who knows how much longer. We will continue to choose the questions we want to really spend time living, finding ways to give "new" meaning to intimacy, learning, community, resolve, justice connection and to be of worth. We will continue to find ways to listen more to the children, to our own child within and not only "Catch the Spirit" but let our spirit manifest in ways that may truly take our breath away and let us sing!
"We close this school year, finishing strong, thankful, full of our shared Maya Spirit and tested in ways none of us have ever practiced for in the last three months, driven by the COVID Pandemic. We are already hard at work on emerging stronger in 20-21!"

The American School of Milan's
Back to School Plan
Editor's Note: A plan that outlines not only uncompromising hope for the future of teaching and learning, but also is clear about the risks inherent in on-campus learning, particularly in the time of a global pandemic. The plan calls out the needs for flexibility and for everyone to take on that reality of a bit of "messiness" as ASM seeks to remain responsive to both safety and learning. The plan offers clear language about "the unexpected" being part of the future.
Take note of the Three Realms of Change.
At the American School of Milan:
Not a New Normal, but a Better Normal
–by Wayne Rutherford and Team
Published to the ASM Community on July 2, 2020
We are sending out ASM's Back to School Plan for fall re-opening of campus. As noted previously, all plans are tentative, but this is based on the current guidance we have from the Italian government and other health agencies.
This July 2nd version is subject to change, but at present, we are hopeful that we'll be able to have most students on campus daily, with Grades 9-12 on campus on a rotating schedule. See details below.
From the Back to School Introduction
"The American School of Milan was among the first schools in Europe to close due to the COVID pandemic, suspending classes on Monday, February 24, 2020. We moved to deliver online learning in one day, starting, February 25, 2020. This remarkable transition was the first of many demonstrations of the adaptability, creativity, and resiliency of our community.
"ASM closed School Year 2019-20 with 17 weeks of continuous online learning. During our adjustment to this global health emergency, ASM has learned much that will inform our work in a hybrid learning environment, if necessary, in School Year 2020-21.
"Our reopening is informed by the requirements of the Italian authorities, and also by the best examples from schools around the world, including The American School in Japan, The American Embassy School in New Delhi, and the International School of Basel, among others. We are grateful to these schools for sharing their plans with ASM and the world.
"September will be different. It may be a bit messy. It will require compromise, understanding, and patience. ASM is committed to do all we can to keep our students and faculty safe. We will apply all local government regulations for hygiene, and hope to exceed those when practical.
"We note, however, that while we will do all we can, there is no way to ensure 100% safety or a 100% risk free environment. A community of people in close proximity presents the risk of disease and germ transmission. We will do our best to protect all, but can only do so with your cooperation and support at home.
"We are grateful to all community members for their support during this [hopefully] once-in-a-lifetime challenge. We are also excited to welcome our students back to campus, and to welcome our new families into our community when doors open again on September 1, 2020."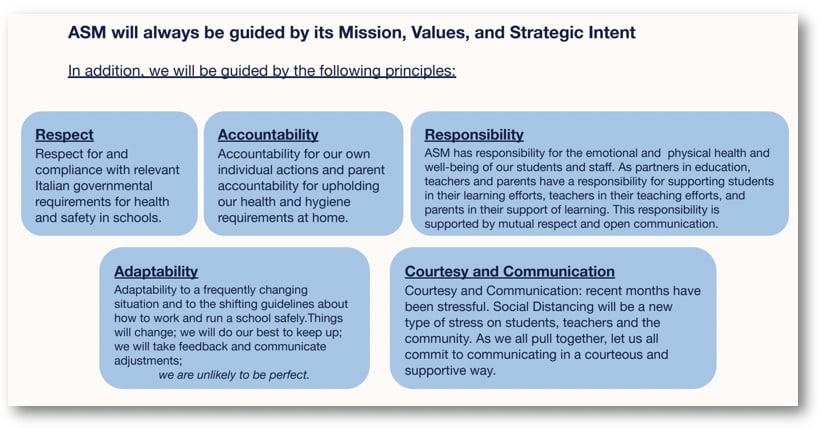 The essential leadership tool– guiding principles,
the handhold for ongoing problem solving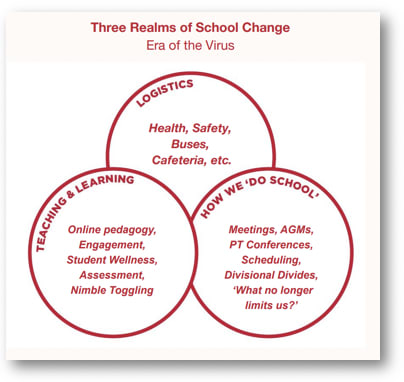 The Three Realms of School Change– a creative calling out of
why flexibility by all will be important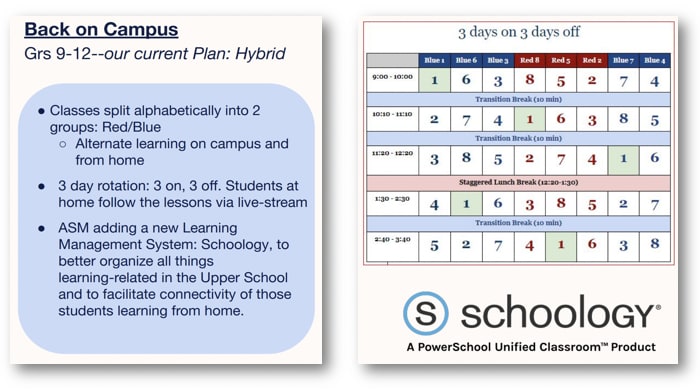 The plan for grades 9-12: A Three X Three Model
From the American Academy of Pediatrics
COVID-19 Planning Considerations:
Guidance for School Re-entry

"Lengthy time away from school and associated interruption of supportive services often results in social isolation, making it difficult for schools to identify and address important learning deficits as well as child and adolescent physical or sexual abuse, substance use, depression, and suicidal ideation."
Editor's Note: The fundamental premise of these guidelines is to get students back into the social milieu of school. With a USA context, the guidelines provide guidance up to the point of various global perspectives and country-by-country mandated protocols. Excellent structuring content though.
The most updated guide supports education, public health, local leadership, and pediatricians collaborating with schools in creating policies for school re-entry that foster the overall health of children, adolescents, staff, and communities and are based on available evidence.
Schools are fundamental to child and adolescent development and well-being and provide our children and adolescents with academic instruction, social and emotional skills, safety, reliable nutrition, physical/speech and mental health therapy, and opportunities for physical activity, among other benefits. Beyond supporting the educational development of children and adolescents, schools play a critical role in addressing racial and social inequity. As such, it is critical to reflect on the differential impact SARS-CoV-2 and the associated school closures have had on different races, ethnic and vulnerable populations.
The recommendations are provided acknowledging that our understanding of the SARS-CoV-2 pandemic is changing rapidly.
(The BRIEFING ran an earlier version of this report)
–The NEWS–
The Science and Virus Vaccine Research Dominate the News
Over 10,965,759 Global Infections
(Johns Hopkins CSSE)
–The STATS–
TOTAL GLOBAL CASES:
Johns Hopkins–10,965,759
WHO– 10,710,005
GLOBAL DEATHS (WHO):
Today–517,877
Two Days Ago–508,055
One Month Ago–
379,941
EVOLUTION OF-GLOBAL CASES (WHO):
Today–10,710,005
Two Days Ago–10,357,662
One Week Ago–
9,653,048
One Month Ago–
6,287,771
NEW CASES (WHO):
Today–175,723
Two Days Ago–163,939
One Week Ago–
179,316
One Month Ago–
93,246
"However, what we can say at this point is there is a viable candidate based on immunogenicity and early tolerability safety data." (Pfizer)
A Couple of Glasses of Wine
(Yes, I know, nothing to do with the virus,
just thought you'd be interested! MEU)
While a couple of glasses of wine can help clear the mind after a busy day, new research shows that it may actually help clean the mind as well. The new study shows that low levels of alcohol consumption tamp down inflammation and helps the brain clear away toxins, including those associated with Alzheimer's disease. Animals that were exposed to low levels of alcohol consumption, analogous to approximately 2 ½ drinks per day, actually showed less inflammation in the brain and their glymphatic system was more efficient in moving CSF through the brain and removing waste, compared to control mice who were not exposed to alcohol. The low dose animals' performance in the cognitive and motor tests was identical to the controls. (Science Daily)
T-Cells, Aging and Natural Immunity
Large numbers of the population may have natural immunity against coronavirus even if they have never been infected, scientists believe. Sir John Bell, Regius Professor of Medicine at Oxford University, who is leading an Oxford team to develop a vaccine, said there was likely to be a "background level" of protection for a "significant number of people." Recent studies have suggested the immune system can be primed by other coronaviruses, such as the common cold, giving the body a head start in fighting off Covid-19. Research shows that a separate part of the immune system, T-cells, respond to chains of amino acids produced by different types of coronaviruses and may be responsible for stopping the virus in people who never show symptoms. Crucially, those T-cells die off in older people, which may be why they are far more likely to develop a more serious illness. (The Daily Telegraph)
USA: Case Rate Increase of 105%
The number of new US coronavirus cases surpassed 50,000 for the first time ever yesterday, propelled by record rises in some of the most populous states, including California and Texas. The surge in cases has increased concerns about the speed at which the disease is spreading in emerging US hotspots ahead of the July 4 holiday weekend. A further 52,982 people in the US tested positive for coronavirus over the past 24 hours, according to Covid Tracking Project, topping the previous record increase from June 26 by more than 8,600. Throughout the month of June, the daily case rate in the US rose 105 per cent. (via Financial Times)
California
For most of the spring, California was a coronavirus success story. Now, just weeks after it began to reopen, new cases of Covid-19 are exploding across America's most populous state, and public officials are quickly retrenching. Yesterday, Gov. Gavin Newsom announced a slew of new restrictions, including the mandatory closure of many bars and indoor restaurants, an effective admission that, after proceeding slower than other states in the early months of the outbreak, California reopened too quickly. (wsj.com)
Texas–A Stressed Health System in Houston
Internal messages highlight the growing strain that the coronavirus crisis is putting on hospital systems in the Houston region, where the number of patients hospitalized with COVID-19 has nearly quadrupled since Memorial Day. As of Tuesday, more than 3,000 people were hospitalized for the coronavirus in the region, including nearly 800 in intensive care...What's happening in Houston draws eerie parallels to New York City in late March, when every day brought steep increases in the number of patients seeking care at overburdened hospitals — though, so far, with far fewer deaths. But as coronavirus cases surge in Texas, state officials here have not reimplemented the same lockdown measures that experts say helped bring New York's outbreak under control, raising concern among public health officials that Houston won't be able to flatten the curve. (The Texas Tribune)
An Inflamed Infection Rate in Brazil
In mid-May, Brazil secured a grisly world record: it had the fastest-growing coronavirus infection rate of any country on earth. Within a month, it surpassed a million confirmed cases. This milestone made it second only to the United States in everything related to the pandemic, including total fatalities, with around a thousand people dying every day. By some estimates, Brazil may eventually see as many as thirty-four million infected and three hundred thousand dead. The country's far-right President, Jair Bolsonaro, has made no effort to curb the pandemic. Instead, he has belittled the threat of the virus, calling it mere "sniffles," and responded to reports of sufferers by declaring, "We all have to die someday." When state governors encouraged social distancing, Bolsonaro joined rallies with supporters to demonstrate against them.

Oliver Stuenkel, an associate professor of international affairs at the Getulio Vargas Foundation, in São Paulo, believes that Bolsonaro's pandemic response is the result of a brutal calculation. "I think he looked at this and thought, This will cause a profound crisis in the Brazilian economy," he told me. "He knows it's hard for a Latin-American leader to remain in office with an economy that gets as bad as it is now. So, in the states where governors imposed social-distancing strictures, he'll say the coming economic slump wasn't his fault but theirs.

Among Brazil's neighbors, the fear of contagion has led governments to tighten their borders or shut them completely. Still, two nearby countries have suffered soaring rates of Covid-19. Ecuador has fifty-eight thousand cases and more than four thousand deaths. Peru—despite a three-month lockdown, enforced by the police and the military—has two hundred and eighty-eight thousand cases and nearly ten thousand deaths. In the Amazon region, where river traffic flows freely in and out of Brazil, the virus has spread to devastating effect, with some indigenous communities very badly affected. It has claimed hundreds of lives, including that of Paulinho Paiakan, a prominent Kayapo chief who came to fame in the nineteen-eighties when he helped lead protests alongside other indigenous leaders and global celebrities, including Sting, in opposition to the construction of a massive dam on the Xingu River.
Thanks in large measure to Bolsonaro's negligence, Latin America has become the world's virus hot spot, but the misery has not been equally distributed. The region's chronic economic and social inequalities have meant that the poor, who often live in crowded slums and depend upon precarious daily earnings to survive, have been hit hardest.

It has not proved impossible for governments to curtail the effects. In Costa Rica, one of the first countries in the region where Covid-19 appeared, the government banned mass gatherings within days, declared a state of emergency, and closed the borders. It has had three thousand and seven hundred-odd cases and seventeen deaths. Responses need to be swift, organized, and consistent. (The New Yorker)
A Chinese Pharmaceutical Name to Remember
CanSino Biologics Inc., is vaulting into the global spotlight as connections on both sides of the Pacific make it one of the front-runners in the race for a coronavirus vaccine. CanSino's Chinese-born chief executive officer, Yu Xuefeng, formerly a senior executive at drugmaker Sanofi's Canadian vaccine operations, has maintained relationships in Canada and China even as geopolitical disagreements polarize both countries. At home, he's worked with a prominent Chinese military scientist, first on an Ebola vaccine and now on CanSino's experimental coronavirus shot. In May, CanSino became the first globally to publish a full scientific study on its early human trials, an important step because it allows researchers worldwide to assess a vaccine's potential. The company -- which is yet to generate revenue and logged a $22 million loss last year -- has so far kept up with, and occasionally even outpaced, Western pharmaceutical giants with the speed of its initial coronavirus vaccine trials. The research is still too nascent to know if the shot from CanSino, or indeed any company, will provide the magic bullet countries are seeking to open up while the pandemic rages. But CanSino's inroads show China's young biotechnology industry is becoming a global contender, and a powerful tool for President Xi Jinping. (Bloomberg)
More BioTech News from Pfizer
The biotech firm BioNTech spurred immune responses in healthy patients, but also caused fever and other side effects, especially at higher doses. The first clinical data on the vaccine were disclosed Wednesday in a paper released on medRXiv, a preprint server, meaning it has not yet been peer-reviewed or published in a journal. "We still have a ways to go and we're testing other candidates as well," said Philip Dormitzer, the chief scientific officer for viral vaccines at Pfizer's research laboratories. "However, what we can say at this point is there is a viable candidate based on immunogenicity and early tolerability safety data."
The study randomly assigned 45 patients to get one of three doses of the vaccine or placebo. Twelve received a 10-microgram dose, 12 a 30-microgram dose, 12 a 100-microgram dose, and nine a placebo. The 100-microgram dose caused fevers in half of patients; a second dose was not given at that level. Following a second injection three weeks later of the other doses, 8.3% of the participants in the 10-microgram group and 75% of those in the 30-microgram group developed fevers. More than 50% of the patients who received one of those doses reported some kind of adverse event, including fever and sleep disturbances. None of these side effects was deemed serious, meaning they did not result in hospitalization or disability and were not life-threatening. The vaccine generated antibodies against SARS-CoV-2, the virus that causes Covid-19, and some of these antibodies were neutralizing, meaning that they appear to prevent the virus from functioning. Levels of neutralizing antibodies were 1.8 to 2.8 times the level of that in the recovered patients.
Fourteen Covid-19 vaccines are currently in human trials, according to the Milken Institute, including entrants from Inovio, CanSino, AstraZeneca, and Moderna. More are expected to start soon, including entrants from Merck, Johnson & Johnson, and Sanofi. In total, 178 vaccines are in various stages of development. (STATnews)
Moderna's Moonshot Entry is Delayed
A 30,000-patient trial of Moderna's coronavirus vaccine candidate, expected to start next week, has been delayed, a potential hurdle in the company's ambitious effort to deliver key data by Thanksgiving. Moderna is making changes to the trial plan, called a protocol, which has pushed back the expected start date of the Phase 3 study, according to investigators. The investigators, who spoke on condition of anonymity, emphasized that protocol changes are common but said it's not clear how long the start will be delayed. "My understanding was that they wanted to get the first vaccines given in July, and they say they're still committed to do that," one investigator said. "As best I can tell, they're close to being on target for that." Investigators at the University of Illinois at Chicago had previously said Moderna's trial would begin July 9. On Thursday, NIH Director Francis Collins also told lawmakers in Washington that the study would begin this month. In a statement posted to Twitter on Thursday afternoon, the company said it has "worked closely" with the National Institutes of Health, which is funding the Phase 3 study, "to align the final protocol in order to begin the trial on time."
The intense focus on the exact timing of the trial stems from the tight nature of the race to develop a vaccine for the novel coronavirus — and the fact that any delay could imperil Moderna's pole position. Pfizer, working with the German firm BioNTech, plans to start a 30,000-patient study of its own later this month. AstraZeneca and Oxford University are slated to begin a similarly sized trial in August, followed by Johnson & Johnson in September.
See infection rate graphs below
–NEXT WEEK's CONVERSATION– (summer schedule)
Our Global Leadership Community- Together
A Weekly CONVERSATION between School Heads and Senior Leaders #19
Maybe the most important CONVERSATION of all– talking together on the most pressing issues and dilemmas, openly and honestly.
NOTE: Our Thursday leadership community gatherings will continue throughout the summer months.
A REMINDER
–A Shared Board Trustee and School Head Inquiry–
A Collaboration Between
The Big Questions Institute and AAIE*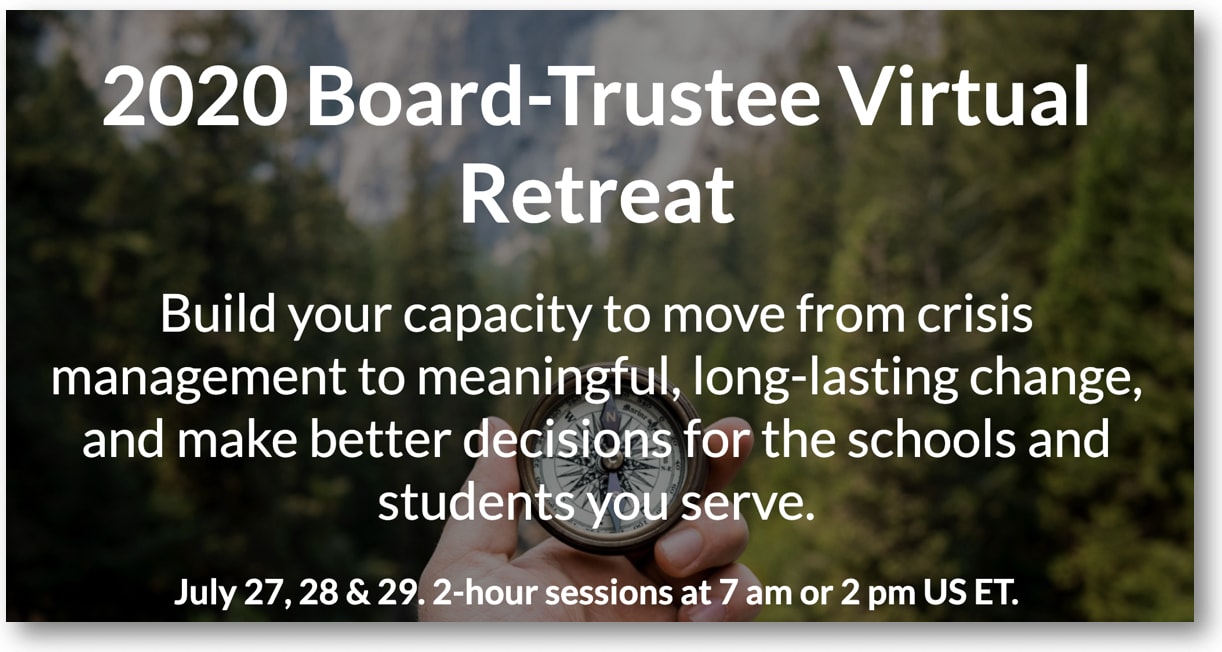 How can board members move from crisis management decision making into generative conversations focused on guiding and supporting their schools into an uncertain future?
That's the Big Question that will guide the inaugural Board / Trustee Virtual Retreat that kicks off on July 27.

Homa Tavangar and Will Richardson, founders of The Big Questions Institute, created this unique opportunity in response to the growing need to align Boards to the monumental challenges and big thinking on education that school leaders have been confronting since the pandemic, to move beyond crisis management to meaningful change. The retreat will offer fresh tools to help implement strategic foresight, ask tough questions, and elucidate clear commitments.

Enrollment is limited so that participants will have opportunities to share ideas in small groups, and take advantage of generative learning from leaders around the world. In addition to a transformative approach to leadership, the opportunity to share ideas with Board members from top schools in diverse countries is unique.

AAIE members-Board Trustees and school heads can receive 20% off the cost of the retreat (as a team) by entering the coupon code AAIE20 at registration. Please visit the Virtual Retreat site for full details.
*AAIE is responding to international community needs in aligning with BQI and receives no remuneration. A service to our international school leaders and trustees.
–Charting the Infections–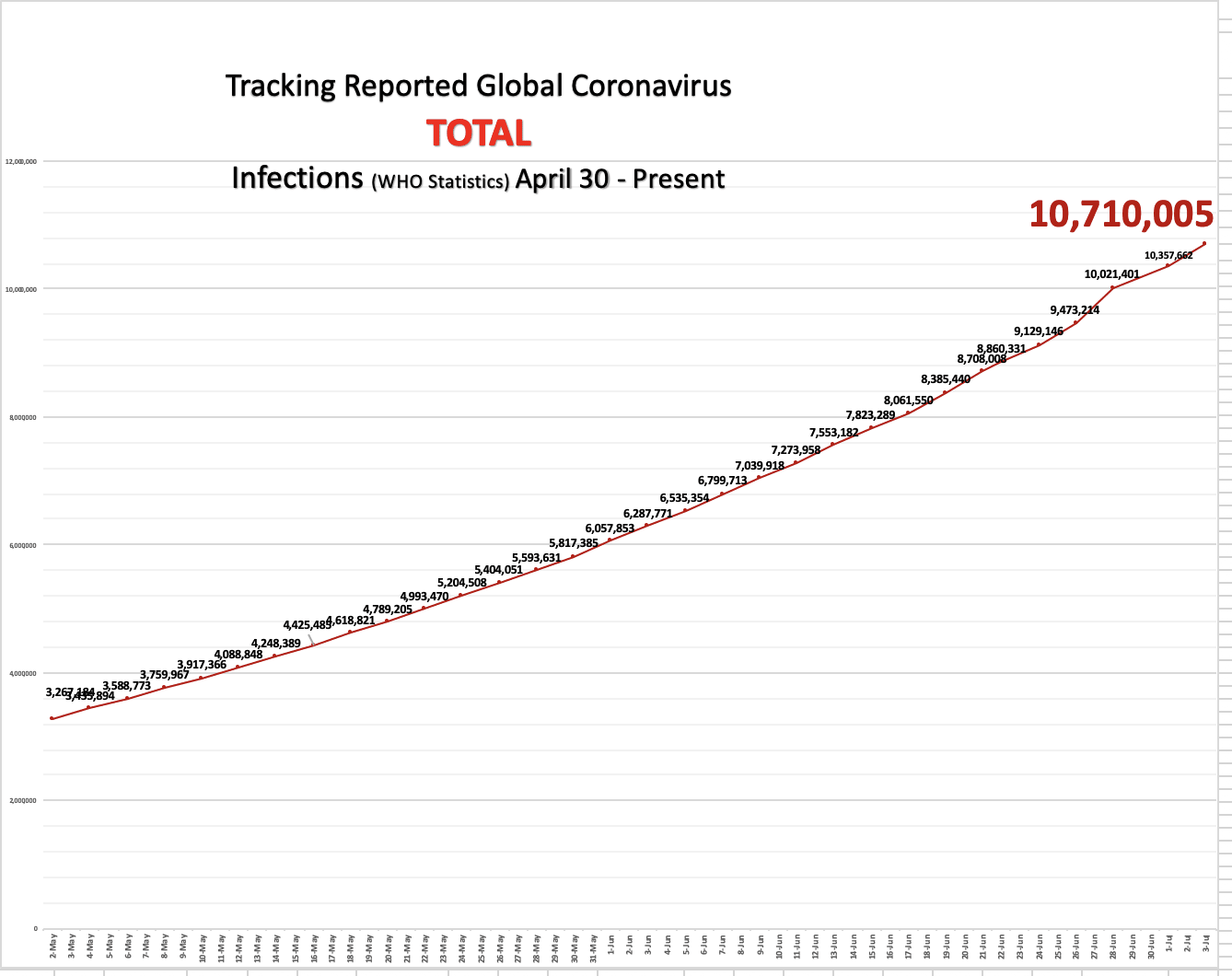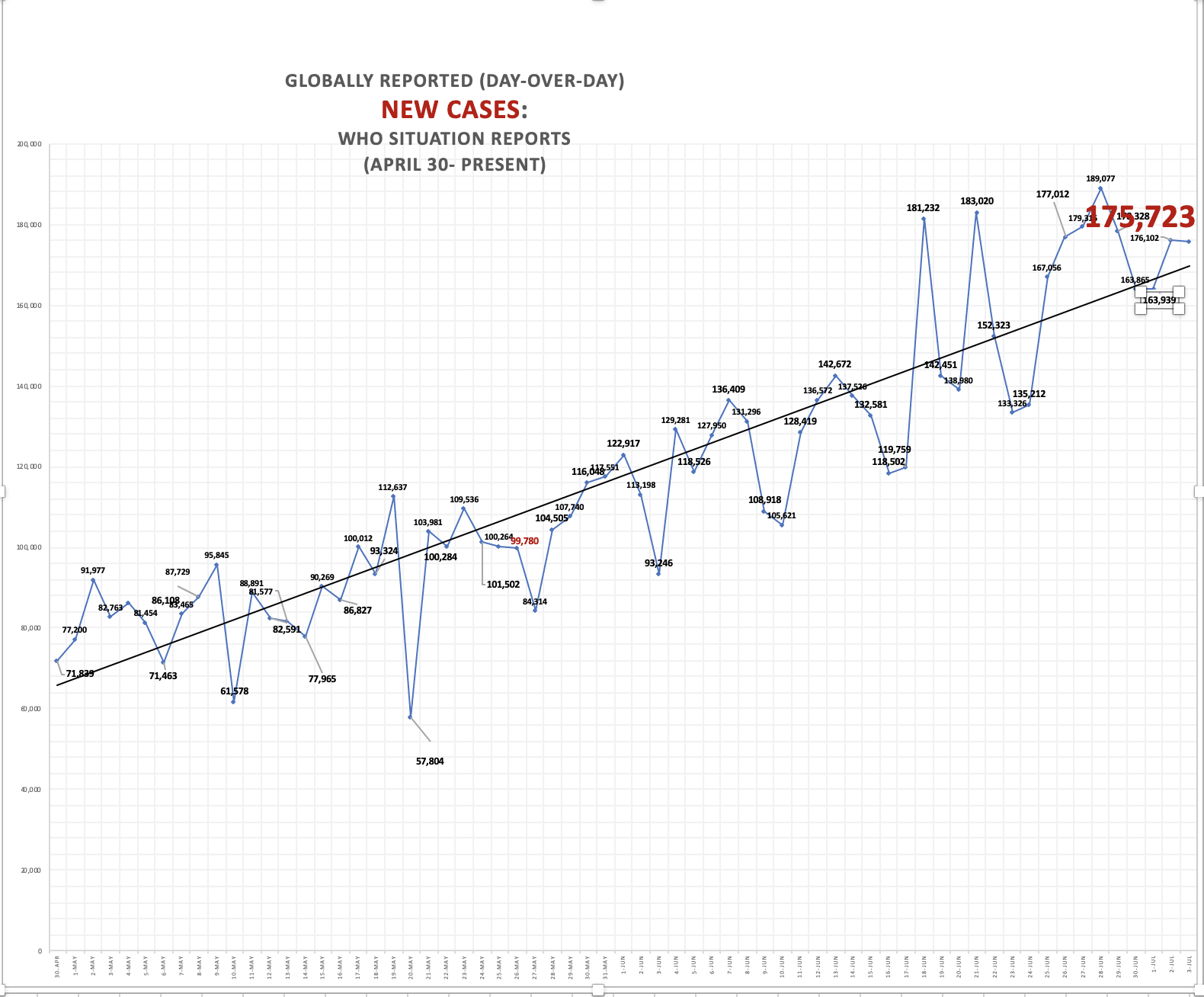 "I think, collectively, we should be paying more attention to what is going on around us in the world among people who don't have the advantages that we have."
–Dr. Anthony Fauci
Stepping Away, Finding Time for a Favorite Pass-Time and an Excuse for a Grown Person to Wade into a River
Wayne Rutherford of AS Milan fishing an Italian stream...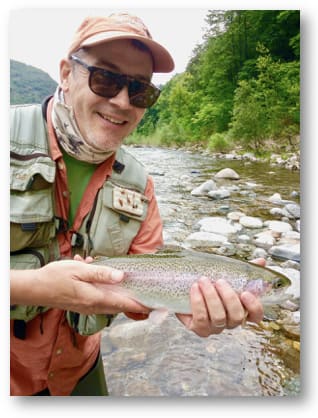 –FROM THE WHO and JOHNS HOPKINS CSSE–
From the WHO

, the Situation Report for July 3

,

2020
From the WHO

, The European Region Dashboard
From Cultures of Dignity

,

For the Social-Emotional Tiny Guides from Rosalind Wiseman and Charlie Kuhn– a gift to our AAIE community– resources with no fee but plenty of insight.



A Final Note: The AAIE COVID-19 Briefing is provided to support your leadership for the school community you serve. We encourage you to use these resources in any way, shape or form that helps you, your communications and toward furthering close relationships across your community. – The AAIE Board