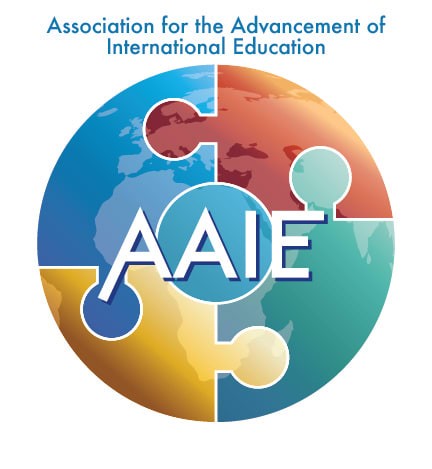 –WEDNESDAY–
AAIE's COVID-19
BRIEFING #79
Editor's Note: During summer holiday, the BRIEFING will be published on Monday, Wednesday and Friday of each week.
July 1, 2020
Highlights
10,512,383 Cases World-wide–

(Johns Hopkins CSSE)

Your Family: The most important organization in the world

Use of Time: Perspectives on scheduling teaching and learning

Why so many spread the virus to so few

The weeks ahead in the USA are– "Disturbing"

Being unproductive for a little while

Cultures of Dignity: How to Be an Ally-

Part II

China reports on a new virus

Board trustees who take on an uncertain future
The Most Important Organization in the World?
–Your Family–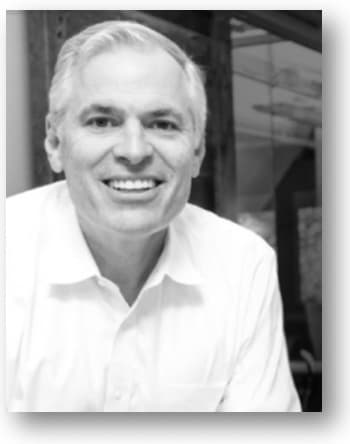 Patrick Lencioni
of The Table Group
Listen In with Patrick Lencioni
Answering The Three Big Questions
for a Frantic Family.
A global pandemic and crisis leadership have surely compromised family life– you've given it all to leading your school community. What about family, especially as you take a deep breath with whatever holiday you can afford to take with August 2020 looming?
"Our families are the most important organization in the world and yet, we spend far less time strategizing, meeting and thinking about home life than we do our work. Listen in on Patrick Lencioni and friends discuss how to run your family with the same sense of intentionality and rigor we use in our (schools)."
Most People With Coronavirus Won't Spread It.
Why Do a Few Infect Many?
Now researchers are trying to figure out why so few people spread the virus to so many. They're trying to answer three questions: Who are the superspreaders? When does superspreading take place? And where?
If Covid-19 was like the flu, you'd expect the outbreaks in different places to be mostly the same size. But there is a wide variation. The best way to explain this pattern, was that 10 percent of infected people were responsible for 80 percent of new infections. Which meant that most people passed on the virus to few, if any, others. (New York Times)
Let Yourself Be Unproductive. At Least for a Little While.
–by Peter Bregman
I find myself a little lost. I'm scattered. Unfocused. Struggling to be productive. To move forward on anything in a meaningful way. I'm experiencing a very personal loss and sadness right now. But I'm hearing other people describe similar struggles as we all experience this pandemic, this economic collapse, this awakening to the depth of racial injustice. That's personal too.
I really don't like feeling all this. It makes me anxious.
My instinctive drive to push past it kicks in. To plan and to-do list and schedule my way to productivity and achievement and forward progress. That, I know how to do. It's my comfort during uncertainty. But I also have an opposing impulse, a quieter voice, one that feels deeper, more profound, and even scarier: Stay unproductive. (HBR)
–Rethinking Student Learning Schedules
in the Time of COVD-19–
(from Education Week)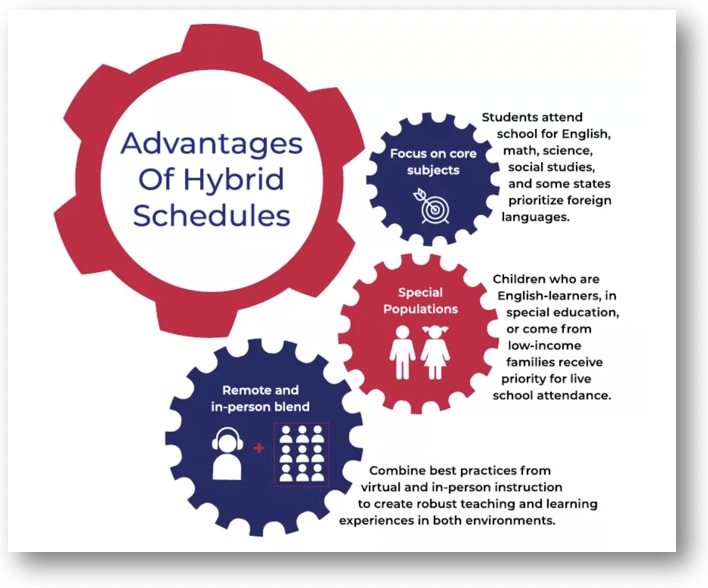 Editor's Note: With thanks to Shabbi Luthra, please do dig into the five separate investigations by Education Week researchers on how distance learning and hybrid models impact use of teaching time. Allotted and actual teaching time are profoundly impacted, and in many positive ways. These articles offer very real tools for leading your school.
"Some school communities will forge ahead with a return to the typical school calendar, but that carries large risks. If there's an outbreak of the coronavirus, they'll have to shut down abruptly. But in many school(s), the sheer numbers of students and staff members will make a traditional day impossible under social distancing protocols that public health officials say are necessary as the pandemic persists. The math just doesn't work when students must stay six feet apart from one another and their teachers.
That's why a mash up of online schooling and in-person instruction—what we're calling hybrid scheduling models—is likely to be prevalent this fall.
There are multiple variations of these schedules, and they provide the most flexibility to schools. They also present some of the most challenging logistics and may be especially taxing for teachers who must prepare lessons and instruction for two modes: virtual and in-person." (Education Week)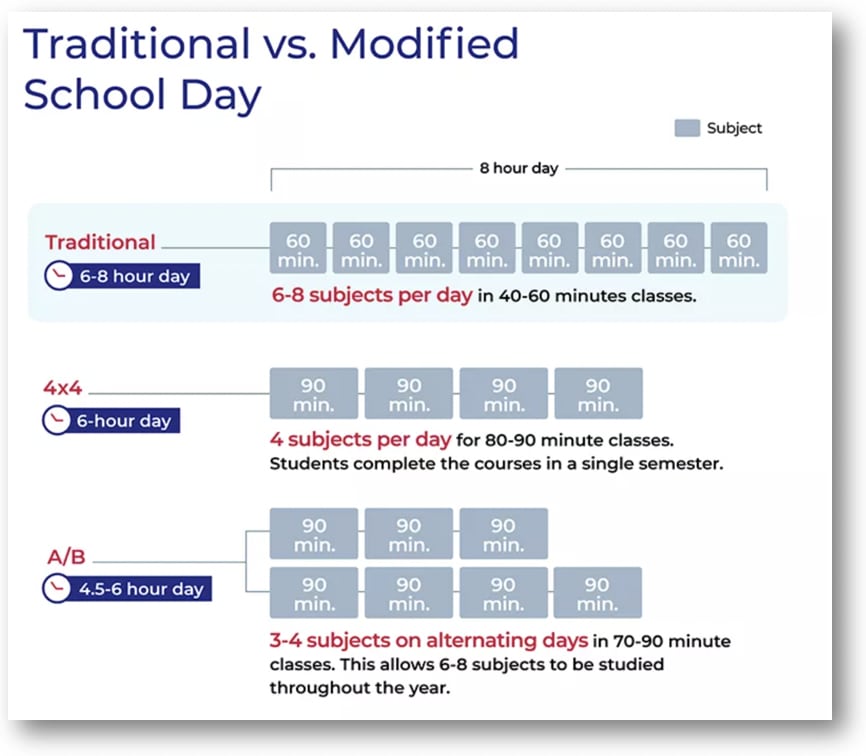 A practical view of scheduling models, gleaned from schools and research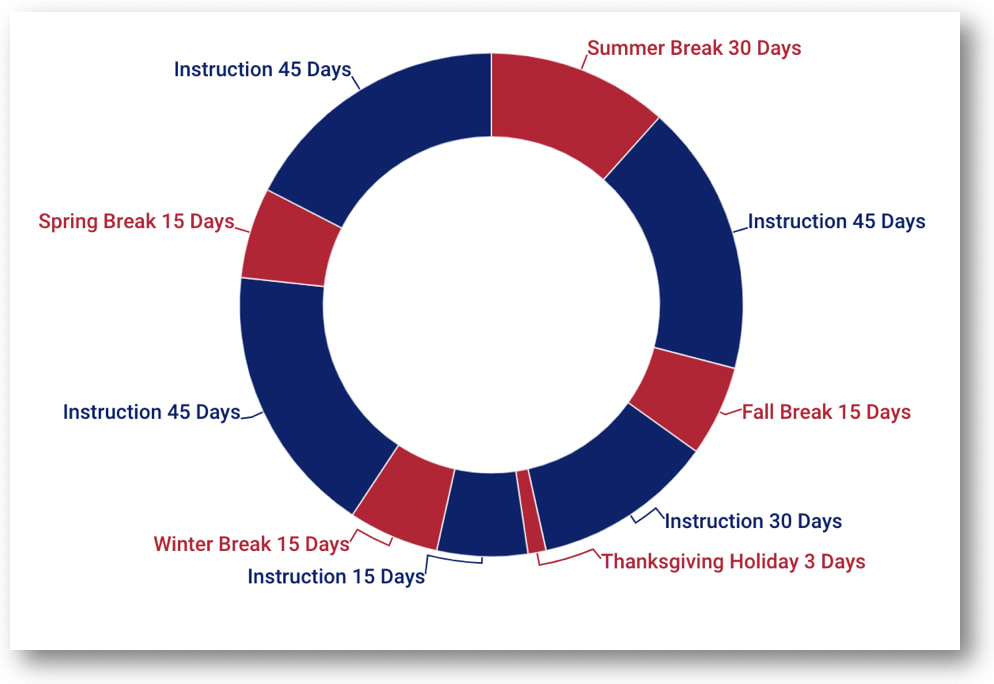 A year-round school calendar for a year in the grip of the coronavirus
–The NEWS–
Over 10,512,383 Global Infections
(Johns Hopkins CSSE)
–The STATS–
TOTAL GLOBAL CASES:
Johns Hopkins–10,512,383
WHO– 10,357,662
GLOBAL DEATHS (WHO):
Today–508,055
Two Days Ago–499,913
One Month Ago–
371,166
EVOLUTION OF-GLOBAL CASES (WHO):
Today–10,357,662
Two Days Ago–10,021,401
One Week Ago–
9,296,202
One Month Ago–
6,057,853
NEW CASES (WHO):
Today–163,939
Two Days Ago–178,328
One Week Ago–
167,056
One Month Ago–
122,917
The question is do we have the political imagination, the sympathy and the grit necessary to grasp this crisis at the world level? Can public opinion and decision-makers in Europe and Asia, where the disease has been more or less effectively suppressed, be rallied to support an adequate global response to the crisis in the rest of the world?
100,000 New Infections Each Day?
Dr. Anthony S. Fauci, the nation's top infectious-diseases expert, warned lawmakers Tuesday that there may be as many as 100,000 new cases per day, 2.5 times the present record rate of infections, if the United States continues on its current trajectory. When asked by the Senate's health committee what the overall American death toll might be, Fauci said: "I can't make an accurate prediction, but it is going to be very disturbing." As infections climb precipitously across the South and West, hospitalizations are rising in seven states — Texas, Arizona, Nevada, South Carolina, Montana, Georgia and California. Average hospitalizations in these states are up at least 25 percent from last week, according to data tracked by The Washington Post.
(Washington Post)
China Reports Another Virus, H1N1
Scientists in China have identified a new strain of flu that has the potential to become a pandemic. It emerged recently and is carried by pigs, but can infect humans, they say. The researchers are concerned that it could mutate further so that it can spread easily from person to person, and trigger a global outbreak. While it is not an immediate problem, they say, it has "all the hallmarks" of being highly adapted to infect humans and needs close monitoring. As it's new, people could have little or no immunity to the virus. (BBC News)
Worry Out of the USA's
Largest County
Los Angeles County health officials yesterday issued a dire warning that conditions amid the COVID-19 pandemic are deteriorating rapidly and the highly contagious virus is spreading swiftly in the nation's most populous county. They said they are now faced with one of their biggest fears: that the reopening of L.A. County would coincide with sudden jumps in disease transmission that have the potential to overwhelm public and private hospitals. L.A. County has long been the epicenter of the coronavirus in California — with nearly 98,000 confirmed cases and more than 3,300 deaths — but officials said Monday that the outbreak is worsening.
India Enters the Vaccine Moonshot
Bharat Biotech's COVID-19 vaccine has been approved for human trials, making it India's first domestic candidate to get the green light from the government's drug regulator as cases surge in a country with more than 1.3 billion people. The Drug Controller General of India has approved the company's application to conduct a Phase I and II clinical trial of Covaxin, which was developed along with the Indian Council of Medical Research's National Institute of Virology, the company said in a statement on Monday. Human clinical trials are scheduled to start across the country in July for the vaccine, which was developed and manufactured in Bharat Biotech's facility at Genome Valley in Hyderabad, India. India, which lags only the United States, Brazil and Russia in total cases, reported close to 20,000 new infections on Monday, according to data from the country's federal Ministry of Health. (Al Jazeera)
The Commonality of a Global Pandemic–
Will We Better Understand Each Other?
It took more than three months for the world to record 1 million cases of Covid-19. The latest 1 million cases were clocked up in a week, taking the total to more than 10 million. On Sunday 28 June, the world recorded more than 190,000 new cases in a single day, a new record. Don't fixate on the precise numbers. We are testing more than ever so we find more cases. What matters is the big picture and it is drawn in stark relief: the crisis is not yet over. Far from it. Even as east Asia and Europe begin to experience recovery, the momentum of the disease at the global level is building. Nor is this the famous "second wave". This is still the first wave spreading out across the world's 7.8 billion inhabitants. The question is do we have the political imagination, the sympathy and the grit necessary to grasp this crisis at the world level? Can public opinion and decision-makers in Europe and Asia, where the disease has been more or less effectively suppressed, be rallied to support an adequate global response to the crisis in the rest of the world? The pandemic poses a profound challenge to the contemporary imagination. It has made real both the degree of our interconnectedness and the extreme difficulty that we, particularly those of us in the west, have in grasping the global forces that are at work. (The Guardian)
Swedish Study Indicates We May Be Farther Along with Herd Immunity
Up to a third of healthy people without symptoms of coronavirus may have developed immunity to it, international research suggests. The findings suggest that public immunity could be as much as twice that found in antibody tests, meaning infection hotspots such as London could be further along the path to herd immunity than thought, and come after a study of an Italian town that was among the first in Europe to be hit by the virus showed that 40 per cent of those infected had no symptoms. Until now, efforts to measure levels of protection against coronavirus have focused on antibodies, which have proved an unreliable measure. At the start of the pandemic, Government advisers suggested at least 60 per cent of the population would need to be infected in order for herd immunity to be achieved. Instead, Britain entered lockdown on the basis of projections suggesting that allowing such levels of the disease would leave the NHS overwhelmed. But a new study, by Sweden's Karolinska Institutet, suggests immunity levels in those without symptoms may be twice as high as thought. (The Daily Telegraph)
Truth-Telling Doctors Arrested in Egypt
Egyptian authorities have arrested at least nine doctors and other medical personnel who are speaking out about the deaths of frontline healthcare workers as the country wrestles with a surge in coronavirus cases and tries to reopen its struggling economy. Since March, Egyptian security forces have detained the healthcare professionals for complaining about a lack of protective gear in hospitals; criticizing the government's response to the virus; or reporting coronavirus cases without authorization, according to the country's medical union and rights groups. (The Wall Street Journal)
–See infection rate charts below–
–THIS WEEK's CONVERSATIONS–
Our Global Leadership Community- Together
A Weekly CONVERSATION between School Heads and Senior Leaders #18
Maybe the most important CONVERSATION of all– talking together on the most pressing issues and dilemmas, openly and honestly.
NOTE: Our Thursday leadership community gatherings will continue throughout the summer months.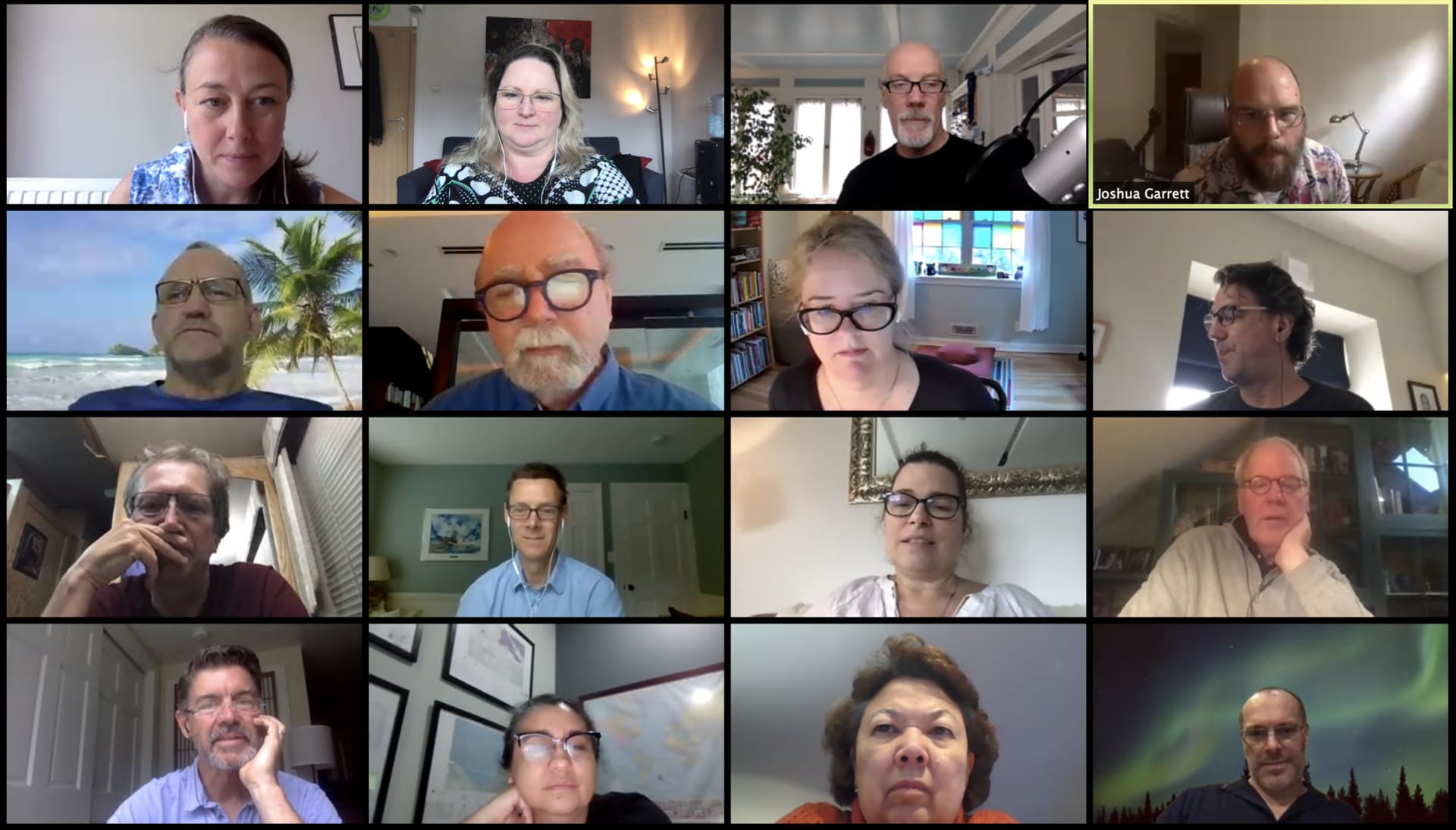 The NEW SCHOOL sprint team at work
The AAIE NEW SCHOOL Project
Our Weekly CONVERSATION #13
A sprint team (a group of 16 international school leaders, where everyone is welcome) has taken twelve Friday discussions (several hundred voices along the way) and analyzed the research, ideas and post pandemic imperatives to define a FIRST DRAFT of guiding principles. The principles define new ways of thinking, leading and doing in our international schools.
We're taking a first run at defining a NEW SCHOOL manifesto. On July 3, we will all review DRAFT II of the principles, seeking to find consensus on this essential first step.
We need your voice and please tell ten other people to join the Friday discussion too. We're so close to realizing the first step for our NEW SCHOOL global inquiry.
Join us on Friday July 3 for an always provocative global inquiry as we now seek a final draft of NEW SCHOOL guiding principles.
–A Shared Board Trustee and School Head Inquiry–
A Collaboration Between
The Big Questions Institute and AAIE*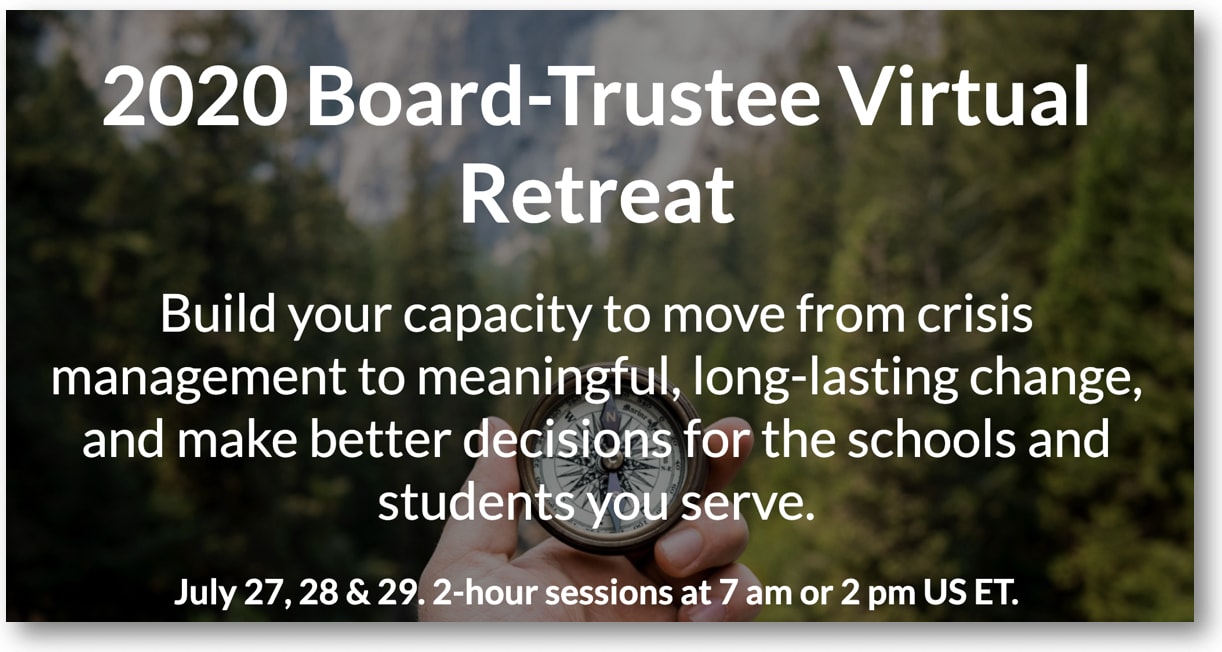 How can board members move from crisis management decision making into generative conversations focused on guiding and supporting their schools into an uncertain future?
That's the Big Question that will guide the inaugural Board / Trustee Virtual Retreat that kicks off on July 27.

Homa Tavangar and Will Richardson, founders of The Big Questions Institute, created this unique opportunity in response to the growing need to align Boards to the monumental challenges and big thinking on education that school leaders have been confronting since the pandemic, to move beyond crisis management to meaningful change. The retreat will offer fresh tools to help implement strategic foresight, ask tough questions, and elucidate clear commitments.

Enrollment is limited so that participants will have opportunities to share ideas in small groups, and take advantage of generative learning from leaders around the world. In addition to a transformative approach to leadership, the opportunity to share ideas with Board members from top schools in diverse countries is unique.

AAIE members-Board Trustees and school heads can receive 20% off the cost of the retreat (as a team) by entering the coupon code AAIE20 at registration. Please visit the Virtual Retreat site for full details.
*AAIE is responding to international community needs in aligning with BQI and receives no remuneration. A service to our international school leaders and trustees.
TOMORROW: One More Reminder From Cultures of Dignity
UPCOMING WEBINAR:
How to Be An Ally Part 2
A live conversation with Shanterra McBride and Rosalind Wiseman
THURSDAY, JULY 2nd
1pm EST / 10am PST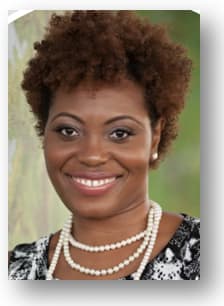 If I see someone else say something I think is racist but the person of color it is directed to doesn't say anything about it, do I bring it up? How?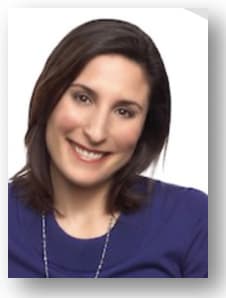 If someone takes offense at something I say, how do I follow up to make it better?
Two weeks ago, Shanterra and Rosalind, met to have a conversation about race, privilege, and what it means to be an ally. This wasn't an uncommon conversation for them, but it was different because we invited you to be a part of it. They received requests to continue what was started. So, Rosalind and Shanterra are coming together again to answer questions received from you, the participants.

Questions like...
What does being a successful ally look like if I am in a mostly white community and my friends are majority my demographic in age, race, money etc?

If someone takes offense at something I say, how do I follow up to make it better?

If I see someone else say something I think is racist but the person of color it is directed to doesn't say anything about it, do I bring it up? How?

It seems like people can't make one mistake, even if they have good intentions, without other people attacking them and thinking the worst of them. People make mistakes. How do we deal with this?

How do you teach dignity in a school and work culture?

How do you keep any semblance of a relationship with an immediate family member when you've had the fights and the arguments and have previously said "ok, agree to disagree". How do you go back and say "no- that's not enough?"
–Charting the Infections–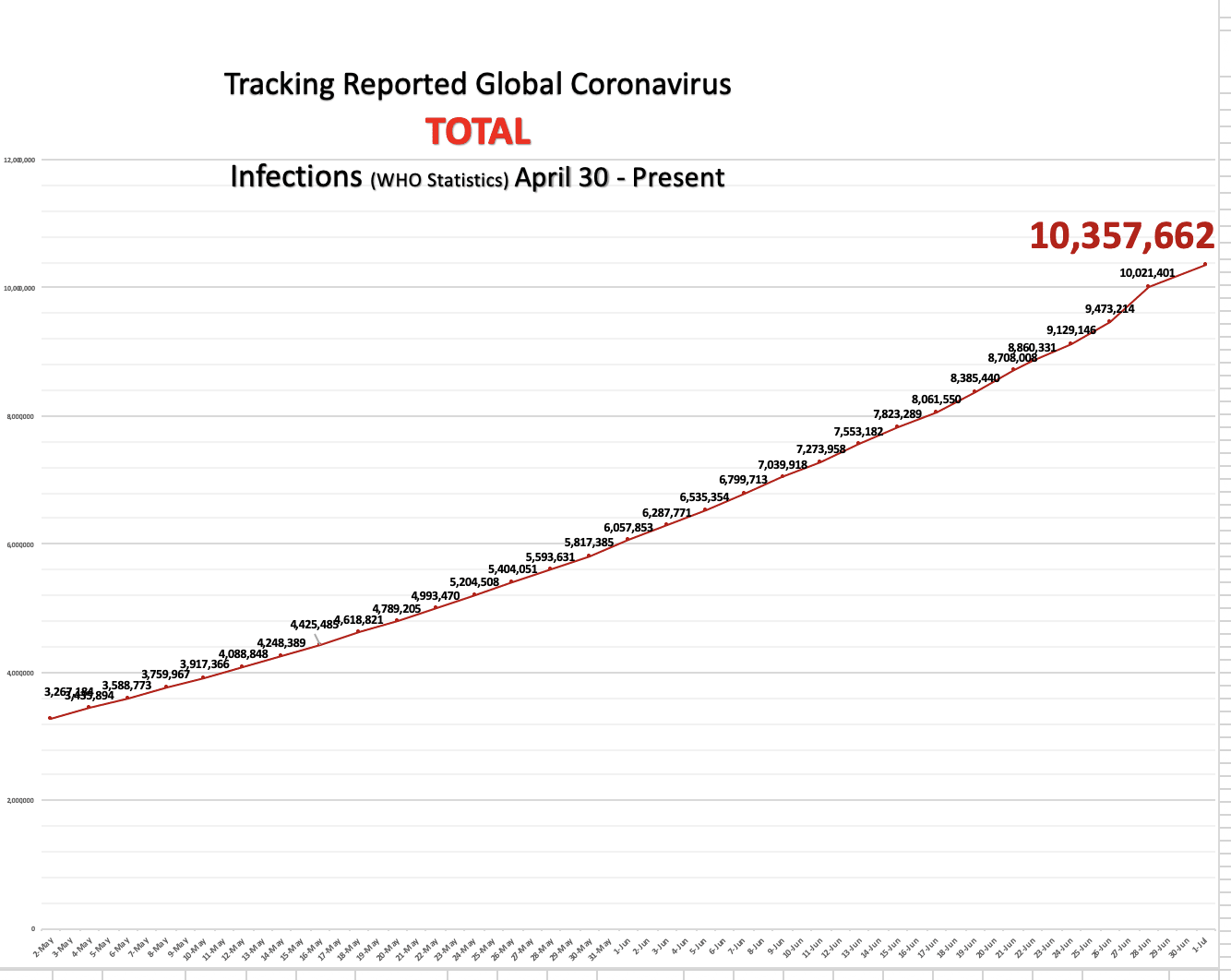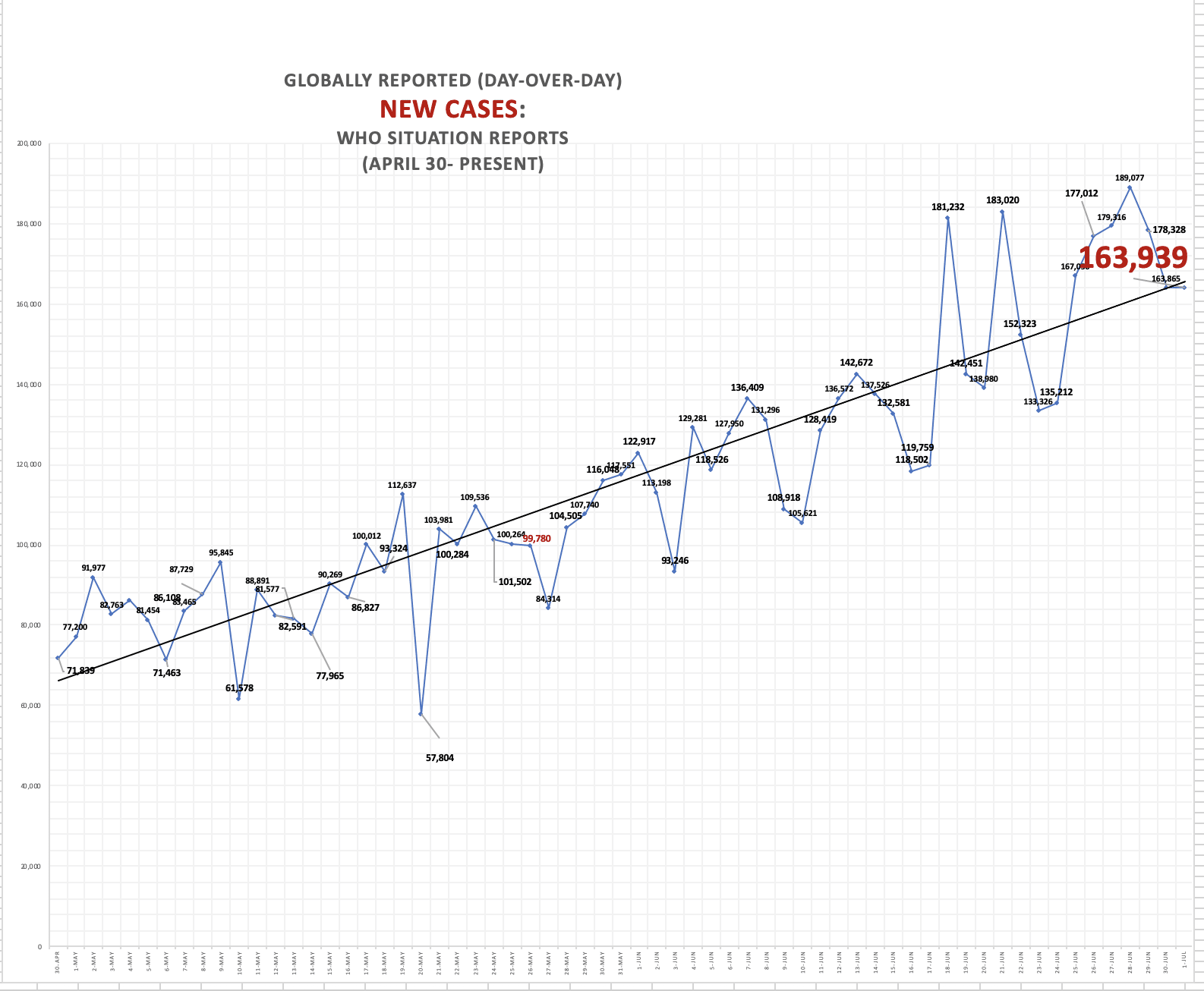 "In reality, whether it's a mask or a condom, resistance to these barrier methods of protection--both of which keep the wearer from transmitting a virus to someone else--clearly presents a danger to public health."
–Emily Willingham
–FROM THE WHO and JOHNS HOPKINS CSSE–
From the WHO

, the Situation Report for July 1

,

2020
From the WHO

, The European Region Dashboard
From Cultures of Dignity

,

For the Social-Emotional Tiny Guides from Rosalind Wiseman and Charlie Kuhn– a gift to our AAIE community– resources with no fee but plenty of insight.



A Final Note: The AAIE COVID-19 Briefing is provided to support your leadership for the school community you serve. We encourage you to use these resources in any way, shape or form that helps you, your communications and toward furthering close relationships across your community. – The AAIE Board