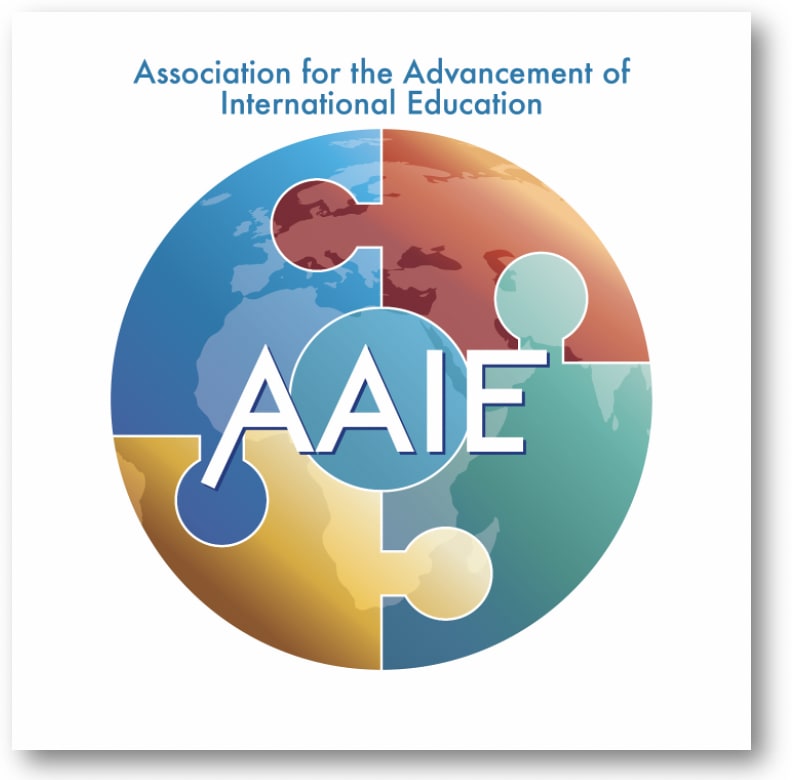 –MONDAY–
AAIE's COVID-19 BRIEFING #188
Data and Ideas to Support Your Crisis Leadership
March 22, 2021
The AAIE Global Leadership CONVERSATION:
April 11-16, 2021
Each School, One Ticket, Everyone Joins In
"Humans of AAIE"
"The Things We Will Leave Behind": Stories of fear and everyday uncertainty
"The Things We Will Not Let Go": Stories of learning, hope, and community
"The Things We Will Carry Into Tomorrow": Stories of reflection and reinvention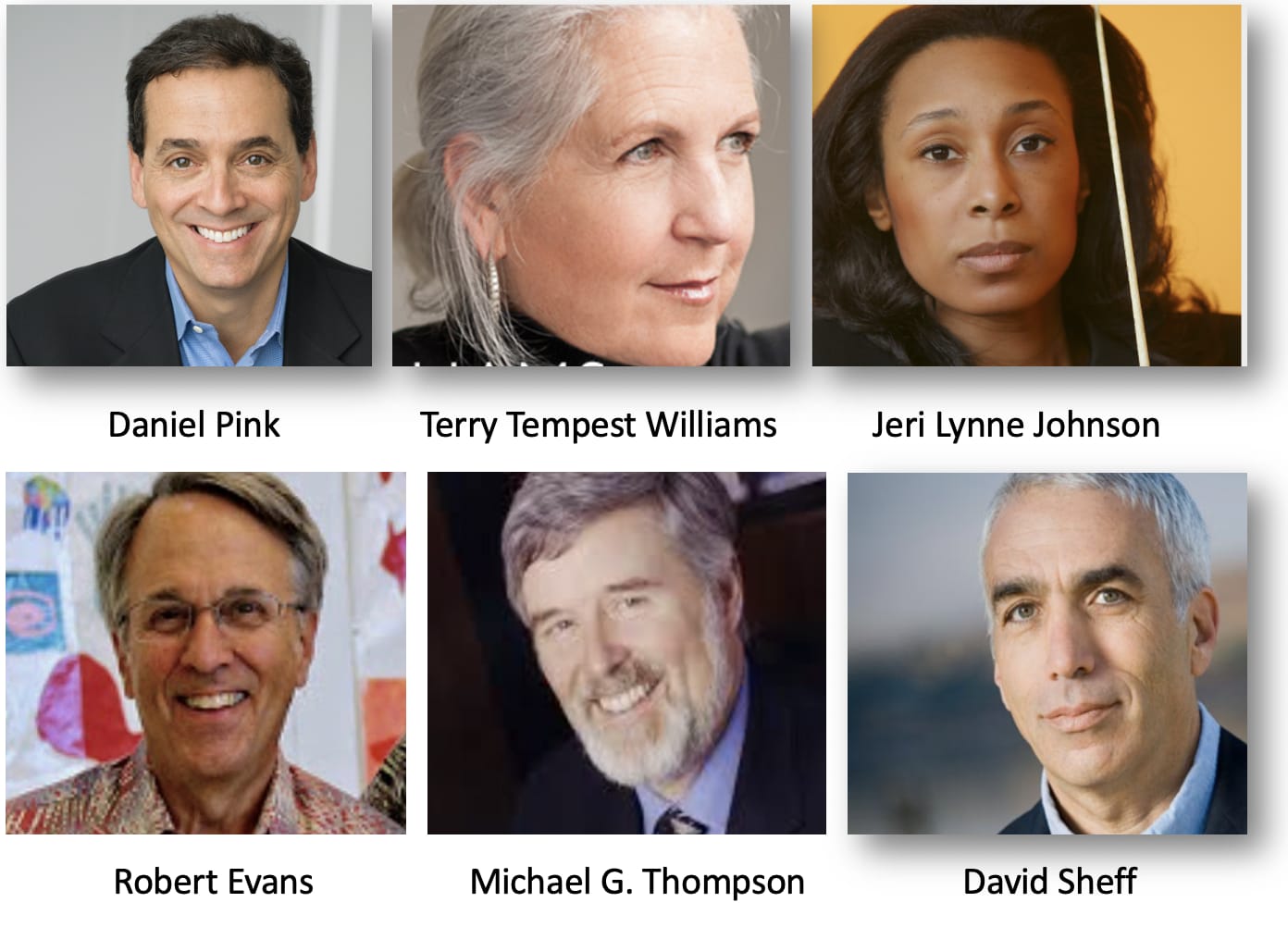 * by registering you are supporting the work of AAIE as well
QUICK LINKS for Busy People
123,527,951 Worldwide Cases

THIS WEEK'S

CONVERSATIONS

John Littleford's Perspective on Winning Back Trust Post-Pandemic

The future of international schools– the concept of "superforecasting"

Air purification research for our schools

USA and India share an increase in infections

More vaccine side effects in women

Wednesday's Future of Education Now

CONVERSATION

If you contract Covid-19: A physician's toolbox

Children and vaccinations
TODAY'S
CARTOON
(thanks to The New Yorker)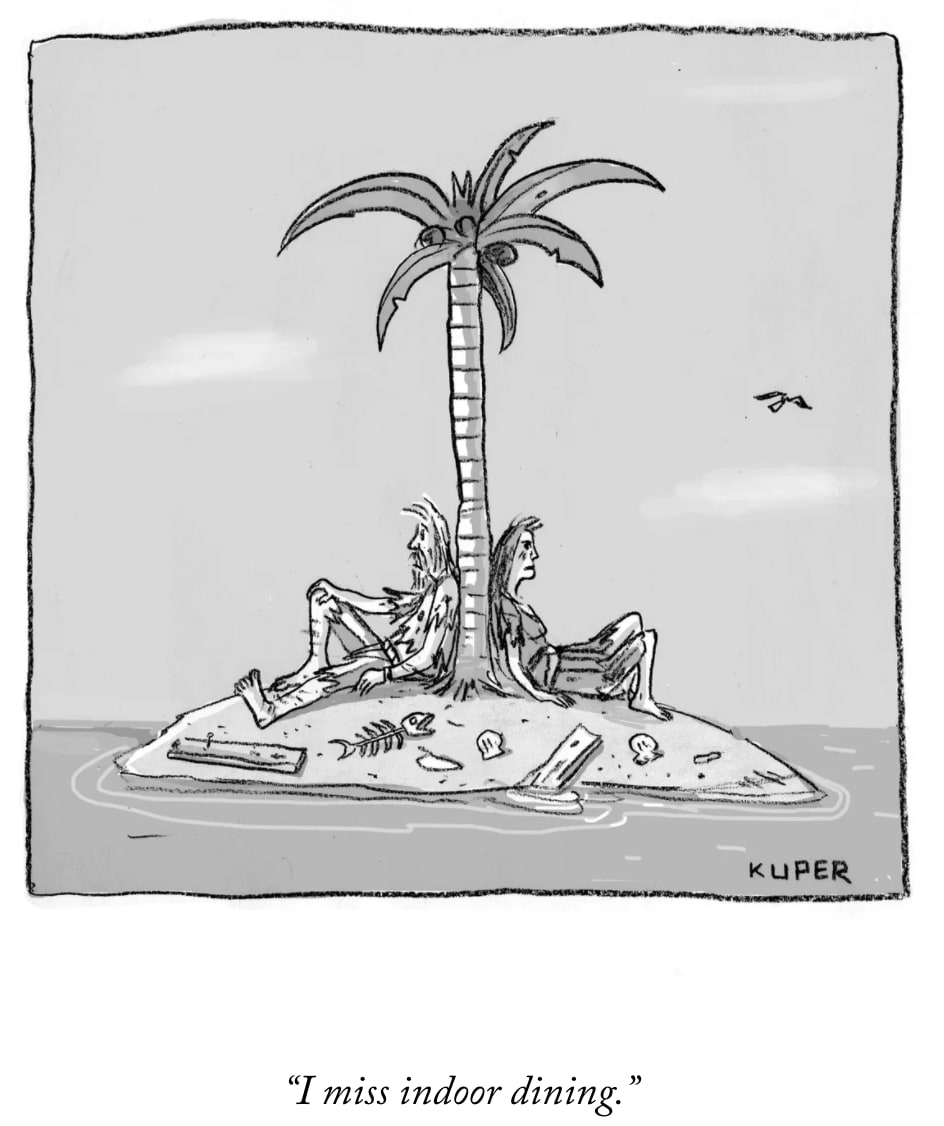 inspiration from Bob Hetzel
Optimism
More and more I have come to admire resilience.
Not the simple resistance of a pillow, whose foam
returns over and over to the same shape, but the sinuous
tenacity of a tree: finding the light newly blocked on one side,
it turns in another. A blind intelligence, true.
But out of such persistence arose turtles, rivers,
mitochondria, figs — all this resinous, un-retractable earth.
—Jane Hirshfield
–THIS WEEK'S CONVERSATIONS–
with International School Leaders from Around the World
WEDNESDAY'S INNOVATION AND THE FUTURE OF EDUCATION NOW DISCUSSION SERIES #3
WEDNESDAY
24 March 2021
8:00AM EDT
Western Academy of Beijing (WAB) and AAIE continue to partner for Round 3 of our panel discussion series that focuses on schools that continue to innovate and find new pathways for continually improving teaching, learning and ownership of students in the Journey.
On March 24 American School Foundation of Monterrey (ASFM) and Western Academy of Beijing (WAB) will share and ponder over their challenges and successes during their online learning journey.
For ASF-Monterrey
Dr. Sascha Heckmann, Asst. Superintendent for Innovation and Learning
Mr. Sheldon Guenther, MSHS Head of Campus
Ms. Melanie Henning, MSHS Instructional Coach
Ms. Julie Ward, HS English Teacher
Ms. Nola Heckmann, MS Science Teacher
and Students
Distance Learning Lessons - Moving from Schooling to Learning with Loops
As with all schools, ASFM was rushed into a distance learning program in March 2020. We thought we were ready after 3 years of a blended learning program and a thoughtfully designed transition plan. The authentic immersion into distance learning blew a hole in our thinking. Some students who were very successful at school, did not do so well with distance learning, while others who may have struggled in physical school, took off with distance learning. Our realization was that we had done a good job of schooling our students, but we had failed to help them with learning. This realization led to a re-think of our instructional approach in Middle and High School and resulted in the advent of learning loops, a student centered, personalized instructional approach that aims to replicate the lifelong learning process. We will share our journey, our tools, the early wins, and some failures, as well as student reflections about how learning has changed.
For Western Academy of Beijing
Angela Steinmann, ES Principal
Catherine Pierre-Louis, ES Vice Principal
Jonathan Mueller, PYP coordinator and curriculum coach
Dr. Karen Lindner, Early Years coordinator and curriculum coach
Kevin Crouch, Head of Educational Technology and IT
Remote learning lessons and WAB elementary school remote iteration no. 4
Guided by our belief in developing self directed learners within compassionate learning communities, we have been striving to create an agile online learning programme. Our Elementary School team will share what factors have shaped our latest iteration of online learning, from our strategic goals to technology choices and community feedback. We learned that focusing on less is more, but we also introduced complexity by simultaneously trialing several tech platforms in order to find out which one could enhance the learning most. We will share how it all worked, how we know and what comes next.
WAB and AAIE are inviting schools from around the world to keep the spirit of FOEN 2019 alive and share the learnings and innovations that have helped them grow and thrive during the pandemic.
Interested in joining a panel and share your story?
OUR WEEKLY GLOBAL
LEADERSHIP CONVERSATION #53
Our international school leadership CONVERSATIONS continue– the place where we take on the dilemmas of leading our school community through a global pandemic. ALL SENIOR LEADERS ARE INVITED– We need all voices and more perspectives as we take on the too many dilemmas together.
THURSDAY
25 March 2021
8:00AM EDT
THE LATIN AMERICA CONVERSATION #41
Hosted by Sonia Keller and Dereck Rhoads, the unique leadership context of Latin America provides the backdrop for crisis leadership and discussions on school sustainability.
THURSDAY
25 March 2021
10:00AM EDT
THE AAIE NEW SCHOOL PROJECT: PHASE THREE
Our deliberations continue on the SEVEN PRINCIPLES that can guide NEW SCHOOL thinking for the future of international education.
FRIDAY
26 March 2021
8:00AM EDT
THIS WEEK FOR THE NEW SCHOOL PROJECT:
Working groups continue, focusing on research and best practices to define pathways and implementation of strategies for each of the seven NEW SCHOOL PRINCIPLES. Please join in with your ideas to bring value and to support how we are approaching implementation ideas for the Seven Principles.
CLICK HERE to sign-up for a work group, and we again meet this coming Friday, using our weekly time to bring practical implementation strategies to each principle.
Why We Will Have Failed Them:
How to Regain Faculty Trust
–by John Littleford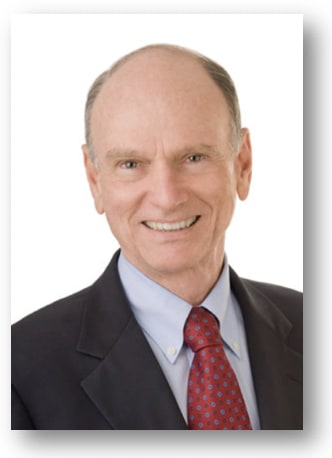 Teachers need a voice, an appropriate voice. When they return to a more normal school routine, they should be involved in a discussion about, and design of, mission based salary, benefit and evaluation systems.
In response to the pandemic, some schools are furloughing teachers, freezing pay increases, reducing benefits, and in some cases cutting salaries. At the same time, schools are expecting older, more vulnerable teachers to feel safe returning to campus and/or living in dorms and assuming that all teachers will once again engage effectively and loyally in distance learning exclusively or in combination with classroom teaching.
Those who teach the very youngest students are feeling the most challenged in their ability to deliver a quality program. Teachers have voiced anxieties, fears, insecurities and a reduction of trust in boards and in their own leaders. We have heard these sentiments worldwide. Heads need a plan to re-engage all staff, but particularly teachers who interface with students the most. How to do that? How will faculty be made to feel valued, heard, and needed once again? How will we reward them for their patience, perseverance and dedication other than with expressions of appreciation?
More than ever, it is time for all schools to engage in an organized and serious review of how they pay teachers, not just how much, but how that money is delivered.
Is it delivered in a mission appropriate fashion?

Is it paid out fairly, transparently, and in a way so that teachers can expect both a degree of predictability of future earning power and know HOW to influence their own future earning power?

What are your School's goals for your salary system outcomes?

What is your philosophy of compensation?

What will your School attempt to reward?

Quality of teaching?

Workload?

Advanced degrees?

Attitude?

Leadership?

Professional Growth and Learning?

Longevity?

Mentoring of fellow teachers?

Pastoral care of students?

Innovation in teaching?

Going the extra mile?

Supporting the mission?
All teachers care about how they are paid almost as much as how much they are paid. They want to know the rules of the road i.e., how to benefit their families, how to save, how to get ahead, educate their children, and advance to a leadership position if they so desire.
What does a school's salary system do to show them that pathway and what does it signal about the kind of teachers a school wants and frankly, does not want?
Parents may not be willing to pay a highly competitive tuition if schools have to revert to distance learning or a combination of remote and classroom teaching for any significant length of time. Creativity in teaching approaches should be highly prized. Generally, we have valued excellent teachers by promoting teachers to administrative positions and removing them from the classroom in order to retain and motivate them and pay them more. What is wrong with paying your strongest teachers as much or more than your division heads? Why do we not incentivize teachers to remain in the classroom? Why do we not structure the benefit package in a way that takes into account teachers' goals at various stages of their careers such as needing more cash for a down payment on a home, providing for educational opportunities for children, building a retirement asset or ensuring the health and safety of the teachers and perhaps their families as well. In other words, why are we not creating salary and benefit systems that reinforce the mission and how we recruit, hire, reward, maintain and professionally grow those whom most fit the mission?
Boards have only three jobs: hiring and evaluating the head, fiscal oversight and mission integrity. Eighty-five percent of most independent school budgets is spent on salaries and benefits and yet most board members, even the finance chair, cannot describe the benefit package or how the salary system works. This is a major lack of board oversight.
Board members should not know or set any individual salaries other than that of the Head, but they should understand how the talent recruitment, retention and evaluation processes function. How will we take this crisis and turn it into an opportunity to redesign outmoded salary and benefit systems?
Teachers need a voice, an appropriate voice. When they return to a more normal school routine, they should be involved in a discussion about, and design of, mission based salary, benefit and evaluation systems. However, this should occur in concert with senior administrators and a cross section of the board in a process that allows the time, the boundaries, and the guidance to help rebuild trust between board, administration and faculty. It should also result in a far more efficient, mission based and fair compensation structure. Teachers have a right to expect this but so do board members.
What Will the Future of International Education Be? 5 Lessons in "Superforecasting"
–by Dr. David Willows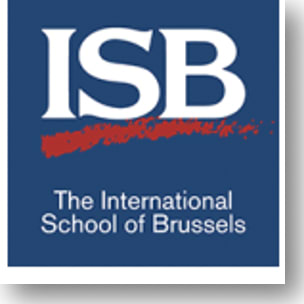 Even in normal times, there is a lot of crystal-ball gazing around this point in the school year as we try to predict how many students will walk through our doors on the first day of next school year.
But these are not normal times.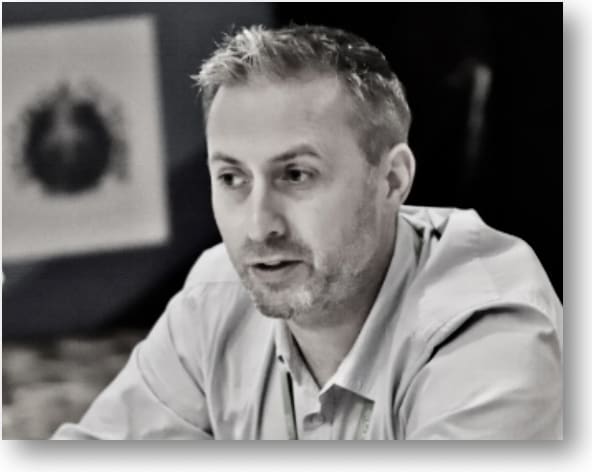 So it appears that we are also leaning heavily on our predictive powers right now to look deeper into the future and catch a vision of how things will be several years from now. And not just in terms of student enrollment. The entire future of how our schools will function appears to be the subject of some considerable debate and not an insignificant amount of opinion and conjecture.
The problem with forecasting, argue Philip Tetlock and Dan Gardner in the book Superforecasting: The Art & Science of Prediction, is that most people are not very good at making predictions. In fact, they say, the average "expert" on the future is "roughly as accurate as a dart-throwing chimpanzee."
Fortunately, however, for the authors of Superforecasting at least, an ability to accurately predict the future is not a "you have it or you don't" talent. Rather, it is a skill that can be cultivated.
For anyone who is interested in the future of international education - or simply getting better at predicting next year's enrollment - this book is absolutely worth a read. In the meantime, here are five lessons in superforecasting that I am taking away from what I've already read, along with some questions for further reflection that come to mind.
Ask the right questions. Don't waste time on "impenetrable 'cloud-like' questions", nor on questions about the future that are relatively easy to predict. A Superforecaster is one who concentrates on "questions in the Goldilocks zone of difficulty, where effort pays off the most." What are the big questions we are asking right now about the future of our schools that are simply too impenetrable to be worth asking?
Be specific. Forecasts are often diluted by "generalisms" about the future that lack any degree of specificity. A Superforecaster, by contrast, breaks intractable questions down to manageable chunks that, when combined, can lead to reasonably accurate and specific estimates of how the future might look. How can thinking about the different domains of school - curriculum, assessment, finance, resources, market, etc - help us break down the work into manageable, if connected, chunks?
Avoid making patterns out of randomness. Whilst the future is random in so many ways, we tend to be fooled into thinking that we can see patterns and order where sometimes there is none. The Superforecaster resists what is commonly referred to as a "regression to the mean" and instead keeps open the strong possibility of the future surprising us all.What is our capacity and willingness to remain open to unpredictable futures, not rooted in what "usually happens?"
Become an outsider. An insider tends to approach a situation based on the information that is within her grasp. She works with what she has and comes up with an estimate that is her anchor point. The point is, however, even if she adjusts along the way, it will almost certainly be insufficient because she has not looked at the bigger picture. The Superforecaster, on the other hand, starts with the perspective of an outsider, which can often be far more effective in establishing the range of possible futures that may occur.Where are the external perspectives that we need to seek out to ensure that we are not envisaging a future within the confines of the school-as-we-know-it.
Commit to being perpetual beta. The Superforecaster is always someone who is continually cautious, humble and willing to revise and adapt along the way. In fact, Tetlock and Gardner conclude, these qualities are far more important than knowledge or intelligence. In other words, being a superforecaster is far less to do with traits that someone might possess than with behavior.What are the systems and structures in our school that allow us to continually revise and adapt our plans for the future?
There is no doubt that some of our collective predictions on the future of international education are likely to turn out as accurate as a dart-throwing chimpanzee. So perhaps our task is to begin to acknowledge and emulate those that are the product of deep, deliberate practice as opposed to wishful thinking.
The problem with forecasting...is that most people are not very good at making predictions. In fact, they say, the average "expert" on the future is "roughly as accurate as a dart-throwing chimpanzee."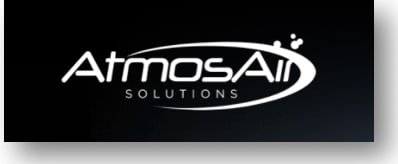 The Simple Truths and Facts :
Which Air PurifyingTechnologies Work to
Deactivate COVID-19
–by Sam Michael and Joseph Stern
(with thanks to Richard Gaskell)
There are many air purifying technologies on the market that attempt to deal with addressing COVID-19. This article will be a comparative review of the most popular technologies and identify the strengths and weaknesses of each.
First, briefly, it is important to understand the COVID-19 virus and how the virus travels. This initial discussion will lead to a better understanding of why certain technologies are best to address COVID-19. COVID-19 can be spread through a number of routes, including virus-containing droplets emitted when an infected person breathes, speaks or coughs – a factor experts said could help to explain why COVID-19 seems to spread more easily in indoor settings.
These droplets can land in the mouths or noses of people who are nearby or possibly be inhaled into the lungs. While large droplets fall to the ground over short distances, tiny droplets known as aerosols can carry the virus over distances greater than two meters and linger. Studies have indicated that COVID-19 can be transmitted person to person when people are in close contact with in one another; within about 1.8 meters.
Let's start with the basic HEPA Media Filter which is one of the more popular solutions. Filters are designed to improve indoor air quality by physically removing particles of matter that can be floating around. HEPA stands for "high-efficiency particulate arresting." As the name suggests, these filters are really good at pulling things out of the air and holding onto them so that they can't be recirculated. Filters are static devices that do not inactivate viruses. The coronavirus is at the lower end of a HEPA filter's range, so it might not be 100% effective on a single pass. But if a HEPA system is run over a period of time, it can take out a large amount of the COVID-19 virus from a defined space — somewhere in the high ninetieth percentile (99.94 to 99.97%).
HOWEVER, a HEPA filter is a passive technology which catches and grabs incoming contaminants only when they pass through the filter. Passive technologies only treat the airborne COVID-19 virus if and when the virus travels up into the AHU System.
Research on how the virus spreads in buildings has not shown any instances of infections happening due to the virus being pulled into the air return and out through the supply. Almost by definition this would require the virus to go past most other occupants, up into the return, through the lengthy duct, past the coil and any standard air filters and then re-introduced into the space. A stand-alone air purifier with a HEPA filter in the space is just marginally better. It still requires the virus to go into it before going past any other occupants.
Just think about your own space or classroom. Aren't students and people closer to other students and people than they are to the HVAC return vent or the stand-alone system? Although HEPA filters can have several necessary benefits in any air filtration system (primarily that they lower AVERAGE particle levels) they DO NOT address COVID-19 in the way that it has been found to spread.
Ultra-Violet Light (UV) is a type of electromagnetic radiation. Systems that emit UV rays are commonly used inside air ducts to kill molds that might otherwise grow on wet, dark parts of the air system. Direct UV exposure to human skin or eyes may cause injuries, so these systems are only used in ductwork. It is important to recognize that, generally, UV cannot inactivate the COVID-19 virus if the virus is not directly exposed to the UV for a sustained period of time. In other words, the virus will not be inactivated if it is covered by dust or soil, embedded in porous surface or on the underside of a surface.
Many of the UV lamps sold for home use are of low dose and require much longer exposure time to a given surface area to potentially provide effective inactivation of the COVID virus. UV is typically selected for the sole purpose of coil cleaning applications. Some owners and end users that have these systems in place are under the impression that their existing UV systems are adequate for airstream disinfection. There is not a significant enough dose of UV to achieve the level of airstream disinfection needed to deactivate COVID-19. The airstream is constantly moving and therefore requires increased intensity to accommodate for the small fraction of time a given volume of air is exposed to the UV light.
On average, 4-6 times more UV lights would need to be installed so that the UV lights have long enough exposure to deactivate the COVID-19 virus. If selected with fewer lamps as most systems are, the system would not achieve a significant amount of airstream disinfection. Furthermore, UV in-duct is a passive technology in some senses similar to HEPA Filters. UV is only treating the air when that air passes the light. Without extensive modification UV can't be considered a "satisfactory" solution to the COVID healthcare crisis and is primarily used for coil cleaning only. In addition, once again current research is reporting that COVID-19 does not get into the air duct /ventilation system and can only be treated actively in the space.
The only technology proven to actively reduce COVID-19 is Bi-Polar Ionization (BPI).
BPI disinfects the air by producing and distributing a controlled amount of positive and negative air ions, which interact with oppositely charged elements. BPI does not rely on contaminants passing through the unit to be cleaned, the BPI process allows for air cleaning to occur within the desired space (classroom) treating the complete volume of air within the breathing range. The ions go out into the space to actively treat contaminants in the air.
The majority of transmission of the virus is happening from person to person when those people are together. Droplets from a cough or sneeze will not have time to go past a HEPA filter in the HVAC air duct system or pass over ultra-violet lights before the COVID-19 is passed from one person to the next. BPI saturates the air with ions so that they immediately react with microorganisms.
BPI can be dielectric barrier discharge (DBD) or needlepoint ionization (NBPI). DBD BPI should not be confused with NBPI it it's capacity to deactivate COVID-19. One needs to ionize oxygen to create any of the various reactive oxygen species (ROS) necessary to break down the surface proteins of the virus. An Ionization Energy (IE) of 12.07 eV is the level at which oxygen begins to ionize. NBPI manufacturers explicitly state that they DO NOT reach 12.07 eV. BPI is the only technology that actively and continuously deactivates COVID-19 in the space that students and staff breathe.
Although this article is focused on air technologies and their impact on COVID-19 in the classroom, any air purification technology should serve multiple issues, such as other harmful microorganisms, particles and harmful gasses that can build up in a classroom. Healthy air in classrooms has been shown to lead to reduced absenteeism and provide a more productive environment for learning and teaching.
Staying Up-to-Date on the Global Pandemic Science
COVID-19 vaccinations for adults are already rolling out, but when can we expect vaccines to become available for children?
In this Q&A, Stephanie Desmon turns to Kawsar Talaat, MD, who led one of Pfizer's COVID-19 vaccine trials, to discuss when vaccines will become available for children, why vaccinating adolescents is important to population level immunity, and more.
Takeaways from their conversation:
Pfizer and Moderna vaccines are in clinical trials for adolescents over 12, and we may have useful data on those trials within months.

Separate trials for kids are necessary because their immune systems are more robust, so their dosing may be different.

70% to 85% of a population needs to be vaccinated to reach "herd immunity"—and we can only get to that level if kids and adolescents are vaccinated.

With strict adherence to other public health measures, schools can open safely even before children are vaccinated.
Winners, Losers, and In-betweeners:
How pharma companies stacked up in the Covid-19 vaccine race
In the early stages of the race to develop Covid-19 vaccines, it wasn't clear how many would work, which manufacturers would score successes, or which projects would fall by the wayside.
Now, just a few days past the first anniversary of the start of Moderna's Phase 1 trial — the first to begin in the United States — we have a much clearer picture of the Covid vaccine landscape.
Indeed, the focus is now sharp enough to start to call out some early winners and early losers. The fate of some development work remains uncertain, but one thing can be stated with conviction — the world already has a number of highly protective Covid vaccines and may have several more, both in first-generation iterations and in next-generation products aimed at troublesome variants.
Winners
Pfizer and BioNTech: Pfizer and BioNTech started the clinical trials of their Covid-19 vaccine after Moderna and the National Institutes of Health. But in a spectacular drug development feat, they delivered the first Phase 3 results for an effective vaccine, and were the first approved in the U.S.
Moderna: In a race against pharmaceutical giants with hundreds of years of combined history, Moderna, founded in 2010, swiftly developed a vaccine that has matched or bested any product available around the world.
Johnson and Johnson: This pharma giant's vaccines division, Janssen, took a risk. Unique among the major Western vaccine companies, J&J decided to test a one-dose vaccine. (It is also testing a two-dose version, which is still under study.) The gamble paid off: J&J's one-dose vaccine was shown to be effective and it became the third vaccine, after Pfizer and Moderna, to be put into use in the United States and several other countries.
A Winner, Bruised
AstraZeneca: This vaccine was developed in conjunction with Oxford University and from the start the project had an ambitious and laudable goal. The group at Oxford wanted to make a vaccine that could be available to huge swaths of the global population at a very low cost. It is allowing vaccine manufacturers in other countries to make the vaccine. And AstraZeneca has pledged to sell it at cost. This is a vaccine that many countries are counting on.
Winners, But With Asterisks
CanSino, SinoPharm, Sinovac and SinoPharm-Wuhan: Chinese vaccine manufacturers brought forth the first vaccines, some of which were put into use in that country before they were fully tested. Despite its massive population, China has been making vaccines available to low- and middle-income countries around the world. So far at least 32 countries have given emergency use authorizations to one or some of the vaccines produced by these companies.
But little of the data generated in large trials of the vaccines has been published in peer-reviewed journals.
Russia and the Gamaleya Research Institute: Interim Phase 3 results of the Sputnik V vaccine were published in The Lancet; the vaccine was shown to be highly efficacious, in the range of the results induced by the mRNA vaccines. The vaccine is given in two doses; each of the doses uses a different human adenovirus to deliver genetic instructions on how to make copies of the SARS-2 spike protein. Cells make the protein, which is seen by the immune system as an invader. Like the Chinese vaccines, Sputnik V's tires haven't been kicked by an external regulatory agency.
Moving Toward the Winners' Circle
Novavax: Novavax, another small biotech, hasn't yet received authorization. But it has delivered impressive efficacy results on a par with those from Pfizer/BioNTech and Moderna from a large trial in the U.K., as well as results showing the vaccine maintains efficacy, albeit reduced, against the new variant circulating in South Africa. Investors have noticed, bidding the company's shares up nearly 2,000% over the past year.
Losers
Inovio Pharmaceuticals: Inovio's vaccine, an injection of the spike protein's DNA sequence, has yet to enter a large clinical trial. In September, the FDA placed the vaccine under a clinical hold until Inovio could provide more information on the device used to deliver it. Earlier this month, Inovio said it had completed enrollment in a Phase 2 study, but the company hasn't disclosed any data.
Merck: Merck, one of the world's leading vaccine manufacturers, launched two projects with external partners, trying to make a vaccine using the same platform as it uses with its Ebola vaccine and another using a weakened measles virus as the vector to deliver SARS-2 genetic material.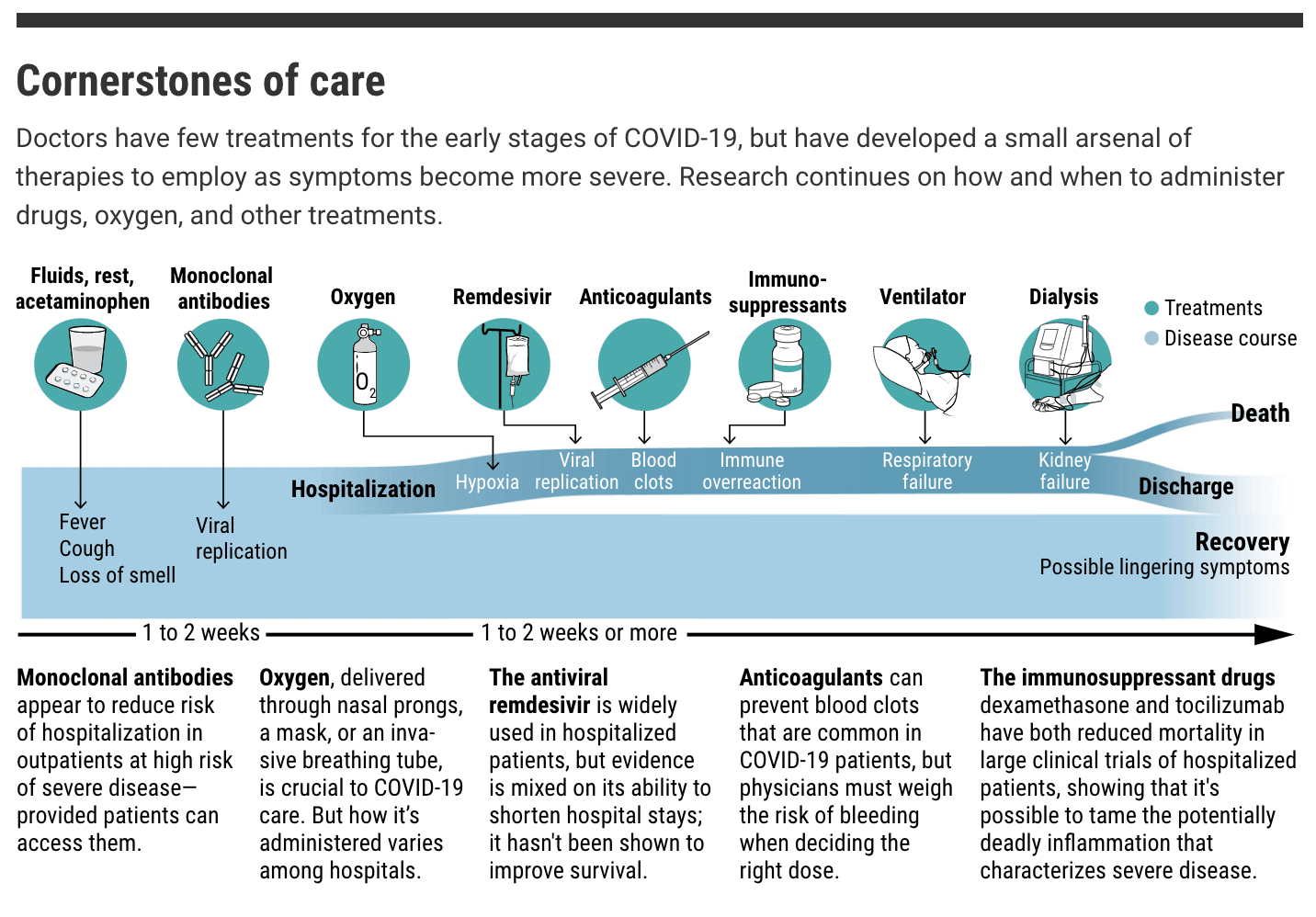 –THE NEWS of COVID-19–
123,527,951 Cases Worldwide (Johns Hopkins CSSE)
AstraZeneca's U.S. Trial Shows Coronavirus Vaccine
is 79 Percent Effective
Oxford University and AstraZeneca reported on Monday that their coronavirus "vaccine for the world" was safe and 79 percent effective overall, according to data from a long-awaited clinical trial in the United States, alongside other studies in Chile and Peru.
The two-shot regimen was completely effective at preventing severe cases of illness.
In a news release, the Oxford researchers, who developed the easily transported $4 shot for the British-Swedish pharmaceutical giant AstraZeneca, said their coronavirus vaccine is "safe and highly effective, adding to previous trial data from the United Kingdom, Brazil and South Africa, as well as real-world impact data from the United Kingdom."
An independent monitoring board combed through the data to look for any cases of blood clotting events similar to those that caused the vaccination effort to be suspended in many European countries. While vaccination was started again after a pause, it undermined confidence in the vaccine. The independent board found no suggestion that the vaccine carried an increased risk of clotting.
The trials included 32,449 adult participants in all age groups, most of them in the United States. The volunteers received either two standard doses of the Oxford-AstraZeneca vaccine or a placebo, at a four-week interval, the researchers said. The scientists said the data show the vaccine is 79 percent effective against symptomatic covid-19, the disease caused by the coronavirus, and 100 percent effective against severe illness. There were five cases of severe illness in the trial, all of them in the group that received a placebo.
"The data look good. The numbers don't lie," said Dr. Anthony S. Fauci, director of the National Institute of Allergy and Infectious Diseases, who said he was briefed on the data on Sunday. (Washington Post)
Infections in the USA Increasing
New coronavirus infections are now rising in several U.S. states, despite record vaccinations — an increase experts attribute to the growing reach of new variants and widespread pandemic fatigue after a year of public health restrictions. The seven-day average of newly reported cases climbed 2.6 percent on Sunday, even as overall hospitalizations and deaths remain down.
In Florida, a state where coronavirus measures are lax, authorities in Miami Beach declared a state of emergency and imposed a nighttime curfew this weekend as large crowds of rowdy spring break revelers turned violent and disruptive. The city's commissioner, David Richardson, blamed the unrest on "a lot of pent-up demand from the pandemic and people wanting to get out." "And our state has been publicly advertised as being open, so that's contributed to the issue," he said. (The Washington Post)
India with Highest Number of Infections in Four Months
The coronavirus, once seemingly in retreat in India, is again rippling across the country. On Monday, the government reported almost 47,000 new cases, the highest number in more than four months. It also reported 212 new deaths from the virus, the most since early January. The outbreak is centered in the state of Maharashtra, home to Mumbai, the country's financial hub. Entire districts of the state have gone back into lockdown. Scientists are investigating whether a new strain found there is more virulent, like variants found in Britain, South Africa and Brazil. (The New York Times)
Vaccine Production Increases as Manufacturers Learn More
Covid-19 vaccine manufacturers are ramping up production, churning out far more doses a week than earlier in the year, progress that is accelerating mass vaccination campaigns in the U.S.
After a slow start, Pfizer, its partner BioNTech and Moderna have raised output by gaining experience, scaling up production lines and taking other steps like making certain raw materials on their own. Pfizer figured out how to stretch scarce supplies of special filters needed for the vaccine production process by recycling them. Moderna shortened the time it needed to inspect and package newly manufactured vials of its vaccine. The companies—along with Johnson & Johnson, which recently launched a Covid-19 vaccine—also are teaming up with other firms to further increase production. (The Wall Street Journal)
Hybrid Coronaviruses From Merged Variants
are Spreading Between People
Recombinant viruses formed by mash-ups of two variants of the SARS-CoV-2 coronavirus are now spreading from person to person, potentially increasing the risk of dangerous new variants arising.
New Scientist reported on the first detection of this kind of recombination last month, but at that point it was unknown whether the resulting hybrid was circulating in the wild. Two new analyses end any doubt. "Recombinants are circulating," says Dave VanInsberghe at Emory University in Atlanta, Georgia.
Recombination is a potent source of evolutionary change in coronaviruses. (New Scientist)
A Sturdier Spike Protein Explains the Faster Spread
of Coronavirus Variants
The fast-spreading UK, South Africa, and Brazil coronavirus variants are raising both concerns and questions about whether COVID-19 vaccines will protect against them. New work led by Bing Chen, PhD, at Boston Children's Hospital analyzed how the structure of the coronavirus spike proteins changes with the D614G mutation -- carried by all three variants -- and showed why these variants are able to spread more quickly. The team reports its findings in Science (March 16, 2020).
Chen's team imaged the spikes with cryo-electron microscopy (cryo-EM), which has resolution down to the atomic level. They found that the D614G mutation (substitution of in a single amino acid "letter" in the genetic code for the spike protein) makes the spike more stable as compared with the original SARS-CoV-2 virus. As a result, more functional spikes are available to bind to our cells' ACE2 receptors, making the virus more infectious. (AAAS, SCIENCE)
Women Report Worse Side Effects After a Covid Vaccine
Men and women tend to respond differently to many kinds of vaccines. That's probably because of a mix of factors, including hormones, genes and the dosing of the shots. On the morning that Shelly Kendeffy received her second dose of the Moderna Covid-19 vaccine, she felt fine. By afternoon, she noticed a sore arm and body aches, and by evening, it felt like the flu.
"My teeth were chattering, but I was sweating — like soaked, but frozen," said Ms. Kendeffy, 44, a medical technician in State College, Pa.
The next day, she went to work and surveyed her colleagues — eight men and seven women — about their vaccine experiences. Six of the women had body aches, chills and fatigue. The one woman who didn't have flu symptoms was up much of the night vomiting.
The eight men gave drastically different reports. One had mild arm pain, a headache and body aches. Two described mild fatigue and a bit of achiness. One got a headache. And four had no symptoms at all.
"I work with some very tough women," Ms. Kendeffy said. But "clearly, us women suffered a severity of the side effects." She felt better after 24 hours, and is thrilled she got the vaccine. "I wouldn't change a thing, because it sure beats the alternative," she said. "But I also didn't know what to expect."
The differences Ms. Kendeffy observed among her co-workers are playing out across the country. In a study published last month, researchers from the Centers for Disease Control and Prevention analyzed safety data from the first 13.7 million Covid-19 vaccine doses given to Americans. Among the side effects reported to the agency, 79.1 percent came from women, even though only 61.2 percent of the vaccines had been administered to women.
Nearly all of the rare anaphylactic reactions to Covid-19 vaccines have occurred among women, too. C.D.C. researchers reported that all 19 of the individuals who had experienced such a reaction to the Moderna vaccine have been female, and that women made up 44 of the 47 who have had anaphylactic reactions to the Pfizer vaccine. (New York Times)
COVID-19 May Be Linked to Hearing Loss, Tinnitus and Vertigo
Hearing loss and other auditory problems may be strongly associated with coronavirus, new research suggests.
Researchers found 56 studies that identified an association between COVID-19 and auditory and vestibular problems. The vestibular system includes the parts of the inner ear and brain that process the sensory information involved with controlling balance and eye movements.
They pooled data from 24 of the studies to estimate that the prevalence of hearing loss was 7.6 per cent, tinnitus was 14.8 per cent and vertigo was 7.2 per cent.
Their data primarily used self-reported questionnaires or medical records to obtain COVID-19-related symptoms, rather than the more scientifically reliable hearing tests. However, the team – who followed up their review carried out a year ago – described the quality of the studies as fair.
"There is an urgent need for a carefully conducted clinical and diagnostic study to understand the long-term effects of COVID-19 on the auditory system," said Kevin Munro, professor of audiology at The University of Manchester and Manchester Biomedical Research Centre (BRC) hearing health lead.
"It is also well-known that viruses such as measles, mumps and meningitis can cause hearing loss, little is understood about the auditory effects of the SARS-CoV-2 virus. Though this review provides further evidence for an association, the studies we looked at were of varying quality so more work needs to be done." (BBC)
Worldwide Vaccinations per 100 People: As of MARCH 22, 2021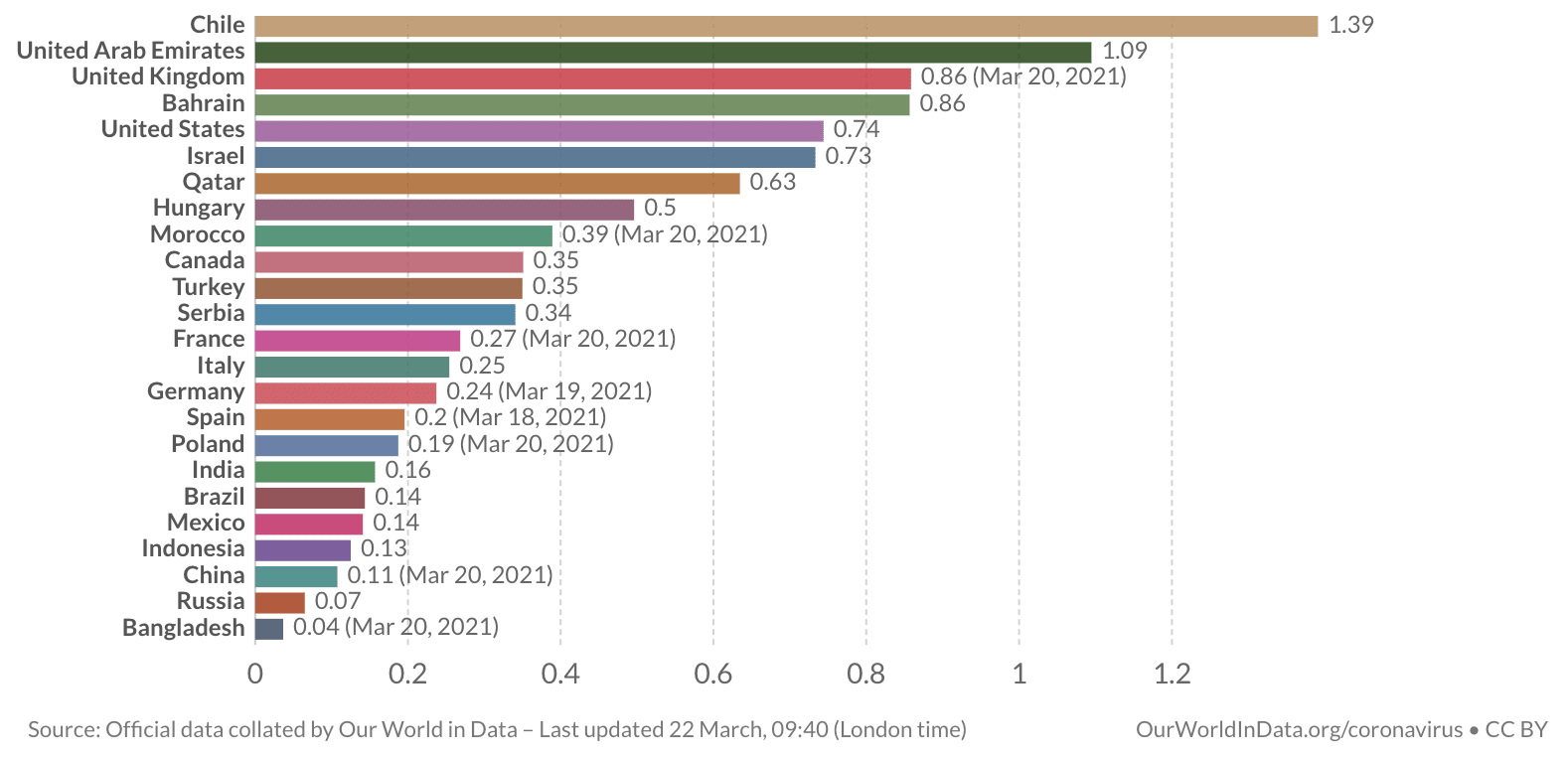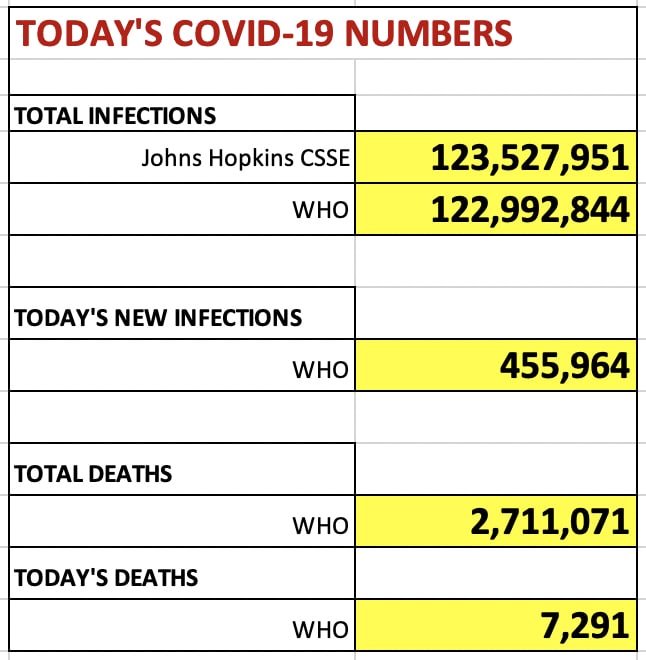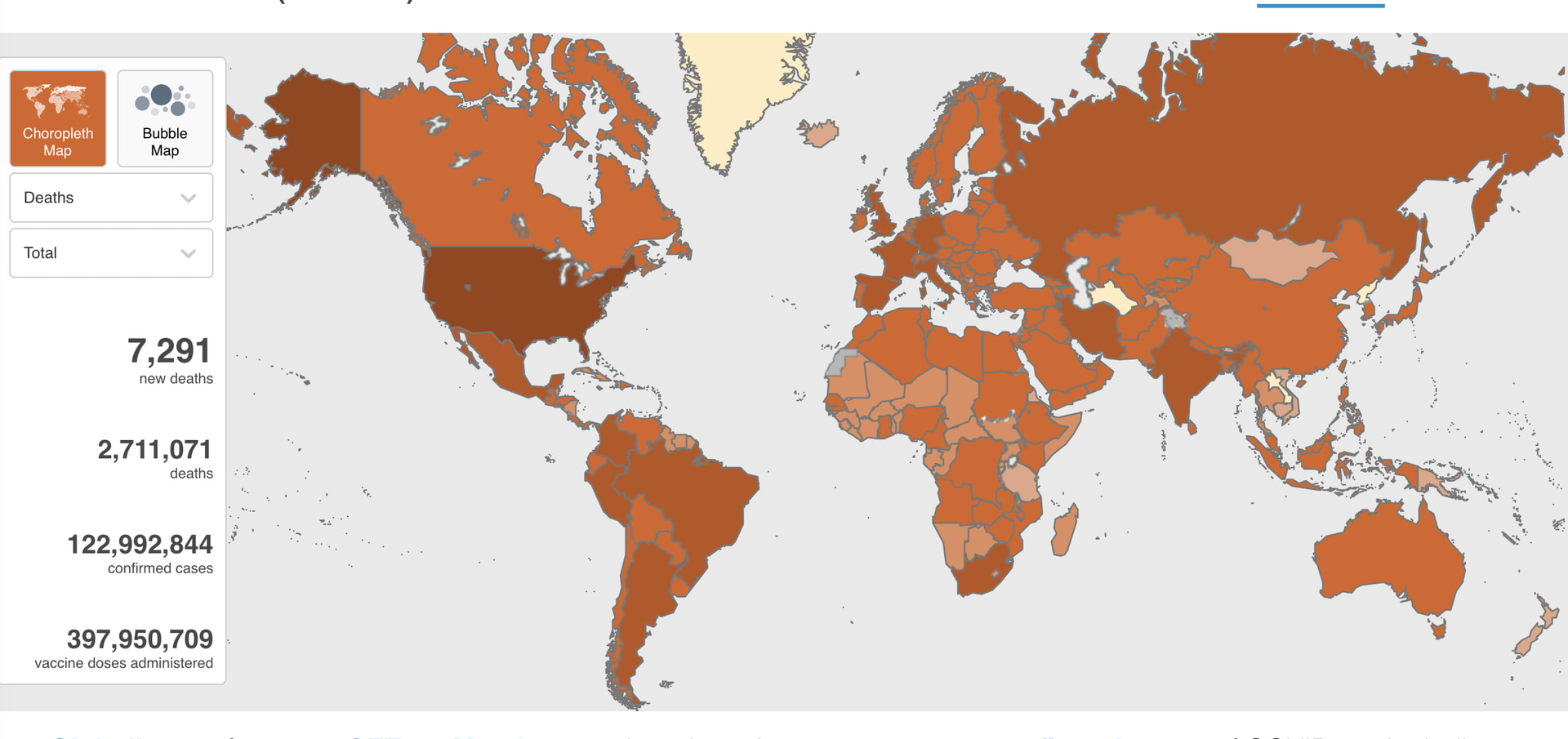 –FROM JOHNS HOPKINS CSSE–
From Johns Hopkins

CSSE,

the

Infection Rate World Graphic
The Cultures of Dignity Resources for Supporting
Social-Emotional Wellness
From Cultures of Dignity

,

For the Social-Emotional Tiny Guides from Rosalind Wiseman and Charlie Kuhn– a gift to our AAIE community– resources with no fee but plenty of insight.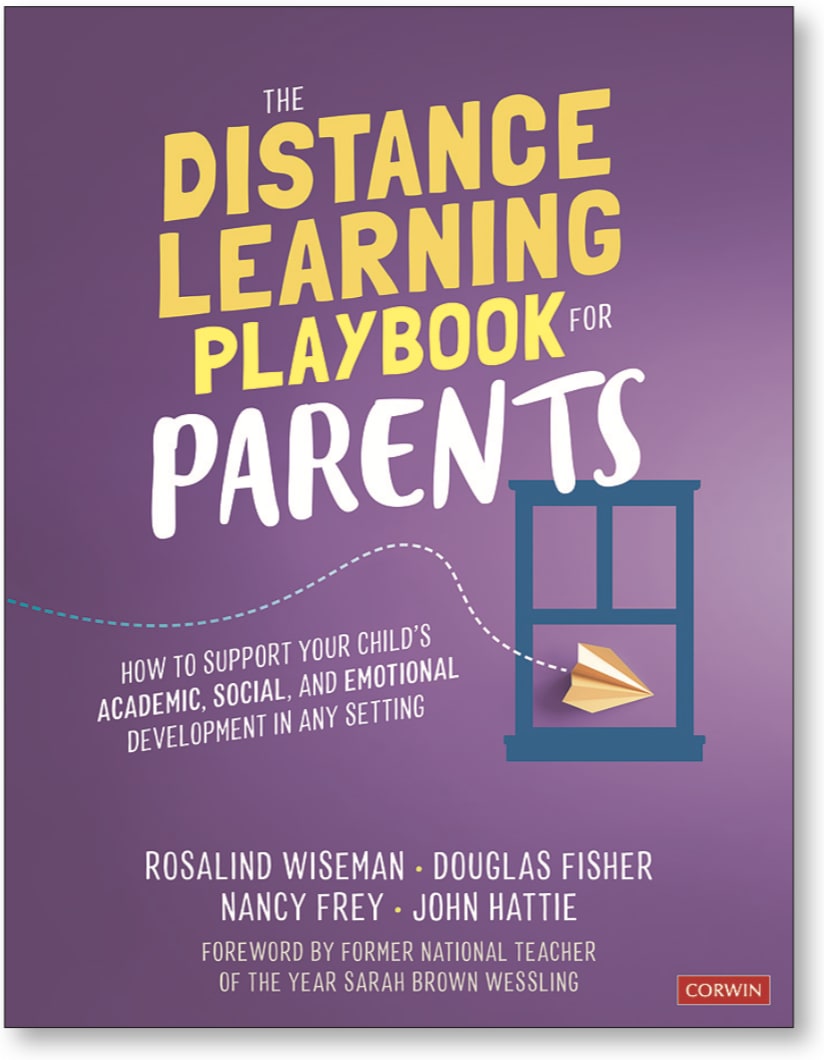 Rosalind Wiseman's newest book:

"Distance Learning Playbook for Parents–How to Support Your Child′s Academic, Social, and Emotional Development in Any Setting
A Final Note: The AAIE COVID-19 Briefing is provided to support your leadership for the school community you serve. We encourage you to use these resources in any way, shape or form that helps you, your communications and toward furthering close relationships across your community. – The AAIE Board