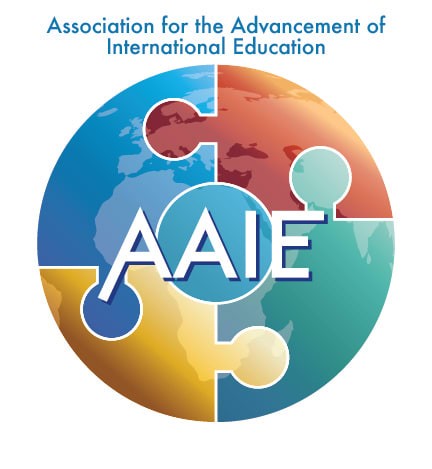 –FRIDAY–
AAIE's COVID-19 BRIEFING
#134
Data and Ideas to Support Your Crisis Leadership
November 6, 2020
Quick Links for Busy People
–TODAY's BRIEFING HIGHLIGHTS–
49,129,021 Cases World-wide

(Johns Hopkins)

(please excuse Wednesday's stat miscue):

NEXT week's

CONVERSATIONS

Holistic thinking about well-being from the New School Project

Board trustees represent the school mission, especially during the toughest of times

ISD: 45 days of uninterrupted onsite teaching and learning

Resilience through collective efficacy

The USA election: dog elected mayor

A POEM TO CONSIDER
"While the realization of the Wellness Principle is so complex, questions of wellness seem more present during the pandemic than perhaps any time in our lifetime. School leaders are charged as public health commissioners almost as much as we must be chief learning officers, ministers of joy, and builders of community and safety."
–Homa Tavangar, The New School Project
–NEXT WEEK's CONVERSATIONS–
with International School Leaders from Around the World
WEDNESDAY
November 11
8:00AM EST
Raising Our Gaze: Engaging Trustees in Post-Pandemic Thinking
–with Richard Ulffers (IS Boston) and
Shelley Paul (Second Circle)

How might we prioritize generative governance, even as we wrangle the relentless that is now and to begin shaping our schools' "post-traumatic" strategy for growth?"
Inspired by the recent HBR article Growth After Trauma, with an intention to evolve strategic planning to a rolling, responsive approach, and the questions posed by Ariel Raz and Rich Boerner in a recent AAIE CONVERSATION, IS Boston designed its annual fall Board retreat with three interwoven aims:
Conduct a fidelity check and calibration of the current strategic plan




Provide an invitation and means to think broadly and boldly about what the school wants to be in the coming years

Create an experience of purposeful partnering between Trustees and senior leaders
A Note from IS Boston Headmaster, Richard Ulffers: During this year of leading a school in the middle of a pandemic, I am keenly aware of the need to be in the moment to handle various daily Covid related scenarios as they present themselves. Still, as the leader of the school I also wanted to remain forward thinking and to have the Board of Trustees engaged at a strategic level during the Board retreat. From my perspective as a Head of School, it is essential to keep our eyes on the horizon to ensure the long term sustainability of the school. Now, more than ever, our role as leaders calls for a vision of the future that imagines and prepares our schools emerging from this crisis ready to embrace our next strategic priorities.
PLEASE INVITE YOUR BOARD TO THIS SESSION– we want them to be part of the AAIE community too.
THURSDAY
November 12
8:00AM EST
OUR WEEKLY CONVERSATION
SCHOOL HEADS AND SENIOR LEADERS AROUND THE WORLD #37
– hosted by Will Richardson
All international school senior leaders are welcome. A Weekly CONVERSATION between School Heads and Senior Leaders. Our discussions continue to be contemporary, important and a time we teach each other. Thanks to Will Richardson who has facilitated each Thursday since the very beginning.
THURSDAY
November 12
10:00AM EST
THE WEEKLY LATIN AMERICA CONVERSATION GOES GLOBAL #27
– hosted by Sonia Keller, (Tri-Association) and Dereck Rhoads (AASSA)
A focus on the dilemmas and innovative practices within the Latin America region. Yet everyone in the world is welcome to join the CONVERSATION.
FRIDAY
November 13
8:00AM EST
THE AAIE NEW SCHOOL PROJECT: Phase II
From Principles to Practice
– an unprecedented collaboration between international schools around the world.
Discussions Facilitated by
Will Richardson, Homa Tavangar and Kevin Bartlett
A SUMMARY OF TODAY'S NEW SCHOOL PRINCIPLES SESSION:
Today was Week 1 (out of 2) of Principle Five, WELLNESS (this is actually the third Principle we have taken on, as we bumped up the order to cover Wellness earlier in the sequence). As we dove into "interrogating" the meaning, and building enduring understanding of the most compelling concepts captured by the principle, we took a slightly different approach, to see the categories of wellness as a whole, and how they work together. The PRINCIPLE has been articulated by AAIE participants as:
"We co-create a culture that nurtures the intellectual, social, emotional, physical, spiritual, environmental, and occupational well-being of all community members."
We depicted this visually as: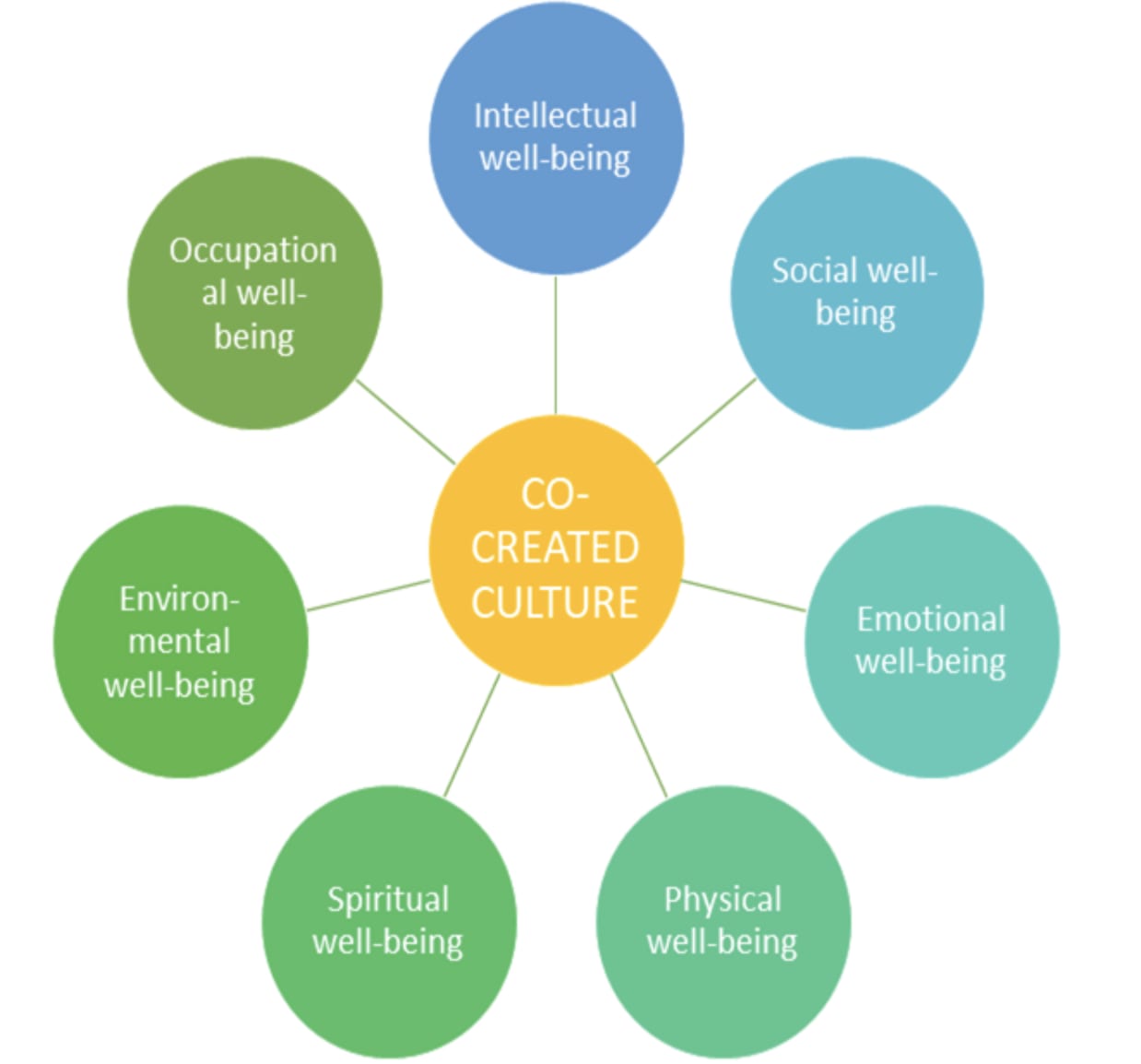 It Was a Remarkable Discussion Today
While the realization of the Wellness Principle is so complex, questions of wellness seem more present during the pandemic than perhaps any time in our lifetime. School leaders are charged as public health commissioners almost as much as we must be chief learning officers, ministers of joy, and builders of community and safety. Rather than try to define each individual element of wellness, we first reflected individually on the question, and tried to fill in the blank: "I would recognize well-being at a school through ______________ " (try to think of specific 'things,' whether policies, indicators of culture, feelings, data, etc.).
Then breakout groups discussed and shared amongst each other, yielding robust visions, shared in this document: bit.ly/wellnessaaie1. We cannot overstate what a dynamic, open-hearted, thoughtful sharing ensued. The power of co-creation and community was in full-force during today's session – an antidote to contention and mistrust that's prevalent in the world.
NEXT FRIDAY
Next week, we continue with Principle Five, and will kick off with comments and resources from this Principle's curation team (THANKS to Kili Lay and Ted Mockrish), before groups explore strategies for living the principle - the "how" of developing, centering and building wellness.
If you haven't already joined one of these sessions, please know the door is always open for the AAIE community to participate, and we encourage you to try to make a Friday 8 am US ET meeting.
Many thanks to all who are contributing their time and talents each week!

NOTE: You can catch up, comment, and browse the curation Padlet, slide deck and more here: bit.ly/aaienshome(this is the AAIE New School Home Base - aaienshome).
Celebrating Forty-Five Days of Uninterrupted Onsite Learning Within the ISD Community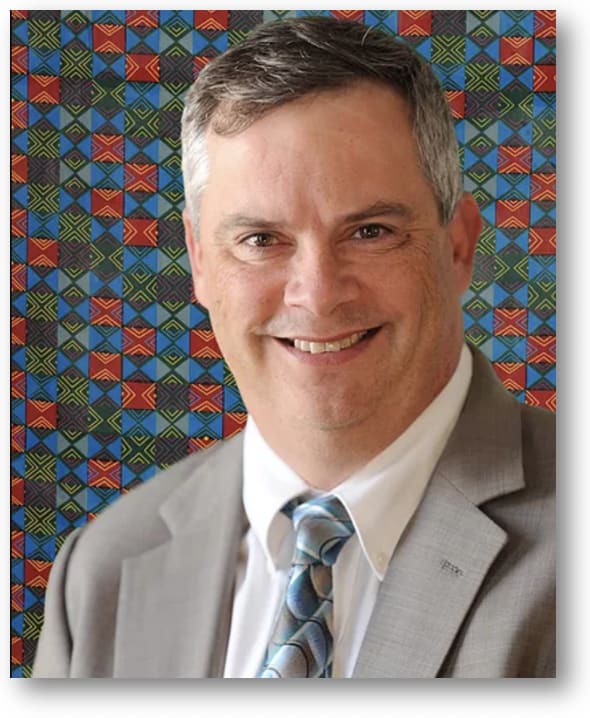 Alan Knobloch, Director, International School
of Dakar

–by Alan Knobloch

On Monday, ISD will have been open with students on campus, either five days per week or hybrid depending upon the grade, for 45 days, one-quarter of our school year. We are pleased to share the Health and Safety documents we used to open school on September 3rd, continue to have a safe environment for our community, and track positive Covid-19 cases. These are living internal documents that have been updated as we learned from actual cases and new information became available.

Our Health and Safety team, comprised of school members, medical professionals, and public health officials, has guided our work since June. School Nurse, Jennifer Thermenos, and ISD Assistant Director, Suzanne Wardini, have done an amazing job creating our health and safety guidelines, educating our community, responding to questions, and tracking positive cases.

In reviewing our documents, keep in mind the context of the virus in Senegal. We are fortunate to live in a country with a low number of reported cases consistent with most sub-Saharan countries. Testing is available, but only to individuals with symptoms. The country nor the school has the ability to do widespread testing to detect asymptotic cases.

Feel free to email me (alank@faculty.isd.sn) with any questions, Nurse Jen and Suzanne are also available to answer questions.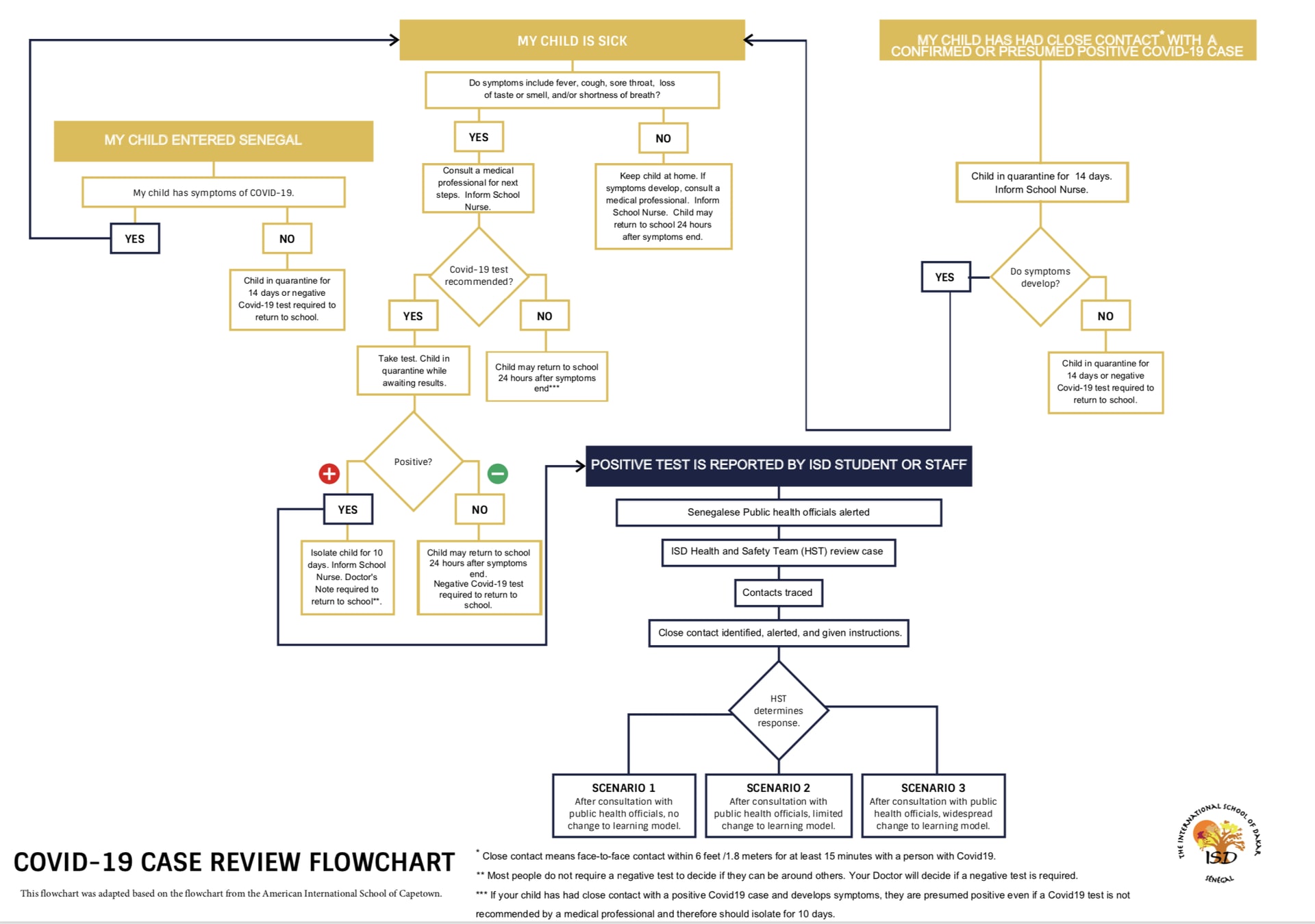 Governance in the Trenches:
The Global Pandemic: How to Ground a Very New Board under Pressure?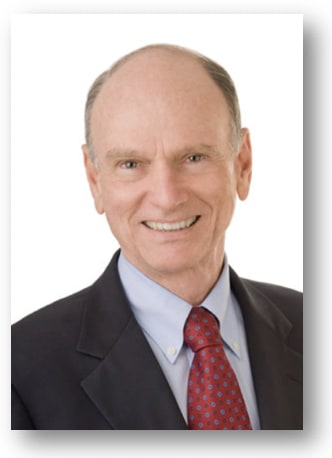 A Case Study to Consider:
This Board has been fortunate to have a great deal of institutional memory, but after a blow up over the management of the School's response to the Pandemic, the Chair stepped down or may have been forced to do so due to parental backlash. With him went three others on this 15 member Board.
Affecting this School is the Black Lives Matter events of the spring. Many Alumni/Alumnae wrote angry letters about their past experience at the School. The Diversity/Inclusion/Equity Committee has faced pushback from some stakeholders who feel that the Committee's efforts are too progressive. One Board Member said, "The division within our parent body is a reflection of the divisiveness within the larger external community." Of course this was also true of the Board itself. Within the Board, there were underlying sentiments that the DEI Committee has "gone too far" and others felt the initiatives are long overdue.
In addition, enrollment has been declining due to strong local competition. This School did receive a share of the influx of families rushing away from public schools who were either doing a poor job of providing distance learning or not opening at all. Holding on to this new cohort, who joined the School not as their first choice but as a short term haven, will be a challenge. All of our international and independent schools need to focus on retention as well as recruitment and not take any recent enrollment upticks for granted. Every year, all current parents need to be sold on re-enrolling.
On the positive side, this Head is widely regarded as passionate, strong and growing into a mature and thoughtful Head who is just emerging from his transition period. He is seen as needing to be more of a CEO, to delegate more and to begin to address fund raising for a future capital campaign. The Chair is strong, long-term, loyal to the Head, and passionate about the School. The two have a very good working partnership.
With so many new Board members and underlying tensions in the School community, the Board does not feel very comfortable discussing their views on these key issues honestly and openly in the boardroom. On the other hand, much more is happening outside of the boardroom including side bar conversations among Board Members and social media activity. Trust is not what it should be. There is no longer a center to this Board. Yet, there is a growing sense of urgency that the Board needs to come together and have much more robust and forthright discussions. How to get there?
Parents who have long left the Board alone and have not demanded more transparency from this self-perpetuating Board are now clamoring for more engagement with the Board. Some parents also believe that the faculty is out of touch with the conservative mores and values of a portion of the parent community.
The Solutions:
This Board needs to do a better job of orientating and training all new Members and hold events that help to build the camaraderie and connections that are now missing because the Board Members do not really know each other. They need to reduce turnover, keep the Chair for at least another 2 or 3 years and possibly change their term limits. Two three-year terms for board members are the real "kiss of death" for healthy independent and international schools.
The Board needs to reinforce for everyone the core principles of good governance; support the Head; and put up a firewall when constituents attempt to cross boundaries and channels.
Boards are seeking to develop 360 evaluation and other more frequent, unorthodox head evaluation protocols. These represent the wrong mode at the wrong time. The consequence is the undermining of heads who are already feeling worldwide more vulnerable than ever before. This is not the time for rapid head turnover.
What about the parents who want more communication/transparency? On any board, a board member represents the mission, not the present parents even if, in the case of some international schools, one has been elected through the AGM process. The board member represents the legacy of the past, the present mission and the vision for the future.
What about reacting to the feeling that the faculty is "out of touch"? Recruiting, retaining and evaluating faculty falls within the domain of the head of school. Maintaining faculty morale and a healthy culture also is the responsibility of the head of school. We have seen that some boards want to establish a board subcommittee that keeps a pulse on faculty morale. This is inappropriate.
These are challenging times for all boards, but it is important to stay the course on the path of best practices.
–TODAY's POEM TO CONSIDER–
A poem, just for you as a source of peace and reflection...
UNTITLED
Life is Nature and fluctuation.
I grab onto the quiet that is there some of the time. I may cling to it
like a raft afloat in boundless seas.
As I dry out, I may be emboldened to fashion a sail from downy
feathers and bird song. My winged vessel. Hand-crafted freedom.
I feel like nudging me. . . toward what I know not. Like a mother
duck pushing downy bottoms to the unfamiliar water. Will it be
okay? Will I be able to turn and return? Are my tiny webbed toes
good for anything but kissing?
I pray for the end of toil, or what feels like toil. Maybe toil is only
good for making toilet paper?
I feel – fleetingly - like wreckage tossed upon the beach. Did
anyone recognize me, or know my destination?
–by S.A. Nelson
–The Resilient Leader CONVERSATION: Part III–
The powerful concept of "collective efficacy" to reduce burnout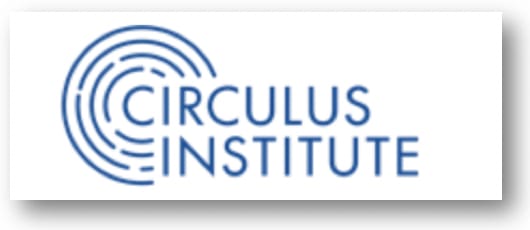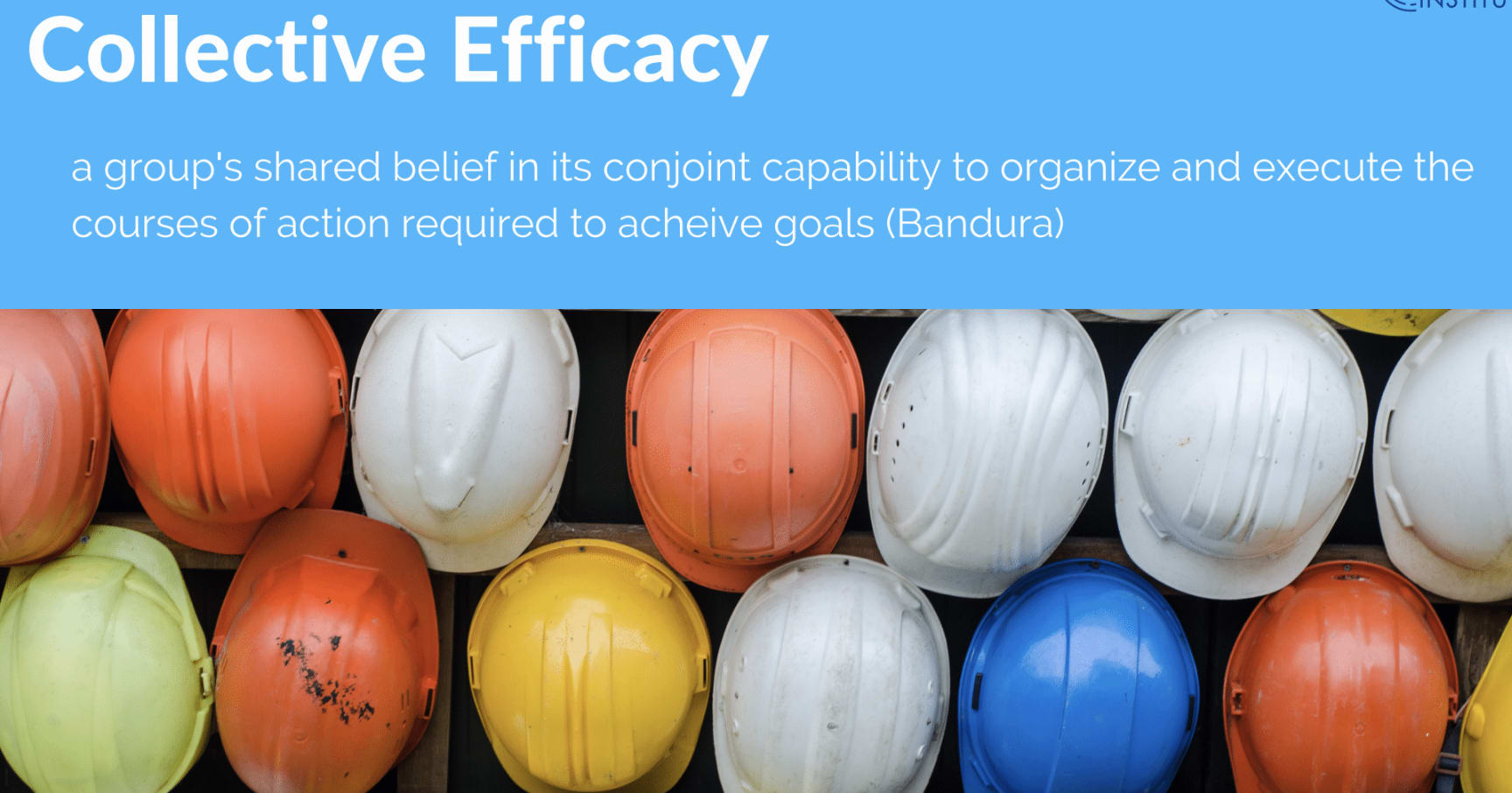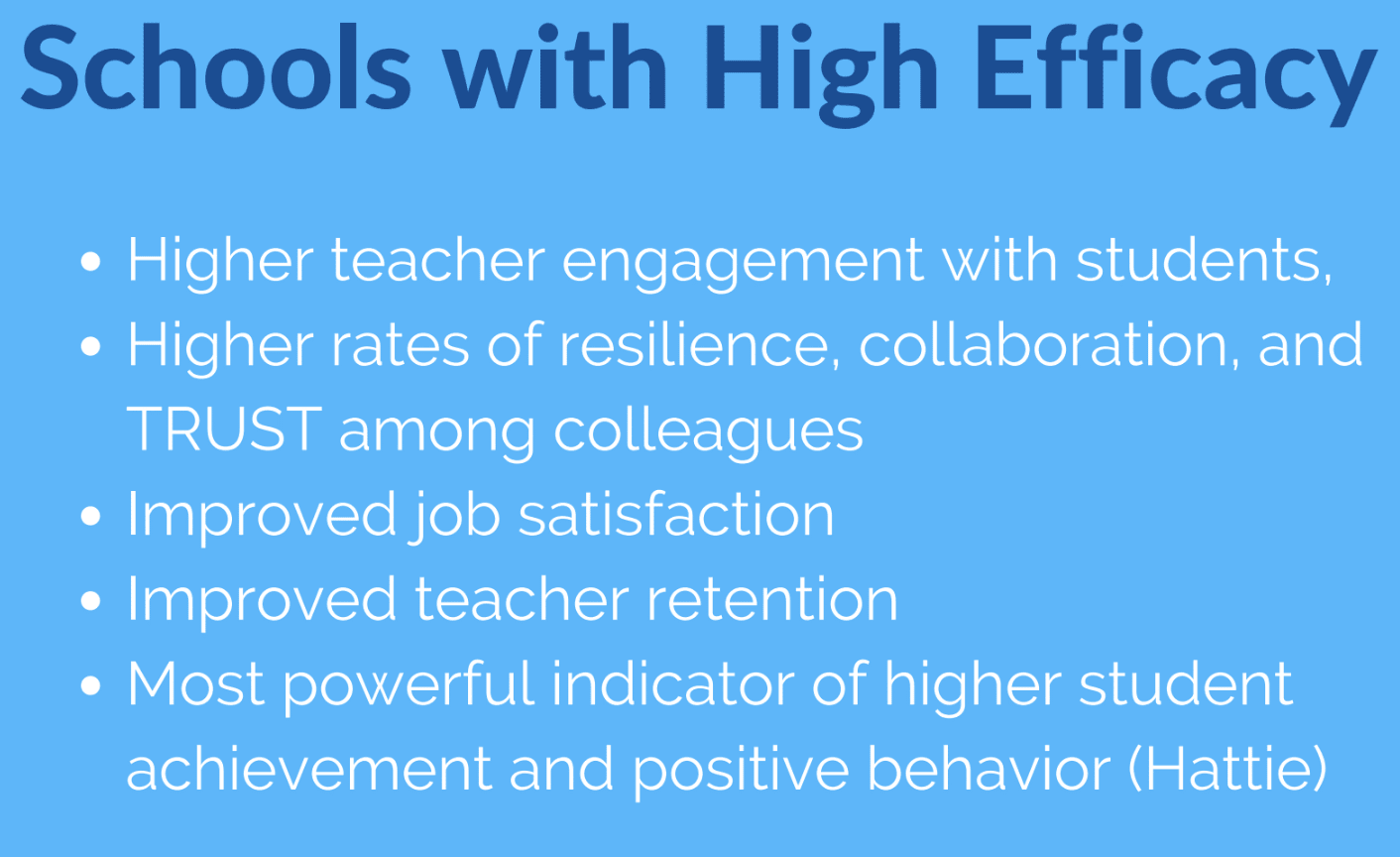 –THE NEWS of COVID-19–
49,129,021
Cases Worldwide (Johns Hopkins CSSE)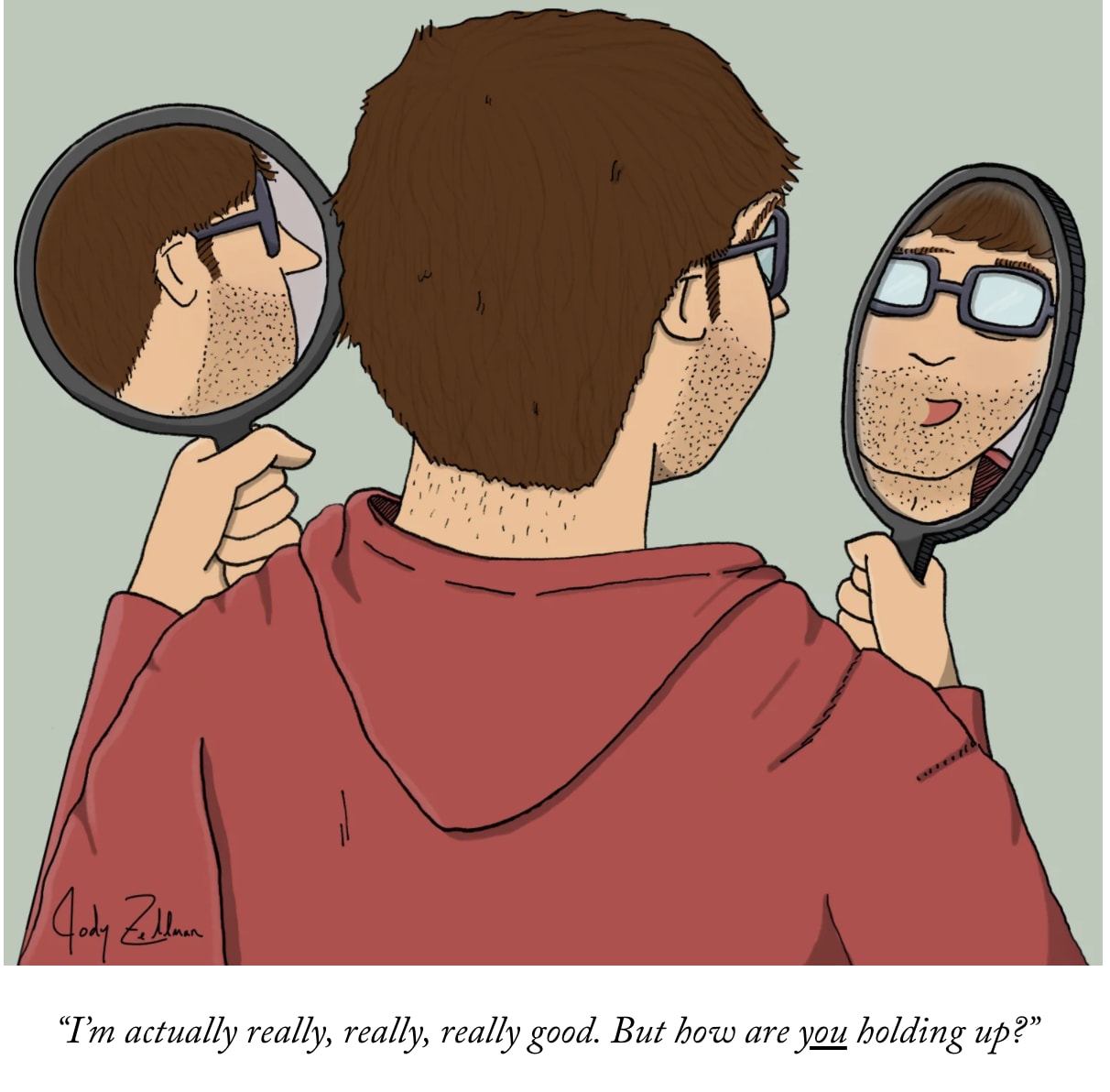 COVID-19 Washes Across the United States
A rapidly rising flood of coronavirus infections engulfed much of the United States yesterday, setting records for new cases in 20 states, killing 1,158 people and straining the health system's capacity to keep up with the pandemic. On Thursday, 116,707 new cases were reported, the second straight record for a single day and a figure that dwarfed the total for any day in the previous worst two periods of the outbreak, in April and July. From Washington state to West Virginia and from Texas to Pennsylvania, the country was awash in record or near-record case counts Thursday. "In many areas of the country, this pandemic is a runaway train," said James Lawler, an infectious-diseases specialist at the University of Nebraska Medical Center. "We are doubling Covid hospitalizations every two to three weeks in many parts of the Midwest. Think about what that means in a month to six weeks. So, we better find the brakes soon." (The Washington Post, Johns Hopkins University)
Inhaling a COVID-19 Therapeutic
Researchers at the University of Pittsburgh School of Medicine describe a new method to extract tiny but extremely powerful SARS-CoV-2 antibody fragments from llamas, which could be fashioned into inhalable therapeutics with the potential to prevent and treat Covid-19. These special llama antibodies, called "nanobodies," are much smaller than human antibodies and many times more effective at neutralizing the SARS-CoV-2 virus. They're also much more stable."Nature is our best inventor," said senior author Yi Shi, Ph.D., assistant professor of cell biology at Pitt. "The technology we developed surveys SARS-CoV-2 neutralizing nanobodies at an unprecedented scale, which allowed us to quickly discover thousands of nanobodies with unrivaled affinity and specificity." (sciencedaily.com, sciencemag.com)
A Tough Day If You Are a Mink
Denmark, one of the largest fur producers in the world, plans to kill every mink in the country to contain a coronavirus mutation that had begun spreading back to humans. Although the virus mutates constantly, this variation prompted particular concern, according to scientists at Denmark's Statens Serum Institut, because 12 of the people infected showed less ability to produce antibodies, which could reduce the potential effectiveness of a vaccine. The Danish government announced it would expand plans for a more limited cull and instead put down all of the country's 15 million minks. Prime Minister Mette Frederiksen said Wednesday it was a "heavy decision" but the situation required "resolute action." (via The Washington Post)
UK Moves to Level 4
England's healthcare service will move to alert level four – its highest alert level – from midnight tonight, its chief executive Simon Stevens announced today. Alert level four means NHS England will take over coordination of the health service's response to covid-19 so that staff can be moved around the country and patients can be sent to other regions if covid-19 cases threaten to overwhelm local services. There are now more than 10,000 covid-19 patients in hospitals across England. (New Scientist)
The Economic Consequences in Italy
Italy could see its government debt spiral out of control next year unless the economy bounces back quickly from a second coronavirus lockdown, according to a senior lawmaker from the governing coalition. "Italy will end this year with debt-to-GDP at around 160% -- if the economic rebound is limited, we risk an explosive debt dynamic already in 2021," Luigi Marattin, who heads the finance committee in the Lower House of parliament, said in an interview Wednesday. (via Bloomberg News)
For the Heck of It: One Story About American Politics :>)
A small American town located in northern Kentucky on Tuesday elected a dog as their mayor. Wilbur Beast, a French bulldog, won the mayoral election of Rabbit Hash with about 13,143 votes, making him the most popular canine candidate in the history of the town. The race saw the biggest turnout ever, with a total of 22,985 votes cast. Wilbur Beast is not the first dog to lead the town, which has been electing dogs as mayors since the 1990s. The residents cast their vote by writing their preferred canine candidate's name on a ballot paper and then donate $1 to the Rabbit Hash Historical Society. (The Independent)
–The STATS–
TODAY's TOTAL
GLOBAL CASES:
Johns Hopkins– 49,129,021
WHO–48,534,508
GLOBAL DEATHS (WHO):
Today–1,231,017
Two Days Ago–1,211,986
EVOLUTION OF-GLOBAL CASES (WHO):
Today–48,534,508
Two Days Ago–
47,362,304
NEW CASES (WHO):
581,679
–Tracking the Virus Around the World–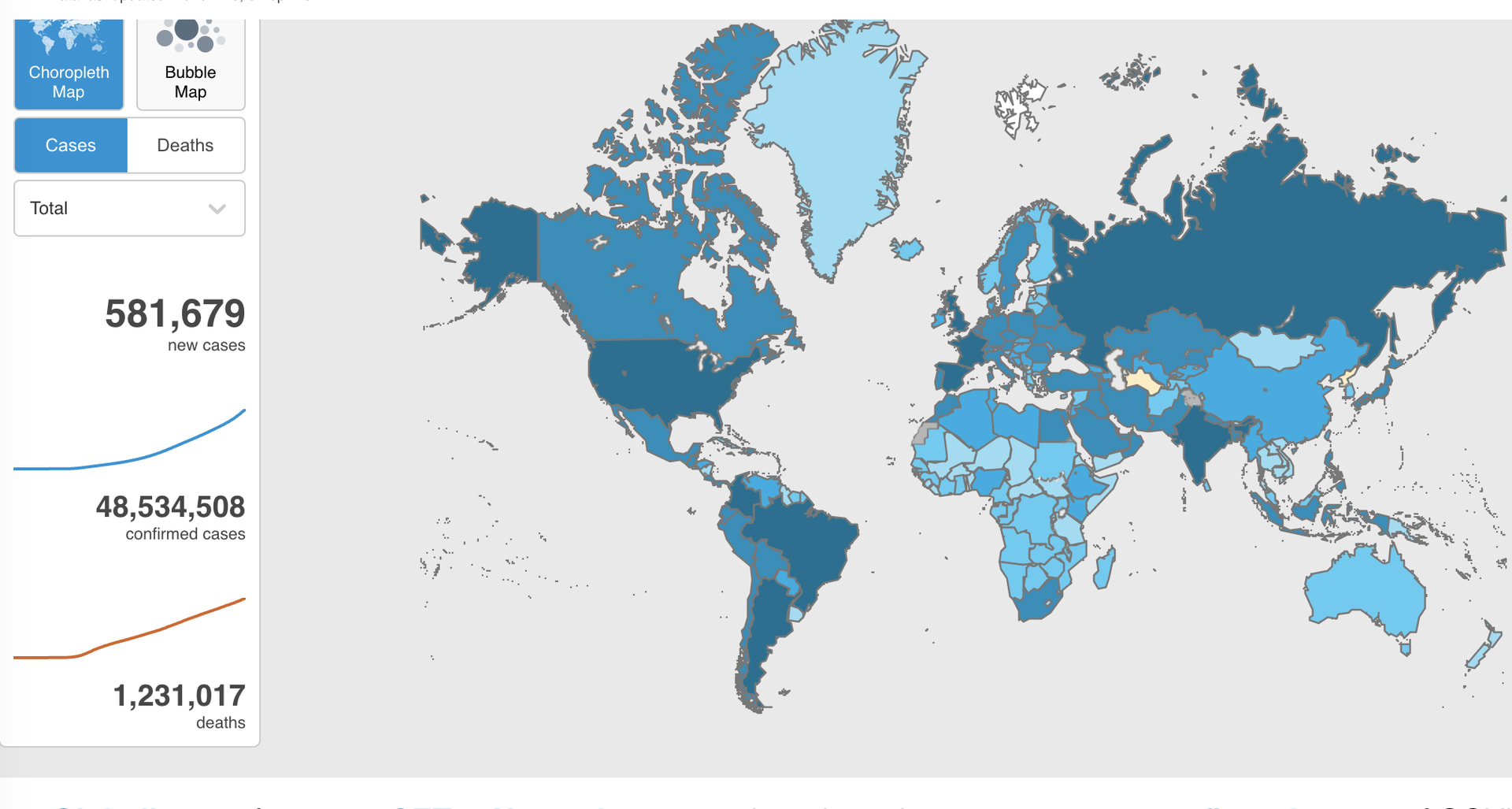 What's Your Weekend Hold for
Stepping Away From It All?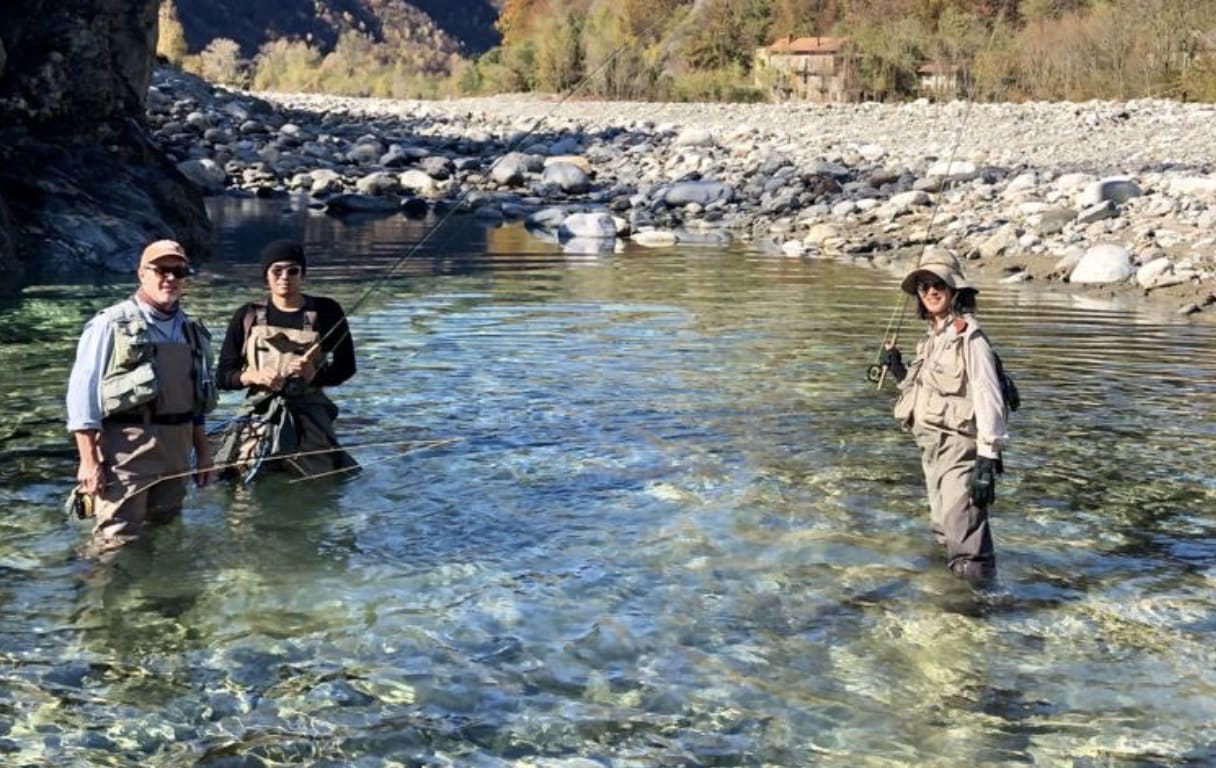 A great weekend along an Italian stream for
Wayne Rutherford and family–
not so much for the fish.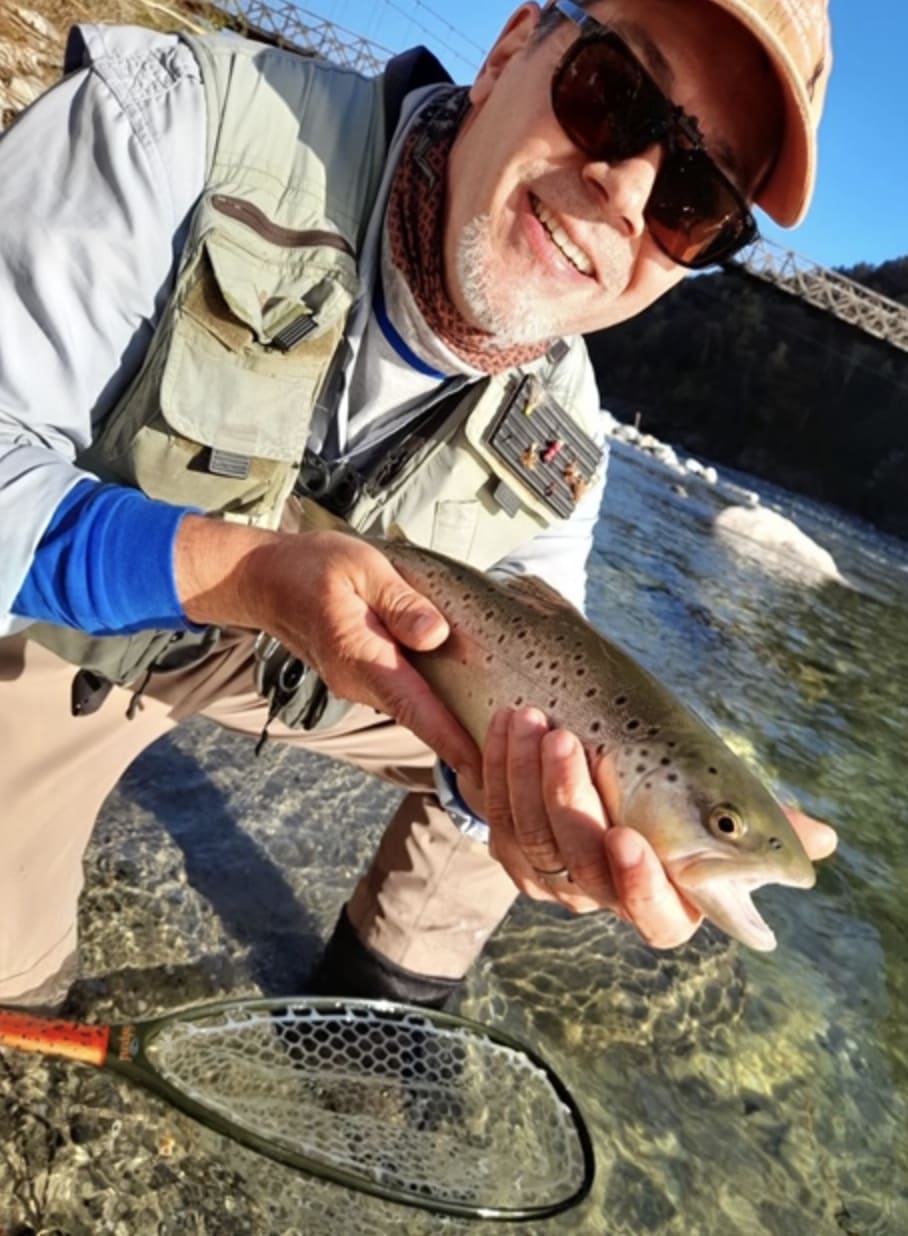 –FROM JOHNS HOPKINS CSSE–
The Cultures of Dignity Resources for Supporting
Social-Emotional Wellness
From Cultures of Dignity

,

For the Social-Emotional Tiny Guides from Rosalind Wiseman and Charlie Kuhn– a gift to our AAIE community– resources with no fee but plenty of insight.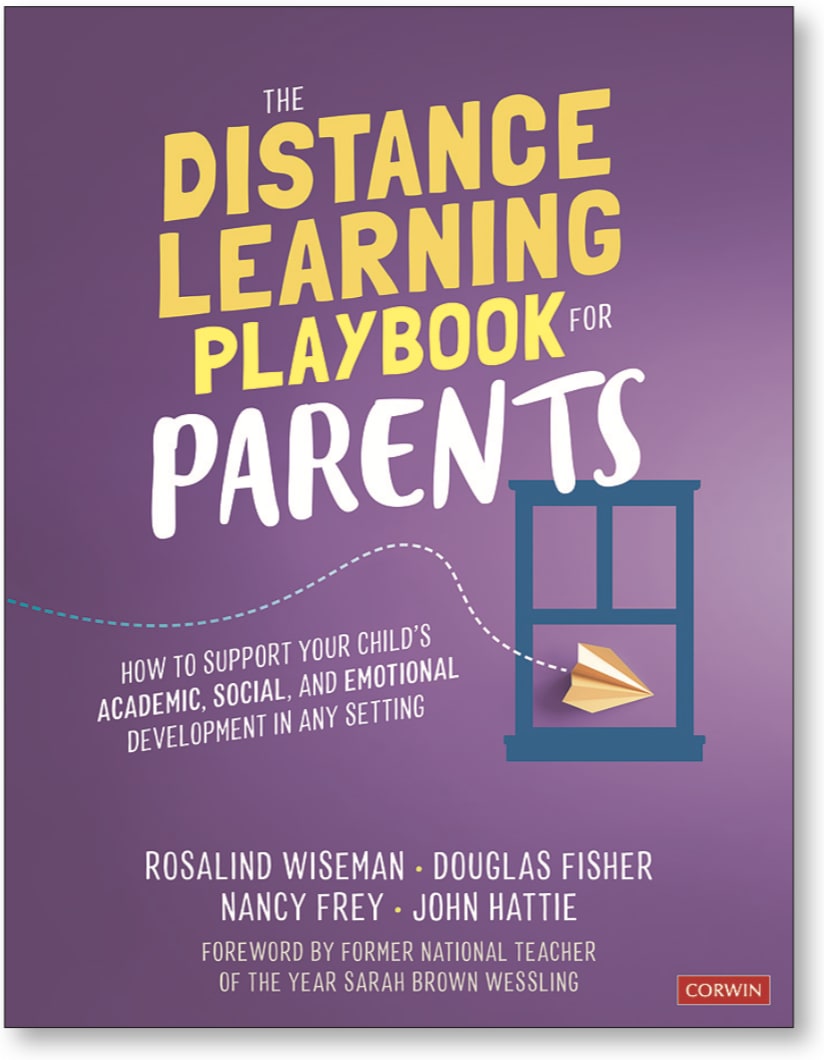 Rosalind Wiseman's newest book:

"Distance Learning Playbook for Parents–How to Support Your Child′s Academic, Social, and Emotional Development in Any Setting
A Final Note: The AAIE COVID-19 Briefing is provided to support your leadership for the school community you serve. We encourage you to use these resources in any way, shape or form that helps you, your communications and toward furthering close relationships across your community. – The AAIE Board