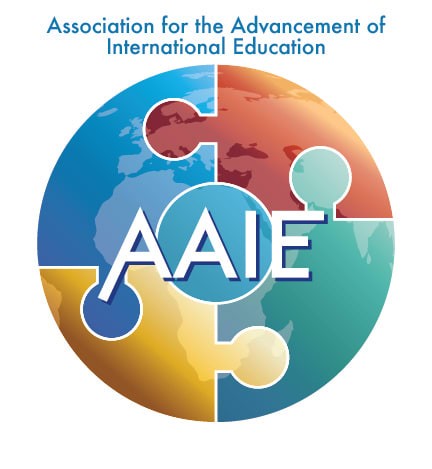 –Friday–
AAIE's COVID-19
BRIEFING #96
August 10, 2020
Highlights
19,952,057 Cases World-wide

(Johns Hopkins)

This Week's

CONVERSATIONS

Wednesday's

CONVERSATION

with John Littleford- see the case study below

The International School Brussels UPDATED Return to School Plan– staying agile

New Zealand, 100 days without community transfer

The A/OS Excellence in Governance Program– an ongoing

Conversation
We promote an open membership– meaning the abundance mentality prevails. Everyone is welcome and included in all our CONVERSATIONS and publications, whether you are a member or not. The stuff of staying close together in a crisis. We hope you will become a member as this revenue is essential for our day-to-day work. Thanks.
The ISBrussels Return to School Plan has been added
–From the WHO Director General
August 10 BRIEFING–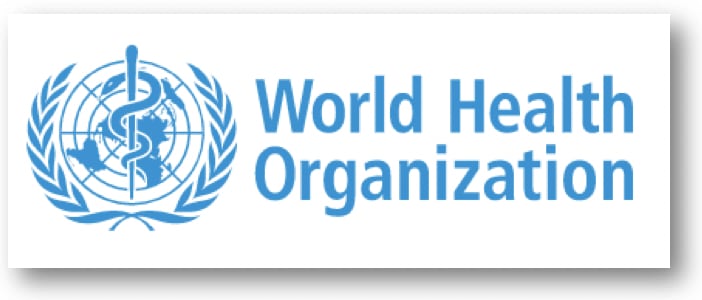 From Today's (August 10, 2020) WHO Briefing
"This week we'll reach 20 million registered cases of COVID-19 and 750,000 deaths.

Behind these statistics is a great deal of pain and suffering.
Every life lost matters.

But I want to be clear, there are green shoots of hope and no matter where a country, a region, a city or a town is – it's never too late to turn the outbreak around.

There are two essential elements to addressing the pandemic effectively:

Leaders must step up to take action and citizens need to embrace new measures.

Some countries in the Mekong Region, New Zealand, Rwanda, and many island states across the Caribbean and the Pacific were able to suppress the virus early.

New Zealand is seen as a global exemplar and over the weekend Prime Minister Jacinda Ardern celebrated 100 days with no community transmission, while stressing the need to remain cautious.

Rwanda's progress is due to a similar combination of strong leadership, universal health coverage, well-supported health workers and clear public health communications.

All testing and treatment for COVID-19 is free in Rwanda, so there are no financial barriers to people getting tested.

And when people test positive for the virus, they're isolated and health workers then visit every potential contact and test them also.

Getting the basics right provides a clear picture of where the virus is and the necessary targeted actions to suppress transmission and save lives.

Other countries like France, Germany, the Republic of Korea, Spain, Italy, and the UK had major outbreaks of the virus but when they took action, they were able to suppress it.

Many countries globally are now using all the tools at their disposal to tackle any new spikes. Over the last few days, UK Prime Minister Boris Johnson put areas of northern England under stay at home notifications, as clusters of cases were identified.

In France, President Macron introduced compulsory masking in busy outdoor spaces of Paris in response to an increase in cases.

Strong and precise measures like these, in combination with utilizing every tool at our disposal are key to preventing any resurgence in disease and allowing societies to be reopened safely.

And even in countries where transmission is intense, it can be brought under control by applying an all of government, all of society response.

Chains of transmission have been broken by combination of rapid case identification, comprehensive contact tracing, adequate clinical care for patients, physical distancing, mask wearing, regular cleaning of hands and coughing away from others.
–Dr. Tedros Adhanom Ghebreyesus
–This Week's Leadership CONVERSATIONS
with International School Leaders Around the World:
WEDNESDAY
August 12
8:00AM EDT
THE POLITICIZATION OF BOARDS ON RE-OPENING OUR INTERNATIONAL SCHOOLS
–with John Littleford
Special Note: John Littleford will use an international school case study to promote our CONVERSATION this coming Wednesday. Please review and bring your ideas, based on reading the scenario below.
International school boards seem to be split about 50/50 on how to reopen in the next six weeks. This is probably a reflection of the parents as a whole worldwide. This theme will dominate board governance for months to come: What are the risks of opening or not opening? What are the financial consequences of either decision? What are the liabilities if one or more students or staff become infected? Do we then retrench? While boards and administrators are doing their very best to make informed decisions, what are the consequences if one or more choices turns out to be the wrong one? And of course, why is it essential that politics not compromise the solidarity of the trustee, head of school and senior leader relationship?
THURSDAY
August 13
8:00AM EDT
OUR GLOBAL LEADERSHIP COMMUNITY– TOGETHER
Twenty-Four Weeks Running
–with Will Richardson
All international school senior leaders are welcome. A Weekly CONVERSATION between School Heads and Senior Leaders– #24. Our discussions continue to be contemporary, important and a time we teach each other.
With thanks to Will Richardson who has facilitated our Thursday CONVERSATIONS since the very beginning.
THURSDAY
August 13
10:00AM EDT
LATIN AMERICAN SCHOOL LEADERS– Resuming Our Weekly Conversations
– with Sonia Keller (Tri-Association) and Dereck Rhoads (AASSA)
The weekly Thursday CONVERSATIONS between Latin America school heads and senior leaders resumes in collaboration with Tri-Association and AASSA. All are welcome to join the discussion and we will also include guest speakers, specific to the Latin America circumstance and needs. Our sessions, as before, are hosted by Sonia Keller and Dereck Rhoads.
–YOU DECIDE: A Case Study–
The Sun Ridge International School in the Time of COVID-19
(to be used during Wednesday's CONVERSATION)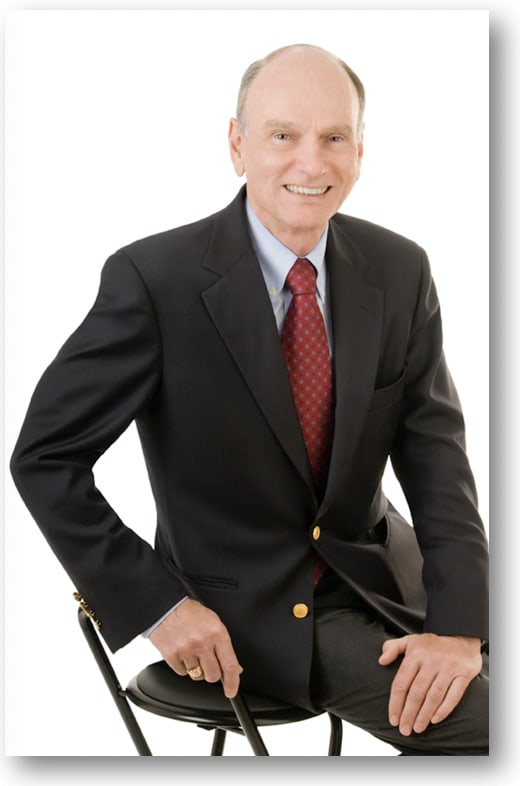 John Littleford, Littleford and Associates
–A Case Study, Written by John Littleford–
for Wednesday's CONVERSATION
Sun Ridge International School
Board Governance Case
Sun Ridge International School is a K-12 school with a diverse but divided Board. Some of the Board Members are local businessmen and educators. The remaining Members are current parents with strong connections to other parents both personally and professionally in the community.
A group of current parents, led by one very prominent local figure with strong ties to constituents, strongly express their disappointment that the Board is not more transparent in its decision-making, especially in the time of a global pandemic. They also question the Board's fiscal oversight of the School. These parents want more engagement in the daily operations of the School and want to explore the possibility of a new governance structure.
Two longer term board members and the Board Chair are either rotating off of the Board or no longer want to serve.
The new Board Chair is open to these ideas and the parents feel encouraged that two new Board Members will be receptive as well. A Board Meeting is held and the Head of School is asked to leave the meeting. It is a last minute decision as the Chair called for an Executive Session.
The Board responds to the parents' concerns as follows. It will form a task force to examine the School's governance structure and take another look at, and perhaps revisit the financial decisions that have been made, particularly during the pandemic. Parents will be invited to monthly coffees with the Board and to submit agenda items for consideration at each Board meeting. They will attend Board meetings if their agenda items are accepted for discussion.
The parents are encouraged by these actions which they believe are steps towards re-establishing trust between the parents and the Board. The head is feeling overwhelmed by trying to cope with these expectations and the increasing and multiple sources of "power."
What do you think of these steps on the part of the Board and the parents?

What principles of best practice are "in play" here

What should the Head do?

What should the Chair do?
AN A/OS ESSENTIAL LEADERSHIP PROGRAM:
Excellence in Governance- Leading Together
Editor's Note: The Office of Overseas Schools, Department of State has set a priority to support excellence in overseas school governance. A/OS first worked with NESA in underwriting a governance development curriculum with seven learning modules, written by David Chojnacki and Rick Detwiler. The ideas and best practices were then embodied in the NAIS, International Trustee Handbook.
An essential component of the NESA work was further researched, then resulted in the Leading Together- The Critical Relationship Between Board Chair and Head of School set of governance development modules, focused squarely on the importance of the relationship.
STAY TUNED!: Beginning on Tuesday, August 18, A/OS and AAIE will sponsor an ongoing CONVERSATION (facilitated by Rick Detwiler and David Chojnacki) between school heads and board chairs (all trustees welcome, but please ensure your board chair joins in). We will invite one school board chair and school head to open each CONVERSATION with stories of how they have worked together toward grappling with crisis leadership dilemmas. We will also encourage that our CONVERSATIONS focus on lessons learned and how the relationships have both been challenged and how it can best continually improve. We are living in a time where openness and candor are our friends. We can and must continue to learn from each other.
The International School of Brussels–
A Return to School with Community Commitments
Editor's Note: The ISB UPDATED Return to School plan accounts for a strong alliance with the Education Ministries of Belgium. New school director, James MacDonald is featured in a personalized message to the ISB community and the agreed upon principles that guide the plan are upfront. Reopening scenarios and impact on teaching and learning for each are crystal clear. Of special note is the candor with which the school calls out the parent feedback on the original "emergency" distance learning plan in contrast to the new 2.0 approach if onsite learning is again required. Also take note of the WHAT NEXT commentary leaving no doubt in the iterative nature of the ISB plan.
THE ISB Return to School PRINCIPLES
Our decisions in response to the COVID-19 crisis will be informed and guided by national experts and best practice in the field of international education.

We will maintain our commitment to deliver an outstanding educational experience for all students, while protecting the health & safety of all members of the ISB community.

We will proactively engage the community during the crisis as part of our commitment to continually improving our response and the ISB learning experience.

We will responsibly plan for multiple scenarios, enabling us to shift or pivot with agility and preparedness.

We will think creatively and strategically across divisions, with a constant focus on maintaining – and improving wherever possible – the ISB learning experience through all on-campus, distance, and blended scenarios.

We will be ambitious in solving problems and creating solutions.

We will actively contribute in meaningful ways to COVID-19 initiatives in Belgium.
We are proud of our campus as a place of beauty and a place of learning. We are looking forward to this place again being full of students and a hub for the entire ISB community. However, our commitment is to the health and wellbeing of all members of the ISB community.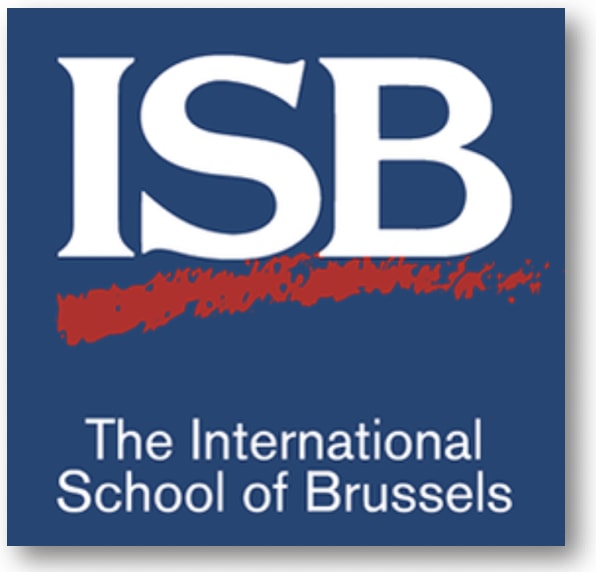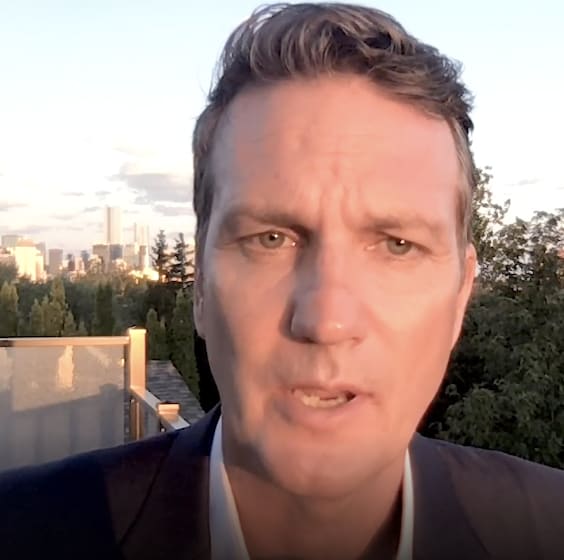 Parent feedback put into action– ISB as a learning organization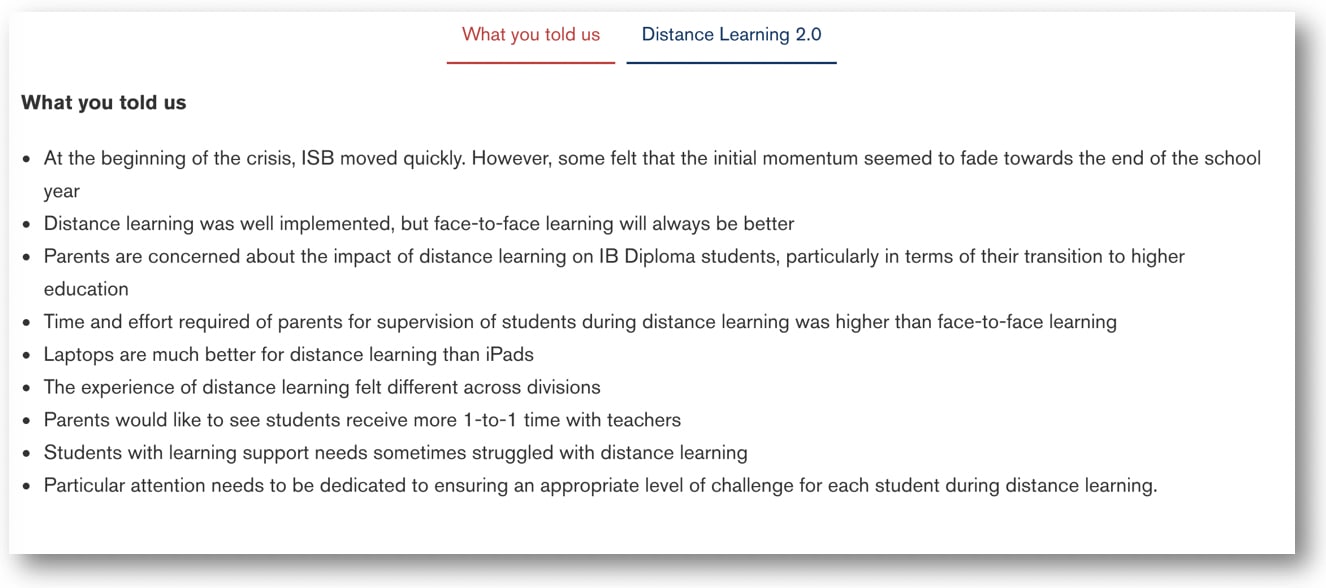 Unequivocal criteria and statements on how virus behavior
in the community will impact learning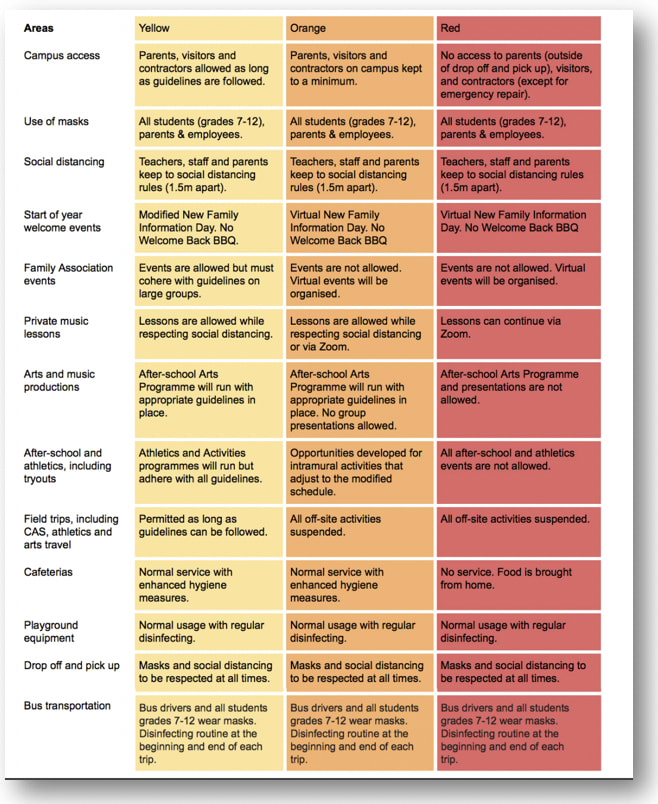 –THE NEWS of COVID-19–
19,952,057 Cases Worldwide (Johns Hopkins CSSE)
As of 2:15 p.m. EDT on Monday, August 10 there are 19,952,057 confirmed cases of coronavirus globally, with 5,063,770 cases in the US. There have been 732,467 deaths, of which 163,156 were in the US. There have been 61,792,571 people tested in the US. The US remains the main hotspot for the disease, followed by Brazil, India, and Russia.
Be Mindful that Herd Immunity is Misleading

–From Dr. David Dowdy, Epidemiologist, Johns Hopkins University

Population immunity plays a (relatively small) role in the epidemic trajectory, and instead of focusing conversations on what it would take to achieve herd immunity, people would be best served by focusing on what it will take to control each local pandemic.

We should consider shifting language away from 'herd immunity threshold' : Rt<1.

Rt—which refers to the average number of people who become infected by an infectious person, changes every day. It's dependent on human behavior as much as the virus itself; if regions are experiencing upticks in their number of cases, people will either voluntarily restrict their activities or their governments will enforce closures. For this reason, the target Rt depends on the current epidemic level. The ultimate goal is to reduce the virus's spread, What moves things in that direction in one region will not be the same as in another.

A "threshold" is no panacea. The term 'threshold' suggests that something magical happens at Rt<1.0. But progress can depend on a lot of factors, and "going down from 1.25 to 1.05 is a major achievement" in certain places, "as is going from 0.95 to 0.75." At the end of the day, "lower is better."

Population immunity, or "herd immunity," is "only one of many factors that affects Rt," and not the most important. Focusing only on "herd immunity" could cause people to lose focus on the more effective interventions, which are "policies, individual behaviors, social components."

We are still far, far away from reaching any sort of global herd immunity threshold. If we talk about this as something that can be achieved in the coming months (without a vaccine), we are deluding ourselves. (Johns Hopkins Bloomberg School of Public Health)
Science Predictions
for the near future?
The pandemic is not playing out in the same way from place to place. Countries such as China, New Zealand and Rwanda have reached a low level of cases — after lockdowns of varying lengths — and are easing restrictions while watching for flare-ups. Elsewhere, such as in the United States and Brazil, cases are rising fast after governments lifted lockdowns quickly or never activated them nationwide.
The latter group has modelers very worried. In South Africa, which now ranks fifth in the world for total COVID-19 cases, a consortium of modelers estimates2 that the country can expect a peak in August or September, with around one million active cases, and cumulatively as many as 13 million symptomatic cases by early November. In terms of hospital resources, "we're already breaching capacity in some areas, so I think our best-case scenario is not a good one", says Juliet Pulliam, director of the South African Centre for Epidemiological Modeling and Analysis at Stellenbosch University.
But there is hopeful news as lockdowns ease. Early evidence suggests that personal behavioral changes, such as hand-washing and wearing masks, are persisting beyond strict lockdown, helping to stem the tide of infections. In a June report, a team at the MRC Centre for Global Infectious Disease Analysis at Imperial College London found that among 53 countries beginning to open up, there hasn't been as large a surge in infections as predicted on the basis of earlier data. "It's undervalued how much people's behavior has changed in terms of masks, hand washing and social distancing. (Nature)
Research Focus on Those Who Remained Asymptomatic
When researcher Monica Gandhi began digging deeper into outbreaks of the novel coronavirus, she was struck by the extraordinarily high number of infected people who had no symptoms.
During its seven-month global rampage, the coronavirus has claimed more than 700,000 lives. But Gandhi began to think the bigger mystery might be why it has left so many more practically unscathed.
What was it about these asymptomatic people, who lived or worked so closely to others who fell severely ill, she wondered, that protected them? Did the "dose" of their viral exposure make a difference? Was it genetics? Or might some people already have partial resistance to the virus, contrary to our initial understanding?
Efforts to understand the diversity in the illness are finally beginning to yield results, raising hope the knowledge will help accelerate development of vaccines and therapies — or possibly even create new pathways toward herd immunity in which enough of the population develops a mild version of the virus that they block further spread and the pandemic ends.
The coronavirus has left numerous clues — the uneven transmission in different parts of the world, the mostly mild impact on children. Perhaps most tantalizing is the unusually large proportion of infected people with no symptoms. The Centers for Disease Control and Prevention last month estimated that rate at about 40 percent.
Those clues have sent scientists off in different directions: some are looking into the role of the receptor cells, which the virus uses to infiltrate the body, to better understand the role that age and genetics might play. Others are delving into face masks and whether they may filter just enough of the virus so that those wearing them had mild cases or no symptoms at all.
The theory that has generated the most excitement in recent weeks is that some people walking among us might already have partial immunity. One mind-blowing hypothesis — bolstered by a flurry of recent studies — is that a segment of the world's population may have partial protection thanks to "memory" T cells, the part of our immune system trained to recognize specific invaders. This could originate from cross protection derived from standard childhood vaccinations. Or, as a paper published Tuesday in Science suggested, it could trace back to previous encounters with other coronaviruses, such as those that cause the common cold. (Washington Post)
USA Remains the Epicenter– Surpassing 5,000,000
The U.S. has surpassed five million confirmed cases of the coronavirus as some states saw sharp upticks while others showed signs that the spread of the virus was easing. The U.S. continues to lead the world in number of confirmed cases, followed by Brazil with about three million cases and India with more than two million, according to data compiled by Johns Hopkins University. Globally, the tally of coronavirus cases is closing in on 20 million. In just over two weeks, the U.S. added 1 million cases of the coronavirus; in just over a month, the nation added 2 million. The accelerated spread of the coronavirus has spurred higher testing positivity rates, hospitalizations and case counts in a number of hard-hit states in the last month. But the number of new coronavirus cases reported each day in the U.S. has fallen since mid-July, according to Johns Hopkins data. (The Wall Street Journal)
Childhood Infections Increase 40% in Two Weeks
Coronavirus infections among U.S. children grew 40% in the last half of July, according to a report from the American Academy of Pediatrics and the Children's Hospital Association, bringing the total number of child infections to 8.8% of all U.S. cases. The report, which aggregates data from 49 states, comes amid heated debate over whether schools should re-open in the fall. While the surge of infections contradicts President Donald Trump's assertion that kids are "virtually immune," the data also show that child infections make up a disproportionately small share of the overall outbreak in the U.S.
(Bloomberg News)
Coronavirus: Brazil Passes 100,000 Deaths–
no sign of easing
Brazil has recorded more than 100,000 deaths linked to Covid-19, the world's second-highest figure, as the outbreak in the country shows no sign of easing.
The virus killed 50,000 people in three months, but that number doubled in just 50 days. There have been more than three million confirmed cases so far.
The pandemic is yet to peak but shops and restaurants have already reopened.
Experts have complained of a lack of a co-ordinated plan by the Bolsonaro government as local authorities now focus on restarting the economy, which is likely to boost the spread of the virus.
The health ministry is being led by an army general with no experience in public health. Two earlier ministers, both physicians, left the job after disagreeing with the president over social distancing measures and the use of hydroxychloroquine as a treatment, though studies say it is ineffective and even dangerous.
"We should be living in despair, because this is a tragedy like a world war. But Brazil is under collective anaesthesia," Dr José Davi Urbaez, a senior member of the Infectious Diseases Society, told Reuters news agency. (Reuters, BBC)
New Zealand Marks 100 days Without Community Spread
New Zealand has gone 100 days without recording a locally transmitted Covid-19 case, a milestone that has both been welcomed and brought warnings against complacency.
The last case of community transmission was detected on 1 May, days after the country started easing its lockdown.
Sunday was the fourth day in a row that no new cases of Covid-19 were reported.
The total number of active cases in the country remained at 23, all in managed isolation.
New Zealand has fared better than other countries, recording 1,219 confirmed cases and 22 deaths since the virus arrived in late February.
Praised internationally for its handling of the pandemic, the country's government has lifted almost all of its lockdown restrictions, first imposed in March.
An early lockdown, tough border restrictions, effective health messaging and an aggressive test-and-trace program have all been credited with virtually eliminating the virus in the country.
Approaching 1,000,000 Infections in Africa
and Likely Not Close to Accurate
South Africa has the world's fifth-highest number of reported cases. It accounts for 53% of the confirmed cases and 43% of deaths from covid-19 in Africa. But that does not mean the rest of the continent is being spared. Instead it reflects a lack of data in most other countries—and how their peaks may be yet to come.
As of August 5th the Africa Centres for Disease Control and Prevention, a public-health body, had recorded 992,710 cases in Africa. It took about five months for the continent to reach 500,000 cases and another month to reach close to 1m. The compound daily growth rate of new cases over the past two weeks was higher in sub-Saharan Africa than in other regions. In reality the millionth African contracted Covid-19 many weeks ago.
The full extent of the undercount is unknown. The share of tests that come up positive is below 5% in only a few countries, suggesting widespread underreporting elsewhere. Low test-positivity-rates are found in states with relatively efficient governments, such as Botswana; countries with feared security forces, like Uganda; and those that have both, such as Rwanda. (The Economist)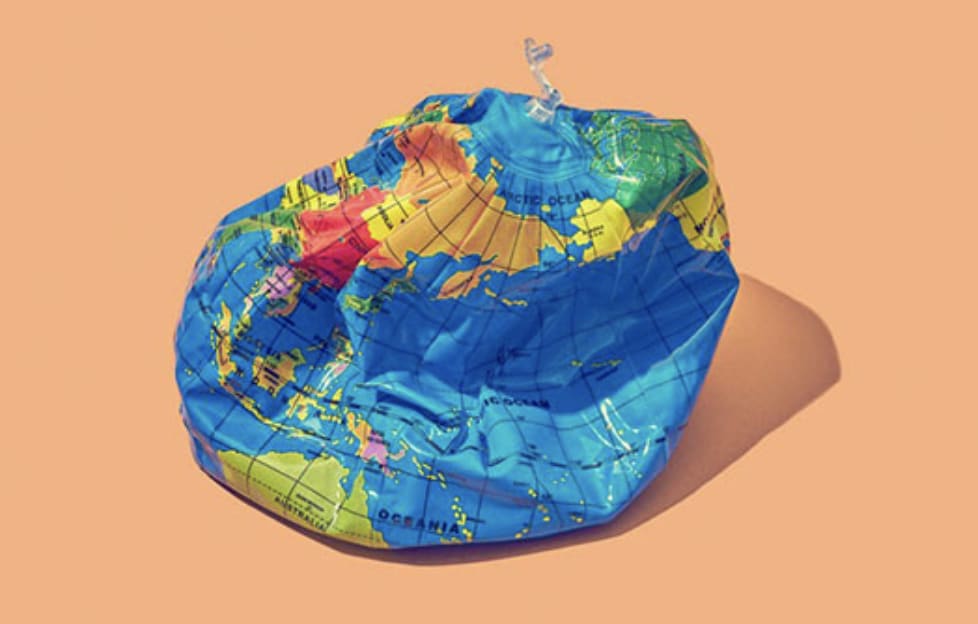 Impact of a Global Pandemic- from Nature
–The STATS–
TOTAL GLOBAL CASES:
Johns Hopkins
19,952,057
WHO–19,718,030
GLOBAL DEATHS (WHO):
Today–728,013
Three Days Ago–709,512
One Month Ago–551,046
EVOLUTION OF-GLOBAL CASES (WHO):
Today–
19,718,030
Three Days Ago–
18,902,735
One Week Ago–
18,142,718
One Month Ago–
12,102,328
NEW CASES (WHO):
Today–253,409
Three Days Ago–278,291
One Week Ago–
219,862
One Month Ago–
228,102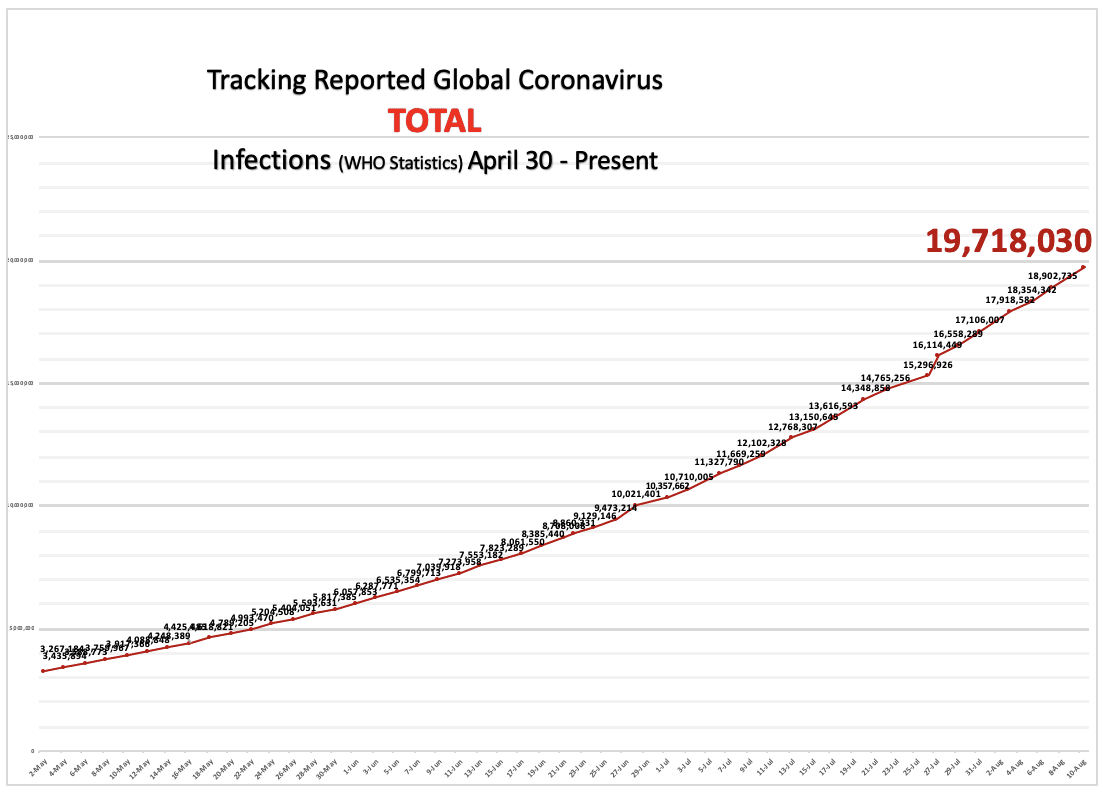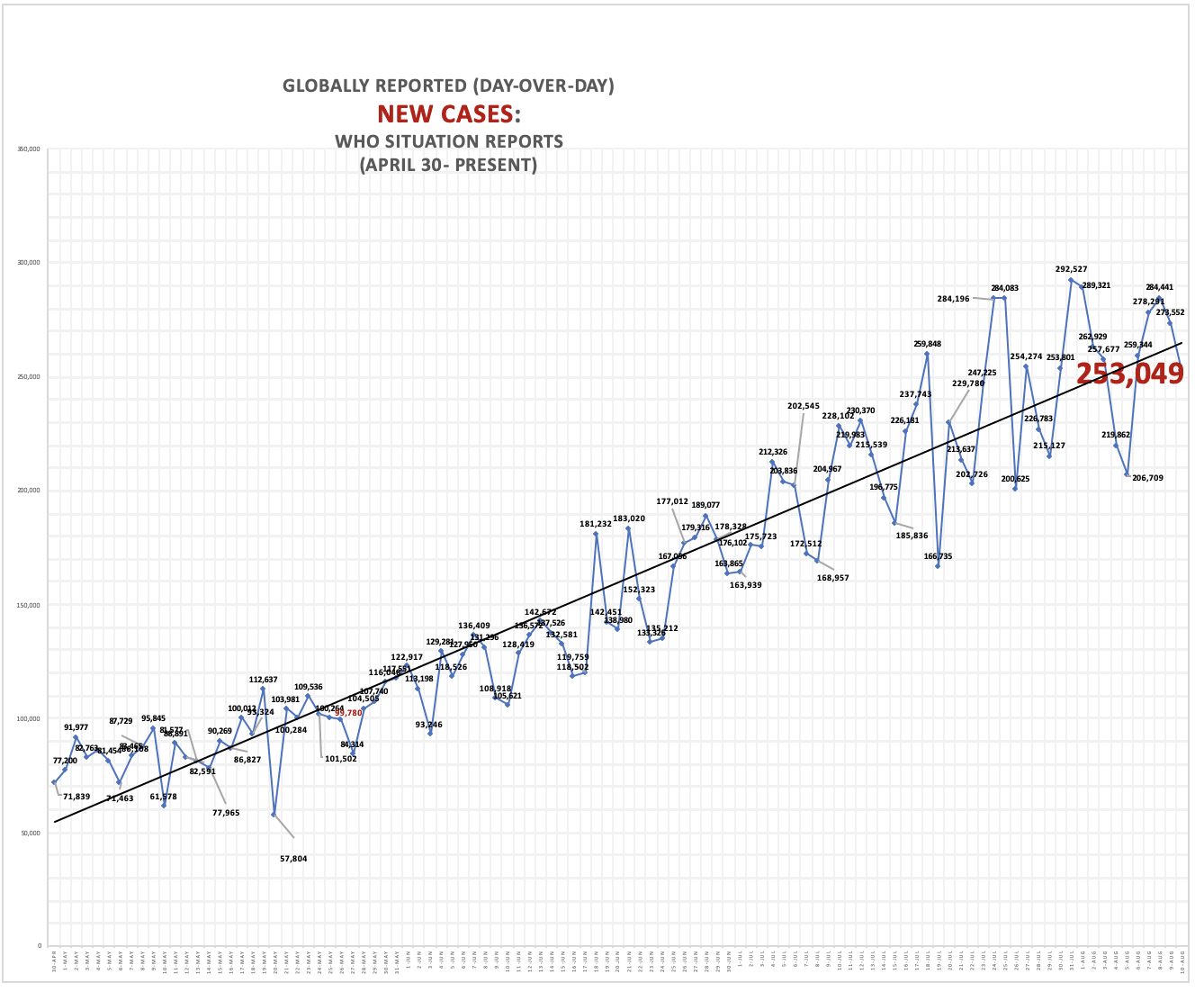 –FROM THE WHO and JOHNS HOPKINS CSSE–
From the WHO

, the Situation Report for August 10

,

2020
From the WHO

, The European Region Dashboard
From Cultures of Dignity

,

For the Social-Emotional Tiny Guides from Rosalind Wiseman and Charlie Kuhn– a gift to our AAIE community– resources with no fee but plenty of insight.



A Final Note: The AAIE COVID-19 Briefing is provided to support your leadership for the school community you serve. We encourage you to use these resources in any way, shape or form that helps you, your communications and toward furthering close relationships across your community. – The AAIE Board