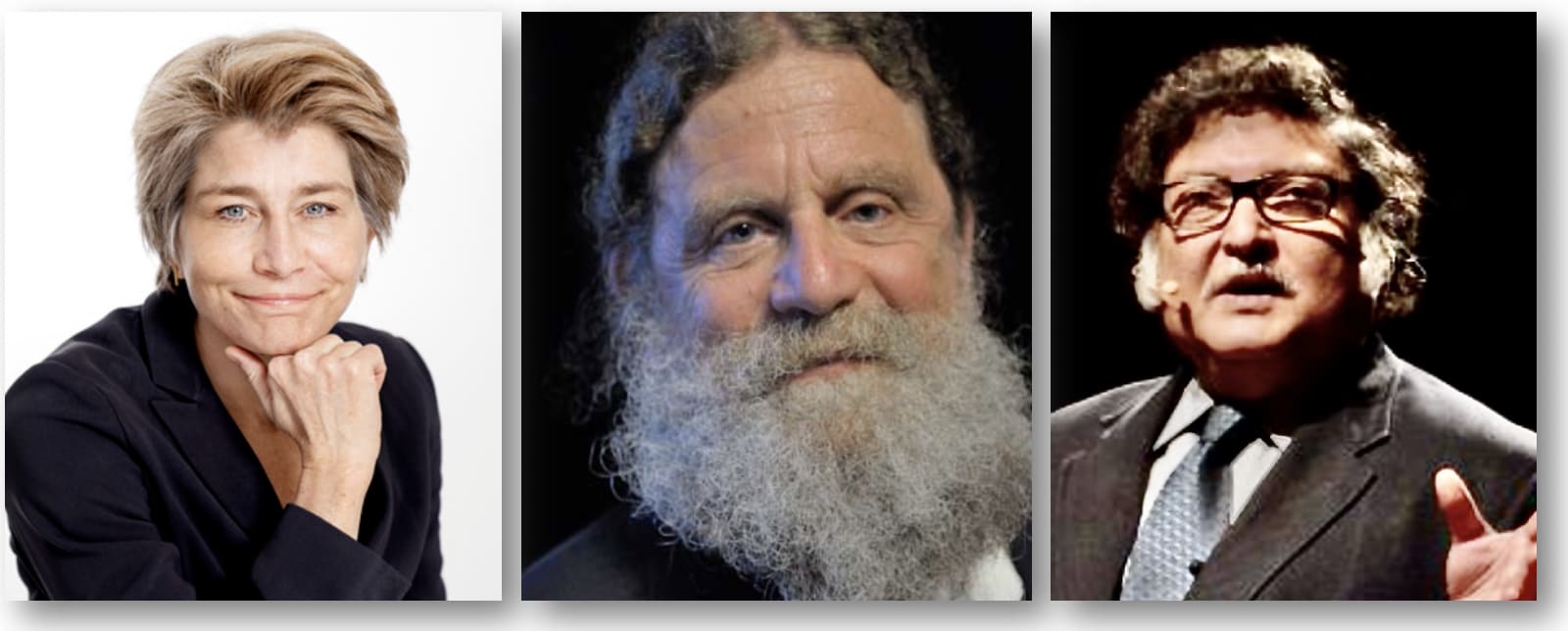 Rosan Bosch Dr. Robert Sapolsky Dr. Sugata Mitra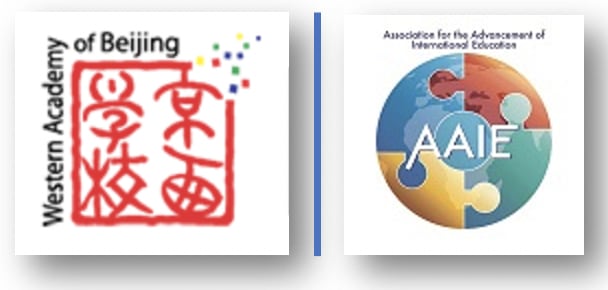 Register now and join a global conversation of a different kind.
Western Academy of Beijing (WAB) and AAIE have partnered again to continue igniting sparks of innovation across our global learning communities.
The Future of Education: Now & Next
invites you to join conversations with schools who are championing student voice, taking meaningful action on ethics and equity and innovating for the new realities of our learning.
Our three fascinating keynotes will be on the 'hot seat' with students and participants. Schools will share their stories of real initiatives, heavily featuring student voices throughout the conference. This is the start of many conversations: What will be your call to action?
Membership and Quick Links for Busy People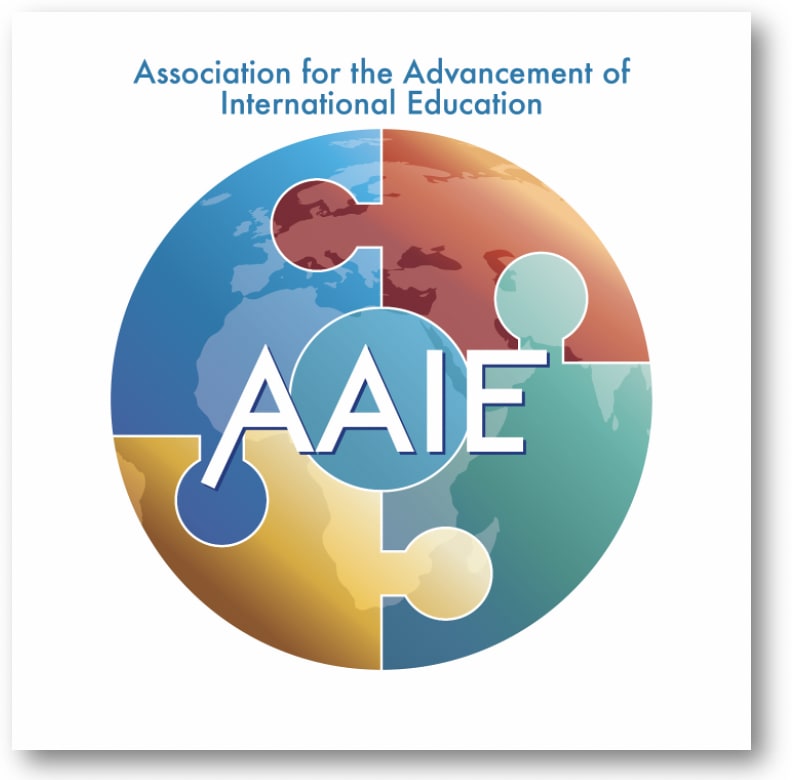 –THURSDAY–
AAIE's COVID-19 BRIEFING #244
Data and Ideas to Support Your Crisis Leadership
September 2, 2021
–Register for NEXT Week's CONVERSATIONS–
The Weekly AAIE Global CONVERSATION #71
Thursday, September 9
8:00AM EDT
The Weekly Latin America CONVERSATION #54
Thursday, September 9
10:00AM EDT
A Remarkable Day of CONVERSATIONS:
Rose Puffer Delivers a Leadership Master Class

Memorable Quotes from Rose Puffer, International School of Islamabad
"I was mentored by the best when I came to ISD. Rob Ambrogi, Dick Moore, Darrell Russell, they were heads or assistant heads while I was here. We had principals that I worked with who later became gifted Heads of School. These people were my mentors and they convinced me that there wasn't anything that I couldn't do…that I belonged in Islamabad and I could serve Islamabad."
"Another wakeup call was in talking last year about Covid and what would we do if we had to come back to the same again this year. And somebody said 'How do you just keep on going, and going, and going?' As I said as well as heard, resilience is a muscle, the more you use it, the better you get at it. You just plug along and you do find the adrenaline, and the stamina, and the strength, or you find another job."
"I don't think any of us could have gotten through Covid if not for collective help. What makes Rose tick? All of you that are here that I can call up at a moment's notice and say what am I going to do and you're there. And I think we are all like that with so many of our peers around the world which makes this international community one of a kind and very special."
"You become an educator because you want to make a difference, you want to influence kid's lives, their potential. You want to be appreciated for your dedication … you want to get something out of it. And to have kids come back and say, 'I'm so happy you kept the school open … now we're enrolling our kids or 'we're so happy that we had one of the best schools to go to'. All of the rest just takes care of itself and you just keep plugging away, and doing your best and knowing that you confront each challenge and look for support if you don't know the answer. You have so many people willing to help."
What Fellow School Leaders Had to Say
Leadership brilliance, Rose. Thanks for sharing. I think we all know that there are layers and layers of stories of hard work, sacrifice and dedication that you could tell about your work--for kids--there at your school. Thanks for being such a model of grace and strength for us all. –Wayne Rutherford
A true professional always points out the great people who supported them in their development as a leader!! You are a great role model for all of us Rose. – Michael Adams
@Rose - supporting your security staff and building trust is such sage advice. They are our front line. I have learned this as well, and it resonates so strongly to hear you say it. I will repeat it tonight at my board meeting.
–Jessica Gilway
I've long said that Rose Puffer is my hero. She has been a beacon of principled bravery throughout her career. –Tim Carr
I love the vocation idea! This work is not easy and I think the fact that it is a vocation is what keeps us strong and forward moving. –Audrey Menard
The reason why Rose's story resonates with me and probably many of us is that I think we all know on some level that chaotic times will likely characterize the rest of our lives. As Will says, there is no new normal, but rather a continuous series of not normal times. Dealing with this is our reality now as school leaders, so we have a lot to learn from Rose who has been dealing with this throughout her career.
–David Perry
"The real reason I stay at this age is because it's the cheapest assisted living in the world and I can't afford to go home. Why would I leave all of this where I have people that can do all of this stuff at home, and I just run the school? I love my job. And when I get up some morning and I don't want to go to school, then it's time to retire. Until then I'm here and I don't see the point in going somewhere else because this has been a very fulfilling position and it continues to be. And the challenges continue, so there's always something new. I'm never bored." –Rose Puffer
Wednesday's Learning CONVERSATION
with Michael and Rob– Calling Out Grief and Fear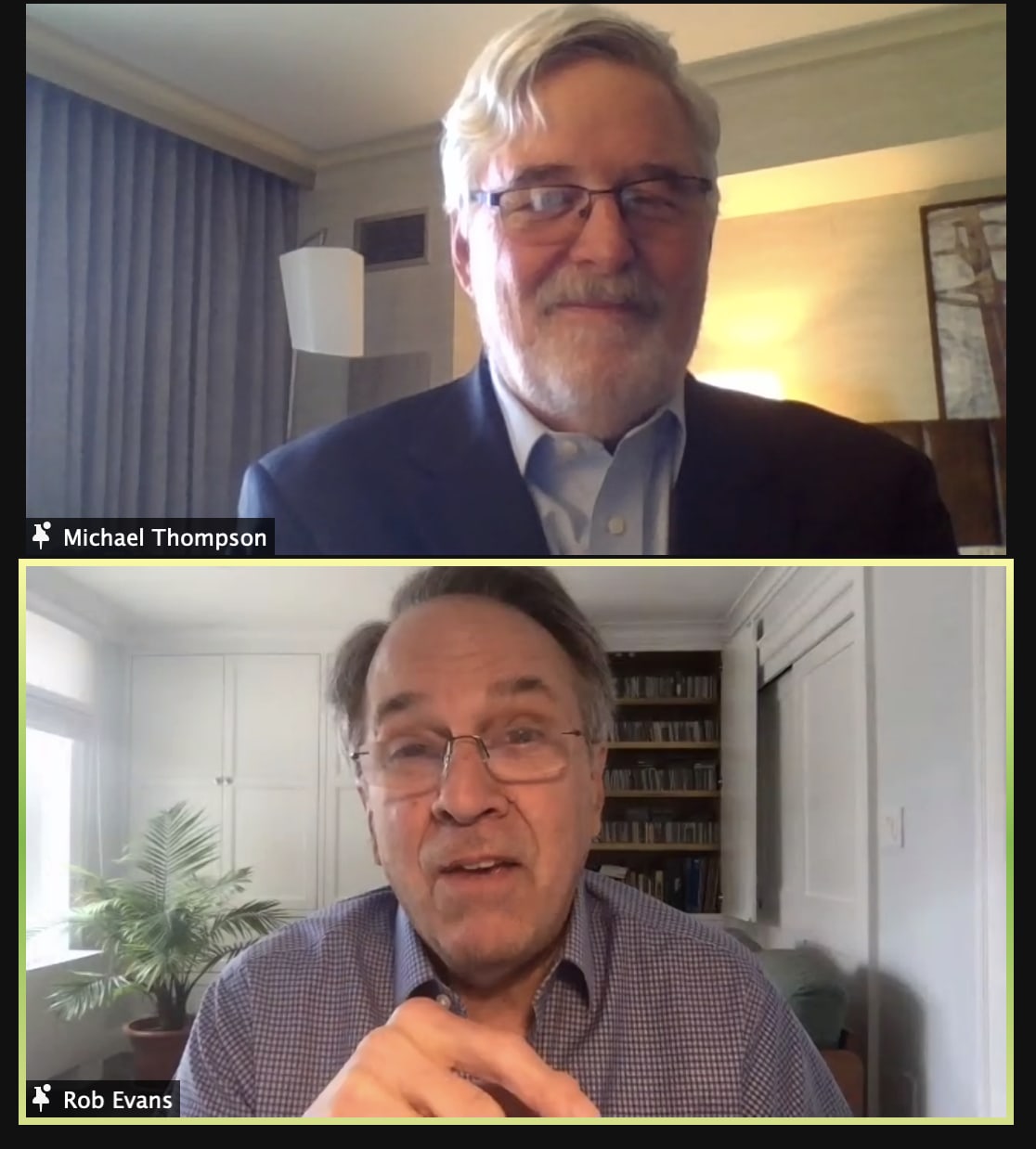 KEY QUOTES from
Dr. Michael G. Thompson and
Dr. Rob Evans
"We need an immediate focus on how we are going to sustain our school communities and how we're going to sustain morale and competence to build forward where you get a chance if Covid relents. Those at the top will have to decide, but it would be a mistake to be too grandiose in future planning at this point."
–Rob Evans
"There's a thread of grief going on in the schools. No matter how good you are, there's a gap between the dream of reopening that people had in their minds and what it would be and what it actually is. Sometimes that gap is small and sometimes it's very large. There's some grieving going on in every school that's hard for people to articulate but what they're grieving is the loss of their completely healthy opening and putting the uncertainty behind them when it is still ahead of them."
–Michael G. Thompson
"People try to hide their sad feelings but they're still feeling it. When you name someone's sadness and grieving, that acknowledgment is healing. It helps people move on. Human beings hold a grudge against an institution if what they've had to bear has not been recognized. The acknowledgement helps them kickstart themselves. It often feels tricky to do a backward-looking meeting because you could regress or spiral down." –Michael Thompson
"My simplified notion of leadership is telling the story of where we were, where we are and where we're going. If you have a session with faculty and staff and reflect a little on what was so hard and a little on anything we might be apprehensive about right now, it's actually easier for the leader to say, I appreciate hearing this and I'm not going to try to push you too hard but there are a couple of opportunities we have in front of us right now and need to act on. Name what you see and acknowledge it. The leader could also say, 'it's important for me to hear this and it sort of took me by surprise because I've been looking forward and feeling that things were in a much better place. So it's helpful to hear from you so I don't misjudge. Also, 'I am optimistic about some of where we are this year compared to last year'. It opens a door for the head to be a little candid in what we're looking forward to." –Rob Evans
218,823,527 Worldwide Cases (Johns Hopkins)
4,548,299 Worldwide Deaths (Johns Hopkins)
Rogue antibodies that attack the body

The science of masks ends the debate says mass study

OPINION: Why the next phase of Covid is the most difficult
Uptick of cases across Europe
Africa is still only 3% vaccinated
80% of Africa countries miss vaccination goals
The caution on school outbreak narratives
The Surprising Habits of Original Thinkers | Adam Grant
EDITOR'S NOTE: We are surrounded by people who might be labeled as "originals." You are likely one of them. With thanks to David Perry, head of Nido de Aguilas, Santiago Chile, please take eighteen minutes this weekend and keep company with Adam Grant. He speaks of the habits of orginal thinkers, and it is certainly not a straight line.– having much to do with learning along the way. It also has much to do with what we are all experiencing in today's global context– fear and doubts. He is talking about us. He is also talking about the power of trial and error.

Massive Randomized Study is Proof that Surgical Masks Limit Coronavirus Spread
The authors of a study based on an enormous randomized research project in Bangladesh say their results offer the best evidence yet that widespread wearing of surgical masks can limit the spread of the coronavirus in communities.
The preprint paper, which tracked more than 340,000 adults across 600 villages in rural Bangladesh, is by far the largest randomized study on the effectiveness of masks at limiting the spread of coronavirus infections.
Its authors say this provides conclusive, real-world evidence for what laboratory work and other research already strongly suggest: mask-wearing can have a significant impact on limiting the spread of symptomatic covid-19, the disease caused by the virus.
"I think this should basically end any scientific debate about whether masks can be effective in combating covid at the population level," Jason Abaluck, an economist at Yale who helped lead the study, said in an interview, calling it "a nail in the coffin" of the arguments against masks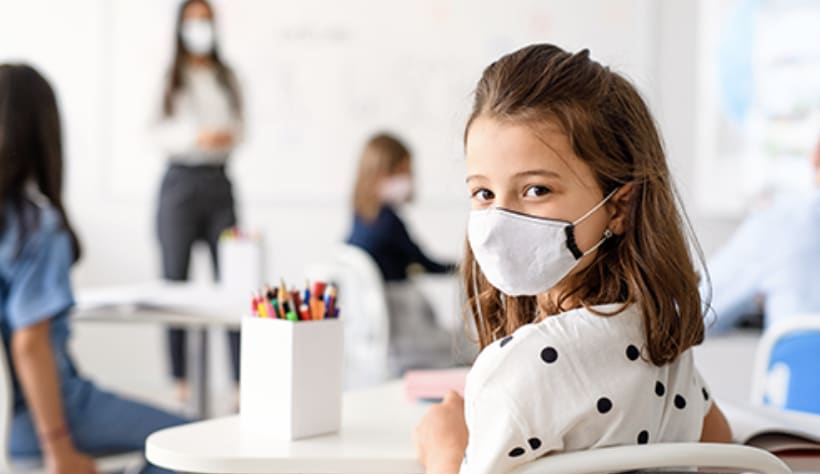 Rogue Antibodies Involved In Almost One-fifth of COVID Deaths
Antibodies that turn against elements of our own immune defences are a key driver of severe illness and death following SARS-CoV-2 infection in some people, according to a large international study. These rogue antibodies, known as autoantibodies, are also present in a small proportion of healthy, uninfected individuals — and their prevalence increases with age, which may help to explain why elderly people are at higher risk of severe COVID-19.
The findings, published on 19 August in Science Immunology1, provide robust evidence to support an observation made by the same research team last October. Led by immunologist Jean-Laurent Casanova at the Rockefeller University in New York City, the researchers found that around 10% of people with severe COVID-19 had autoantibodies that attack and block type 1 interferons, protein molecules in the blood that have a critical role in fighting off viral infections2.
"The initial report from last year was probably one of the most important papers in the pandemic," says Aaron Ring, an immunologist at the Yale School of Medicine in New Haven, Connecticut, who was not involved in this work. "What they've done in this new study is really dig down to see just how common these antibodies are across the general population — and it turns out they're astonishingly prevalent." (A fascinating read– MEU)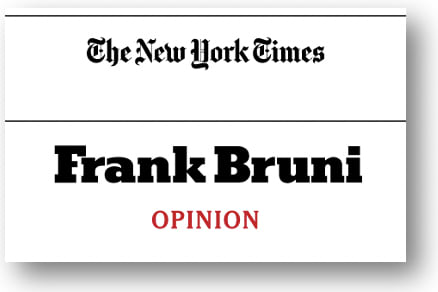 Why the Current Covid Chapter
May be the Hardest of All
Anecdotally and scientifically, there's reason to believe that the most successful dieters — the ones who truly change their habits and keep the most weight off for the longest time — don't commit themselves to one of those faddish regimens that draw bold red lines through categories of food to be avoided entirely and bright green circles around categories to be embraced. They muddle through meal by meal. They make a series of smart, tailored judgment calls. They traffic in subtlety, nutrition-wise.
But they're not the majority of dieters, at least not in my experience. More of the people I know opt for exacting prescriptions with emphatic permissions and prohibitions. They like the orderliness of that, the clarity. Snack on A. Don't drink B. No food after 6 p.m. Or no food for 16-hour stretches.
Whether they can actually follow such guidelines is another matter, measured in belt notches and dress sizes. But they want in their eating what so many of us want in all aspects of our lives: uncomplicated instructions, unchanging rules, assurances, predictability.
That's precisely what the current chapter of the Covid pandemic denies us.
Should we mask or not? It depends on the geographic location, the physical setting, the number of people, the week.
Will the jabs we got save us? In the end, yes: They'll make an exponentially greater difference than anything else. But for now, the answer has asterisks. There are breakthrough infections, which are mild or asymptomatic in most cases but not in every last one. There are people at greater risk. There are reasons for caution. And there's a call for booster shots, but how often in the future and how far into it?
In logistical, social and economic terms, the first chapter of Covid was certainly the worst. We were totally shut down. We were utterly freaked out. People couldn't work, couldn't see loved ones, couldn't comprehend how so much had changed so fast. There was a makeshift hospital in Central Park. There were ambulance sirens screaming, day and night, throughout cities from coast to coast.
But in a certain psychological sense, is the current chapter perhaps the most challenging of all? We thought we'd turned the corner, only to learn we hadn't, and we're neither isolated nor liberated. Our marching orders are fluid and feel less like orders than like caveats, nudging us not toward obedience but toward wisdom, which is even harder. We're not being told to suspend all activities as usual, which is a digestible if dire command, but we're being encouraged to suspend or alter many activities, maybe for the next week, maybe for this whole month, maybe not for the following one but maybe again in November, when the mercury dips, we head indoors and Thanksgiving waddles into view.
I take absolutely no issue with that. I agree with it. But I also recognize that this shifting, shapeless horizon is at war with a whole lot in human nature and a whole lot in the American psyche, and in this instance, I'm not talking about the individual-liberty part.
I'm talking about the impatience. I'm talking about the certitude and absolutism of the social-media age. We are increasingly a country of either/or, pro/con, virtuous/deplorable, all/nothing. And the pandemic right now can't be squeezed into any dichotomy. Nor will it be hurried to its end.
It asks that we take fresh stock every few days. That we reshuffle our responses accordingly. It asks us not to be only one way or only the other but to make informed and enlightened decisions dependent on context and to accept that there won't be a eureka moment, when the clouds lift, the waters part and we're free. Instead, with an accretion of those informed and enlightened decisions, we'll proceed, inch by inch, toward a much better but not perfect place.
There are no red and green lights here. There's just a yellow that flashes … and flashes … and flashes. And that's not a color that people generally — or Americans specifically — respond to all that well.

School Zone: Approach COVID Outbreak Narrative With Caution
Recently, the story of SARS-CoV-2 spreading in an elementary school in Marin County, California went viral (pardon the pun). An unvaccinated teacher developed COVID-19. Initially thinking it was allergies, the teacher attended class, and continued to do so even after symptoms worsened -- including cough, headache, and fever. All students wore masks, and the teacher was masked for most of the day except when reading a story to the class.
Twelve students out of 22 (55%) ended up testing positive, and eight (36%) had symptoms. Four of their parents -- one unvaccinated -- and several siblings also subsequently became sick. Another class (3 years apart in age) had cases of SARS-CoV-2 and these were thought to be from in-school interactions.
Across social media and national news media, there have been many interpretations of the data. Some alleged that the teacher spread the virus while reading without a mask. That's possible, but it is also possible that the teacher spread the virus during the many other hours spent in the classroom while sick, despite wearing a mask. The children who tested positive became infected despite wearing masks all day in a school with high adherence -- and despite the classroom being equipped with particulate air filters and having open doors and windows. Most tweets we saw focused on masking, but the most important issue to note is that during a global pandemic, it is probably not a good idea to go to work when you feel ill.
Many assumed that the root of this problem (index patient) was the teacher, and whole genome sequencing was applied. Sequencing was able to link the cases among the kids -- i.e., they appeared to share the same virus. However, whole genome sequencing was unavailable for the teacher, which is a key limitation. Moreover, not all interactions between students were confined to school. Several students had a sleepover together. So while the popular narrative -- the teacher brought this virus into the school and it spread inside -- is entirely compatible with the data, there remains some uncertainty as to how many cases arose through in-school versus out-of-school spread.
–WORLD NEWS of COVID-19–
218,823,527 Cases Worldwide (Johns Hopkins CSSE)
Vaccines Cut Risk of 'Long Covid' in Half, Major Study Finds
A new study that included more than a million adults in Britain has found that instances of people contracting the coronavirus after full vaccination are extremely rare — and that their risk of experiencing lingering symptoms of the disease in what's known as "long covid" is reduced by almost half.
The study, published in the Lancet Infectious Diseases journal on Wednesday, included nearly 1 million fully vaccinated British adults who reported receiving their first dose from December 2020 to July 2021. The study's participants included people who received vaccines by Pfizer-BioNTech, Moderna or AstraZeneca — the latter of which is not approved for use in the United States.
The study adds to the evidence that vaccinations not only protect people against severe covid-19 symptoms and reduce the risk of hospitalization, but also significantly reduce the likelihood of ongoing, debilitating symptoms after an infection — and drastically reduce the chances of getting infected at all. The study's authors also suggest that immunocompromised people are the ones who should be prioritized for booster shots, rather than making the decision solely based on age. (Washington Post)
80%
Nearly 80 percent of African countries — 42 out of 54 — will miss the global target of vaccinating 10 percent of their population by the end of September, WHO Director for Africa Matshidiso Moeti said during a weekly virtual briefing Thursday. She also said that less than 3 percent of people in Africa have been fully vaccinated. (WHO-Africa)
Taiwan Receives Its First Batch of Pfizer-BioNTech Vaccines
The first batch of Pfizer-BioNTech vaccines arrived in Taiwan on Thursday morning, health officials said. The delivery of the 930,000 doses came after a monthslong struggle to acquire BioNTech's vaccines on the island.
In May, President Tsai Ing-wen attributed the delay to "China's intervention." A Chinese company, Fosun Pharma, claimed exclusive commercial rights to the distribution of the BioNTech vaccine in Taiwan, whose frosty relationship with China has intensified in recent months. Two Taiwanese corporate giants, a charity organization and a Buddhist foundation stepped into the morass in July to offer a solution.
Foxconn, a major assembler of Apple's iPhones, and TSMC, which makes the chips found in Apple devices, agreed with the YongLin Foundation, a charity set up by the founder of Foxconn, to purchase 10 million doses of the BioNTech vaccine from Fosun Pharma and donate them to the Taiwanese government. The Tzu Chi Foundation, a Buddhist organization, agreed to purchase and donate an additional 5 million BioNTech shots from the Chinese company for Taiwan's vaccination effort.
Earlier this week, the Taiwan Centers for Disease Control released a statement announcing that the BioNTech vaccine would be prioritized for those between the ages of 12 and 17, with leftover doses administered to those between 18 and 22. (New York Times)
Covid Surge 'Deeply Worrying' in Europe as Vaccinations Dip - WHO
The WHO's Europe director, Hans Kluge, said a recent increase in Covid-19 cases and deaths was "deeply worrying".
He blamed the more infectious Delta variant, the easing of restrictions and summer travel. Mr Kluge predicted Europe could record another 236,000 deaths by December. The WHO says the region has recorded more than 65 million confirmed cases and 1.3 million deaths since the start of the pandemic.
Covid infections across Europe declined in April but started to creep back up again at the end of June. Mr Kluge said of the WHO Europe's 53 member states, 33 had registered an incidence rate greater than 10% in the past two weeks. In the week to 26 August, Russia, France, the UK, Turkey, and Spain recorded the most cases in Europe, according to EU data. (BBC)
Worldwide Vaccinations By Continent
September 2, 2021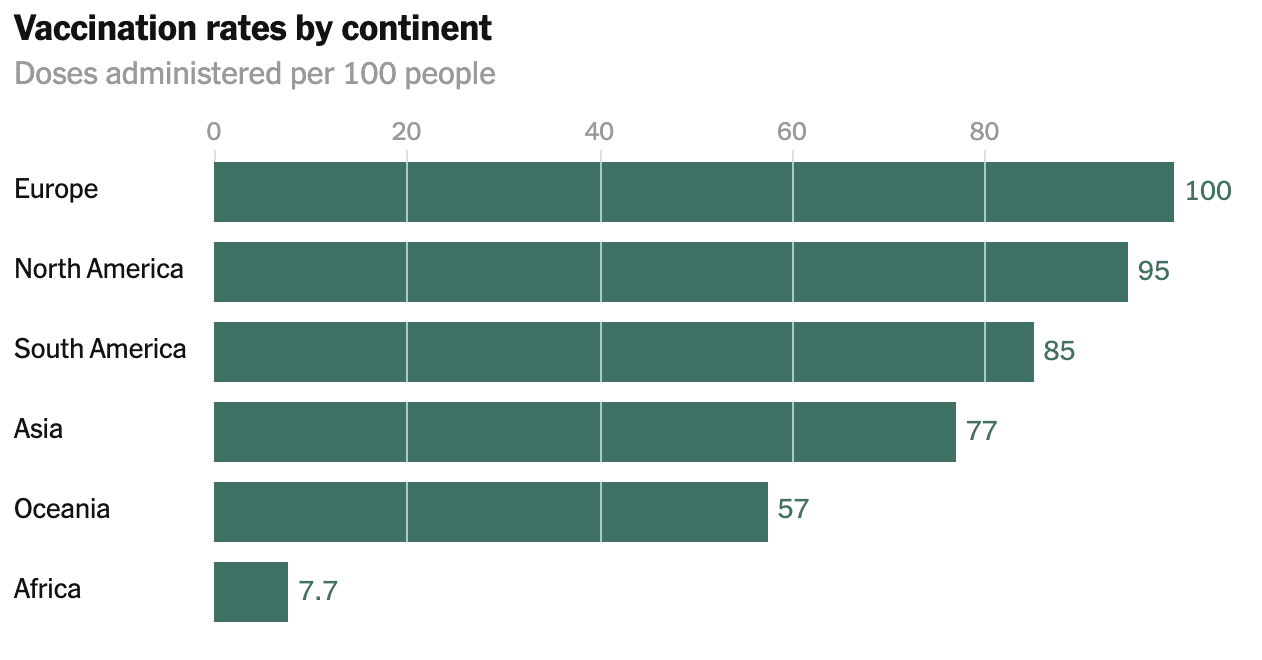 WORLDWIDE COVID-19: BY THE NUMBERS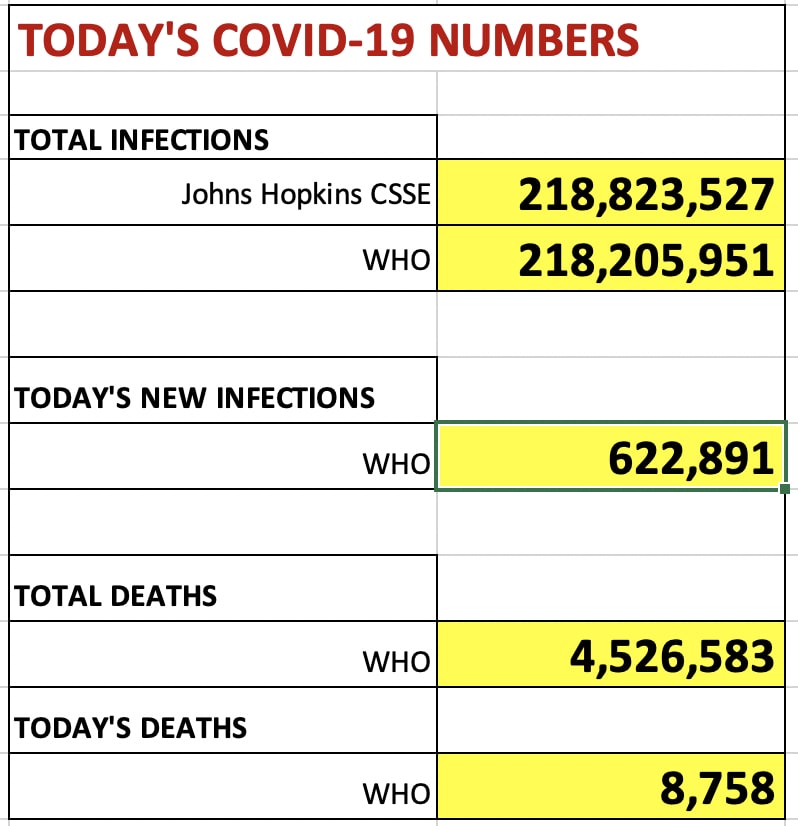 –FROM JOHNS HOPKINS CSSE–
From Johns Hopkins

CSSE,

the

Infection Rate World Graphic
A Final Note: The AAIE COVID-19 Briefing is provided to support your leadership for the school community you serve. We encourage you to use these resources in any way, shape or form that helps you, your communications and toward furthering close relationships across your community. – The AAIE Board