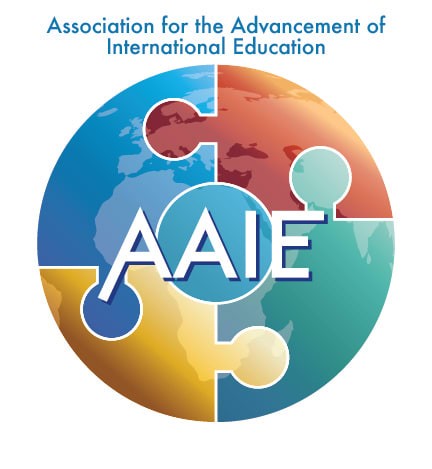 –Friday–
AAIE's COVID-19
BRIEFING #92
July 31, 2020
Highlights
17,406,644 Cases World-wide

(Johns Hopkins)

NEXT Week's CONVERSATIONS-Reopening Our Week Day Crisis Leadership Discussions

Ensuring the Dignity of Teachers and Staff

GRADED– redefining the term, "Nimble"

Dr. Fauci on opening schools, "The default position is to try."
–CONVERSATIONS–
with International School Leaders Around the World: Reopening Next Week
Editor's Note: Our CONVERSATIONS continue and just as within your own school with the advent of August, we will be picking up the pace as well. Our every Thursday gathering of school heads and senior leaders from around the globe will of course continue. We will also be using other days of the week to ensure we are bringing you important voices to bring new ideas and perspectives on the dilemmas you confront. We need your thinking and your voice as we grapple with what seems an everyday sense of the unexpected. We encourage school heads, senior leaders and trustees to attend any and all of our CONVERSATION gatherings. (MEU)
TUESDAY
August 4
8:00AM EDT
REBOOT/RETHINK YOUR INTERNATIONAL SCHOOL BRAND FOR RELEVANCE AND SUSTAINABILITY
– Jon Moser (Finalsite) and
Da)vid Willows (ISBrussels
Jon and David will discuss best practices and concepts for reopening as a digital campus. As the school term begins, there is no longer a free pass on the need for excellence in program, communication and how parents will view the value of your digital and responsive campus. In a time where you are leading through crisis there must be equal place for creativity in the midst of the emotional drain of it all. How to ensure your school is a learning institution and is repositioned to add more value to students and their families in the time of COVID-19.
WEDNESDAY
August 5
8:00AM EDT
INDEPENDENT SCHOOLS WITHIN THE EPICENTER–
Reopening with Students and Teachers at Risk
– Debra Wilson,
Executive Director, SAIS
Debra joins our international community once again, this time to provide an update and perspective on the reopening actions of USA independent schools. She will discuss and invite a CONVERSATION about faculty, staff and community feedback about on campus risk and the overall teaching and learning state of play.
THURSDAY
August 6
8:00AM EDT
OUR GLOBAL LEADERSHIP COMMUNITY– TOGETHER
Twenty-Three Weeks Running
–with Will Richardson
A Weekly CONVERSATION between School Heads and Senior Leaders #23. Our discussions continue to be contemporary, important and a time we teach each other.
With thanks to Will Richardson who has facilitated our Thursday CONVERSATIONS since the very beginning.
THURSDAY
August 6
10:00AM EDT
LATIN AMERICAN SCHOOL LEADERS– Resuming Our Weekly Conversations
– with Sonia Keller (Tri-Association) and Dereck Rhoads (AASSA)
The weekly Thursday CONVERSATIONS between Latin America school heads and senior leaders resumes in collaboration with Tri-Association and AASSA. All are welcome to join the discussion and we will also include guest speakers, specific to the Latin America circumstance and needs. Our sessions, as before will be hosted by Sonia Keller and Dereck Rhoads.
Staying Agile in the Time of Covid-19
–GRADED- The American School of Sao Paulo
Version Two: A Plan to Reopen Graded's Campus–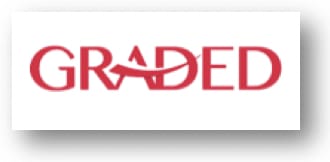 Editor's Note: GRADED has reflected agility in responding to Brazil being a COVID-19 epicenter, remaining flexible in concept and action toward ensuring teaching and learning as the new term begins.
Take note of the CONVO student groups as the means of social distancing and if needed, contact tracing. Also, the principles upon which the plan is based are specific, no nonsense and requiring community commitment.
GRADED has identified 5 phases for risk management.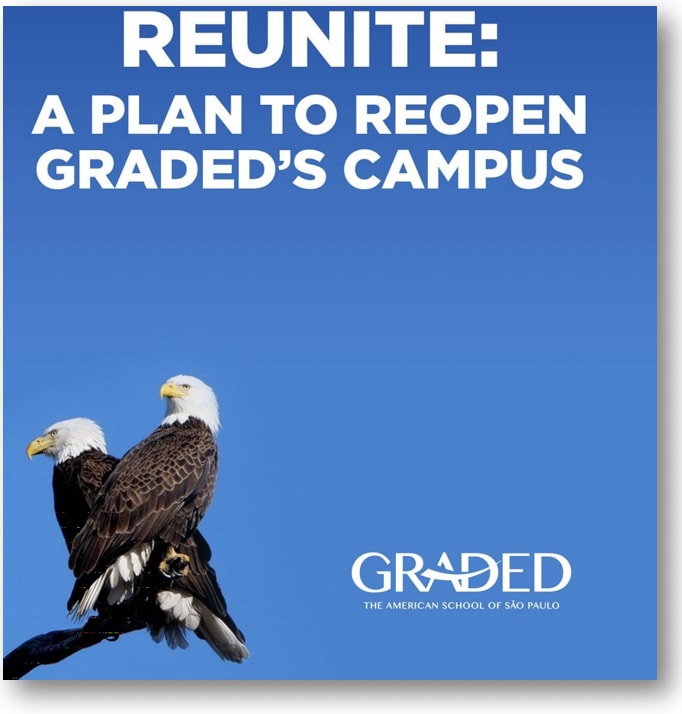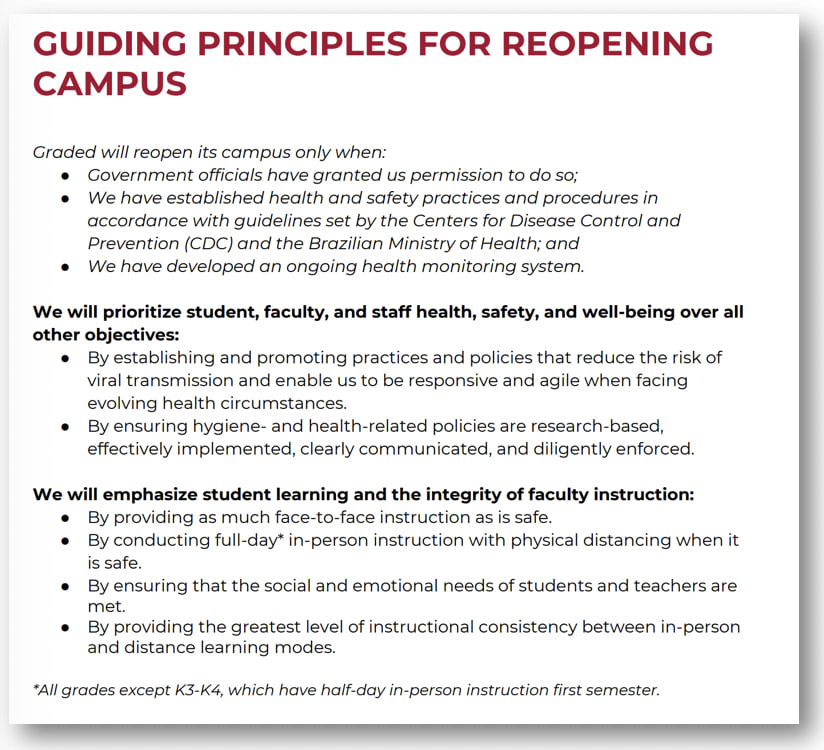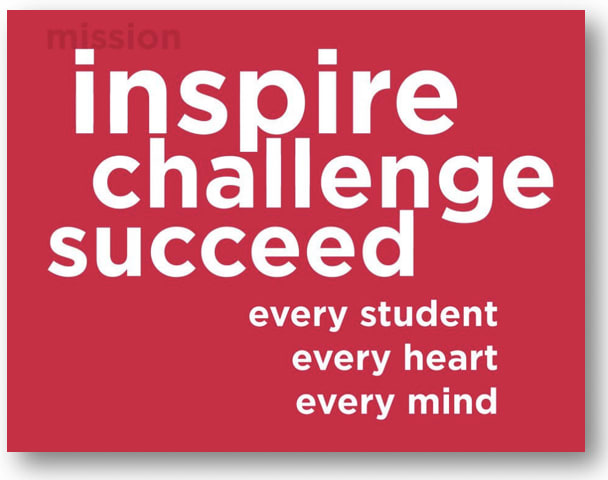 On Teaching and Learning
The mode we employ and/or the ratio of on-campus to distance learning will be determined by current health conditions. This plan will allow us to move fluidly between learning modes without altering a student's class schedule.
GRADED's Five Phases
Phase 1: Most restrictive
· Phase 2: Moderately restrictive
Suspension of busing and carpooling.

Postponement of in-person after-school activities.

Reduced population density (35% or fewer students on campus).

No parent access to campus.

Essential service providers and deliveries only with health screening.
· Phase 3: Less restrictive
Suspension of busing and carpooling.

Low-risk in-person after-school activities and/or athletics resume.

Increased density of population (50% or more students on campus).

No parent access to campus.

Essential service providers and deliveries only with health screening.
· Phase 4: Least restrictive
Busing and carpooling resume.

Moderate-risk in-person after-school activities and/or athletics resume.

Full student occupancy.

Limited parent access permitted.

Essential service providers and deliveries only with health screening.
· Phase 5: No restrictions
Effective COVID-19 vaccination and/or treatment is readily available.

Pre-pandemic Graded operations are fully restored
GRADED's organizing structure in response to the science
of the virus is the use of "CONVOS"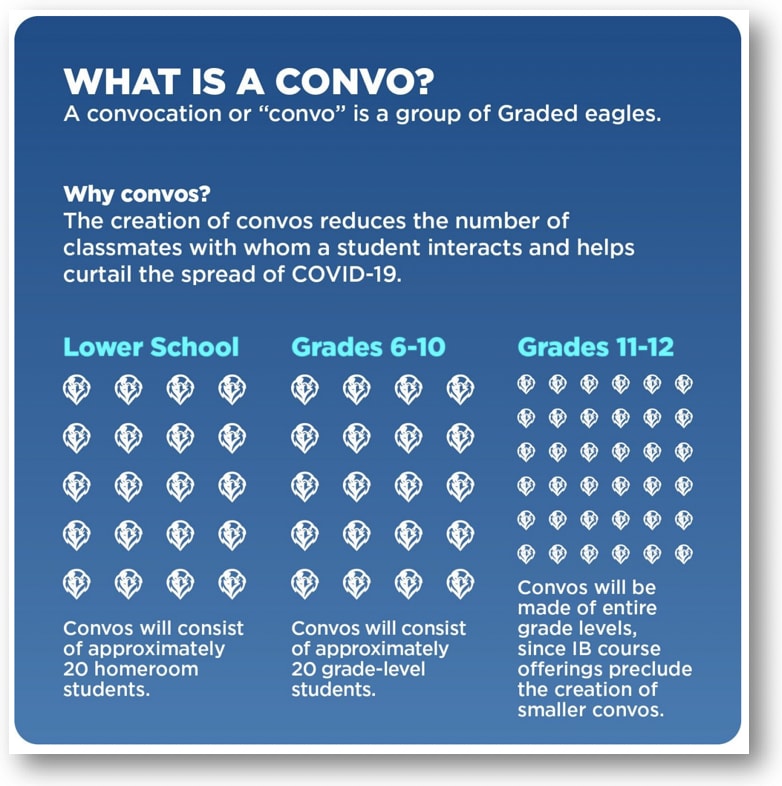 –The Conversation About Reopening Schools
Ignores Educator's Dignity–
Editor's Note: Yesterday's head of school and senior leader CONVERSATION brought out a discussion about helping teachers to "certify" and to take ownership of a school's approach to risk management. Rosalind and Charlie offer a similar view that to treat our teachers and staff with dignity, we must give them voice and agency. The Elements of Dignity booklet is free, see end of the BRIEFING for link.
– By Rosalind Wiseman and Charlie Kuhn

Why is the conversation around reopening schools so contentious for educators? The answer is simple: their dignity is being violated.
We talk a lot about dignity and are often inspired by our colleague Donna Hicks who breaks down dignity into 10 Essential Elements.The elements help us understand what people need in order to feel their dignity is being honored. One of the most crucial elements is safety, which Dr. Hicks defines as putting people at ease at two levels: physically, so they feel safe from bodily harm, and psychologically, so they feel safe from being humiliated and can speak without fear of retribution.
The current conversation around reopening denies educators this definition of safety. Educators have long abided by the realities of working in a school system: often inadequate pay, being evaluated by students' test scores that don't reflect the reality of educating, and demands to be an ever-expanding role of caregiver, counselor, and mental health provider. All the while exposing themselves to the regular health risks like getting colds or the flu and managing the anxiety of shooter drills and threats.
Educators are at the mercy of politicians giving lip service to how important their jobs are while at the same telling them they have to go back to school and not consulting them first. If educators voice their concerns, they are shamed for being selfish, for not caring about their students, or are simply being told to get over it. Teachers are so concerned about their safety that they are making wills as part of their back to school plan. The impact of the current conversation around reopening sends the message that our educators' safety, and their dignity, is unimportant. This is a cycle most educators fight their entire careers: being told what is best for them while being denied the opportunity to share their expertise and then absorbing the shrapnel from those decisions.
Many educators miss their students and desperately want to see them in their classes. And many parents and children want to go back to school. There are real costs for children staying at home to their physical and emotional health and education.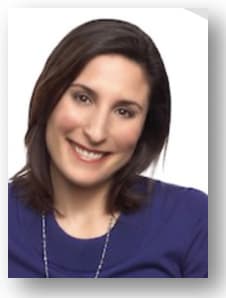 Rosalind Wiseman,
Co-founder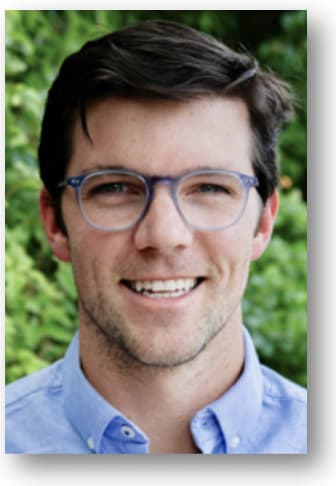 "Dignity asks you to navigate the world, and your relationships, with the guiding principle that we all matter the same amount, no matter what."
However, ignoring educators' dignity will continue the contentious relationship between those who educate children and those who make decisions about education.

So, how do we shift the conversation to grapple with tough decisions while also acknowledging dignity?
Use the list of the Elements of Dignity to guide our actions.
Take a look at the list of the Elements of Dignity and think through how your school's reopening, the national conversation surrounding it, and people in positions of power may deny educators each element. Carry that information with you when emailing school officials, critiquing educators, reading articles about reopening, or talking with others.

Acknowledge the complexity and understand the confusion this situation generates for everyone involved in school: parents, administrators, teachers, and of course students.

If you are a parent, use the Elements of Dignity to base your thoughts and approach to what your family will do when school begins. Use the elements to prepare how you communicate with your school officials and other parents. Think about the educators' dignity and express ways to uphold their safety while being able to do their job effectively.

Use the elements to frame the conversation with your family members and ask them to reflect on what elements they aren't receiving.
Dignity asks you to navigate the world, and your relationships, with the guiding principle that we all matter the same amount, no matter what. This ask does not stop when conversations get complicated and decision making gets hard.
If we force this conversation about reopening schools, without acknowledging the role dignity plays in our relationships, then we are asking for educators to quit, for top performers to be hired away, for teacher strikes, and for continued dismissal of recognizing the inherent worth and value of educators.
–THE NEWS of COVID-19–
17,406,644 Cases Worldwide (Johns Hopkins CSSE)
Children Under 5 May Be Carrying Higher Levels of Coronavirus,
New Study Suggests

Children under the age of five have between 10 to 100 times greater levels of genetic material of the coronavirus in their noses compared to older children and adults, a study in JAMA Pediatrics said Thursday. Its authors wrote this meant that young children might be important drivers of COVID-19 transmission within communities - a suggestion at odds with the current prevailing narrative. Between March 23 and April 27, researchers carried out nasal swab tests on 145 Chicago patients with mild to moderate illness within one week of symptom onset. The patients were divided in three groups: 46 children younger than five-years-old, 51 children aged five to 17 years, and 48 adults aged 18 to 65 years. The team, led by Taylor Heald-Sargent of the Ann & Robert H. Lurie Children's Hospital, observed "a 10-fold to 100-fold greater amount of SARS-CoV-2 in the upper respiratory tract of young children." The authors added that a recent lab study had demonstrated that the more viral genetic material was present, the more infectious virus could be grown. (Science Alert, AFP)
–The STATS–
TOTAL GLOBAL CASES:
Johns Hopkins
17,406,644
WHO–17,106,007
GLOBAL DEATHS (WHO):
Today–668,910
Two Days Ago–656,093
One Month Ago–
503,862
EVOLUTION OF-GLOBAL CASES (WHO):
Today–
17,106,007
Two Days Ago–
16,558,289
One Week Ago–
15,581,009
One Month Ago–
10,185,374
NEW CASES (WHO):
Today–292,527
Two Days Ago–215,127
One Week Ago–
284,083
One Month Ago–
163,865
USA With the Most Deaths– By Far
It took two months for Covid-19 to kill 50,000 Americans, and nearly half of those deaths took place in one state, New York. On Wednesday, the death toll approached 150,000, a milestone of trauma and tragedy that marks the coronavirus's leap from big cities into suburbs and rural areas, especially in Texas, Florida, California and Arizona. The United States has suffered more deaths from covid-19 than any other country, by far. Americans are dying from the virus-related illness at a per capita rate four times that of Germany and Iraq, five times that of Russia and Bahrain. The next-closest death toll from the coronavirus is in Brazil, where nearly 90,000 people have died. (The Washington Post)
Australia as a Bellwether For the Fall Season?
Public health officials bracing for a potential onslaught of coronavirus cases when summer fades in the U.S. and Europe are getting a real-time window into what the cooler weather may bring. And it's alarming. Deep into the Southern Hemisphere winter, Australia's second-most populous city Melbourne is experiencing a virus resurgence that dwarfs its first outbreak back in March. The state of Victoria on Thursday reported a high of 723 new infections -- nearly 200 more than its previous record set a few days earlier. (Sydney Morning Herald, Bloomberg News)
Another Big Player
in the Vaccine Race
Johnson & Johnson's experimental coronavirus vaccine protected a handful of primates with a single shot in an early study, prompting the U.S. drugmaker to start trials in humans this month. The vaccine prevented infection and protected the animals' lungs from the virus, J&J said in a statement Thursday. The health-care behemoth kick-started human trials on July 22 in Belgium, and in the U.S. earlier this week.
(Bloomberg News)
Dr. Anthony Fauci on Opening Schools:
Without a Yes or No Answer
"It's a much more complicated situation with the schools, and I can't give you a yes or no answer. As a broad principle, we should try as best as we possibly can to get the kids to return to school, because of the negative unintended consequences of keeping the kids out of school, like the psychological health of the children, the nutrition of kids who get breakfast or lunch at school, to working parents who may not be able to adjust their schedules. So the default position is to try.
However, while you do that, the one thing that you have to underscore—and that's a big however—is that paramount among this has to be the safety and welfare of the children, of their teachers, and secondarily, of the families of the children. So there has to be some degree of flexibility.
There are going to be counties and towns and cities and maybe states with a reasonably low level of infection, so that you wouldn't assume that there'd be any risk of the kids getting infected at school. There's going to be other areas of the country with a modest degree of infection where you might have to modify schedules, have teachers wear masks, more physical separation of desks. And then there may be some areas where the degree of infection is so high—as we're seeing now in certain places in the country—that you might want to think twice before you make that decision. So what I'm saying is: Maintain the principle to try as best as you can to open the schools, but make sure you instill in that a degree of flexibility."
(from Wired)
The Mystery of Resurgence in Vietnam
Vietnam confirms its first new coronavirus fatality after the death of a 70-year-old man who had tested positive in Danang, where the virus re-emerged in the country last week after 100 days. Vietnam reported 45 new cases linked to the city earlier on Friday. Then clusters quickly emerged in five hospitals. By Wednesday, the virus had spread north to Hanoi, the capital, south to Ho Chi Minh City and afflicted two provinces in central Vietnam, as well as the remote Central Highlands.
Japan, China, Australia and South Korea, all of which seemed to have their outbreaks reasonably under control, recorded spikes on Wednesday. In the Australian state of Victoria, authorities announced 295 new cases on Wednesday, along with nine new deaths.
Hong Kong, which kept its caseload low for months, is now racing against a wave of new infections, sickening about 100 people a day. With infections turning up in nursing homes and restaurants, Carrie Lam, the territory's chief executive, warned on Tuesday that Hong Kong was "on the verge of a large-scale community outbreak."
Although Vietnam, a nation of 95 million people, remains the largest country in the world to have not confirmed a single fatality from the coronavirus, the mystery surrounding the infections popping up across the country has spooked medical experts and residents alike.
"In my opinion, this outbreak is more dangerous than the previous one because it is happening at the same time in many places," said Nguyen Huy Nga, the dean of public health and nursing at Quang Trung University in Binh Dinh Province. "We do not know the source of disease, especially with tens of thousands of tourists flocking to Danang." (The New York Times)
Another Daily Record in India
India sets another daily record with 55,078 new cases in the last 24 hours, bringing the country total to over 1.63 million. The death toll has risen to 35,747, up 779 from Thursday morning. (Nikkei Asian Review)
Where It Started
China on Friday reported its highest daily increase in coronavirus cases since March, with infections surging in the northwestern region of Xinjiang and fears growing that a full-scale resurgence of the virus could be on its way along with more economic hardship if the spread is not contained. The country, where the virus originated late last year, has recorded a total of 4,659 deaths and at least 87,489 confirmed cases since the pandemic began. The outbreak in Xinjiang, which is home to many Muslim Uighurs and other ethnic minority groups, has caused particular alarm among experts and human rights activists. The region is home to internment camps run by the Chinese government, which at one point had detained more than a million people in the facilities. (The Washington Post)
A Portion of UK on Lockdown
Boris Johnson on Thursday night ordered swaths of the north of England back into partial lockdown as he warned of a "damaging second wave" hitting the UK. Hundreds of thousands of people in Greater Manchester, Bradford, Blackburn and other areas were banned from holding indoor meetings involving people from different households. It comes after NHS data showed ­coronavirus reaching worrying levels in parts of Lancashire and Yorkshire, prompting the Prime Minister to take "immediate action" to keep people safe. (The Daily Telegraph)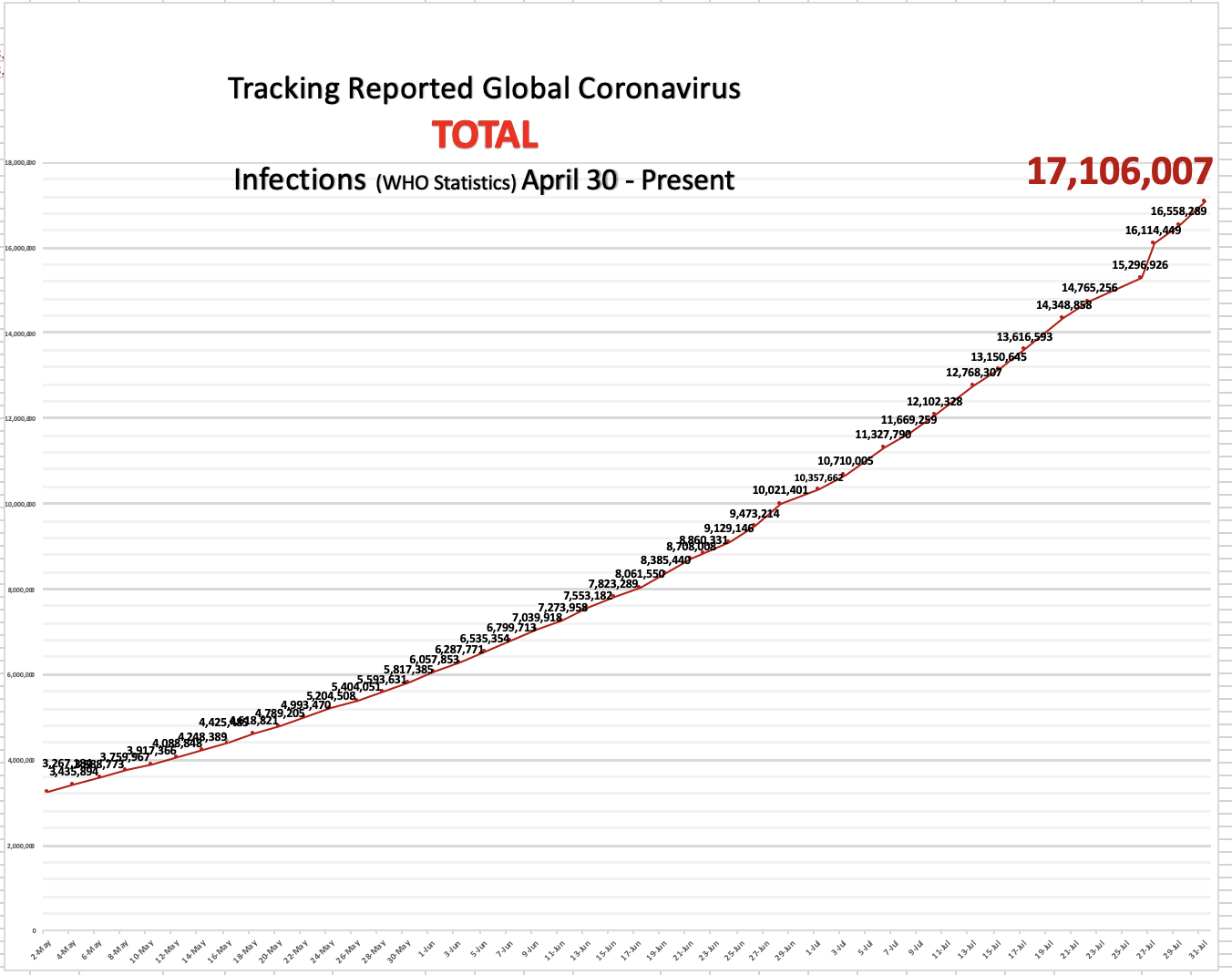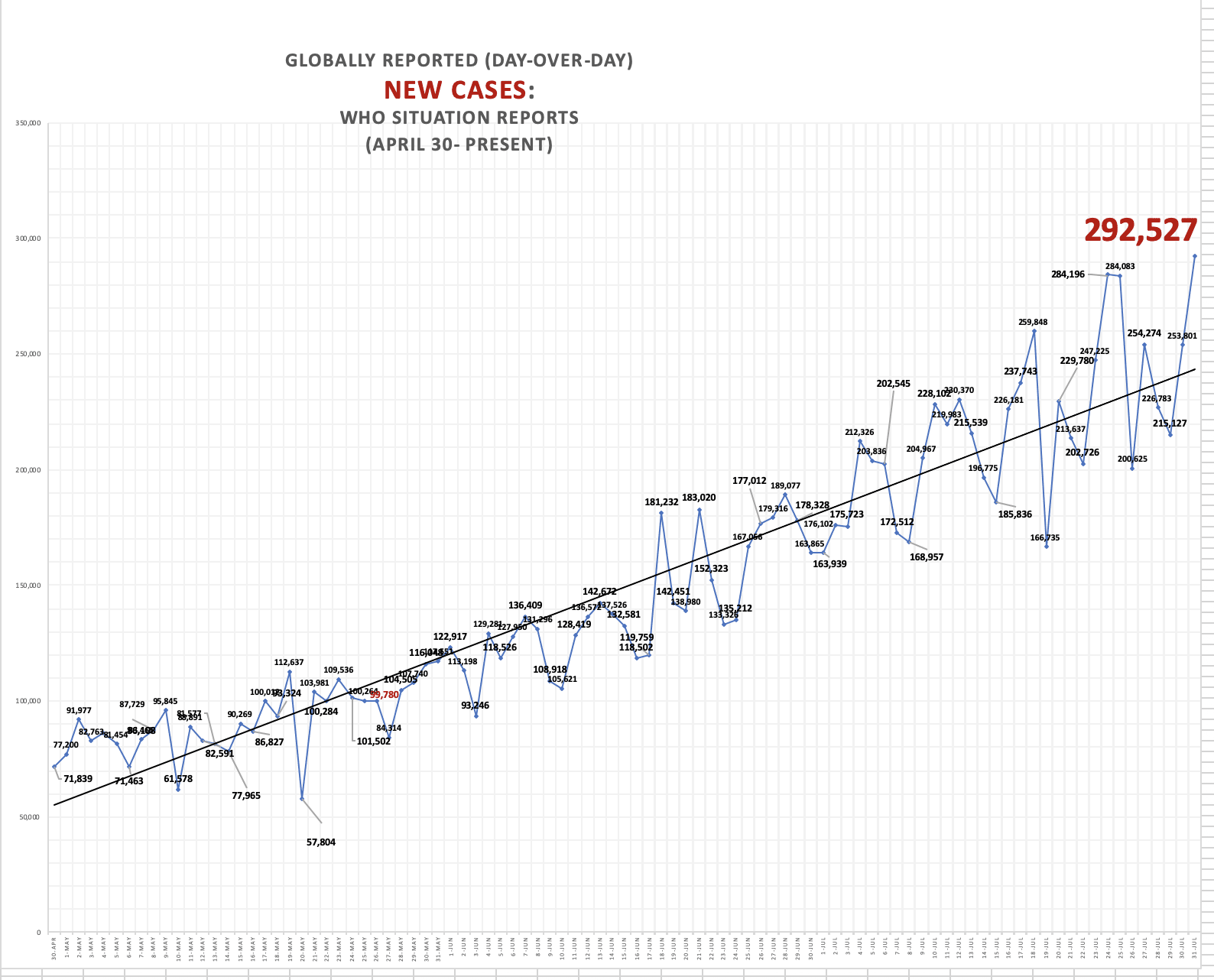 –FROM THE WHO and JOHNS HOPKINS CSSE–
From the WHO

, the Situation Report for July 31

,

2020
From the WHO

, The European Region Dashboard
From Cultures of Dignity

,

For the Social-Emotional Tiny Guides from Rosalind Wiseman and Charlie Kuhn– a gift to our AAIE community– resources with no fee but plenty of insight.



A Final Note: The AAIE COVID-19 Briefing is provided to support your leadership for the school community you serve. We encourage you to use these resources in any way, shape or form that helps you, your communications and toward furthering close relationships across your community. – The AAIE Board