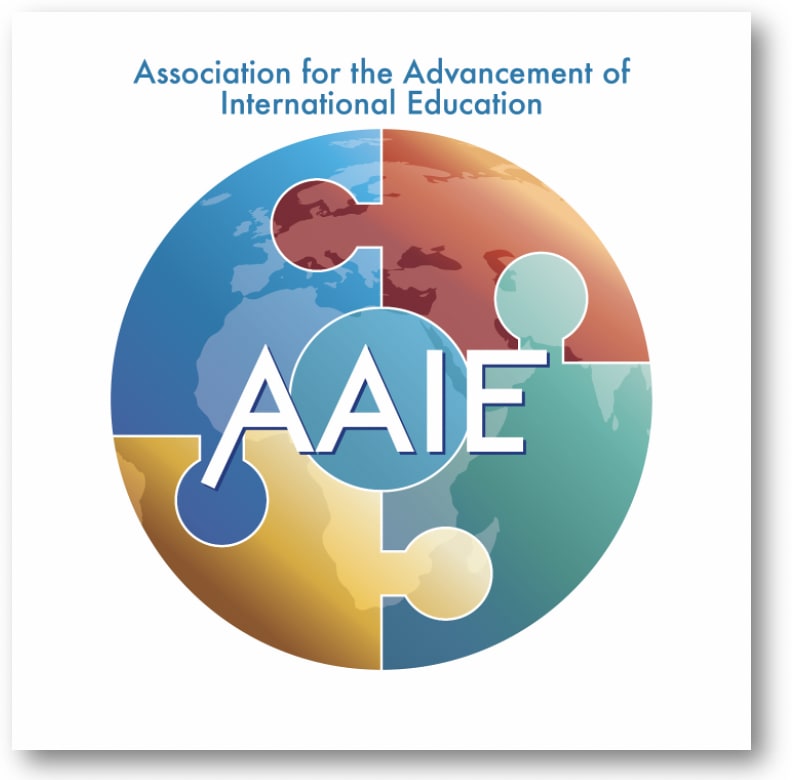 –WEDNESDAY–
AAIE's COVID-19 BRIEFING #189
Data and Ideas to Support Your Crisis Leadership
March 24, 2021
Be On the Lookout - Special message under separate cover coming today announcing AAIE's 2021 Virtual Global Leadership CONVERSATION's complete schedule of events, speakers, and presentation topics
QUICK LINKS for Busy People
124,544,117

Worldwide Cases

The rest of this week's

CONVERSATIONS

Message from Myanmar– leading through a pandemic and a military coup (this week's report)

From learning loops to game changing ideas for remote learning 4.0

The facts on AstraZeneca

Poland is an infection lightning rod

WHO: Global infections on the rise
TODAY'S
CARTOON
(thanks to The New Yorker)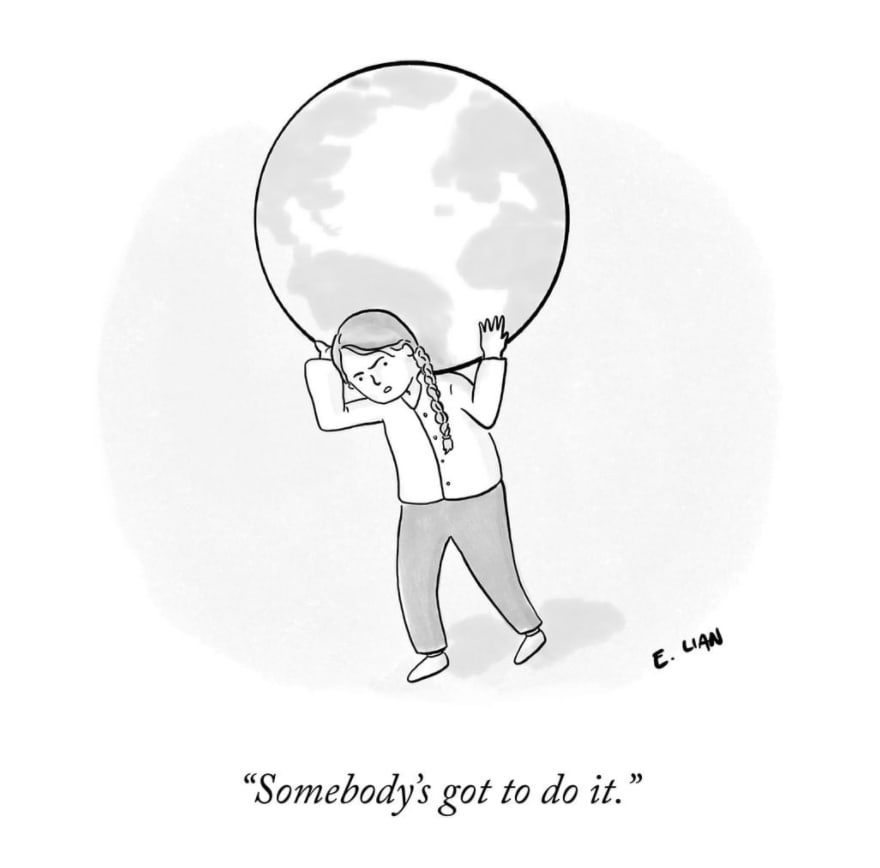 inspiration from Bob Hetzel
The Carrying Strength of Water
Running near flood after the storm,
Fish Creek waters carry a summer
of salmon carcasses to the sea—stinking
reminders of once rich silver-sided fish.
I test this power with a sliver of remorse-filled
memory. A hateful word never taken back. It
escapes a patrol of gulls, bounces into the creek
and floats, then dissolves like a communion wafer.
Another memory that I can sleep better without
of teenage cruelty is snatched at in the air
by a glaucous-winged gull. It too drops
from beak to beak until hitting the water.
Searching my catalog of discomforts, I remember
protesting the Viet Nam War between college classes
while others served—toss its weight into the water,
can now forget that I never welcomed soldiers home.
I scan memories of injuries caused by my carelessness,
those useful for changing bad habits, and emerge
with one formed in the ER from wound, needle,
and sutures,
drop it through the growing cloud of gulls
into the stream.
Now worried that I'm more vulnerable to deep cuts,
I stop jettisoning even painful memories.
But if I could sever
the emotion from the recollection, I'd dump all my guilt
off this bridge and let the stream carry it away.
—Dan Branch
–THE REST OF THIS WEEK'S CONVERSATIONS–
with International School Leaders from Around the World
OUR WEEKLY GLOBAL
LEADERSHIP CONVERSATION #53
Our international school leadership CONVERSATIONS continue– the place where we take on the dilemmas of leading our school community through a global pandemic. ALL SENIOR LEADERS ARE INVITED– We need all voices and more perspectives as we take on the too many dilemmas together.
THURSDAY
25 March 2021
8:00AM EDT
THE LATIN AMERICA CONVERSATION #41
Hosted by Sonia Keller and Dereck Rhoads, the unique leadership context of Latin America provides the backdrop for crisis leadership and discussions on school sustainability.
THURSDAY
25 March 2021
10:00AM EDT
THE AAIE NEW SCHOOL PROJECT: PHASE THREE
Our deliberations continue on the SEVEN PRINCIPLES that can guide NEW SCHOOL thinking for the future of international education.
FRIDAY
26 March 2021
8:00AM EDT
THIS WEEK FOR THE NEW SCHOOL PROJECT:
Working groups continue, focusing on research and best practices to define pathways and implementation of strategies for each of the seven NEW SCHOOL PRINCIPLES. Please join in with your ideas to bring value and to support how we are approaching implementation ideas for the Seven Principles.
CLICK HERE to sign-up for a work group, and we again meet this coming Friday, using our weekly time to bring practical implementation strategies to each principle.
Seven winners of a US$100 prize for a three-minute video that tells the story of what students wish the adults knew about their learning. Send the video clip entry to studentfilm@aaie.org
Message from Myanmar:
A Paralyzing Crisis with No Clear End in Sight
–by Dr. Gregory A. Hedger
Director, The International School Yangon (ISY)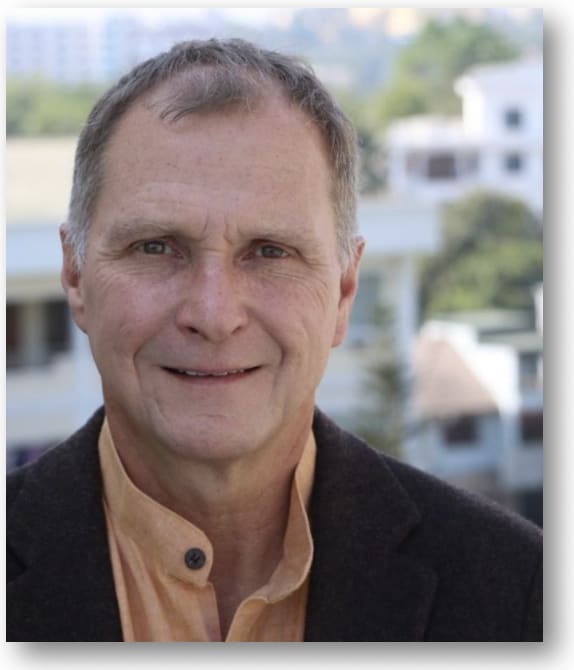 Dr. Greg Hedger, Director
At one point, while struggling with a decision, our board chair asked me, "Greg, if you had to step back and support your decision, what would you say?" I replied that I was making what I believed to be the moral and ethical decision. She told me that if I believed that, then it is clear what decision I should make.
Part of our daily leadership approach became one of trying to constantly anticipate what could happen next and make sure we were prepared for it.
Editor's Note: In the mix of all the circling urgencies within our leadership lives, let's keep in mind our member schools in Myanmar, faced with countless new dilemmas because of the violent military coup. Here, Greg Hedger provides his second update for us on the leadership challenges across his school community and also what it looks like out on the streets. When was the last time you had to organize a charter flight for your school community to get everyone to their home of record, and then to ensure remote learning resumes one week later?
The situation in Myanmar has quickly deteriorated since my last update written at the end of February. At that time, response to the military coup that had taken place appeared in the form of massive peaceful protests, attracting literally millions of people, throughout the country.
While the initial response to these protests was one of tolerance, this quickly changed when it appeared the demonstrations were building. As a result, moving demonstrations began to appear, where people would gather to demonstrate, and then move to another site when the military showed up. Early on, the military imposed a curfew at 8:00 PM every night. Demonstrators responded with nightly demonstrations. The military quickly responded to this as well.
Simultaneous to the demonstrations taking place, a civil disobedience movement (CDM) developed. Initially, doctors and public hospital staff quit working, this was followed by teachers, banks, stores, and then essentially all offices of government. This has caused the whole country to come to a standstill.
It has become difficult to access cash. Many local families are subsisting on minimal food levels, and there is hardly any traffic on roads in a city of 7 million people. The military response has been more aggression, destroying homes of people refusing to work, and arresting more people, and placing some areas under martial law. This has resulted in people fleeing their homes, including some of our local staff at the school, resulting in a need to help look after their daily needs.
While the initial demonstrations had given people hope they could change the situation, there is a growing sense of fear for the future and a loss of optimism.
As a school, we have had to continuously be on our toes, trying to be proactive in preparing for all contingencies. For example, as the CDM developed, we realized cash might end up being in short supply. We immediately increased our cash holdings at the school so we could cover several payrolls, meaning our employees would be able to meet their needs. We loaded up on food and housing supplies in anticipation of needing to support people who would be dislocated, and we planned for ways to accommodate people in need of a place to live.
The military was also cutting internet access on a regular basis, as well as all communications channels from time to time, so we set up meeting times for faculty to get information, and offline learning opportunities for when school wasn't in session. Part of our daily leadership approach became one of trying to constantly anticipate what could happen next and make sure we were prepared for it.
One of our greatest challenges has been trying to balance the needs of various members of our community. Often these needs conflicted with each other, for example trying to support faculty who want to leave, while having students who are still in country, or supporting staff who are afraid to go on the streets to come to work, with families who need access to the facilities to support their mental health.
Many times, we found ourselves struggling with trying to make decisions that balance all of the needs. Fortunately, I have a supportive board and board chair. At one point, while struggling with a decision, our board chair asked me, "Greg, if you had to step back and support your decision, what would you say?" I replied that I was making what I believed to be the moral and ethical decision. She told me that if I believed that, then it is clear what decision I should make. That became our focus. From that point on, we have asked ourselves, what is the moral and ethical way to go? We certainly have critics, but this has helped us to focus, and choose a course as we've moved forward.
As things have deteriorated further, we've continued to have to make challenging decisions. We began to realize that at some point we might find ourselves in a crisis situation where we need to get all faculty out of the country. Rather than waiting for that to happen, we've decided to implement plans to move all faculty out on a chartered flight during spring break so they have time to settle into their homes of record before resuming online learning following the break.
We've also realized enrollment will be way down in August. So, we established a list of criteria, and have put in place a reduction in force process. We are currently meeting with every faculty member to review their status for the next school year. While this is happening, we are continuing to teach classes synchronously, making our facilities available, supporting dislocated refugees, and trying to maintain routines for our students.
By 11 April, the majority of our faculty will have left Myanmar for the remainder of this school year. Our COO and myself will stay in Myanmar to support our local staff for as long as it is reasonable for us to be here and we feel we are serving a purpose.
–In the Time of COVID-19–
More on the Future of Education Now
From a Personalized Learning Framework to Learning Loops to Game Changing Online Strategies

Editor's Note: The Innovation in Our International Schools Wednesday CONVERSATION continues. If you missed today's discussion, please reference the VIDEO and CHAT links below. We are witnessing real world innovation, from learning loops to remote learning lessons 4.0!
A Personalized Learning Framework:
Moving from Schooling to Learning with Loops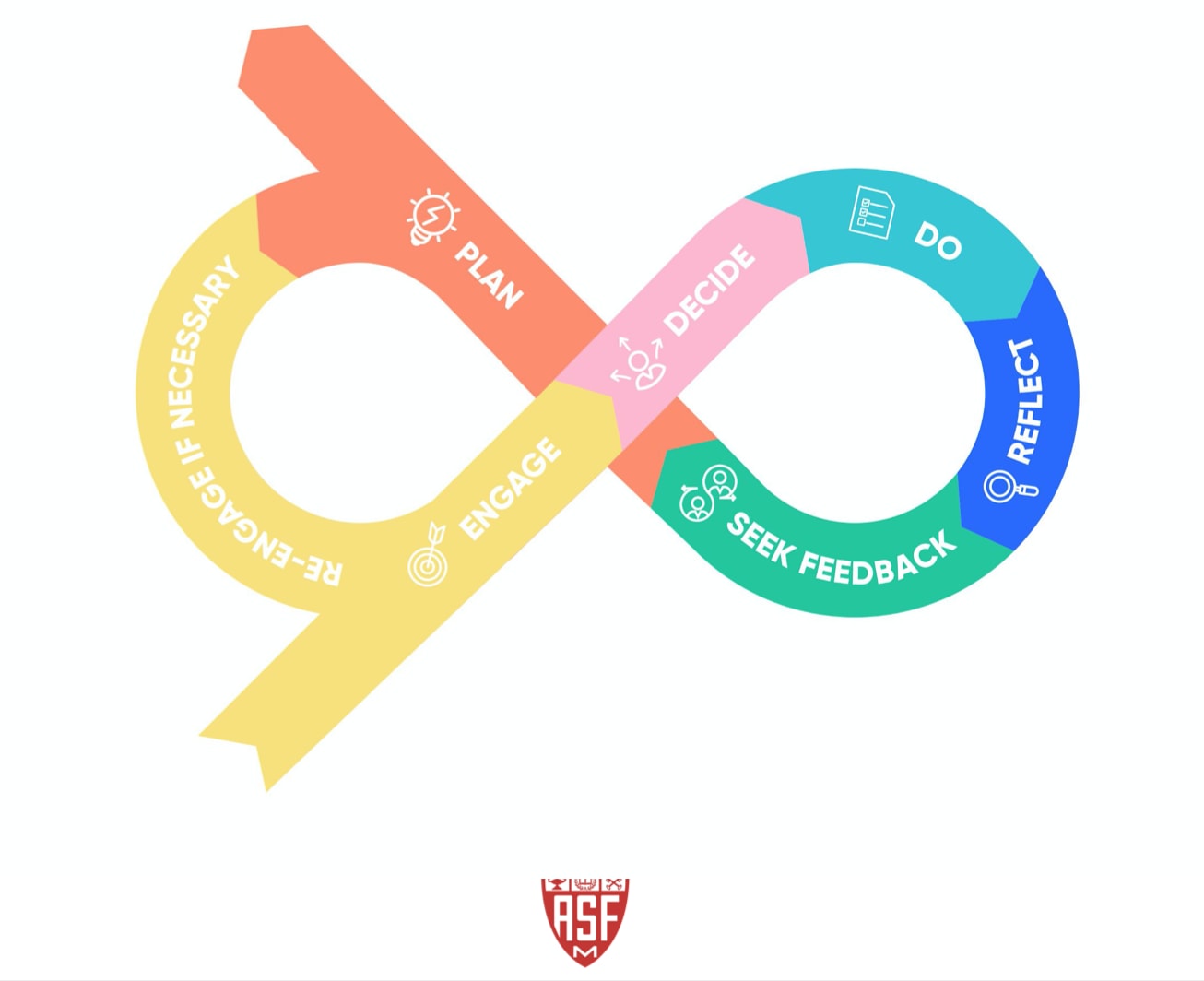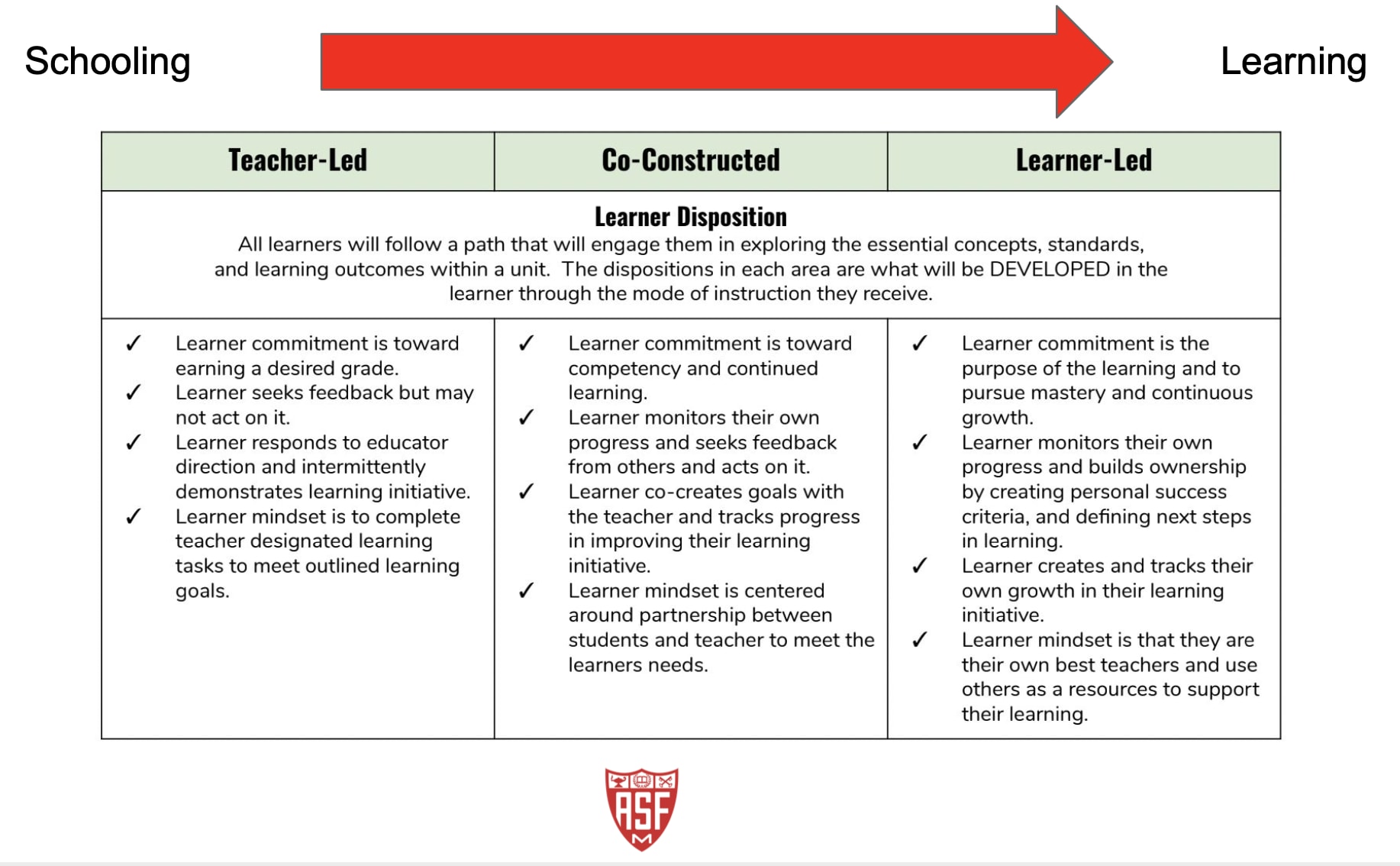 Western Academy of Beijing Defines Online Learning "Game Changers"
as They Implement Iteration 4.0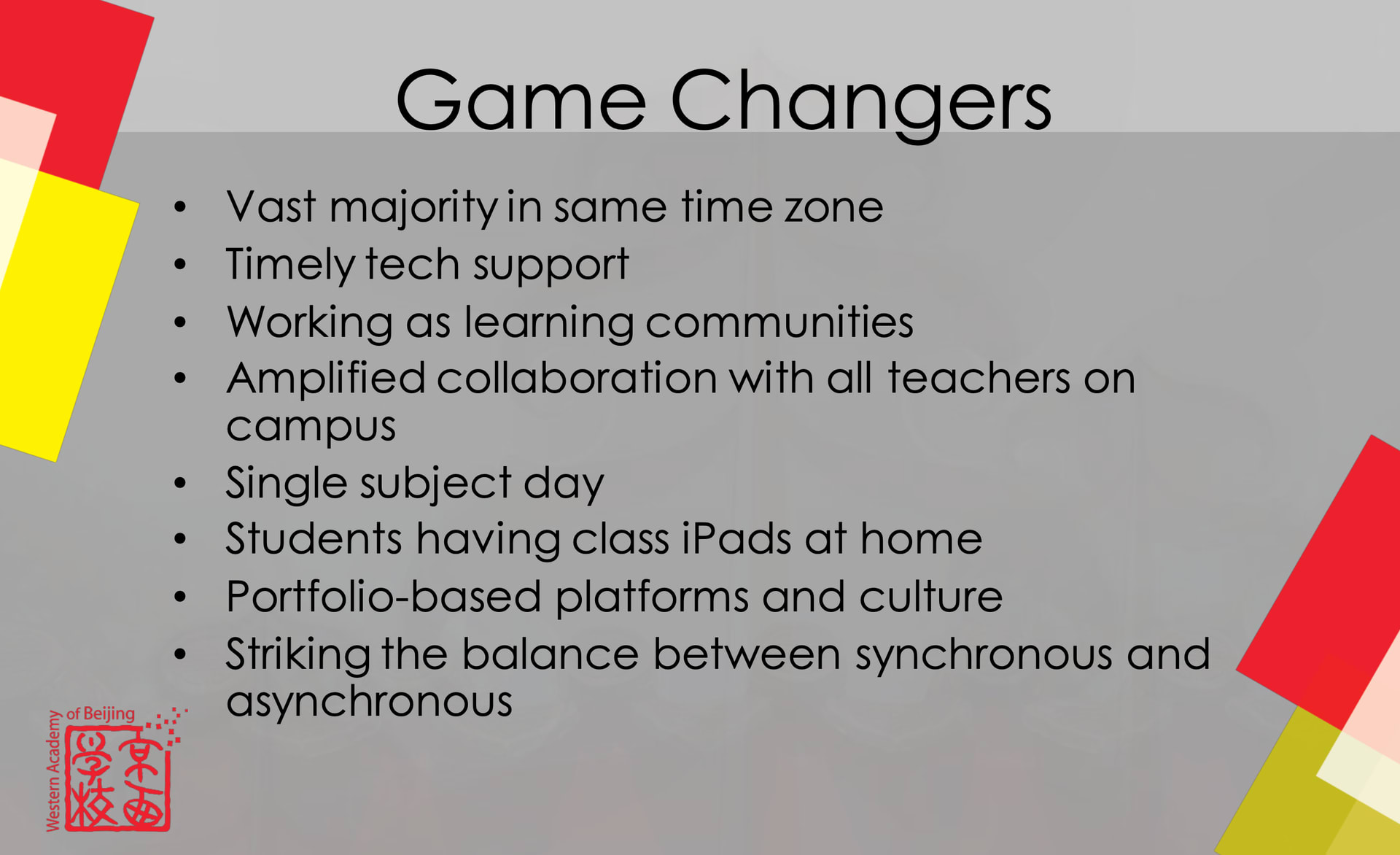 With Thanks to Today's Presenters
For ASF-Monterrey
Students:

Nicole, Grade 6, Raquel, Grade 6, Irene, Grade 12

Dr. Sascha Heckmann, Asst. Superintendent for Innovation and Learning
Mr. Sheldon Guenther, MSHS Head of Campus
Ms. Melanie Henning, MSHS Instructional Coach
Ms. Julie Ward, HS English Teacher
Ms. Nola Heckmann, MS Science Teacher
Dr. Michael Adams, Head of School
For Western Academy of Beijing
Angela Steinmann, ES Principal
Catherine Pierre-Louis, ES Vice Principal
Jonathan Mueller, PYP coordinator and curriculum coach
Dr. Karen Lindner, Early Years coordinator and curriculum coach
Kevin Crouch, Head of Educational Technology and IT
Dr. Marta Medved Krajnovic, Head of School
Staying Up-to-Date on the Global Pandemic Science
Scientists widely agree that the Oxford–AstraZeneca vaccine is safe and effective. Its low price and stability at moderate temperatures mean that it could protect large swathes of the world's population from COVID-19. But confusing early trial data, lingering questions about the latest trial results and concerns over potential rare side effects have eroded confidence in the jab. Nature looks at the efficacy and safety of the vaccine, how well it works in older people, the optimal timing of doses, how it performs against variants and the impact of this week's confusion.
"I was sort of stunned":
Dr. Fauci and U.S. Officials Say AstraZeneca Released 'Outdated information' From Covid-19 Vaccine Trial
U.S. health officials raised concerns early Tuesday that positive results that AstraZeneca announced Monday for its Covid-19 vaccine may have been based on "an incomplete view of the efficacy data" from a clinical trial and relied on "outdated information," throwing another curveball in the saga of the company's vaccine.
In a statement issued soon after midnight Tuesday morning, the National Institute of Allergy and Infectious Diseases said it had been informed about the data questions by the data and safety monitoring board auditing the trial. DSMBs consist of independent medical experts who review data produced from clinical trials.
"We urge the company to work with the DSMB to review the efficacy data and ensure the most accurate, up-to-date efficacy data be made public as quickly as possible," NIAID said.
In an interview Tuesday morning with STAT, Dr. Anthony Fauci, the head of the NIAID, said the DSMB raised concerns because it felt the results in a AstraZeneca press release Monday looked more favorable than more recent data from the vaccine study had shown.
"I was sort of stunned," Fauci said. "The data and safety monitoring board were concerned that the data that went into the press release by AZ was not the most accurate and up-to-date data. That is what the DSMB communicated to AZ in a rather harsh note. Having seen that letter we could not just let it go unanswered."
–THE NEWS of COVID-19–
124,544,117 Cases Worldwide (Johns Hopkins CSSE)
Poland Infections Surpass a High Set in November
Poland reported a record new Covid-19 caseload as the pandemic's third wave pushes the government toward tougher restrictions on the European Union's biggest eastern economy. Infections in the last 24 hours reached 29,978, beating the previous peak of 27,875 seen in early November, data released Wednesday showed. (Financial Times)
WHO Says Most Regions of the World are
Seeing an Increase in Cases
Most regions of the world are seeing an increase in new Covid-19 cases as highly contagious variants spread, a top World Health Organization official said. New cases worldwide increased by 8% over the last week, the fifth week in a row that the WHO has seen an increase in transmission, according to Dr. Maria Van Kerkhove, the agency's technical lead for Covid-19.
Cases in Europe increased by 12%, Kerkhove said. The WHO has also seen a 49% increase in cases in Southeast Asia, an 8% increase in the Eastern Mediterranean and a 29% increase in the Western Pacific region. she said. The Americas and Africa saw a "slight decline," Kerkhove said, but added that the case numbers overall are "worrying."
"There is still far more we can do at an individual level, at a community level, as leaders in government, she said, urging the public to continue to practice Covid safety measures. (CNBC)
China's Vaccine Diplomacy Stumbles as
Clinical Trial Data Remains Absent
Last month, a shipment of Sinovac coronavirus vaccine doses arrived without fanfare in Singapore from China.
Today, the vaccine sits unused in a storage facility. The wealthy city-state is moving ahead with Pfizer-BioNTech and Moderna shots for its coronavirus immunization program, with officials saying Sinovac needs to provide more data before they will consider rolling out its doses.
The case highlights the limitations of Beijing's vaccine diplomacy. China's lack of transparency in its clinical trials has hurt public confidence, even as national leaders from Indonesia to Sierra Leone have gotten the shots to rally their populations to do the same. (Washington Post)
China's coronavirus vaccine makers Sinovac and Sinopharm were among the earliest in the world to begin clinical trials last year. It remains unclear why they still have not published the data from the studies, even after dozens of governments have green lighted their vaccines for emergency use. (Washington Post)
A COVID-19 Inflection Point in America?
"After a year of steadily increasing COVID-19 case counts, the United States may finally be at an inflection point. The recent overall decline in the number of new infections represents an opportunity finally to eliminate the virus within US borders, and to begin to eradicate it globally. But this window may not be open for long, given the emergence of new, more transmissible variants and a resurgence of cases in some parts of the Midwest. The recent declines are likely a result of seasonal population immunity (coronaviruses, in general, are seasonal contagions), vaccination, and a renewed commitment to safety measures such as face masks and social distancing. If the US can maintain these practices and contain new variants, it can quickly bring new daily infections down to around 3,000, at which point local transmission could be eliminated through widespread rapid testing, contact tracing, and assisted mandatory isolation. Many will see this as a daunting task. But Australia, Bhutan, China, New Zealand, Singapore, Taiwan, and others have used precisely this approach to keep case counts near zero and stamp out the spread of new strains. If the US could adopt the same three-pronged strategy and then help other countries do the same, a COVID-free world would be within striking distance." (via williamhaseltine.com, Project Syndicate)
WHO: Global Deaths on the Increase
Global deaths due to Covid-19 are on the rise following weeks of steady increases in the number of new cases, according to the World Health Organization. New infections fell around the world for six consecutive weeks in January and February but recently began climbing again under pressure from more transmissible variants and the relaxation of restrictions — a phenomenon also observed in the United States. Deaths are now catching up with a 3 percent global rise in fatalities over the past week — Southeast Asia in particular has seen a major increase of 14 percent. (The Washington Post)
Merkel Backs Off on Easter Lockdown
Chancellor Angela Merkel dropped plans for a five-day Easter shutdown amid massive criticism in the latest setback for Germany's pandemic fight. Merkel backed off the proposal in a hastily-arranged video conference with the heads of Germany's 16 states, according to a person familiar with the discussions. The meeting comes after marathon talks earlier this week, with Easter lockdown catching state officials off guard and creating confusion over the implementation. (Bloomberg News)
Worldwide Vaccinations per 100 People: As of MARCH 24, 2021
–UAE and Chile Lead the World–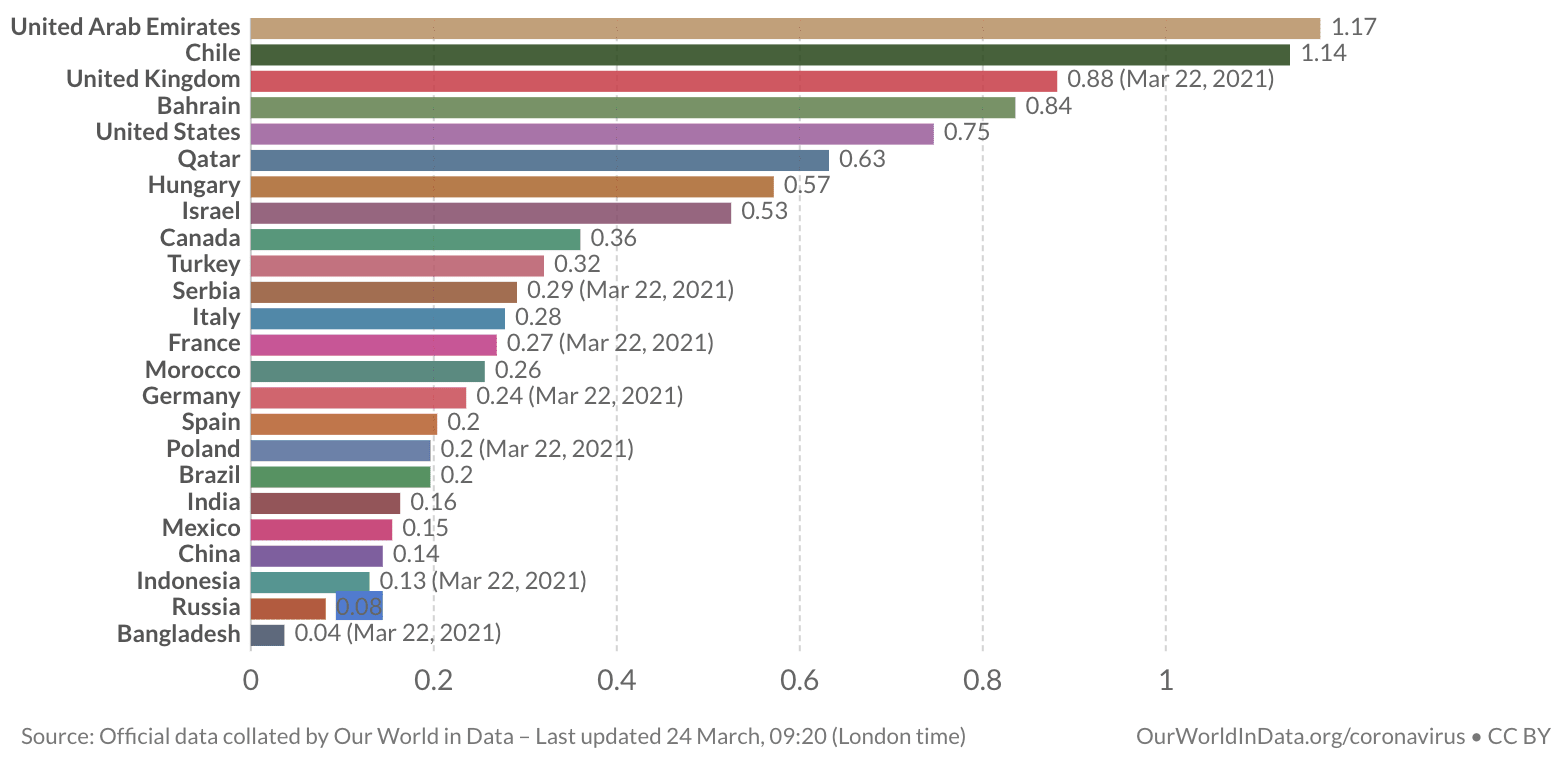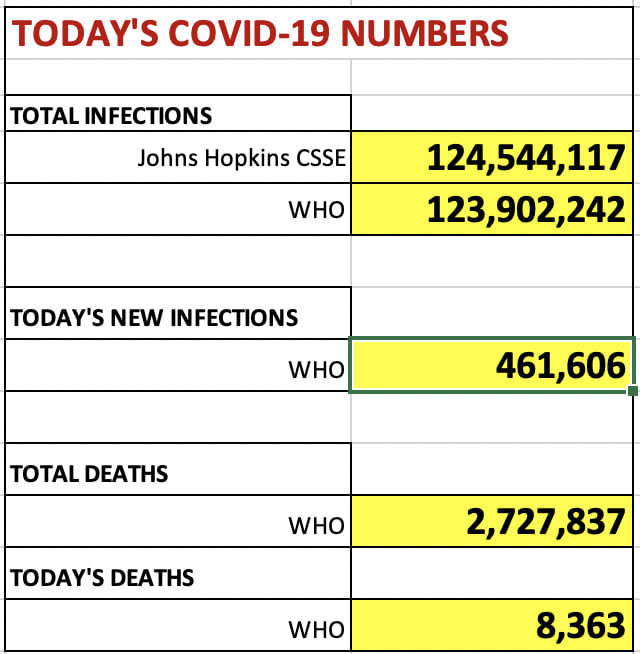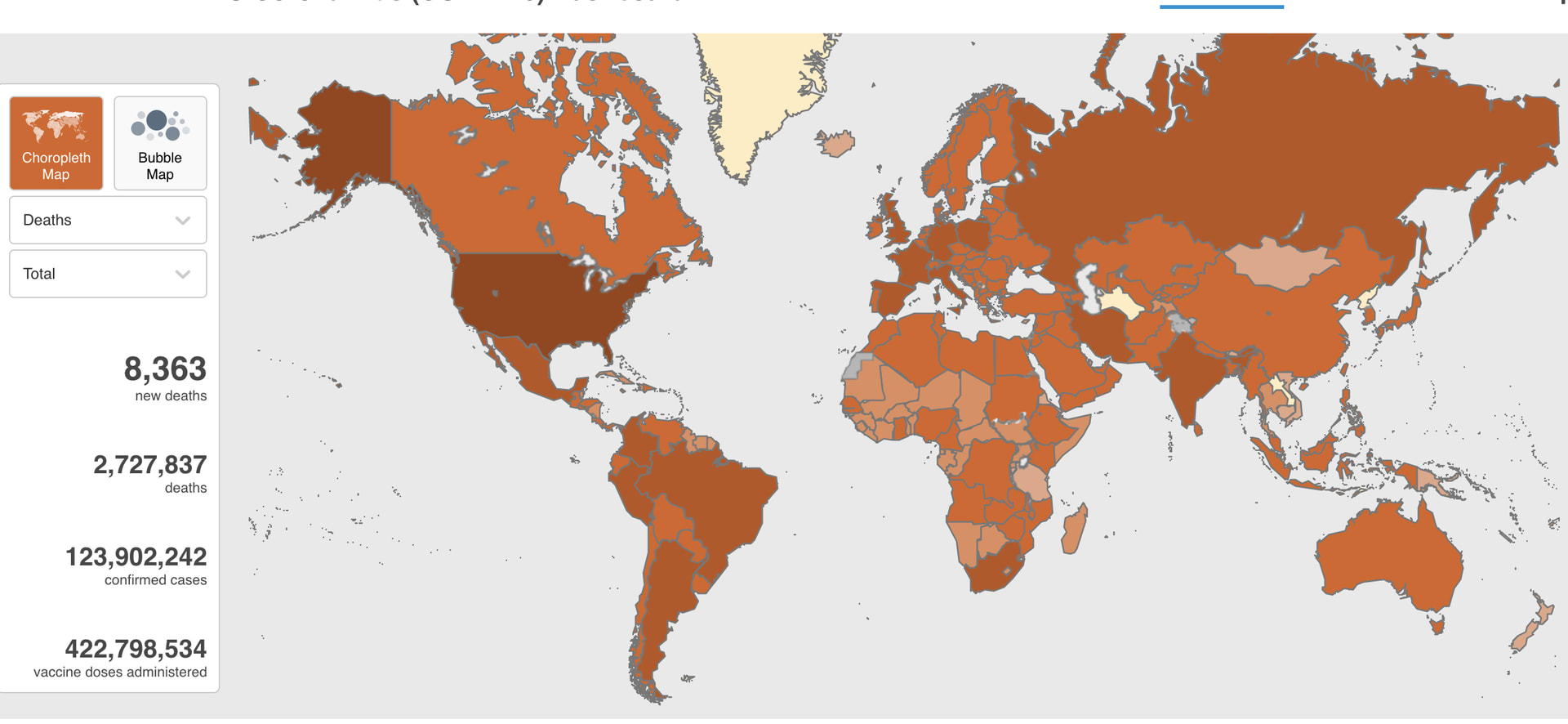 –FROM JOHNS HOPKINS CSSE–
From Johns Hopkins

CSSE,

the

Infection Rate World Graphic
The Cultures of Dignity Resources for Supporting
Social-Emotional Wellness
From Cultures of Dignity

,

For the Social-Emotional Tiny Guides from Rosalind Wiseman and Charlie Kuhn– a gift to our AAIE community– resources with no fee but plenty of insight.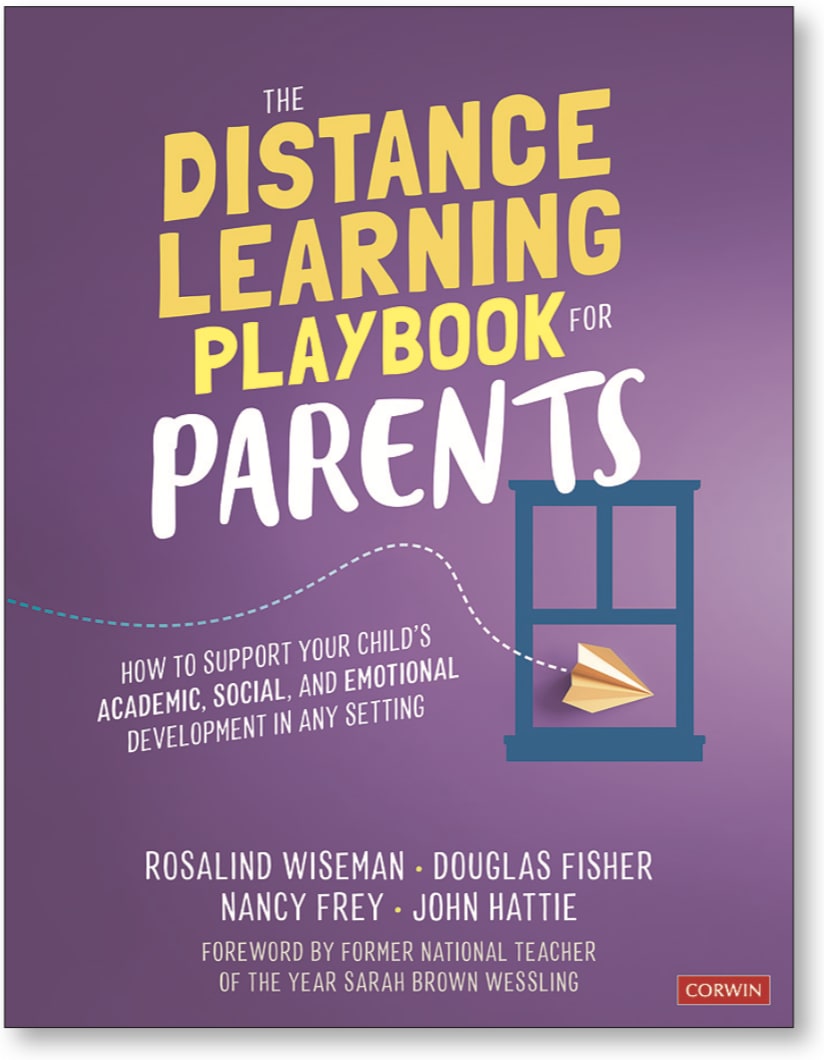 Rosalind Wiseman's newest book:

"Distance Learning Playbook for Parents–How to Support Your Child′s Academic, Social, and Emotional Development in Any Setting
A Final Note: The AAIE COVID-19 Briefing is provided to support your leadership for the school community you serve. We encourage you to use these resources in any way, shape or form that helps you, your communications and toward furthering close relationships across your community. – The AAIE Board