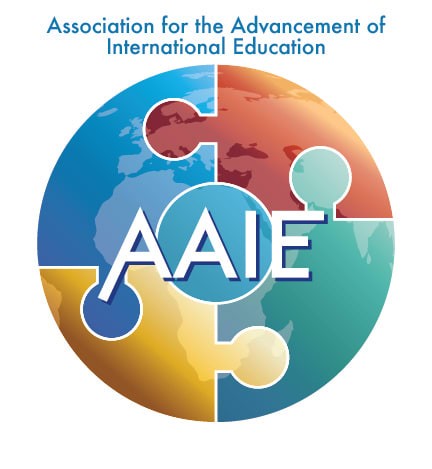 –Wednesday–
AAIE's COVID-19
BRIEFING #94
August 5, 2020
Highlights
From ACS Beirut, Lebanon–

The Explosion

18,624,056 Cases World-wide

(Johns Hopkins)

This Rest of This Week's

CONVERSATIONS

School reopening in Israel: It Didn't Go Well– resulting in wide community spread

Video and Chat from Jon Moser, David Willows and Debra Wilson

Avenues: The World School's strategy to confront a global pandemic
News From ACS Beirut, Lebanon

Editor's Note: We cannot ignore the tragedy in Beirut. It seems that a combination of factors led to Tuesday's deadly explosion in the Lebanese capital. Officials say welding in the port district set off a massive cache of ammonium nitrate that had been stored for years in a government warehouse. The human toll, and property loss are immense– including damage to schools. We heard from Greg MacGilpin earlier today.
(facts from the NYT)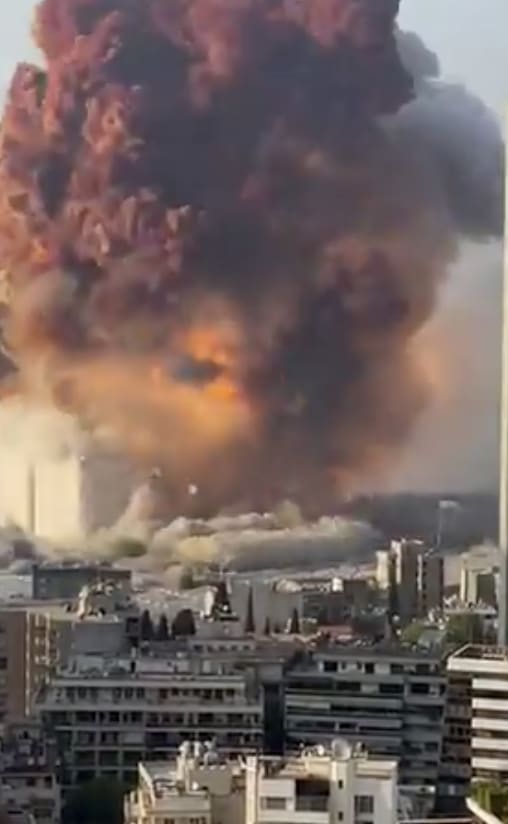 "The ACS Beirut faculty, staff, and students are all accounted for and while still in shock, very connected with each other."
–Greg MacGilpin
–From Greg MacGilpin, ACS Beirut
"The Beirut Port explosion was devastating, as it was shared around the world, and further pushing Lebanon into disarray. the aftermath of the explosion will be most likely much more problematic than just the events of yesterday. Today, all of Beirut sounds of broken glass and sirens right now.

The ACS Beirut faculty, staff, and students are all accounted for and while still in shock, very connected with each other. We know that some colleagues have significant property loss or home loss, and some ACS families who may have lost loved ones. As you can imagine, information is still coming in. Our campus sustained damage as well as some of most of the apartments that our faculty use. I connected with the IC president and they have similar news.

ACS still intends to open in September and has an incredibly challenging road ahead as families and friends decide on the best way forward. As you can imagine, this tragedy may spark additional difficulties as we were already facing a once-in-a-lifetime economic and banking crisis and sharing in COVID-19 repercussions in its stretched health care system.
Keep Lebanon in your thoughts and prayers and, if anyone is interested in supporting beyond that, consider the Lebanese Red Cross or Lebanese Food Bank as two top non-political institutions."
–Our Leadership CONVERSATIONS Continue–
with International School Leaders Around the World:
Editor's Note: Our CONVERSATIONS continue and just as with your own school and the advent of August, we will be picking up the pace. We need your thinking and your voice as we grapple with what seems an everyday sense of the unexpected. We encourage school heads, senior leaders and trustees to attend any and all of our CONVERSATION gatherings. (MEU)
THURSDAY
August 6
8:00AM EDT
OUR GLOBAL LEADERSHIP COMMUNITY– TOGETHER
Twenty-Three Weeks Running
–with Will Richardson
A Weekly CONVERSATION between School Heads and Senior Leaders #23. Our discussions continue to be contemporary, important and a time we teach each other.
With thanks to Will Richardson who has facilitated our Thursday CONVERSATIONS since the very beginning.
THURSDAY
August 6
10:00AM EDT
LATIN AMERICAN SCHOOL LEADERS– Resuming Our Weekly Conversations
– with Sonia Keller (Tri-Association) and Dereck Rhoads (AASSA)
The weekly Thursday CONVERSATIONS between Latin America school heads and senior leaders resumes in collaboration with Tri-Association and AASSA. All are welcome to join the discussion and we will also include guest speakers, specific to the Latin America circumstance and needs. Our sessions, as before will be hosted by Sonia Keller and Dereck Rhoads.
–LINKS for This Week's Leadership ONLINE CONVERSATIONS–
REBOOT/RETHINK YOUR INTERNATIONAL SCHOOL BRAND FOR RELEVANCE AND SUSTAINABILITY
– Jon Moser (Finalsite) and
David Willows (IS Brussels)
INDEPENDENT SCHOOLS WITHIN THE EPICENTER–
Reopening with Students and
Teachers at Risk
– Debra Wilson, Executive Director, SAIS
–The American School of Milan:
Guidelines for Upper School Re-entry–
Editor's Note: Our recent online school leadership CONVERSATIONS have focused attention on the difference between managing school reopening between the elementary/lower school and differing requirements for the upper school. Once the worldwide Covid-19 epicenter within the Italian Lobardy Region, ASM is proposing to reopen with a hybrid plan– with middle school students on campus. ASM offers a realistic, principle-driven set of guidelines. ASM uses strong statements about Standard Care as well. The plan is unequivocal on the wearing of masks.

–From Wayne Rutherford
"School should be a safe place for students to grow both academically and emotionally. Social interactions are at the heart of this growth and are a fundamental component of our plan to re-open campus on Sept 1, 2020. Providing a learning environment that is both safe and conducive to learning during a pandemic is a great challenge that we must face together with both caution and courage."
The ASM Statement on Ensuring Standard Care:
(These) guidelines are up-to-date as of 5 August 2020. Government regulations and edicts are subject to change, as are virus realities and specific situations at school. ASM may need or choose to update or alter these guidelines at any time. We will do our best to keep parents informed of substantive changes to our guidelines.
ASM is and will continue to take all reasonable and required steps to ensure the safety of students, teachers and community members. There is, however, an inherent risk of contagion involved with being together with others. By sending your children to school, you acknowledge and accept those risks.
Guiding Principles
Protect the health and safety of our students and staff.

Ensure that the guidelines set out by the Italian Ministry of Education and Health Regulations of the Lombardy Region are met with regards to hygiene and social distancing measures.

Ensure social, emotional and academic growth through developmentally appropriate experiences that respect all Health and Safety regulations

Communicate clear expectations for parents, teachers and students.
High School Hybrid Learning: The Local Context

The current Italian regulations on social distancing and our classroom sizes prevent us from having all upper school students on campus at the same time. The official regulations for opening schools permits the hybrid model for high school students (but does not offer it as an option for middle school students, likely due to the fact that children under the age of 14 are not legally permitted to stay home alone in Italy). In order to comply with the regulations and in keeping true to our promise of safety first, we will split the high school students into two groups (red and blue) based on their last names. We are splitting by last names in order to keep family groups together which is necessary for transportation as well as for minimizing possible contagion. Students in the group that is not on campus will follow lessons via online streaming. Each classroom has been outfitted with an additional computer monitor and swivel camera to facilitate live-streaming for students attending class from home. Once distancing restrictions are lifted, we will return to having all students together on campus.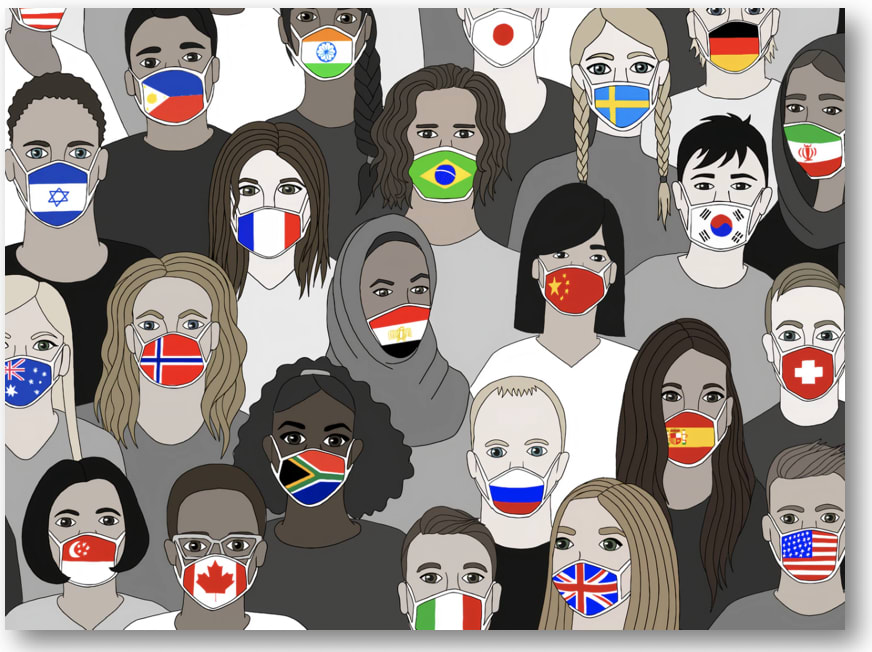 I'm a new Text block ready for your content.
Expectations for Wearing Masks
All students, teachers and visitors are required to wear either a surgical mask (recommended) or a reusable cloth mask (washable and with more than 1 layer of fabric). By current edict, US students are required to wear masks in school while entering, exiting, during transitions and during class times--in other words, at all times except when eating--until further notice. (Ordinance #590 Lobradia) Students and visitors should provide their own masks.
Students using disposable masks should bring at least 2 masks each day (one for the morning and one for the afternoon). Masks with valves are not permitted as they do not properly protect others. ASM will provide teachers and administrative staff with surgical masks which will be changed after every 4 hours of use.
When Covid Subsided, Israel Reopened Its Schools.
It Didn't Go Well.
(from the New York Times)
As countries consider back-to-school strategies for the fall, a coronavirus outbreak at a Jerusalem high school offers a cautionary tale.
Confident it had beaten the coronavirus and desperate to reboot a devastated economy, the Israeli government invited the entire student body back in late May.
Within days, infections were reported at a Jerusalem high school, which quickly mushroomed into the largest outbreak in a single school in Israel, possibly the world.
The virus rippled out to the students' homes and then to other schools and neighborhoods, ultimately infecting hundreds of students, teachers and relatives.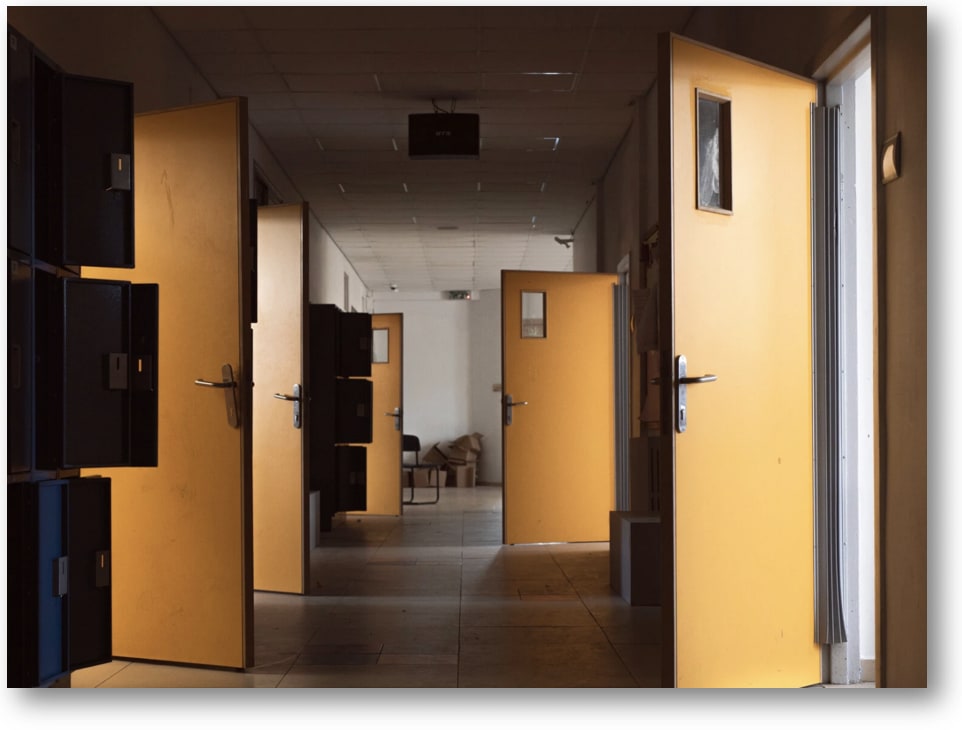 "A mother phoned a teacher at Jerusalem's historic Gymnasia Ha'ivrit high school. Her son, a seventh-grade student there, had tested positive for the virus. By the next day, the school confirmed another case in the ninth grade. Ultimately, Israeli officials said, 154 students and 26 staff members were found to be infected."
Other outbreaks forced hundreds of schools to close. Across the country, tens of thousands of students and teachers were quarantined. Israel's advice for other countries? "They definitely should not do what we have done," said Eli Waxman, a professor at the Weizmann Institute of Science and chairman of the team advising Israel's National Security Council on the pandemic. "It was a major failure."

The lesson, experts say, is that even communities that have gotten the spread of the virus under control need to take strict precautions when reopening schools. Smaller classes, mask wearing, keeping desks six feet apart and providing adequate ventilation, they say, are likely to be crucial until a vaccine is available.
–THE NEWS of COVID-19–
18,624,056 Cases Worldwide (Johns Hopkins CSSE)
A Way to Prevent Covid-19 That's Not a Vaccine
Nurses and patients in some assisted living facilities will receive an antibody drug to prevent Covid-19 infection, according to drug company Eli Lilly.
The drug: Early in the coronavirus pandemic, companies searched the blood of Covid-19 survivors for potent antibodies against the novel virus. Eli Lilly's drug is one of these Y shaped proteins—it's a natural antibody manufactured at larger scale.
The trial: To carry out the study, which will involve 2,400 people, Lilly will work with the National Institutes of Health to target nursing homes with Covid-19 outbreaks. In some areas, elderly residents in nursing homes account for the majority of Covid-19 deaths.
How it works: Just like natural antibodies, Lilly's antibody should grab onto the virus and block it. Similar antibody treatments proved effective in treating Ebola disease, but the goal here is to prevent infection by giving the drugs earlier. Prevention with antibodies is known to work. There is an antibody shot given to babies that prevents RSV, a respiratory infection striking newborns.
Passive immunity: Vaccines expose the body to a part of the pathogen, leading to "active immunity"—your body learns to makes its own antibodies against a germ. Adding antibodies artificially generates "passive" immunity which lasts only as long as the antibodies. Researchers say antibodies, delivered usually via an IV, can stay in the bloodstream for weeks or months.
Plan B: Antibody treatments could reach the market before a vaccine. It could be a big deal for protecting health care workers and the most vulnerable. A report today from the American Biodefense Institute calls passive immunity "the next generation of pandemic response."
–MIT Technology Review
–The STATS–
TOTAL GLOBAL CASES:
Johns Hopkins
18,624,056
WHO–18,354,342
GLOBAL DEATHS (WHO):
Today–696,147
Two Days Ago–686,703
One Month Ago–
528,204
EVOLUTION OF-GLOBAL CASES (WHO):
Today–
18,354,342
Two Days Ago–
17,918,582
One Week Ago–
16,812,763
One Month Ago–
11,125,245
NEW CASES (WHO):
Today–206,709
Two Days Ago–253,801
One Week Ago–
253,801
One Month Ago–
203,836
"Further, families can choose to supplement distance learning with a private teacher who comes to their house to support daily lessons — a service dubbed Avenues@Home — which addresses one of the biggest issues associated with remote school that many parents, particularly working parents, have struggled with since the spring."
The Philippines on Lockdown
More than 27 million people have been put back into lockdown in and around the Philippines' capital, as stricter measures are imposed in an attempt to halt the country's spiraling coronavirus case numbers. The measures were reintroduced on Tuesday after the country's infection tally topped 100,000 and a coalition of health groups issued a "distress signal" urging President Rodrigo Duterte to act.
(The Guardian)
All of Us Answering the Question– What Happens When a Student Brings Covid into the School?
One of the first school districts in the country to reopen its doors during the coronavirus pandemic did not even make it a day before being forced to grapple with the issue facing every system actively trying to get students into classrooms: What happens when someone comes to school infected? Just hours into the first day of classes on Thursday, a call from the county health department notified Greenfield Central Junior High School in Indiana that a student who had walked the halls and sat in various classrooms had tested positive for the coronavirus. Administrators began an emergency protocol, isolating the student and ordering everyone who had come into close contact with the person, including other students, to quarantine for 14 days.
(The New York Times)
The Creative Response From the Avenues School
Avenues: The World School has made a name for itself with campuses in New York; São Paulo, Brazil; and Shenzhen, China. In the midst of the pandemic, Avenues plans to reopen for face-to-face instruction, along with remote and satellite offerings, even as other independent schools, particularly in New York, have said they will remain remote through the fall.

"Our goal is to provide options and flexibility for our families who may be concerned about returning to campus," said Jeff Clark, Avenues president.
This fall, Avenues New York is opening a branch in the Hamptons area of nearby Long Island for city families seeking shelter in the wealthy enclave during the coronavirus crisis.
The cost of tuition there is $48,000 and, as of the most recent tally, 45 students in grades 4 to 11 from Avenues New York have transferred to Avenues Studio in the Hamptons for the 2020-21 school year.
The studio, which is housed at the Hamptons Country Day Camp in East Hampton, New York, is currently reviewing applications for the remaining 15 spots. Still, for those who would prefer to study remotely, Avenues is also offering a completely online curriculum for toddlers and students through grade 12. But this isn't just any remote school, according to Clark.

"We think our online learning is the equivalent to what you would get at a top school," he said of the program, which has been in the works for years. Even with a $30,000-tuition tab for Avenues Online, the school expects to have more than 400 students enroll this year, up from around 20 last year.
Further, families can choose to supplement distance learning with a private teacher who comes to their house to support daily lessons — a service dubbed Avenues@Home — which addresses one of the biggest issues associated with remote school that many parents, particularly working parents, have struggled with since the spring. Roughly 120 families are opting for the extra help, with more applications likely, the school said. The cost per household is $65,000 for the first child and $45,000 for each additional child, on top of tuition. By offering online school, tutoring and the Hamptons outpost, Avenues "has come up with three real possibilities." (CNBC) CLICK HERE for full article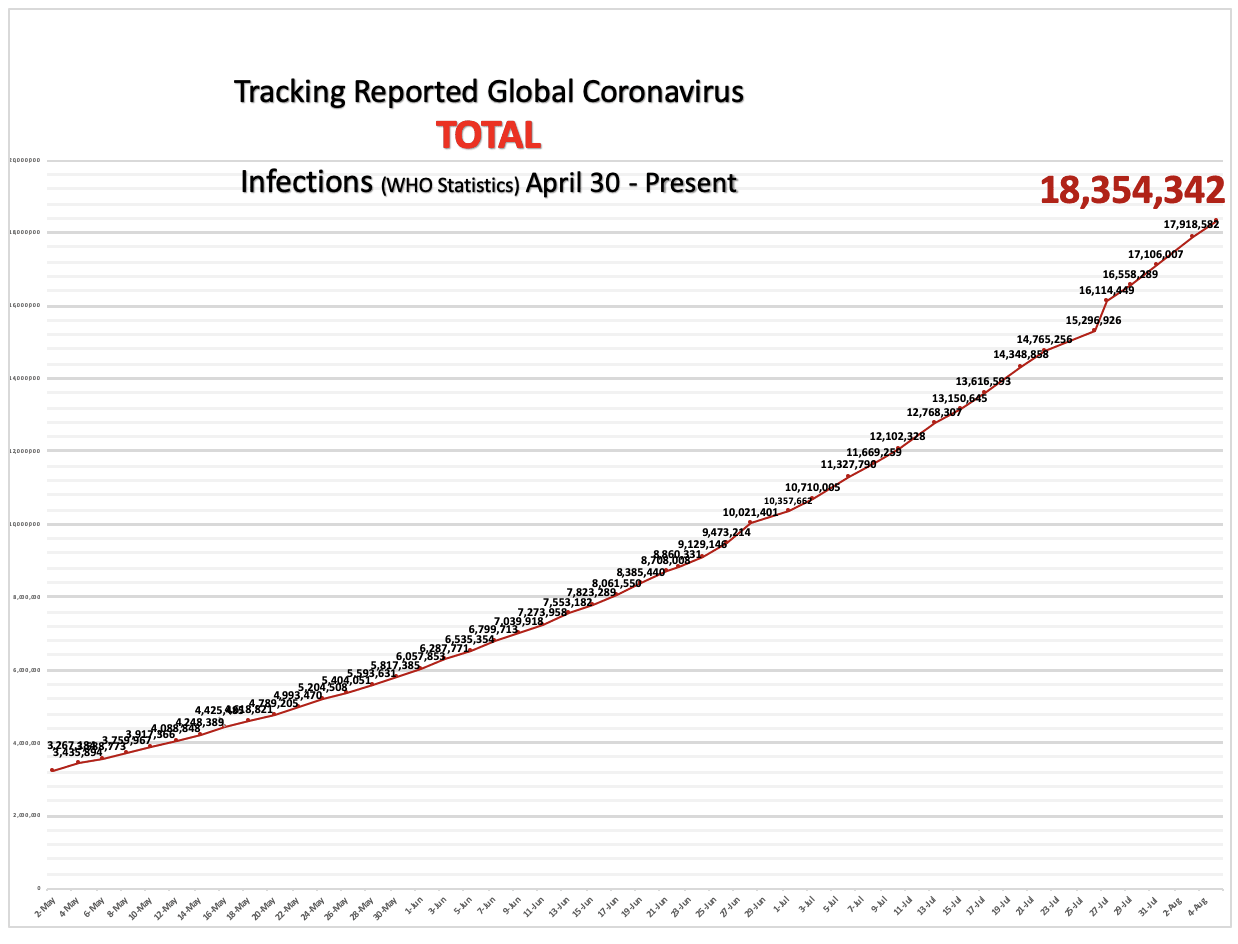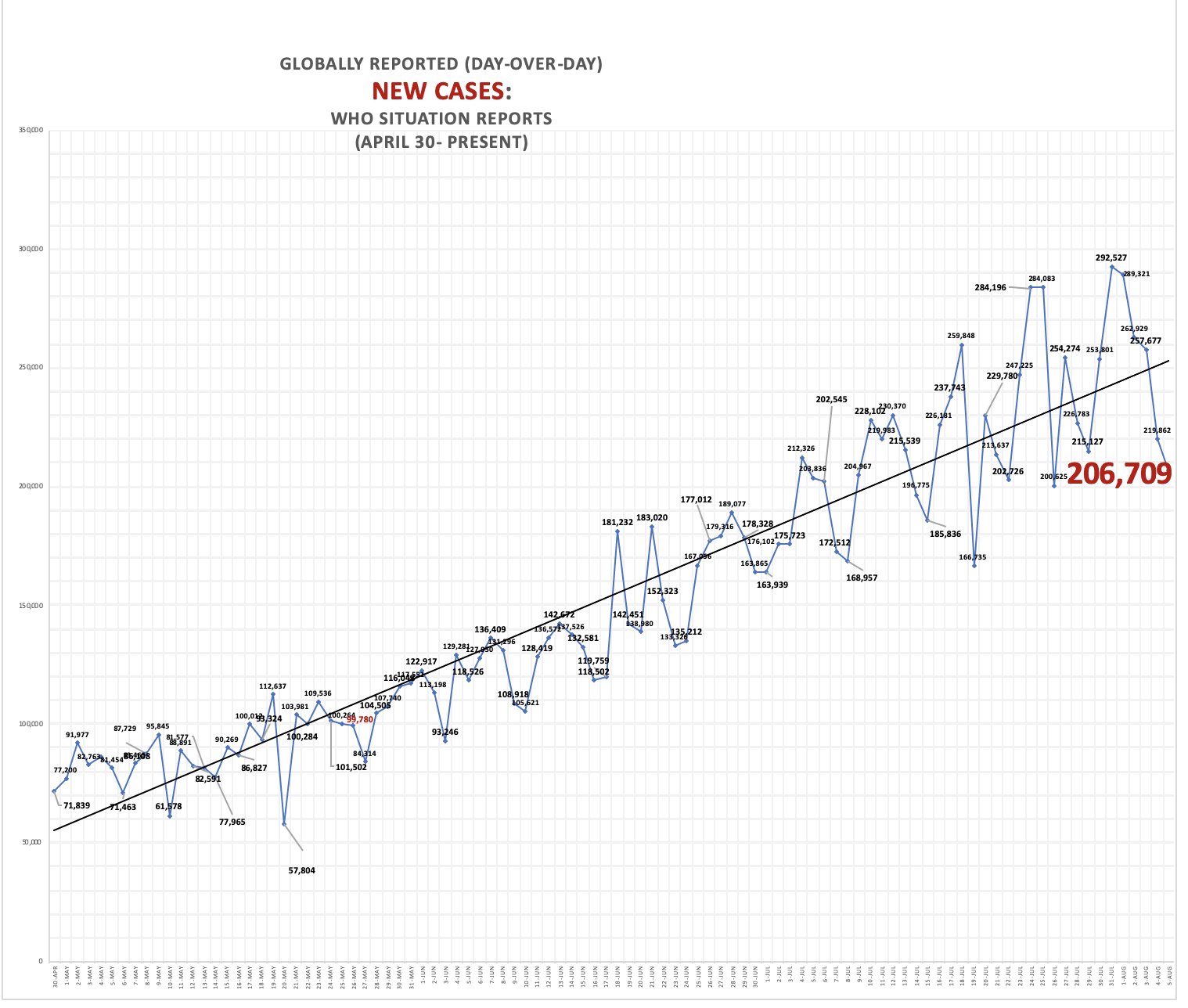 –FROM THE WHO and JOHNS HOPKINS CSSE–
From the WHO

, the Situation Report for August 5

,

2020
From the WHO

, The European Region Dashboard
From Cultures of Dignity

,

For the Social-Emotional Tiny Guides from Rosalind Wiseman and Charlie Kuhn– a gift to our AAIE community– resources with no fee but plenty of insight.



A Final Note: The AAIE COVID-19 Briefing is provided to support your leadership for the school community you serve. We encourage you to use these resources in any way, shape or form that helps you, your communications and toward furthering close relationships across your community. – The AAIE Board