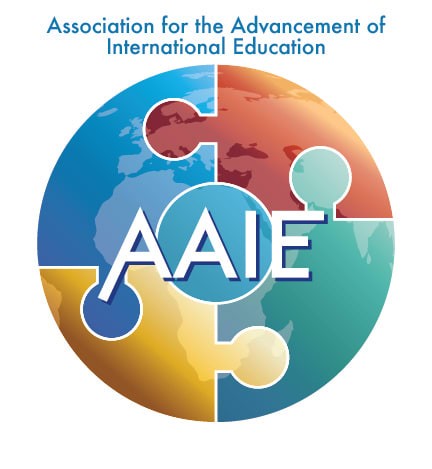 –Friday–
AAIE's COVID-19
BRIEFING #95
August 7, 2020
"Good weekend to all!"
Highlights
19,189,737 Cases World-wide

(Johns Hopkins)

Next Week's

CONVERSATIONS

NOTE: Next Wednesday John Littleford speaks on the politicization of boards on reopening–

(trustees should join the CONVERSATION)

WORD FROM ASIA– American School in Japan's Revised Roadmap for Reopening
Debra Wilson's take on crisis leadership in independent schools
David Willows makes the case for new thinking on advancing our NEW schools
We promote an open membership– meaning the abundance mentality prevails. Everyone is welcome and included in all our CONVERSATIONS and publications, whether you are a member or not. The stuff of staying close together in a crisis. We hope you will become a member as this revenue is essential for our day-to-day work. Thanks.
–Quote From The WHO's August 6 BRIEFING–
"COVID-19 has already taken away so much. We must seize this moment to come together in national unity and global solidarity to control COVID-19, address antimicrobial resistance and the climate crisis.

For all our differences, we are one human race sharing the same planet and our security is interdependent - no country will be safe, until we're all safe.

I urge all leaders to choose the path of cooperation and act now to end this pandemic! It's not just the smart choice, it's the right choice and it's the only choice we have"
–Dr. Tedros Adhanom Ghebreyesus
–Next Week's Leadership CONVERSATIONS
with International School Leaders Around the World:
Editor's Note:
Wednesday, August 12 (8:00AM EDT) is set aside for school heads, trustees and senior leadership teams. John Littleford will use two case studies to further illuminate his observations and attendant concerns from his recent article, "The Politicization of Boards on Re-opening our International Schools" Holding this session next week is a direct response from our recent online CONVERSATIONS together. There has never been a more important time for trustees and senior leadership to be understood as the strongest team in the school.
WEDNESDAY
August 12
8:00AM EDT
THE POLITICIZATION OF BOARDS ON RE-OPENING OUR INTERNATIONAL SCHOOLS
–with John Littleford
International school boards seem to be split about 50/50 on how to reopen in the next six weeks. This is probably a reflection of the parents as a whole worldwide. This theme will dominate board governance for months to come: What are the risks of opening or not opening? What are the financial consequences of either decision? What are the liabilities if one or more students or staff become infected? Do we then retrench? While boards and administrators are doing their very best to make informed decisions, what are the consequences if one or more choices turns out to be the wrong one? And of course, why is it essential that politics not compromise the solidarity of the trustee, head of school and senior leader relationship?
THURSDAY
August 13
8:00AM EDT
OUR GLOBAL LEADERSHIP COMMUNITY– TOGETHER
Twenty-Four Weeks Running
–with Will Richardson
All international school senior leaders are welcome. A Weekly CONVERSATION between School Heads and Senior Leaders– #24. Our discussions continue to be contemporary, important and a time we teach each other.
With thanks to Will Richardson who has facilitated our Thursday CONVERSATIONS since the very beginning.
THURSDAY
August 13
10:00AM EDT
LATIN AMERICAN SCHOOL LEADERS– Resuming Our Weekly Conversations
– with Sonia Keller (Tri-Association) and Dereck Rhoads (AASSA)
The weekly Thursday CONVERSATIONS between Latin America school heads and senior leaders resumes in collaboration with Tri-Association and AASSA. All are welcome to join the discussion and we will also include guest speakers, specific to the Latin America circumstance and needs. Our sessions, as before, are hosted by Sonia Keller and Dereck Rhoads.
–Follow-up LINKS for This Week's Completed Leadership ONLINE CONVERSATIONS–
OUR GLOBAL LEADERSHIP COMMUNITY– TOGETHER
–Worldwide International School Leaders
LATIN AMERICAN SCHOOL LEADERS
– Hosted by Sonia Keller and Dereck Rhoades
WORD FROM ASIA:
American School of Japan's REVISED Roadmap
Editor's Note: Reflecting continuous improvement and agility, ASIJ has republished their Roadmap to Reopening. We published their first version in May, and the new iteration features strong statements about rights and responsibilities and clear protocol on medical interventions. Once again, we see how a set of five principles guide decision-making and community expectations. The safety implications for each learning model are also shared. Locus of control remains with parents to make decisions about the health and safety of their children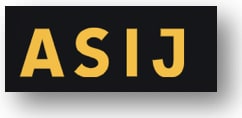 With thanks to Dr. Jim Hardin, Head of School and his leadership team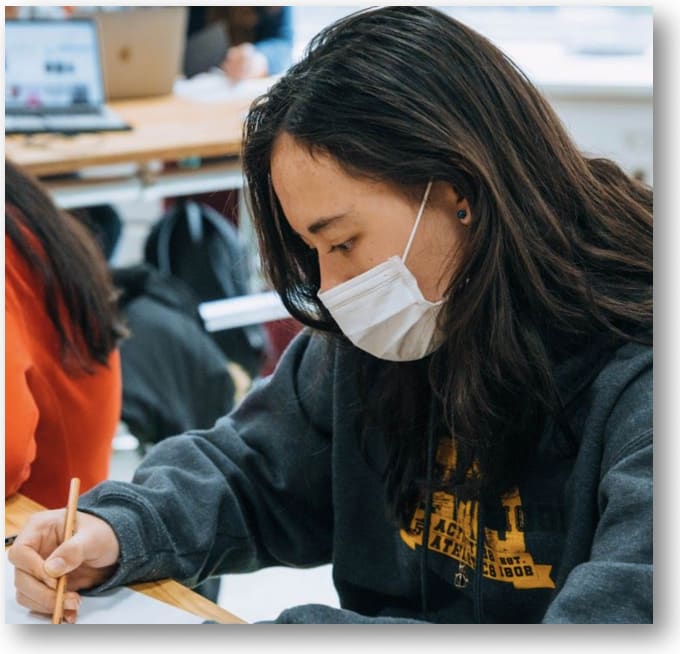 –From Dr. Jim Hardin's Team
"The COVID-19 pandemic presents the most serious public health crisis the world has experienced in generations. Looking forward to the 2020-21 school year and possibly beyond, ASIJ is resolved to do everything it can to reopen our campuses because we believe doing so is in the best interest of our students. And yet, we recognize that ASIJ needs to find a pathway for reopening its campuses safely with the health and wellbeing of our entire community in mind.
This Roadmap for Reopening is guided by the assumption that a vaccine will not be widely available for 12-18 months, which means ASIJ needs to be able to respond quickly to circumstances in its own school community as well as to conditions in Japan. Even as we plan to reopen our campuses in August, we know we may need to close them again with very little advance warning. This means ASIJ must be prepared to toggle between different learning models designed to fit a variety of circumstances and drivers.
The Roadmap is Guided by Five Principles:
Act with fidelity to ASIJ's Commitment, Mission, and Core Values.

Prefer face-to-face learning over remote learning whenever it is safe to do so.

Prioritize student, faculty, and staff health, safety, and wellbeing over other principles.

Ensure hygiene- and health-related policies are research-based, clearly communicated, effectively implemented, and diligently enforced.

Promote practices and policies to reduce risk of virus transmission and support our capacity to be responsive and agile when facing changing health circumstances.
No schools will be operating in a business-as-usual manner for the foreseeable future, but through this Roadmap, we hope to shape positive school and learning experiences within a challenging new context. ASIJ would like to thank its students for their resilience, adaptability, and spirit; its parents for their support, patience, and understanding; and its faculty and staff for their courage, professionalism, and dedication. The 2020-21 school year promises to be an especially challenging one for all of us, but we are confident that we can weather these challenges together."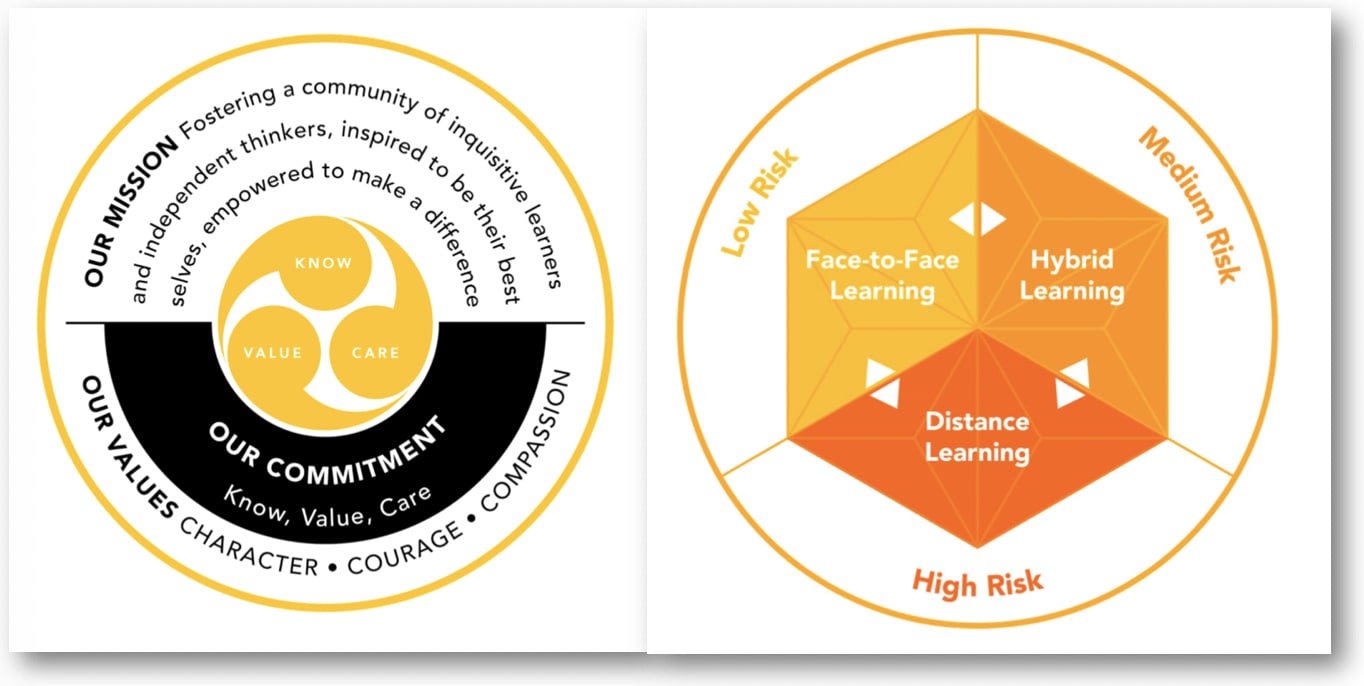 A mission-driven roadmap for reopening, placing mission, values and risk management side-by-side
The State of Play: Crisis Leadership and Decision-Making in Independent Schools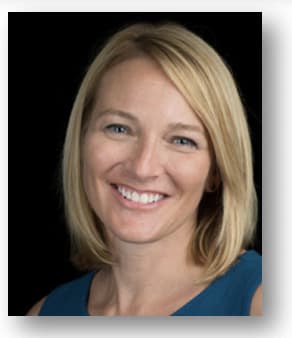 Debra Wilson,
Executive Director, Southern Association of Independent Schools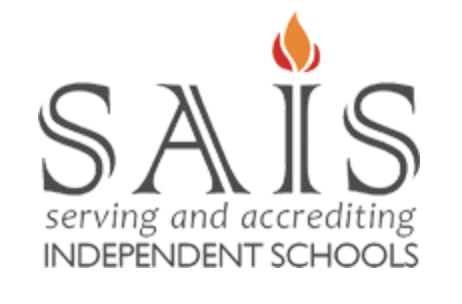 If 25% of the sophomore class gets infected, what impact does that have on your cohorts? At what point does the school close?
Editor's Note: Debra Wilson met with international school leaders on Wednesday and provided a treasure trove of practical ideas and trends about pandemic crisis leadership.Take special note of her review of Standards of Care, from screening, to establishment of cohorts, athletics and responses to an outbreak. The link to her PPT presentation is provided.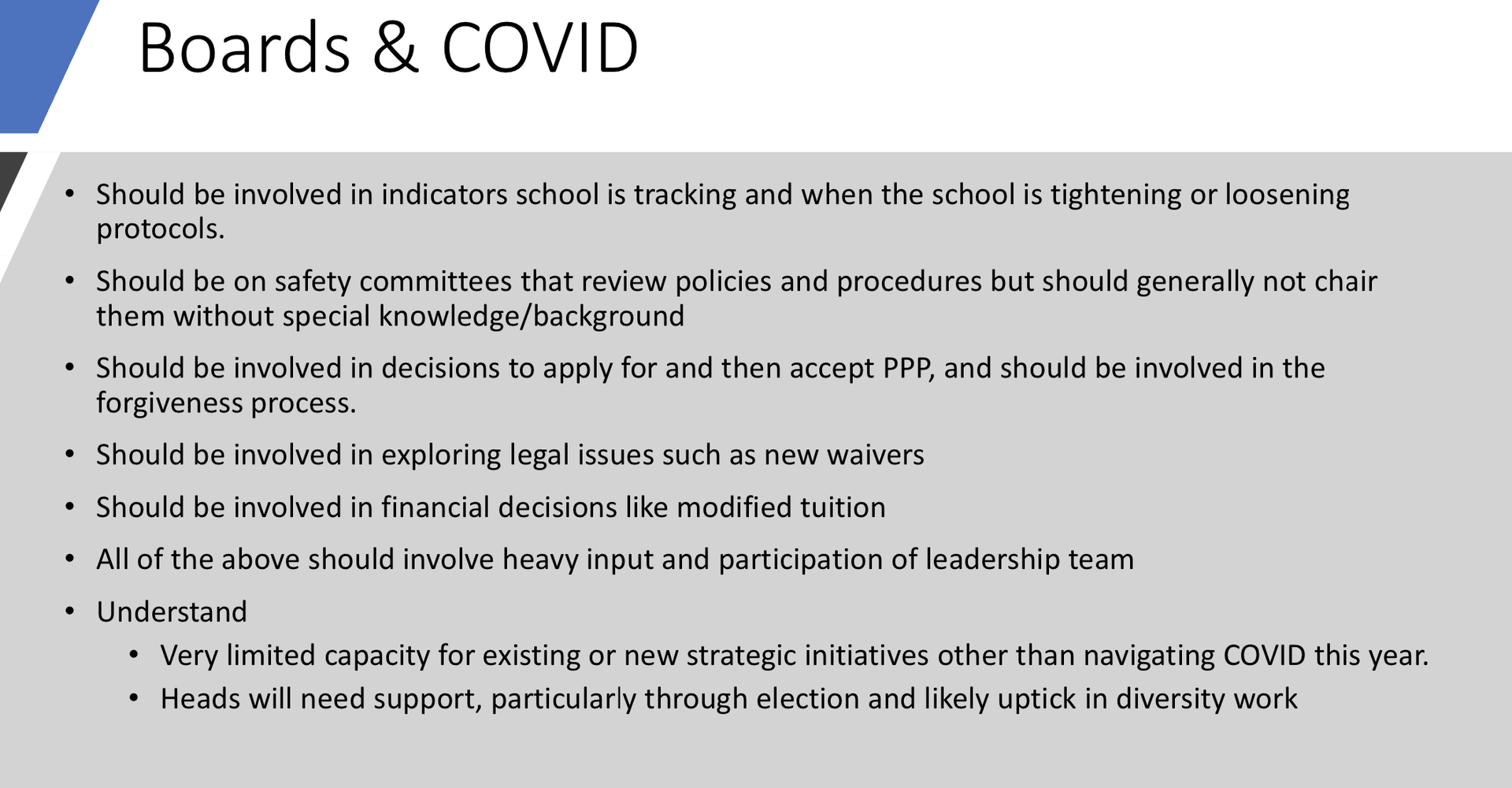 Roles and responsibilities of trustees in the time of COVID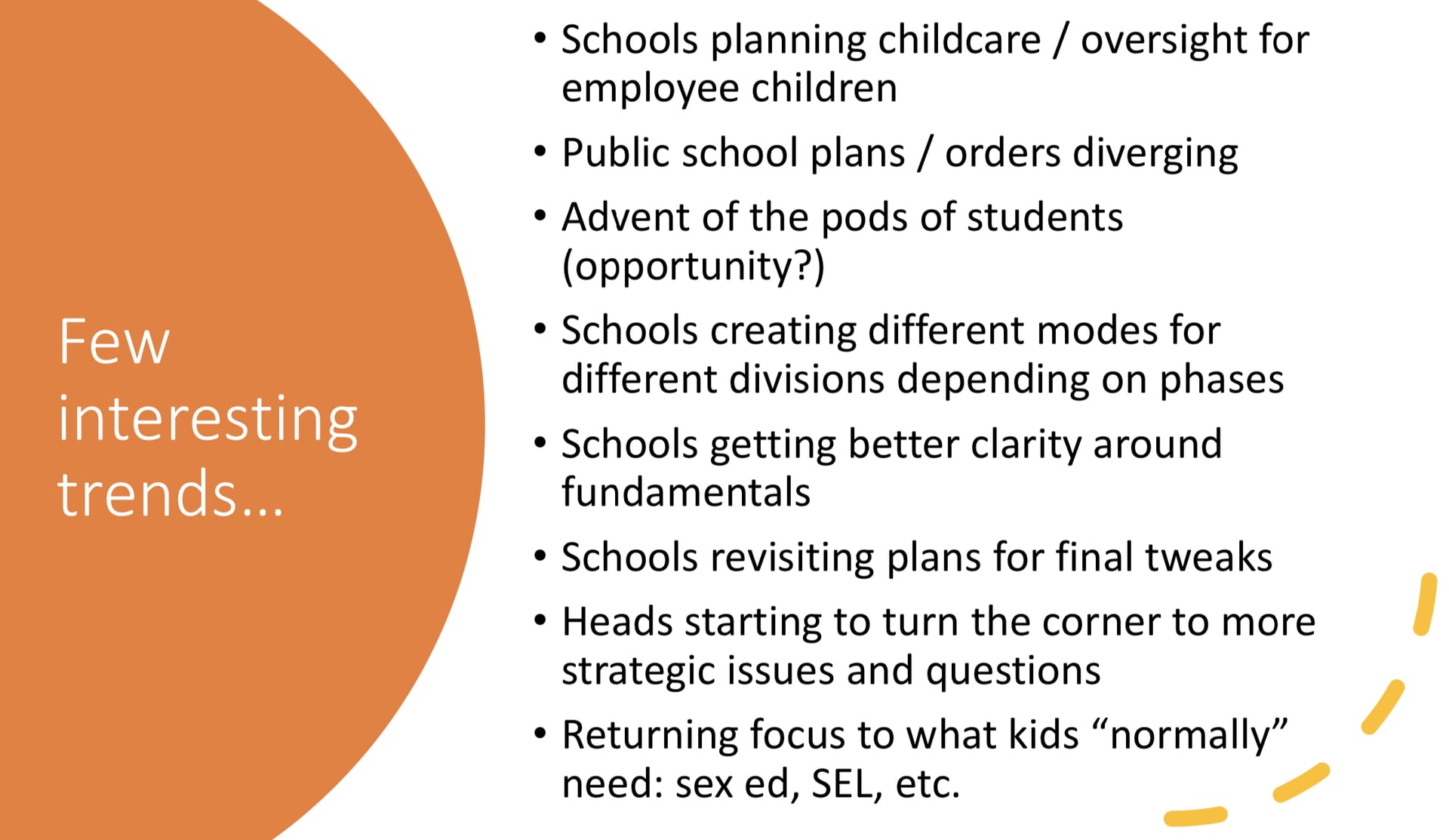 Confirmation that school's are providing day care
for employee children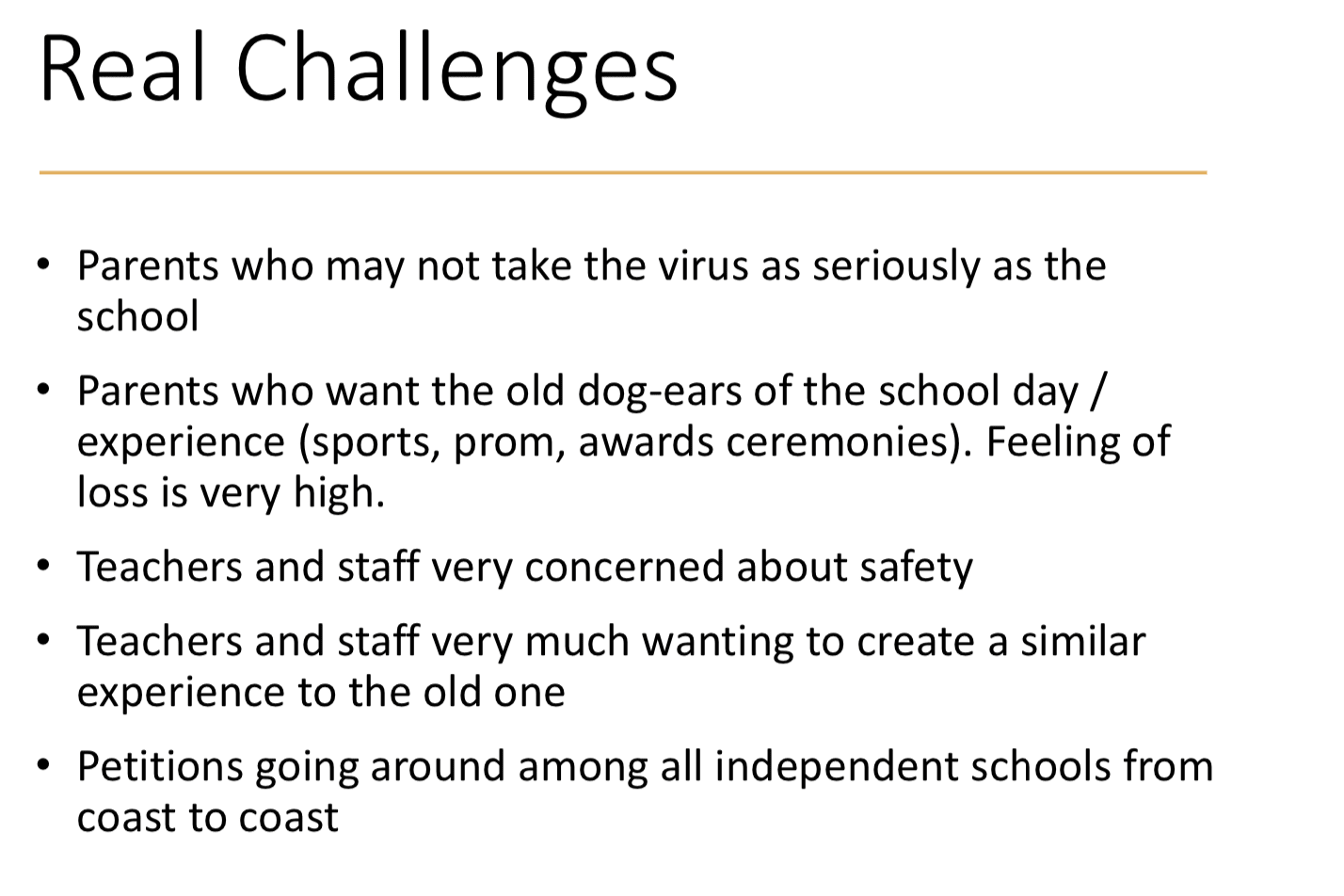 The Mindset of USA Parents on Reopening School for Teaching, Learning and Safety
(from the Washington Post)
Fearing Covid and missed classes, many parents prefer
mixing online and in-person school.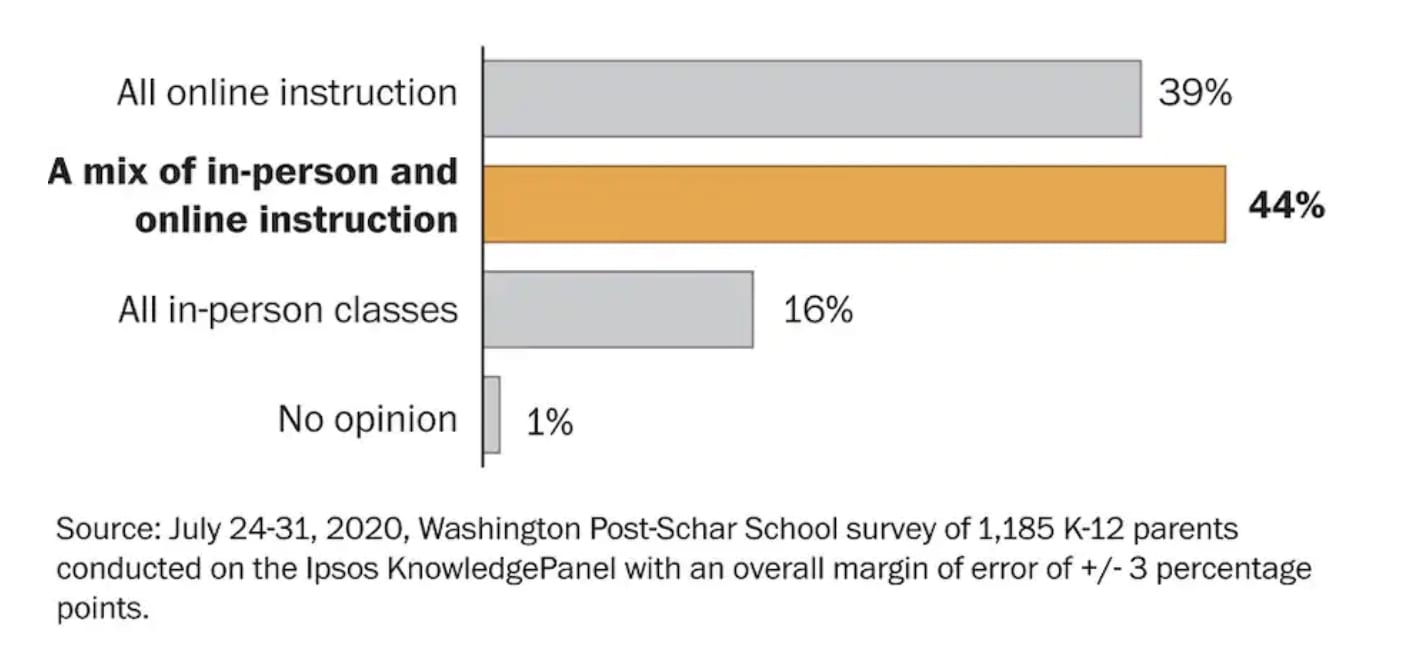 Given three options for the fall, a plurality of parents — 44 percent — want their schools to offer a mix of online and in-person classes, an idea that has been considered by many school districts and adopted by some. In a close second place is all-virtual education, favored by 39 percent of parents.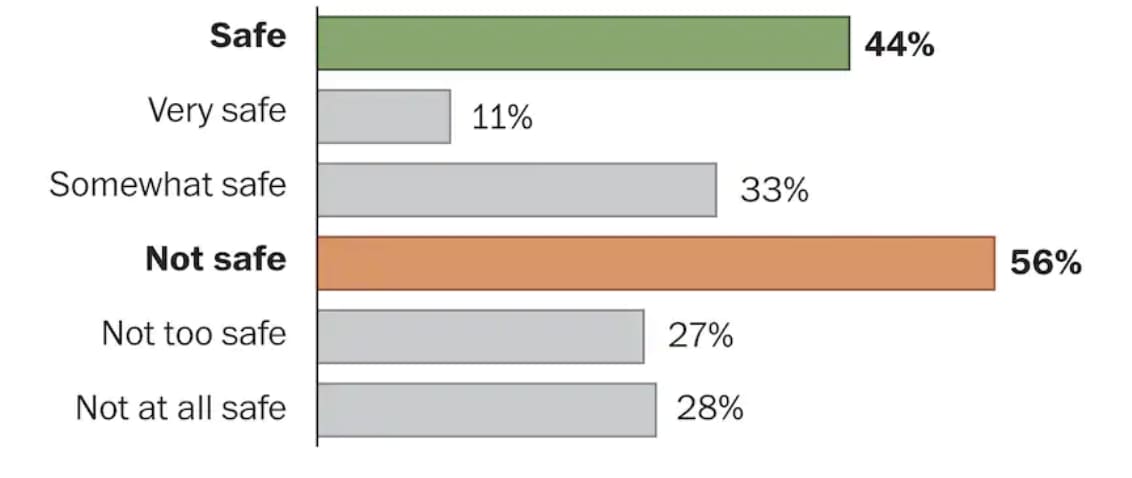 Overall, 56 percent of parents say it would not be safe to send children back to school in their communities for in-person learning, while 44 percent say it would be safe. More than 7 in 10 parents say they would be uncomfortable with their children seated in full-occupancy classrooms and more than 6 in 10 say the same about children participating in sports and riding the bus. (Washington Post)
The Big Five: Advancement Questions Every School Leader Should Be Asking Right Now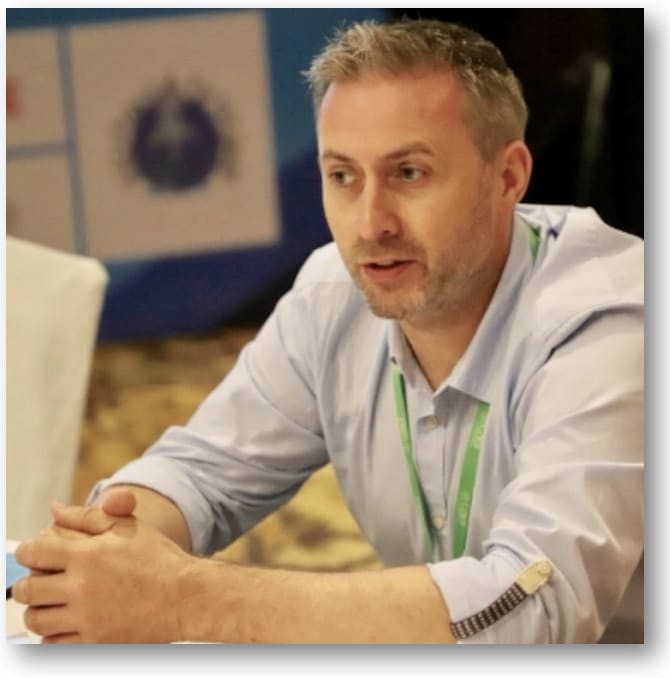 –by Dr. David Willows, International School Brussels
I stumbled upon an article recently that was entitled, The 20 Big Questions in Science. Within minutes I found myself clicking through to dozens of similarly titled essays, from metaphysics to morality, all hinting at the fact that some questions are "bigger" than others.
Big questions, by definition, are hard - maybe even impossible - to answer. As the philosopher Søren Kierkegaard once wrote, big questions are good questions because they tie us up in "dialectical knots" that we are forced to untie. They stretch our thinking and push us to the limits of what we know to find the "adjacent possible", that new perspective, or new way of understanding the world around us.
If the crisis of the last few months has taught us anything, it has taught us that most of our time as school leaders will continue to be spent dealing with small questions, just as life itself is more about the day-to-day than grandiose existential pondering.
But big questions guide us. They give us perspective. They bring meaning to the chaos of detail. They lead us to the meta-narrative of what is really going on.
So, to that end, here are the Advancement Big Five I have found myself returning to in the lead up to a new school year.
"Once upon a time, we sold our schools, in part at least, on the unique selling proposition of awe-inspiring campus resources that set us apart from other schools. But we now find ourselves in an ambiguous relationship with these physical spaces."
What is the product that we are now selling? Once upon a time, we sold our schools, in part at least, on the unique selling proposition of awe-inspiring campus resources that set us apart from other schools. But we now find ourselves in an ambiguous relationship with these physical spaces. They have stood empty for months and, even if we now return to campus, it will hardly be the same as before. So what is the product that we are actually selling? Where does the value proposition of an international education now lie?
How have the priorities of prospective families changed? We all know what is important to families when choosing a school. Some of us have historical data to demonstrate that, in the end, most families only have four to five questions that guide their decision-making. And yet, this may now be changing. Parental priorities are adapting to a new reality and we are being assessed on our ability to manage a crisis, implement ever-changing health & safety regulations, and our organisational agility both in terms of programming and pricing. In short, what parents want is not what they wanted in 2019.
Do our websites and our lexicon of learning reflect the new reality? Most of our websites are broadly the same and that's because we've all got used to copying one another. We all use the same type of photography. We all structure our site with the same navigation bar. We even use the same educational cliches now and again. But how will web design be altered by the COVID-19 crisis? How do we move from having a COVID response button tucked away in the corner of our homepage, to promoting a school that is rooted in offering a range of on-site and online learning experiences? This kind of redesign is not just about making things look different. It demands a whole new lexicon for school.
How far will brand loyalty take us? We don't often think about brand loyalty as school leaders, any more than we think of our parents and students as customers. But maybe it is worth thinking about how much loyalty we've built up in the bank. Brand loyalty is essentially the good will that companies draw down on when they make mistakes or go through hard times. Apple makes a bad iPhone or a Hyatt hotel forgets to clean your room, but we still buy Apple's latest phone and choose to stay in a Hyatt hotel, because we are loyal to the brand. We accept that brands sometimes make mistakes, but we trust that in the end they will get it right again. So my question is this: how much brand loyalty do we have in the bank right now with our parents, the companies that support our schools, and our Boards?
Is this the end of international education as we know it? I don't think that it is the end of international education. But I do think that we need to consider the possibility - and plan for the reality - that this is the end of international education as we've come to know it. Eighty years ago, the concept of international education hardly existed. It was linked to globalization across the world - a way of supporting globally mobile families. But, today, companies are realising that people don't even need to leave their homes to get the job done. Schools are convincing parents that some of what we call learning can take place anywhere and anytime. Similarly, parents are increasingly choosing lo-cost, no frills solutions that are more about the destination than the journey or the experience.

On the eve of a new school year, as many of us look to advance in ways that are both relevant and sustainable, maybe some of these big, even impossible, questions will challenge us all to look beyond what is happening now to what might happen next.
Read more Fragments by David Willows: www.fragments2.com
–THE NEWS of COVID-19–
19,189,737 Cases Worldwide (Johns Hopkins CSSE)
The global death toll from COVID-19 surpassed 700,000 on Wednesday (Aug 5), according to a Reuters tally, with the United States, Brazil, India and Mexico leading the rise in fatalities. Nearly 5,900 people are dying every 24 hours from COVID-19 on average, according to Reuters calculations based on data from the past two weeks. That equates to 247 people per hour, or one person every 15 seconds.(Reuters)
Death Toll Highest in Latin America
Latin America surpassed Europe on Tuesday (Aug 5) to become the region with the highest coronavirus death toll worldwide, according to a Reuters tally. The region has now recorded more than 206,000 deaths, approximately 30 per cent of the global total. Brazil, the Latin American country most affected by the novel coronavirus, has now recorded a total of 95,819 deaths as of Tuesday. Mexico, the second-most affected country in the region, has 48,869 deaths. The spread of the pandemic has also accelerated in Colombia, Peru, Argentina and Bolivia. Last week Latin America became the most-affected region by the number of cases. On Monday, its number of infections surpassed 5 million, according to a Reuters tally based on government data. (Reuters)
Proportion of Youth with COVID-19 Triples in 5 months: WHO

Young people who are hitting nightclubs and beaches are leading a rise in fresh coronavirus cases across the world, with the proportion of those aged 15 to 24 who are infected rising three-fold in about five months, the World Health Organization said. An analysis by the WHO of 6 million infections between Feb 24 and Jul 12 found that the share of people aged 15-24 years rose to 15 per cent from 4.5 per cent. Apart from the United States which leads a global tally with 4.8 million total cases, European countries including Spain, Germany and France, and Asian countries such as Japan, have said that many of the newly infected are young people. (Reuters)
More on the Virus Behavior–benefiting vaccine research
The virus causing the COVID-19 pandemic, SARS-CoV-2, presents at least six strains. Despite its mutations, the virus shows little variability, and this is good news for the researchers working on a viable vaccine. These are the results of the most extensive study ever carried out on SARS-CoV-2 sequencing. Researchers at the University of Bologna drew from the analysis of 48,635 coronavirus genomes, which were isolated by researchers in labs all over the world. This study was published in the journal Frontiers in Microbiology. It was then possible for researchers to map the spread and the mutations of the virus during its journey to all continents. The first results are encouraging. The coronavirus presents little variability, approximately seven mutations per sample. Common influenza has a variability rate that is more than double. (Technology Networks)
David vs. Other Goliaths
Novavax, the little-known Maryland company that received a $1.6 billion deal from the federal government for its experimental coronavirus vaccine, announced encouraging results in two preliminary studies on Tuesday. In one study, 56 volunteers produced a high level of antibodies against the virus without any dangerous side effects. In the other, researchers found that the vaccine strongly protected monkeys from coronavirus infections. Although it's not possible to directly compare the data from clinical trials of different coronavirus vaccines, John Moore, a virologist at Weill Cornell Medicine who was not involved in the studies, said the Novavax results were the most impressive he had seen so far. (The New York Times)
India with 2,000,000 Cases
India, the country hardest hit in Asia by the coronavirus pandemic, reported on Friday a record daily jump in infections, taking its total number of cases past 2 million. It is the third nation to pass that unwanted milestone, lagging behind only the United States and Brazil. With infections spreading further to smaller towns and rural areas, experts say the epidemic in India is likely to be months away from hitting its peak, putting more strain on an already overburdened healthcare system. And authorities are having to deal with multiple outbreaks across a nation of 1.3 billion people. (South China Morning Post)
–The STATS–
TOTAL GLOBAL CASES:
Johns Hopkins
19,189,737
WHO–18,902,735
GLOBAL DEATHS (WHO):
Today–709,512
Two Days Ago–696,147
One Month Ago–535,759
EVOLUTION OF-GLOBAL CASES (WHO):
Today–
18,902,735
Two Days Ago–
18,354,342
One Week Ago–
17 396 943
One Month Ago–
11,500,302
NEW CASES (WHO):
Today–278,291
Two Days Ago–206,709
One Week Ago–
289,321
One Month Ago–
172,512
Follow-up on the Beirut Explosion
A number of Beirut port officials are being placed under house arrest pending an investigation into Tuesday's huge explosion, Lebanon's government says. The blast killed at least 135 people and injured more than 4,000 others. A two-week state of emergency has begun. President Michel Aoun said the blast was caused by 2,750 tons of ammonium nitrate stored unsafely in a warehouse. Customs chief Badri Daher said his agency called for the chemical to be removed, but "this did not happen". "We leave it to the experts to determine the reasons," he said. Specialists at the University of Sheffield in the UK estimate that the blast had about one tenth of the explosive power of the atomic bomb dropped on the Japanese city of Hiroshima during World War Two and was "unquestionably one of the biggest non-nuclear explosions in history". (BBC)
A Second Wave in Germany
Germany is already heading into a second wave of coronavirus infections because its citizens are carelessly breaking social distancing rules out of a "yearning for normality", the head of Europe's largest medical association said yesterday. Hospitals are steeling themselves for a gruelling autumn as the number of infections rises across the country, with doctors in some regions warning patients that non-essential operations will probably have to be put off. On average more than 700 new Covid-19 cases are detected each day, the highest level since the middle of May. The number of cases rose by 741 yesterday to 212,022, while the death rate rose by 12 to 9,168. (The Times)
France Records Two-month High in Cases
France has recorded its highest number of daily coronavirus infections in more than two months. Figures released on Wednesday showed 1,695 new cases within 24 hours. With more than 30,000 deaths, France has the third-highest death toll in Europe, behind the UK and Italy.
The city of Toulouse has introduced new rules requiring face masks in its busiest streets, with Paris and a number of other cities expected to follow suit.
France is not the only European nation to witness a resurgence in cases since lockdown measures were eased.

On Wednesday, Spain reported its highest number of new cases since it began easing lockdown restrictions in June, with 1,772 infections.
The news came as Switzerland became the latest country to announce quarantine measures for travellers arriving from Spain, although its rules do not apply to travellers returning from the Canary and Balearic islands.(BBC)
The Number of Deaths from Coronavirus in Iran is
Nearly Triple What Iran's Government Claims
A BBC Persian service investigation has found the government's own records appear to show almost 42,000 people died with Covid-19 symptoms up to 20 July, versus 14,405 reported by its health ministry. The number of people known to be infected is also almost double official figures: 451,024 as opposed to 278,827. The official numbers still make Iran the worst-hit in the Middle East. In recent weeks, it has suffered a second steep rise in the number of cases.
The first death in Iran from Covid-19 was recorded on 22 January, according to lists and medical records that have been passed to the BBC. This was almost a month before the first official case of coronavirus was reported there. (BBC)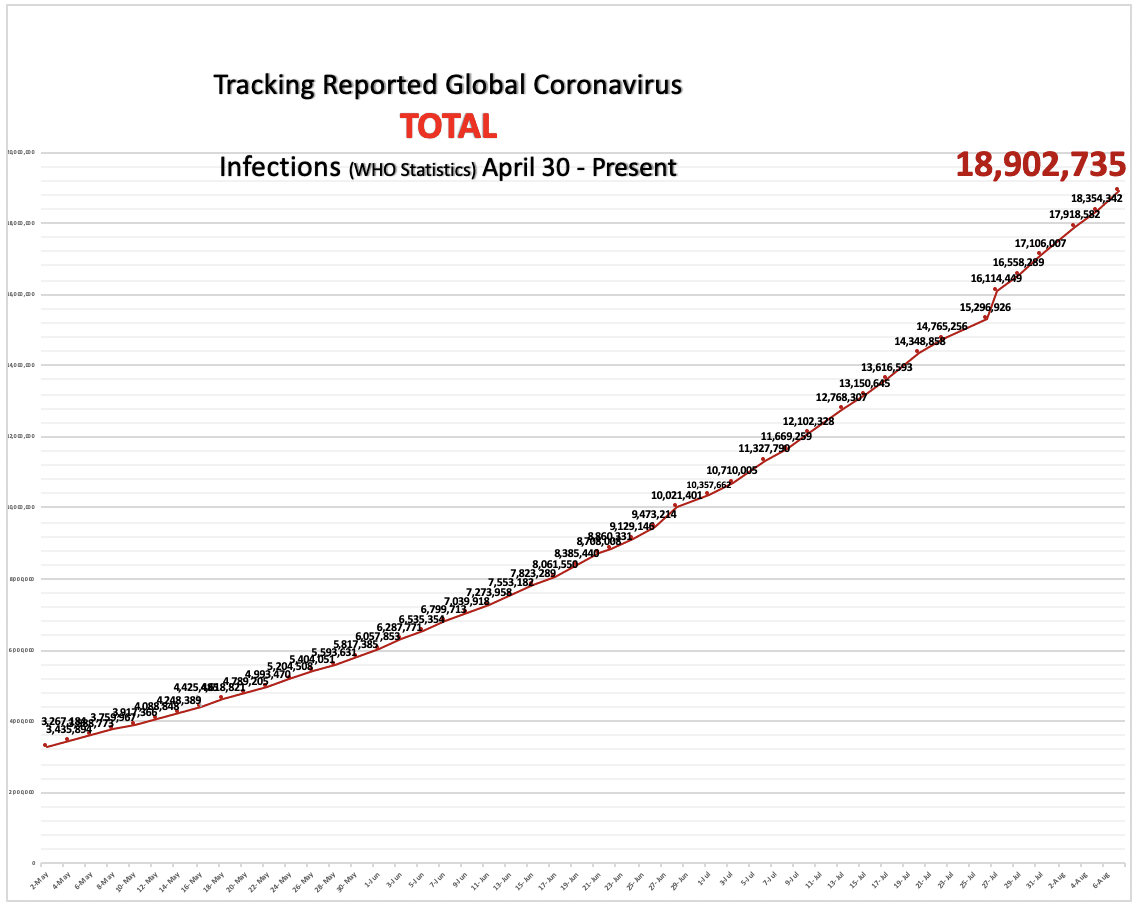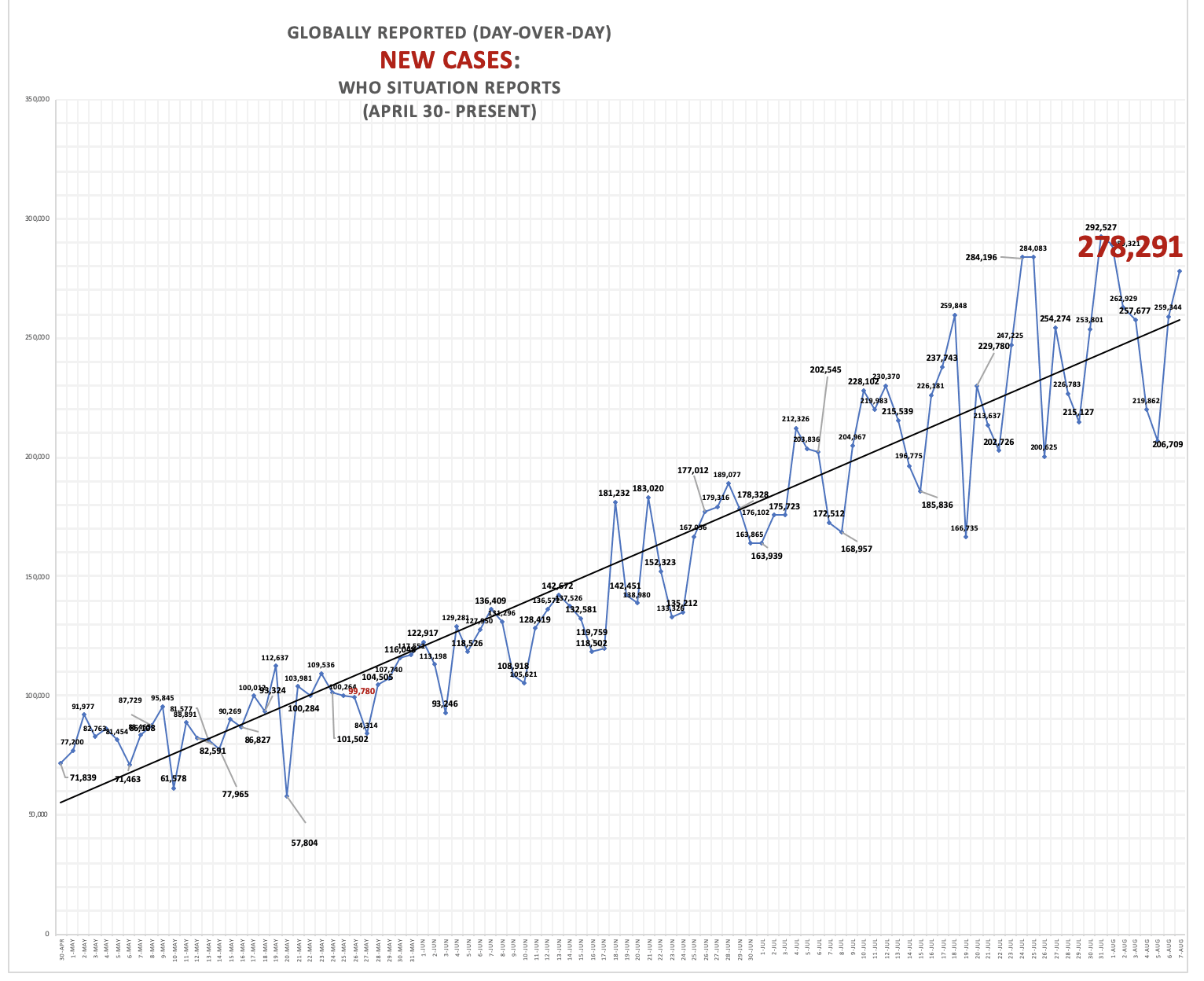 –FROM THE WHO and JOHNS HOPKINS CSSE–
From the WHO

, the Situation Report for August 7

,

2020
From the WHO

, The European Region Dashboard
From Cultures of Dignity

,

For the Social-Emotional Tiny Guides from Rosalind Wiseman and Charlie Kuhn– a gift to our AAIE community– resources with no fee but plenty of insight.



A Final Note: The AAIE COVID-19 Briefing is provided to support your leadership for the school community you serve. We encourage you to use these resources in any way, shape or form that helps you, your communications and toward furthering close relationships across your community. – The AAIE Board