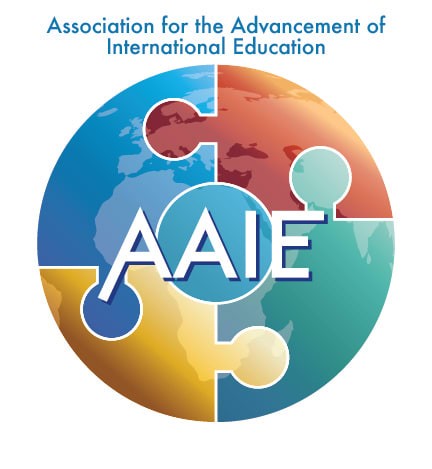 –WEDNESDAY–
AAIE's COVID-19 BRIEFING
#139
Data and Ideas to Support Your Crisis Leadership
November 18, 2020
–TODAY's BRIEFING HIGHLIGHTS–
56,051,621 Cases World-wide

(Johns Hopkins)

THIS rest of this week's

CONVERSATIONS

A remarkable

CONVERSATION

with Michael Thompson and Rob Evans- quotes that challenge and support

An AAIE and NOTOSH partnership for leaders in the middle

Bill Gates on vaccine distribution

The surprising mental toll of COVID-19

Was it Wuhan or Italy?
"It's important to honor repetitive strong feelings but these are psychological wartime conditions and people need to show some respect for the commanding officer. Having concerns is one thing but expressing it in a way that violates the norms of the school and the values being taught is different. And you have a right to defend those values. Cut them some slack but not perpetual slack and certainly not when it is boundary breaking behavior."
–Clinical Psychologists,
Michael G. Thompson and Rob Evans
–THE REST OF THIS WEEK's CONVERSATIONS–
with International School Leaders from Around the World
THURSDAY
November 19
8:00AM EST
OUR WEEKLY CONVERSATION
SCHOOL HEADS AND SENIOR LEADERS AROUND THE WORLD #38
– hosted by Will Richardson
All international school senior leaders are welcome. A Weekly CONVERSATION between School Heads and Senior Leaders. Our discussions continue to be contemporary, important and a time we teach each other. Thanks to Will Richardson who has facilitated each Thursday since the very beginning.
THURSDAY
November 19
10:00AM EST
THE WEEKLY LATIN AMERICA CONVERSATION GOES GLOBAL #28
– hosted by Sonia Keller, (Tri-Association) and Dereck Rhoads (AASSA)
A focus on the dilemmas and innovative practices within the Latin America region. Yet everyone in the world is welcome to join the CONVERSATION.
FRIDAY
November 20
8:00AM EST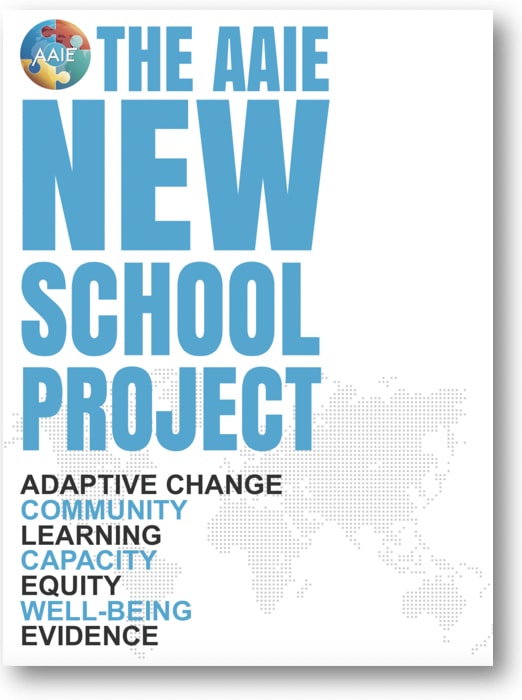 THE AAIE NEW SCHOOL PROJECT: Phase II
From Principles to Practice
– an unprecedented collaboration between international schools around the world.
Discussions Facilitated by
Will Richardson, Homa Tavangar and Kevin Bartlett
PLEASE JOIN US ON FRIDAY– and invite a colleague, as we need many voices and perspectives for the success of this project
THIS WEEK: THE LEARNING PRINCIPLE
This week we begin our exploration of the Learning Principle. We also are looking for additional curator(s) to join curation on Learning. Please sign up to help curate under the topic of your choice on the NSP padlet. We look forward to seeing you on Friday and invite a colleague!

NOTE: You can catch up, comment, and browse the curation Padlet, slide deck and more here: bit.ly/aaienshome (this is the AAIE New School Home Base - aaienshome).
THE CALL TO LEADERSHIP:
Asserting the Values and Mission of Your School
A CONVERSATION with Clinical Psychologists,
Michael Thompson and Rob Evans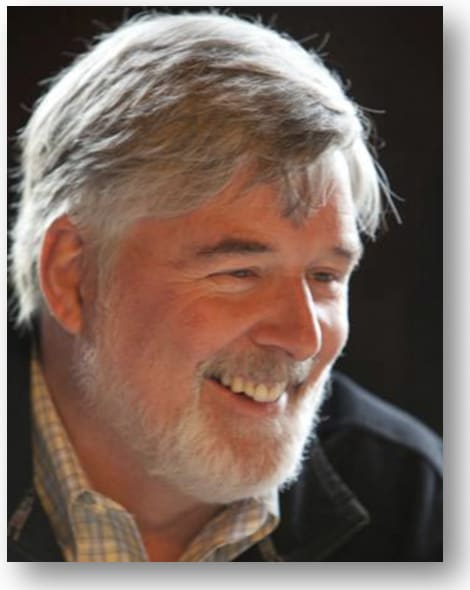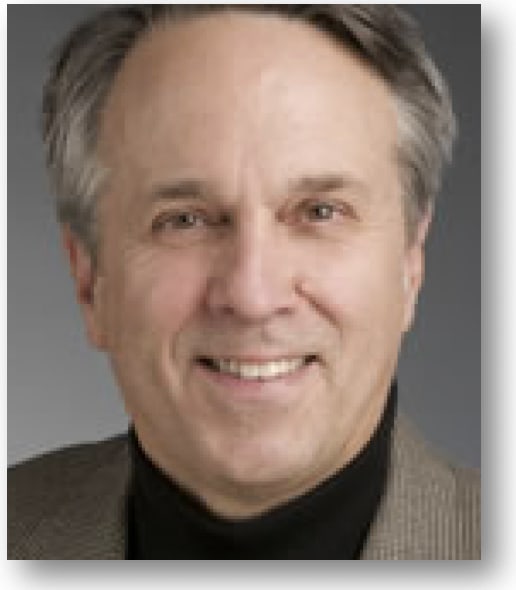 Editor's Note: If you missed this morning's CONVERSATION with Michael and Rob, may I please commend you to view the VIDEO. It was as if they had been listening in on so many of our online discussions as they provided practical approaches to countering the many difficult interpersonal exchanges that occupy our leadership day. Rob and Michael are so solidly in our corner and want to support us. They know and understand our work and the many dilemmas we face. Their message is unambiguous in our need, when faced with difficult conversations, to stand tall and assert the values and mission of our school and the tenets of decency.
The Quotes That Caught Our Attention
"There has never been a time when good leadership was more important in schools. Schools are enormously dependent, the entire community ... the parent community, teachers and kids are dependent upon what the leader is deciding, how they're thinking through issues to come to sound decision making, and upon their courage."
"This is our first pandemic. We're all living through this together. This is a time like no other where health decisions are being made by an educator, often with varying expert advice, knowing that some people on both sides will be upset by whatever decision is made. Decisions that would be not just mildly unpopular but ferociously unpopular."
"Many feel a piercing isolation and the job of leader is both to understand and empathize with that but not take responsibility for it. Be the empath that made you a candidate for the job and then to be promoted to leadership, but do not be eaten up by that empathy and desire to help."
"So many are living with uncertainty and helplessness and that is hard to bear. How much of another's pain are you bearing? It's important not to be a martyr or a masochist because people are going to need you to lead them through what might be another grueling six or seven months."
"As the head of school, even in the best of times, you are an ideal scapegoat. A school is an ideal place for parents to bring all sorts of concerns that are directly relevant to their children. But also they bring concerns that start out being about their children but actually reflect something else."
"Education is wonderful as a calling and it's lousy as a job. One of the things that has been hard for school leaders is that an awful lot of the coping these last eight months plus has been more on the level of a job than a calling in terms of what it required of people. Without the restorative and renewing moments of directly being with the students, we are left with the job."
"One of the challenges if you're a person who is good at empathy, is to be good at empathy without taking personally critiques that are lodged at you. In school, everything is personal. People who are good at being personal and at responding personally to other people's pain, are not always so good at having it be just business when somebody questions your good faith or competence."
"Having to bear someone else's entitlement can burn you out. It isn't that heads don't know how to respond it's the having to do it over and over. There's a difference between knowing what might be good to do and then having to do it over and over again because it gets pretty old. It's hard to be as fully tuned in and empathetic and considerate the seventeenth time you've heard it from the same person."
"One of the challenges to balance is between listening attentively, being empathetic, considerate and trying to understand another's situation but being clear about what is not negotiable. What educators at all levels want to do is use these events as teachable moments. It's helpful to get people to tell you what they hope or wish you'd do and what their fears are if you don't, or can't or won't in some way. Persuasion of someone with an emotional investment in why they want you to do what they want is really hard. If you can be collectively upfront with people, it may make it easier."
"It's important to honor repetitive strong feelings but these are psychological wartime conditions and people need to show some respect for the commanding officer. Having concerns is one thing but expressing it in a way that violates the norms of the school and the values being taught is different. And you have a right to defend those values. Cut them some slack but not perpetual slack and certainly not when it is boundary breaking behavior."
"This is not week four or week eight early on when people were understanding and grateful. Families and parents are feeling so worn down that their capacity for generosity and thanks is reduced. Turning your cards face up on the table is good. I've had lots of questions, they run the gamut but here's what we're doing and name it. They may not like it but at least they know. Hold a mirror up to the community so they can ask themselves, "Do we actually want to be attacking our school leader in this way over so many months?" We are already starting to see some people bend so far they break and step away. It is essential that leaders stay in these positions because as tough as it is, your school would not be well served if you up and left. You can't ask for pity but you can ask for some restraint."
"This continues to be really hard for all of us. It's hard for all of you and it's hard for all of us. It's hard for us to stay together because this pandemic has struck so many of us in so many difficult and different ways. Remember this, as hard as it is, we're going to keep trying to stay together. When you're the voice of the mission and values, and you keep referring back to those, it puts you in a stronger position to say, "Those aren't our values or our mission, we don't do that here". It's different than getting after someone personally when you're doing something in the name of what makes us 'us' at this school.
"You're the voice of the covenant. It doesn't mean the ones you set limits on will be grateful but it is different than saying, you can't do that. You can't do that because that's not what we're doing with students here, that's not the kind of community we are and we don't do that with you. In this way, you're upholding values."
–TODAY's POEM TO CONSIDER–
A poem, just for you ...
(thanks again to Bob Hetzel)
What Do You Think the Stars Are For?
We are all candles, aren't we, flickering away
Our lives so much we hardly have time to just
Pause, yet we do, even if some illuminate more
Of caved ceilings in the Pyrenees while some
Of us just look up from the fields of grain planted
Before we knew their names. Now we wander
In and out of houses, some plastered, some wood,
Some with the new iron of our age, some going
To the bathroom, some finding someone to spend
The night with, some planning away the future
As if it was there. But always we return to what
We think we'll be, or who we might have been,
Even Uncle Raphael's new painting in the Uffizi
Gives us all a moment to hold our breath. Still we
Do this, watching our lives flicker, wondering if we
Get to do this tomorrow. A few of us, including
Gertrude, don't want to go on this path, rather we'll
Just saunter down to the white sand beach, and ask,
How long can we stay, did you bring a book? Some
Of us will make others lunch, and some, so rude, will
Not even think about the service we've given, even
If it turns out the Greek salad needed a few more
Olives, a few more chunks of that sweet, white cubed
Milk we love to call feta. For some this is pretty much
It, as we are not ever going to get to go behind what
So many of us think is out there, beyond the stars.
Perhaps we can invent something that will make us
Wake up, even though the forecast is for more snow.
—DeWitt Clinton
A NEW AAIE FOCUS WITH PARTNER NOTOSH
"Leading from the Middle"
Supporting Our International School Senior Leaders
Who Are the True First Responders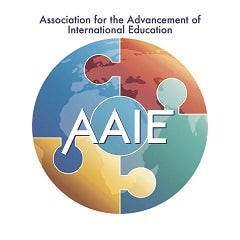 And if we don't relax that leadership muscle soon, it risks moving from short-term managerial spasm into a chronic cramp, stopping in its tracks any form of leadership from within.
Editor's Note: AAIE and NOTOSH (Ewan McIntosh) are partnering to develop a leadership seminar for our international school leaders who are in the middle– principals, advancement directors and other key senior leadership positions. We fear they are being overlooked in how we can support their frontline work in the midst of so much leadership challenge. Stay tuned as we roll out our seminar format, timing and content– focused on our leaders caught in the middle! Ewan kicks off our upcoming program (begins January 2021) with a bit of research and observations we too have witnessed.
Overlooked Heroes-
Leaders Caught in the Middle
–by Ewan McIntosh
Senior leaders around the world are exhausted. Their leadership muscle is straining under the weight of the additional management jobs they've taken on, while also trying to run a school. One key to lessening that load is to make more use of the talent in middle and aspiring leaders.
Middle Leadership has been a poorly used team in most schools and companies, for decades. It's sometimes seen as a thankless stepping stone to senior leadership, a necessary administrative function to keep a small team organized, and conduit for senior leadership's missives. In more advanced organizations, middle leaders are lynchpins in researching, developing and implementing changes in learning and teaching.
But in the past year, the shortcomings of the role are coming to light. Forbes Coaching Council research outlines thirteen observations taken from hundreds of interviews with organizational leaders, revealing the most common ways we neglect middle leadership:
They're not communicated to on important decisions in the works;

They're not kept in the loop;

They don't get delegated to;

They're not part of succession planning;

Their creativity isn't tapped into;

Their feedback isn't heard;

They don't get recognition and support;

Their leadership skills are not developed;

Their growth and development is ignored;

They get too comfortable managing, instead of leading;

They don't get involved in major decision-making and change programmes;

They're taken for granted; and\

They're underused
These hard-to-read truths were problems before 2020. This year has served only to accentuate the challenge of being a Middle Leader, and for Senior Leadership to make better use of this talent. In a time of crisis, it is both normal and expected that leadership snaps into the vertical, making big, difficult decisions quickly.
But such hierarchical spasm can't last forever. Management, not leadership, has swept across our schools in tempo with the pandemic. And if we don't relax that leadership muscle soon, it risks moving from short-term managerial spasm into a chronic cramp, stopping in its tracks any form of leadership from within.
A quick search for "carrying weight leaders" has 47,800,000 results on Google. The top spot, for my filter bubble at least, is a pre-COVID article: "How to lighten the burden of School Leadership".
The answer is a simple two-part one. Firstly, distribute leadership and responsibility, starting with your paid-up middle leadership teams and those aspiring leaders who want to do meaningful work without the title.
Secondly, we need to make sure that Middle Leaders know how to lead. Many aspiring or early stage Middle Leaders have a perception of leadership that is stuck in the 1990s notion of personality-based leading, rather than leadership as a learnable set of tools, skills and mindset.
That's why NoTosh has partnered with AAIE as official launch partner for Leading from the Middle. This online program will quickly raise the confidence of your Middle Leaders, giving them a strong understanding of their own leadership strengths, how to be a more effective leader with their own team, and how to influence change across the system.
It's a three-sprint program, offering 16 hours of live sessions, over three months, with bonus sessions, events and a learning platform that will bring your middle leadership team into their own. A prototype has been running in Hong Kong since September, and is already generating impact within our first cohort of aspiring and current Middle Leaders, who are better able to handle difficult conversations, focus teams on the quality of learning experience, and use data to design more adaptive strategies in response to unexpected events.
We launch in January, and we encourage senior leaders to get in touch now if they want to reserve spaces for their middle leaders, as the program will be limited in numbers.
AAIE - NoTosh 2021 Cohorts: Lead from the Middle Program: https://learn.notosh.com/aaie-notosh-middle-leadership
STAY FOCUSED ON THE COVID-19 SCIENCE
Editor's Note: We continue to feature more articles that can provide needed background information to inform your international school safety plans and to keep your community in the know. (send us any valuable articles you find too!)
FROM THE NEW YORK TIMES

New Pfizer Results: Coronavirus Vaccine Is Safe and 95% Effective
The drug maker Pfizer said on Wednesday that its coronavirus vaccine was 95 percent effective and had no serious side effects — the first set of complete results from a late-stage vaccine trial as Covid-19 cases skyrocket around the globe.
The data showed that the vaccine prevented mild and severe forms of Covid-19, the company said. And it was 94 percent effective in older adults, who are more vulnerable to developing severe Covid-19 and who do not respond strongly to some types of vaccines.
FROM STATnews

Bill Gates Worries About a 'dysfunctional' Approach to Covid-19 Vaccine Distribution
Bill Gates fears a "dysfunctional" approach to distributing Covid-19 vaccines, he said Tuesday, despite an inspiring effort by biopharmaceutical companies to produce promising candidates with high measures of protection.
Developing apparently effective vaccines so quickly — especially exploiting a novel approach that uses mRNA to instruct cells to make viral proteins and trigger an immune response — has been "fantastic,"
...but Gates is troubled by the logistics of vaccine distribution.
FROM Scientific American

The Surprising Mental Toll of COVID
You didn't need a crystal ball to forecast that the COVID-19 pandemic would devastate mental health. Illness or fear of illness, social isolation, economic insecurity, disruption of routine and loss of loved ones are known risk factors for depression and anxiety. Now studies have confirmed the predictions. But psychologists say the findings also include surprises about the wide extent of mental distress; the way media consumption exacerbates it; and how badly it has affected young people.
–THE NEWS of COVID-19–
56,051,621
Cases Worldwide (Johns Hopkins CSSE)
France First European Country to Pass 2 Million Cases,
Fourth in World
France has become the first European country to surpass 2 million coronavirus cases, despite an October 30 nationwide lockdown that has led to a sharp decline in new infections.
Worldwide, the coronavirus has killed at least 1.3 million people and infected at least 55 million since it was first detected in China last December.
France is fourth in the number of infections reported after the United States with 11.2 million cases, followed by India and Brazil. With a death toll topping 46,346 on Wednesday, France ranks seventh in Covid-19 deaths globally and third-highest in Europe after the UK and Italy. France reported 437 more deaths on Tuesday.
Senior French health official Jerome Salomon said that with 33,500 Covid-19 patients in hospitals, the situation was far from good. "Our collective efforts are starting to bear fruit, the number of new cases has been going down over a few days...We must double down our efforts to regain control of the epidemic," Salomon said.
"Respecting the curfew and the lockdown explains this positive trend. We must maintain a very high level of vigilance to be able to go through the end-of-the-year festivities and the winter months safely," he added.
Hospitals were so stretched that 150 patients have been transferred since October 23 to hospitals around France. Europe has reported nearly 14.5 million Covid-19 cases so far, making it the worst-affected region in the world and accounting for more than 26 per cent of all infections so far. (South China Morning Post)
Was It Wuhan or Italy?
The virus that causes the Covid-19 disease has now infected more than 54 million people across the planet, but the question of just where it came from remains a mystery. Researchers may have found a new link in this puzzle after discovering evidence suggesting the pathogen had infected people across Italy as early as September last year, or months before it was first identified in the Chinese city of Wuhan. The unexpected finding "may reshape the history of [the] pandemic", said the team led by Dr Gabriella Sozzi, a life scientist with the National Cancer Institute of Milan, in a peer-reviewed paper published last week in the Tumori Journal. The researchers tested blood samples from lung cancer screening tests in Italy and said they found antibodies specific to Sars-CoV-2, the virus causing Covid-19, in samples from patients all over the country in every month of a six-month trial that started in September 2019. The presence of the antibodies indicates the virus was infecting people in Italy before it was detected in Wuhan in late December. (South China Morning Post, Tumori Journal)
Moderna is 95% Effective, And Supports Those 65+
Early results from another coronavirus vaccine trial are even more promising than those Pfizer announced earlier this month. The Moderna mRNA-1273 vaccine seems to be 95 per cent effective and to work in those who need protecting the most – people aged over 65 – the US-based company announced yesterday. The vaccine can also be stored in a normal freezer or fridge. (New Scientist)
Unchecked Infections in the USA Continue
The number of newly reported Covid-19 cases in the U.S. increased drastically from a day earlier, and the number of those hospitalized also rose, hitting another record. The country reported more than 166,000 new cases for Monday, according to data compiled by Johns Hopkins University, up from more than 133,000 a day earlier. The U.S. has now reported more than 11.2 million confirmed infections, Johns Hopkins data show. The number of newly reported infections each day tends to be lower at the beginning of the week, as fewer people are tested on weekends. Monday's figure is not only an increase from a day earlier, but a week-over-week increase, from 119,944 on Nov. 9. (The Wall Street Journal)
Rethink on Reopening
California officials on Monday pulled what they characterized as an emergency brake, announcing a dramatic rollback of reopening in much of the state as it broke its single-day record for new coronavirus cases. Once the changes go into effect Tuesday, 94% of Californians — roughly 37 million people — will live in counties that are in the strictest tier of the state's reopening roadmap. Many businesses in those counties will have to suspend or severely limit their indoor operations. The move came as California recorded more than 13,280 new cases Monday night, according to The Times' coronavirus tracker. That is the highest daily total since the pandemic began and a sign of how quickly Covid-19 is spreading. (Los Angeles Times)

A New Crisis in South Korea
The South Korean government has reinstated tougher social distancing and virus protection measures in Seoul following a resurgence in coronavirus transmission. The move means school attendances will be capped at two-thirds of students and activities at high-risk and multi-use facilities such as restaurants will face restrictions. The rules apply across the greater Seoul region, a sprawling metropolis that is home to about half the country's 52 million people. "Our fight against Covid-19 is facing a crisis," said Prime Minister Chung Sye-kyun. Mr Chung, who is leading the national response, acknowledged that the decision will inconvenience Seoulites and hurt small businesses. "But we know from many experiences that we will face a bigger crisis if we don't make the decision now," he said. South Korea this month launched a new five-tiered social distancing scheme after criticism that its earlier approach was too vague. Under the new scheme, the nation is divided into seven zones, meaning distancing rules can be applied differently in separate areas. Today's announcement, which follows new case numbers in the capital remain higher than 100 for more than a week, takes greater Seoul from "Level 1", the lowest threat level, to "Level 1.5". "We need to raise our guard now that the hard-won balance of our anti-virus fight and daily life is facing another crisis," Mr Chung said. (Financial Times)
Women Take the Hit
For millions of working women, the coronavirus pandemic has delivered a rare and ruinous one-two-three punch. First, the parts of the economy that were smacked hardest and earliest by job losses were ones where women dominate — restaurants, retail businesses and health care. Then a second wave began taking out local and state government jobs, another area where women outnumber men. The third blow has, for many, been the knockout: the closing of child care centers and the shift to remote schooling. That has saddled working mothers, much more than fathers, with overwhelming household responsibilities. (via The New York Times)
An Unnerving Seven Days
Through Monday, The Washington Post has tallied about 11.2 million coronavirus cases in the United States since the first infections were detected early this year. Of those 11.2 million confirmed cases, 1 in 11 had been confirmed over the previous seven days. The numbers are unquestionably grim. As of Monday, 31 states were seeing more cases added each day than at any previous point in the pandemic. The third surge of infections — following the one at the pandemic's outset and the one that ripped through the South over the summer — has been the most pervasive. In about a third of states, there are now more people hospitalized with the virus than at any previous point. (via The Washington Post)
NEW Gene-Based Technology May Save the Day
The strong early results for two leading Covid-19 vaccines have implications that go far beyond the current pandemic: They suggest the time has come for a gene-based technology that could provide new treatments for cancer, heart disease and other infectious diseases. The unproven technology, named messenger RNA after the molecular couriers that deliver genetic instructions, has long eluded researchers. An mRNA vaccine has never been cleared by regulators. It is now the basis for Covid-19 vaccines from Moderna and Pfizer and its partner BioNTech SE. Both have shown in recent days to be more than 90% effective at preventing symptomatic Covid-19. That performance is in line with some older vaccines even though the new shots were developed in a fraction of the time. (via The Wall Street Journal)
A Home Rapid Coronavirus Test
The Food and Drug Administration on Tuesday gave an emergency green light to the first rapid coronavirus test that can run from start to finish at home, paving a potential path for more widespread testing outside of health care settings. The test, developed by California-based company Lucira Health, requires a prescription from a health care provider. People under the age of 14 also can't perform the test on themselves. But with a relatively simple nasal swab, the test can return results in about half an hour, and is projected by the company to cost $50 or less, according to the product's website. (The New York Times)
–The STATS–
TODAY's TOTAL
GLOBAL CASES:
Johns Hopkins– 56,051,621
WHO–55,326,907
TOTAL GLOBAL DEATHS (WHO):
Today–1,333,742
Two Days Ago–1,316,994
EVOLUTION OF-GLOBAL CASES (WHO):
Today–55,326,907
Two Days Ago–
54,301,156
NEW CASES (WHO):
535,224
–Tracking the Virus Around the World–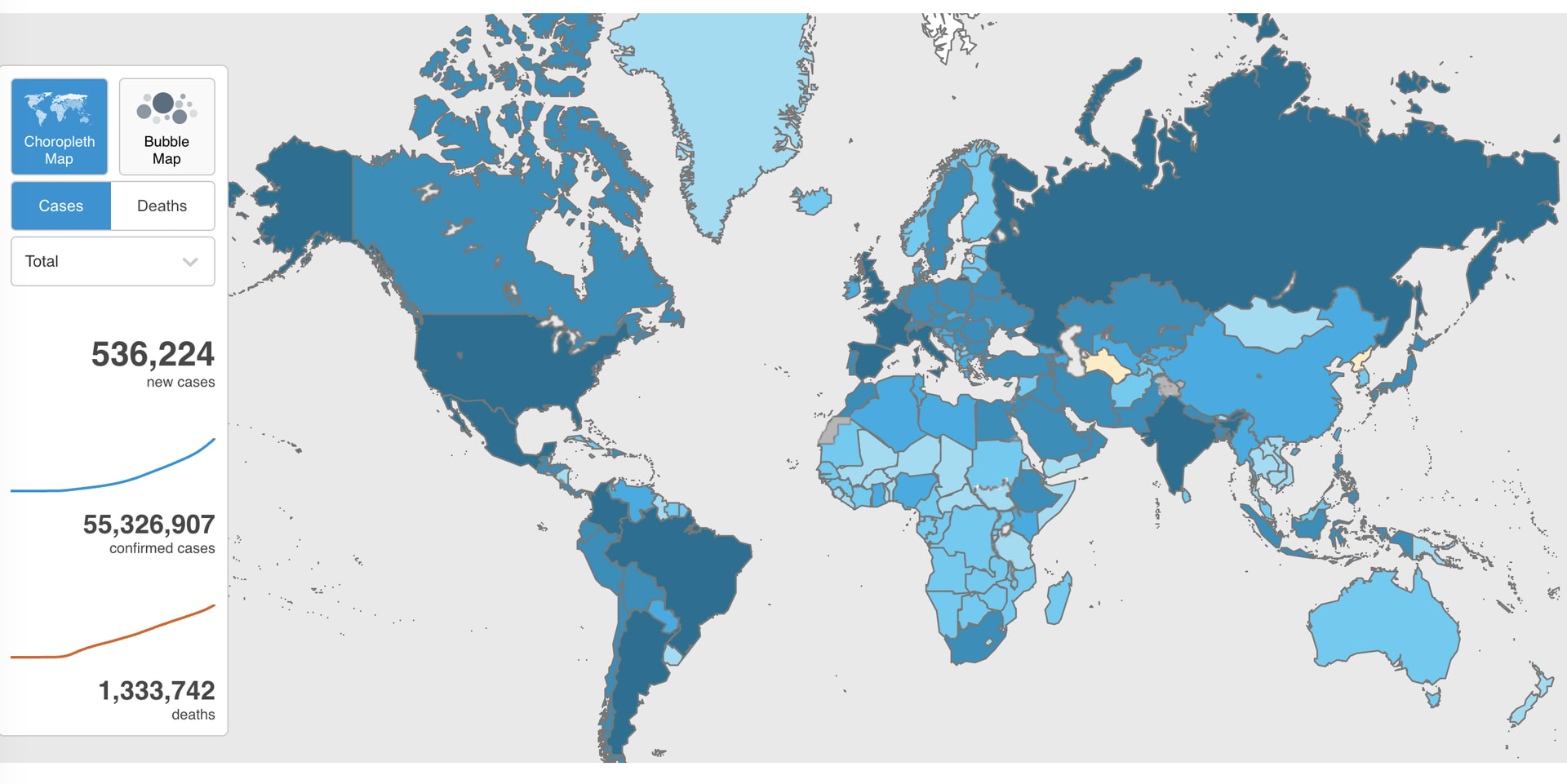 –FROM JOHNS HOPKINS CSSE–
The Cultures of Dignity Resources for Supporting
Social-Emotional Wellness
From Cultures of Dignity

,

For the Social-Emotional Tiny Guides from Rosalind Wiseman and Charlie Kuhn– a gift to our AAIE community– resources with no fee but plenty of insight.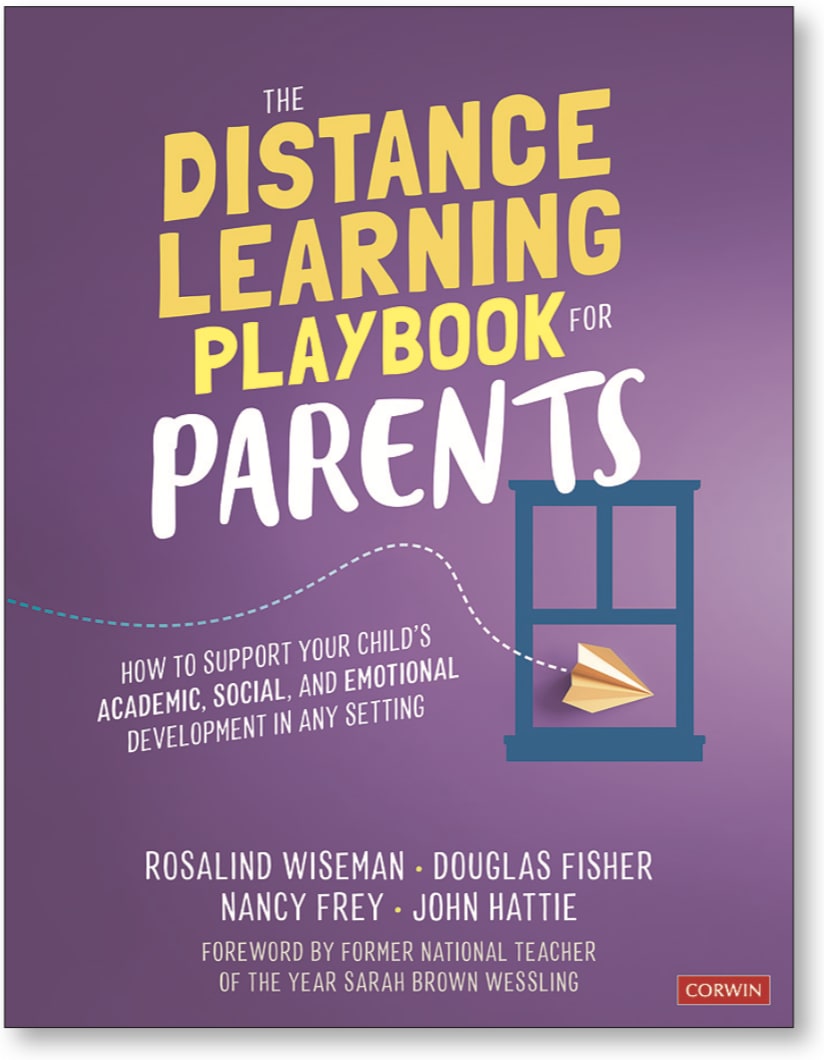 Rosalind Wiseman's newest book:

"Distance Learning Playbook for Parents–How to Support Your Child′s Academic, Social, and Emotional Development in Any Setting
A Final Note: The AAIE COVID-19 Briefing is provided to support your leadership for the school community you serve. We encourage you to use these resources in any way, shape or form that helps you, your communications and toward furthering close relationships across your community. – The AAIE Board