QUICK LINKS for Busy People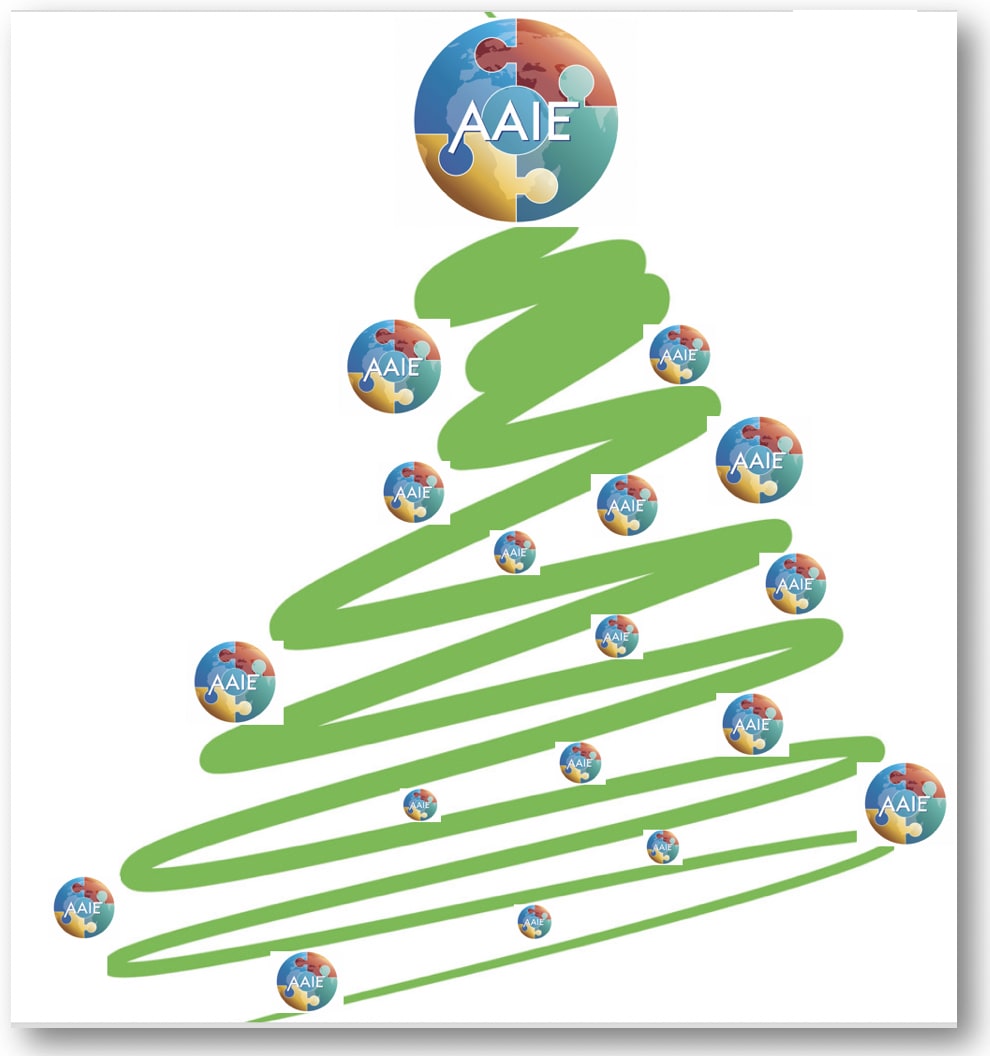 –MONDAY–
AAIE's COVID-19 BRIEFING
#147
Data and Ideas to Support Your Crisis Leadership
December 7, 2020 (Pearl Harbor Day)
–TODAY'S BRIEFING HIGHLIGHTS–
6XXXXXX identified cases (Johns Hopkins)
There is another threat in front of us– from the Bill Gates Blog

The language we use about COVID-19 in our international schools

Wednesday with Ewan McIntosh: supporting our leaders who are caught in the middle

Vaccine approval– a look back on the polio vaccine and lessons learned

One more review of the Swiss Cheese Safety Model

South Korea infections hit a nine-month high

The challenge of vaccine distribution

(from the New Yorker)

: LISTEN HERE
–TODAY's QUOTE–
"The people you are leading have big expectations of you. They want you to be perfect and often forget that you are human. But the more human you are with them, the more trust and empathy they lend to you."
–Alain Bejjani
–THIS WEEK'S CONVERSATIONS–
with International School Leaders from Around the World
WEDNESDAY
December 9
8:00AM EST
WE MUST SUPPORT EACH MEMBER OF OUR LEADERSHIP TEAM AND THEIR LEARNING–
leading from the middle
– presented by Ewan McIntosh
In a time of crisis, leaders throughout a system need to have a common language. And outside that crisis we need to know how to support middle leaders learn the skills of:
building relationships with peers;

inspiring collaboration on approaches that can improve the learning experience and outcomes;

scaling up a team's ideas from one to some to everyone across a school.
If senior leaders in international schools continue to lead in the way they've had to in 2020, burnout and ineffective schools are the result.
Now is the time to learn how to delegate more, without overwhelming staff, and how to develop the space, efficacy and attitude in our middle leadership to take on that responsibility.
Ewan McIntosh leads this session, giving early insight on the impact from the initial prototype of a research-informed practice-biased relational leadership program with 22 schools across Asia.
This session will also outline the AAIE and NOTOSH partnership to bring our member schools an extended leadership seminar for middle school leaders.
THURSDAY
December 10
8:00AM EST
OUR WEEKLY CONVERSATION
SCHOOL HEADS AND SENIOR LEADERS AROUND THE WORLD #41
– hosted by Will Richardson
Join our weekly CONVERSATION between School Heads and Senior Leaders. Our discussions continue to be contemporary, important and a time we teach each other. Thanks to Will Richardson who has facilitated each Thursday since the very beginning.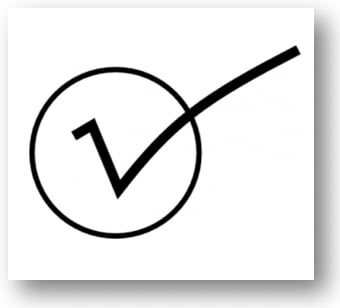 The LATIN AMERICA conversation with Sonia Keller and Dereck Rhoads hosting, resumes on Thursday, January 7, 2021 at 10:00AM EST.
The NEW SCHOOL PROJECT conversation with Homa Tavangar, Kevin Bartlett and Will Richardson as our "sherpas" resumes on Friday, January 8, 2021 at 8:00AM EST.
–Taking Care with the Language We Use–
The Snake Oil Education Pandemic
From the Pen of Michael Crowley, Assistant DIrector, International School of Brussels

"But if thought corrupts language, language can also corrupt thought. A bad usage can spread by tradition and imitation even among people who should and do know better." – George Orwell
In the early weeks of Covid-19 school disruption, our common language was simple and clear: we need to keep learning going; we can't let students down. Then, like a pandemic of its own, a new contagion emerged. "So, are you concentrating on Synchronous or Asynchronous?" On top of everything else, this verbose language was dumped on parents. The use of complex, ornate language is often at its worst in education.
When I was a teenager, Synchronicity was the final album released by my then favorite band, The Police. Synchronicities are, by their very nature, emotional, not intellectual. Synchronicity is about chance, coincidence, intuition. As a word choice to describe virtual or distance learning, it is a curious one. It might as well have been dubbed Zenyatta Mondatta.
The psychologist, Carl Jung, coined the concept of synchronicity, the notion that events are meaningful coincidences if they occur with no causal relationship yet seem to be meaningfully related. When computing pioneer Seymour Papert introduced his Logo programming language, his vision was for students to learn at their own pace, free from the synchronous constraints of a classroom lecture. For Papert, and others, this represented a profound liberation, a massive ground shift from teacher-centeredd classrooms to student-centered learning.
At its simplest, synchronicity means doing something at the same time. In the educational context, synchronous learning occurs when students are engaged in learning simultaneously. Asynchronous learning is the opposite of synchronous learning. The teacher, the learner, and other students are not necessarily engaged in the learning process at the same time. This is, at best, a curious, tech-focused, rather than learning-centered way of thinking about the learning process. The distinction contributes significantly to the parental belief that children are incapable of learning in the absence of a teacher. If that's not happening, learning can't be.
The brave new world we find ourselves in has proven fertile ground for the more-is-better mentality, the view that good enough is really not good enough, despite the reality that the entire world has largely been under siege. The fact is, of course, that a substantial amount of quality learning when schools are in session has always been "asynchronous".
There is no mystical language required when we consider meaningful learning, just quality relationships between students, teachers, and parents. We should beware of educational jargon. Too often, it signifies the sleight of hand of the dubious magician, the false marketing of the edtech industry, or the unfortunate attraction to mumbo jumbo of those who should know better.
Perhaps we will understand it in the context of trauma in the time to come, but somewhere along the way during our Coronavirus crisis, the voices of chancers, bluffers, and the entitled took centre stage. Long after there is a vaccine for Covid-19, I suspect this phenomenon will remain our greatest challenge in education.
I am most profoundly troubled by those who fail to consider, let alone begin to understand or appreciate, what teachers have been doing throughout this unprecedented time.
Powerful learning is about the respectful, supportive relationship between students and teachers, regardless of the context. If we have learned anything from the inordinate pressure that teachers, students and parents have been placed under during these Covid days, one would hope it might include a pledge to end the snake oil pandemic of educational jargon.
–TODAY's POEM TO CONSIDER–
A poem, just for you ... (thank you Tara Waudby)
The Answer
Wait and see.
The temporary emptiness
Of not discovering
The answers of life
Cannot last,
For the Answer itself
Is blossoming
Petal by petal
For you.
–By Chinmoy Kumar Ghose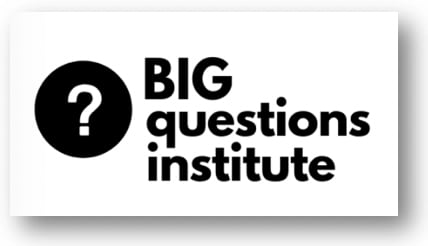 December 9, 2020 at 7 pm US ET
What are we taking away from 2020?

What might we do differently in 2021?

–with Homa Tavangar and Will RIchardson

It's Time to Turn the Page on an Incredibly Difficult Year
Let's get together for a quick look back at what we learned from this year and how we might start the new year off right.
Join us for an interactive discussion on Two BIG Questions:
What are we taking away from 2020?: We've said this before: This year may have been the most intense year of learning for educators...ever. When we think about everything that's happened, there's no question that we've weathered some profound change in the world. Let's talk about the year that was...and wasn't.

What might we do differently in 2021?: We have to see next year as an opportunity. Obviously, as the mini-viral Tweet below suggests, we're ready to think hard about different right now.
So as the pandemic abates, what will we choose to carry with us through the portal into the new year, and what will we choose to leave behind?
STAY FOCUSED ON COVID-19 SCIENCE
FROM STATnews
Covid-19 Vaccine Safety and the Public Trust
We also know all too well the tragic story of a rushed polio vaccine.
We know this story because of our personal connections with Paul Meier, a young statistician at Johns Hopkins in the 1950s who studied the polio vaccine program of 1955 and its aftermath.
The missteps that resulted in 40,000 unnecessary vaccine-induced polio infections are being repeated today. Failure to invest in safety and quality as well as speed has the potential to harm many people and further erode the nation's faith in science and public health.
A fascinating read. And a cautionary tale.
One More Reminder- well worth a reread
FROM The New York Times
The Swiss Cheese Model of Protection
From physical distancing to vaccines, there are many layers of defense that can protect us from COVID — but none of them is impenetrable. The multilayered 'Swiss cheese' model helps us to visualize how, when we combine all the strategies, no one hole lets the virus through. "It's not really about any single layer of protection or the order of them, but about the additive success of using multiple layers, or cheese slices," says virologist Ian Mackay, who has brought the Swiss cheese model to bear on COVID, illustrated with a stack of hole-riddled slices of the eponymous cheese. And 'the misinformation mouse' can nibble away at any of those layers.
FROM The COVD-19 Data Dispatch
A New Metric for Conceptualizing Cases
USA-centric, but applicable worldwide: When thinking about COVID-19, the metrics we've been using have started to blur together and stop having the same impact after months of staring at them. What is the difference between 100,000 and 150,000 new cases? Well, obviously, 50,000 more cases, but I can't conceptualize that, nor can most people. Numbers that high feel almost abstract and easy to ignore. I could feel myself starting to normalize these increasing case and hospitalization rates, and I had to figure out a way to stop that from happening. If I, someone who spends all day every day collecting, discussing, and working with COVID-19 data, was starting to get desensitized to the pandemic—what must it be like for the general public?
I knew I had to find a way to make it more personally relatable, but also find a way to use the data I look at every day to better inform my own decisions. When I go to the grocery store, what is the probability that someone in the store with me tested positive? How many people in my grade currently have COVID? If my grandmother leaves her house, how many people does she have to interact with before it's likely she was in the presence with someone who could infect her?
Getting in Front of Another Impending Global Threat
Here's How the U.S. Can Lead the World on Climate Change Innovation
–by Bill Gates
This year has been a tragic reminder that we need to do a better job of preparing for global threats. The world wasn't ready for COVID-19. In Melinda's and my Annual Letter, coming out next month, I'll write about what we can learn from this pandemic to help us prepare for the next one.
There's another global disaster we also need to try to prevent: climate change. As I have tried to make clear on this blog over the past two years, we have only some of the tools we need to eliminate the world's greenhouse gases. We need breakthroughs in the way we generate and store clean electricity, grow food, make things, move around, and heat and cool our buildings, so we can do all these things without adding more greenhouse gases to the atmosphere.

Editor's Note: We'll occasionally run articles that have significance to the critical themes within our international school program of studies.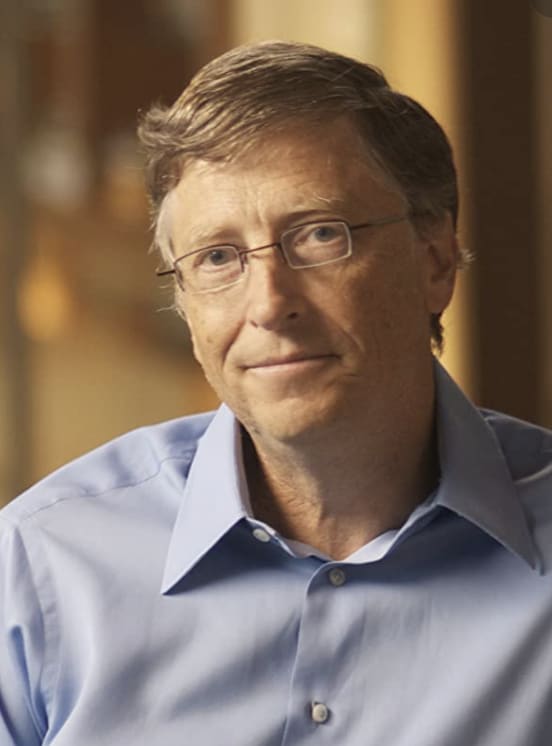 "There's no central office that's responsible for evaluating and nurturing great ideas."
In short, we need to revolutionize the world's physical economy—and that will take, among other things, a dramatic infusion of ingenuity, funding, and focus from the federal government. No one else has the resources to drive the research we need.
On the funding side, we need a fivefold increase—but the increase is only so substantial because we'd be starting from such a low level. The federal government puts around $7 billion a year into clean-energy research, versus more than $35 billion a year into medical research. Putting energy on equal footing with health would be a key first step that would create more than 370,000 jobs while also advancing a clean-energy agenda.
To be fair, the U.S. isn't the only country that underfunds clean energy research. All the governments in the world spend about $22 billion a year on it, or around 0.02 percent of the global economy. Americans spend more than that on gasoline in a single month.
We also need to make sure the government is set up to make the best use of these resources, and right now, it isn't. There's no central office that's responsible for evaluating and nurturing great ideas. For example, research on clean fuels is managed by offices in the departments of Energy, Transportation, and Defense—and even NASA. Similarly, responsibility for research on energy storage is spread across at least four offices in the Department of Energy.
There is a better way. To reduce duplication, focus the government's efforts, and get the most innovation out of every dollar of funding, we should create a new organization: the National Institutes of Energy Innovation. This the most important thing the U.S. can do to lead the world in innovations that will solve climate change.
Creating these institutes wouldn't be an exercise in simply moving boxes around an organizational chart and hoping for a better outcome. We actually have a model for setting things up in a better way, and evidence that it produces results. That model is the National Institutes of Health.
The NIH is the largest single funder of biomedical research in the world, and its impact is simply mind-blowing. Scientists supported by the NIH have mapped the human genome, resulting in tests or treatments for dozens of genetic diseases. They have helped cut deaths from heart disease by two thirds in the past 50 years. Since 1980, NIH-supported research has contributed to the discovery of more than 150 new drugs, vaccines, and novel uses for existing drugs.
The Gates Foundation's work in global health simply would not be possible without the countless advances made by the NIH. KEEP READING HERE
–THE NEWS of COVID-19–
6XXXXX
Cases Worldwide (Johns Hopkins CSSE)
–thanks to The New Yorker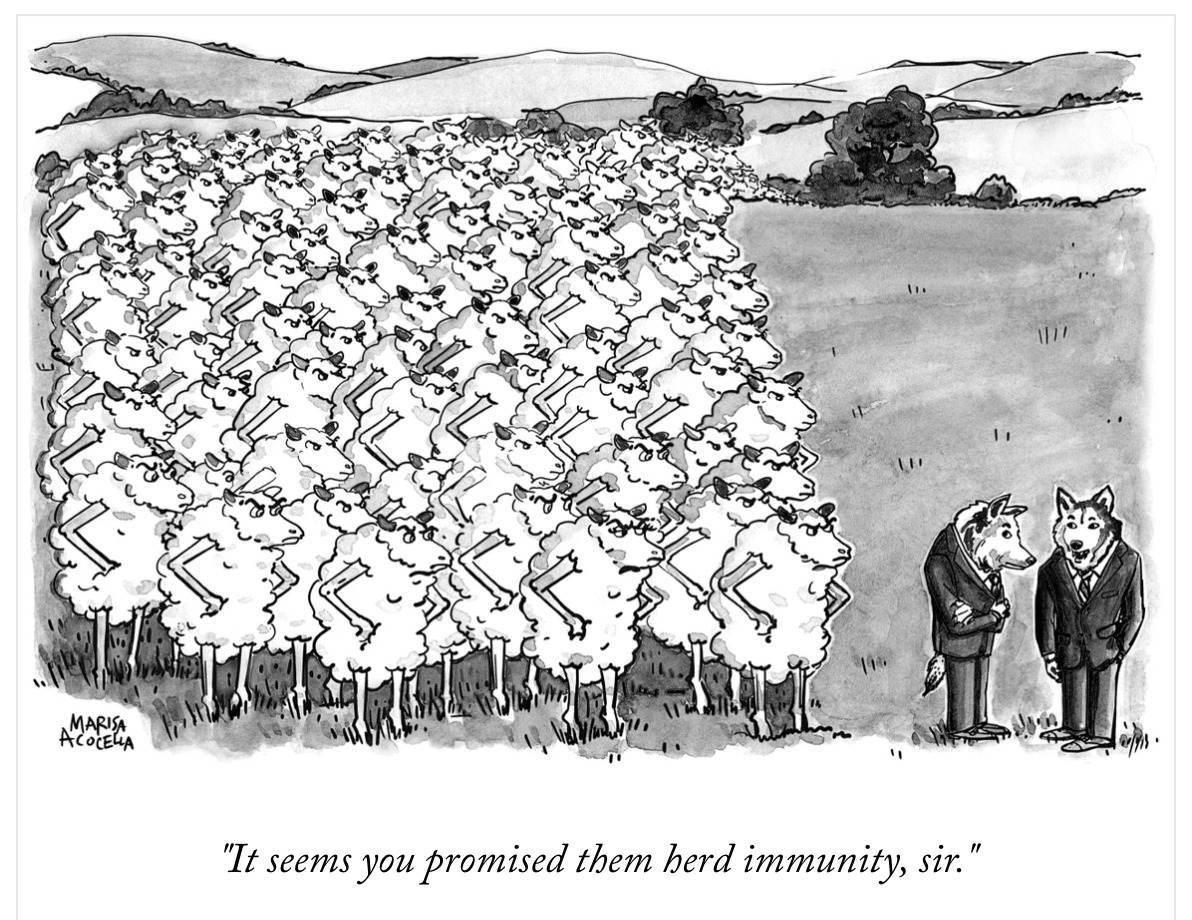 China's Rewrite
Facing global anger over their initial mishandling of the outbreak, the Chinese authorities are now trying to rewrite the narrative of the pandemic by pushing theories that the virus originated outside China. In recent days, Chinese officials have said that packaged food from overseas might have initially brought the virus to China. Scientists have released a paper positing that the pandemic could have started in India. The state news media has published false stories misrepresenting foreign experts, including Dr. Kekulé and officials at the World Health Organization, as having said the coronavirus came from elsewhere. The campaign seems to reflect anxiety within the ruling Communist Party about the continuing damage to China's international reputation brought by the pandemic. Western officials have criticized Beijing for trying to conceal the outbreak when it first erupted. (The New York Times)
The Swedish Experiment Ends
Sweden's Covid-19 experiment is over. After a late autumn surge in infections led to rising hospitalizations and deaths, the government has abandoned its attempt—unique among Western nations—to combat the pandemic through voluntary measures. Like other Europeans, Swedes are now heading into the winter facing restrictions ranging from a ban on large gatherings to curbs on alcohol sales and school closures—all aimed at preventing the country's health system from being swamped by patients and capping what is already among the highest per capita death tolls in the world. The clampdown, which started last month, put an end to a hands-off approach that had made the Scandinavian nation a prime example in the often heated global debate between opponents and champions of pandemic lockdowns. (The Wall Street Journal)
India's Mystery Disease
One person has died and at least 315 have fallen sick after what officials called a possible outbreak of an unexplained illness in the southern Indian state of Andhra Pradesh. Authorities are yet to ascertain the cause of illness, which saw a huge spike in the numbers of people admitted to hospital in the town of Eluru. Around 170 of the patients have since been discharged, but those still in hospital include women, children and the elderly, officials said. The people affected showed a wide range of symptoms, including fits, nausea, shivering and some passing out. (The Independent)
US COVID News Only Gets Worse
Even as vaccines roll out -- with the first shots possible Friday -- the U.S. outbreak is expected to worsen, potentially reaching 400,000 fatalities by the end of January, said Scott Gottlieb, former commissioner of the U.S. Food and Drug Administration and a Pfizer Inc. board member. (Bloomberg)

The United States is winding up a particularly devastating week, one of the very worst since the coronavirus pandemic began nine months ago. On Friday, a national single-day record was set, with more than 226,000 new cases. It was one of many data points that illustrated the depth and spread of a virus that has killed more than 278,000 people in this country, more than the entire population of Lubbock, Texas, or Modesto, Calif., or Jersey City, N.J. "

It's just an astonishing number

," said Caitlin Rivers, a senior scholar at the Johns Hopkins Center for Health Security. "We're in the middle of this really severe wave and I think as we go through the day to day of this pandemic, it can be easy to lose sight of how massive and deep the tragedy is." (The New York Times)
U.S. Outbreak Has Not Peaked Yet
Covid-19 numbers are expected to get worse over the next four to six weeks, Scott Gottlieb, former commissioner of the U.S. Food and Drug Administration and a Pfizer Inc. board member, said Sunday on CBS's "Face the Nation." Infections are not likely to peak until the end of December or into January while deaths probably will peak in the middle of January, he said.
By year end, Covid-19 deaths may reach 300,000 and by the end of January may be pushing 400,000, he said. Daily deaths consistently may be around 2,000 and could reach between 3,000 and 4,000 heading into the peak in January, he said. (Bloomberg)
HHS Chief Sees Vaccine for All Americans by Second Quarter
All Americans who want to get a Covid-19 vaccine should be able to do so by the second quarter of next year, Health and Human Services Alex Azar said. With the U.S. Food and Drug Administration due to decide as early as Thursday on emergency authorization for a shot developed by Pfizer Inc. and BioNTech SE, Azar and Moncef Slaoui, the head of the government's program to accelerate a vaccine, expressed confidence that the FDA would clear the way. "I've not heard of any red flags, but I'll have to leave that to the career scientists at the FDA who were digging through all the data," Azar said. (Bloomberg)
The Queen to Receive Vaccine
In the U.K., shots will begin on Tuesday. Queen Elizabeth II, 94, and her 99-year-old husband Prince Philip will both reportedly get shots within weeks, partly to encourage others to have the injections. The government also said that a no-deal Brexit won't affect supplies. (NewScientist)
U.K. Cases Highest in 10 Days
U.K. infections rose by 17,272 on Sunday, the highest since Nov. 26 and 20% above the seven-day average of 14,400. Images circulating online of busy shopping streets in the run-up to Christmas and a period of looser restrictions during the festive season have sparked concerns that infections could surge again toward the end of the year. Another 231 deaths were reported, down from 397 on Saturday. (Bloomberg)
Bavaria Tightens Lockdown
The German state of Bavaria is tightening its coronavirus lockdown regime, mostly banning people from leaving their homes starting from Dec. 9 and formally declaring a "disaster situation."
Previous and existing measures haven't sufficiently brought down infections in the region, the Bavarian government said in a statement on Sunday. Under the new rules, people will only be allowed to leave their homes if they have a valid reason. (Bloomberg)
Italy's Outbreak Slows
Italy's outbreak continued to slow on Sunday as the government prepares to ramp up restrictions ahead of the Christmas holiday season. The country reported 18,887 new infections compared 20,648 a week ago, and hospital and intensive therapy occupation also declined. The positivity rate rose to 11.6% amid lower-than-usual testing at Sunday. Deaths fell to 564 compared 662 on Saturday. (New York Times)
France's Pace of Infections Rises for Second Day
France reported 11,022 new cases, as the seven-day average increased for a second day to 10,573. Deaths rose by 174 to 55,155, the smallest increase in six weeks, while the number of Covid-19 patients in intensive care continued to decline from a mid-November peak. (New York Times)
South Korea Tightens Curbs as Cases Hit Nine-Month High
The social-distancing alert for the greater Seoul area was raised to 2.5 from 2, Prime Minister Chung Sye-kyun said on Sunday. All gatherings of more than 50 people will be banned, and restaurants will continue to be prohibited from serving customers after 9 p.m. and can do only take outs and deliveries. No spectators will be allowed into sporting events.
South Korea confirmed 631 cases on Sunday, the highest in nine months, while total deaths rose by five to 545, according to the Korea Disease Control and Prevention Agency. The greater Seoul area — which covers the capital, Incheon and Gyeonggi Province — is home to almost half of South Korea's population, and Chung acknowledged the disruption that the latest move would cause.
"The situation in the greater Seoul area is serious," Chung said at a Central Disaster and Safety Countermeasures meeting in Seoul City Hall. "The 2.5 level will be maintained for the next three weeks until the end of the year." (Bloomberg)
Buckling of Hospital Systems in America
The pandemic nightmare scenario—the buckling of hospital and health-care systems nationwide—has arrived. Several lines of evidence are now sending us the same message: Hospitals are becoming overwhelmed, causing them to restrict whom they admit and leading more Americans to needlessly die. The current rise in hospitalizations began in late September, and for weeks now hospitals have faced unprecedented demand for medical care. The number of hospitalized patients has increased nearly every day: Since November 1, the number of people hospitalized with COVID-19 has doubled; since October 1, it has tripled. Throughout that time, health-care workers have worried that hospitals would soon be overwhelmed. "The health-care system in Iowa is going to collapse, no question," an infectious-disease doctor told our colleague Ed Yong early last month. The following week, a critical-care doctor in Nebraska warned, "The assumption we will always have a hospital bed for [you] is a false one." These catastrophes seem to be coming to pass—not just in Iowa and Nebraska, but all across the country. A national breakdown in hospital care is now starkly apparent in the coronavirus data.
(The Atlantic)
–The STATS–
TODAY's TOTAL
GLOBAL CASES:
Johns Hopkins– 65,669,150
WHO–64,603,428
TOTAL GLOBAL DEATHS (WHO):
Today–1,500,614
Two Days Ago–1,456,687
EVOLUTION OF-GLOBAL CASES (WHO):
Today–64,603,428
Two Days Ago–
63,360,234
NEW CASES (WHO):
628,592
–Tracking the Virus Around the World–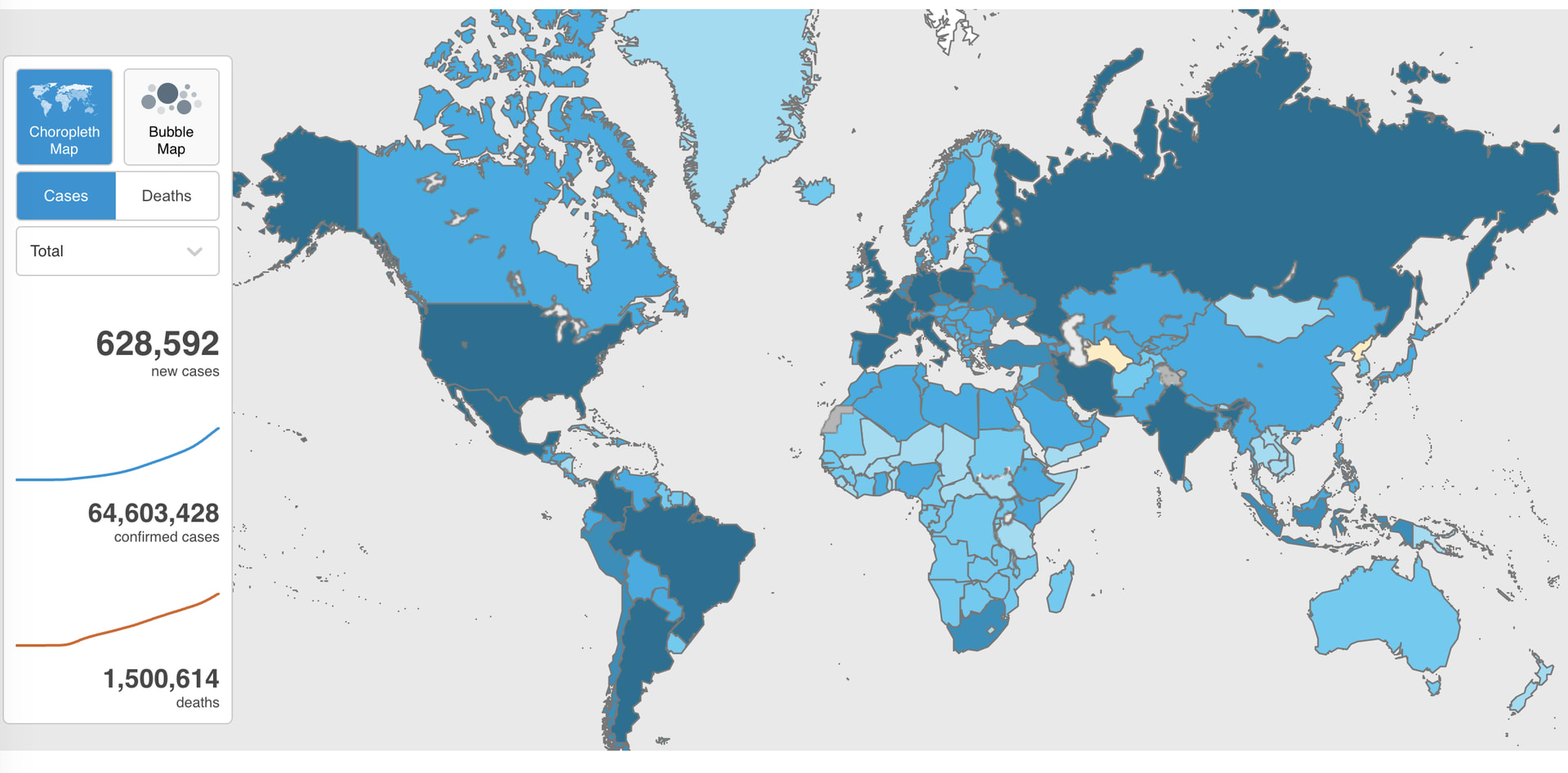 –FROM JOHNS HOPKINS CSSE–
The Cultures of Dignity Resources for Supporting
Social-Emotional Wellness
From Cultures of Dignity

,

For the Social-Emotional Tiny Guides from Rosalind Wiseman and Charlie Kuhn– a gift to our AAIE community– resources with no fee but plenty of insight.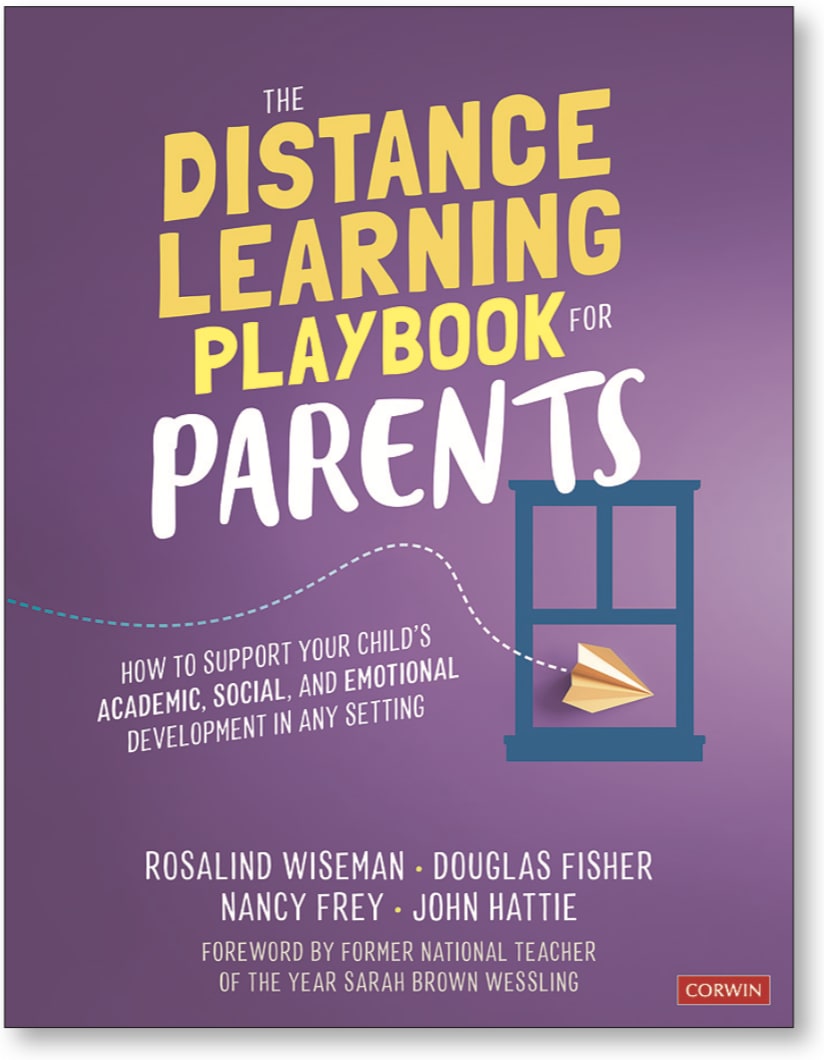 Rosalind Wiseman's newest book:

"Distance Learning Playbook for Parents–How to Support Your Child′s Academic, Social, and Emotional Development in Any Setting
A Final Note: The AAIE COVID-19 Briefing is provided to support your leadership for the school community you serve. We encourage you to use these resources in any way, shape or form that helps you, your communications and toward furthering close relationships across your community. – The AAIE Board