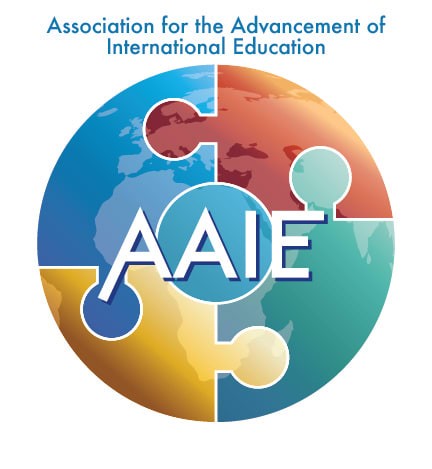 –Monday–
AAIE's COVID-19
BRIEFING #84
Editor's Note: During summer holiday, the BRIEFING will be published on Monday, Wednesday and Friday of each week.
July 13, 2020
Highlights
12,970,605 Cases World-wide–

(Johns Hopkins CSSE)

The

CASEL SEL

Roadmap for school reopening–a remarkably practical an implementable resource– key to your own reopening planning

Community Engagement– Dharavi district in Mumbai as a success story

Airborne transmission of COVID-19 and our international school classrooms

Thursday's

CONVERSATIONS

continue: Many ideas and candor always

Making the hard curriculum choices for re-entry

MIT asks, "How safe is it to send kids back to school?" And for the adults?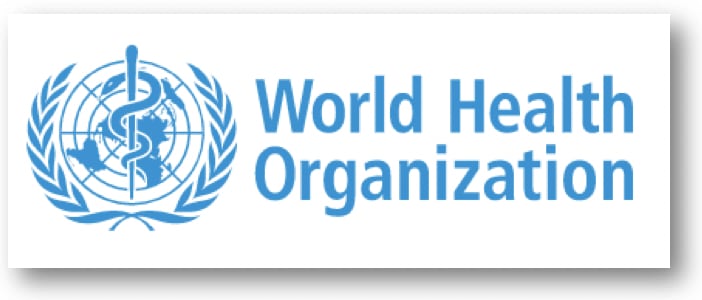 On Breaking the Chains of Transmission
"We need leadership, community participation and collective solidarity.

Only aggressive action combined with national unity and global solidarity can turn this pandemic around.

There are many examples from around the world that have shown that even if the outbreak is very intense, it can still be brought back under control.

And some of these examples are Italy, Spain and South Korea, and even in Dharavi – a densely packed area in the megacity of Mumbai – a strong focus on community engagement and the basics of testing, tracing, isolating and treating all those that are sick is key to breaking the chains of transmission and suppressing the virus."
–Dr Tedros Adhanom Ghebreyesus
–Casel's Social Emotional School Reopening Plan–
Four Critical Practices for Reopening
EDITOR'S NOTE: A just published SEL roadmap for reopening our schools. You will read into the document a USA-centric perspective, but clearly the concepts and essential questions apply to our international school context. The CASEL Roadmap is grounded by the five SEL competencies, 1) Self-Awareness, 2) Self-Management, 3) Social Awareness, 4) Relationship Skills, and 5) Responsible Decision-making.
As is stated within the CASEL Roadmap:
"The return to school this year will be unlike any other in our history and will be emotionally charged for students and adults. This moment will call on all members or our school communities to deepen our social and emotional competencies and create equitable learning environments where all students and adults process, heal, and thrive. CASEL's five core social and emotional competencies, situated within the contexts of classrooms, schools, and communities, may feel familiar to many educators, but take on deeper significance as we navigate a very different type of schooling."
–with thanks to Robin Heslip, Sonia Keller and Shabbi Luthra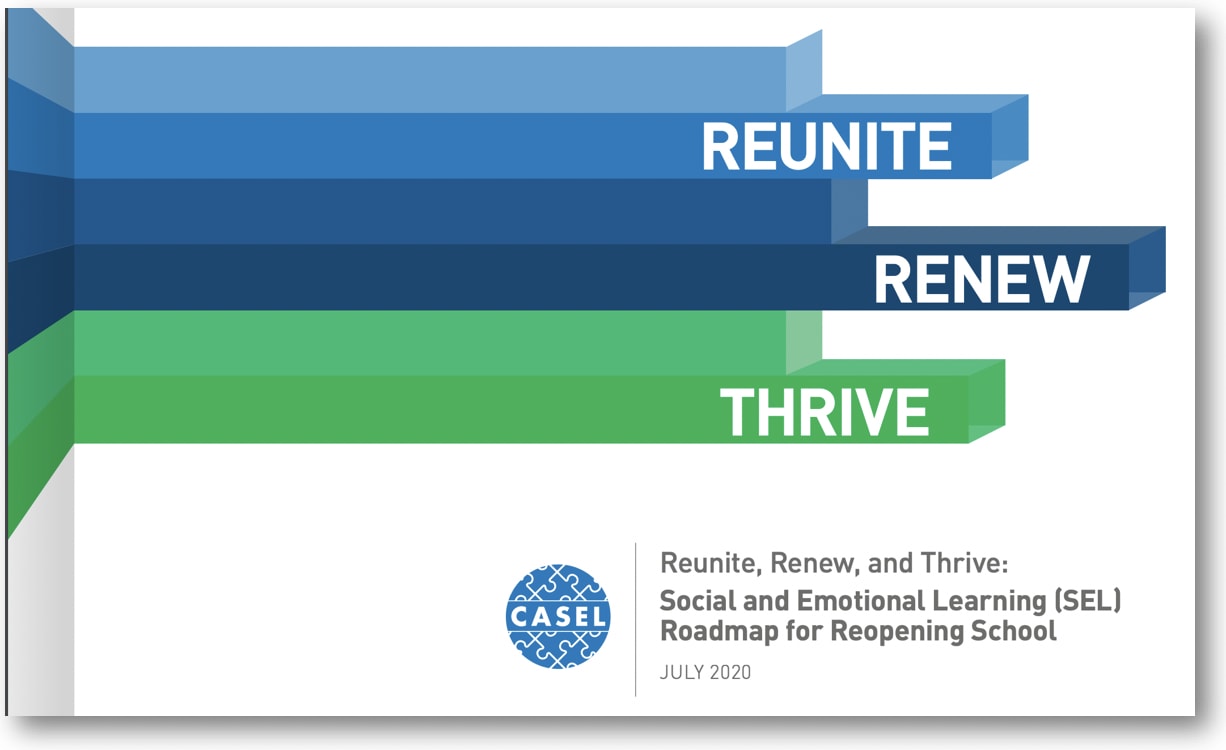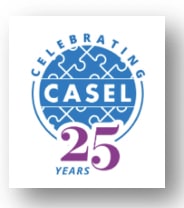 THE PROBLEM: "We face the layered impact of school closures (e.g., loss of school-based relationships, routines, and learning); COVID-19 (e.g., on health, isolation, stress, and trauma); economic crisis (e.g., unemployment, impact on school budgets), and persistent, pernicious racial inequities exacerbated by the pandemic and amplified by the nationwide mobilization for racial justice reflected in the Black Lives Matter movement."
The CASEL roadmap supports the return to school with equity-focused SEL strategies centered on relationships and built on the existing strengths of a school community. Schools—in partnerships with their communities—can use these four SEL Critical Practices to foster the competencies and learning environments that students and adults need to reunite, renew, and thrive.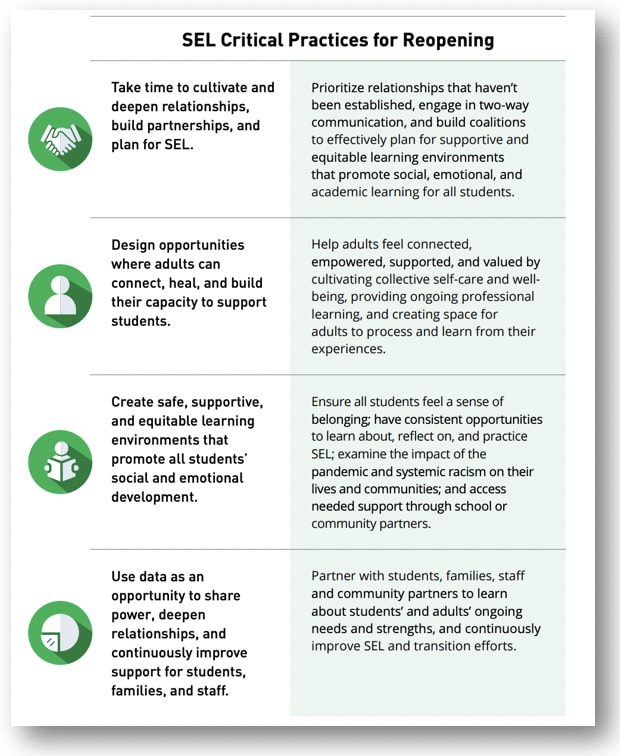 "This roadmap offers four SEL Critical Practices divided into specific activities to help schools create supportive learning environments and foster social, emotional, and academic learning as we reunite and renew through a global pandemic and mobilization against systemic racism.'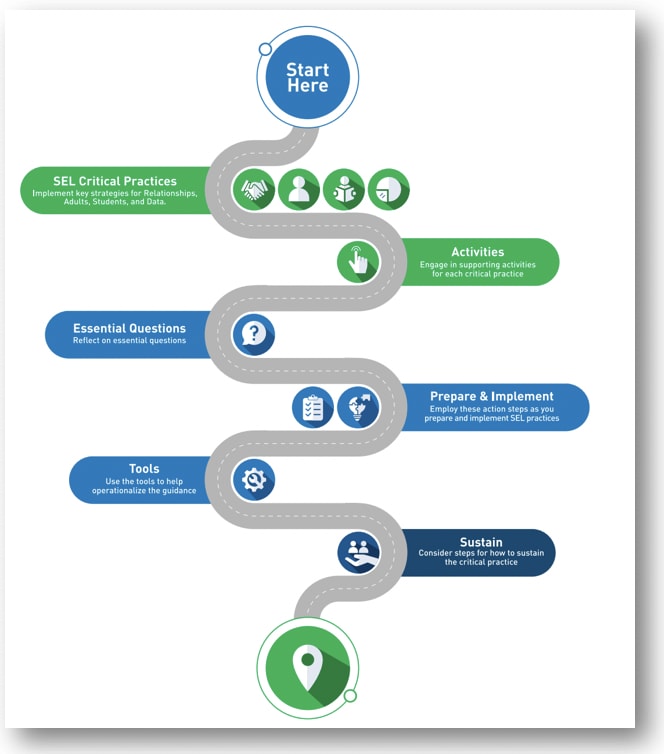 "...and each activity provides a set of essential questions intended to prompt you and your school community to reflect and pause, followed by a roadmap of action steps as you prepare and implement SEL practices throughout the school year and beyond. Each activity also provides links to a curated set of user-friendly tools to help operationalize the guidance. At the end of each Critical Practice you can find recommendations to sustain the work."
And an organizer to support your senior leadership discussions–
an excellent resource for scenario planning as well.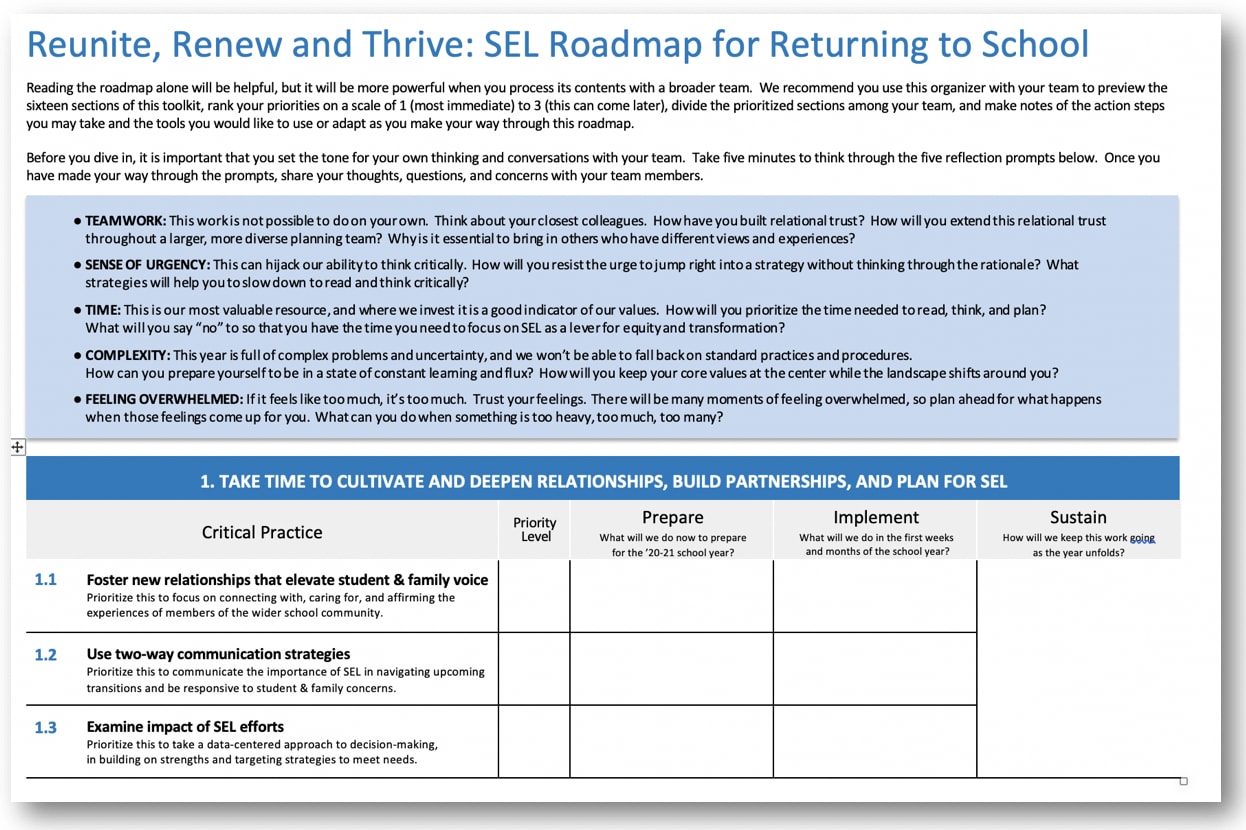 CLICK HERE FOR ORGANIZER TO USE WITH YOUR LEADERSHIP TEAM:
"You can adapt the guidance and tools to meet the needs of your school community as you leverage SEL to reunite, renew, and thrive. Use this reflection activity and organizer with your team to preview the full roadmap and prioritize the activities that are the right next step for your school."
–NEXT WEEK's CONVERSATION– (summer schedule)
A Remarkable Discussion This Week– Be with us on July 16
Our Global Leadership Community- Together
Twenty Weeks Running
A Weekly CONVERSATION between School Heads and Senior Leaders #20
Maybe the most important CONVERSATION of all– talking together on the most pressing issues, from enrollment, community safety, seniors seeking college student visas and the upcoming reopening decisions.
We are finding hope because we are in this thing together. A full measure of candor, debate and problem-solving in the mix of unprecedented leadership demands and creative problem-solving.
With thanks to Will Richardson who has facilitated our Thursday CONVERSATIONS since the very beginning.
NOTE: Our Thursday leadership community gatherings will continue throughout the summer months.
–THE NEWS of COVID-19–
12,970,605 Cases Worldwide (Johns Hopkins CSSE)
The US remains the main hotspot for the disease,
followed by Brazil, India, and Russia.
Editor's Note: The MIT Technology Report is carrying the most updated view on coronavirus airborne transmission. The information is significant to international school classrooms and safety for children and adults alike.
Feature Research: The Case for Airborne Transmission
(from MIT Technology Review)
If the coronavirus is really airborne, we might be fighting it the wrong way.
Airborne transmission would mean there are certain solutions we really need to focus on.
"WHO stopped short of redefining SARS-CoV-2 (the virus that causes Covid-19) as airborne but did acknowledge that more research is "urgently needed to investigate such instances and assess their significance for transmission of COVID-19."
"I honestly don't know what people are waiting for," says microbiologist Chad Roy of Tulane University in the US. "It doesn't take WHO coming out to make a proclamation that it's airborne for us to appreciate this is an airborne disease. I don't know how much clearer it needs to be in terms of scientific evidence."
"So what does "airborne" really mean in this context? It's basically an issue of size. We're pretty sure that SARS-CoV-2 is spread through tiny droplets that contain viral particles capable of leading to an infection. For a virus to be airborne, however, means a few different things, depending on the expert you're talking to. Typically it means it can spread via inhalation over long distances, perhaps even through different rooms, of small particles known as aerosols.
"That's why when you ask some of the professionals if the virus is airborne, they'll say it's not, because we're not seeing transmission over those sorts of distances," says Lisa Brosseau, a retired professor of public health who still consults for businesses and organizations.
"There is also some debate on what we mean by "aerosol." The droplets that carry viral particles through the air can come in all sorts of sizes, but while the larger ones will drop quickly to the ground or other surfaces, the smaller ones (just a few microns across) can linger in the air for a while, giving them a chance to be inhaled. The word is mostly used to describe these smaller particles, although Brosseau would prefer the term "aerosol transmission" to cover the entire gamut of inhalable viral particles being expelled into the air—large and small alike.
"If SARS-CoV-2 is airborne, it's far from the only disease. Measles is notorious for being able to last in the air for up to two hours. Tuberculosis, though a bacterium, can be airborne for six hours, and Brosseau suggests that coronavirus superspreaders (people who seem to eject a larger amount of the virus than others) disseminate the virus in patterns that recall the infectiousness of tuberculosis.
"Masks can limit the spread of larger particles, they are less helpful for smaller ones, especially if they fit only loosely. "I wish we would stop relying on the idea that face coverings are going to solve everything and help flatten the curve," she says. "It's magical thinking—it's not going to happen." For masks to really make a difference, they would need to be worn all the time, even around family.
"One of the biggest questions we still have about Covid-19 is how much of a viral load is needed to cause infection. The answer changes if we think it is aerosols that we need to worry about. Smaller particles won't carry as large a viral load as bigger ones, but because they can linger in the air for much longer, it may not matter—they'll build up in larger concentrations and get distributed more widely the longer an infected person is around to expel aerosolized virus. The more people you have coming in and out of an indoor space, the more likely it is that someone who is infected will show up. The longer those infected individuals spend in that space, the higher the concentration of virus in the air over time. This is particularly bad news for spaces where people congregate for hours on end, like restaurants, bars, offices, classrooms, and churches."
The evidence that this type of transmission is happening with SARS-CoV-2 arguably already exists. Several big studies point to airborne transmission of the virus as a major route for the spread of Covid-19. Other studies have suggested the virus can remain in aerosolized droplets for hours. One new study led by Roy and his team at Tulane shows that infectious aerosolized particles of SARS-CoV-2 could actually linger in the air for up to 16 hours, and maintain infectivity much longer than MERS and SARS-CoV-1 (the other big coronaviruses to emerge this century). We still don't know what gives SARS-CoV-2 this airborne edge. "But it may be one reason this is a pandemic, and not simply a small outbreak like any other coronavirus," says Roy.
How to stay safe

Whether the virus is airborne isn't simply a scientific question. If it is, it could mean that in places where the virus has not been properly contained (e.g., the US), the economy needs to be reopened more slowly, under tighter regulations that reinforce current health practices as well as introducing improved ones. Our current tactics for stopping the spread won't be enough.
Roy would like to see aggressive mandates on strict mask use for anyone leaving home. "This virus sheds like crazy," he says. "Masking can do an incredible amount in breaking transmission. I think anything that can promote the use of masking, to stop the production of aerosols in the environment, would be helpful."
CLICK HERE for full article
MIT Steps Up to Ask:
Is it safe to send kids back to school?
"Some teachers will be elderly, and there's no easy answer for them. They're incredibly high risk. The fear is that it won't be possible to maintain the safety measures when school returns in full in September."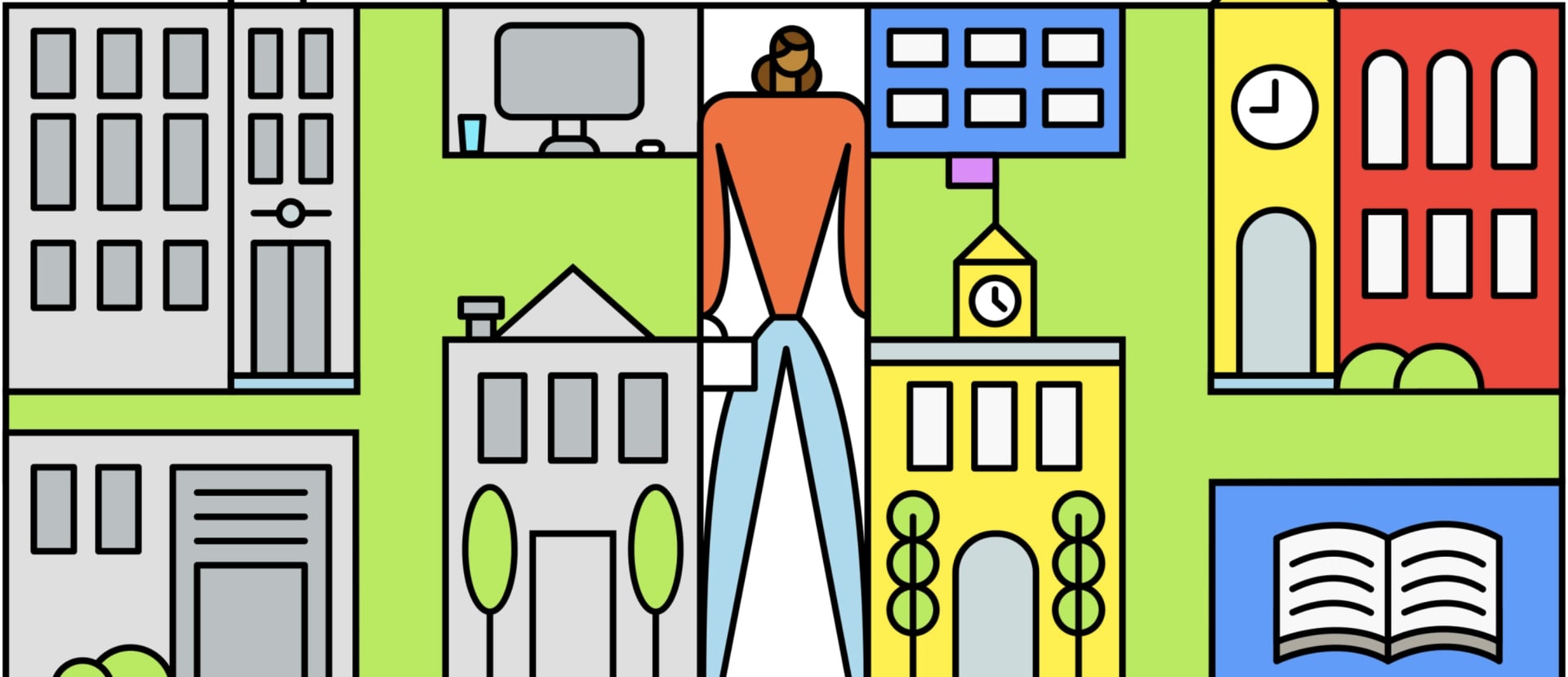 MIT Tech Report seeks to answer the
following three questions:
How susceptible are children to Covid-19?

How badly does it affect them?

And do they spread it to others?
NOW...Other News
Your Voice and Covid-19
Testing for Covid-19 currently involves a deep throat saliva sample or the dreaded nasal swab. But it might soon be as simple as listening to the sound of your voice. By some estimates, asymptomatic carriers of the new coronavirus make up 40 per cent of all cases. Researchers at MIT believe changes in people's voices might indicate whether or not they have been infected. By analyzing audio data from asymptomatic coronavirus carriers, researchers from the MIT Lincoln Laboratory have proposed a way to detect signs of Covid-19 by using audio samples. A person's voice needs to be analyzed by a computer, though, as the changes are too subtle to be picked up by human ears. (South China Morning Post)
No Summer Reprieve
Newly reported cases of the novel coronavirus in the United States reached their highest levels in July and continue to ascend, a troubling trend that shows it will take a lot more than heat to slow the spread, said Aaron Bernstein, interim director for Climate, Health and the Global Environment at the Harvard T.H. Chan School of Public Health. "We now know that the summer is not going to grant us reprieve," Bernstein said Friday. "It's certainly possible that warm weather and humidity can slow the spread of the virus, but it's clearly not enough to stop widespread transmission." (via The Washington Post)
India Remains a Concern
India's coronavirus cases have passed 800,000 with the biggest spike of 27,114 cases in the past 24 hours, causing nearly a dozen states to impose a partial lockdown in high-risk areas. The new confirmed cases took the national total to 820,916. The Health Ministry on Saturday also reported another 519 deaths for a total of 22,123. A surge in infections saw the cases jumping from 600,000 to more than 800,000 in nine days. The ministry said the recovery rate was continuing to improve at more than 62%. Eight of India's 28 states, including the worst-hit Maharashtra, Tamil Nadu and New Delhi, account for nearly 90% of all infections. (AP)
Rumors Out of Kazakhstan– another deadly pneumonia?
Kazakhstan's health ministry has dismissed a Chinese embassy warning that the Central Asian nation had an outbreak of an "unknown" pneumonia that was deadlier than the new coronavirus, saying it was a misunderstanding of the official count. In a statement on its Facebook page on Friday, the ministry said the information given by the Chinese embassy was "incorrect". The statement came a day after the Chinese embassy in Kazakhstan issued a warning to Chinese citizens about pneumonia of unknown cause in the country. "In the first half of this year, 1,772 have died of pneumonia in Kazakhstan and 628 died in June alone, including Chinese citizens," the Chinese embassy said. "That mortality rate of that disease is far higher than Covid-19 and Kazakhstan authorities are conducting a comparative study of the virus and there is no clear definition yet." (via South China Morning Post)
The Oxford Vaccine is the Leading Candidate
With governments all over the world pouring money into it, the effort to get a vaccine has come to resemble a more urgent version of the space race. According to a tally maintained by the Milken Institute, an American think-tank, 180 vaccines are in development. In late June China waved through an emergency authorization to allow its armed forces to use a vaccine that remains incompletely tested. A number of American vaccines are doing well, but have yet to progress to late-stage testing. Soumya Swaminathan, chief scientist for the World Health Organisation, says the Oxford vaccine is the leading candidate.
Oxford's vaccine is already in three late-stage trials. Only one other vaccine, developed by Sinopharm, a Chinese firm, has started a late-stage trial, and it does not have the global support and finance that Oxford's does. AstraZeneca, a British pharmaceutical company, is building an international supply chain to make sure that the vaccine is available "widely and rapidly".
It might be clear by the end of August whether or not the vaccine is effective. A single successful trial showing efficacy would allow a regulator to approve the vaccine for emergency use—something that would probably pave the way for use in high-risk groups. That could happen in October. The firm thinks that full approval, which would require results from multiple trials, could come early in 2021. Vaccine development routinely takes 10-15 years, so this would be a remarkable result. (The Economist)
CLICK HERE for full article
Short-Lived Immunity?
Immunity to covid-19 may be short-lived, according to a new longitudinal study of people who have caught the disease and recovered.
The study: Researchers at King's College London repeatedly tested 96 patients and healthcare workers who had had Covid-19 for antibodies between March and June. The researchers found that levels of virus-fighting antibodies peaked about three weeks after symptoms started, then rapidly fell away. Although 60% of participants produced a "potent" antibody response while they had Covid-19, only 17% had the same level of potency at the end of the three-month testing period. Antibody levels were higher and longer-lasting in people who had had more severe cases of Covid-19. For some milder cases, it was impossible to detect any antibodies at all at the end of the three months. The research is published in a pre-print paper in medRxiv, which means the findings have yet to be subject to peer review.
What it means: The study raises the prospect that, like other coronaviruses, Covid-19 could reinfect people repeatedly. If that's the case, "herd immunity" may never arrive, either through a one-shot vaccine or through community spread of the virus, as any protective antibodies would wane with time. (MIT Technology Download)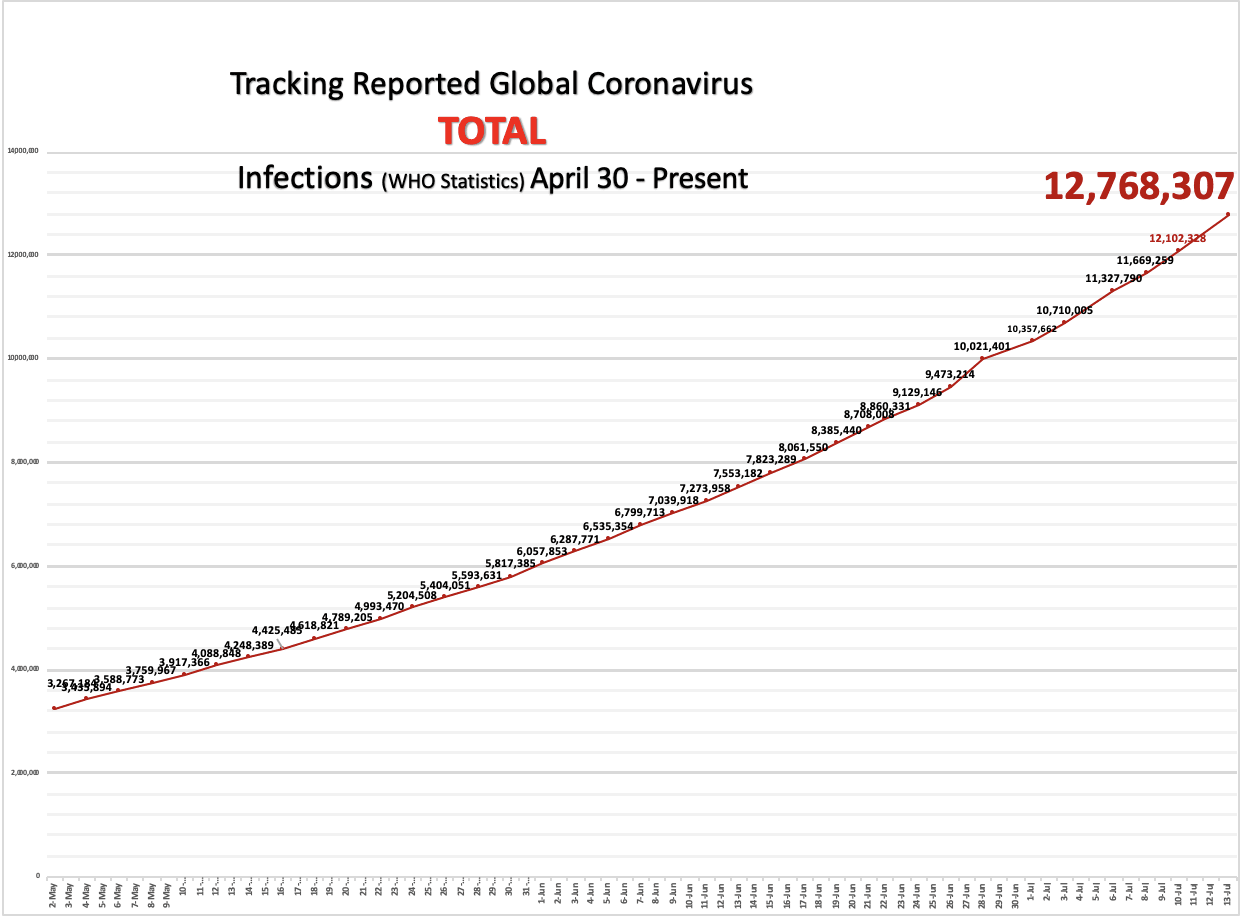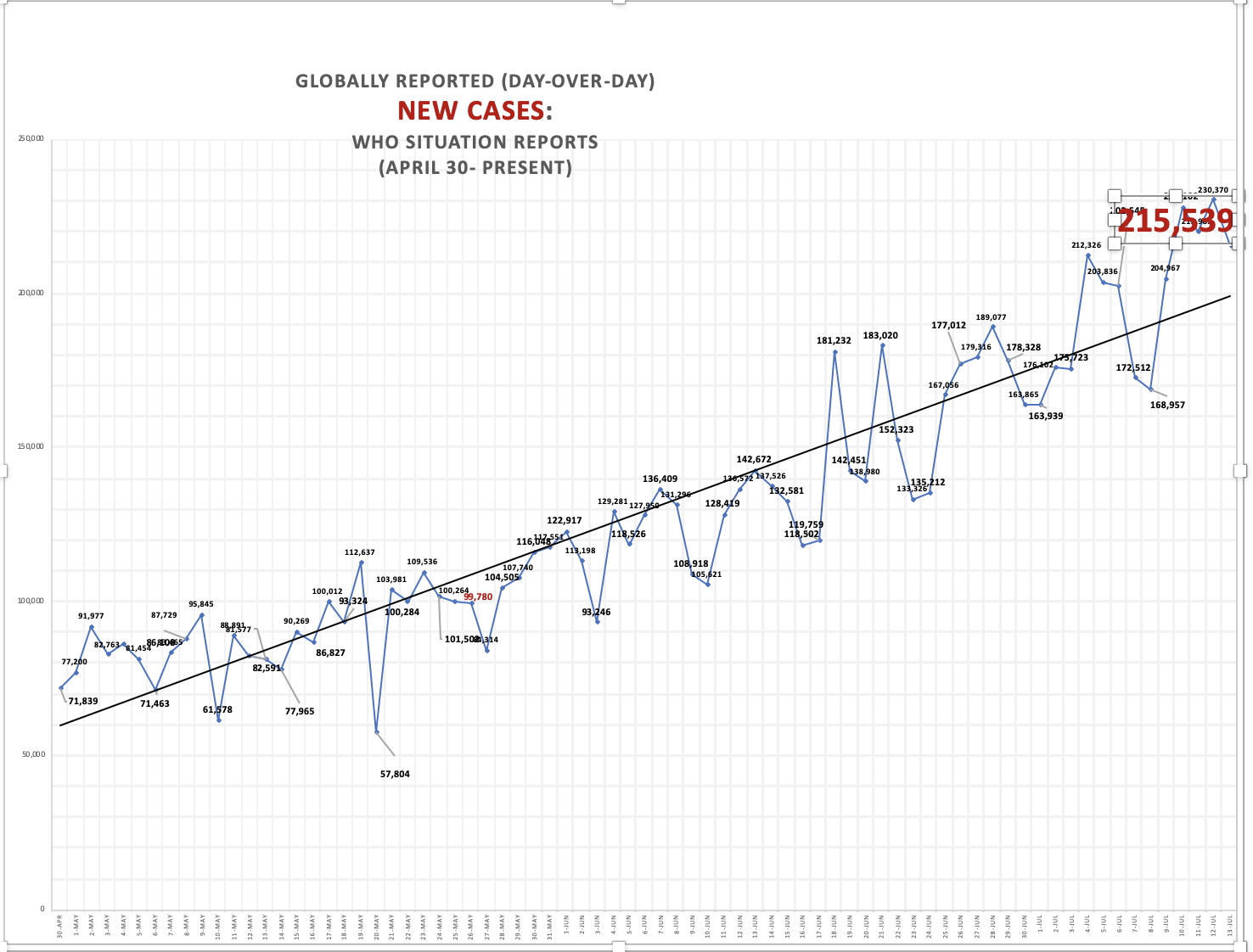 –COVID-19 Quote–
"I'm actually of the mind right now, I think this [COVID-19] is more like a forest fire. I don't think that this is going to slow down. I'm not sure that the influenza analogy applies anymore. I think that wherever there is wood to burn, this fire is going to burn. And right now we have a lot of susceptible people."
–Dr. Michael Osterholm
–The STATS–
TOTAL GLOBAL CASES:
Johns Hopkins
12,970,605
WHO– 12,768,307
GLOBAL DEATHS (WHO):
Today–566,654
Three Days Ago–551,046
One Month Ago–
408,025
EVOLUTION OF-GLOBAL CASES (WHO):
Today–
12,768,307
Three Days Ago–12,102,328
One Week Ago–
11,500,302
One Month Ago–
7,553,182
NEW CASES (WHO):
Today–215,539
Three Days Ago–228,102
One Week Ago–
172,512
One Month Ago–
142,672
–A Webinar: "Making Hard Choices: Readjusting Your Curriculum for Reopening School"–
How to think about identifying and prioritizing choices in curriculum and instruction as we plan for school re-entry this fall

Understand how schools and networks are collecting, articulating, and prioritizing the challenges and opportunities for re-entry in the fall

Hear school leaders' perspective on their process for planning for re-entry
– With thanks to Shabbi Luthra, Consilience
–FROM THE WHO and JOHNS HOPKINS CSSE–
From the WHO

, the Situation Report for July 13

,

2020
From the WHO

, The European Region Dashboard
From Cultures of Dignity

,

For the Social-Emotional Tiny Guides from Rosalind Wiseman and Charlie Kuhn– a gift to our AAIE community– resources with no fee but plenty of insight.



A Final Note: The AAIE COVID-19 Briefing is provided to support your leadership for the school community you serve. We encourage you to use these resources in any way, shape or form that helps you, your communications and toward furthering close relationships across your community. – The AAIE Board