QUICK LINKS for Busy People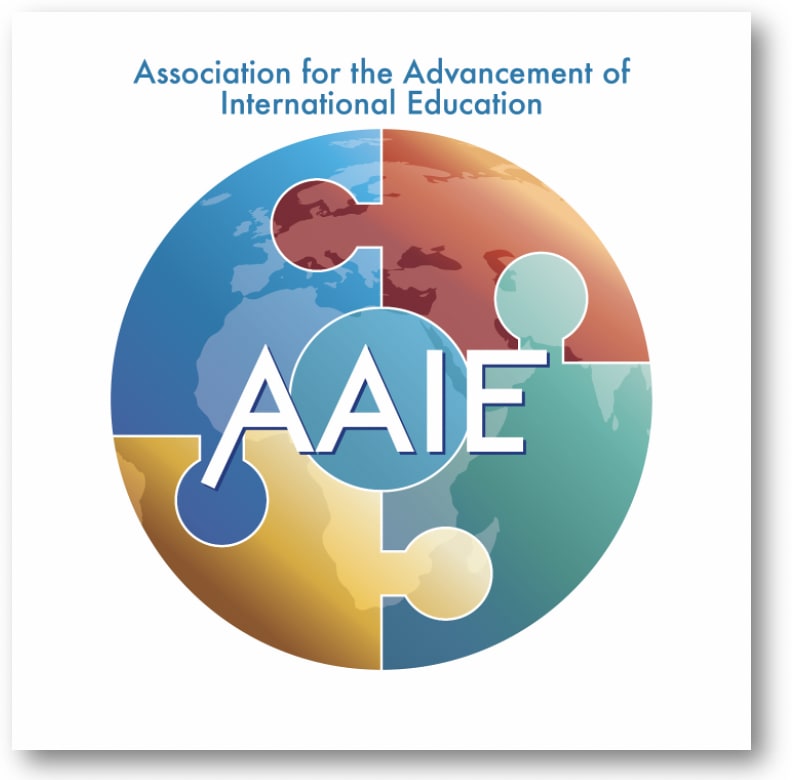 –WEDNESDAY–
AAIE's COVID-19 BRIEFING
#175
Data and Ideas to Support Your Crisis Leadership
February 19 , 2021
110,547,030 Cases Worldwide

NEXT WEEK'S

CONVERSATIONS

Re-culturing our schools post-Covid

Masking against a variant 50% more infectious

The New School Project building key connections

One School's New Normal

What kids say about "Learning Loss"

COVID becoming endemic, what 89% of scientists say

What the Vatican has to say...
"The number of global new cases reported has continued to fall, with 2.7 million new cases, a 16% decline over 500,000 fewer new cases compared to the previous week. The number of new deaths reported also fell, with 81,000 new deaths reported, a 10% decline as compared to the previous week. A total of five out of six WHO regions reported a double-digit percentage decline in new cases, with only the Eastern Mediterranean Region showing a 7% rise.
"Europe and the Americas continue to see the greatest drops in absolute numbers of cases. Meanwhile, the number of new deaths declined in all regions."
–WHO Situation Report
(with thanks to Bob Hetzel)
The Laughing Heart
your life is your life
don't let it be clubbed into dank submission.
be on the watch.
there are ways out.
there is light somewhere.
it may not be much light but
it beats the darkness.
be on the watch.
the gods will offer you chances.
know them.
take them.
you can't beat death but
you can beat death in life, sometimes.
and the more often you learn to do it,
the more light there will be.
your life is your life.
know it while you have it.
you are marvelous
the gods wait to delight
in you.
— by Charles Bukowski
–NEXT WEEK'S CONVERSATIONS–
with International School Leaders from Around the World
"CULTURE EATS STRATEGY
FOR LUNCH"
Optimism and Opportunity in a
Post-Covid Landscape
Presenter: Kevin Bartlett
Despite the pandemic, or perhaps because of it, schools around the world are being re-energized by a vision for a new kind of school, a coherent learning culture co-created with learners, teachers, leaders, parents and governors. This session unpacks the why, how and what of this 'movement', sharing a practical toolkit for bringing a new level of simplicity and system to the work of learning leadership. We borrowed our title from *Drucker; we'll spend our time showing how right he was.
WEDNESDAY
24 February 2021
8:00AM EST
OUR WEEKLY GLOBAL
LEADERSHIP CONVERSATION #49
Our international school leadership CONVERSATIONS continue– the place where we take on the dilemmas of leading our school community through a global pandemic. ALL SENIOR LEADERS ARE INVITED– More voices and more perspectives as we take on all too many dilemmas together.
PLEASE DO SEND YOUR QUESTIONS OR ISSUES YOU WISH TO DISCUSS
THURSDAY
25 February 2021
8:00AM EST
THE LATIN AMERICA CONVERSATION #37
Hosted by Sonia Keller and Dereck Rhoads, the unique leadership context of Latin America provides the backdrop for crisis leadership and discussions on school sustainability.
THURSDAY
25 February 2021
10:00AM EST
THE AAIE NEW SCHOOL PROJECT: SEVEN PRINCIPLES
Our deliberations on the SEVEN PRINCIPLES that can guide NEW SCHOOL thinking for the future of international education continue.
FRIDAY
26 February 2021
8:00AM EST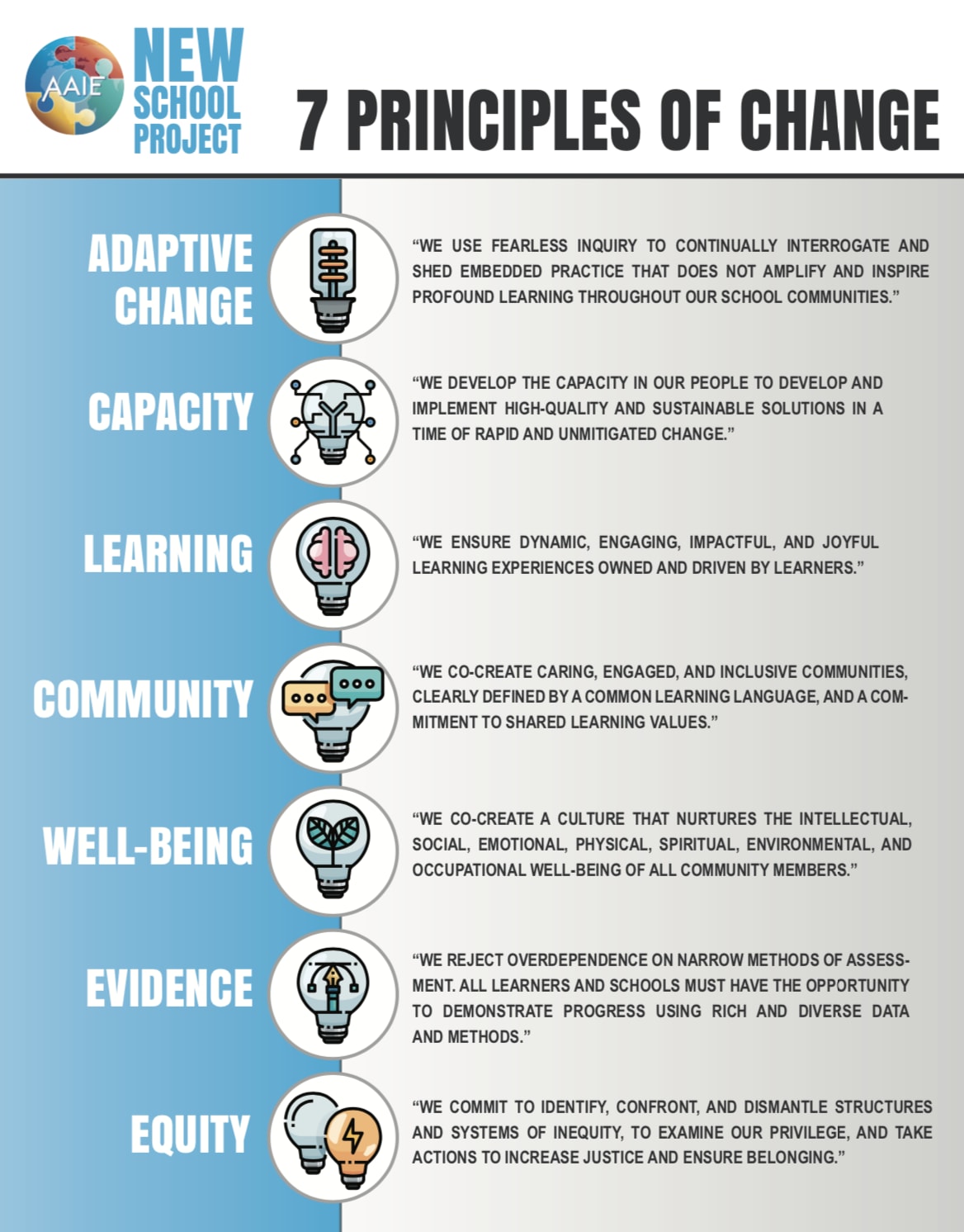 After 14 weeks of "sense-making" around seven New School Principles, participants brought their A-game to today's discussion centered on more holistic questions such as: We've built the pieces, now how do we see the principles as a whole? How do the principles connect? What connections do you find interesting? Challenging? Exciting?
Even if you haven't been able to participate in our Friday explorations, you can consider the 7 Principles and how they connect and might live in your school.
Next week we will dedicate the session to exploring an open question: What might we build to help us live the principles in our schools? We will encourage teams to consider the story of their schools: How might you live one or more of the Principles honestly and authentically? And how will you share that story?
This has been a challenging and invigorating process for participants and we look forward to sharing what's next with our ground-breaking New Schools Project.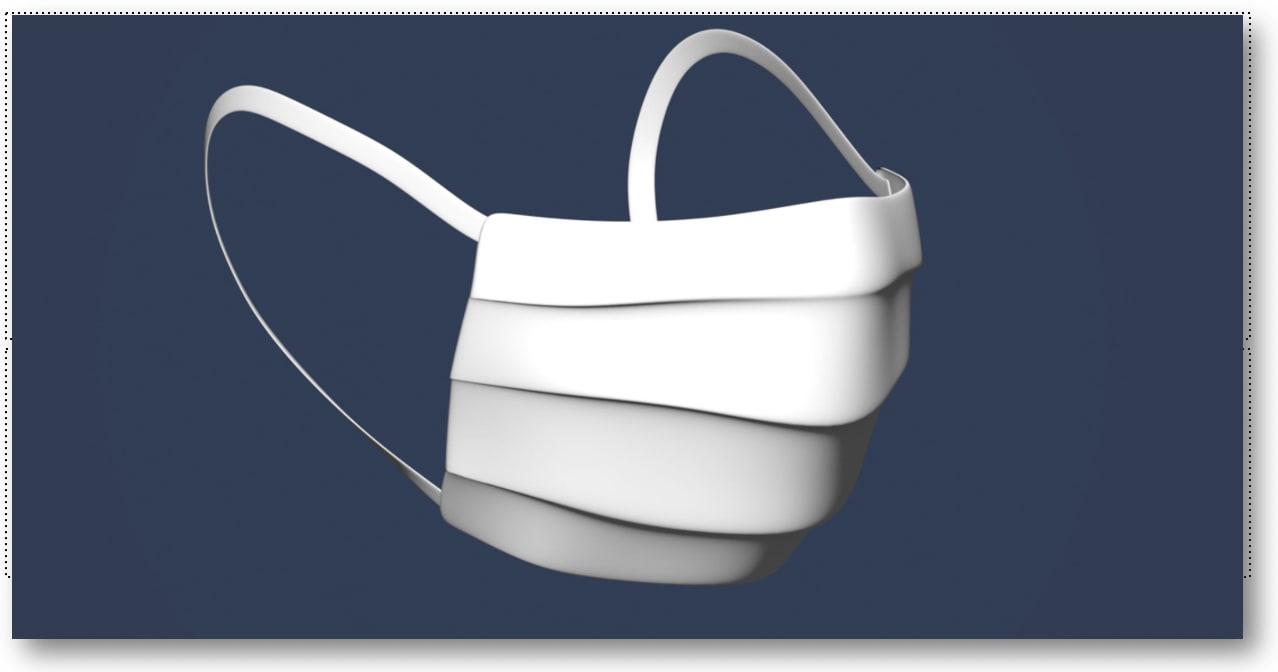 A VIDEO HACK:
Ways to Make Masking More Effective with Variants 50%
More Infectious
Thanks to Canadian Broadcasting Company
One School's Declaration of the New Normal
–by Dr. Jessica Gilway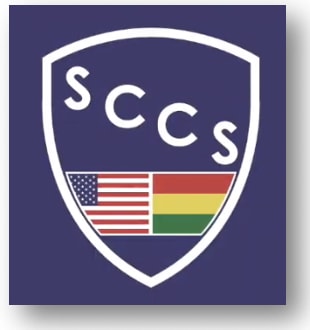 Santa Cruz Cooperative School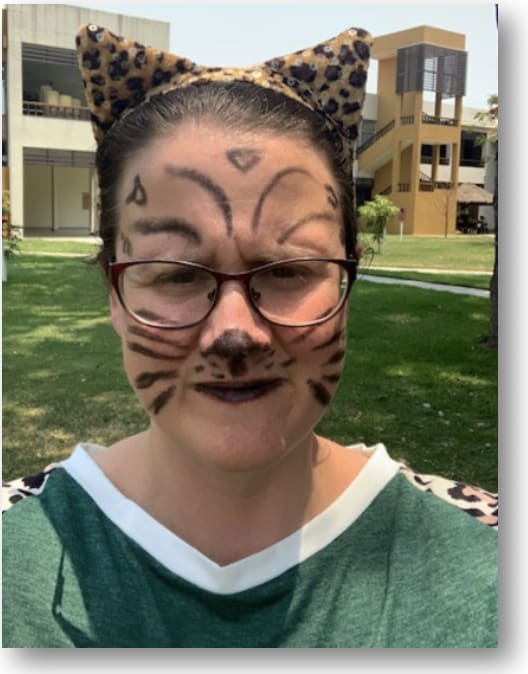 Dr. Jessica Gilway, Director and
"Chief Enthusiasm Officer"
At SCCS, we have settled into our new normal during the 2020-2021 school year. We started the year with our virtual learning program, and implemented an extremely successful online learning program from August until December. We had momentum and things were going as well as can be expected considering the conditions. We looked at virtual learning as an opportunity to update, renovate, and innovate our educational, technological, pedagogical, operational, and professional practices. It was a team effort to build and sustain a successful online learning program, and it was also a team effort to simultaneously get our campus ready for the eventual return of our long-awaited students.
Our campus crisis team worked tirelessly starting in September to update our campus with the biosecurity protocols, practices, and installations. Our staff received training in October, November, and December on campus. We ended December with a bang as we invited our elementary students to do a Holiday Drive through with their teachers (and to meet them for the first time in person) - this was a highlight for students and teachers alike. The most inspirational day on campus was when everyone one of our Jaguar staff pitched in from guards, cleaning/maintenance staff, administrative staff, and academic staff to put up signs, place dots on the floor, spread out cones, install sinks, and so much more with an incredible amount of care and love! You could feel the love for our community and the intense shared desire to have students on campus again soon. Finally we reached our goal and we were ready to have students on campus!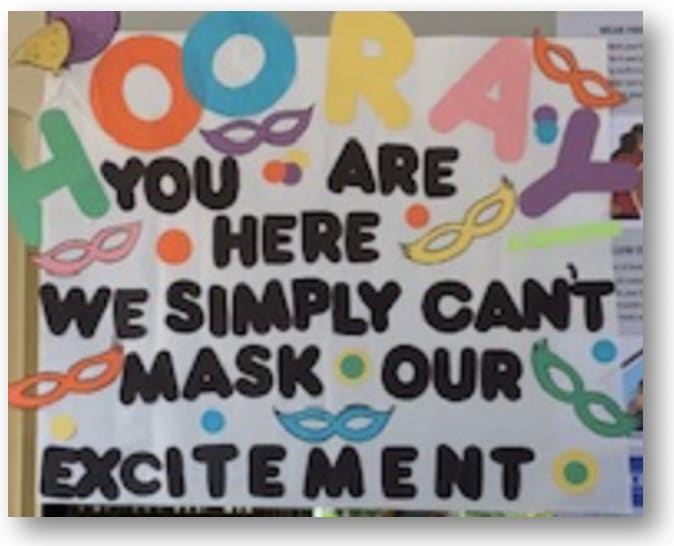 With our staff ready and waiting to return, and our campus ready to receive students, our next step was to build confidence in our readiness in our SCCS families and community. Our first step was to inform our parents through a series of weekly community updates. Then, we sought permission from the local government and invited students back to campus for the first time in 11 months for a special Carnaval Walk-Up Event. In preparation for this special event, we filmed our Jaguars Come Together: SCCS Reopening Video. This video highlighted the significant investments in time, energy, technology, infrastructure, signage, and training that our board, directors, faculty, and staff had made to prepare for the campus reopening. Then, last week. it was finally time!
We welcomed students back to campus for their individualized face-to-face visits with teachers last Wednesday through Friday wearing our SCCS Jaguars Carnaval casacas and armed with Valentine's day cookies, and gifts of spray foam and water balloons. We encouraged students "Don't roam, stay at home and spray your foam!" The campus came back to life - awakening after an 11 month rest, and the excitement was palpable as students, teachers, and families alike exclaimed that it was the best day of the school year (and it really was!)
We wanted students and families to see first hand that we were ready for a safe return to campus, and they felt it! Finally we ended this special event with the release of our Jaguars Come Together video which helped to build community, enthusiasm, comfort, and confidence in our biosecurity preparations. Our community (faculty, students, and families) could see and feel from our significant efforts that we really are ready for the Jaguars to Come Together again - putting safety first!
Students Respond to Adults' Fixation on
'Learning Loss'

Thanks to Wayne Rutherford, Director, ASMilan
"Here's the truth that too many adults who don't directly work with young people refuse to acknowledge: When our youths are frightened, disconnected, grieving, or anxious, they aren't learning. Their brains aren't taking in our lessons, or holding on to the Common Core standards. Their amygdalas are in charge, and adults just sound like Charlie Brown's "teacher."
There's a lot of talk about students suffering "learning loss" because of the pandemic—what does that mean, and how concerned should we be?
The phrase "learning loss" is everywhere in articles and discussions about COVID's impact on education. Many have concerns about how that phrase is being interpreted by policymakers now and what the responses to that interpretation could look like in the fall.
Not a 'quantity over quality' approach
Neema Avashia is an 8th grade civics teacher in the Boston public schools, where she has taught for the last 18 years. She was a 2013 Educator of the Year in the city of Boston:
"If our educational response to the pandemic is more of the same tired approaches that we were already trying before the pandemic—pages of standards, longer school days, more and more and more assessment—it will fail, just as it was failing prior to the pandemic. We have an opportunity to think and plan differently in this moment—to build a system that is responsive to the needs of the students it purports to serve. Doing so requires that we begin by listening to those young people and amplifying what they say they need, as opposed to what we as adults think they need.
"The phrase "learning loss" is everywhere. Uttered by governors at press conferences as a rationale for reopening schools. Emailed out by consultants who offer "ground-breaking solutions" to addressing it. Batted back and forth in heated debates on Twitter between those who are wringing their hands over it and those who say, "Kids are surviving a pandemic, not losing learning." And every time I hear another adult use the phrase, I wonder: Is learning loss the most pressing concern on my students' minds? Or are there other losses that hit harder?
"Here's the truth that too many adults who don't directly work with young people refuse to acknowledge: When our youths are frightened, disconnected, grieving, or anxious, they aren't learning. Their brains aren't taking in our lessons, or holding on to the Common Core standards. Their amygdalas are in charge, and adults just sound like Charlie Brown's teacher. If we are going to address the academic loss that may have occurred during the pandemic, then we also need to fully understand the other kinds of loss our young people have experienced and have plans in place to support them through those losses.
"As a veteran teacher in the Boston public schools, one important lesson I've learned from my students is that everything I plan with them goes much better than anything I plan without them. In the context of pandemic schooling, this has proven particularly true. No adult alive right now fully understands what it means to be a student in school at this moment. What's worse is that the people in charge of making policy decisions are so far removed from the experience of pandemic schooling that their decisions don't even seem to reflect the lived realities of young people.
"Since the spring, I've created opportunities at least twice a month for restorative-justice circles during class where students have space to share how they are feeling, how school is going, and what they want adults to know in that moment. Each time we have one of these circles, I leave with 10 new ideas for how I can be a better educator to my students and how our school can adjust its practices to better support their well-being and their learning.
"I decided recently to have my students respond directly to this notion of learning loss. To see if it weighs on them in the same ways that it does for adults and to see how the solutions adults are proposing (extended school days and years, use of standardized testing to assess loss, academic intervention courses, etc.) land with young people. I created a circle with three questions:
During the pandemic, what are things that you feel like you've lost?
During the pandemic, what are the ways that you have seen yourself grow or learn new things?
Many adults in education right now are very focused on the idea of "learning loss." They think that kids are falling behind academically during the pandemic. What do you want those adults to know about you and your experience during the pandemic?
"I invited multiple circle-keepers to attend our Zoom class and broke students into small groups where they could have time and space to reflect deeply on these questions. I promised my students that I would share their ideas with the wider world, so that their thoughts could inform the policy conversation. The quotes below are directly pulled from the Google form that students completed to prepare for our circle."
Students reflect on their pandemic losses–
I lost my ability to be happy. Staying in the house is not for me. Basketball really helped my depression, and I can' t play it now.

I've lost a lot of interest in my friends. I stick to myself.

I lost family, I lost myself and what hurts me more is that I lost everyone who said they were going to be there for me.

I lost time I could have been enjoying my childhood.I have less motivation for school.

I've lost myself.
Students reflect on their pandemic gains and growth–
I used to feel like I didn't want to do school anymore, and because of the pandemic I had to think to myself that's not the path I want to go down. So I started changing and completing more work and focusing on myself instead of other people.

I'm starting to have more confidence in myself.

I am better at managing my time and my school work.

I feel more well-rested.

I am better at speaking out a little more.

I learned more about my people and I learned more about what people did to Black people then and now. I also learned to respect people's identity and try to find out my own. I also learned to love myself and to see who are my actual friends.

I haven't learned anything from school to be so honest because online school stresses me out so much.

Out of school I learned that you have to forgive everyone and love who's near especially in times like this.
Students respond to adult ideas about "learning loss"–
I think they are wrong because we have improved our grades and we try to do as much work as possible, also we learn more things from home because we are more focused.

This pandemic is already very stressful for students and giving us more work won't help. Also, it's very risky, since kids can bring back the virus and family members might not have the healthcare they need.

MY GRADES ARE BETTER now. Stop trying to change things because you are uncomfortable. Thank you.

I want them to know that some kids may be struggling, but some are having less of a problem with remote learning than others because every person has different experiences with things.

They have many opinions but they're not the ones who wake up and get on Zoom everyday.
Implications
"One of my students said it best when she said, "Adults' intentions might be good, but their solutions are really lacking." From listening to my students, three themes emerged that I have not yet heard discussed in depth in the policy conversations around post-pandemic schooling:
Post-pandemic schooling needs to focus on relationships. Students described losing connections to their friends, their teachers, and most painfully, to themselves. In our return to in-person schooling, rebuilding connection needs to be the priority. This will require smaller classes, better teacher-student ratios, and increased presence in schools of adults who both want to, and know how to, support students with re-establishing connections.
Post-pandemic schooling needs to prioritize mental health and wellness. There is no question that the pandemic has impacted student mental health. The question is whether simply putting students back into the classroom is going to address their struggles. And the answer to that question is a resounding no. Students with mental-health struggles often didn't have adequate support in our schools prepandemic. Over 430,000 Americans have died of COVID-19, and American schoolchildren will carry that grief with them when they come to school each day. We need to see a significant infusion of resources into mental-health services for young people, both in schools and out of them: into staffing and programming such that every student who needs support has access to it. This is something that has never existed in equitable ways across school districts in America, so the funding and planning should have begun months ago.
Postpandemic schooling needs to take a less-is-more approach. The adult anxiety around "learning loss" is completely tied to the "quantity over quality" approach to curriculum and standards that plagues our education system. One of the best moves we made as a school community this year was to change our schedule so that students only take three long classes at a time and alternate between "deeper learning" modules. This has supported students in managing their work, in focusing on core concepts, and in creating multiple opportunities for fresh starts for students who are overwhelmed or struggling. Students don't want to go back to a six-period day, and neither do I. We need to re-evaluate our approach to standards, deeply consider what is essential vs. what is extraneous, and encourage schools to build schedules, structures, and curriculum units that support deeper learning, rather than superficial coverage.
"Let's not return to our previous ways of educating students. We have an opportunity to think and plan differently in this moment. To build a system that is responsive to the needs of the students it purports to serve. A first step in doing so is to listen to our students."
STAYING UP-TO-DATE ON CORONAVIRUS SCIENCE
The risk of death from COVID-19 is more than triple that from seasonal flu, researchers in Canada say.
Their findings are similar to recent studies from the United States and France. The study was published Feb. 10 in the Canadian Medical Association Journal. "We can now say definitively that COVID-19 is much more severe than seasonal influenza," said study author Dr. Amol Verma, a researcher in the School of Public Health at the University of Toronto.
"Patients admitted to hospital in Ontario with COVID-19 had a 3.5 times greater risk of death, 1.5 times greater use of the ICU, and 1.5 times longer hospital stays than patients admitted with influenza," he said in a journal news release. These patients were also more likely to be put on a ventilator.
Verma's team compared flu- and COVID-related hospitalizations between Nov. 1, 2019 and June 30, 2020 at seven hospitals in Toronto and nearby Mississauga. Both have large populations and high COVID infection rates. During the study period, there were 783 hospitalizations for flu in 763 patients, and 1,027 hospitalizations for COVID in 972 patients. That represented nearly a quarter of all COVID hospitalizations in the entire province of Ontario during that time.
About 1 in 5 COVID patients was younger than 50, and that age group accounted for nearly 1 in 4 intensive care admissions. While many people believe COVID-19 mainly affects older people, "it can also cause very serious illness in younger adults," Verma said.
He noted that adults under age 50 accounted for 20% of COVID hospitalizations in the first wave of the pandemic. Nearly 1 in 3 adults under 50 required intensive care and nearly 1 in 10 had to be readmitted to the hospital after they were discharged, according to the study.
It is true, Verma added, that COVID hits older adults the hardest.
To boost protection against even mild disease, vaccine makers think they can adapt the existing shots to the variants without too much trouble. Vaccines based on genetic material, such as the Moderna and Pfizer immunizations, are especially well suited to these modifications, since scientists can easily swap in new genetic sequences as needed. Moderna plans on tackling variants with a two-pronged strategy.
The company intends to test a booster shot of its existing vaccine to see if bumping up antibody levels even higher can protect against emerging variants. Moderna has also begun manufacturing a new vaccine targeted specifically at mutations contained in the B.1.351 variant. The company president, Stephen Hoge, says that booster could be used with people who were immunized with the first Moderna vaccine, or a vaccine from a different company. He also says the shot could be used on people who already had a natural infection from the earlier virus but may be vulnerable to reinfection from one of the new variants.
In January, Nature asked more than 100 immunologists, infectious-disease researchers and virologists working on the coronavirus whether it could be eradicated. Almost 90% of respondents think that the coronavirus will become endemic — meaning that it will continue to circulate in pockets of the global population for years to come (see 'Endemic future').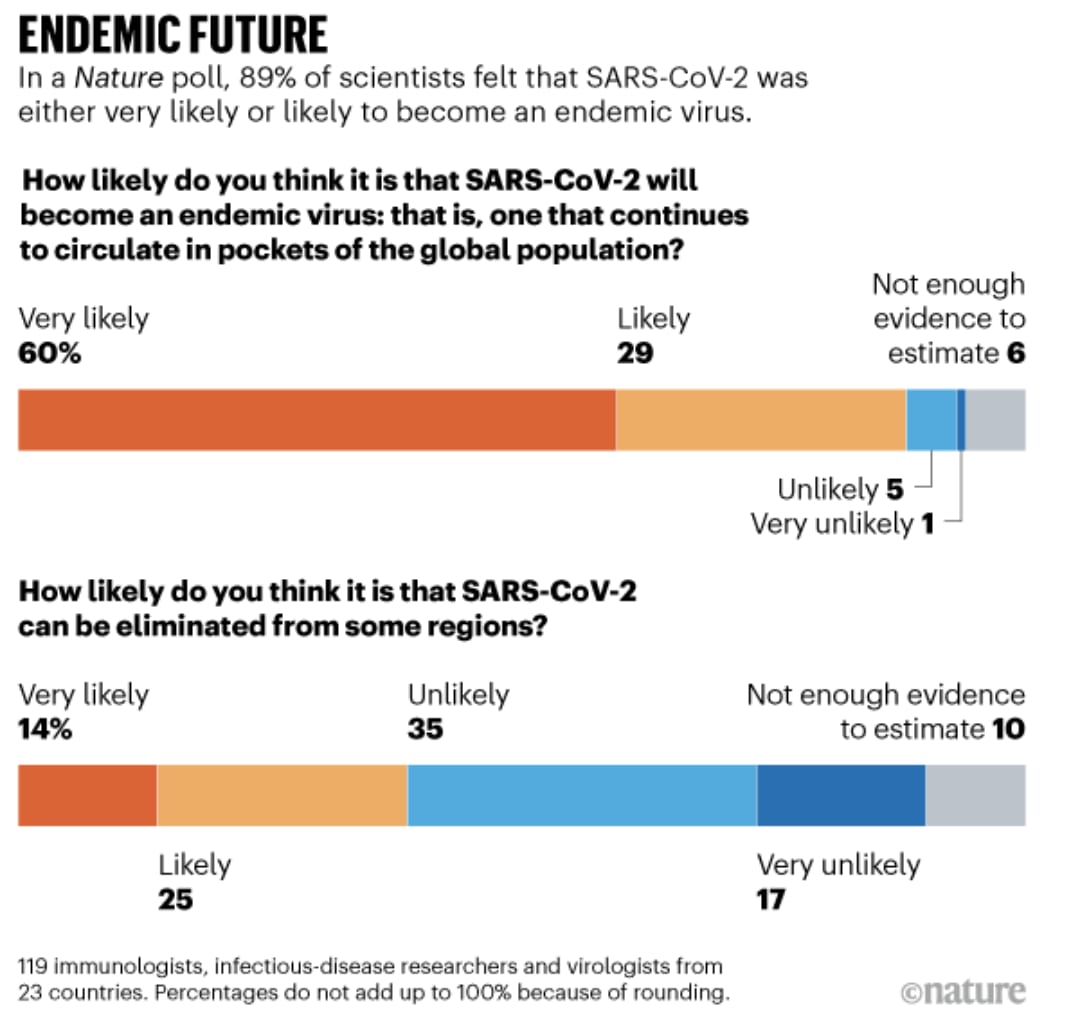 –THE NEWS of COVID-19–
110,547,030 Cases Worldwide (Johns Hopkins CSSE)
The Japanese Variant?
Health authorities in Japan say they have found more than 90 cases of a new variant of Covid-19. Chief Cabinet Secretary Katsunobo Kato told reporters the mutant variant known as E484K, has been found in 91 cases in the Kanto area of eastern Japan. There were also 2 cases at airports. It is believed that the strain came from overseas, but it is different from those that originated in Britain and South Africa, according to an earlier report citing Japan's National Institute of Infectious Diseases. Japan, which has just started its vaccination program, has had more than 400,000 cases of Covid, with 7,194 fatalities. (dw.com)
Virus Spread from Food Packaging Debunked
Coronavirus: US agencies dismiss China's theory of Covid-19 spread via food and packaging
United States agencies in charge of food safety have taken aim at a controversial theory backed by Chinese health officials, with a new statement saying there is no evidence
Covid-19 can spread via food and food packaging.
"After more than a year since the [Covid-19] outbreak was declared a global health emergency, [we] continue to underscore that there is no credible evidence of food or food packaging associated with or as a likely source of viral transmission," the heads of the US Food and Drug Administration and Department of Agriculture said in a joint statement on Thursday.
Few countries have been concerned about this potential kind of transmission, as Covid-19 is known to principally spread via droplets in the air when people are in close contact. But in China, where local disease spread is limited, it has become central to disease control measures
.
Millions of packages of imported frozen foods have been disinfected on entry into China and hundreds of thousands of samples tested for traces of the Covid-19 virus.
Chinese health authorities said they linked several infections among food workers in the country to contaminated frozen salmon, cod, and pig heads, citing positive swabs and no clear alternative source of infection. They have also raced to track down goods they say test positive, with Saudi shrimp, Chilean cherries and ice cream made with Ukrainian milk powder among goods highlighted in local news.
But scientists around the world say there is no clear proof that the infections in China were caused by handling these products. They say while theoretically possible, the risk of a food worker getting sick from touching a package that had been coughed or sneezed on by a sick person in another country, would be incredibly low. (South China Morning Post)
Potential for New Coronaviruses May Be Greater Than Known
As the coronavirus continues to evolve, the scientific and public health focus has been on new variants in which a few mutations make the virus more infectious, or even, it may be, more deadly.
These changes in the virus are all what scientists call point mutations, the substitution of one tiny bit of genetic code for another. Coronaviruses, as a group, are not known to mutate rapidly, but the pandemic caused by the virus SARS-CoV-2 means that millions and millions of people are infected by billions and billions of viral particles, offering countless chances for change.
There is, however, another more significant way that coronaviruses change. Individual viral particles exchange larger sections of genetic material, with another virus. If two different kinds of coronavirus inhabit the same cell, the result could be not a new variant, but a new species.
Three University of Liverpool researchers writing in the journal Nature Communications predicted, based on a computer analysis, that such events are far more likely than previously thought, and recommended monitoring of target species to watch for possible emergence of new coronavirus diseases.
The work pointed in some directions where scientists are already alert. They identified the lesser Asiatic yellow bat and the greater and intermediate horseshoe bats as animals where recombination would be more likely to occur. But their analysis also pointed to animals that scientists have been less focused on, such as the common pig, as a creature that should be monitored. (New York Times)
The Vatican is Promoting Vaccinations
But Won't Punish Those Who Decline
The Vatican has clarified that employees who refuse a coronavirus vaccine will not be punished, after pushback over an internal decree suggesting that those who did not get vaccinated could be dismissed.
Vatican City State said in a statement on Thursday that "alternative solutions" would be found for employees who did not want to be vaccinated.
That came in response to a heated debate over a Feb. 8 directive signed by Cardinal Giuseppe Bertello, the governor of the world's smallest state. It referred to provisions in a 2011 law for Vatican employees stating that any who refuse preventive health measures can be punished, up to "the interruption of the relationship of employment."
Pope Francis has said that coronavirus vaccinations are an ethical obligation, and called the refusal to accept them suicidal. Francis, 84, and his predecessor, Benedict VXI, 93, were among the first to be inoculated when Vatican City began its vaccination campaign last month.
The Feb. 8 decree called vaccinating "a responsible decision" for Vatican employees, and said that failure to do so was a risk for others and for public health. (New York Times)
Worldwide Vaccinations per 100 People: AS of February 18, 2021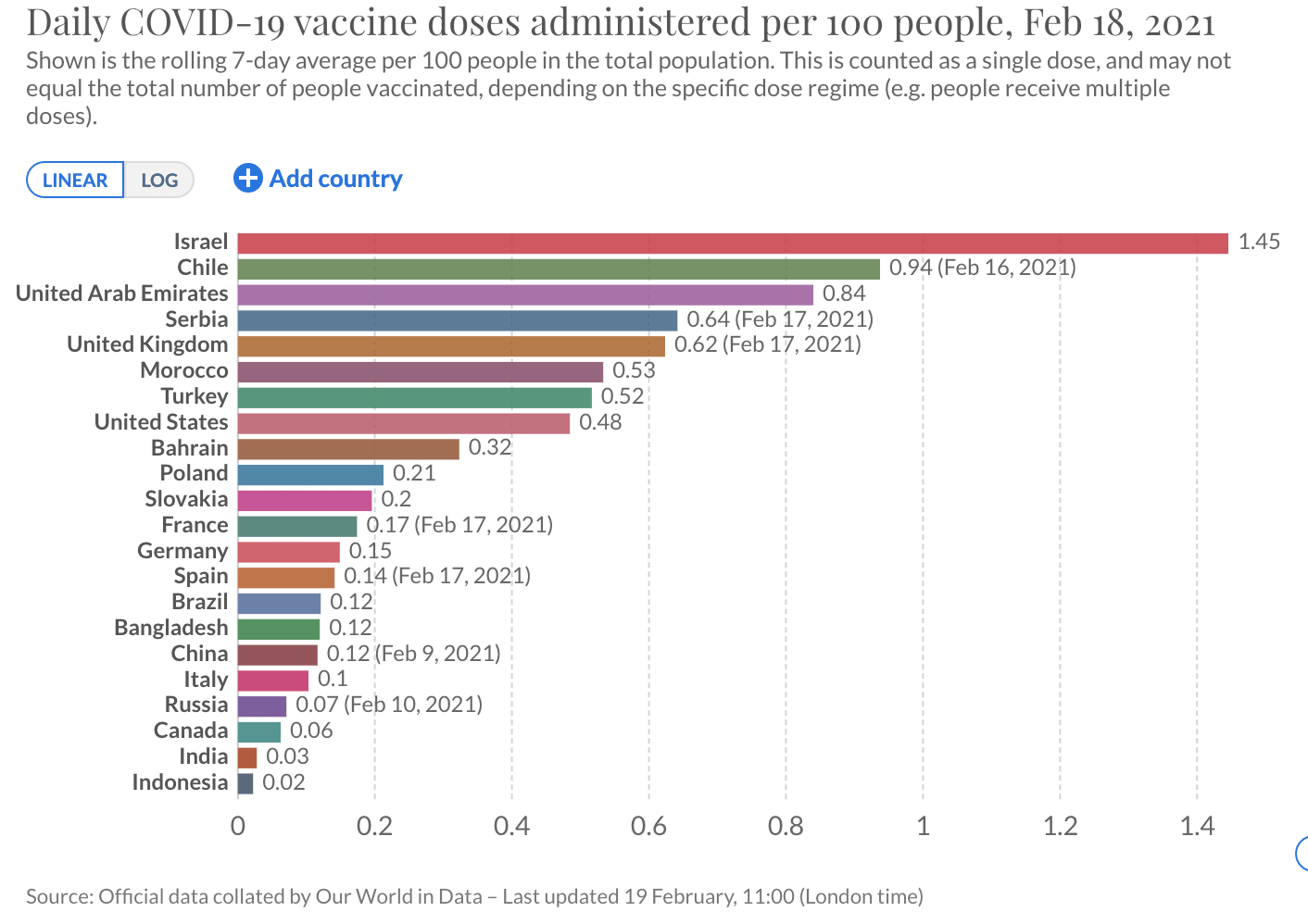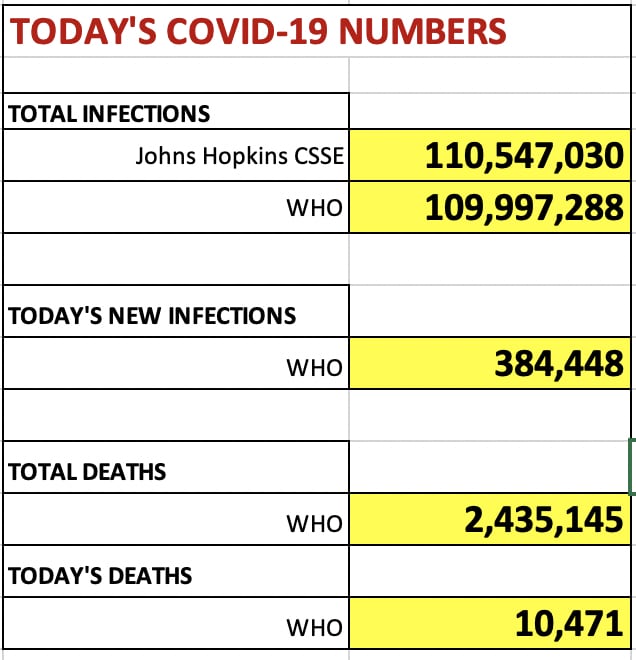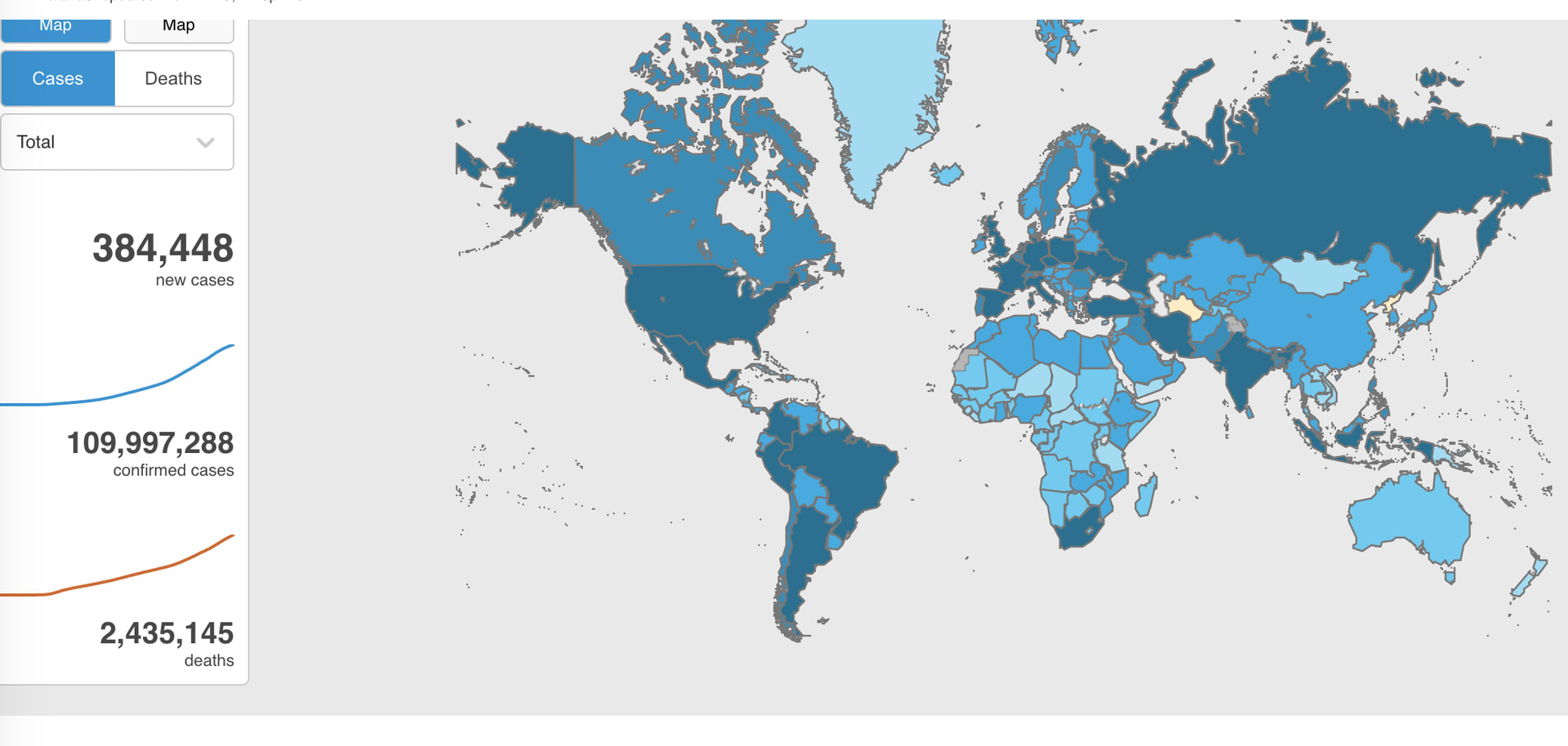 –FROM JOHNS HOPKINS CSSE–
From Johns Hopkins

CSSE,

the

Infection Rate World Graphic
The Cultures of Dignity Resources for Supporting
Social-Emotional Wellness
From Cultures of Dignity

,

For the Social-Emotional Tiny Guides from Rosalind Wiseman and Charlie Kuhn– a gift to our AAIE community– resources with no fee but plenty of insight.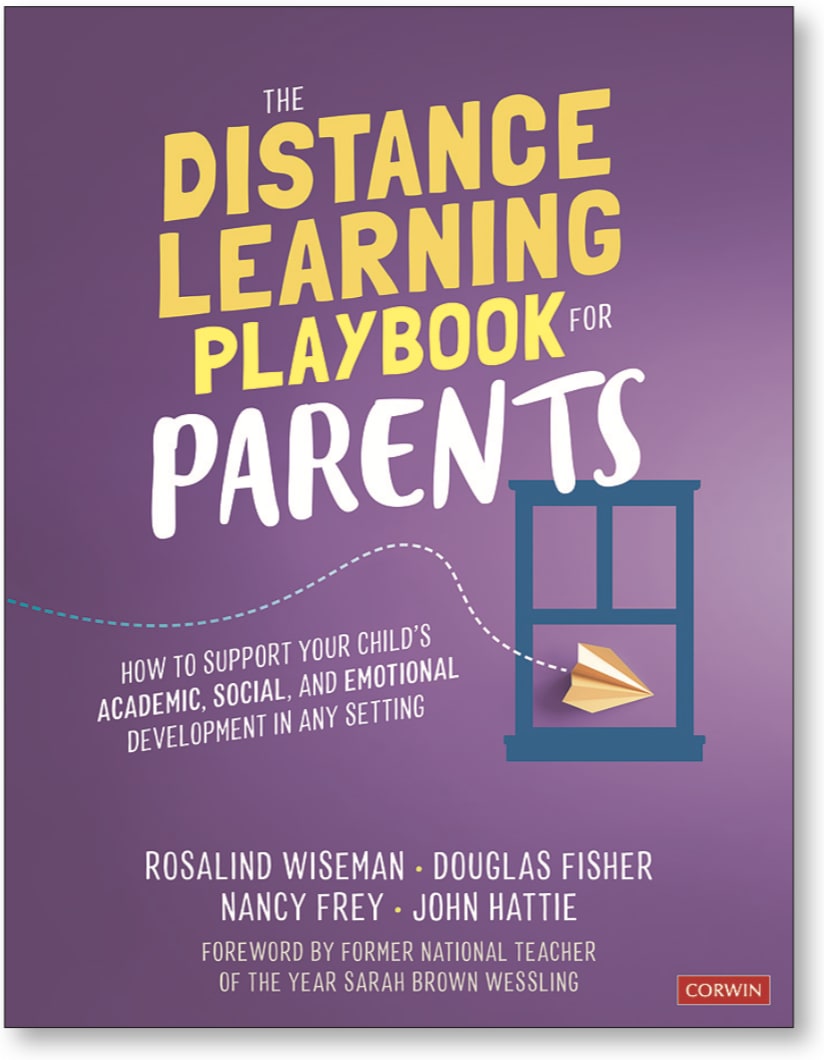 Rosalind Wiseman's newest book:

"Distance Learning Playbook for Parents–How to Support Your Child′s Academic, Social, and Emotional Development in Any Setting
A Final Note: The AAIE COVID-19 Briefing is provided to support your leadership for the school community you serve. We encourage you to use these resources in any way, shape or form that helps you, your communications and toward furthering close relationships across your community. – The AAIE Board