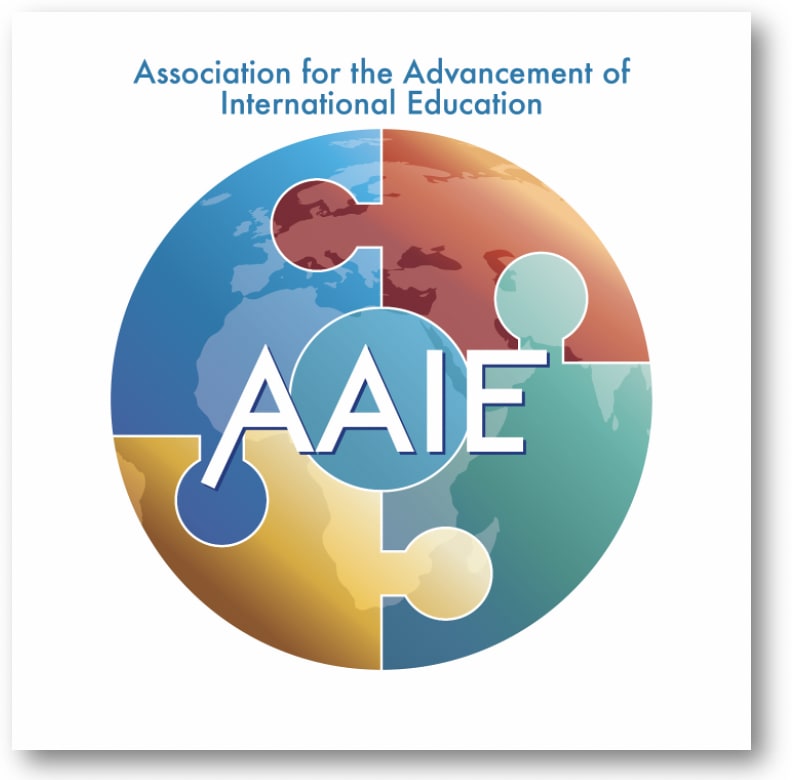 –Special Edition: SATURDAY–
AAIE's COVID-19 BRIEFING #197
Data and Ideas to Support Your Crisis Leadership
April 17, 2021
140,211,554 COVID-19 Cases Worldwide
Our weekly

CONVERSATIONS

continue
A message from the AAIE Board of Trustees

OVERHEARD during the final keynote session– Activist, Terry Tempest Williams

Angela Duckworth and why youth will bounce back

Cancelling the Olympics is still an option

Over 3,000,000 deaths worldwide

(Johns Hopkins)
inspiration from Bob Hetzel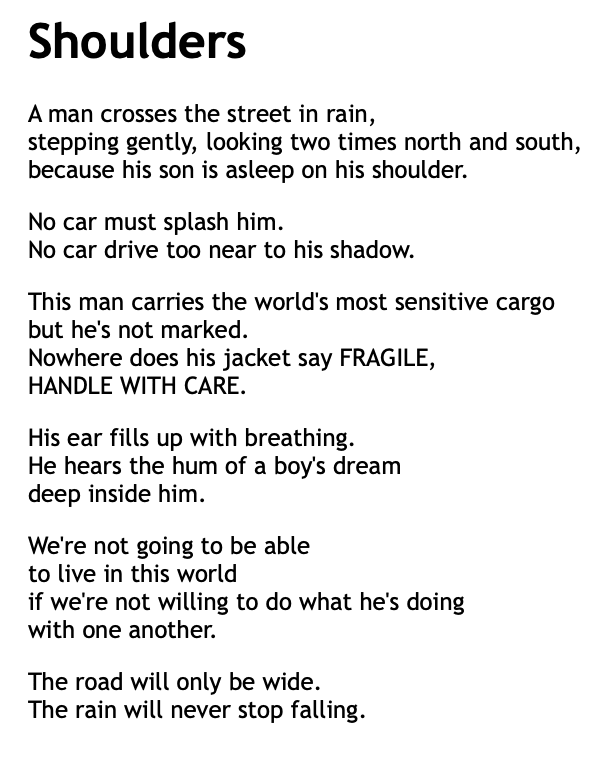 OUR WEEKLY CONVERSATIONS RESUME–
with International School Leaders from Around the World
WEDNESDAY
21 April 2021
8:00AM EDT
INNOVATION AND THE FUTURE OF EDUCATION NOW:
A DISCUSSION
SERIES #5
This week we are increasing the map of continents that are being represented in our weekly conversations on innovation and are very excited to announce ICS Addis Ababa and their team.
For ICS Addis Ababa
Holly Bowen Reardon- Executive Director of Learning
Kristine Greenlaw- High School Principal
Joshua Smalley- Inception Project Innovator
ICS will discuss The High School Inception Program:
At ICS we focus on being both Highly Effective and Learning Progressive. The Inception Program at ICS was developed to support our students as they develop their skills of learning to learn while digging deeply into content and conversations that they are passionate about.
April is also shaping up to be a very rich month in crisis leadership conversations, conversations about the "new school", conversations about diversity and belonging. Therefore, during the session we would like to invite all participants to actively join and share their schools' reflective conversations around any of the following topics:
breakthroughs in leading DEI discussions in our communities

innovative strategic planning processes

future accreditation paths you are thinking of pursuing

post-covid perspectives on "techwell" (i.e. technology and wellbeing done well)

anything else that is creating a positive learning buzz in your communities
THURSDAY
22 April 2021
8:00AM EDT
OUR WEEKLY GLOBAL
LEADERSHIP CONVERSATION #56
Our weekly global leadership CONVERSATION continues. where we place key leadership issues out front for all to see. Then we tackle the problem-solving as a community.
THURSDAY
22 April 2021
10:00AM EDT
THE LATIN AMERICA CONVERSATION #43
This week we renew our CONVERSATION, working together as we grapple with the unique leadership issues and context of Latin America.
"The Humans of AAIE"
The Final Keynote 2021
–OVERHEARD THIS PAST FRIDAY–
A Note From the AAIE Board of Trustees
Thank you for supporting the AAIE community each day of our virtual Global Leadership CONVERSATION. A first for us– coming together across cyberspace and finding new ideas and meaning from keynoters and our colleagues who stepped up to give back. Your leadership lives are so full, yet you were there raising the level of discourse and meaning-making. We were glad for Daniel Pink, Michael G. Thompson, Rob Evans, Jeri Lynne Johnson, David Sheff and Terry Tempest Williams as they brought us much. But maybe more so, we were proud they had the chance to better understand the sophistication, gifts and goodness of the AAIE community. We are weathering the pandemic storm because we know how to lean on each other and the power of CONVERSATION. And because you are part of AAIE. Thank you.
–on behalf of the AAIE Board of Trustees,
Dr. Oli Tooher-Hancock, President, AAIE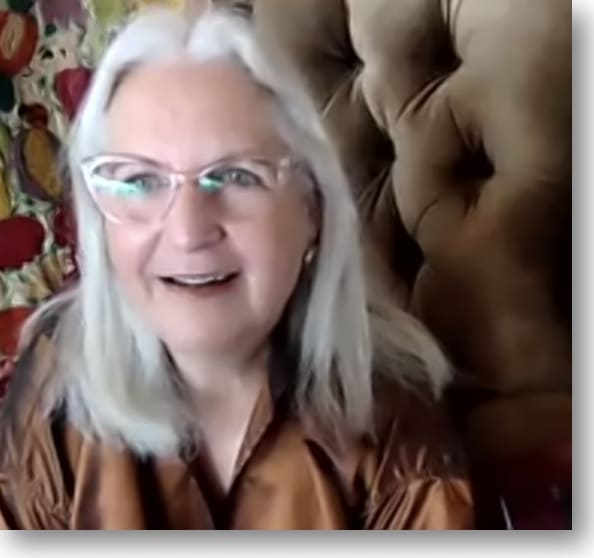 Overheard During Terry Tempest Williams' KEYNOTE Speech – Friday, April 16, 2021
"The gift of the pandemic is in reflecting on who we are and what we'll become. How do we find beauty in a broken world? I think we create beauty in the world we find and we can do that in our classrooms."
"We all have our gifts and those gifts need to be employed now and they're different for each of us. What binds us together, what brings us joy, what makes us laugh, what makes us cry, and how do we grieve together? It's all the same story."
"I will never write your obituary because even as you burn you are throwing down seeds that will sprout and flower, trees will grow and forests will rise again as living testaments to how one survives change. It is time to grieve and mourn the dead and believe in the power of renewal. If we do not embrace our grief, our sadness will come out sideways in unexpected forms of depression, loneliness, and violence. We must dare to find a proper ceremony to collectively honor the dead. Only then can we begin the work of restoration, respecting the generations to come as we clear a path toward cooling a warming climate. This will be our joy. Let this be a humble tribute, an exaltation, an homage and an open-hearted eulogy to all we are losing and all that has brought us to our knees. May we remember this and raise a fistful of ash to all of the lives lost that it holds … grief is love."
"How can we hold this grief without holding each other? To bear witness to this moment of undoing is to find the strength and spiritual will in becoming. I will mark my heart with an X made of ash that says the power to restore life resides here. The future of our species will be decided here by love and loss. Hand on my heart I pledge allegiance to the only home I will ever know."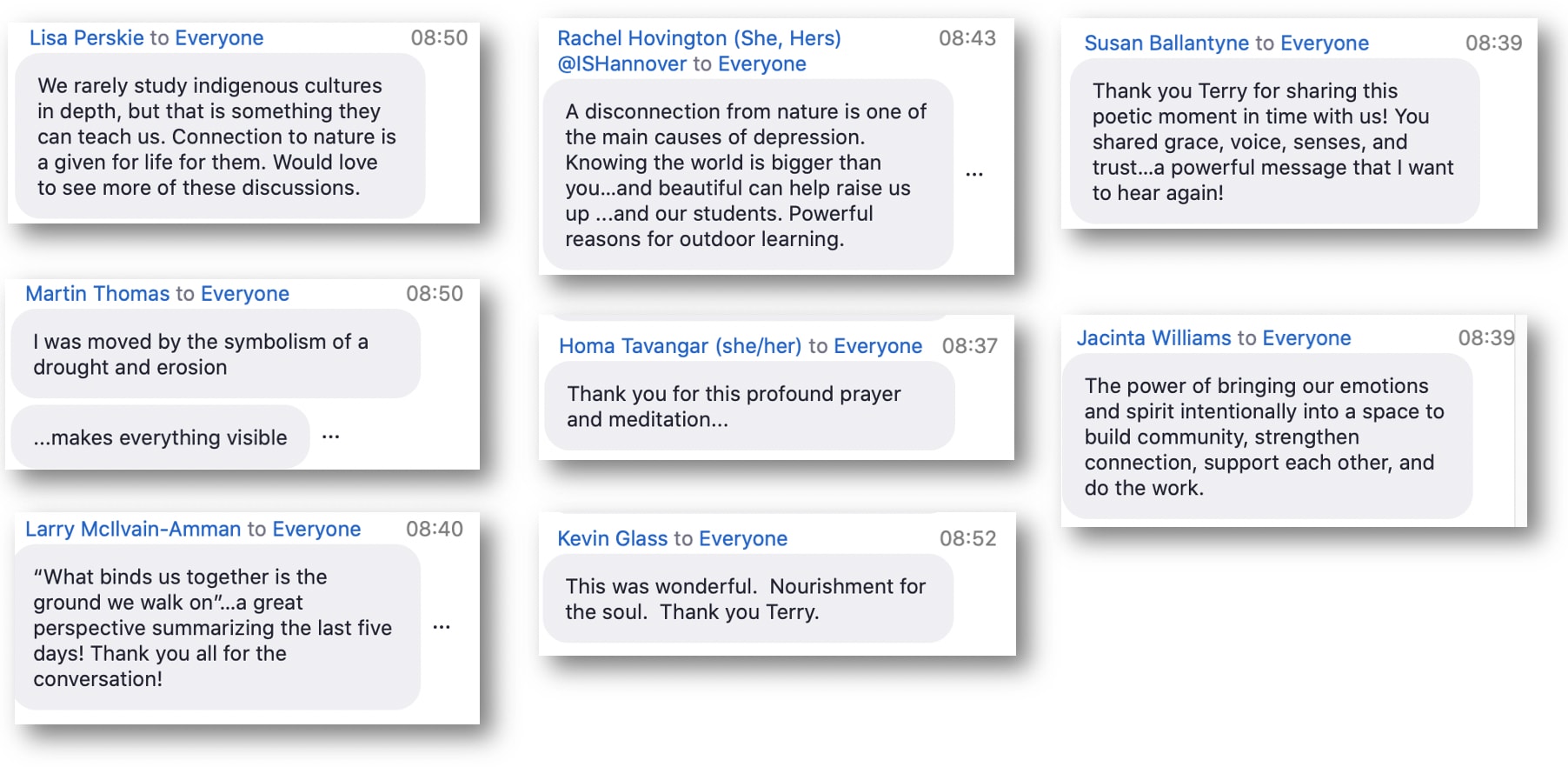 Psychologist:
I expect most young people will bounce back
Author and psychologist Angela Duckworth tells Anderson Cooper why she thinks most kids will bounce back from the negative impacts of the pandemic.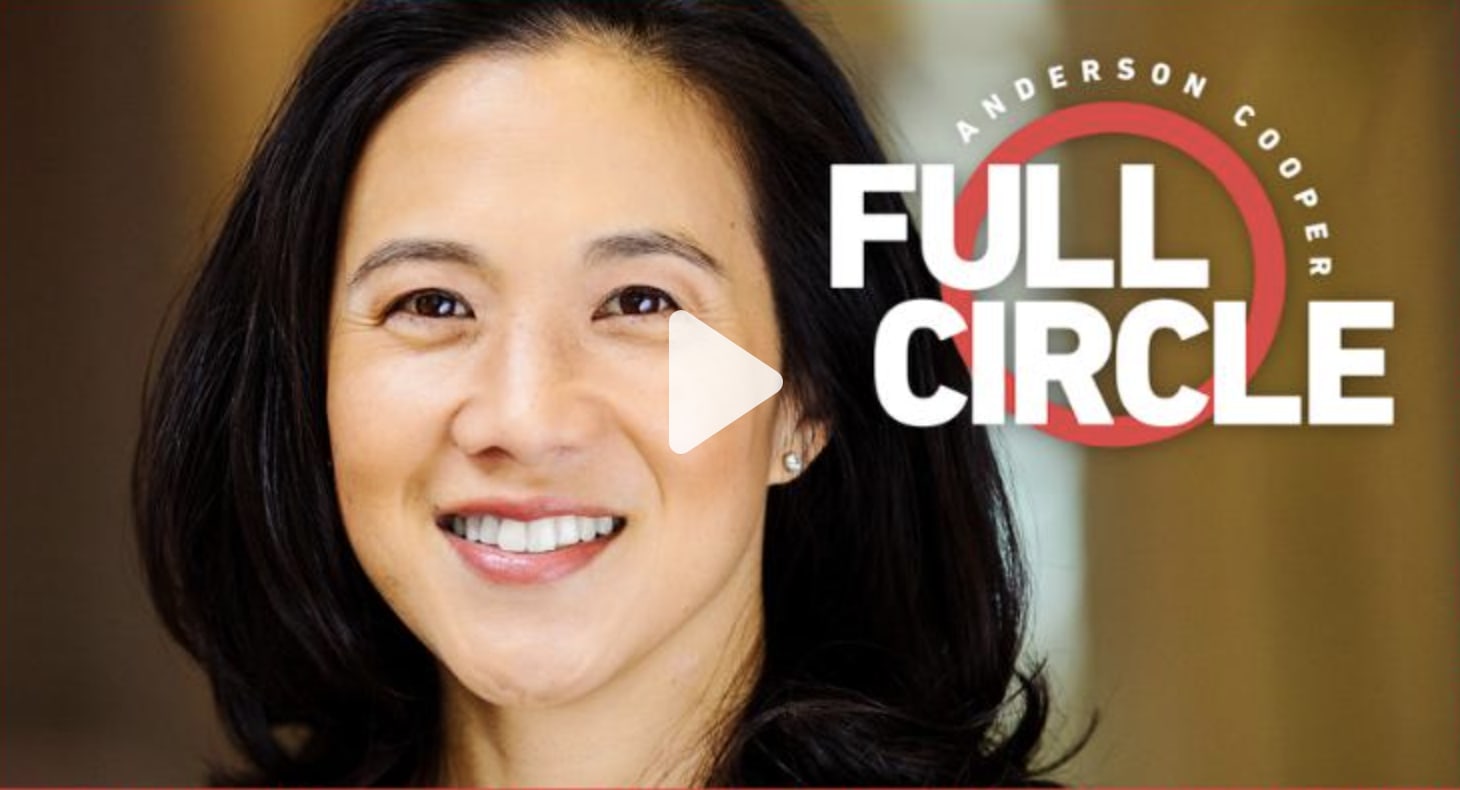 Vaccines That Can Protect Against Many Coronaviruses Could Prevent Another Pandemic
The best article we have read about the developing science of vaccines
The threat of another coronavirus pandemic now seems very real. Beyond bats, coronaviruses infect camels, birds, cats, horses, mink, pigs, rabbits, pangolins, and other animals from which they could jump into human populations with little to no immunity, as most researchers suspect SARS-CoV-2 did. "Chances are, in the next 10 to 50 years, we may have another outbreak like SARS-CoV-2," says structural biologist Andrew Ward of Scripps Research.
(A Ranging Survey of USA School Leaders)
About two in ten districts have already adopted, plan to adopt, or are considering adopting virtual schools as part of their district portfolio after the end of the COVID-19 pandemic. District leaders cited reasons related to student and parent demand for continuing various forms of online instruction in future years.
Three widely shared concerns rose to the top for district leaders for the 2020–2021 school year: disparities in students' opportunities to learn during the COVID-19 pandemic, students' social and emotional learning (SEL) needs, and insufficient funding to cover staff. Leaders ranked these three concerns topmost among a wide variety of school instructional and staff-ing matters.
–THE NEWS of COVID-19–
140,211,554 Cases Worldwide (Johns Hopkins CSSE)
Now More Than 3,000,000 Deaths
The relentless pace of death from the global Covid-19 pandemic is continuing unabated despite global vaccination efforts, and is now being increasingly borne by the poorest places in the world. More than 3 million lives have been lost as a result of the novel coronavirus that emerged in 2019, with the latest 1 million recorded deaths coming even faster than the first two. It took about 8.5 months after the initial fatality in China to mark the first million, and just another 3.5 months to reach the second million. The death toll passed 3 million on Saturday, according to Johns Hopkins University data, only about three months since crossing the 2 million mark on Jan. 15. The shortening intervals, coupled with the increasing number of new cases worldwide, is dealing a blow to hopes that the end of the pandemic is in sight with the widespread deployment of vaccines. (Bloomberg News)
A Variant Racing Through Crowded India?
As India's daily tally of Covid-19 infections surge by a record 200,000-plus cases for three consecutive days, public health experts worry that a new -- possibly more virulent -- coronavirus variant could be racing through the crowded nation of more than 1.3 billion people. The new variant, which has a so-called double mutation, is thought to be fueling India's deadlier new wave of infections that has made it the world's second worst-hit country, surpassing Brazil, and has already begun to overwhelm its hospitals and crematoriums. The Asian nation has reported more than 14.5 million Covid cases so far and more than 175,600 fatalities….The new strain underscores the insidious nature of viruses and threatens to thwart containment efforts in India, despite stringent measures such as the world's largest lockdown last year. An exploding outbreak in India risks undoing a hard-won victory over the pathogen for others too, especially as this strain has now jumped to at least 10 other countries. (Bloomberg News)
Virulent Strain in Hong Kong
Hong Kong health officials quarantined more than 80 residents of a building in a densely populated neighborhood after a Covid-19 case detected there initially tested positive for a highly transmissible mutant strain. Health authorities locked down the Parkes Building in the Jordan area of the Kowloon district to conduct mandatory testing, according to a government statement late Friday. The preliminary test result from the confirmed case involved the N501Y mutant strain of the coronavirus, which is highly transmissible, the Department of Health said in a statement. The building is "relatively old" and houses some sub-divided units, it said. Asymptomatic residents in the 48 units on all 11 floors were transferred to quarantine centers, while those with symptoms were hospitalized, according to the statement. Authorities also ordered compulsory testing for anyone who had visited the building for more than two hours in the eight days since April 9. ( Bloomberg News)
Enforcing Lockdown in Ontario
Ontario has announced sweeping new police powers to enforce an extended stay-at-home order, in the latest sign that officials in Canada's most populous province have lost control of the rapidly spreading coronavirus. With a record number of new cases, there is growing worry among experts that the already-strained healthcare system is being further pushed to the brink. "We're losing the battle between the variants and vaccines,'' Ontario's premier, Doug Ford, said on Friday as he announced the new measures. "We're on our heels. If we dig in, remain steadfast, we can turn this around." Police in Ontario will now have the power to stop drivers or pedestrians and ask for their address and reason for being out. Residents could face fines of up to $C750 (US$600) for refusing to comply. Checkpoints will be established on provincial borders with Manitoba and Quebec to stop non-essential travel – but not on the frontier with the US. The measures prompted an immediate and furious backlash. (The Guardian)
As Japan Battles Fourth Wave of Infections,
Cancelling the Olympics is Still an Option
An official from Japan's ruling party has said that cancelling the Olympics, scheduled to take place in Tokyo at the end of July, remains an option and will depend on the coronavirus situation. "If it seems impossible [to host the Olympics] anymore, then we have to stop it, decisively," Toshihiro Nikai, a member of Japan's Liberal Democratic Party, told broadcaster TBS. He added: "If the Olympics were to spread infection, then what are the Olympics for?" Government and organising officials have previously said the postponed event would go ahead, but without international spectators.
The fresh doubts about hosting the Olympics come as Japan is grappling with a fourth wave of coronavirus infections. Japan's western region of Osaka reported a record daily increase of 1099 infections on 13 April, with the surge thought to be driven largely by the B.1.1.7 coronavirus variant first identified in the UK. "The situation, with pressure on hospital beds, is severe. I have a strong sense of crisis about it," said Japan's economy minister, Yasutoshi Nishimura. (New Scientist)
Worldwide Vaccinations per 100 People: As of April 16, 2021
(report looks at prior day data)
–Israel and UAE Lead the World (counted as single dose)–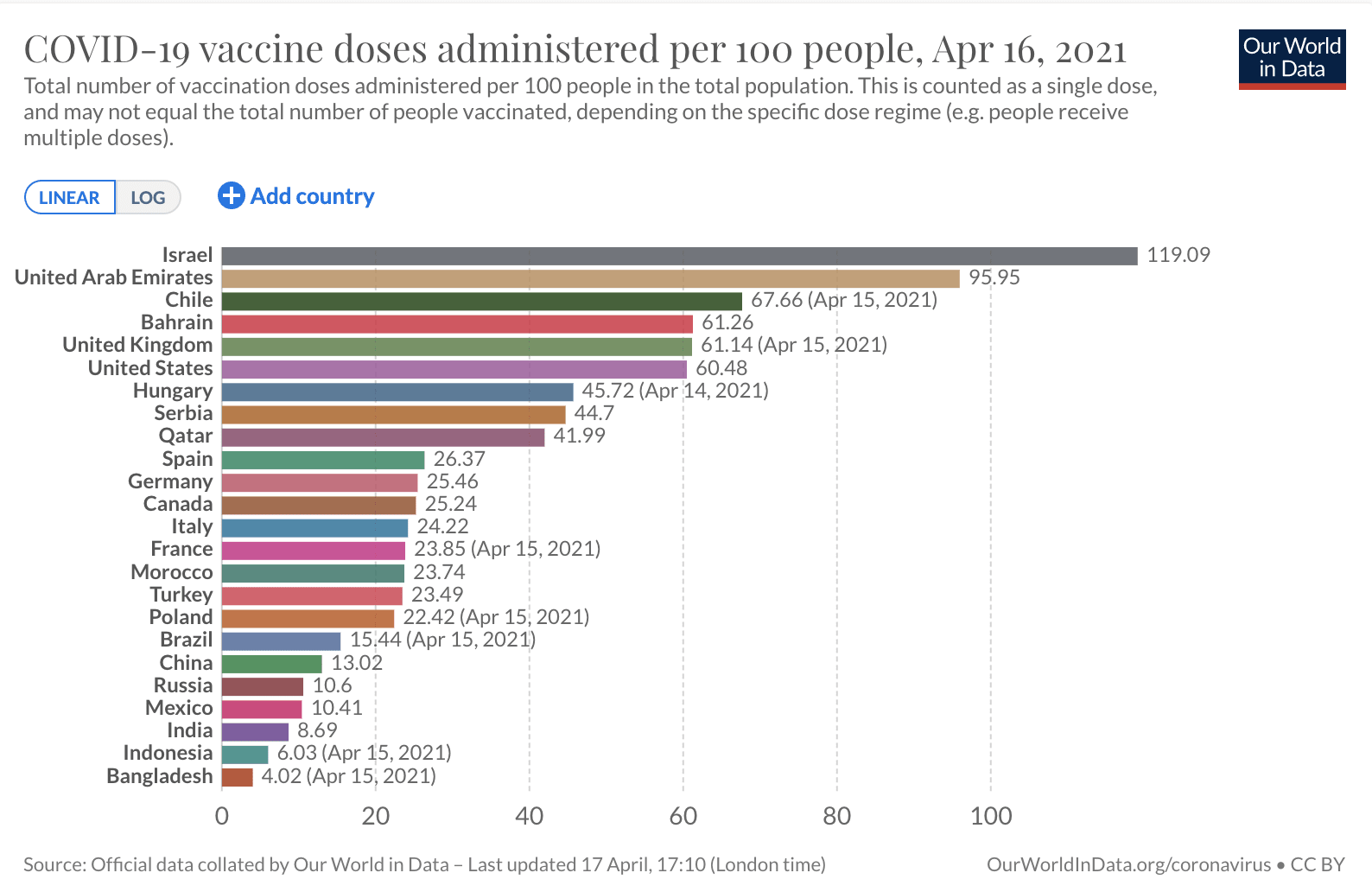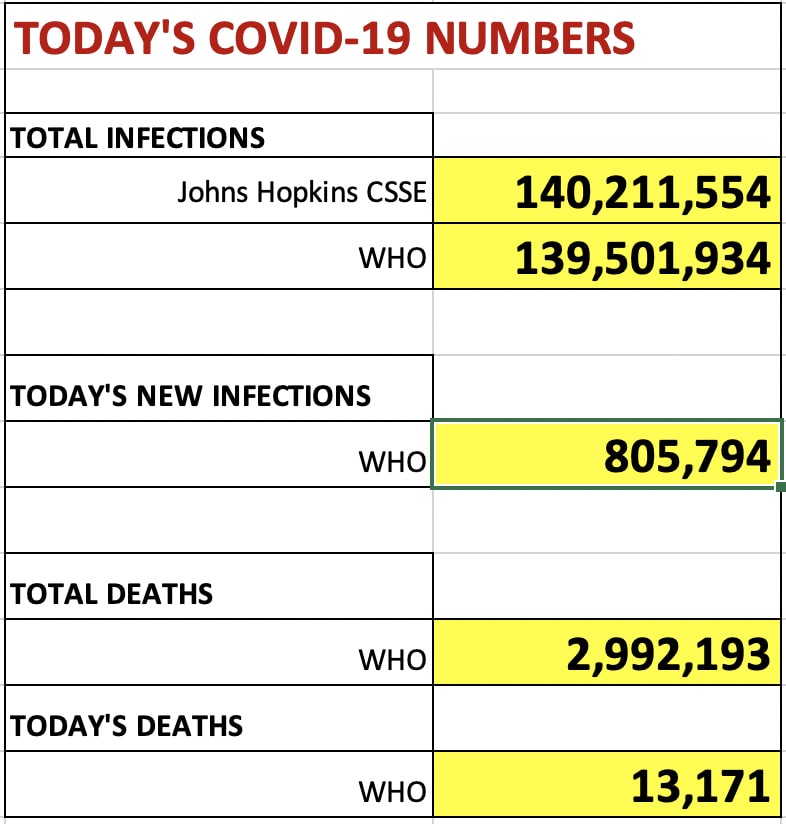 –FROM JOHNS HOPKINS CSSE–
From Johns Hopkins

CSSE,

the

Infection Rate World Graphic
The Cultures of Dignity Resources for Supporting
Social-Emotional Wellness
From Cultures of Dignity

,

For the Social-Emotional Tiny Guides from Rosalind Wiseman and Charlie Kuhn– a gift to our AAIE community– resources with no fee but plenty of insight.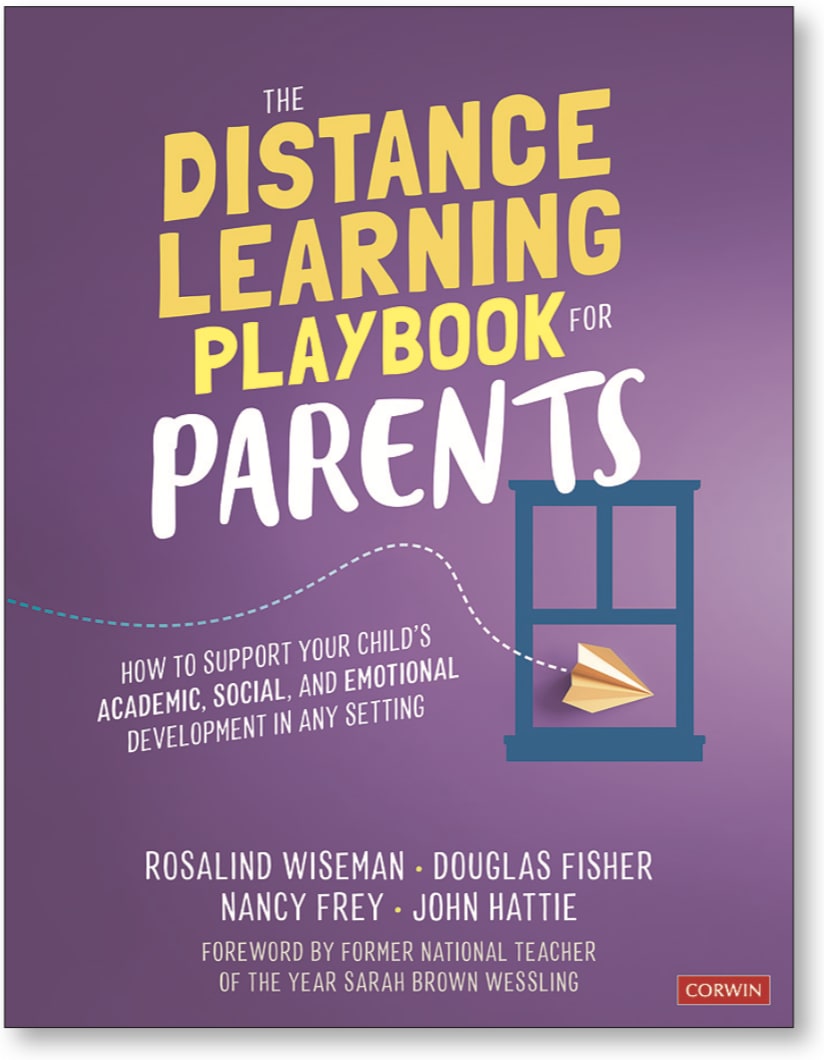 Rosalind Wiseman's newest book:

"Distance Learning Playbook for Parents–How to Support Your Child′s Academic, Social, and Emotional Development in Any Setting
A Final Note: The AAIE COVID-19 Briefing is provided to support your leadership for the school community you serve. We encourage you to use these resources in any way, shape or form that helps you, your communications and toward furthering close relationships across your community. – The AAIE Board