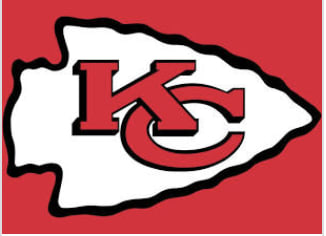 AAIE's SUPER BOWL WEEKEND
CELEBRATION (sort of)
This weekend we would normally be together for the AAIE Global Leadership CONVERSATION in Washington D.C.. We have rescheduled our virtual conference for April 12-17, 2021. But we will miss you for our AAIE very American Super Bowl Sunday celebration. Let's do something about it!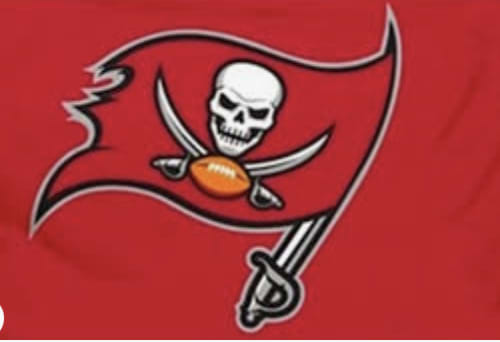 Write to us at gerri-ann@aaie.org, and predict the winner and the score. Win the much sought after AAIE baseball cap and a US$100 debit card for dinner during next year's AAIE CONVERSATION scheduled for New York City. We'll announce the winner this coming Monday. We'll send the debit card and baseball cap right away! Come on everyone, join-in just for the fun of it. Here we go! Entries due by Saturday, February 6 at 11:59PM EST.
QUICK LINKS for Busy People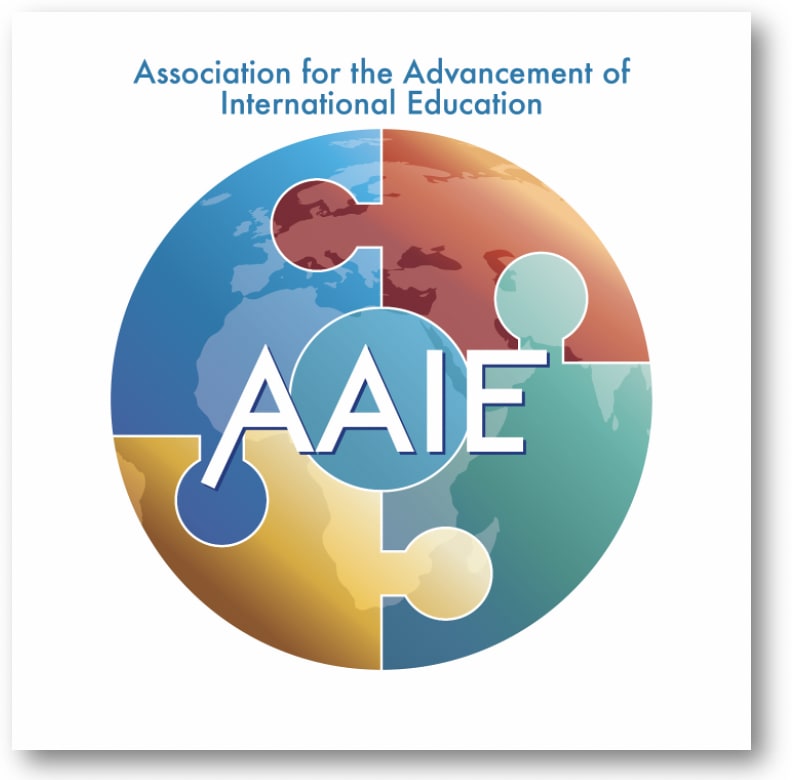 –FRIDAY–
AAIE's COVID-19 BRIEFING
#169
Data and Ideas to Support Your Crisis Leadership
February 5, 2021
105,180,206 Cases Worldwide

NEXT WEEK'S

CONVERSATIONS
Dr. "O" with us on Wednesday

Leading out no fear of the vaccine

The science of reasoning with unreasonable people

The J&J vaccine in late February

Mortality of fast-spreading variants

In Denmark, calm before the storm?

UAE leads in vaccinations

UPDATED TODAY: The good, not-so-good and bad of variants
"Science is cumulative. It builds steadily toward progress, and that's been my answer to despair during this last year. I can look back over my life and see a degree of advancement that's staggering."
–Dr. Stanley Plotkin, Vaccinologist
(with thanks to Kevin Glass,
shared during Thursday's global CONVERSATION)
DO YOUR BEST UNDER THE CIRCUMSTANCES
There is no land of perfect, child.
There is no sea of ease.
There is no candy apple trail.
There's broccoli and peas.
There is no suit of armor, child.
There's arrows and there's pain.
But when your heart is broken, child
Stay strong and love again.
There is no perfect person, child.
Not presidents or queens.
There's only all us trying, child
To be human human beings.
–By Sheree Fitch
–NEXT WEEK'S CONVERSATIONS–
with International School Leaders from Around the World
ONE DOCTOR'S PREDICTION (Dr. "O") ON HOW THE PANDEMIC WILL UNFOLD IN THE MONTHS AHEAD: And Another Look at One School's Safety Protocol to Keep Onsite Learning Going
WEDNESDAY
10 February 2021
8:00AM EST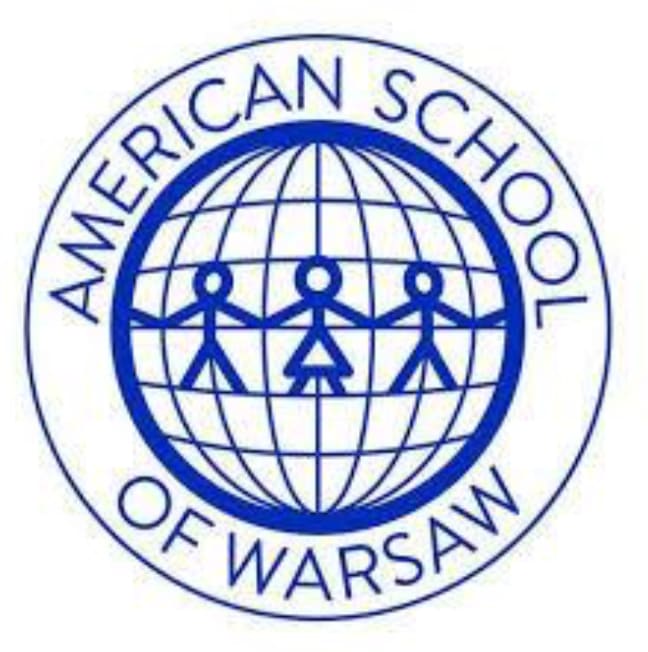 We again welcome Dr. Jarek Oleszczuk and American School of Warsaw Director Jon Zurfluh.
Dr. "O" will discuss the unfolding character of COVID-19, the variants and the current and future impact on our international schools. The case study of how ASW has managed to stay open for onsite learning since the beginning of the school year and lessons learned along the way will also be reviewed. Please ensure that your leadership team and board trustees are part of this CONVERSATION. As leaders, we all need support in gazing into the crystal ball to better understand a likely path we will travel as international school communities.
OUR WEEKLY GLOBAL
LEADERSHIP CONVERSATION #47
Our international school leadership CONVERSATIONS continue– the place where we take on the dilemmas of leading our school community through a global pandemic. ALL SENIOR LEADERS ARE INVITED– More voices and more perspectives as we take on all too many dilemmas together.
THURSDAY
11 February 2021
8:00AM EST
THE LATIN AMERICA CONVERSATION #35
Hosted by Sonia Keller and Dereck Rhoads, the unique leadership context of Latin America provides the backdrop for crisis leadership and discussions on school sustainability.
THURSDAY
11 February 2021
10:00AM EST
THE AAIE NEW SCHOOL PROJECT: SEVEN PRINCIPLES
Our deliberations on the SEVEN PRINCIPLES that can guide NEW SCHOOL thinking for the future of international education continue.
FRIDAY
12 February 2021
8:00AM EST
AAIE'S NEW SCHOOL PROJECT: Friday 12 February– EQUITY (Part II)
Thanks to the great show of support from so many leaders, supporters and practitioners of diversity, equity, inclusion and justice for joining the launch, Week 1 conversation on Equity. Equity is the 7th of 7 Principles in the New School Project, and in many ways feels the most consequential for impacting the outcomes on all the other principles.
Our robust and open discussion encompassed key dispositions for practicing the courage needed to confront and dismantle systems and structures, as well as consider personal privilege, responsibility and belonging. This is a complex topic covering macro systems and micro relationships, intersecting identities, and deep historical legacy. We are encouraged that the AAIE community is leaning in to difficult questions, to realize potential change of great proportions.
We encourage you to join us next Friday at our usual time, 8 am US ET when we continue the Equity conversation, kicked off by our curatorial team, Joel Llaban, Emily Meadows and Anna Sugarman.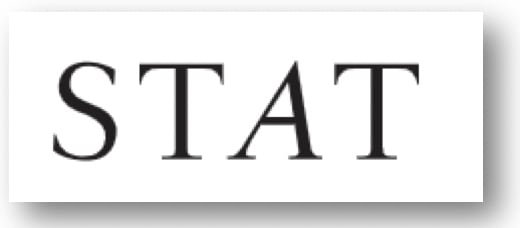 Editor's Note: PUBLISHED TODAY– An excellent read about the impact of variants on the efficacy of vaccines. So worth your time as this article outlines the good, the not-so-good and the possible bad consequences of the variant mutations.
The Good and the (potentially) Bad: What Scientists Know About Variants and Covid-19 Vaccines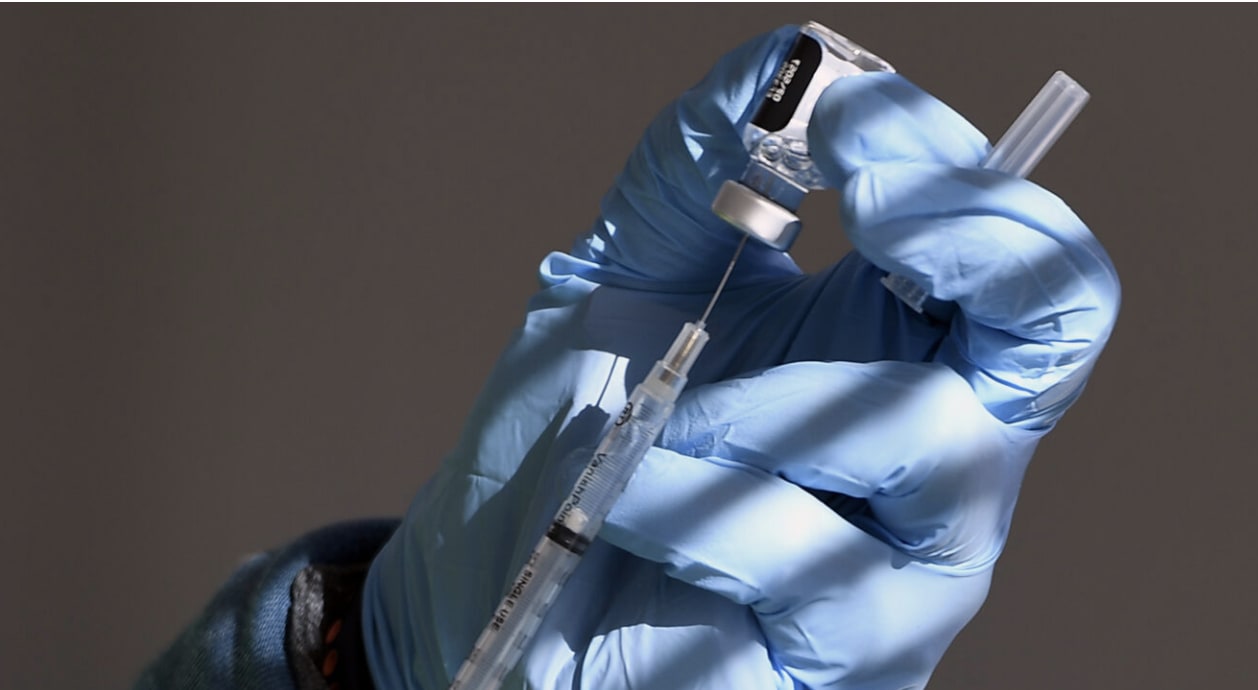 There is now real evidence that at least one coronavirus variant seems to elude some of the power of Covid-19 vaccines. What, exactly, that means for the pandemic is still being sussed out.
Even if the vaccines are less powerful against the variant, they still appear to protect people from the worst outcomes, like hospitalization or death.
But the loss in efficacy against the B.1.351 variant in clinical trials suggested to some experts that the immunity the shots confer may not last as long against that form of the coronavirus. Or that the vaccines won't be as powerful of a drag on transmission, the way scientists hope the shots will be for other versions of the virus.
"It's a huge relief to know that the vaccines still seem to protect against hospitalization and deaths," said Emma Hodcroft, a molecular epidemiologist at the University of Bern. "The No. 1 thing at the moment is to try and reduce in any way the cost that this virus charges us as it spreads through societies. But it's definitely true the loss in efficacy, it raises some worrying questions."
READ THE FULL ARTICLE as STAT news lays out the good and the bad news about vaccines and the B.1.351 variant, and what may be coming next.

Helping to Set Aside the Fears of the COVID-19 Vaccine
The Atlanta International School provides the video below as a positive and substantive medical source of information about the COVID-19 vaccination.
During our recent online global CONVERSATION, several of our school leaders spoke of having access to the vaccine, but with teachers and fellow administrators determined not to line up for a jab. If solid information is helpful, and it is, the video below should be a candidate for sharing across your community.
The Science of Reasoning With Unreasonable People

Thanks to both Will Richardson and Bob Hetzel for sending this article along. Another strong connection to our recent online global CONVERSATION about vaccine roll-out and resistance by some to get the jab.
The Vaccine Debate: Don't try to change someone else's mind. Instead, help them find their own motivation to change.
–by Adam Grant
A few years ago, I made the mistake of having an argument with the most stubborn person I know. R., whose initial I'm using to protect his privacy, is a longtime friend, and when his family came to visit, he mentioned that his children had never been vaccinated — and never would be.
I'm no proponent of blindly giving every vaccination to every newborn, but I was concerned for his children's safety, so I started debunking some common vaccine myths. After days of debate, I was exhausted and exasperated. Determined to preserve our friendship, I vowed never to talk with him about vaccines again.
Then came 2020. Fear of the vaccine may be the greatest barrier to stopping Covid-19. It stretches far beyond the so-called anti-vaxxer community: About half of Americans harbor questions about the safety of the Covid-19 vaccines; 39 percent say they definitely or probably won't get one.
I decided to see if I could open R.'s mind to the possibility. What I didn't realize was that my mind would be opened as well.
"Much as a vaccine inoculates the physical immune system against a virus, the act of resistance fortifies the psychological immune system. Refuting a point of view produces antibodies against future attempts at influence, making people more certain of their own opinions and more ready to rebut alternatives."
As an organizational psychologist, I've spent the past few years studying how to motivate people to think again. I've run experiments that led proponents of gun rights and gun safety to abandon some of their mutual animosity, and I even got Yankees fans to let go of their grudges against Red Sox supporters. But I don't always practice what I teach.
When someone seems closed-minded, my instinct is to argue the polar opposite of their position. But when I go on the attack, my opponents either shut down or fight back harder. On more than one occasion, I've been called a "logic bully."
When we try to change a person's mind, our first impulse is to preach about why we're right and prosecute them for being wrong. Yet experiments show that preaching and prosecuting typically backfire — and what doesn't sway people may strengthen their beliefs. Much as a vaccine inoculates the physical immune system against a virus, the act of resistance fortifies the psychological immune system. Refuting a point of view produces antibodies against future attempts at influence, making people more certain of their own opinions and more ready to rebut alternatives.
That's what happened with my friend. If I wanted him to rethink his blanket resistance to vaccines, I had to rethink my approach.
Several decades ago, when treating substance abuse problems, psychologists developed a technique called motivational interviewing. The central premise: Instead of trying to force other people to change, you're better off helping them find their own intrinsic motivation to change. You do that by interviewing them — asking open-ended questions and listening carefully — and holding up a mirror so they can see their own thoughts more clearly. If they express a desire to change, you guide them toward a plan.
Say you're a student at Hogwarts, and you want to help your uncle reject Voldemort. You might start like this:
You: I'd love to better understand your feelings about He-Who-Must-Not-Be-Named.
Uncle: Well, he's the most powerful wizard alive. Also, his followers promised me a fancy title.
You: Interesting. Is there anything you dislike about him?
Uncle: Hmm. I'm not crazy about all the murdering.
You: Well, nobody's perfect. What's stopped you from abandoning him?
Uncle: I'm afraid he might direct the murdering toward me.
You: That's a reasonable fear — I've felt it too. Are there any principles that matter so deeply to you that you'd be willing to take that risk?
In controlled trials, motivational interviewing has helped people to stop smoking, abusing drugs and alcohol, and gambling; to improve their diets and exercise; to overcome eating disorders; and to lose weight. The approach has also motivated students to get a good night's sleep; voters to reconsider their prejudices; and divorcing parents to reach settlements.
Recently, thanks to a vaccine whisperer, it has been applied to immunization. Arnaud Gagneur is a pediatrician in Quebec who encourages reluctant parents to immunize their children. In his experiments, a motivational interview in the maternity ward after birth increased the number of mothers willing to vaccinate their children from 72 percent to 87 percent; the number of children who were fully vaccinated two years later rose by 9 percent. A single conversation was enough to change behavior over the next 24 months.
I set up a conversation between Dr. Gagneur and my friend. After 90 minutes, it was clear to me that R.'s vaccination stance had not changed.
"I have tried to apply all the principles of motivational interviewing, but I have had the unpleasant feeling of not doing so well," Dr. Gagneur wrote to me in email. "R. is very knowledgeable and always ends up finding arguments that support his decision.
"So for my second attempt, instead of asking R. why he was opposed to Covid vaccines, I asked him how he would stop the pandemic. He said we couldn't put all our eggs in one basket — we needed a stronger focus on prevention and treatment. When I asked whether vaccines would be part of his strategy, he said yes — for some people."
Strangely, I didn't feel defeated or irritated. I wanted to learn how my friend's views could evolve.
The pioneers of motivational interviewing, William Miller and Stephen Rollnick, have long warned against using the technique to manipulate people. It requires a genuine desire to understand people's motivations and help them reach their goals. Although R. and I both want to keep his children healthy, I realized I had never tried to understand his perspective on vaccines before. So the next morning, I called him.
In our past debates, R. had focused only on the potential downsides of vaccinations. With Dr. Gagneur, though, he acknowledged that vaccines could be good for some but not necessarily for others. If he lived in a country experiencing an outbreak of, say, malaria, would he consider immunization? "You weigh the pros and cons," he said.
Psychologists find that when we listen carefully and call attention to the nuances in people's own thinking, they become less extreme and more open in their views. I wondered how my friend's ambivalence applied to Covid, and I knew that the kinds of questions I asked would matter. Social scientists have found that asking people how their preferred political policies might work in practice, rather than asking why they favor those approaches, was more effective in opening their minds. As people struggled to explain their ideal tax legislation or health care plan, they grasped the complexity of the problem and recognized gaps in their knowledge.
So for my second attempt, instead of asking R. why he was opposed to Covid vaccines, I asked him how he would stop the pandemic. He said we couldn't put all our eggs in one basket — we needed a stronger focus on prevention and treatment. When I asked whether vaccines would be part of his strategy, he said yes — for some people.
I was eager to learn what might lead R. to decide that he is one of those people. In motivational interviewing, there's a distinction between sustain talk and change talk. Sustain talk is commentary about maintaining the status quo. Change talk is referencing a desire, ability or commitment to making a shift. A skilled motivational interviewer listens for change talk and asks people to elaborate on it. This was my third step.
I asked R. what the odds were that he would get a Covid vaccine. He said they were "pretty low for many different reasons." I told him it was fascinating to me that he didn't say zero.
"This is not a black-and-white issue," R. said. "I don't know, because my views change." I laughed: "This is a milestone — the most stubborn person I know admits that he's willing to change his mind?" He laughed too: "No, I'm still the most stubborn person you know! But at different stages of our lives, we have different things that are important to us, right?"
I don't expect R. or his children to be vaccinated any time soon, but it felt like progress that he agreed to keep an open mind. The real breakthrough, though, was mine. I became open to a new mode of conversation, with no points to score and no debate to win. The only victory I declared was against my own prosecutor tendencies. I had prevailed over my inner logic bully.
Many people believe that to stop a deadly pandemic, the end justifies whatever means are necessary. It's worth remembering that the means are a measure of our character. If we succeed in opening minds, the question is not only whether we're proud of what we've achieved. We should also ask whether we're proud of how we've achieved it.
I no longer believe it's my place to change anyone's mind. All I can do is try to understand their thinking and ask if they're open to some rethinking. The rest is up to them
STAYING UP-TO-DATE ON CORONAVIRUS SCIENCE
Could Mixing COVID Vaccines Boost Immune Response?
Combining different coronavirus shots could speed immunization campaigns — and even boost immune response.
Researchers in the United Kingdom have launched a study that will mix and match two COVID-19 vaccines in a bid to ease the daunting logistics of immunizing millions of people — and will potentially boost immune responses in the process.
The clinical trial will test participants' immune responses to one shot of the Oxford–AstraZeneca vaccine — which uses a harmless virus to carry a key coronavirus gene into cells — and one shot of the Pfizer–BioNTech vaccine, which uses RNA instructions to trigger an immune response. Vaccine developers often combine two vaccines to combat the same pathogen — a strategy known as a heterologous prime-boost. It could make vaccination programs more flexible by speeding up the process and reducing the impact of supply-chain disruptions.
What's the Risk of Dying from a Fast-Spreading COVID-19 Variant?
Deaths linked to the B.1.1.7 variant are rising, but questions remain about what is causing them.
The news is sobering, but complicated. Scientists have released the data behind a British government warning last week that the fast-spreading SARS-CoV-2 variant B.1.1.7 increases the risk of dying from COVID-19 compared with previous variants. But some scientists caution that the latest study — like the government warning — is preliminary and still does not indicate whether the variant is more deadly or is just spreading faster and so reaching greater numbers of vulnerable people.
On 3 February, researchers from the London School of Hygiene & Tropical Medicine (LSHTM) released an analysis of some of those data, which suggests that the risk of dying is around 35% higher for people who are confirmed to be infected with the new variant.
Pharmaceutical giant Johnson & Johnson said Thursday it has applied to the Food and Drug Administration for an emergency use authorization for its one-dose Covid-19 vaccine, setting in motion a process that is all but sure to see a third such vaccine authorized.
If given the green light by the agency, J&J's vaccine will likely start being used in late February or early March, though initial supplies are expected to be extremely limited.
The single dose makes it easier to deliver, as does the fact that the vaccine can be shipped and stored at refrigerator temperature. The Pfizer and Moderna vaccines require more complex cold-chain requirements.
J&J revealed in late January that its vaccine was 66% effective at preventing moderate and severe Covid infections, with moderate infections defined as a positive Covid test plus one symptom of serious illness (shortness of breath, a chest scan showing pneumonia) or two more mild symptoms, including fever, chills, loss of taste or smell, or muscle pain.
In the pivotal Phase 3 trial used to support its application, the vaccine was shown to work better in some regions of the world than others, likely due at least in part to the emergence of variant viruses, which in some cases appear to be less vulnerable to the antibodies the vaccine induces. The vaccine was 72% effective in the U.S., 66% in Latin America and 57% in South Africa, where one of the variants has become the dominant virus spreading.
–THE NEWS of COVID-19–
105,180,206 Cases Worldwide (Johns Hopkins CSSE)
What? 4,000 Variants?
The world faces around 4,000 variants of the virus that causes COVID-19, prompting a race to improve vaccines, Britain said on Thursday, as researchers began to explore mixing doses of the Pfizer and AstraZeneca shots. Thousands of variants have been documented as the virus mutates, including the so-called British, South African and Brazilian variants which appear to spread more swiftly than others. British Vaccine Deployment Minister Nadhim Zahawi said it was very unlikely that the current vaccines would not work against the new variants. (Reuters)
Variants and the Changing Shape of the Spike Protein
In a recurring pattern of evolution, SARS-CoV-2 evades immune responses by selectively deleting small bits of its genetic sequence, according to new research from the University of Pittsburgh School of Medicine. Since these deletions happen in a part of the sequence that encodes for the shape of the spike protein, the formerly neutralizing antibody can't grab hold of the virus, the researchers report today in Science. And because the molecular "proofreader" that usually catches errors during SARS-CoV-2 replication is "blind" to fixing deletions, they become cemented into the variant's genetic material. (sciencedaily.com, sciencemag.org)
In Denmark, A Prediction of Calm Before the Storm:
The New Variants Take Over
On its face, the curve of COVID-19 infections in Denmark looks reassuring enough. A nationwide lockdown has led numbers to plummet from more than 3000 daily cases in mid-December 2020 to just a few hundred now. But don't be fooled. "Sure, the numbers look nice," says Camilla Holten Møller of the Statens Serum Institute, who heads a group of experts modeling the epidemic. "But if we look at our models, this is the calm before the storm."
That's because the graph really reflects two epidemics: one, shrinking fast, that's caused by older variants of SARS-CoV-2, and a smaller, slowly growing outbreak of B.1.1.7, the variant first recognized in England and now driving a big third wave of the pandemic there. If B.1.1.7 keeps spreading at the same pace in Denmark, it will become the dominant variant later this month and cause the overall number of cases to rise again, despite the lockdown, Holten Møller says. "It is a complete game changer." The same is likely happening in many countries without being noticed.
But a massive virus-sequencing effort has allowed Denmark, a country of 5.8 million, to track the rise of the new COVID-19 variant more closely than any other country. "All eyes are on Denmark right now," says Kristian Andersen, an infectious diseases researcher at Scripps Research who is advising the Danish government. (sciencemag.org)
Coronavirus Leaves Portugal's Hospitals in a State of Emergency
You could say that Portugal had a relatively mild bout of COVID-19 in 2020. That all changed at the start of the new year, however, when the seven-day incidence rate exploded. And over the past seven days, almost 850 new coronavirus cases have been recorded for every 100,000 inhabitants. Portuguese health authorities say that some 43% of the country's overall COVID-19 infections and 44% of all related deaths were recorded in the first month of 2021.
The situation is "very tense," according to Reinhard Naumann. "The entire population is very nervous in light of the dramatic developments of the past two or three weeks," says Naumann, who heads the Lisbon office of Germany's Friedrich Ebert Foundation.
Portugal's government blames the combination of virus mutations, such as the B.1.1.7 variant first reported in the UK, and the relaxation of coronavirus restrictions over the holidays for the spiraling escalation in cases. The country has been under a strict lockdown since January 15, with schools, stores and restaurants all closed and considerable limits put upon freedom of movement. The government also hopes to stop the spread of the new variant by closing its borders until the situation has eased. (DW.com)
Use of mRNA Means New Approaches to Pandemic Response
The message the mRNA vaccine adds to people's cells is borrowed from the coronavirus itself—the instructions for the crown-like protein, called spike, that it uses to enter cells. This protein alone can't make a person sick; instead, it prompts a strong immune response that, in large studies concluded in December, prevented about 95% of covid-19 cases. Beyond potentially ending the pandemic, the vaccine breakthrough is showing how messenger RNA may offer a new approach to building drugs. In the near future, researchers believe, shots that deliver temporary instructions into cells could lead to vaccines against herpes and malaria, better flu vaccines, and, if the covid-19 germ keeps mutating, updated coronavirus vaccinations, too. But researchers also see a future well beyond vaccines. They think the technology will permit cheap gene fixes for cancer, sickle-cell disease, and maybe even HIV. (MIT Technology Review)
COVID Has a Dramatic Impact on Children: A German Perspective
No kindergarten or school, no play dates or sports — the corona crisis has had dramatic consequences for children. Pediatricians observe deteriorating health conditions and a dramatic increase in behavioral disorders.
It was in December that Axel Gerschlauer noticed the crisis within the crisis. In the last three weeks before Christmas, the pediatrician found himself treating three minors who had slashed their lower arms. *
Three youths in three weeks — Gerschlauer says he usually sees this sort of thing about once every three to six months. "This kind of frequency," he says, "brought the scale of the problem home to me."
And this at a time when Gerschlauer is not even getting to see all his regular patients. Some are avoiding his practice altogether for fear of infection. His phone, meanwhile, has hardly stopped ringing, as desperate parents seek his advice.
"There has been a shift of emphasis towards psychological issues, ranging from anxieties to concentration disorders to sleep disorders. In recent months, mental health issues have increased massively."
Pediatricians also observe development disorders. Gerschlauer is also the press spokesman for the North-Rhine division of the German Association of Pediatricians. That puts him in an ideal position to assess how the country's 13.5 million minors are coping with the coronavirus pandemic.
He says the reports he is getting from his colleagues are getting more dramatic by the day. "Behavioral disorders, speech development issues, many children have put on a lot of weight. Excessive media consumption. And parents who aren't taking their children to scheduled check-ups."
Axel Gerschlauer says he and his colleagues can only form a vague idea of all the effects of the lockdown on children and teenagers at this stage. A further concern is domestic child abuse, much of which remains hidden from the pediatricians. It is already clear that Germany will have to invest heavily in getting hundreds of thousands of girls and boys back on track.
"It will be a huge task. In the next two years we will need a plan of action and a huge increase in staff. Above all, we are going to need at least 50% more psychotherapists," says Axel Gerschlauer.
Children and teenagers are increasingly using helplines. For some forty years now, there has been a helpline for children and teenagers to call when they are lovesick, struggling academically or fighting with their parents. Today, the volunteers are the first port of call for kids struggling with the lockdown. Children as young as eight are calling for advice. "Topics such as mental health or loneliness have taken on huge significance in recent months. We are also hearing from more young people who are experiencing violence," says Anna Zacharias, public relations officer for the helpline.
She has had her hands full dealing with media enquiries about the helpline. For example, one German TV presenter made an emotional appeal against the coronavirus restrictions and cited the 461,000 children and teenagers who turned to the hotline last year. (DW.com)
VACCINATIONS AROUND THE WORLD: February 5, 2021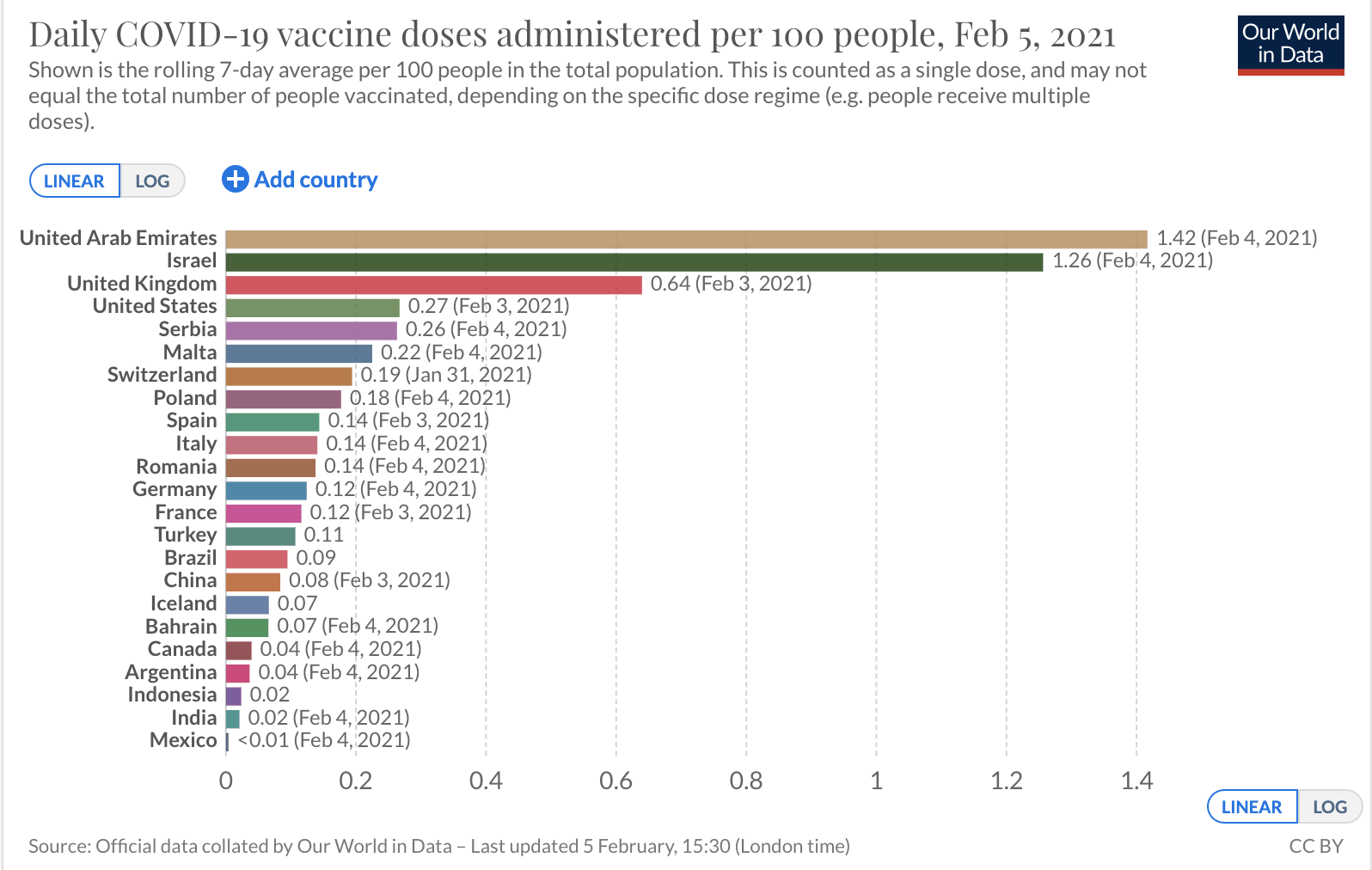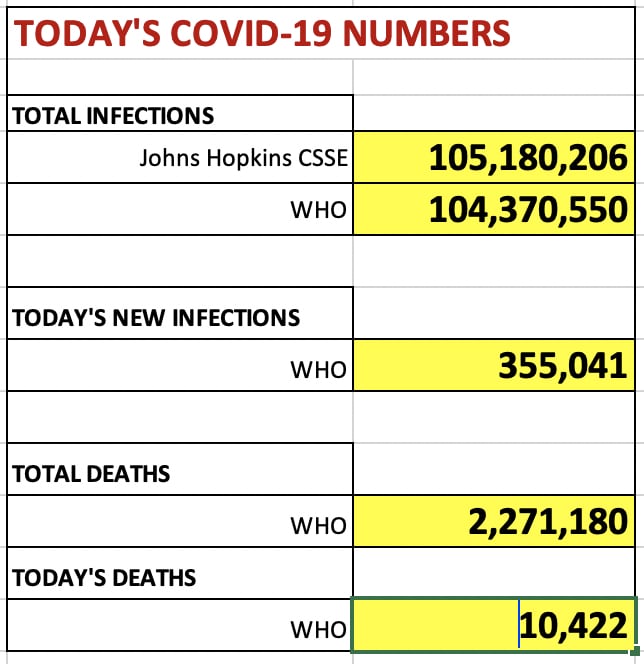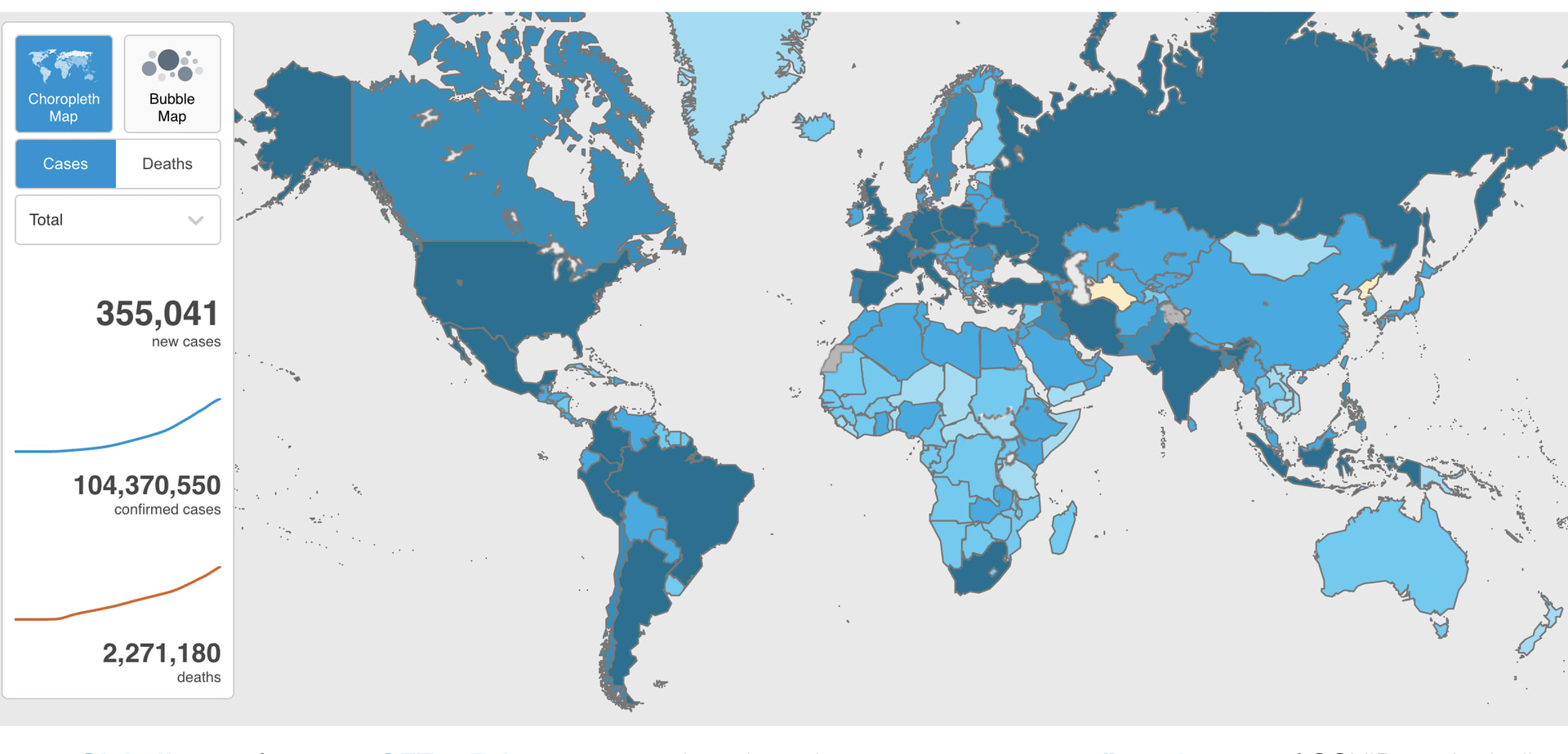 –FROM JOHNS HOPKINS CSSE–
From Johns Hopkins

CSSE,

the

Infection Rate World Graphic
The Cultures of Dignity Resources for Supporting
Social-Emotional Wellness
From Cultures of Dignity

,

For the Social-Emotional Tiny Guides from Rosalind Wiseman and Charlie Kuhn– a gift to our AAIE community– resources with no fee but plenty of insight.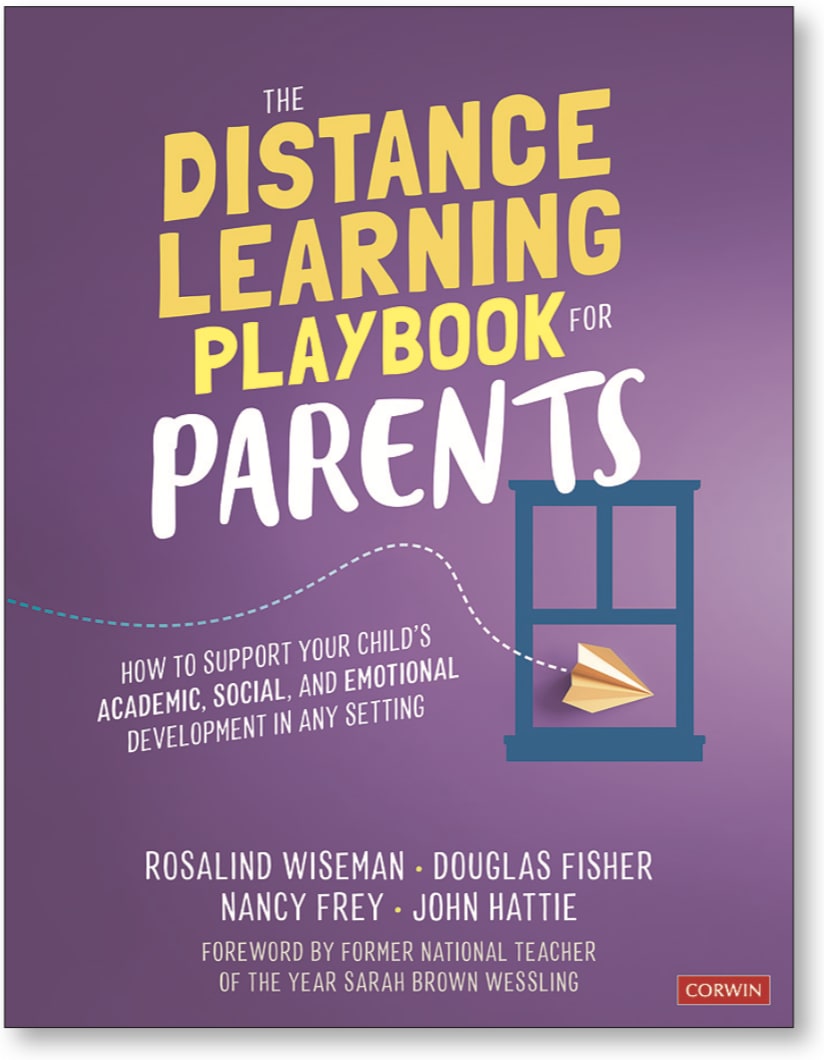 Rosalind Wiseman's newest book:

"Distance Learning Playbook for Parents–How to Support Your Child′s Academic, Social, and Emotional Development in Any Setting
A Final Note: The AAIE COVID-19 Briefing is provided to support your leadership for the school community you serve. We encourage you to use these resources in any way, shape or form that helps you, your communications and toward furthering close relationships across your community. – The AAIE Board