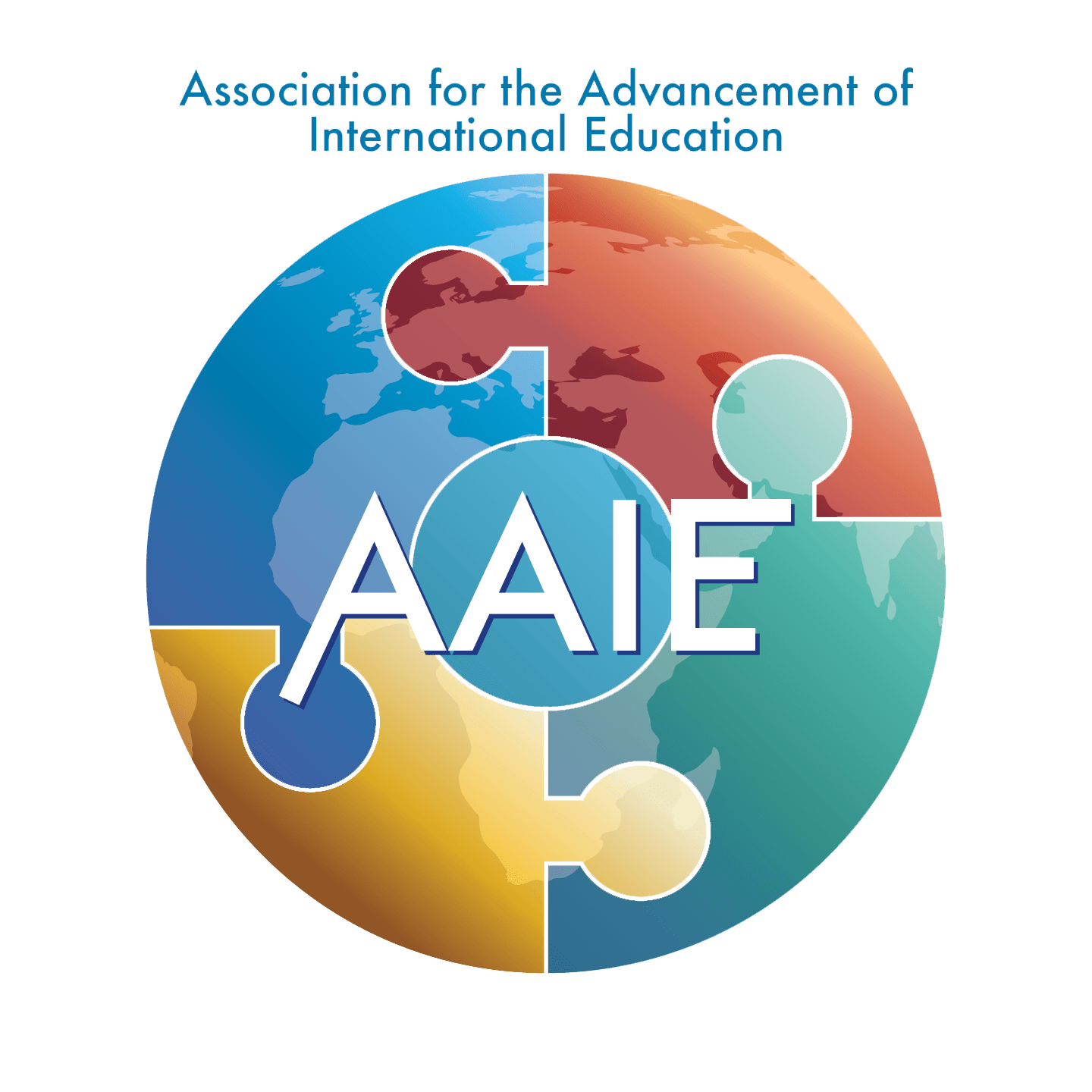 AAIE's 2021 Virtual Global Leadership
CONVERSATION
Upcoming DAY 5
FOR THURSDAY: APRIL 15, 2021
LEADERSHIP LEARNING PRESENTATIONS
HUMANS OF AAIE
"Stories of Leading Through the Plague Years"
REMINDER:
(THURSDAY)
AISH OASIS DAY–
7:00-9:45PM EDT


–UPCOMING THURSDAY PRESENTATIONS–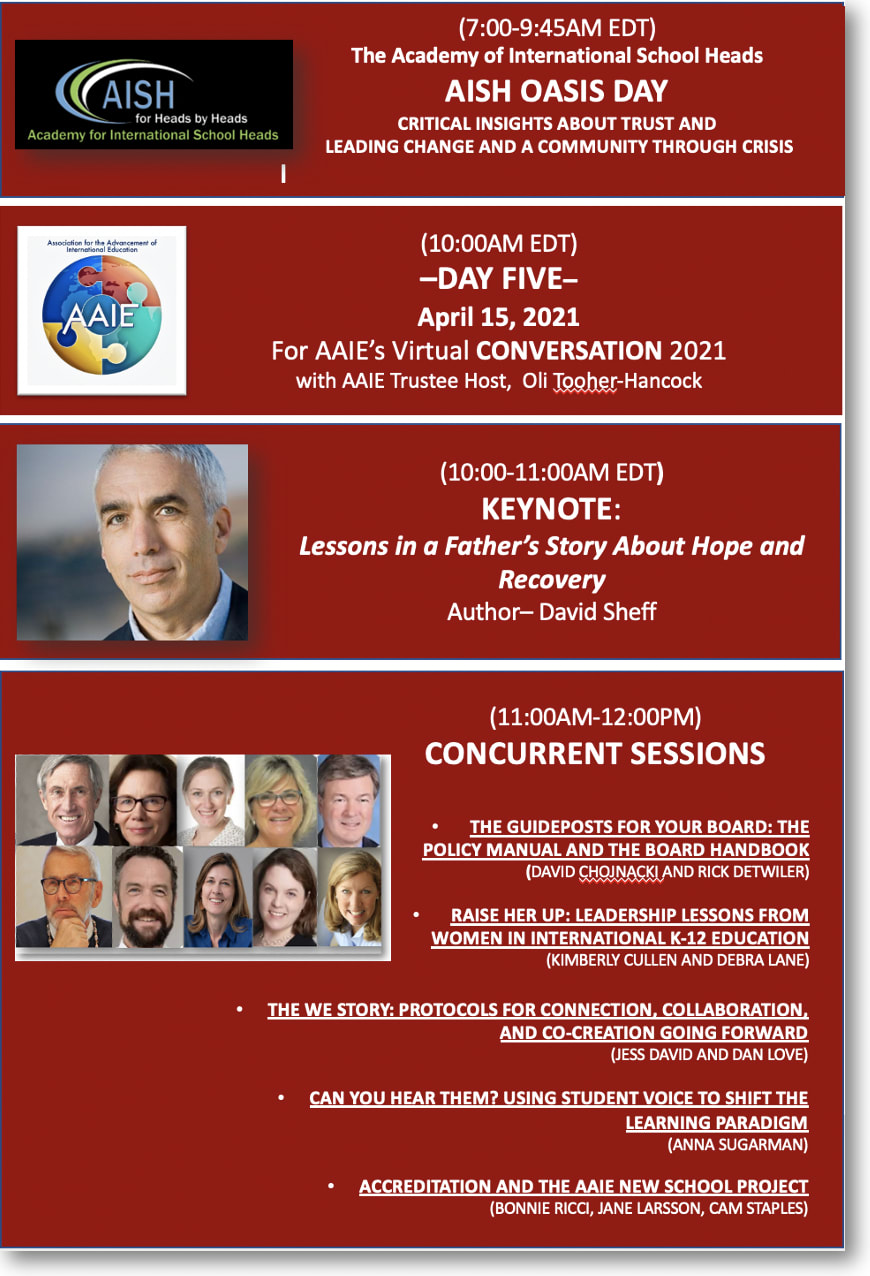 OVERHEARD
ON DAY FOUR- April 14, 2021: Wednesday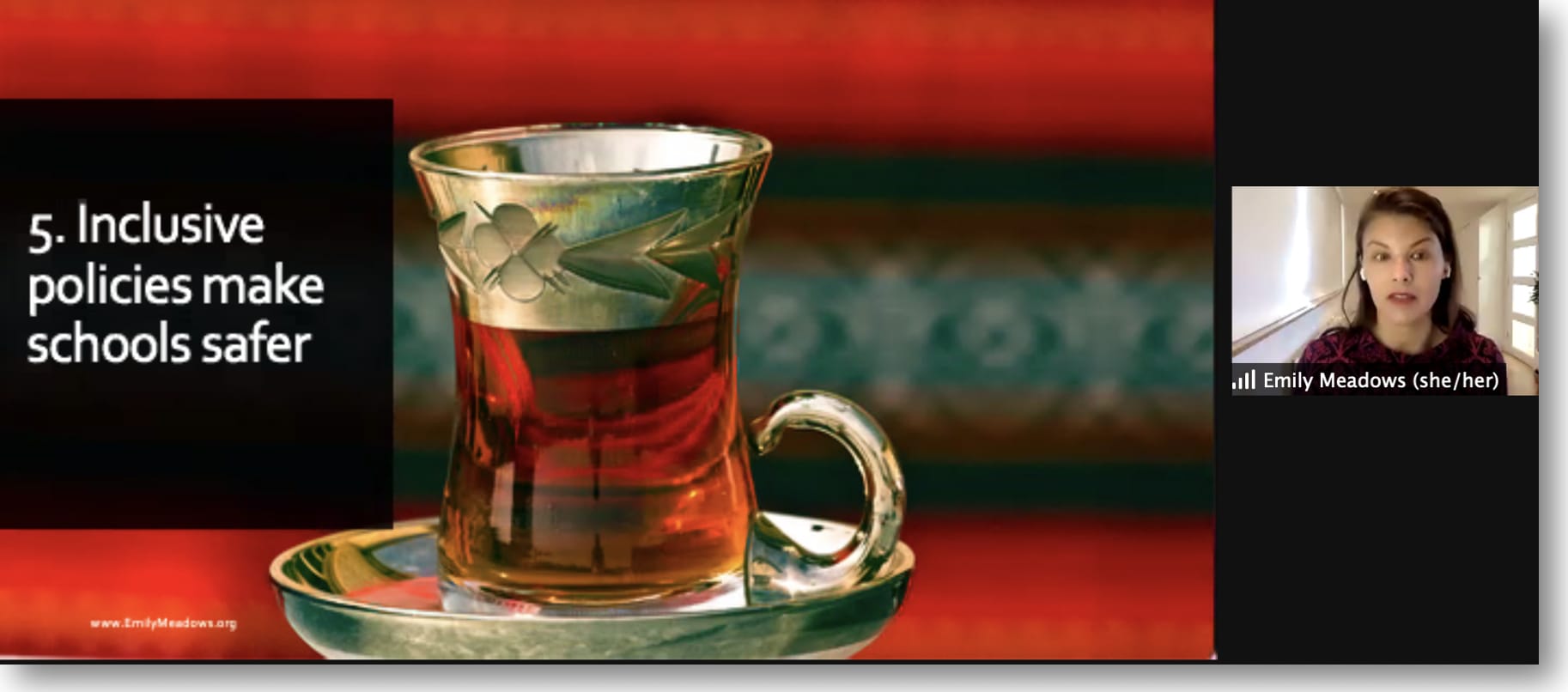 "The vast majority of educators in international schools have virtually no training or background in gender inclusion. Very few are prepared to integrate a transgender child into their classroom or how to respond to a parent with concerns."
"Educators want to do the right thing but they have no training and aren't really sure what to do when a student comes out. It becomes a scramble to figure out what to do which is like building the plane while you're flying it. A clear policy will let the teachers know the school's position on student transgender inclusion so that teachers can focus on putting the plan into practice, rather than Googling it."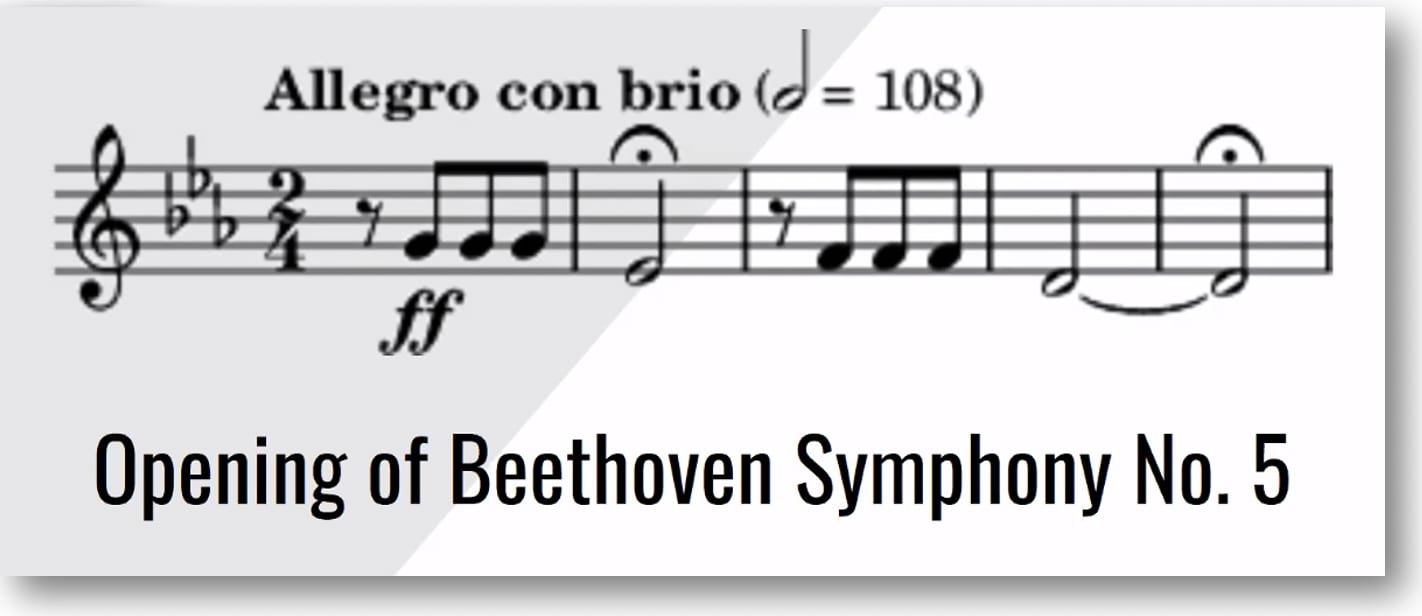 "Beethoven's Symphony No. 5 began with silence"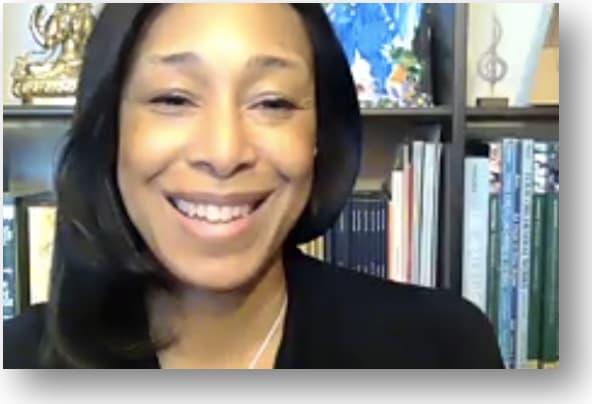 "Shaping the silence makes space for your 'orchestra' from which the music can emerge."
"Biodiversity is a fact, it exists in the present. I interpreted Gustav Mahler's quote about a symphony as, 'A symphony orchestra must be like the world it must contain everyone."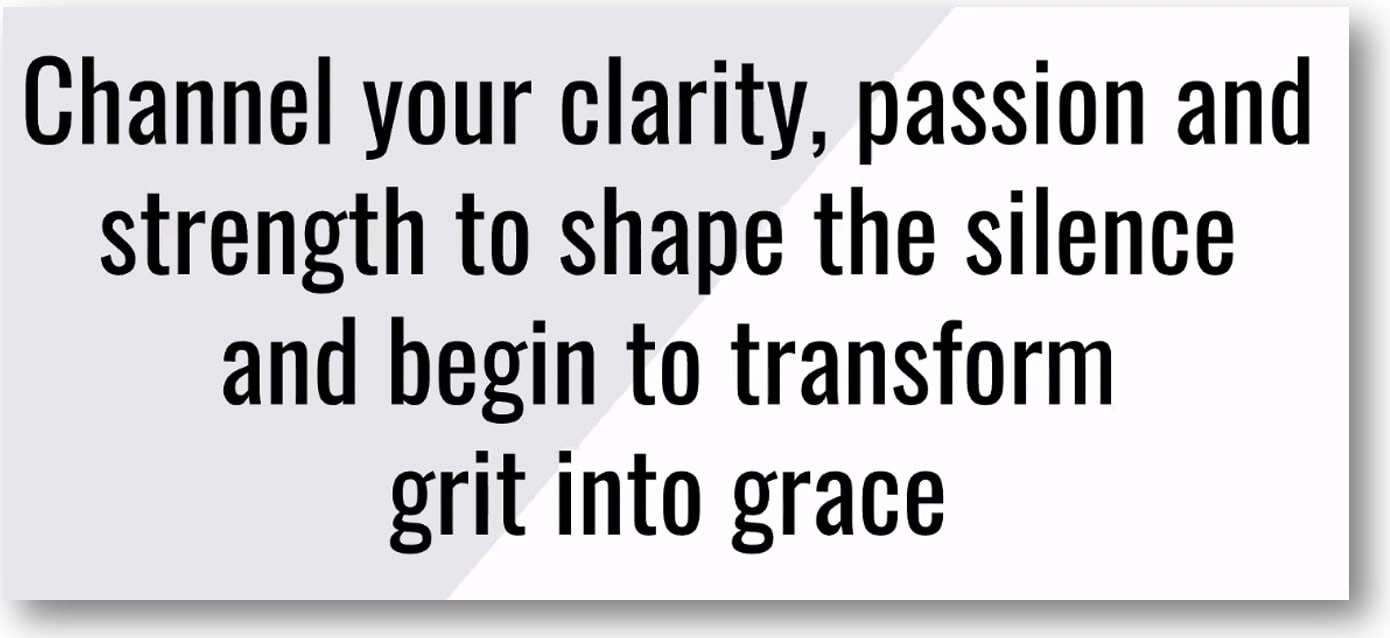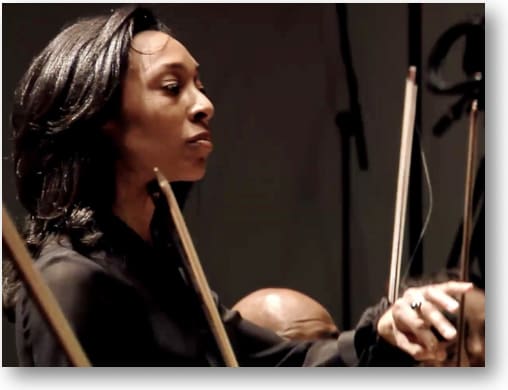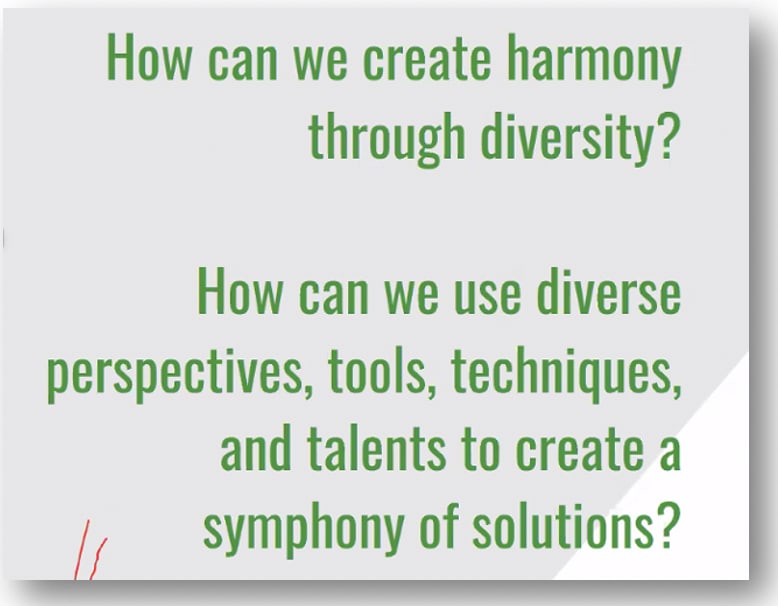 "As maestro, we use our position to wield our power over the orchestra. But we don't have to do that all the time as it becomes tiresome for the musicians and they actually begin to tune out and not pay attention to you because it's too overwhelming for you to dominate them like that. There have to be times when we step back and trust in the relationships between the musicians and also trust that they are able to work out the differences.
"Creating those relationships builds strength and a bond of trust. It's the bond of trust that emanates and gels your people together and creates the strength that allows you to maintain your position to lead effectively. It's an ascending spiral of trust and efficacy that when you create the space for their relationships and for their strengths to shine and their differences to come together, it's an amazingly powerful experience for everyone."
From the CHAT as Jeri Lynne Johnson Spoke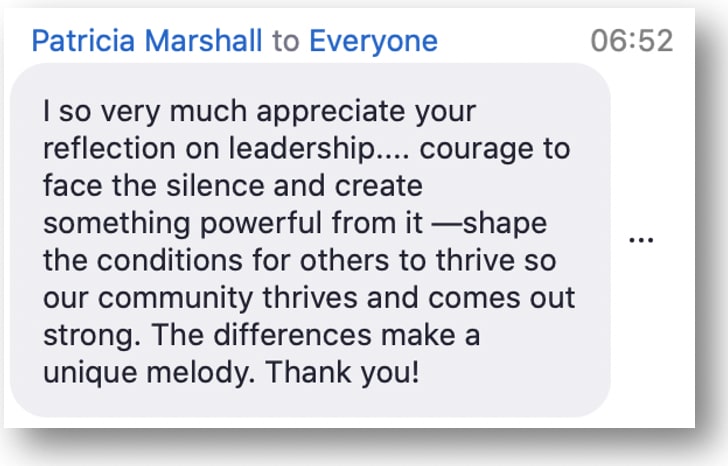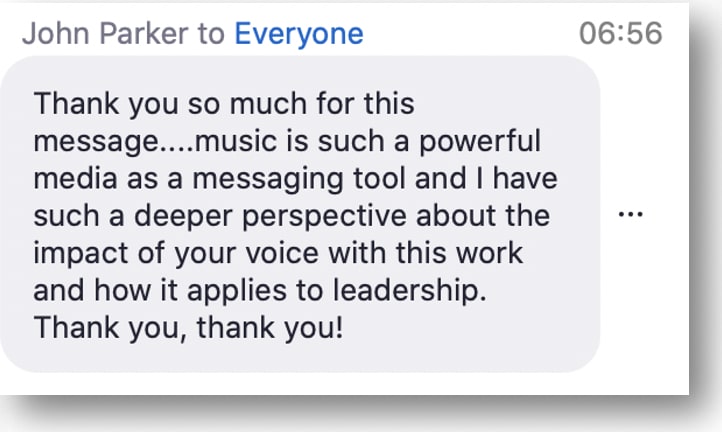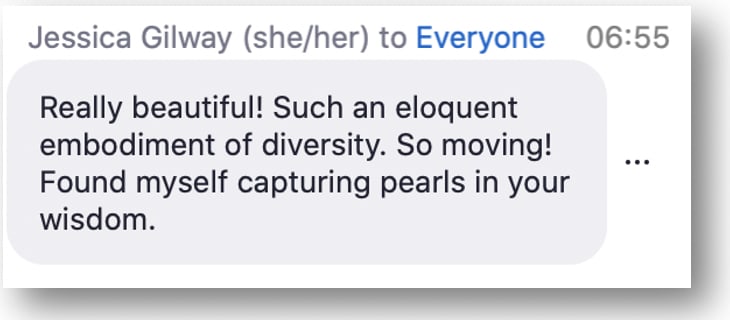 Observations from Liz Duffy, President of ISS about Jeri Lynne Johnson's message...
This morning, Jeri Lynne Johnson, the founder and conductor of Black Pearl, a symphony orchestra in Philadelphia, gave a stunning talk about the importance of substantive representation (as opposed to just biological representation) and of all of us being able to bring our full identities to our work and life. She's good friends with ISS board member Homa Tavenagar, so none of you will be surprised that one of Jeri's core messages is that with substantive representation, honoring and embracing our different backgrounds, skills and perspectives, comes greater abundance. –Liz Duffy
From Homa Tavangar and Will Richardson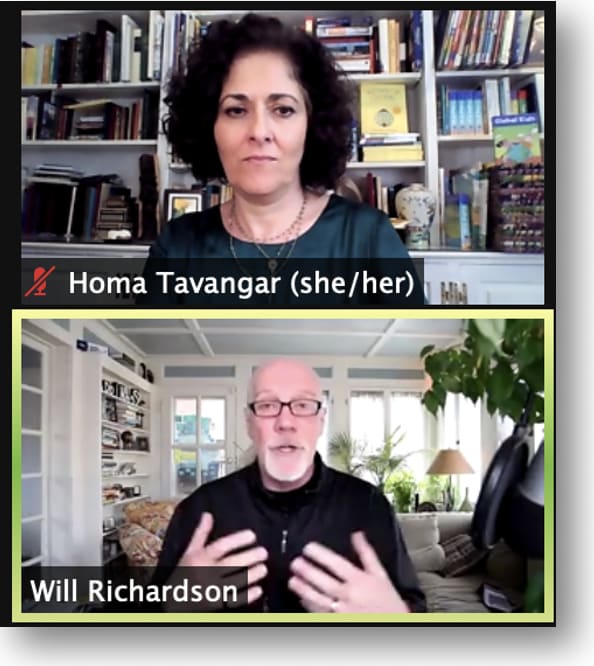 HOMA: The shift from past to present, the reset, it's as if the line between reflection and reset is fuzzy– the lines are not distinct. There is something really organic about a process of resetting if it is done collaboratively, based on context, community. As we think about what our reset is, we naturally go to Arundhati's Roy's quote that the pandemic is a portal.
'If we think about this pandemic, it is an accelerant and it is also a gateway between who we were, what we did before the pandemic and the next. This is a choice intersection. We can choose to drag the past with us into the portal or we can walk through lightly and be ready to imagine a different world.'"
WILL: "The interrogation in those 9 questions leads us to a place where we have a foundation for reinvention. To get clear on whether or not we're well, whether or not we're literate, where the power is in our systems and a clear definition of learning, all of those questions, it's really hard to look into the future until we've gotten to a baseline in terms of those particular parts of our work."
–DID YOU MISS DAY FOUR PRESENTATIONS?–
(Accessing the Archives from Wednesday, April 14, 2021)
Recordings of Sessions Are in the Portal*
Log in to the Attendee Portal with your username and password

Under Conference Schedule, select Full Conference Schedule. Recording Links are noted in the session descriptions.

The Recording Link follows the description of each session
*by agreement, we must ensure all archived videos remain behind password protection.
5 REASONS YOUR SCHOOL NEEDS A POLICY FOR TRANSGENDER STUDENTS
Dr. Emily Meadows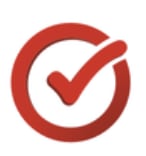 SHAPING THE SILENCE - CREATING THE SPACE FOR GENIUS TO EMERGE AND HOW DIVERSITY CREATES A SYMPHONY OF SOLUTIONS
Jeri Lynne Johnson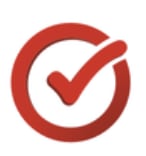 TTHE NEW SCHOOL PROJECT– TO ACT ON WHAT WE'VE WANTED TO CHANGE ALL ALONG
International School Leaders, Kevin Bartlett, Homa Tavangar and Will Richardson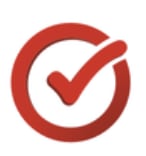 PLANNING FOR THE POST PANDEMIC SCHOOL: REFLECT, RESET, REINVENT
Homa Tavangar and Will Richardson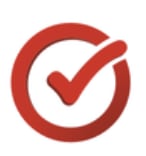 DON'T MISS A MINUTE*
–Be Sure You Are Connected–
Click on AAIE 2021 Virtual CONVERSATION
Click on the "Attendee Portal" button or the 'Portal-Online Space' link.
Enter your username and password. Click. The Attendee Portal landing page appears,
Click on the Full Conference Schedule link and select the 'day' tab at the top of the page (Monday, for example) to view the schedule for that day or
Click on the 'At a Glance' pdf on the Attendee Portal landing page that contains the schedule and the zoom links.
NOTE: Each session description has a zoom link. At the start time of your chosen session, click on the link. You will find the video archives here as well.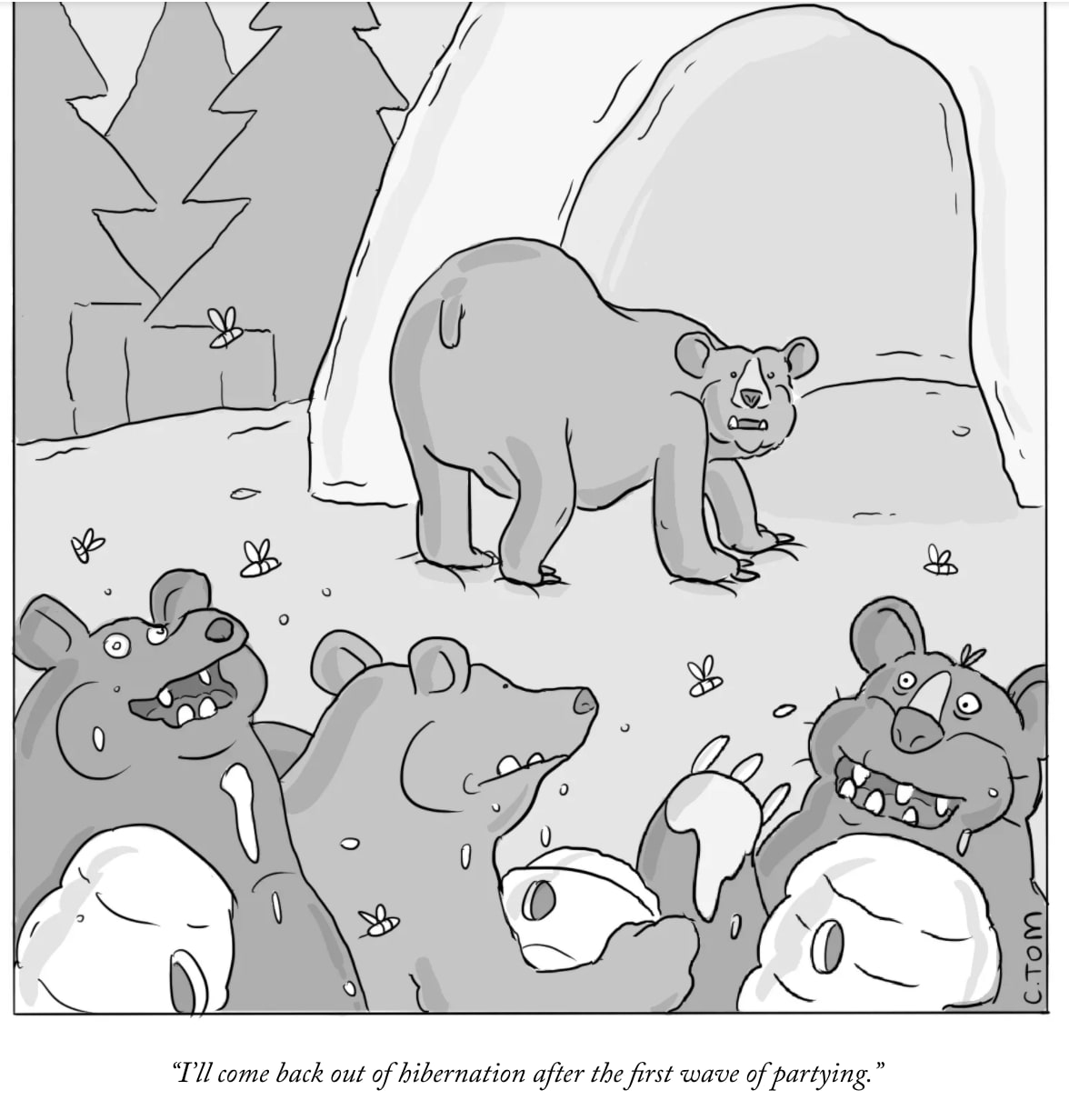 –THANK YOU TO OUR
MARKET STREET PARTNERS–