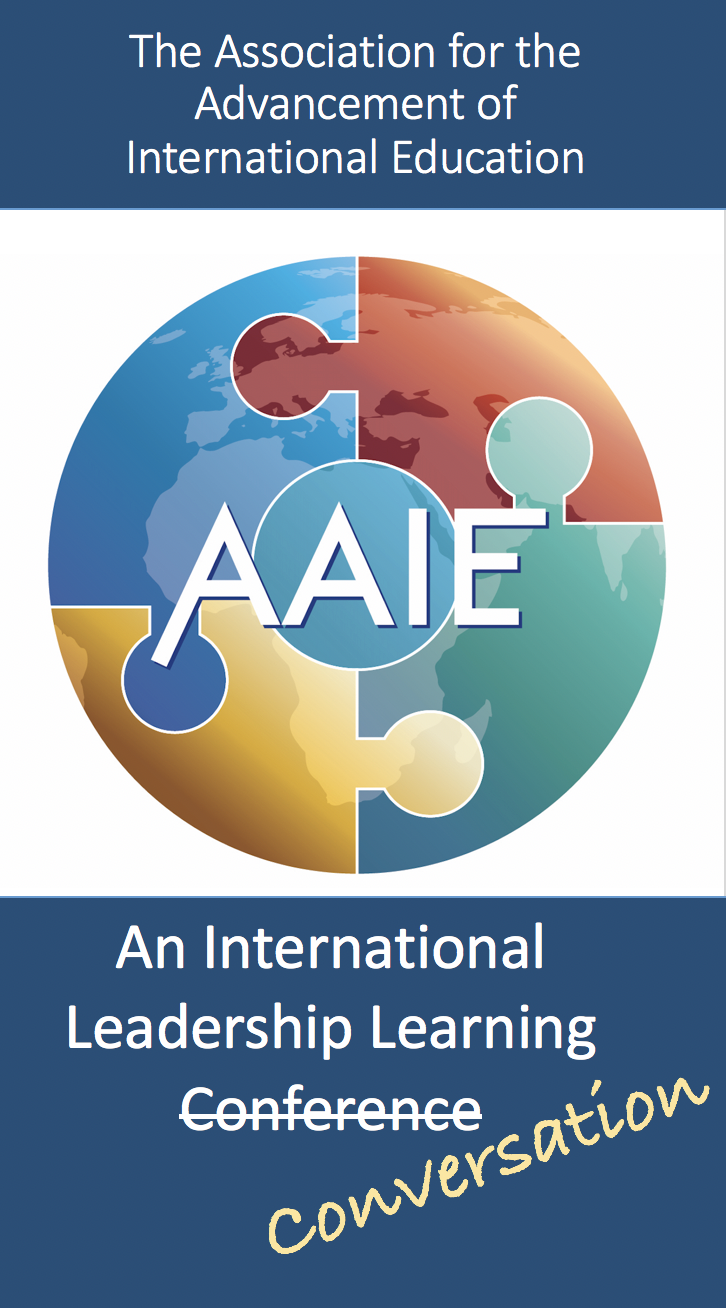 Our Mission
A global community that connects diverse people, ideas and resources, AAIE helps international educators lead with vision, wisdom, courage and integrity.
Wednesday, February 6, 2019...
Jared Nichols, Sue Cunningham, Tom Boasberg, David Toze
Key Conversations
Deeper-Dives
Our Final Leadership Learning Day Together
We begin the day with an "Un-Keynote" address at 8:30AM by the futurist, Jared Nichols.  He speaks of the leadership competency for thinking like a futurist.  Most recently, Jared has worked with Kevin Glass and the Atlanta International School. 
Our HEADTalks focus on advancing our schools (Sue Cunningham of CASE), lessons from a large metropolitan school (Tom Boasberg, newly appointed Superintendent for the Singapore American School) and ISManila veteran head of school,  David Toze. 
Then late morning Key Conversations, of your choice, follow the General Session  (see your program or APP).
We again are providing lunch within the exhibitor area, beginning at 12:00PM.
IMPORTANT– let us also remind you that various Lunch and Learn sessions are scheduled from 12:00-1:15, so grab your lunch and go.
The Deeper Dive sessions– again your choice of CONVERSATION, begin at 1:15PM.
The final General Session begins at 4:00 and please plan to attend.  For a short thirty minutes we will do our best to capture how AAIE plans to support our leadership learning beyond San Francisco.  We want you to know about NEXT STEPS. 
Please, please support our colleagues who have put together Key Conversations and the Deeper-Dives.  Make your choice of sessions today and it is here where much more in-depth learning conversations are possible.   
The AAIE registration desk is open all day and let us know if you have questions or how we can help and add value to your time with us here in San Francisco.
Your feedback is needed.  Please take a few moments to respond to the survey located on the AAIE APP.  We will share results with our trustees and then with you in the coming days.  
Again–  Enjoy the day, each other and celebrate our colleagues who have worked hard and are now putting themselves out there for the benefit of each and every one of us. We sincerely need everyone to get behind today's presenters and to join the conversation.  
The Current AAIE Board of Trustees
Kevin Glass, President
Jeff Paulson, President-Elect
Ron Marino, Treasurer
Barry DeQuanne
Greg Hedger
Robin Heslip
Fran Prolman
Beverly Shaklee
Kathy Stetson
Oli Tooher-Hancock
Email: mark@AAIE.org
Website: www.aaie.org
Mailing Address: AAIE PO Box 3496 Princeton, NJ 08543-3496
Physical Address: AAIE 15 Roszel Road Princeton NJ 08540
Phone: +1 609-716-7441
or +1 609-452-0990
Cell: +1 970 488 9416