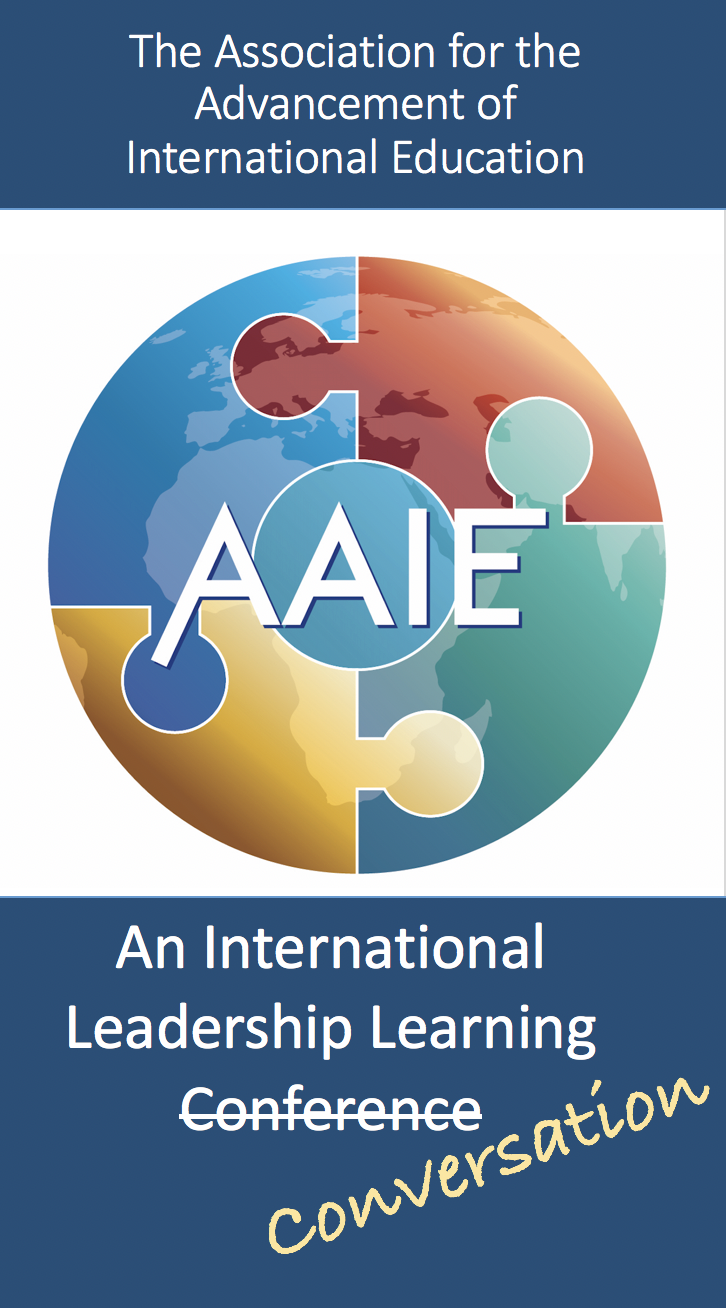 Our Mission
A global community that connects diverse people, ideas and resources, AAIE helps international educators lead with vision, wisdom, courage and integrity.
Your Collegial Presence, Encouragement, Support and Thanks...and a Few "One-Liners"
Enough of this getting ready to get ready. The AAIE CONVERSATION for 2019 is about to begin.  
Many of you are circling half the globe to join.  Many of you are leaving your schools knowing much awaits upon your return.  And so many of you have juggled the circling urgencies within your community,  yet took all the needed time to bring ideas to share within a HEADTalk, Key Conversation or "Deeper-Dive".  And in the coming days, we will be mentoring and teaching each other.
AAIE has meant many things to many people over the years.  Networking, renewing long-distance friendships, reaffirming our place in the world community, catching up on international school skinny and listening in on the ideas of others.  AAIE is also a virtual warehouse to gather Amazon orders into bags purchased from the same place to mule back home.
This year's AAIE is different.  Your feedback was clear.  More leadership learning time.  More practical perspectives and success stories from colleagues.  And to ensure we gather in ways so everyone belongs.  We've built this year's CONVERSATION on these ideas and used adult learning principles too.  
So, let me please ask a favor. There is simply nothing more de-motivating than giving much thought and effort after developing a CONVERSATION presentation, than to have very few people show up for the talk.
Principles of Adult Learning Supporting AAIE CONVERSATION Planning
Actively participating in learning

Tapping expertise of everyone in the room

Everyone contributes to learning of co-learners

Share what you know to benefit others

Ensure knowledge, concepts and actions that contribute to work priorities

Awareness and knowledge building to sustain change
We just need you to give your best each day in joining the CONVERSATION– stay in there with your colleagues every step of the way.  Learn all you can, then tell us what and who helped. (see daily survey on your APP)  Our AAIE school leaders who will be speaking are living Margaret Wheatley's commentary that, " There is no power of change greater than a community discovering what it cares about."  Let's ensure equal care and support for our speakers and take the time to engage our exhibitors too.  If not a bear hug, do share a "high-five" in thanks.  Each is joining the CONVERSATION to support you and our collective leadership learning.  
Thank you, thank you, thank you.  See you in the coming hours!
All Good Wishes,
Mark
AAIE Executive Director
PS:  And now for a few "one-liners!"
Very shortly after you receive this email, your email will again beep with an invitation to download the AAIE 2019 APP
The AAIE registration desk will be on the ground floor, adjacent to the Grand Ballroom (opens 8:00AM on Sunday) (Saturday for pre-conference participants).
Our "Un-Keynotes" and HEADTalks will take place with a theatre-in-the-round setting. 
If you are at the Hyatt on Sunday but are not signed up for a pre-conference, let us know, we'll get you connected.
We'll give you the wifi codes for the conference areas when you register (some other cool stuff too)
Office of Overseas Schools Meeting Room is Regency A, next to the Grand Ballroom.  
DRESS:  (

a) Superintendent of the Year Dinner– dressy casual  (b) All Other Gatherings– Casual  (c) German Bier Garten– lederhosen optional
NO FEAR OF CHANGE:  There are a few schedule changes and we will give you the updates when you register, attached to the keepsake CONVERSATION program book. 
Here we go... 
Super Bowl Sunday
San Francisco Hyatt Regency
See You Up in the Stands 
Welcome to the International Leadership Learning  
The AAIE Board of Trustees
Kevin Glass, President
Jeff Paulson, President-Elect
Ron Marino, Tresurer
Barry DeQuanne
Greg Hedger
Robin Heslip
Fran Prolman
Beverly Shaklee
Kathy Stetson
Oli Tooher-Hancock
Email: mark@AAIE.org
Website: www.aaie.org
Mailing Address: AAIE PO Box 3496 Princeton, NJ 08543-3496
Physical Address: AAIE 15 Roszel Road Princeton NJ 08540
Phone: +1 609-716-7441
or +1 609-452-0990
Cell: +1 970 488 9416