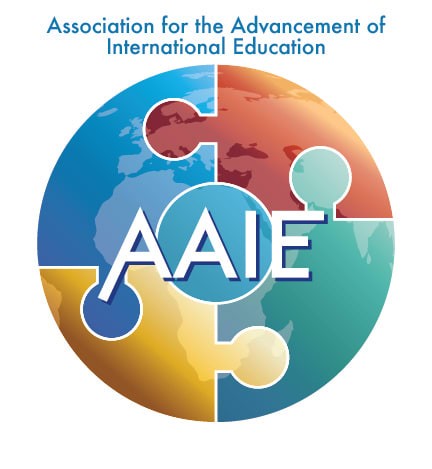 AAIE's COVID-19
BRIEFING #65
June 3, 2020
Highlights
A world without anti-blackness

A Legal Perspective: (Next Monday's

CONVERSATION)

The Legal Argument for Standard of Care
Upcoming

CONVERSATIONS

Follow-Up on Scenario Planning:

GRADED

Style

A School-Within-a-School Model from Ecuador

Nearly 6,500,000 Global Infections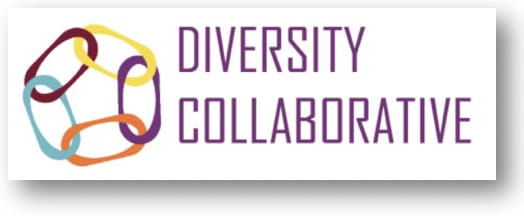 –Our Call to Action and the Need for Unity in a Time of Social Distancing–
"The only way to undo racism is to consistently identify and describe it—and then dismantle it."
― Ibram X. Kendi, How to Be an Antiracist
–by Dana Watts, Director of Research and Development–ISS
In collaboration with AAIE, the Diversity Collaborative hosted a webinar this morning about issues of privilege and bias that were originally COVID-19-related, and more recently, the events and protests across the United States that have also surfaced at international schools.
The webinar began with a centering exercise led by Darnell Fine from Singapore American School, using a protocol developed by Dr. Michael Dumas (2018) on "Beginning and Ending with Black Suffering" that enabled participants to embrace their anger, demand urgency for change, and radically imagine a new world without anti-Blackness. Then, a panel of international educators, shared stories from their schools, as well as actions they had taken or planned to take to address privilege, bias, and racism. Panelists included:
Maddy Hewitt - Near East South Asia Council of Overseas
Beth Pfannl - International Schools Services
Darnell Fine - Singapore American School
Shelly Maldonado - International School Kenya
Jennifer Beckwith - American School of Kuwait
Alysa Perrerars - The Columbus School
Madeleine Maceda Heide - Asociación Escuelas Lincoln
Catarina Chen - American School of Belo Horizonte
Liz Duffy - International Schools Services
Dana Watts - International Schools Services
"What has been the biggest challenge regarding privilege and bias for your school during this time?"
Two quick polls at the end of the call revealed the following areas of focus for international schools and The Diversity Collaborative going forward with replies are listed in the order in which they received the most votes:
POLL #1: What has been the biggest challenge regarding privilege and bias for your school during this time?
1 = Local staff vs. expat inequities
2 = Racial/Ethnic discrimination
3 = Connectivity inequities
4 = Inequitable treatment of different passport holders
5 = Language barriers
POLL #2: How can the Diversity Collaborative most effectively help you address privilege, bias, and racism in your school?
1 = Recruitment/Accreditation Best Practices
2 = Discussions (like this one)
3 = Model Policies and Practices
4 = Training
5 = Recommended Resources
A short list of the resources that were shared are listed below.
The Diversity Collaborative will host future conversations about this critical topic and help support actions by international schools and other organizations to become antiracist. If you are interested in participating, please join the Diversity Collaborative HERE. Thanks to AAIE for hosting the webinar.
On Monday, June 15 a follow-up CONVERSATION is scheduled, ensuring breakout sessions and a 90-minute discussion.
CLICK HERE For key resources that can support the essential CONVERSATIONS and actions across our international schools.
Today's CONVERSATION: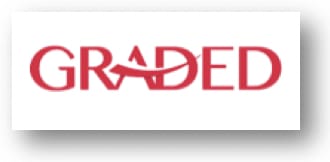 Follow-Up from yesterday's CONVERSATION:
Scenario Planning Part II -
The Design.
with thanks to Ariel Raz and Rich Boerner

I'm a new Text block ready for your content.
The Rest of This Week's CONVERSATIONS (Thursday and Friday)
THURSDAY,
June 4
8:00AM EDT
OUR GLOBAL LEADERSHIP COMMUNITY–TOGETHER
–with Will Richardson
A Weekly CONVERSATION between School Heads and Senior Leaders #14. Maybe the most important CONVERSATION of all– talking on the most pressing issues and dilemmas, openly and honestly.
THURSDAY,
June 4
10:00AM EDT
THE LATIN AMERICAN
LEADERSHIP COMMUNITY
Our Weekly CONVERSATION #9 with Latin America school heads and senior leaders.
Region specific grappling with the issues, hosted by Sonia Keller and Dereck Rhoads
FRIDAY,
June 5
8:00AM EDT
AAIE NEW SCHOOL PROJECT
A Global Inquiry
Our Weekly CONVERSATION #9–We take on the sixth and final question for our NEW SCHOOL discussion, "What is worth learning and why?" We'll then begin to turn our focus to what artifacts and products we want to create and share with the world that capture discussions, perspective, and agreements on key principles for a preferred international school future.
–Next Week's CONVERSATIONS–
From Legal Liability to School Design to First Leading Yourself
"Legal Considerations for Safely Reopening Schools in the Age of the COVID-19 Pandemic"
Join attorneys David Wolowitz and Susan E. Schorr, Co-Chair and Vice Chair of McLane Middleton's Education Law Practice Group, as they discuss what is top of mind for educators around the world: how to reopen independent schools in a way that will provide an enriching educational experience, while maximizing efforts to keep the school community healthy. From social distancing, to temperature checks, to informed consent and waiver forms, to being prepared to toggle between in-person and remote learning platforms, David and Susan will talk about ways that schools can implement policies and protocols that will enhance health and safety, but not over-promise. Key to the conversation will be understanding how to meet the standard of care for your school community—no matter where the school is located.
"New Leadership Lenses for
Re-Opening Schools"
So much has changed in just the past six months, and the shifts we're experiencing show no signs of slowing down. But what are the most critical new contexts that school leaders need understand to effectively design their schools and classrooms for the post-pandemic world? That's the "big question" that Homa Tavangar and Will Richardson will be discussing in a webinar on Tuesday, June 9th at 8 am US EDT. And the answers may not be what you think. For international school leaders who have been at the forefront of this work, this 45-minute session will deepen your understanding of this moment and what it means for the way we think about schools moving into the future.
"It's a Marathon, Not a Sprint!
Why Leaders Need to Lead Themselves First -- and How Coaching Can Help"
With Stephanie Rogen–
In recent weeks, the crisis of Covid 19 tapped the limits of energy and resources across our schools. People are tired, but the work is far from over. As a matter of fact, the toughest tests lie ahead. How do leaders sustain themselves, replenish their capacity, and thrive in the face of great uncertainty? How do they keep their heads above water so they can see the shoreline? Why is self-work and self-care so critical to the present and future wellbeing of our schools and the people within them? How do we do it? We'll explore these questions, and talk about coaching as one solution for ensuring you can tap the best of the leader within. We'll demystify coaching: what it is and what is it not, and how it works. And we'll leave you with tips for coaching yourself, and for identifying the coaches you may already have in your ecosystem.
Our Global Leadership Community- Together
A Weekly CONVERSATION between School Heads and Senior Leaders #15
Maybe the most important CONVERSATION of all– talking on the most pressing issues and dilemmas, openly and honestly.
The Community of Latin America School Heads
and Senior Leaders
Our Weekly CONVERSATION #10. A region specific grappling with the issues, hosted by Sonia Keller and Dereck Rhoads
The AAIE NEW SCHOOL Project
Our Weekly CONVERSATION #10
At our Leading a New Schools Session on June 12, we'll be looking back at our six week's of presentations and going through a process to identify the most important learnings and principles that we can pull from our conversations. This will be an important step in preparing to design and write our AAIE manifesto for learning, which will be the first product we create from all of the work we've been doing to date. We need your voice and perspective.
–A Vision Beyond Survival–
"eIAA– School-Within-a-School Project"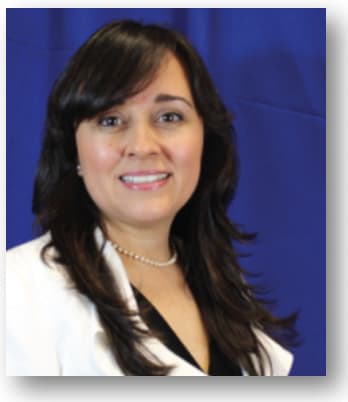 Veronica Kaypaghian, Elementary School Principal,
InterAmerican Academy
–by Veronica Kaypaghian
How are we defining our schools moving forward? One thing is certain, we are not going back to school. Not as it was before. We are now going forward. Ewan McIntosh challenged us recently, asking about our vision. In a time when little is certain and most is out of our control, innovation, agility, leadership, and group effort are critical elements influencing our vision.
While many of us are trying to end the school year preparing semester report cards, organizing end of the year assemblies, administering MAP exams, planning graduations, figuring out contingency plans, purchasing materials and supplies, budgeting, and envisioning scenarios for a virtual, blended, hybrid, or in-person learning model for the start of the school year, at InterAmerican Academy in Guayaquil, Ecuador, we are also setting up a new parallel, online school: eIAA.
We know this will not be the last crisis we will face. To confront the current crisis and be ready for future challenges we need to reinvent ourselves, prototype and test ideas, be agile, and have a vision. "It is not just about the day-to-day anymore—it is about the future", said Colby Morgan in his article Envisioning the Schools of the Future. There is no time to waste. This awareness and urgency coupled with the desire of one family to continue with eLearning regardless of whether we would reopen our brick and mortar school, sparked the idea to establish eIAA. Our headmaster and our school board realized there would never be a right time or perfect conditions to pursue this vision. They decided to take a risk now and move forward with the eIAA project.
A school as small as ours can only make such a vision a reality with the support and effort of our most precious resources: our teachers and staff. There was an immediate call for help, committees emerged, and we started working at full speed. All while tending to our full-time jobs and daily class commitments. Whether serving on a committee (marketing/recruitment, admissions, curriculum, training, logistics, IT) or taking charge of the summer sessions while others make sure eIAA is ready to open in August, every single person at our school is involved in the effort. Witnessing the selfless commitment of our team has been humbling.
eIAA has already attracted new local, national and international students as well as some existing IAA students. We do not know for sure how IAA will begin the school year. We may remain fully online, have students on site, or offer a hybrid option. Along with the IAA program, we will also offer eIAA to any interested students regardless of their location. eIAA opens a new opportunity for our school and an option for students in Guayaquil and the world.
"A school as small as ours can only make such a vision a reality with the support and effort of our most precious resources: our teachers and staff."
For example, a family who is moving, has chosen to enroll their children in eIAA for the next school year preferring to stay connected with IAA virtually rather than facing the unknown. It is at times like this when challenges turn into opportunities for creative and sustainable alternatives.
New leaders emerge in times of crisis. At IAA, passionate innovators, communicators, and visionaries have stepped forward to lead and support us in this new adventure. Two new elementary teachers are leading the eIAA training committee, a social studies teacher researched, identified and led the selection process for the eIAA platform, and our high school counselor is the eIAA lead coordinator. These emerging leaders, as Ewan McIntosh said in a recent article, have no 'leader' or 'head' in their job title but are the inspiration and backbone of our efforts. All our staff have voluntarily taken on greater responsibilities and are working tirelessly after hours and through the summer to ensure eIAA's successful launch. Because of their commitment and their willingness to embrace opportunity, our eIAA school will have developed from concept to reality in only five months.
Our community is enthusiastic about the new school year and the eIAA project. Our parallel programs will form an alliance to provide opportunities for creative collaboration and synergy. We are confident that moving forward and adapting to this new reality will continue providing us with opportunities to improve IAA for tomorrow's learning.
–The News–
Over 6,438,254 Infections Worldwide
(Johns Hopkins CSSE)
India is a Long Way from Infection Peak
India began lifting the world's biggest lockdown yesterday despite a soaring coronavirus outbreak that has raised fears the country could be facing a million confirmed cases within weeks. After a phased timetable to ease the strict lockdown imposed on India's 1.3 billion people was unveiled on Sunday by the government, individual states have rushed out their plans to revive economies shattered by weeks under quarantine. A total of 7,761 new infections were reported Tuesday, with only the US and Russia now faring worse. India had barely 500 cases when the government announced the lockdown on March 24. Yesterday cases approached 200,000. (Times of London)
Pakistan to "Live with the Corona Virus?"
Pakistan's prime minister, Imran Khan, said the country may have to learn "to live with the coronavirus," as he announced the ending of covid-19-related restrictions even as the country's case-load accelerates. Mr Khan said Pakistan could no longer bear the economic pain of lockdown, with its businesses shuttered, the tax-take plummeting and millions of its poor relying on hand-outs. (The Guardian)
WHO Throws Cold Water on Suggested Virus Potency Out of Italy
Has the novel coronavirus in Italy changed in some significant way? That was the suggestion of a top doctor in northern Italy who reports that patients to his hospital have been showing up with lower levels of the virus in their upper respiratory tracts compared with those two months ago.
The Italian doctor upset the global public health community on Sunday when he said that "the virus clinically no longer exists in Italy," with patients showing minute amounts of virus in nasal swabs. The comments, which received widespread attention following a Reuters report, prompted vigorous pushback from Michael Ryan, a top official with the World Health Organization, who said Monday during an online news conference that "we need to be exceptionally careful not to create a sense that all of a sudden the virus by its own volition has now decided to be less pathogenic. That is not the case at all." The consensus among other experts interviewed Monday is that the clinical findings in Italy likely do not reflect any change in the virus itself. (Washington Post)
Iran, All Over Again
Fears that Iran is in the grip of a second wave of coronavirus have been reinforced, with the health ministry saying 3,000 new cases were recorded in 24 hours – the highest figure for two months. The Islamic Republic, one of the worst-hit countries in the Middle East, started easing its lockdown in April after a drop in deaths. Its leaders have been reluctant to acknowledge that they may have lifted restrictions prematurely. They have argued that a recent rise in new infections was confined to certain provinces and that the number of deaths was relatively low. But health ministry officials on Monday sent out a dire warning about complacency, saying the battle was far from over. (via The Guardian)
More Findings: Covid-19 Virus May Attack Blood Vessels
A doctor who leads the cardiology department at University Hospital Zürich, noticed that patients with the disease had strange symptoms for what was then thought to be chiefly a respiratory infection. Many patients had acute kidney failure, organ damage, and mysterious blood clots. Several weeks later, the first body was autopsied: Tiny clots and dead cells littered the capillaries of the lungs, and inflammation had distended blood vessels supplying every organ in the body. The pathologist had never seen anything like it. But the results showed why patients were suffering so much: The virus had targeted their blood vessels. An essential SCIENCE read: (sciencemag.org)
Who is at Fault?
The World Health Organization struggled to get needed information from China during critical early days of the coronavirus pandemic, according to recordings of internal meetings that contradict the organization's public praise of Beijing's response to the outbreak.
The recordings, obtained by the Associated Press (AP), show WHO officials complaining in meetings during the week of 6 January that Beijing was not sharing data needed to evaluate the risk of the virus to the rest of the world. It was not until 20 January that China confirmed coronavirus was contagious and 30 January that the WHO declared a global emergency. (New York Times)
–The STATS–
TOTAL GLOBAL CASES:
Johns Hopkins–6,438,254
WHO– 6,287,771
GLOBAL DEATHS (WHO):
Today–379,941
Two Days Ago–371,166
EVOLUTION OF-GLOBAL CASES (WHO):
Today– 6,287,771
Two Days Ago–6,057,853
One Week Ago–5,593,631
One Month Ago–
3,349, 786
NEW CASES (WHO):
Today–93,246
Two Days Ago–122,917
One Week Ago–104,505
One Month Ago–82,763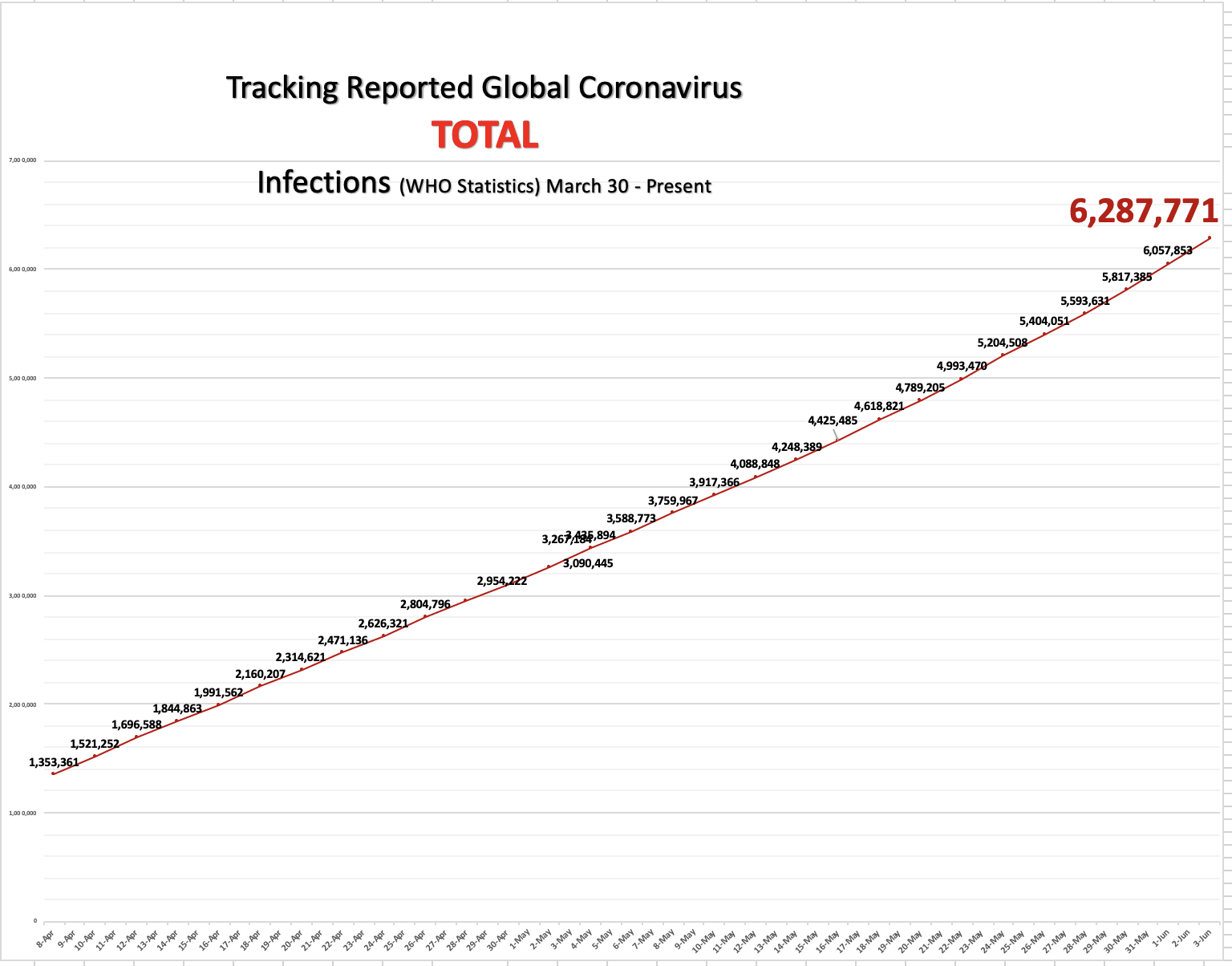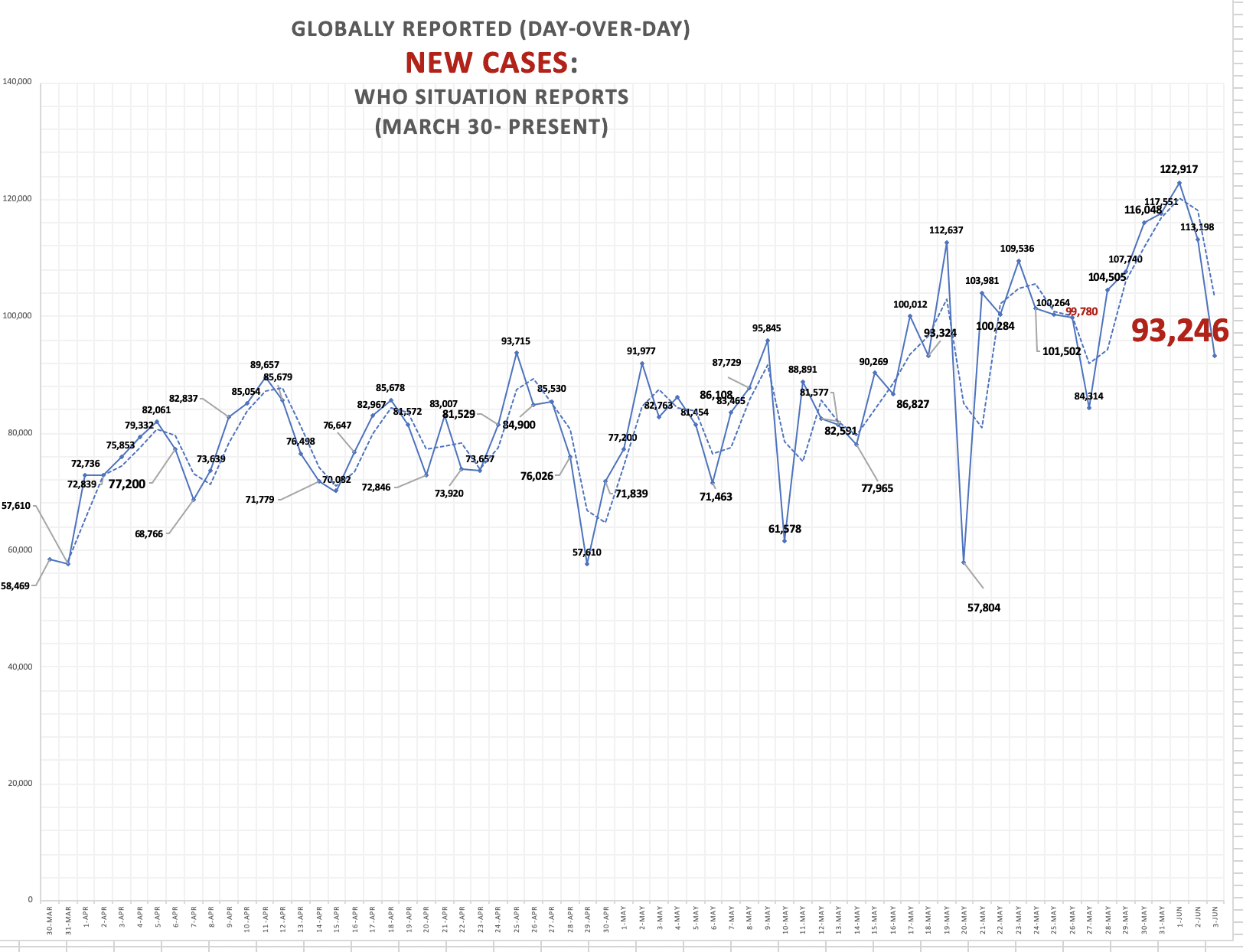 –FROM THE WHO and JOHNS HOPKINS CSSE–
From the WHO

, the Situation Report for June 3

,

2020
From the WHO

, The European Region Dashboard
From Cultures of Dignity

,

For the Social-Emotional Tiny Guides from Rosalind Wiseman and Charlie Kuhn– a gift to our AAIE community– resources with no fee but plenty of insight.



A Final Note: The AAIE COVID-19 Briefing is provided to support your leadership for the school community you serve. We encourage you to use these resources in any way, shape or form that helps you, your communications and toward furthering close relationships across your community. – The AAIE Board